We all know that summer in Florida can be brutal. Surviving the summer heat in Florida with kids is an extra special challenge! The heat can be totally intolerable and then the afternoon thunderstorms are always a concern. But there are some really amazing things about summer in Florida! I thought it would be great to compile an easy to save list for when you're feeling that summer slump.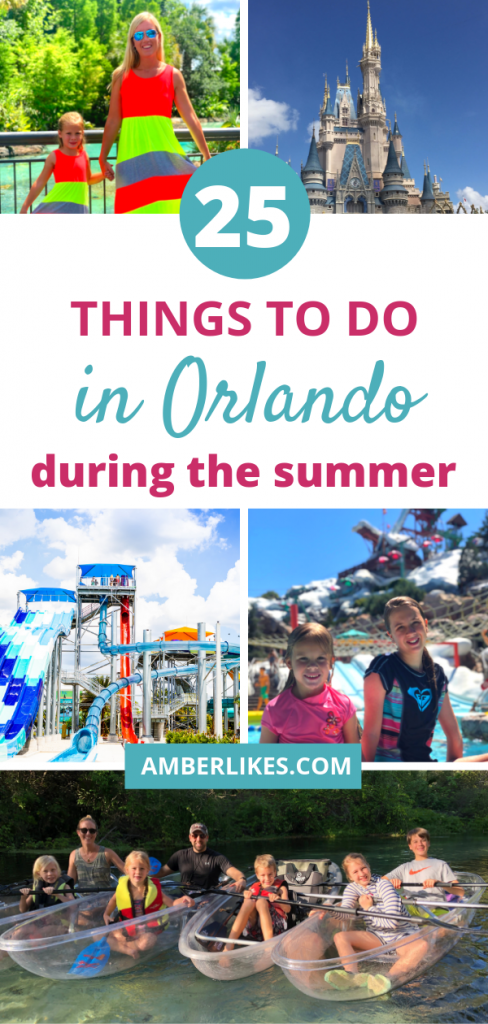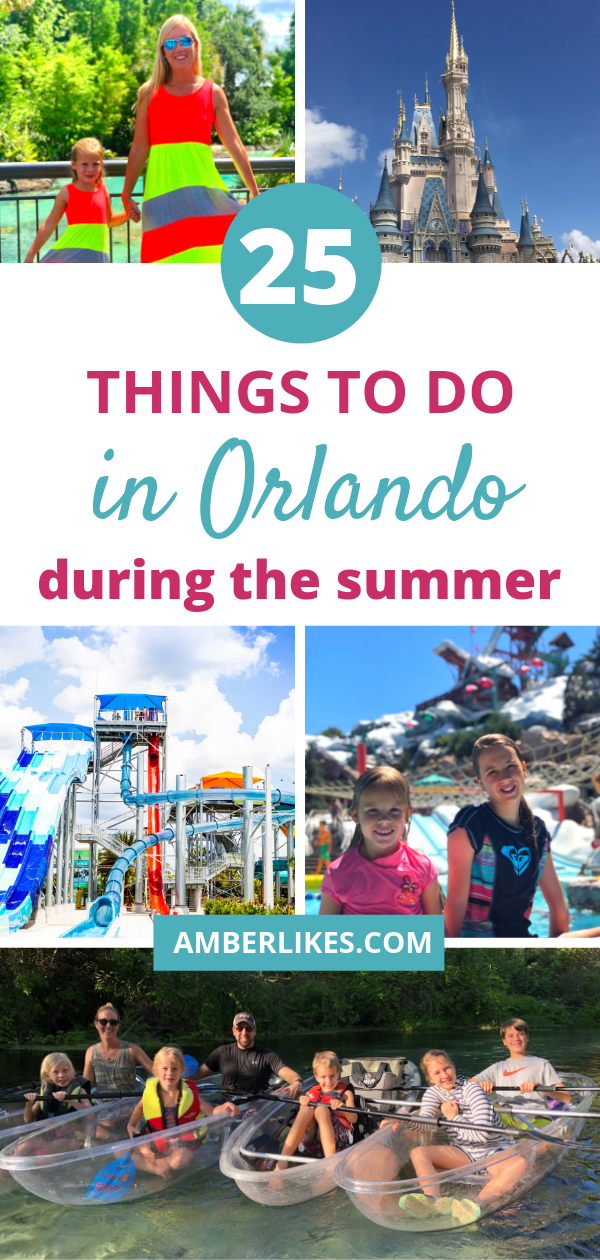 So here's your guide to all things Orlando in the summer!
1.Water parks at Walt Disney World- Blizzard Beach and Typhoon Lagoon are some of the best ways to keep cool! It feels like you are in a totally different and exotic place, right in your hometown. Be sure to check out this guide for everything you need to know!
2. Walt Disney World! I know it can seem like a bad idea in the summer, but with my awesome tips, it can be totally enjoyable!
3. Dollar movies at the Picture Show at Altamonte. And they even have half price movies on Tuesdays! This is a deal you really can't beat!
4. Fuse beads, also known as Perler Beads. These things entertain my kids for hours and hours.
5. Backyard water day with some basic slip and slides and sprinklers.
6. Bowling. There are lots of deals for kids available in the summer.
7. SeaLife Aquarium. We just had the most epic birthday party there, and it's a wonderful place to spend a few hours and learn something new.
8. Get Up and Go Kayaking with clear kayaking! This was such a huge hit with my family and a really great bonding experience.
9. Spend some extra quality time with your kids. Check out this blog post for some new ideas!
10. Find a new craft at Hobby Lobby or on Amazon. Just one walk through those aisles, and you will have ALL the ideas for new things to do together!
11. Go to the park. I know this doesn't sound like the best summer activity, but if you go early in the morning or in the evening, it can be a great way to run around and get some energy out.
12. Use some screen time and don't feel guilty about it! Watching a movie, playing games on the iPad, or doing computer games can be a great way to spend time in a healthy way. And with Qustodio, you can rest assured that you know what your kids are doing online.
13. Summer Movie Express with Regal Theatres. Did you know you can see movies here for $1 on Tuesdays and Wednesdays? Be sure to check out the schedule for a full line up of the movies available!
14. Sidewalk chalk! (preferably in the shade).
15. Go for a bike ride.
16. Go for a scooter ride!
17. Explore a new neighborhood in Orlando. There are so many distinct areas in Central Florida. Have you ever taken your kids to Winter Park? How about downtown Winter Garden? Each of these little areas have so much to see and explore. You could spend a day in each!
18. Go to the Dollar Tree. For special occasions, or as a reward, sometimes I give my kids $5 to go on a "shopping spree" at Dollar Tree. The kids think they are in heaven!
19. Play a new board game.
20. But don't forget about the classic games like Checkers, Twister, and Yahtzee!
21. Go tubing at Kelly Park or one of the other natural springs.
22. Check out Skeletons: Museum of Osteology at ICON Park Orlando.
23. While you are there, take a ride on the ICON Wheel!
24. Check out the brand new Margaritaville Island H20 Live! water park.
25. Head to the Orange County Library and take advantage of all of the amazing free programs they have to offer.
So there you have it! Be sure to head over to Instagram and share your best tips for summer fun with me as well. Or give me a comment down below. Happy summer my friends!