Yesterday, we had the opportunity to attend a media event for
Toy Story Land at Hollywood Studios
in Walt Disney World! We were so thrilled to be invited and to be part of spreading the word about the newest addition to Walt Disney World! Although Toy Story Land has been open since late June, we had not had the opportunity to visit yet so everything was brand new for us. I brought my three oldest children along and we set out for an awesome day of colorful fun and learning!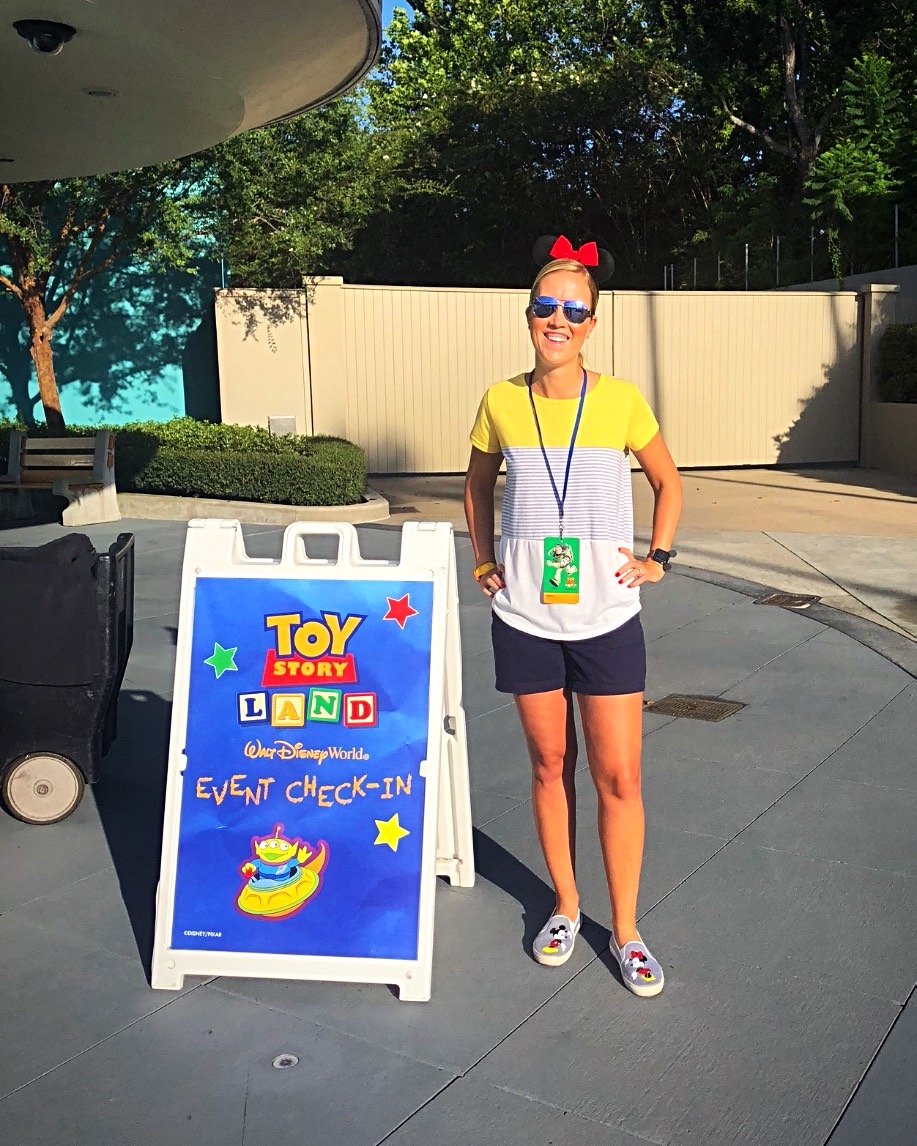 As part of this event, we had the opportunity to interview Toy Story Land cast members from Imagineering, Operations, Food and Beverage, Entertainment, and Merchandising. In preparation for this opportunity, my little journalists prepared questions to ask in each category. My oldest son, Noah, who is 13, dreams of being an Imagineer, so this was the perfect opportunity for him to learn more about the behind the scenes magic that goes into creating an immersive experience like Toy Story Land.
After we got our credentials and swag bag filled with amazing goodies including that amazing Slinky Dog headband, we took a quick trip to the Tower of Terror and met Mickey and Minnie! Since Toy Story Land is so popular at the moment, in the early morning hours at Hollywood Studios, other rides have little to no wait. It was then time to transform into journalists! We got our notebooks and pens ready, and asked all of the questions my wonderful audience had suggested, as well as the ones we had brainstormed.
1. Operations at Toy Story Land
The first cast member we met with was Kenny from Operations. We talked to him about the wonder that is Disney World efficiency; from filling ride seats and "grouping," to moving guests efficiently through the park. He also shared with us about how Toy Story Land is part of the reimagining of Hollywood Studios, as well as part of the preparation for the 30th Anniversary of the park next year! Kenny also talked about how the new Mickey and Minnie ride that takes the place of The Great Movie Ride is fulfilling a vision that Walt Disney had for a Mickey ride years and years ago. Although I know many Disney fans were very sad to see The Great Movie Ride go, thinking of it in terms of fulfilling Walt's vision made us even more excited for what's to come!
2. Food and Beverage at Toy Story Land
Next, we talked with Executive Chef Jerry from Food and Beverage. My 9 year old son Tucker asked how they come up with the names of the food at Woody's Lunchbox. Jerry answered that they try to showcase the main ingredients, and then give it some creative and magical flair. In our opinion, they definitely succeed! My 10 year old daughter Molly asked if they made the food on location. I almost thought this was a silly question because I assumed the answer was no. But to my surprise, they do actually prepare almost everything on location! No wonder it all tastes so good and fresh!
Unfortunately, the French Toast Smore's sandwich is only available in the morning, but Chef Jerry was very sweet and offered to make one for me later in the day when we came by. When we had lunch at Woody's Lunchbox, he was true to his word and I was able to try this amazing breakfast goodie! It's amazing people. Get there early and don't plan to share!
3. Entertainment at Toy Story Land
We met with Tom from Entertainment next. Since we hadn't had the chance to visit Toy Story Land yet, he shared with us about the different entertainment options, such as the wandering Green Army Patrol (note the name change from Green Army Men to Green Army Patrol- women serve in the armed forces as well!) and the drum line. Tom said that the idea in Toy Story Land was to just have the entertainment and characters appear, so that guests rarely have to wait to have a fun interaction. He explained how when children play, there's very little sense of time or planning. That's what his team was trying to achieve in Toy Story Land. Guests just play; and magic happens. Although character lines for pictures were quite long, we had several interactions with characters and entertainers walking by that required no waiting whatsoever. Mission accomplished!
Tucker closed out our time with Tom by asking how long they had to practice to prepare for a new show. The answer was 3 months! This comes after years of imagining and planning a show. Excellence does not happen overnight. What you see in the parks takes so much behind the scenes preparation. Such a great lesson for a little man!
4. Imagineering at Toy Story Land
This was the department that we were most excited to interview! Since my son dreams of becoming an Imagineer, he had lots of questions prepared! Dave could not have been more gracious and open in answering our many questions. Molly asked him how long they had been planning Toy Story Land, and Dave told her about 5 years. Another great lesson in perseverance and hard work for my children!
Dave also shared that the whole theme behind Toy Story Land is that you are transported to Andy's backyard. Perhaps Andy's mom has just called him for dinner, and he dropped his toys right where they happened to fall. As a guest, you become the size of a Green Army Man, and you enter the world of Andy's toys. Dave reminded us how evident that is in every detail, from Andy's huge footprints on the ground, to the wood grain on the blocks, and the toy blocks that serve as benches. As with all parts of Walt Disney World, the magic is in the details.
5. Merchandising at Toy Story Land
Finally, we talked to Steven from Merchandising. He had such a beautiful display of products set up on the table behind him, and it was so fun to see all of the items I've seen for weeks on social media right before me! We asked Steven about the location of the merchandise, and Tucker wondered how they kept track of all of the items. In each area, every cast member we met with emphasized the importance of team work. They were always so quick to say that they work with an amazing group of people, and that nothing could get done on their own. Again, what a wonderful message for my children to hear! We are so much stronger and more powerful as a team!
My son Noah asked about Steven's career with Walt Disney World and he shared about his start in the Disney College Program. Noah is counting down the days until he is old enough to apply and Steven was so kind in encouraging him to become part of the family at Walt Disney World when the time comes. Talk about a proud Mama moment!
When we entered
Toy Story Land
, we were completely blown away. And for the rest of the story, stay tuned… All of the details on the rides, the food, and the merchandise coming soon! Be sure to check out my IGTV video of Slinky Dog Dash and lots more of our adventures on
Instagram
,
Facebook
, and
YouTube
. Thank you for following along!
*Park admission, fast passes, lunch, merchandise, and interview opportunities provided by the Walt Disney World Company. All opinions are my own.