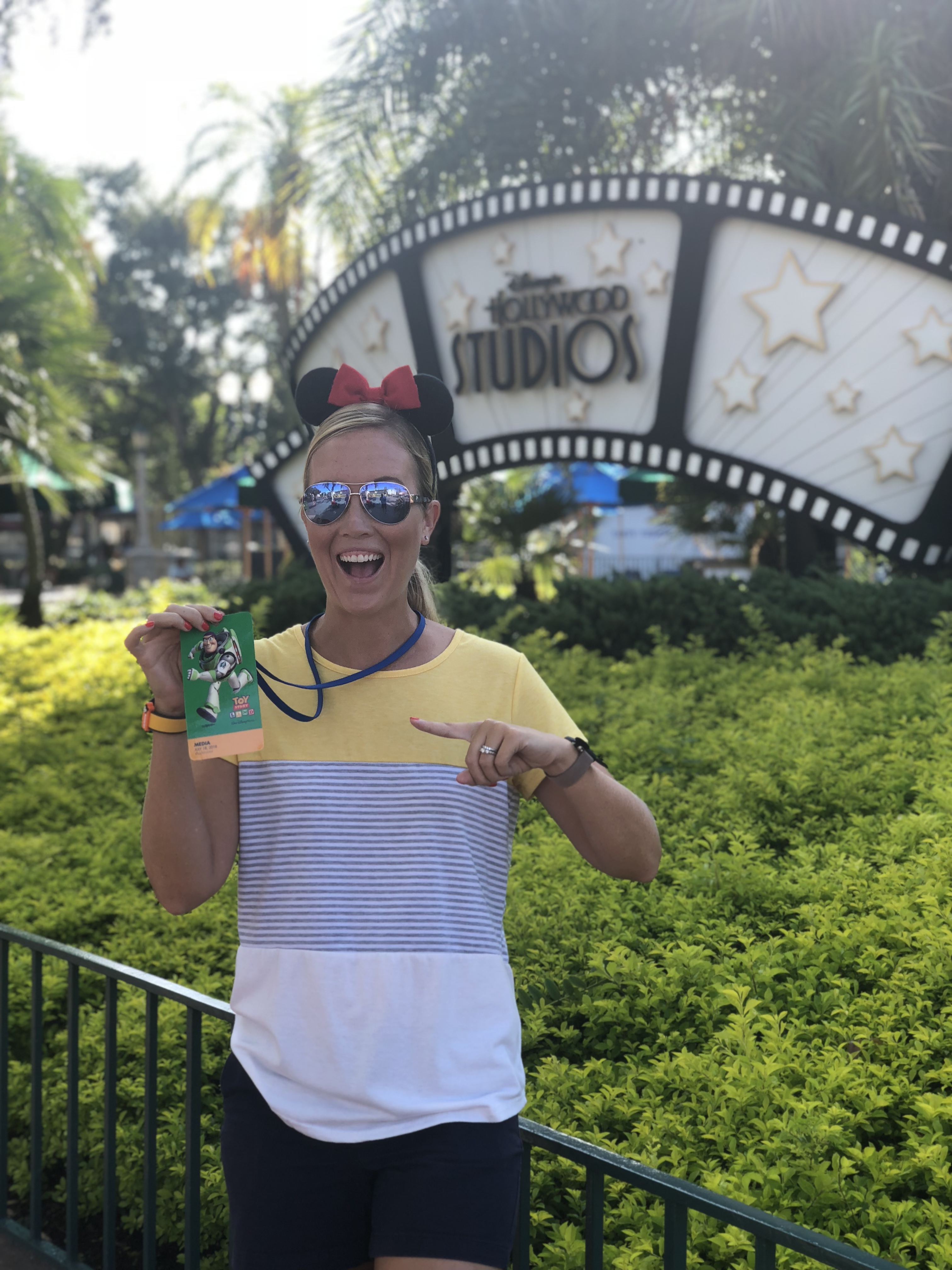 1. The Attractions
Alien Swirling Saucers is a fun new attraction in Toy Story Land that is similar to the teacups in Magic Kingdom, but with a different motion. One of my children gets fairly dizzy from the more intense spinning action of the teacups, but did not feel this way after riding Alien Swirling Saucers. The height requirement for this is 32 inches, which is quite small, so most families will be able to ride together! There is a fast pass available for this ride as well, which can really shorten your wait time.
Finally, Slinky Dog Dash is the biggest and most exciting new attraction in Toy Story Land! Before we visited, I had heard and seen a lot about this ride. People seemed to be gushing about their love for Slinky! To be honest, I didn't totally get it, but believe me, the hype is real. The height requirement for this ride is 38 inches, which is quite low for a fun rollercoaster. It's also a longer ride than most roller coasters, which is really satisfying especially if you waited in the stand-by line! We loved it and many of us agreed it was our new favorite roller coaster in all of Walt Disney World!
2. The Food
Inside Toy Story Land, there are snack carts with those famous Alien Popcorn Buckets and drinks, but the real food excitement comes from Woody's Lunch Box! This quick service restaurant is located right past the new entrance to Toy Story Mania and has only outdoor seating. Parents are welcome to bring strollers inside, or you can park them outside the dining area. Although all of the seating is outdoors, there are plenty of huge fans and large umbrellas for shade, which makes eating even at noon in July totally doable.
In my opinion, the star of the show at Woody's Lunch Box is the S'More French Toast Sandwich. After I had talked to the executive chef during my morning interviews about how much I was looking forward to trying this sandwich, I found out that it was only offered at breakfast. However, he was so sweet and made one specially for me during our lunchtime visit so that I could share my opinion with all of you! It was my favorite thing by far, so do yourself a favor, and plan to make it there by breakfast!
3. The Entertainment
There is also an amazing drum line that mesmerized my 9 year old, in particular! These are skilled performers, and as we discussed in our interview post, were in rehearsals for at least three months before going "on stage" in Toy Story Land!
Guests can also meet Woody, Buzz, and Jessie in Toy Story Land! During our visit, we did not get a chance to meet them, but have had that pleasure in other parts of Walt Disney World. They are such fun characters, and both old and young will love to get a hug from the Space Ranger himself and his crew!
4. The Merchandise
You have probably seen those adorable Slinky Dog headbands roaming around the parks or in pictures on social media. They are just as cute as they look and surprisingly comfortable! There are two merchandise carts inside Toy Story Land, and a few other gift shops around Hollywood Studios that also offer this popular merchandise.
As part of our media influencer day, we were gifted with one of these adorable Sinky Dog headbands, a beloved Mickey plush, a pen and notepad, a Woody cooling towel, and a Toy Story Land backpack! We were overjoyed with this amazing gift from Walt Disney World, and my 9 year old son Tucker carried that Mickey Mouse around the whole day, and now sleeps with him every night. There are so many adorable merchandise options available at Toy Story Land; good luck picking just one or two!
5. The Walls
There are three Instagram worthy walls at Toy Story Land. These are the Popsicle Wall, the Checkerboard Wall, and the Block Wall. Both the Popsicle Wall and the Checkerboard Wall are located at the exit of Toy Story Mania. So be sure to ride that attraction in order to have the chance to get your picture at these famous walls! The Block Wall is located at the restrooms in Toy Story Land, making is easy to find and easy to get a picture.
The Pixar Luxo Ball is also a well known spot to get a picture and was featured in my Instagram post during my day at the media influencer event. This spot is located right in the middle of Toy Story Land, by the exit of Woody's Lunch Box. You really can't miss it, but you'll have to time your picture carefully as this is a busy part of the park!
*We were provided with admission, merchandise, and meals by The Walt Disney World Company in exchange for our honest review. All opinions are my own.