I get a lot of questions about overall tips on planning a Disney vacation. But to be honest, I'm really not the best person to help with that because I live here! I really don't know all that much about booking hotels in advance or vacation packages. But thankfully, I do know where to go when I need information! So today, I have a guest blog post to share more about one of my top Disney travel tips. What's one of my best Disney tips? Get a travel agent!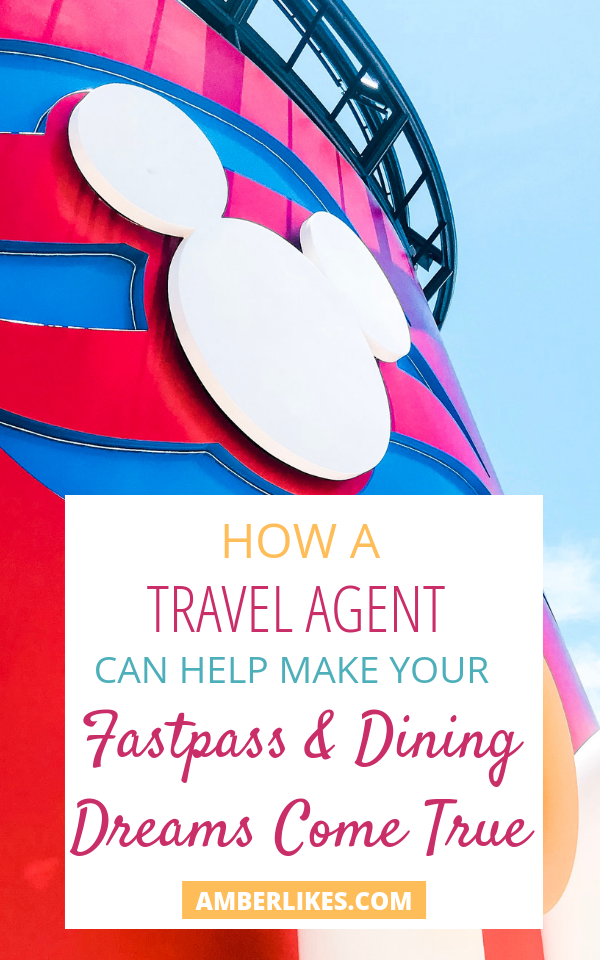 DISNEY TRAVEL
Read more from Jamie of Love of the Magic Vacations:
Planning a Disney vacation can be complicated and stressful!  When you use a travel advisor (travel agent) that specializes in Disney Destinations (Disney World, Disneyland, Disney Cruise Line & Adventures by Disney) the hard work becomes a breeze!  
Here are ten reasons you should plan your next Disney Vacation with a travel advisor specializing in Disney.
We have Disney's Stamp of Approval – it's true!  Our travel agency has been given Disney's stamp of approval with the Authorized Disney Vacation Planner designation.  This means that Disney trusts Love of the Magic Vacations to plan a magical vacation for you, their valued client. This authorization isn't handed out to just any travel agency.  It comes to those that meet Disney's values and guidelines and have years of experience in providing vacations that create memories of a lifetime.
Travel Advisors Specializing in Disney monitor your reservation for upgrades and promotions – Disney vacations can be booked well in advance.  However, there may not be a promotion available when you book.  Never fear, all qualifying reservations can have promotions added as long as it's prior to final payment.   Travel advisors specializing in Disney vacations are well intuned to all of the latest greatest promotions and are able to add them to your existing package.  Most recently I was able to upgrade a family of four from Disney's Port Orleans Riverside to Disney's Animal Kingdom Lodge Savannah View for nearly the same price.  Talk about an upgrade to their Disney vacation!
We know all the Magical Extras – As a graduate of the Disney College of Knowledge (yes there's actually a Disney "degree") and as a Disney local, I know all the ins and outs of vacationing with Disney.  I apply all of this knowledge to maximize my clients time in the parks and ensure they have the most magical vacation possible! Each family is different and I'm careful to craft a vacation experience that suits their every desire.
We understand how to move around Disney World with ease – You want to stay at a "resort that uses the monorail to get to ALL the parks?"  This is a statement I get often and the EXACT reason you NEED a travel advisor specializing in Disney to help plan your vacation!  The monorail only takes guests to Magic Kingdom and Epcot but there are many other transportation options around Disney World to help enhance your vacation.  I'm here to help you sort it all out and navigate your way around the World. From park hopping to the best parks on each day. I've got you covered.
We Share the Magical Extras – I often tell my clients that Disney is made up of layers!  In fact, there are so many layers you can't possibly cover it all in one vacation!  And I would venture to guess that you won't even know all of the options available to you.  With careful questioning on my end about what's important to your vacation, and your favorites from foods, characters, and attractions I can customize your magical vacation based on your families wants and needs.  You're guaranteed to love your personally designed Disney vacation!
We save you money – Yes, it's true!  Let's go ahead and bust the myth that a travel advisor (agent) costs you more.  This is NOT the case! Disney's pricing is very structured and the prices we provide for you are direct from Disney.  You will never pay more for your Disney vacation when you book a Disney Vacation package with me. In fact, more often than not I can save you money by helping you to not overbook ticket options, navigate the various dining plans and applying promotions to your reservations.  In fact, I even have a few tips for maximizing your dining credits to get the biggest bang for your buck!
Insider Tips – The internet has changed the way we vacation.  When we research online all that Disney Destinations have to offer it becomes quite overwhelming.  Character dining, hard to get beach Cabanas on Disney's private island, extra parties and more, has everyone rushing to grab what has been deemed as the "must not miss" Disney vacation experiences.  Having planned hundreds if not thousands of Disney vacations I know exactly how to get these hard to book experiences and better yet some really great experiences and dining options that haven't been idolized on the internet.
We provide stress relief – Disney planning is complicated.  I take the planning process and simplify it into bite-size pieces. These are dolled out at just the right time to make planning your vacation a breeze.  No more endless hours of combing the internet trying to make sure you don't miss anything. I've got it all covered and more!
Dining & Fast Pass Reservations – No more early morning hours where you have to pry yourself out of bed! No need to make dining and fast pass reservations in the wee hours of the morning.  As travel agents specializing in Disney, this is a service I offer my clients. I will do the hard work of getting up early and making reservations for you.  I'm happy to book exactly what you ask for. Or I can make suggestions based on my knowledge of how the parks work and what you hope to accomplish. My job is to maximize your time in the parks covering the most ground with the least amount of effort.  A whole lot of that is accomplished with appropriately chosen dining and Fast Pass reservations. These are made well in advance of your arrival.
Just One Person to talk to the entire planning process!  Do you have a million questions or like to have your handheld while understanding how it all works?  Having your own personal travel advisor is the way to go. I get to know you and your family so that your questions are answered quickly and easily.  Yes, you can call into Disney and get answers. But you'll wait on hold, have to explain your situation each time, and then get generalized responses. With me, I know you, I know your family and I know Disney.  It's a win all the way around.
So, when you're ready to book your next Disney vacation, be it a Disney Cruise, Disney World, Disneyland or Adventures by Disney vacation, my team and I are here to help with our personalized service and Disney Destination expertise.  Contact us today hello@LOTMV.com
About The Author
I'm Jamie, traveling mama, entrepreneur, and travel advisor. I'm addicted to Disney, traveling and exploring the world with my family. I have a passion for helping families experience the magic of travel.
My home is filled with love and chaos! We have 2 crazy girls, 2 large dogs, and the most spectacular architect and Disney Cast Member I call my husband. We live in Florida and spend our weekends playing at Orlando's many theme parks and visiting the beach.
In 2015, after helping numerous families plan their vacations to various Disney Destinations, I started a blog to answer all of the many travel questions I received daily. In 2016, the blog grew into a travel agency, and Love of the Magic Vacations was born. With a team of more than 25, we spend our days creating family vacations around the world. What started as a blog is now a full service, worldwide vacation destination planning service. I create custom itineraries for each of my clients that not only meets but exceeds expectations. There is no greater gift than making memories while sharing the world and its cultures with your kids.
Follow along on our many adventures and explore destinations with me on Facebook and Instagram. Comment, say hello and let me know which destinations you love the most!
– Jamie
Find me on Instagram and Facebook @loveofthemagic
www.loveofthemagicvacations.com
Blog: www.loveofthemagic.com