Moccasin Lake Nature Park is a Hidden Gem
As you know, we love to travel! And one of my favorite things to do when traveling is to explore nature and also get some exercise. So finding the hidden Clearwater gem of Moccasin Lake Nature Park was such a perfect find during a recent weekend trip to the area. We visited with our family of seven. And to be honest, we really weren't sure what to expect. But what we discovered was so much more than we had hoped! This 51 acre nature preserve is a sanctuary for birds, and also for tourists and locals looking for a respite in nature.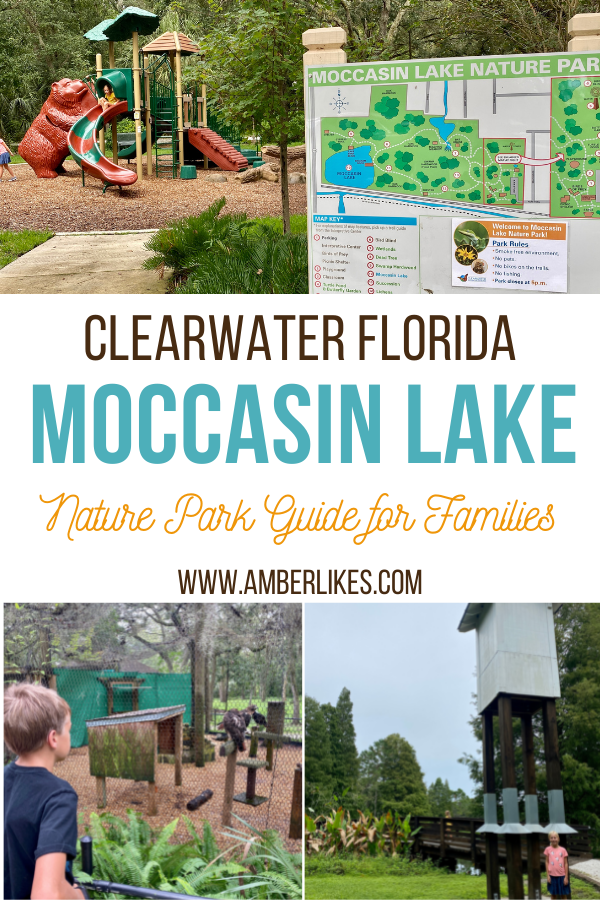 Where is Moccasin Lake Nature Park located?
The Moccasin Lake Nature Park is surprisingly in the midst of an urban area. When we were driving through Clearwater, the Moccasin Lake Nature Park is just around the corner from many stores and restaurants. The park is very accessible. And there is ample parking!
The address is 2750 Park Trail Lane, Clearwater, FL, 33759. It is located near Drew Street and U.S. 19. For more information call (727) 793-2976.
How much is admission?
Admission is FREE! As a homeschooling family, and as a large family, we certainly appreciate family activities that are free. While this park isn't a full day activity, it's a great way to spend a few hours!
What are the Moccasin Lake Nature Park hours?
The hours are Tuesday-Sunday from 10 am to 5 pm. Closed on Mondays. The Park is closed on all holidays that the City of Clearwater recognizes. Also, the trails close to new visitors at 4:15 each day. So be sure to get out on the trail before that time to have plenty of time to experience all of the natural beauty!
What is there to do?
More than you think! As I previously mentioned, we really weren't sure what to expect at this nature park. But when we arrived, we found volunteers holding rehabilitated birds, a small nature center with reptiles and fish, walking trails, a beautiful playground, the lake, a pond, and bird blinds!
What's a blind? Don't worry if you didn't know because I learned during our visit! This is an area where you can sit quietly, behind a natural space, to watch for birds. We sat and observed for a few minutes and it was such a calming experience. I recommend it if you have time!
There's also a small nature center that had a few exhibits and educational materials. The kids loved seeing reptiles and fish in this center!
The playground at Moccasin Lake Nature Park doesn't get enough credit! This was such a beautiful space and really well maintained. We consider ourselves to be connoisseurs of playgrounds, and this one gets a high grade! The bear climbing structure was a favorite!
This nature park also serves as a home for the Moccasin Lake Raptor Sanctuary. Again, this information comes courtesy of Clearwater Parks.
The Goals of the Moccasin Lake Raptor Sanctuary:
Provide permanent care for 13 species of raptors at Moccasin Lake Nature Park.
Offer sanctuary to more than 26 birds of prey, including bald eagles and peregrine falcons.
Manage urban osprey nesting platforms throughout Pinellas County.
Rescue wild birds that have been injured.
We had the opportunity to meet several birds and volunteers during our visit. The volunteers provide guests with interesting information about the bird's history, their rehabilitation, and their future prospects. This is such a wonderful way to interact with birds of prey, and really makes the learning come alive for children! For many of these birds, this is their permanent home. And the volunteers provide loving care to these creatures, while also educating the public on the best ways to protect and care them in the wild.
The Park for the Community
This is an area that serves the community in many different ways. From the playground to the nature center, there's something for families at this hidden Clearwater gem. But it also serves the larger community by being a space for the community to come together. Courtesy of Clearwater Parks, here is a list of various organizations that meet here.
Clubs & Societies that meet at Moccasin Lake Nature Park
A Hidden Gem for Clearwater Residents and Visitors
We really enjoyed our time at this nature park. You can plan to be there about 2 hours or so. If you have kids that really love the playground, you could be there even longer! During summer months, you'll want to arrive early or later in the afternoon to avoid the most intense heat. But in the cooler months, there's plenty of shade to enjoy all day! To spend more time, you could also pack a lunch to enjoy in one of the covered pavilions. There's lots to love about this park!
You may also like:
The Best Rides at Legoland Florida