There are so many wonderful reasons to love Orlando. I've devoted entire
Instagram posts
to my love of this city. It's my home, where I've created my family, and made memories with loved ones. I am proud to call this city my home. When visitors come to town, there are certain classic things that most people want to do. And one of those is the tall beacon of light known as
ICON Orlando
. You can see this 400 foot observation wheel from miles and miles around! At this entertainment and dining complex, there is so much to do! We've dined at a few of the restaurants at ICON Orlando, such as
Yard House
and
Carrabba's
, and look forward to trying more. For a family night out,
ICON Orlando
is one convenient and entertaining stop!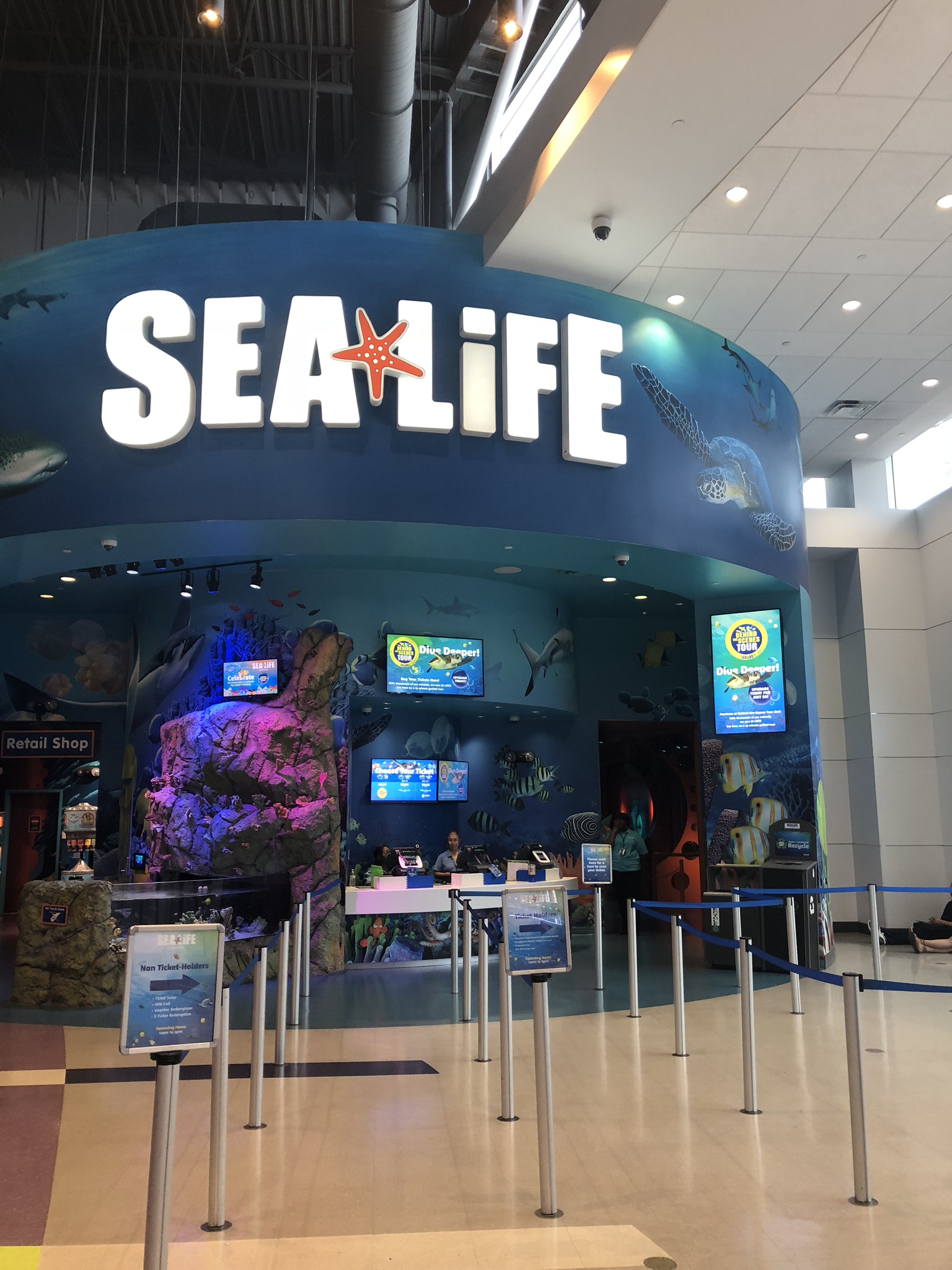 We started our evening to ICON Orlando with a visit to
Sea Life Orlando Aquarium
. This aquarium inside the ICON Orlando building has a somewhat humble entrance, and from the front, you would never imagine all that there is to discover inside! When you walk inside Sea Life Orlando, you are greeted by walls of fish, colorful exhibits, and quests to conquer.
Sea Life Orlando Aquarium
has Florida's only 360 degree tunnel, where you can watch fish, sharks, sea turtles, and more go all around you, while walking through a very picture worth experience.
Sea Life Orlando Aquarium
is made up of 9 different and unique habitats. For the young ones in your group, they can complete a quest where they get a stamp in each of these nine habitats in order to claim a special prize in the gift shop. My kiddos love anything like this, and it really helps them appreciate each different habitat more completely. As a homeschooling family, we really love to incorporate learning into our travels and family nights out, and Sea Life Orlando Aquarium made learning so fun!
One of my favorite habitats was the shoaling ring, which is the first habitat you enter during your visit to Sea Life. We've been to a lot of different aquariums, and this was one of the most mesmerizing and unique exhibits we have ever experienced! There's really no picture that can show it properly, but you can watch my youtube tour of
Sea Life Aquarium Orlando
to see the full effect.
One of our favorite exhibits was the jellyfish wall, which changed colors at the push of a button. My camera does not do this effect justice, and it was a truly beautiful moment to see my five kiddos lined up in front of all of these amazing creatures and colors! This is just one example of the beauty and wonder that awaits you at Sea Life Orlando Aquarium.
A surprising and welcome part of Sea Life Orlando Aquarium was the playground! This multilevel equipment was a great way to get out the wiggles and was such a fun surprise around the corner. Right after this spot was the touch tank. Even if you've touched a sea anemone before, it really never gets old. Learning comes alive when you can touch the creatures you are learning about with your own hands.
Coming up soon, Sea Life Aquarium will have Homeschool Days from November 5-9. Be sure to visit their website to learn more about this special offer. It's a wonderful opportunity for homeschooling families to experience all that Sea Life Aquarium Orlando has to offer and I really appreciate businesses that make an effort to reach out to homeschooling families.
Sea Life Aquarium Orlando is full of wonder, color, and engaging learning. There are interactive exhibits, feeding displays, scuba demonstrations, and much more. I was so surprised by all we discovered inside, and would highly encourage you to visit!
And what visit to ICON Orlando would be complete without a spin around the observation wheel itself? The ICON Orlando is the highest observation wheel of its kind on the East Coast. Rising 400 feet in the air, and weighing 3 million pounds, it provides gorgeous views of Orlando. We had been on ICON Orlando during the day a few years ago, but this time, we went after dark, and it was such a wonderful experience!
The views were absolutely incredible and we could even see fireworks in the distance! There are 30 capsules, which fit 15 people each, and the ride lasts about 23 minutes. There are screens inside the capsules that point out Orlando landmarks and my kids loved scrolling through these to find their favorite places around town. The capsules even have music playing and dim lighting during the evening! My husband and I grossed out the kids by dancing to the music at the top of ICON Orlando. Even with our five kids around us, it was very romantic.
ICON Orlando is an absolute must-do in Orlando. Whether you go during the day or at night, you will be mesmerized by the views of Central Florida. The best value when visiting ICON Orlando is a combination ticket, which can include Sea Life Aquarium, Madame Tussaud's, Skeletons, or Orlando StarFlyer. When you combine these attractions, you save a great deal on the price of a single-day ticket!
Be sure to visit ICON Orlando for a family night out on the town, a date night, or to impress out of town guests. You do not want to miss the views from the top of the observation wheel! And diving under the sea with Sea Life Aquarium Orlando is an experience you're family will never forget.
*I was provided with complimentary admission to these attractions in exchange for my honest and unbiased review. All opinions are my own.