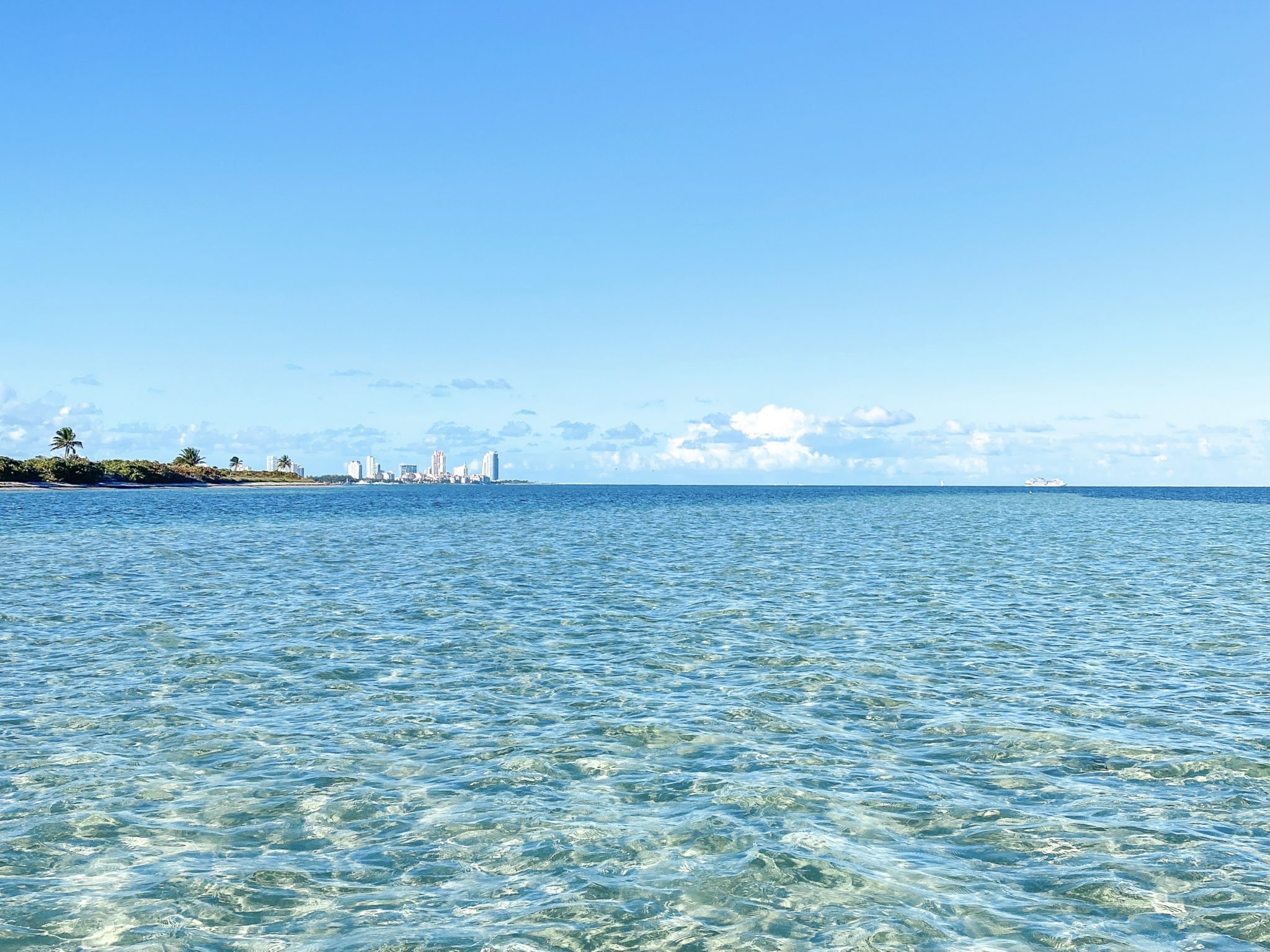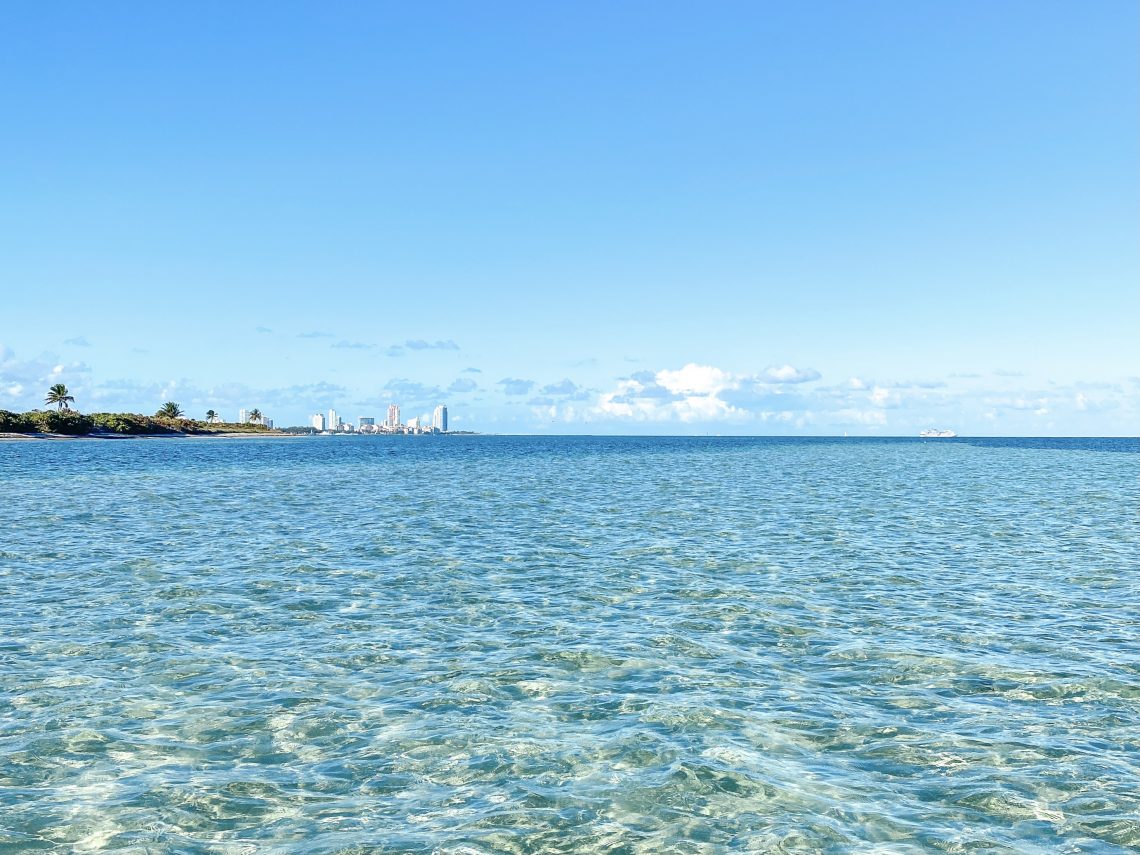 Crandon Park Beach: Hidden Miami Gem for Families
March 4, 2021
Sharing is caring!
When you think of Miami, I'm sure you think of beaches. However, you may not think of family friendly beaches. And that's legitimate actually! South Beach, which is probably the most famous beach in Miami, is far from family friendly. We do visit South Beach, and did spend a few hours walking around that area on our most recent visit. However, for a relaxing day at the beach with kids, South Beach probably isn't your best choice. But I'm here to share something that Miami locals already know. Crandon Park Beach, which is located on Key Biscayne, just 10 minutes from downtown Miami, is a hidden gem for families.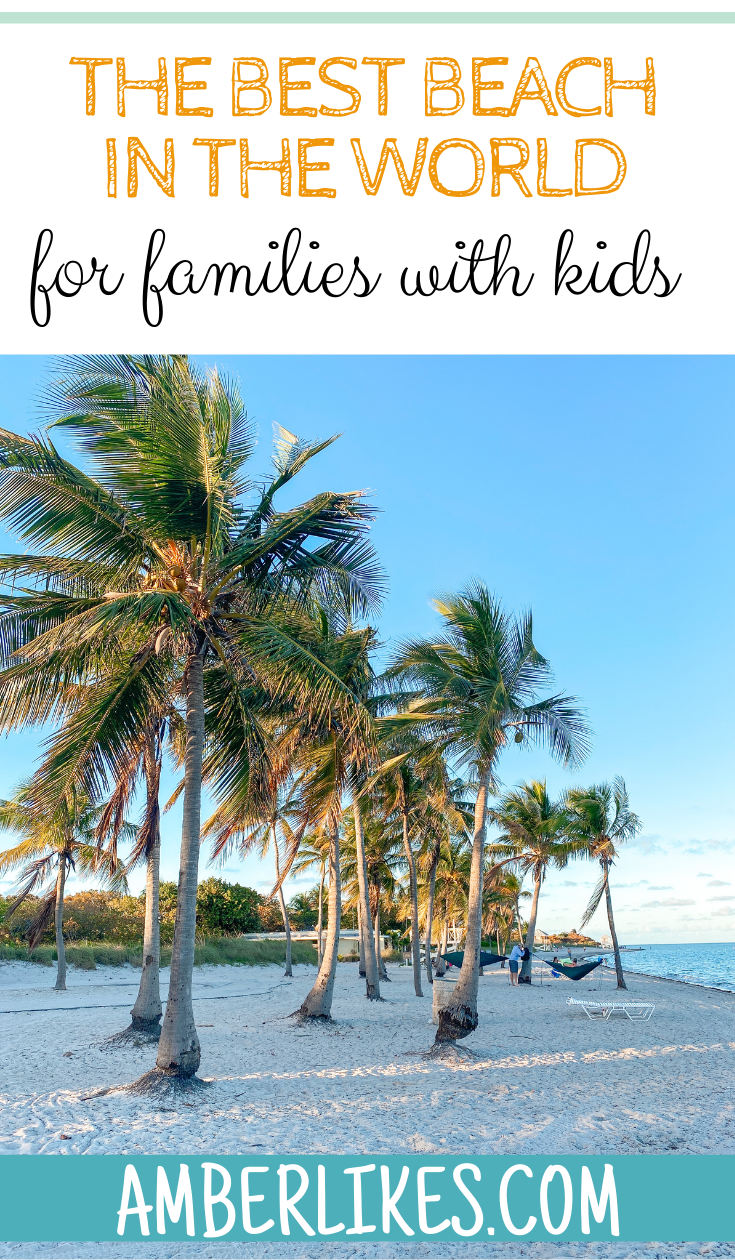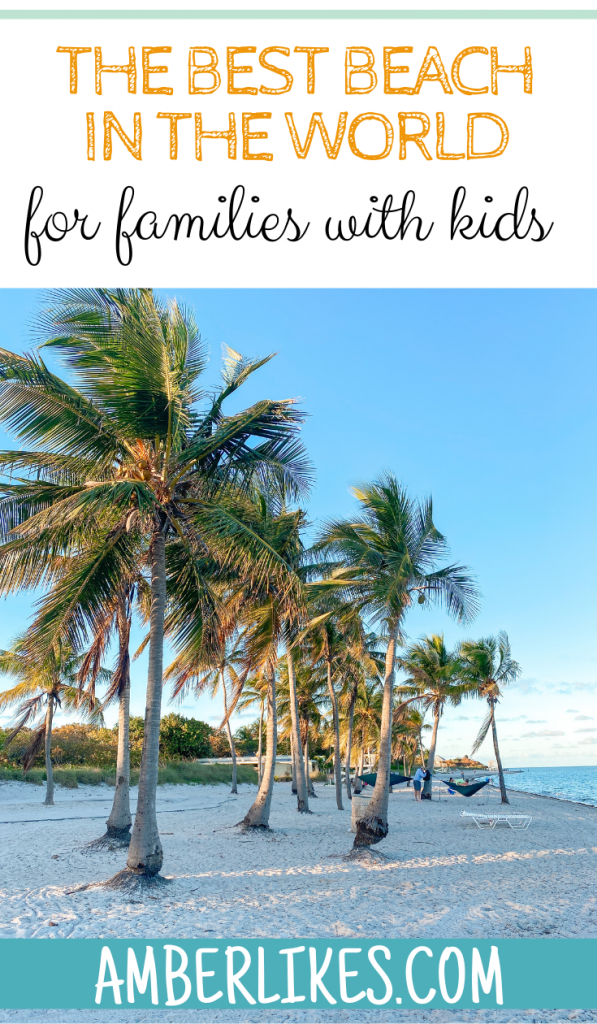 Where is Crandon Park Beach?
Crandon Park Beach is located on Key Biscayne, which is part of Miami. There's a lot of confusion about where or what Key Biscayne is, which is understandable given the name. It's often confused with the National Park that partially has the same name, Biscayne National Park. Both of these names come from the body of water that they are located in, which is Biscayne Bay. However, Key Biscayne and Biscayne National Park are two very different things.
Key Biscayne is technically a village that is located between two large parks, Crandon Park and Bill Baggs Cape Florida State Park. There's a Ritz Carlton in Key Biscayne, as well as several small shops and restaurants, in addition to many residential areas. In order to get to the town of Key Biscayne, you must cross Rickenbacker Causeway, and drive straight past Crandon Park. Rickenbacker Causeway is located directly south of downtown Miami. Rickenbacker Causeway is a toll road and accepts SunPass or toll by plate.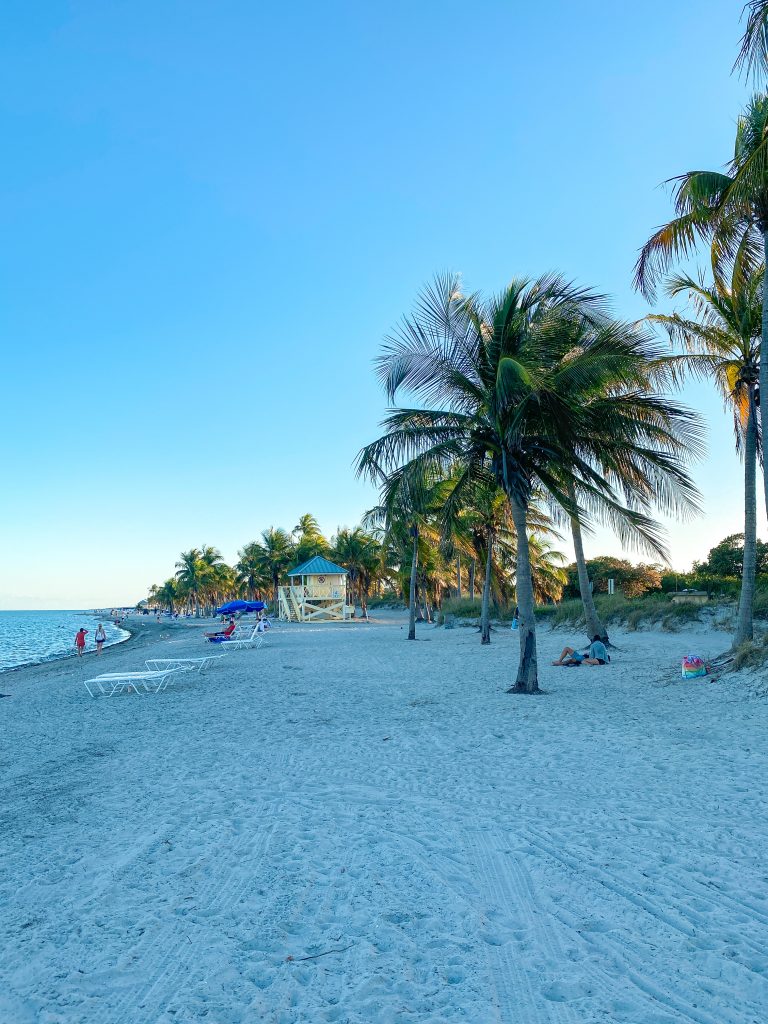 Why is Crandon Park Beach Perfect for Families?
Crandon Park is an 808 acre park, with over 3000 parking spaces and includes a fee to use. You can pay at pay stations that are conveniently located throughout the parking areas. It includes restroom facilities, picnic areas, cabanas for rent, barbecue, volleyball courts, and a small nature center. There are chairs and umbrellas available for rent through a mobile app, which is very convenient for families dragging all of their beach gear while on vacation!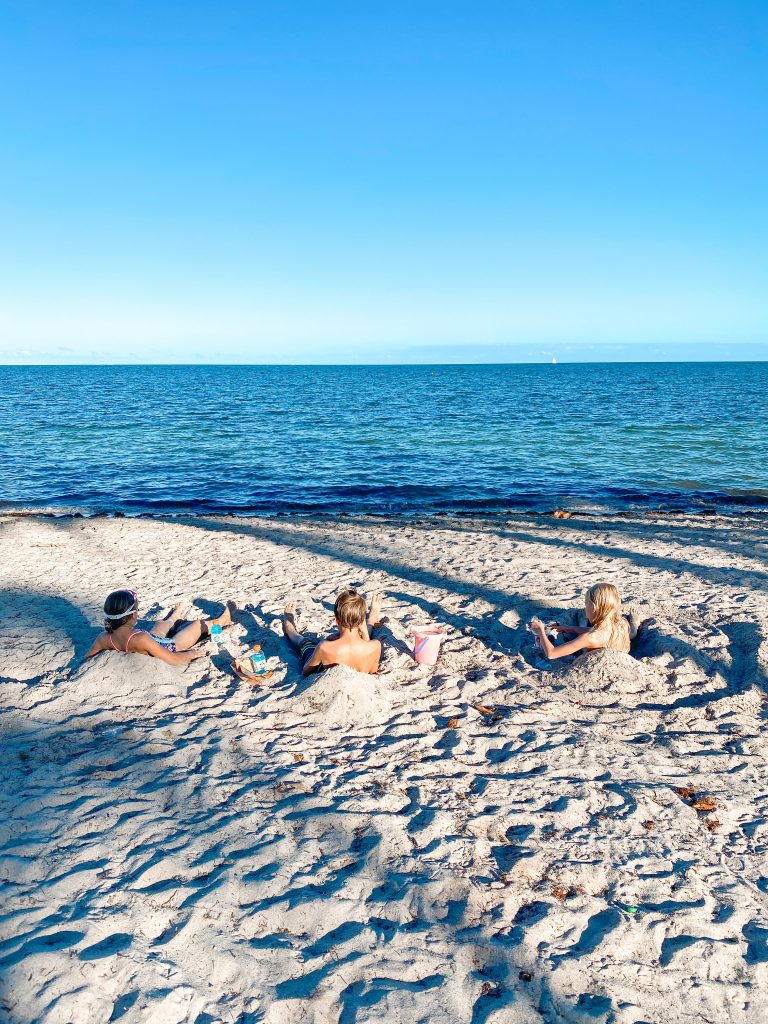 So why is Crandon Park Beach perfect for families? Just look at these pictures! The beach is wide and has a very shallow entry. There is plenty of space to spread out. And there's also a restroom located very close to almost anywhere you choose to make your home on the beach. As a Mom, this is something that's really helpful at the beach with little ones!
The Marjory Stoneman Douglas Biscayne Nature Center is also a wonderful resource for families. As a homeschooling family, I'm always trying to add in learning into our travels. You can schedule a naturalist-led field trip that includes hiking through hammocks, exploring a fossil reef tidal pool during and observing marine life in small tide pools. Inside the facility, you'll find exhibits with aquariums, a mangrove habitat, and interactive exhibits. There's also a small art gallery and a gift shop. It's a homeschooling families dream! Be sure to check their hours before planning a visit at  (305) 361-6767 ext. 119.
Where Do You Get those Epic Beach Pictures?
When we visited recently, we got some epic shots in the water, with the Miami skyline behind us. I've gotten so many questions about where these pictures were taken! Most people seem to think it was at a national park. However, it's right here at the Crandon Park Beach, located just about 10 minutes from Miami.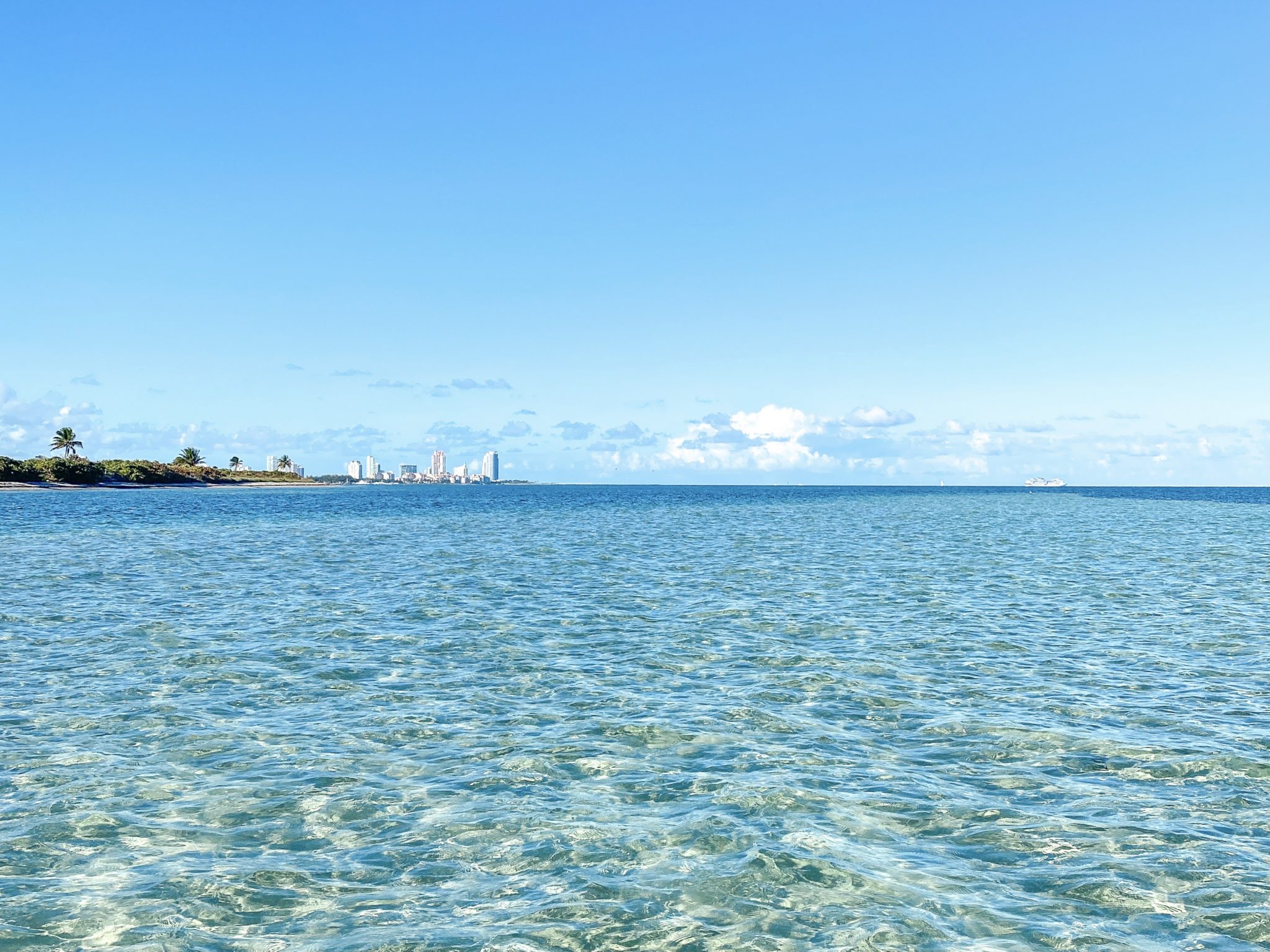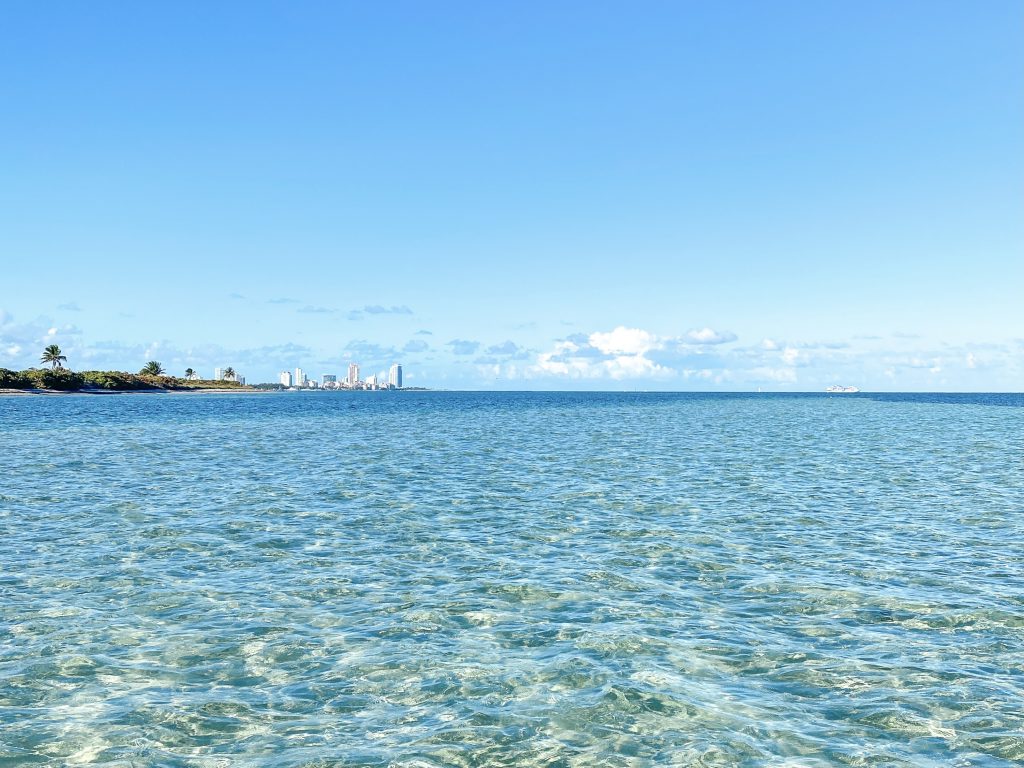 We parked at the North Entrance, and walked a little ways north, towards the city. At this side of the park, the beach curves around just enough to allow a gorgeous view of the Miami skyline. There's a sandbar that extends all the way to the shoreline. So even my smallest kids could easily and safely head out to the water. It was so beautiful and so fun to be out so far in the water, but in less than knee deep water for most of the ways.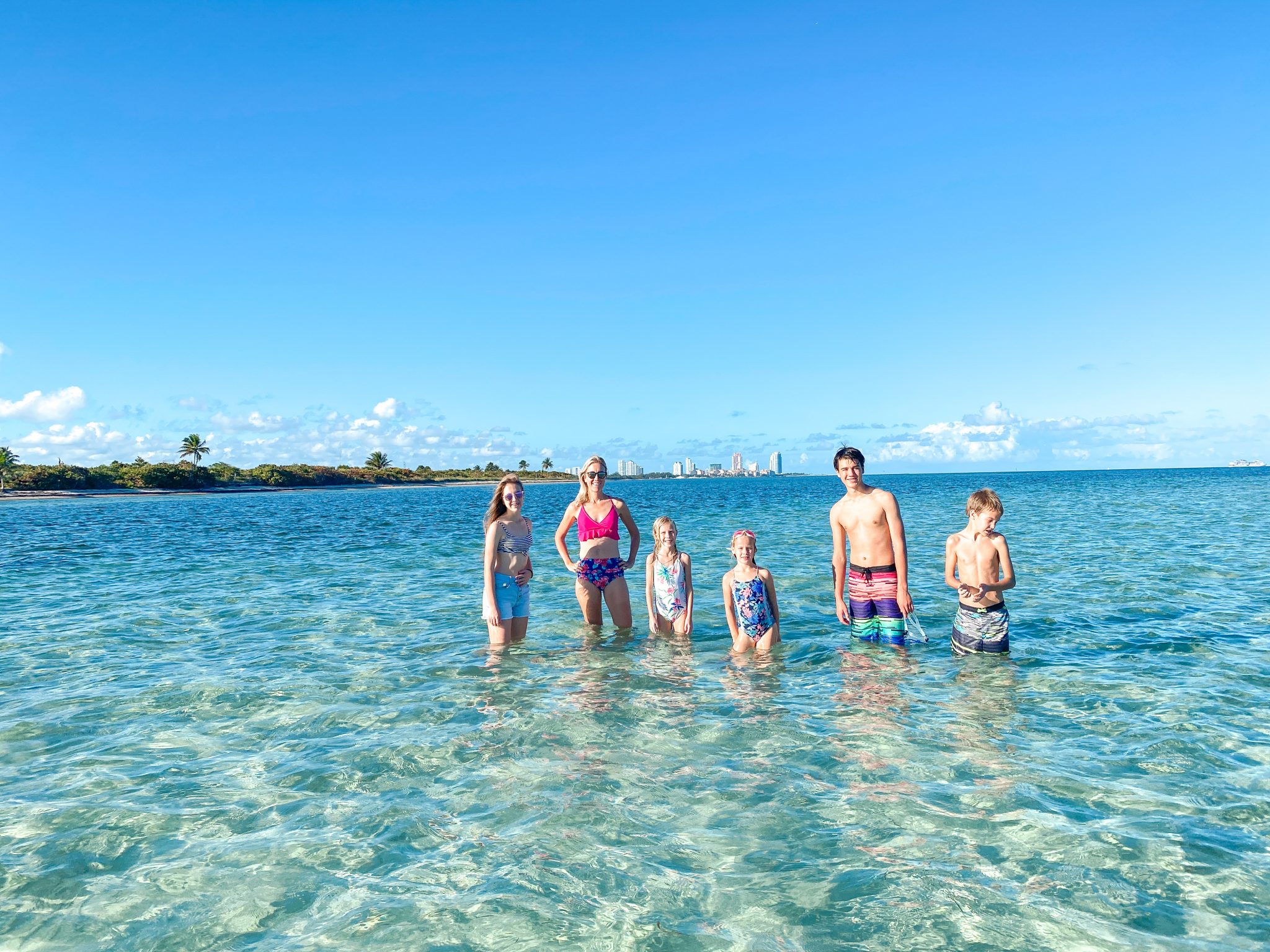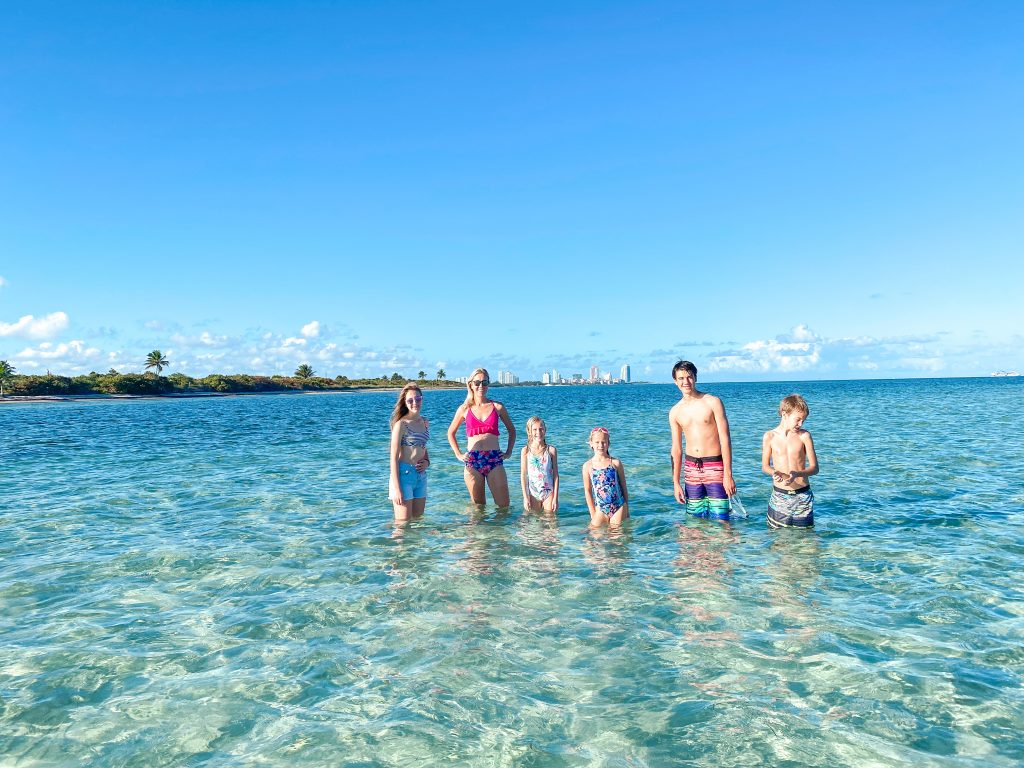 What Else Can You Do at Crandon Park?
In addition to the amazing Crandon Park Beach, you can also visit the Nature Center, as I've shared. In addition, you can rent a private cabana that has private restroom facilities! This would be perfect for a party or special day at the beach.
Tennis at Crandon Park
The Crandon Park Tennis Center used to be the home of the Miami Open. When I used to work on Key Biscayne, I had to plan extra time for traffic when this event was taking place. However, the Miami Open has now moved to a new location and you can use the tennis facilities at one of the many public hard or clay courts. You can find out more about the fees, check hours, and make reservations on the Tennis Center website.
Golf at Crandon Park
There is also a beautiful golf course, open to the public, at Crandon Park. This is the only public gulf course on Biscayne Bay. The official Crandon Park Golf Course website describes the course this way:
Crandon Golf at Key Biscayne is a championship 18-hole golf course located on the island paradise of Key Biscayne, just 10 minutes from downtown Miami. It is the perfect alternative to civilization where you can spend a day enveloped by the tropics. Crandon Golf is an explosion of color and light surrounded by water, mangroves and lush, tropical foliage.
Crandon was the site of the Senior PGA Tour for 18 years, attracting golf's greats including Lee Trevino, Chi Chi Rodriguez, Don Messengale, Ray Floyd and Gary Player. The course is considered one of the most beautiful and difficult par-72 courses in the state of Florida. Crandon's seventh hole is touted as "One of the Greatest Holes in Golf," a gorgeous par 4 that doglegs to the right and sends your golf ball soaring over sparkling water. The course has been rated in the top ten courses by Golfweek, and one of America's top 75 upscale courses by Golf Digest.
From the first hole – a dog leg par 5 that requires a drive over water and mangroves – to the last – another par 5 with water on both sides of the fairway – Crandon Golf at Key Biscayne is, in many ways, Miami's signature golf course.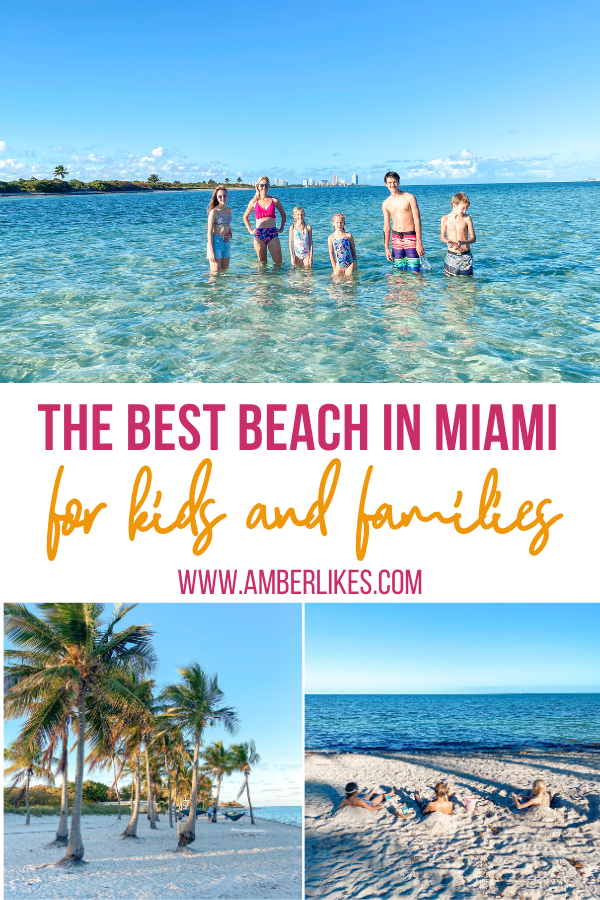 A Visit to Crandon Park Beach is a Must Do
This is really one of my favorite places in all of Miami. I've visited a lot of beaches around the world, and this remains one of my favorite. There's a reason it is consistency rated one of the best beaches in America. Crandon Park has a rich history, as you can read below from the Miami-Dade website:
Crandon Park was a donation, made to the County, in 1940 by heirs of Commodore William John Matheson, a wealthy aniline dye businessman who used the land as a coconut plantation, with the condition that the land be used as a public park. In exchange for the land donation Chairman Charles H. Crandon of the County Commission, for whom the park is named, offered to have the County build a causeway that would connect Key Biscayne to the mainland.
Zoo Miami had its origins in Crandon Park's botanical garden. The County purchased several animals in 1948, which started the Crandon Zoo. By 1965, Crandon Zoo had grown into one of the major zoos in the country, with over 1,000 animals and about 380 species. 
Although the history of Crandon Park has changed, I'm so thankful that it's preserved for families to enjoy today. It's a perfect beach for families and the memories we've made there will last a lifetime. Enjoy your visit!
You may also like:
Is the Biltmore Hotel Miami Good for Families?
National Parks Road Trip with Kids: 10 Parks in 30 Days
You May Also Like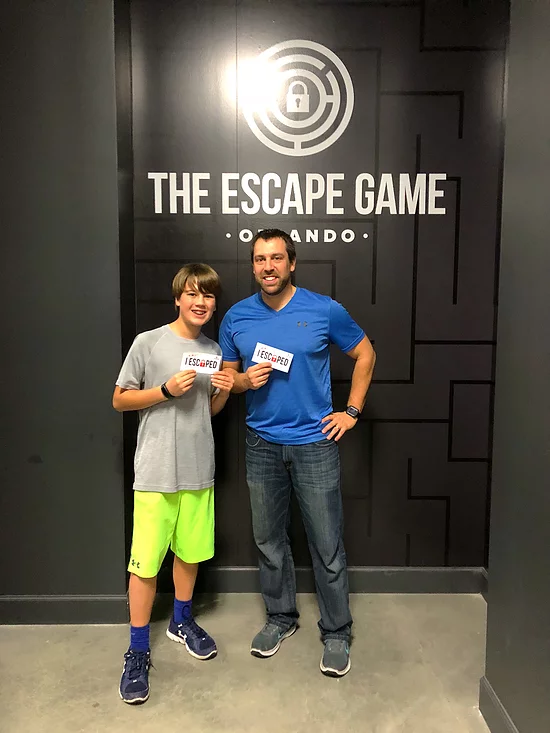 January 29, 2018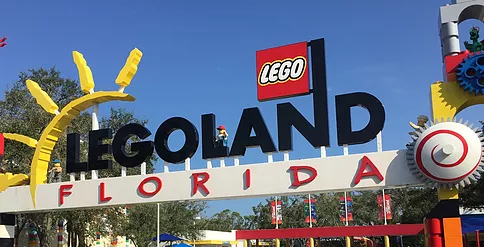 September 18, 2017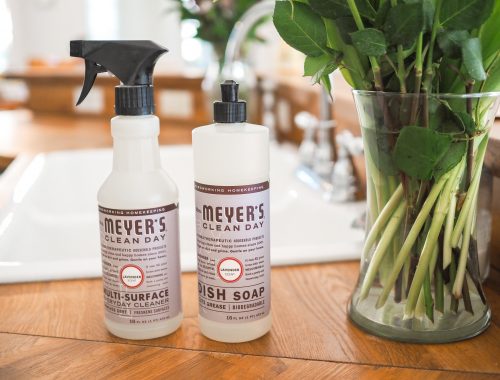 April 8, 2021