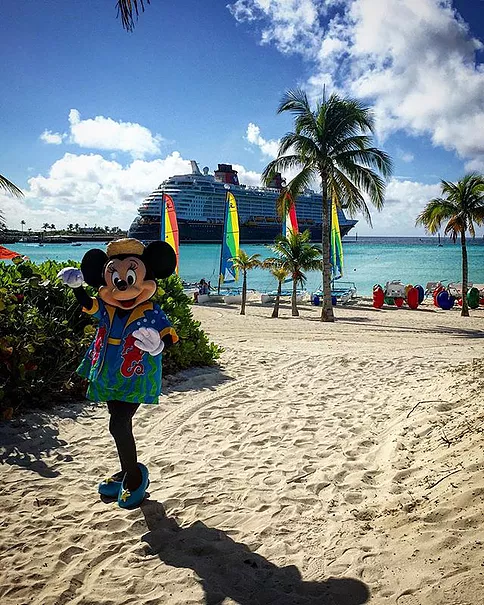 Disney Dream Review Part 2: Castaway Cay
December 5, 2017
Sharing is caring!
As promised, here is another part of my review of our time aboard the Disney Dream cruise ship. Today, I will be reviewing my favorite part of the week- Castaway Cay! Castaway Cay is Disney's 1,000 acre private island in the Bahamas. It is located 225 nautical miles from Port Canaveral and has 55 acres of developed land for guest use.
In all fairness, I am totally a beach person, so it makes sense that being at a gorgeous, private beach would be my favorite part of the trip. Before we went on the cruise, I really had no idea what to expect, so read on for some of the highlights and "must do's" on Castaway Cay!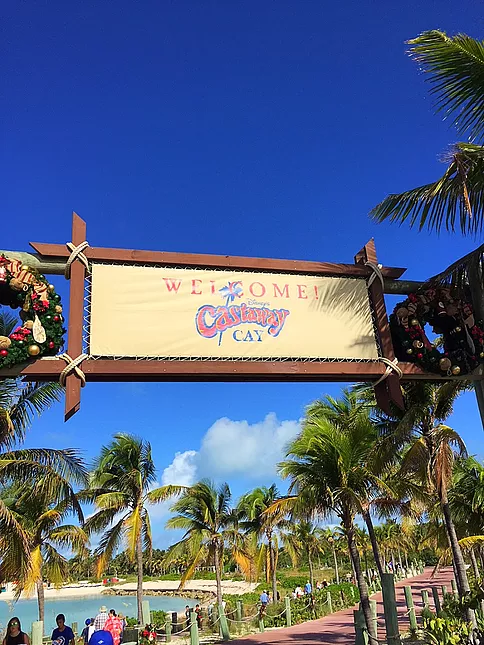 1. Castaway Cay Character Meet and Greets
We found some unique and adorable characters on our walk into Castaway Cay. We did not take the tram, which provided even more of an opportunity to take in all of the beauty of the island. This did get to be a little tiring for little legs, especially to make it all the way down to the beach area that had the water slide and play feature. If we went back, I would definitely take the tram, but it was a nice way to get the lay of the land on our first journey in.
Back to characters! When we first got off the Disney Dream, Chip and Dale were waiting to greet us! There was a short line, and my children were intent on getting as many character signatures as possible, so this was an exciting way to start our day! If you are using an autograph book, I would recommend bringing it with you when you get off the ship and putting them in a ziplock or dry bag. On our way in, we met Chip and Dale, Jack Sparrow, Minnie Mouse, and Goofy! It took less than 45 minutes to get five autographs and take pictures with all of these characters put together! This is something that was vastly different than at Walt Disney World. Meeting characters at Walt Disney World is a very time consuming process nowadays. This was something I really enjoyed on the Disney Dream in general, and it was extra fun at Castaway Cay.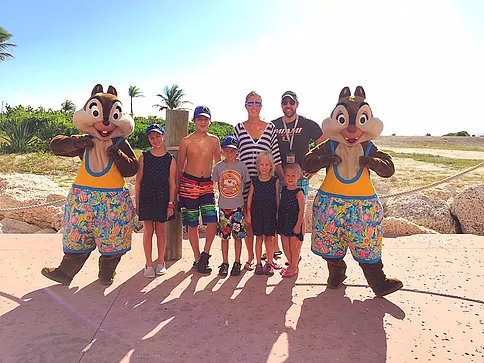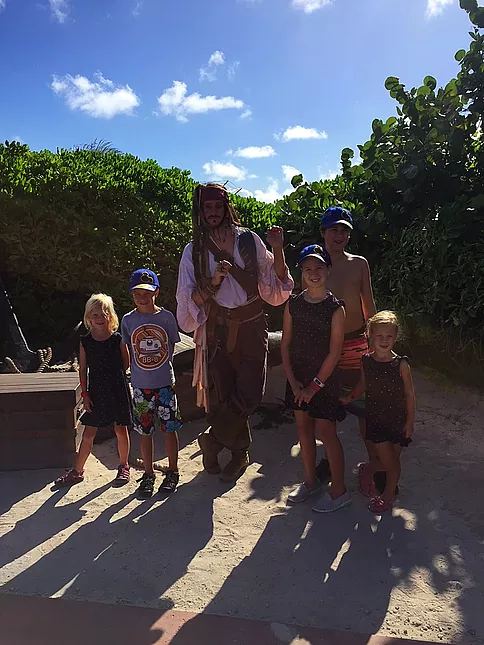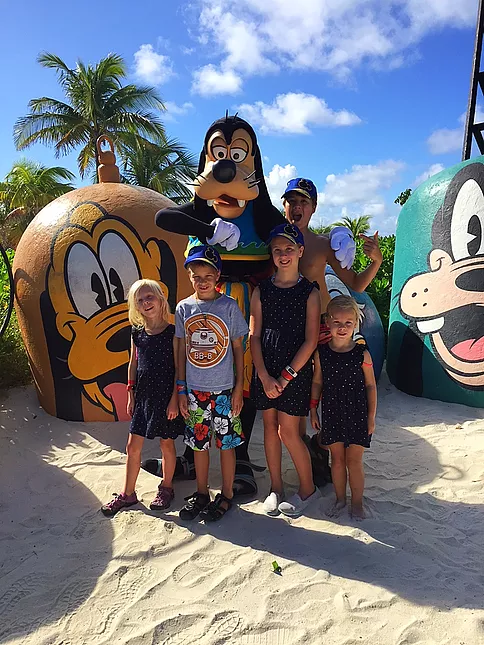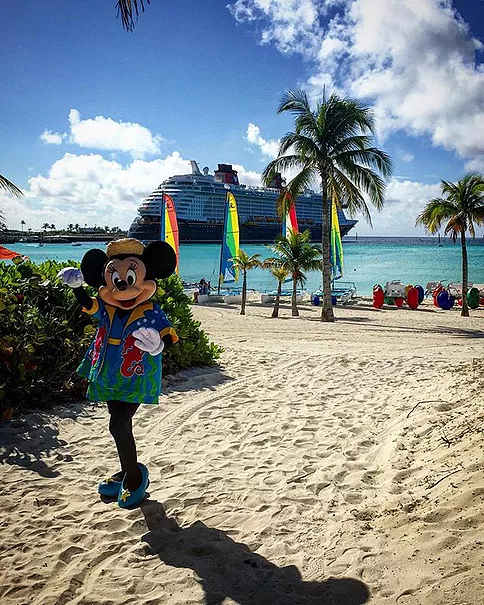 2. Play Structures and Slides at Castaway Cay
We had heard a lot about the water slide structure at Castaway Cay. There are actually two! One of them is a water slide structure called Pelican Plunge. It has a height requirement of 38 inches, so all of my children could go. The four older ones tried it, but the youngest was too nervous, which was quite understandable since it is located out in the water. As expected, it was somewhat crowded, and you had to decide how much time you were willing to commit to waiting in line. There are life vests available for use, and they are required for those under 48 inches.
There is also another climbing structure located in another area of the beach. It is basically a ropes course for kids, that is quite challenging. We stayed out on Castaway Cay as late as possible in the day, and we were some of the last people back on the ship. This gave us an opportunity to feel like we had the place to ourselves and the kids had more space on the play structures.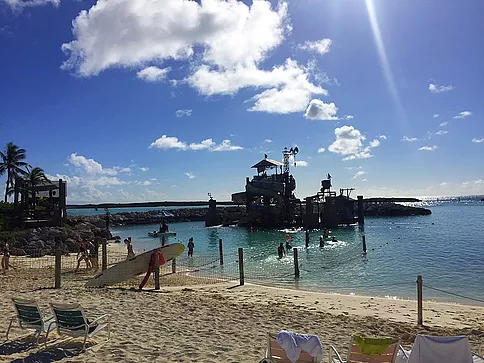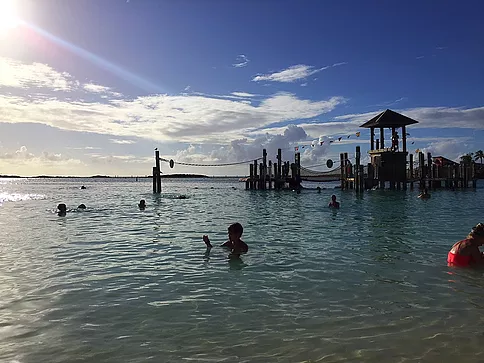 3. Food at Castaway Cay
There is a large all you can eat barbecue at Castaway Cay. There are several different locations to eat, but they all offer the same options. There are hot dogs, ribs, hamburgers, fries, corn on the cob, fresh fruit, couscous, tomato and cucumber salad, and yummy breads and desserts. I asked for a veggie burger, and got one easily as well. The tomato and cucumber salad was one of my favorite things that I ate the entire trip!
There are also ice cream soft serve machines available and soda drink stations. One thing that I did not appreciate was that bottled water, or water at all, was not very easily available. My parents have been on many cruises with different companies, and bottled water was always given out freely. They were surprised that this was not available on the island. I would like to see this change from Disney to help keep families hydrated while out at the beach all day.
4. Scuttle's Cove at Castaway Cay
As mentioned in my last post, there is childcare available on the island for ages 3-12. It is a lovely area that has a splash park, sand, some small slides and toddler climbing areas, and serves lunch. I really loved getting a break from feeding all of the five children, and being able to eat my own lunch in peace was such a treat. So I was sure to have my kids checked in with plenty of time to eat lunch with the staff at Scuttle's Cove. There are the same check-in procedures as on the ship and my children ended up winning several games and then their prizes were awarded to them back on the ship. It was a nice shaded area for the little ones to play, and even my 10 year old loved the splash zone.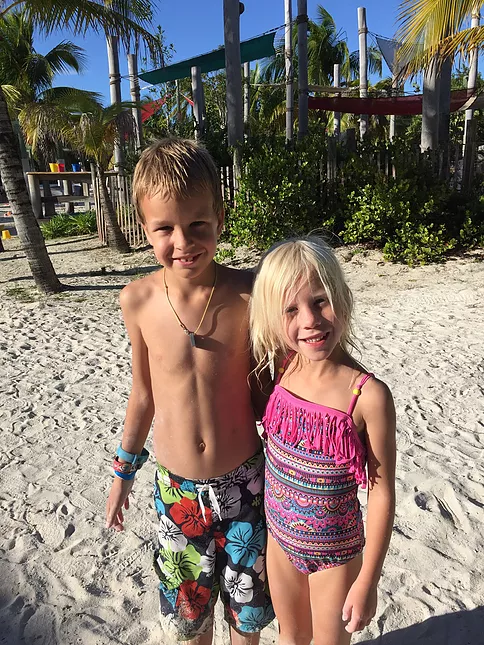 5. Rentals and More at Castaway Cay
I was determined to not do any extra activities that cost money since there was so much to do on Castaway Cay that was included. However, that didn't last long. We rented bikes and rode all around the island. I really loved this because we had the chance to see amazing views, visit Serenity Bay, which is the adults only area of the island, and spend time together. It was really fun to feel free and have more space riding around the island. It was also great to get some exercise amid all of the excessive eating!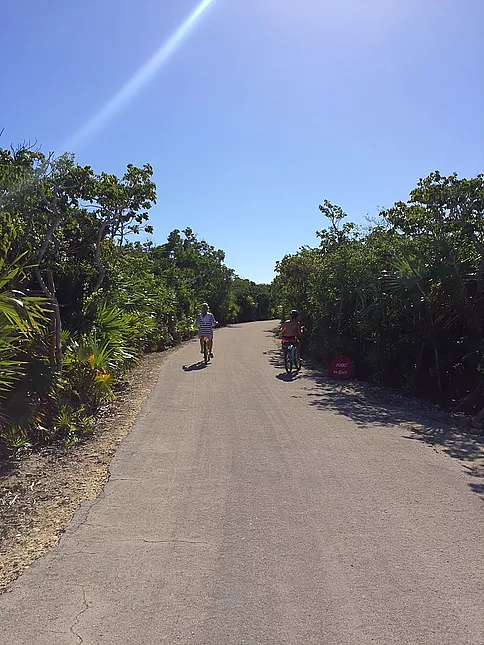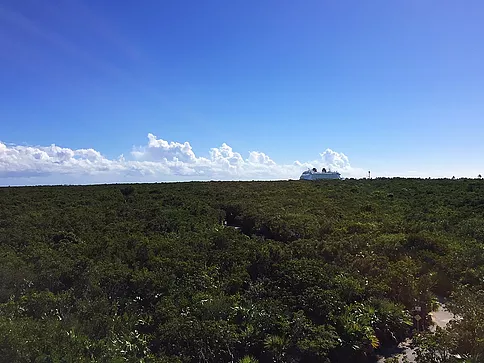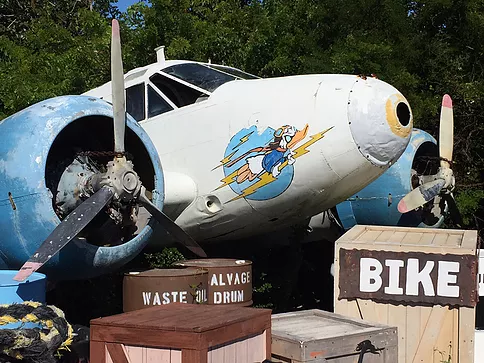 We also rented a water trike, and this created some of the most amazing views of the island with the Disney Dream in the background. It was a fun and relaxing way to go out in the water, and you could get close enough to the stingray area to see them as well. This was probably our 4 year old's favorite thing during our day at Castaway Cay!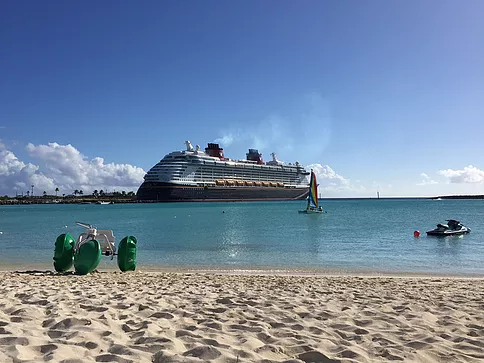 We really enjoyed our time at Castaway Cay. I wish there was a cruise that stayed more than just one day at the island. It seems the ship could dock there for two nights and allow guests more time to explore. If they built a hotel there, I would definitely stay there as well! It was beautiful, had so much to do, and was one of my favorite memories of the trip. Stay tuned for more thoughts from the Disney Dream cruise!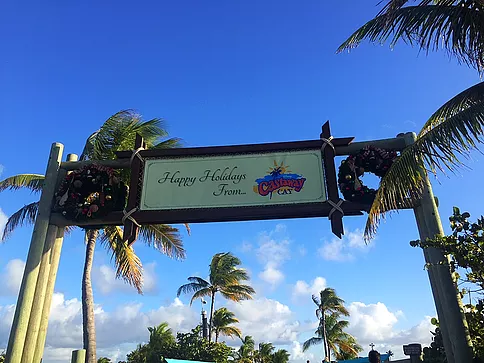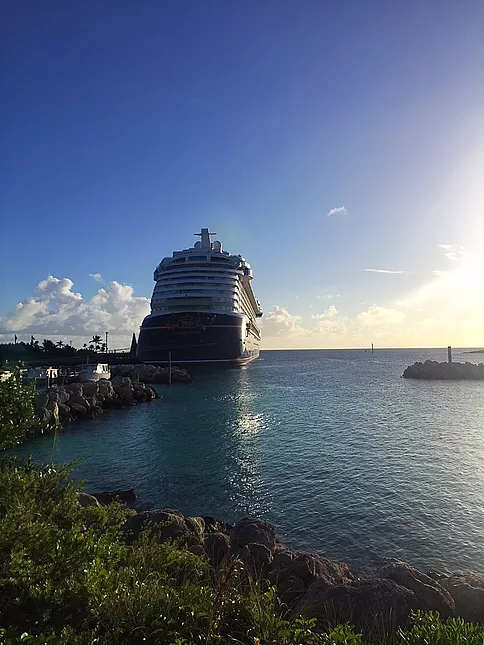 You May Also Like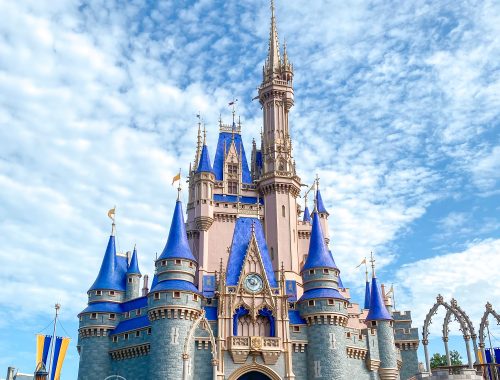 January 12, 2021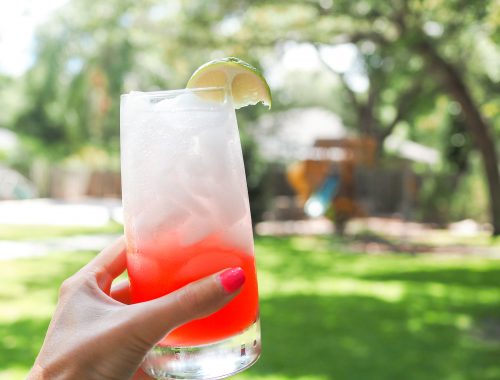 June 11, 2021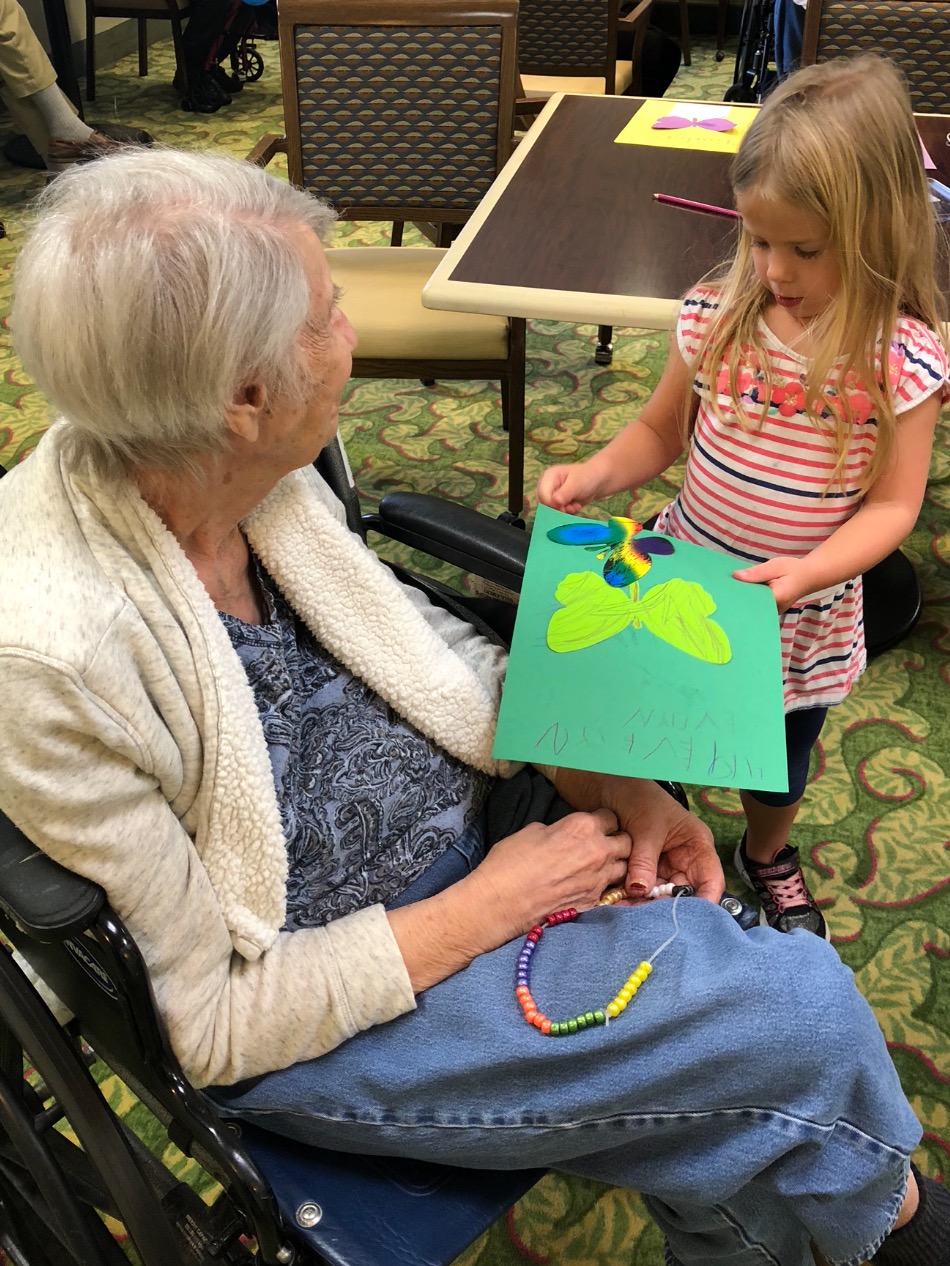 October 31, 2018