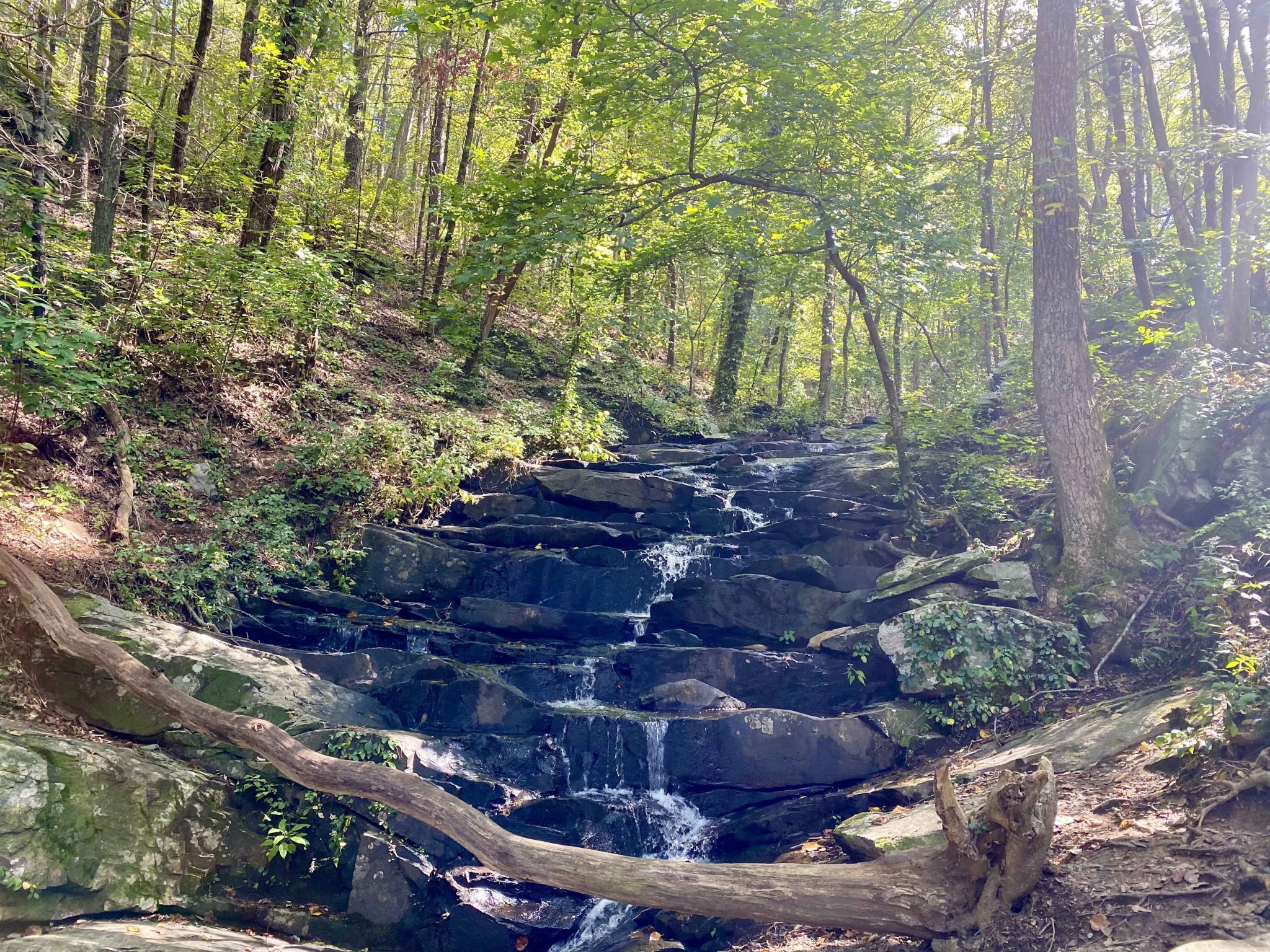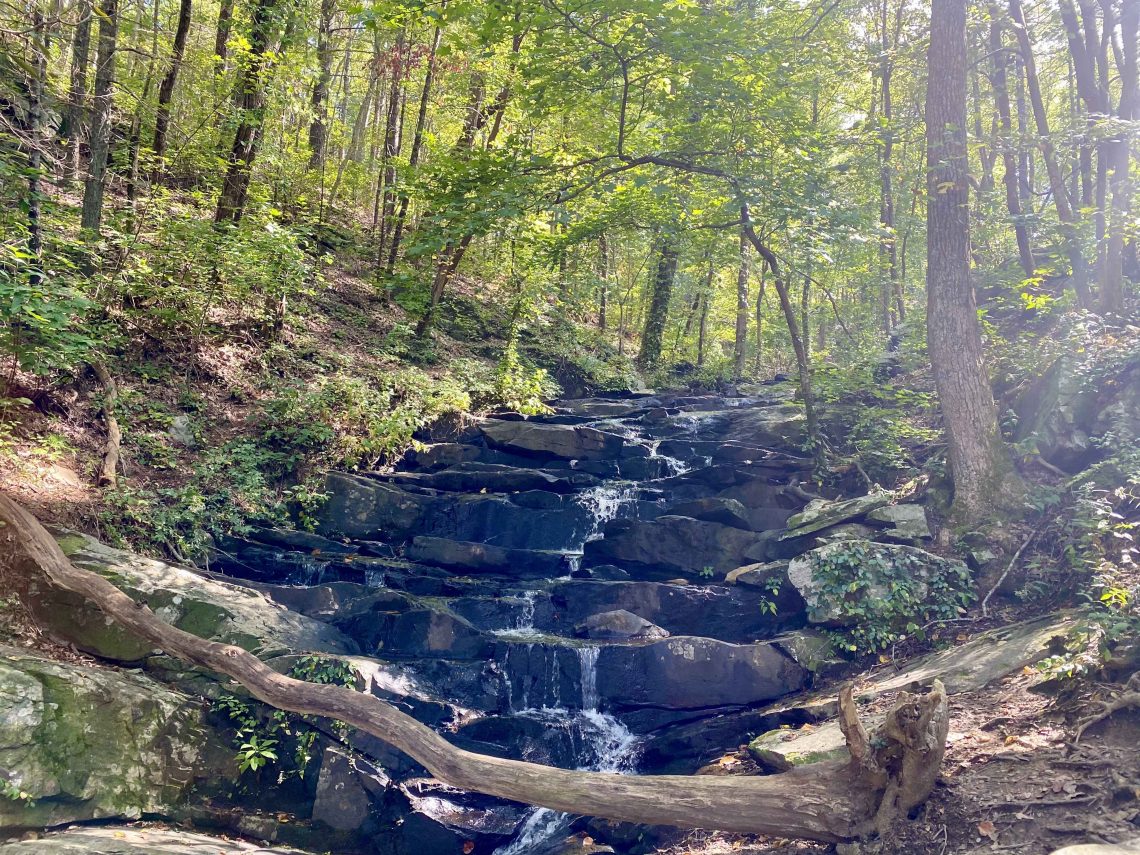 Gahuti Trail at Fort Mountain: Adventure Abounds!
November 11, 2020
Sharing is caring!
The Gahuti Trail is one of my favorite trails!
When were visiting Blue Ridge, Georgia, we had the opportunity to visit somewhere new. We visited the beautiful Fort Mountain State Park in Chatsworth, Georgia. Although we have visited Blue Ridge many times, this was our first opportunity to visit Fort Mountain State Park. During our week in Blue Ridge, my husband and I took a date day! And this date took us to the Gahuti Trail at Fort Mountain State Park. Although our children love to hike, the Gahuti Trail is almost 10 miles long. So this was a perfect hike for the two of us to conquer together.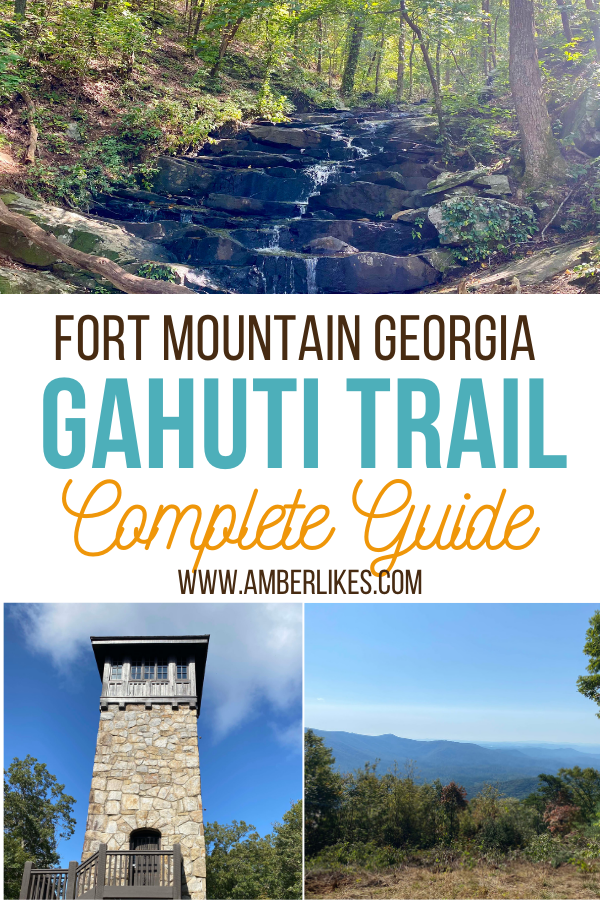 Fort Mountain State Park
Fort Mountain State Park is one of the gems of the state park system in Georgia. It has hiking and biking trails, over 50 miles of trail system, campgrounds, a lake, and even a miniature golf course! There is a small admission fee and it's well worth the cost. And you will also find an adorable little trading post that has camping essentials, souvenirs, and small snacks. I loved this little shop and the employees were very helpful!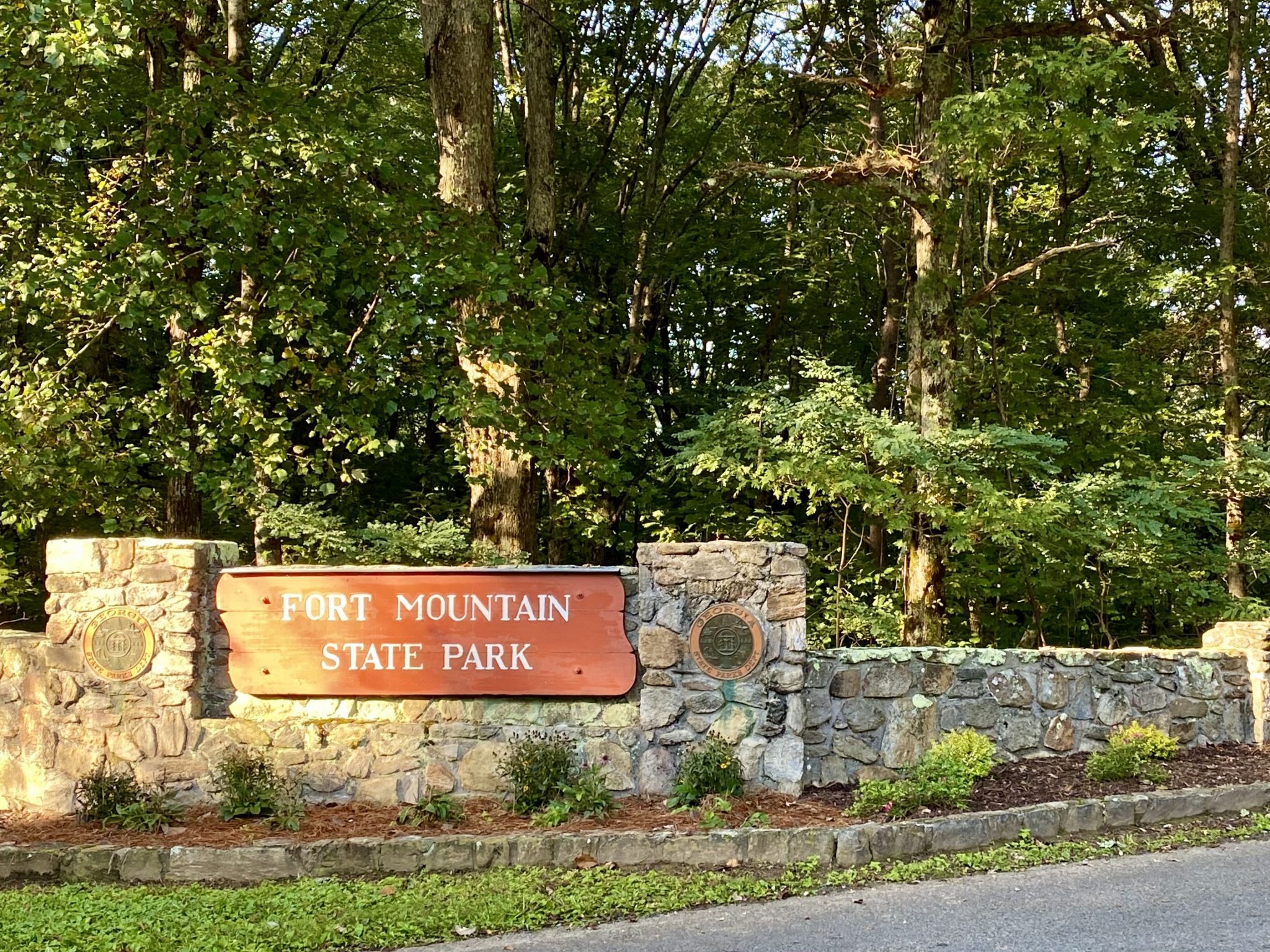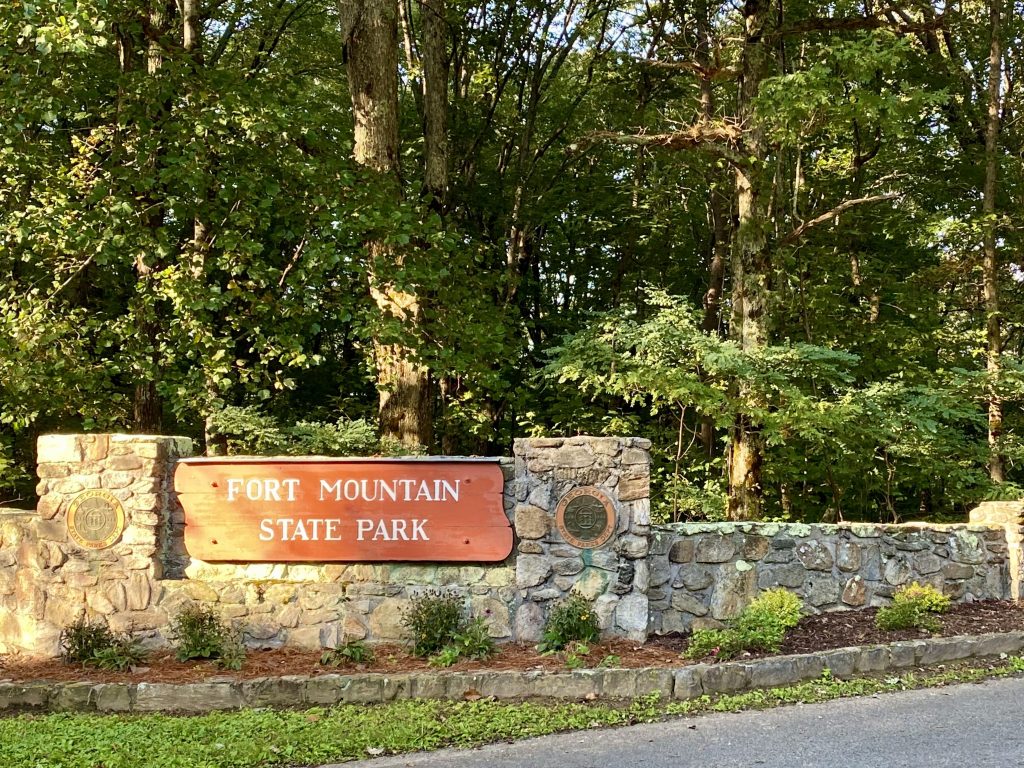 Reservations, Accommodations & Facilities
4,058 Acres
17 Acre Lake
1 Group Shelter (seats 80. Before making reservations, call park for capacity limits.) — seasonal
3 Pioneer Campsites (Before making reservations, call park for capacity limits.)
7 Picnic Shelters (Before making reservations, call park for capacity limits.)
Sand Swimming Beach — seasonal
CCC Stone Fire Tower — open house every Saturday & Sunday, 1–4 p.m. (weather permitting)
Gift Shop
Playground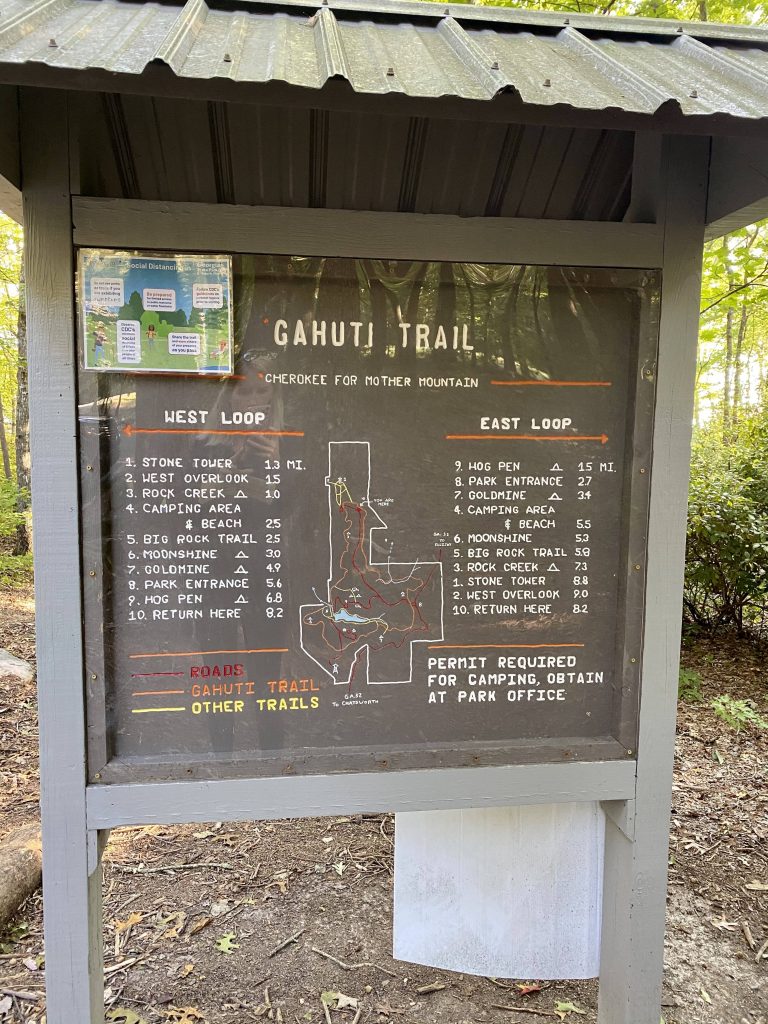 Things To Do & See
Information courtesy of the Georgia Department of Natural Resources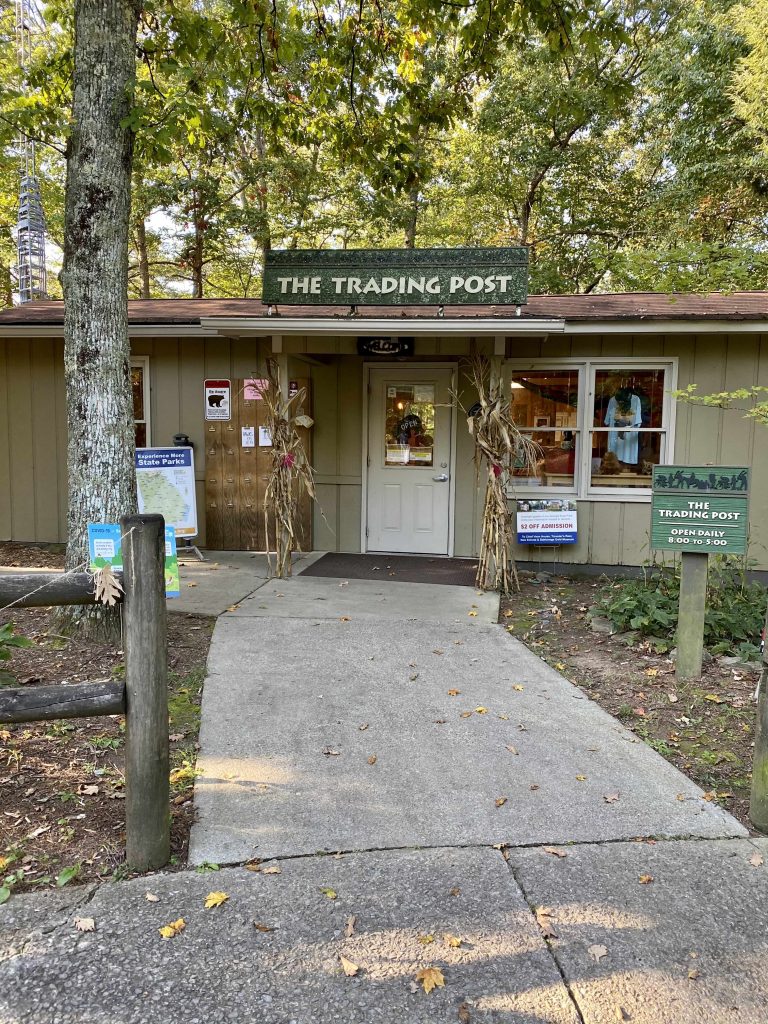 There are several shorter hikes within Fort Mountain State Park. Although we didn't have the children with us on the day we visited this park, we certainly want to return with all five kiddos! With shorter hikes available, as well as longer journeys, there's something for everyone. Here are the shorter hikes you can find at Fort Mountain State Park:
Overlooks, Tower, and Stone Wall
If you're looking to get an overview of the history of Fort Mountain State Park, these shorter trails are the perfect option. You can see the famous and mysterious stone wall, which is where the park gets it's name. With this 1.6 mile loop, you will see the stone wall, the restored 1930's fire tower, and also amazing scenic overlooks. There are amazing views that you'll just have to see to believe!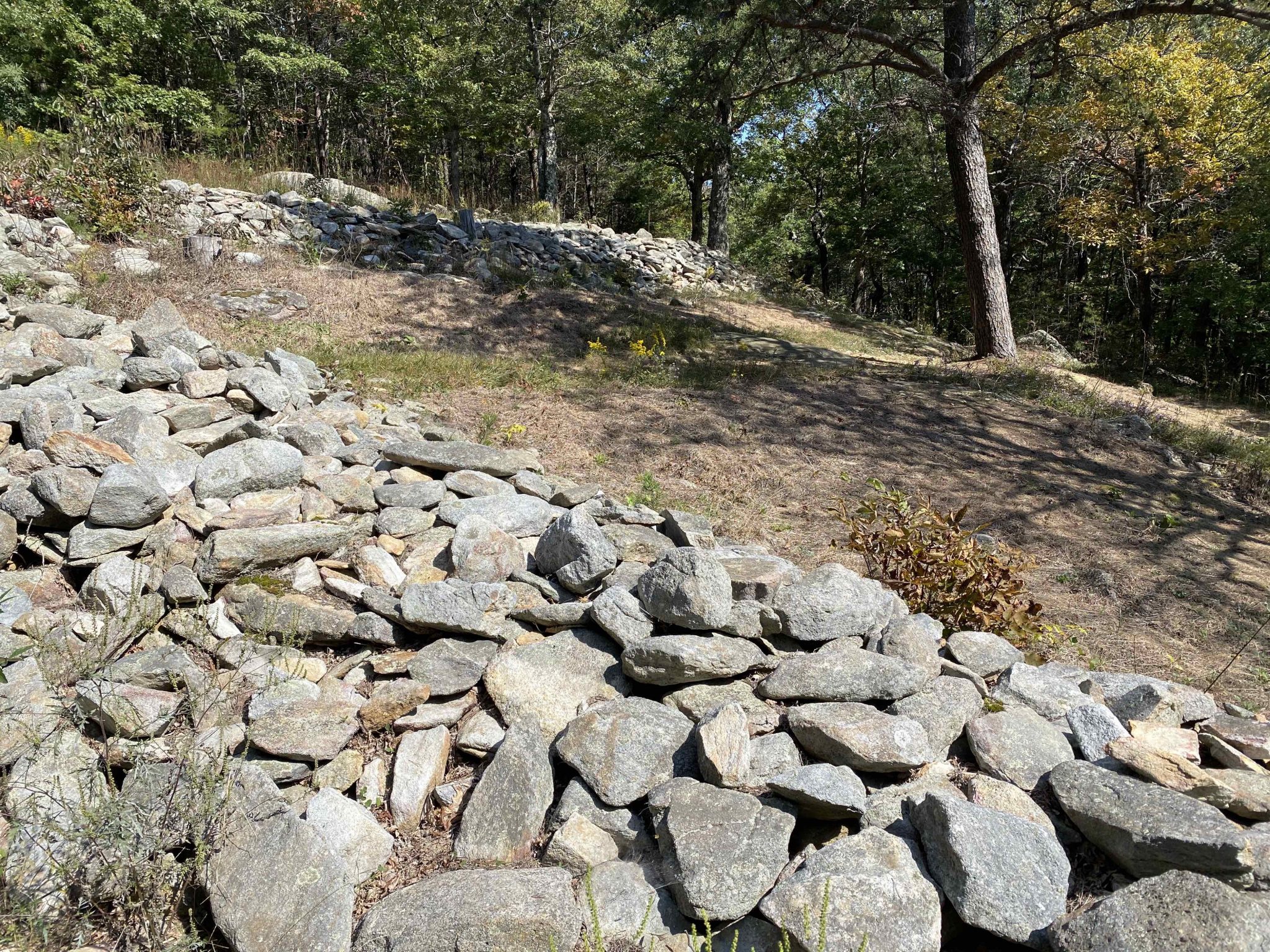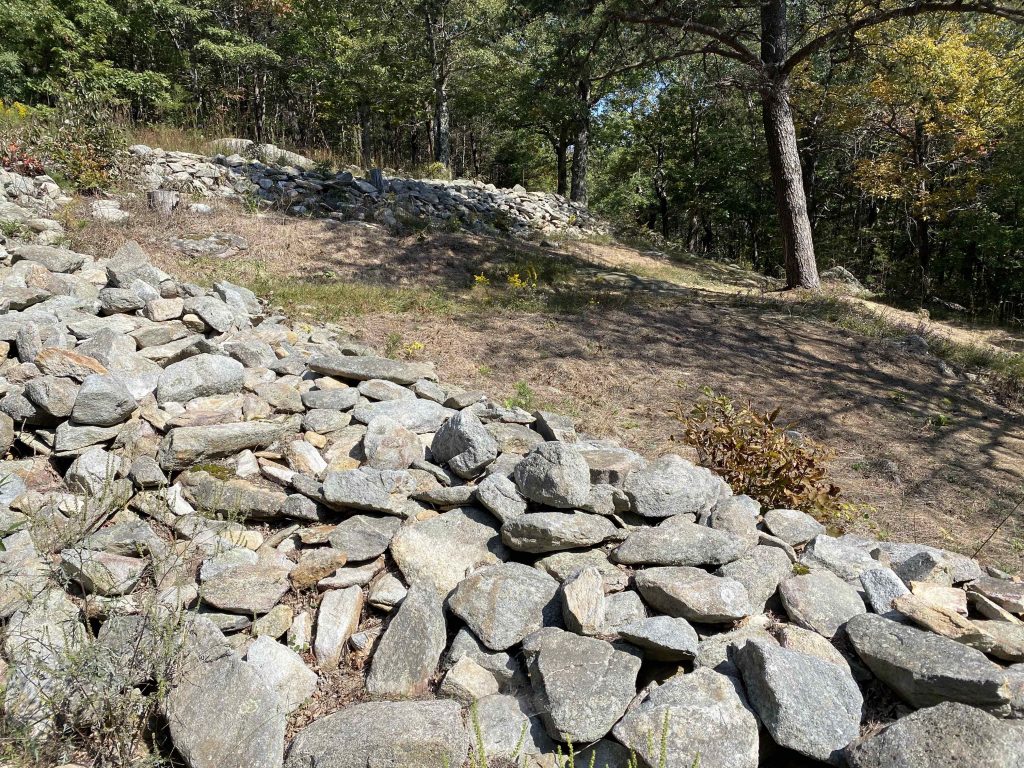 Lake Loop Trail
This short 1.2 mile loop is perfect for families! It's level and easy to follow. There are even educational signs along the way, making it even more of a Mom win. I can't wait to visit again with my kids!
Gahuti Trail Overview
This trail is 8.2 miles long, it's a loop, and takes about 5 hours, depending on how much experience you have with hiking. However, if you add on the Stone wall/Fire Tower/Overlook trail, you're at right about 10 miles. If you can manage that extra distance, I would recommend it for a complete overview of Fort Mountain State Park! The trail is marked with orange blazes. There are various other trails that intersect with Gahuti Trail, so you'll want to be sure to keep an eye on those orange markings. Dogs are permitted on the trail, if kept on a leash!
From the official website:
The Gahuti Trail travels around the edge of the park, passing just below the summits of both Cohutta and Fort mountains. Ever changing, the trail is both beautiful and challenging in all seasons, so hikers should always be aware of changing weather. Four backcountry campsites are available for use by permit only. The trail ends at the scenic Cool Springs Overlook with views of the Holly Creek Valley and Cohutta Mountains.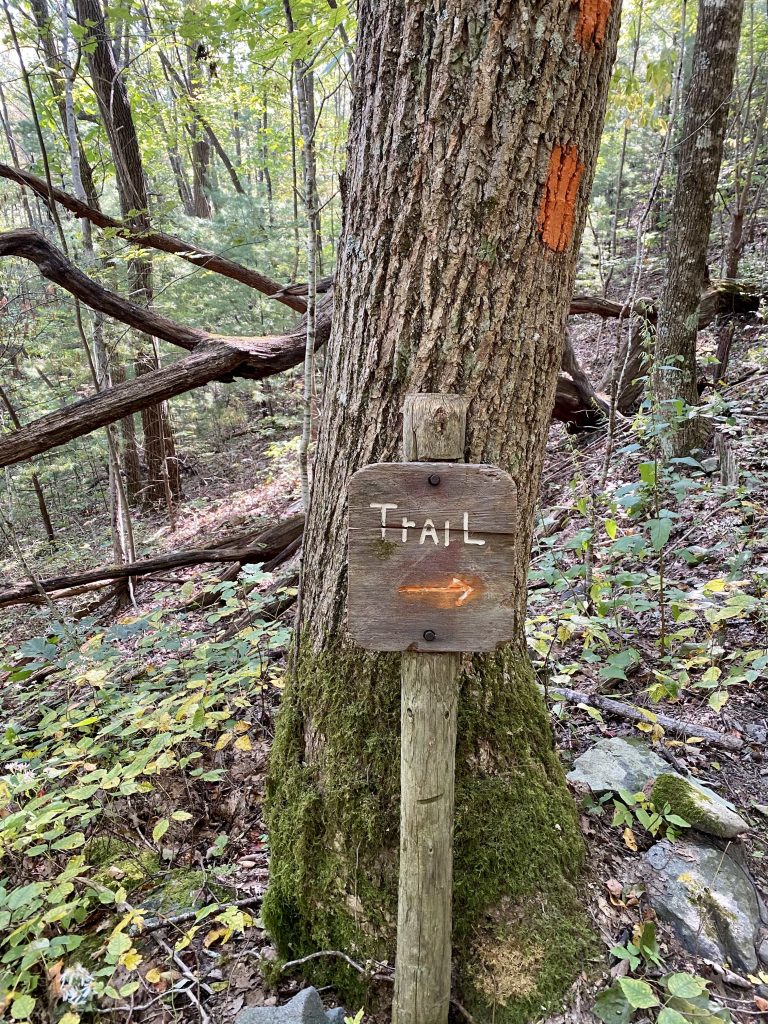 This trail is strenuous. It includes lots of elevation changes and rocky terrain. The trail is narrow in parts and includes lots of different types of ecosystems. This was something that I thought was really wonderful abbot the Gahuti Trail. During part of the hike, you are in rainforest like surroundings, and at other times, you're on a gorgeous rocky overlook! You'll cross waterfalls and streams. Such varied sights on the trail!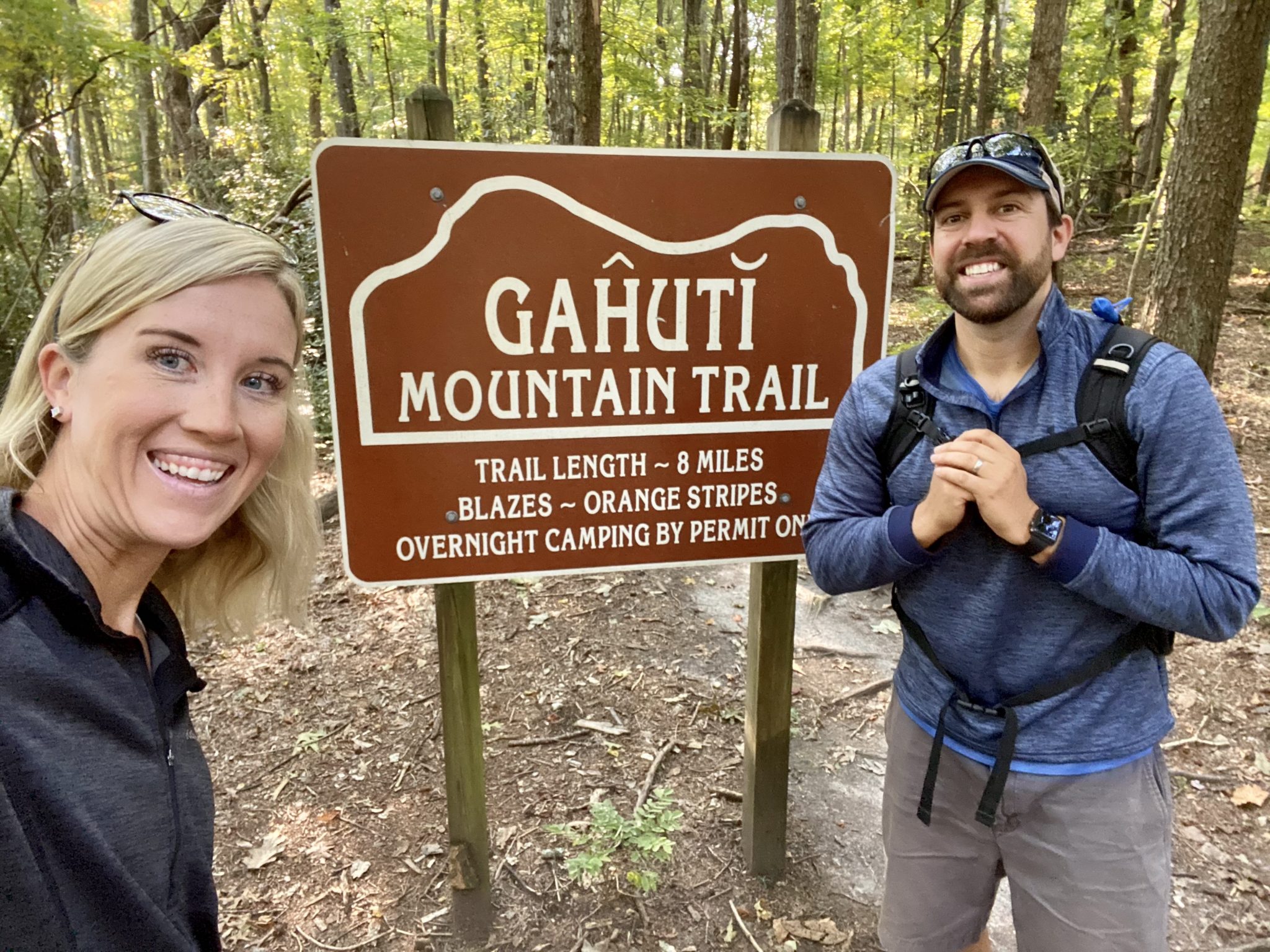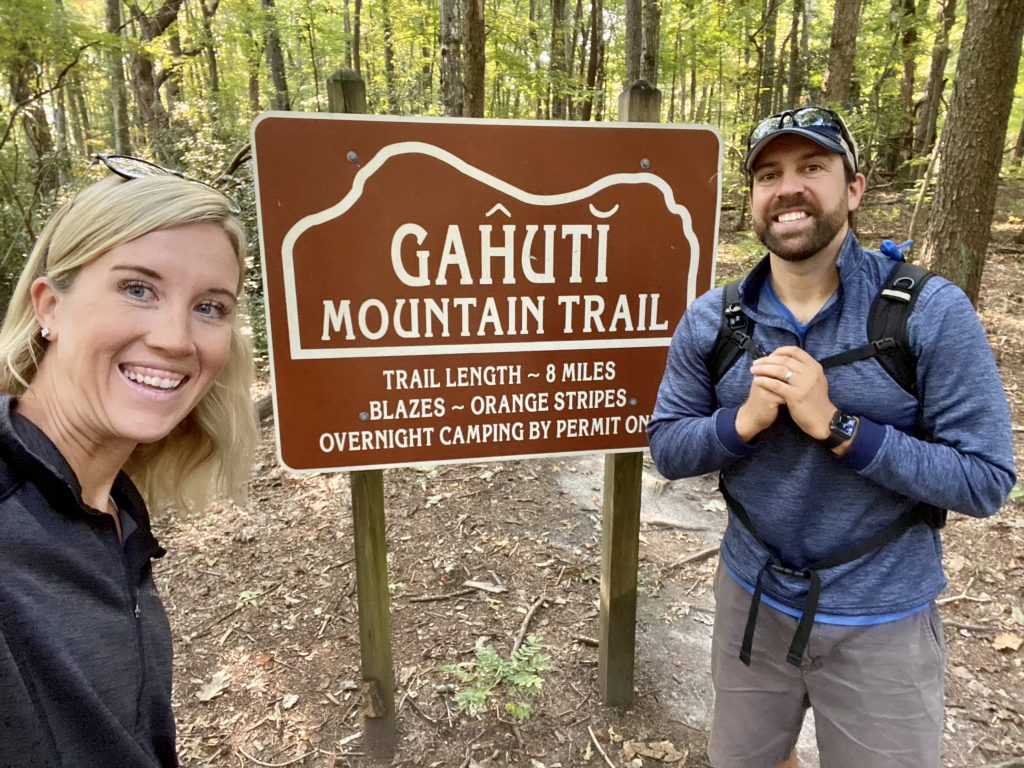 Campgrounds on Gahuti Trail
There are four backwoods campgrounds on the Gahuti Trail. So if you're really looking for adventure, you can hike into one of these campgrounds, and spend the night under the stars! Tent camping is not my favorite, but if you're more adventurous than I am, this is a beautiful way to experience Fort Mountain State Park.
In Fort Mountain State Park, there's also recently remodeled cabins. This is an affordable and comfortable way to see the state park. I would love to stay in one of these in the future!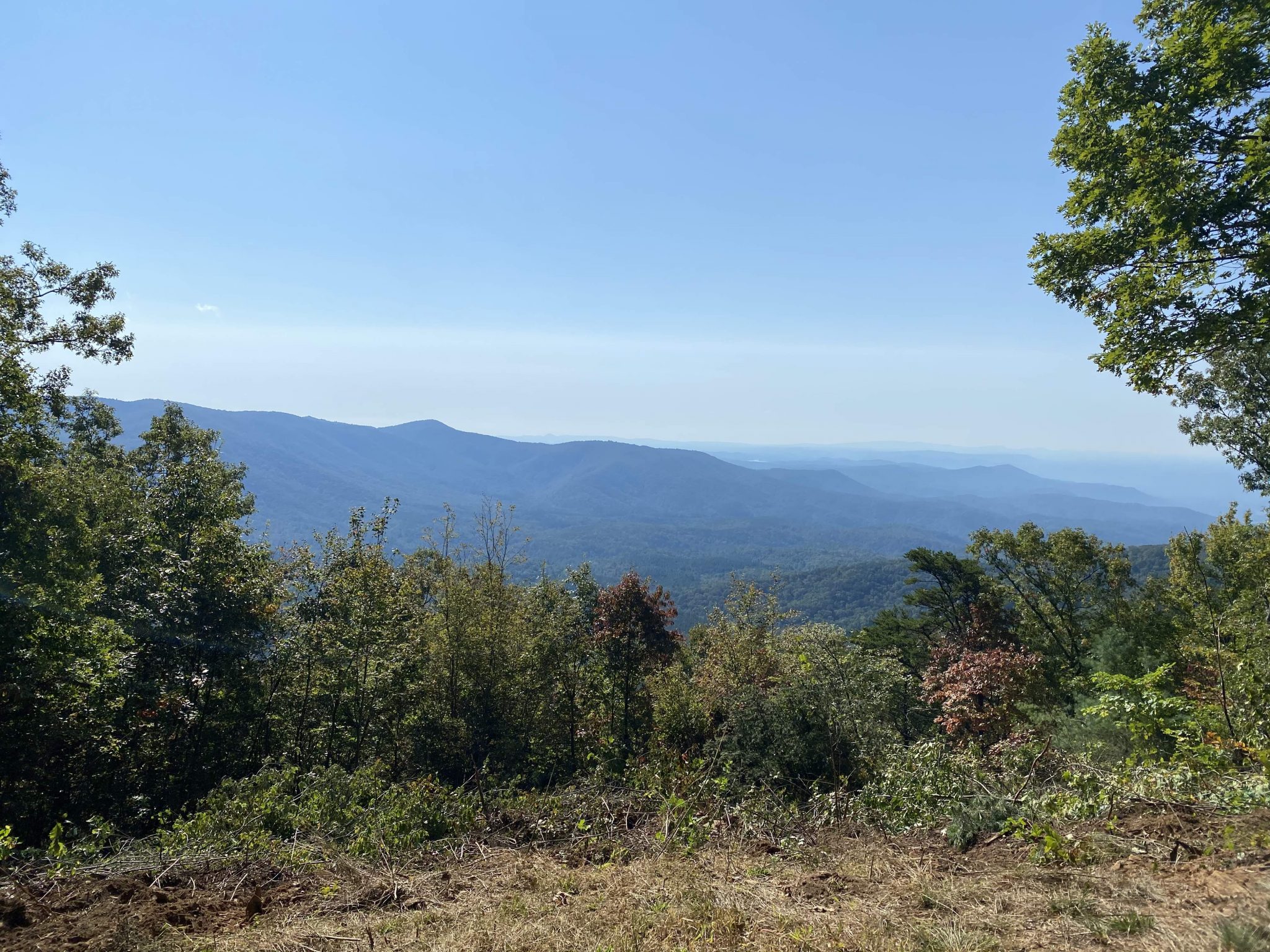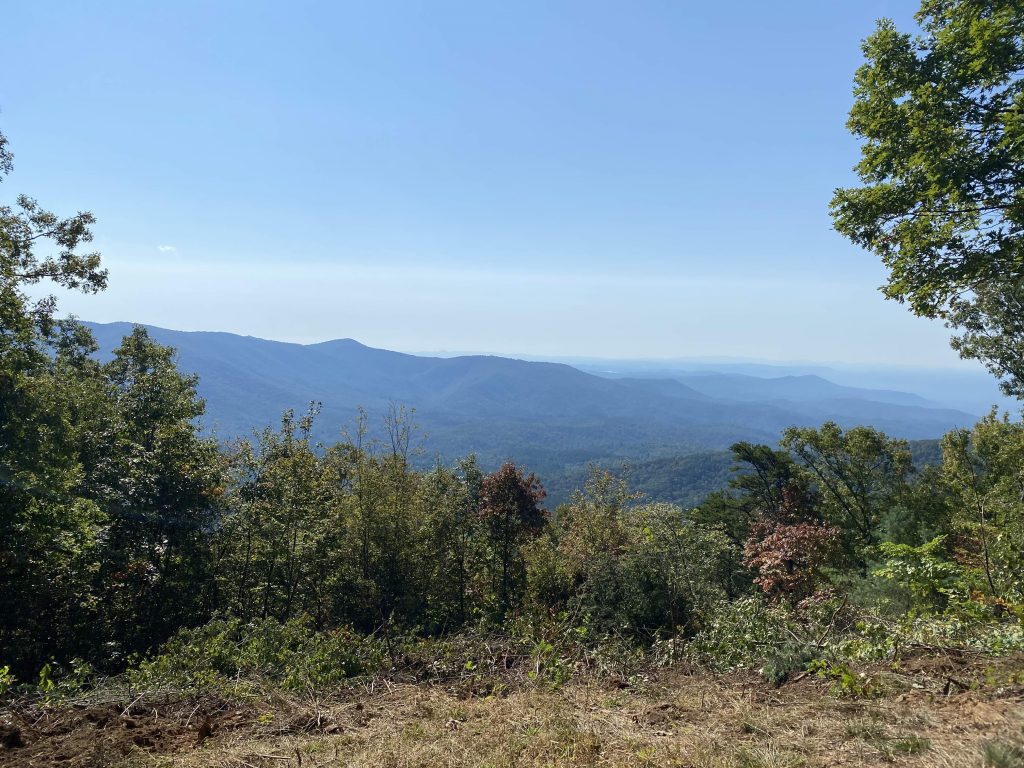 Take a Hike!
On Gahuti Trail, there are so many different beautiful locations to hike through, take pictures at, and just appreciate. The 8.2 miles really went by much too quickly!
You may also like:
Blue Ridge, Georgia Hiking Trails Complete Guide
You May Also Like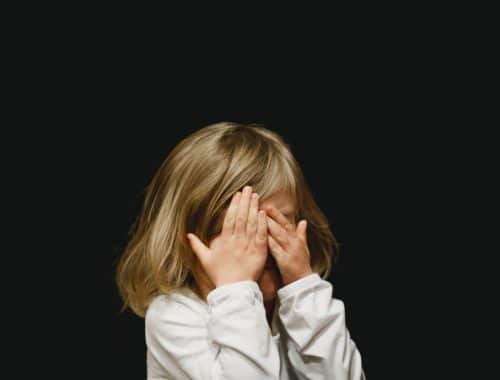 February 26, 2020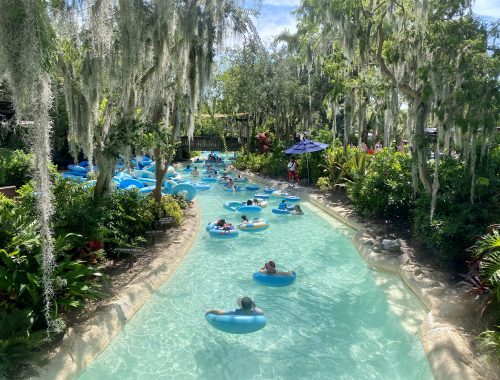 July 15, 2022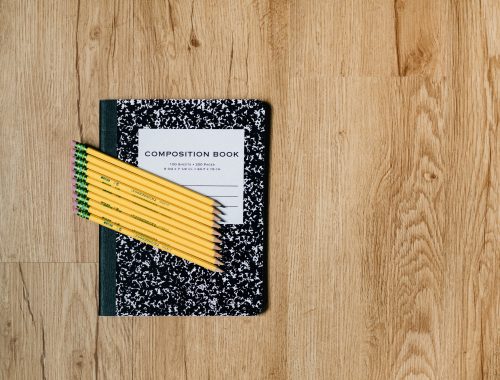 September 9, 2021