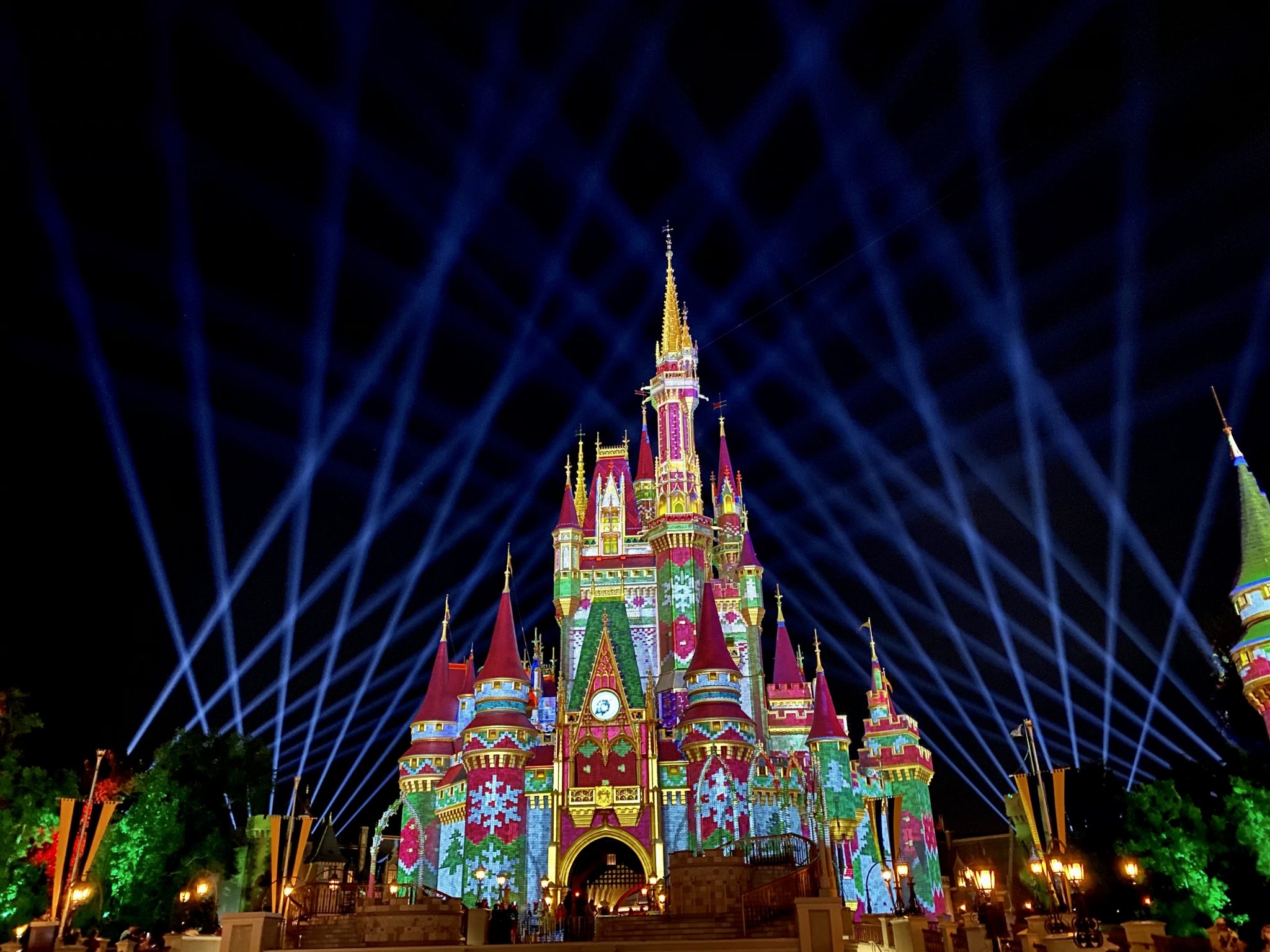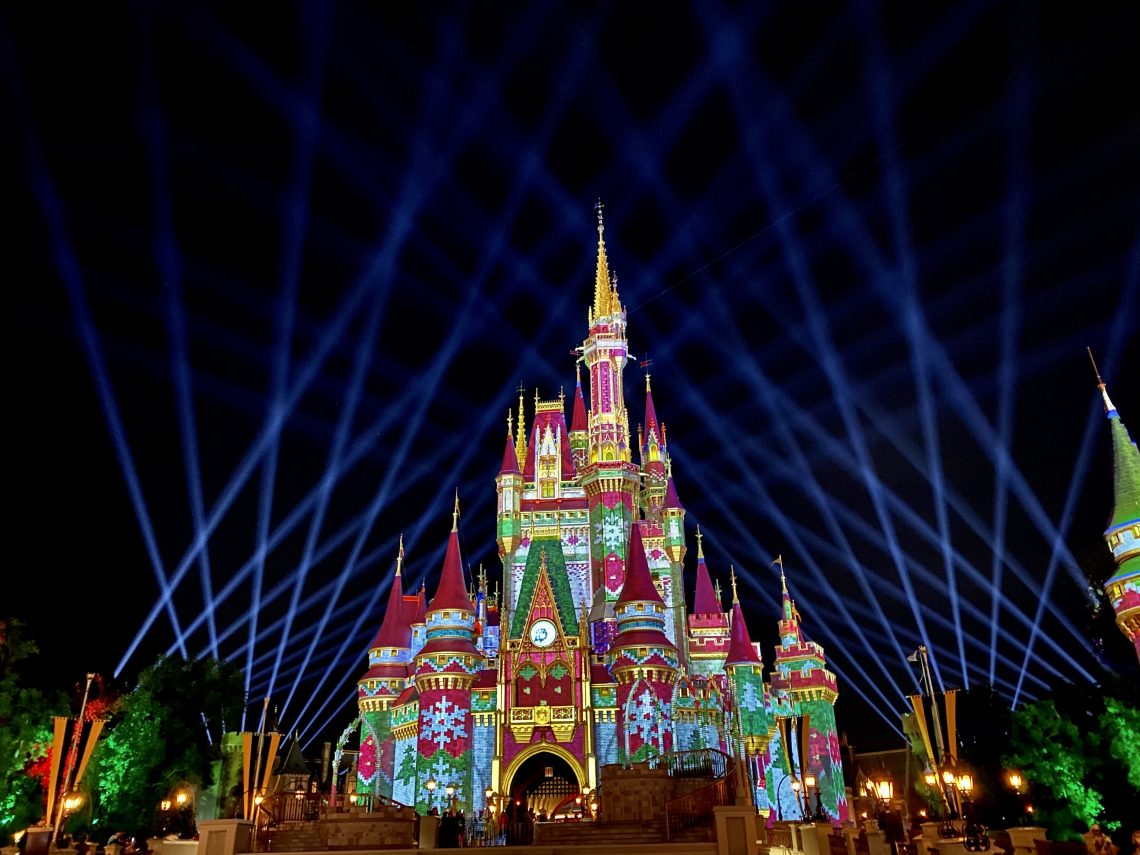 Disney World Christmas 2020: Magic Kingdom Guide
November 7, 2020
Sharing is caring!
We've never needed Christmas cheer as much as we do this year. Personally, for our family, we've had a lot of transition and loss in the last few months. There's nothing like walking down Main Street, U.S.A. to bring a smile to everyone's face. So what's Disney World Christmas 2020 look like? Is it worth it? What's it really like? We were there on the day that all things Disney Christmas debuted at Magic Kingdom, and are so happy to share all of the details with you!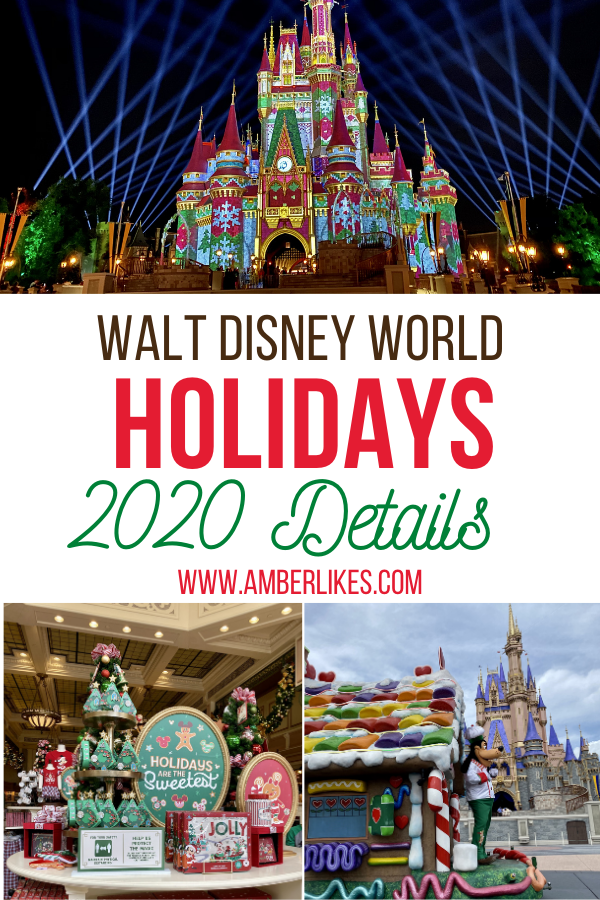 Character Cavalcades at Disney World Christmas 2020
I have to be honest and say that parades were never one of my favorite things in years past. There were times when I would line up to watch the characters go by. And I would always be happy to if a guest or child wanted to watch it. But for just me, the parades were just a little too long. Or the weather was too hot. Some people love rides, other people love parades or shows; we all have our Disney thing. But I have to say, I LOVE the character cavalcades! Everything I didn't like about parades is gone! What is there to love about these Disney World Christmas 2020 character cavalcades? I made a list!
They're short!
The character cavalcades are only about 5 minutes long. Depending on how long you want to watch the characters come down the street, you could even see it in about 2 minutes. I love that! It's a perfect amount of time to have some Christmas cheer, and then keep going.
They're unexpected!
You don't know when or where the character cavalcades will happen. This can be frustrating if you're trying to catch the one you really love. But it's also really nice because it's a fun surprise that seems to just come out of nowhere! Also, it helps promote physical distancing because crowds can't gather in anticipation when they don't know where they will be.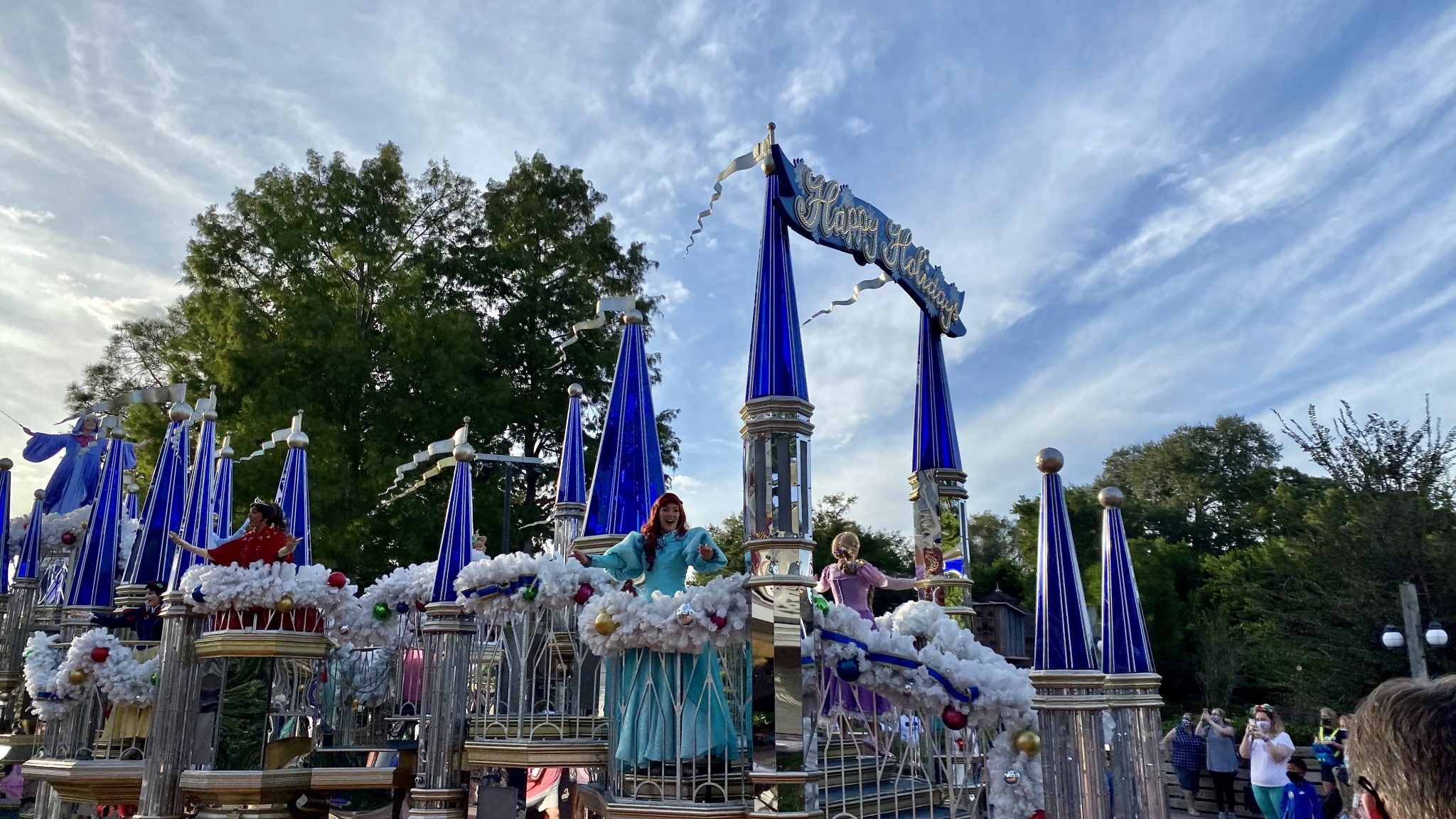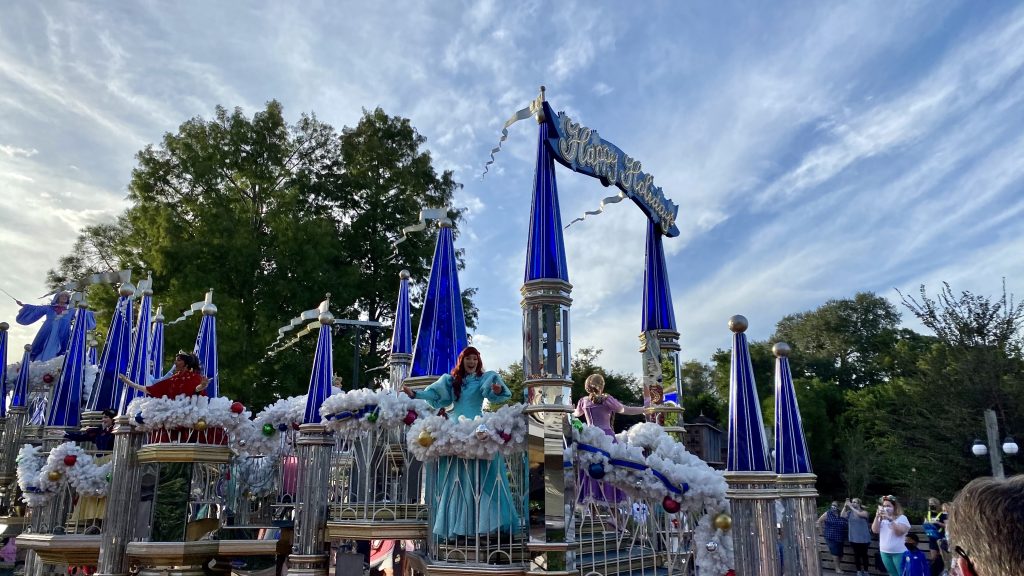 They are FULL of holiday cheer!
In our day at Magic Kingdom, we saw Santa and his reindeer, Goofy and friends, and Princesses. We missed the Mickey and Minnie and friends cavalcade. But that just means that we have something else to look forward to when we return! These character cavalcades have holiday music, dancing, choreography, and adorable Christmas outfits. It's amazing! Here's a full list of the Disney World Christmas 2020 character cavalcades from the Walt Disney World website:
1. Main Street Philharmonic
Feel the holiday spirit as Toy Soldiers join the Main Street Philharmonic as they march through Magic Kingdom park, bringing musical holiday cheer for all to hear.
2. Santa's Christmas Cavalcade
Santa Claus is coming to town! A team of reindeer prance down the street, leading the way for Santa high on his sleigh, calling out to all the girls and boys.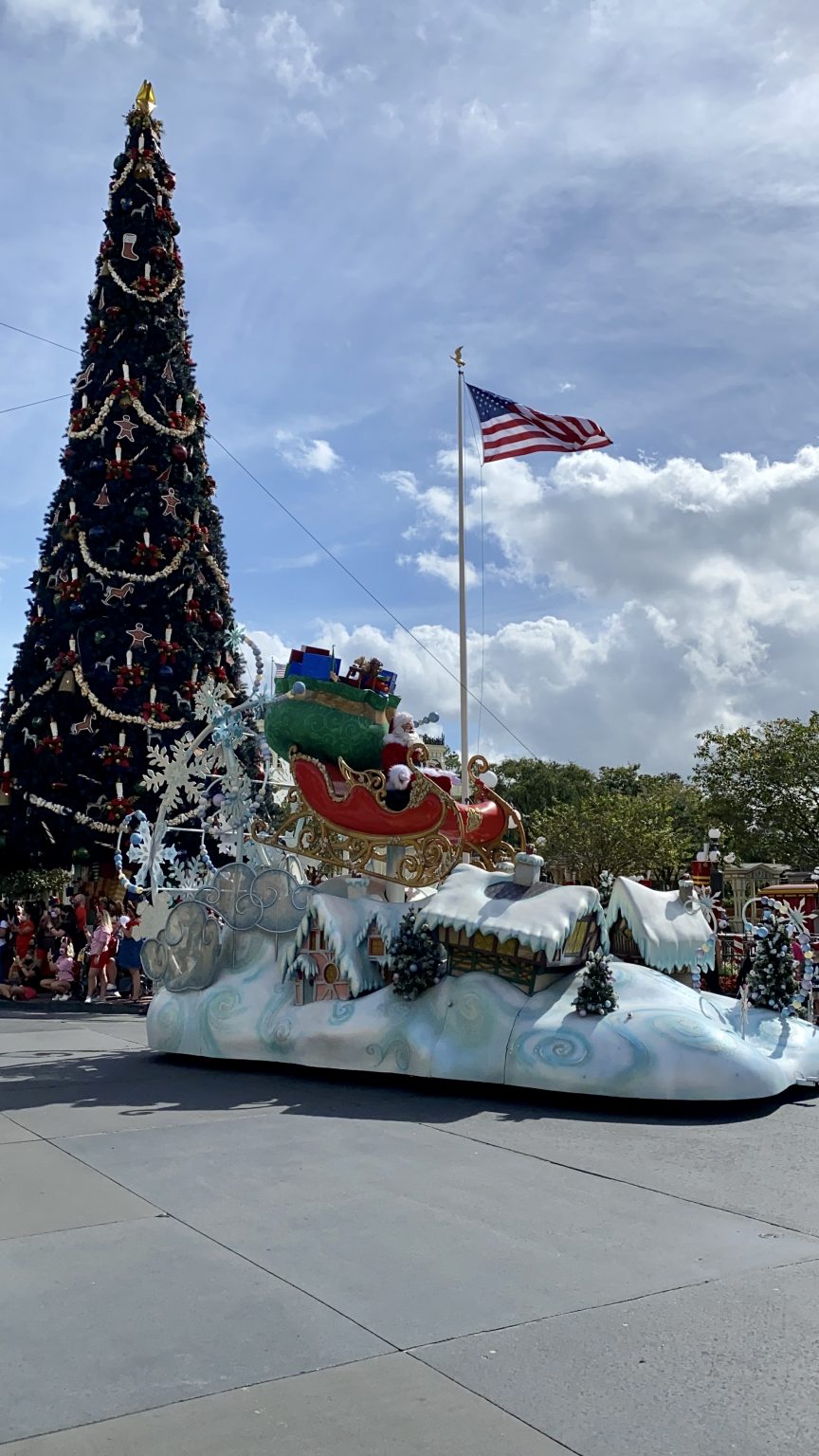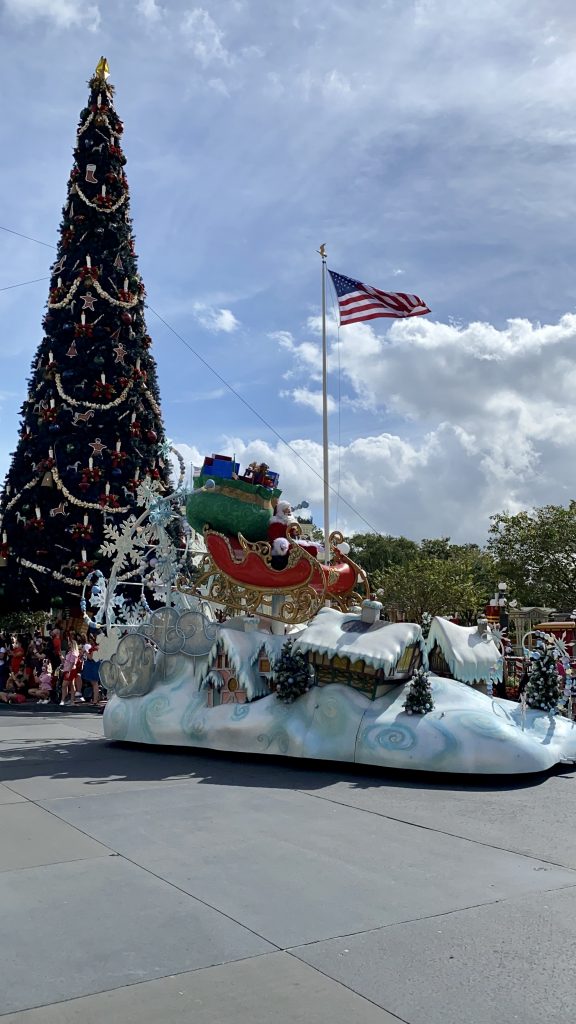 3. A Royal Christmas Processional
Herald the arrival of Cinderella and her fellow Disney Princesses, gliding along on a beautiful crystal castle float decked out for the season.
4. Mickey's Holiday Cavalcade
Wave to Disney Characters celebrating the holidays as they pass through the Magic Kingdom, with Mickey Mouse and Minnie Mouse greeting everyone from atop a beautiful Christmas tree float.
5. Goofy's Scrumptious Cavalcade
Watch Goofy and his friends cook up some holiday fun from their festive floats, wishing everyone a very merry Christmas.
6. Holiday Trolley
Don't miss the Dapper Dans barbershop quartet as they head right down the middle of Main Street, U.S.A. on a horse-drawn trolley, delivering merry melodies along the way.
The Castle at Disney World Christmas 2020
As you probably know, Cinderella's Castle was repainted recently. And while I am not usually a fan of change at Disney World only because of my own nostalgia, this was one change I really loved! The new pink color is really beautiful. To me, it almost seems like it should have been, or even was, this color all along. It just feels right. So what does this have to do with Disney World Christmas 2020? Well, this new color also brings a perfect backdrop for the beautiful Christmas projections on the castle!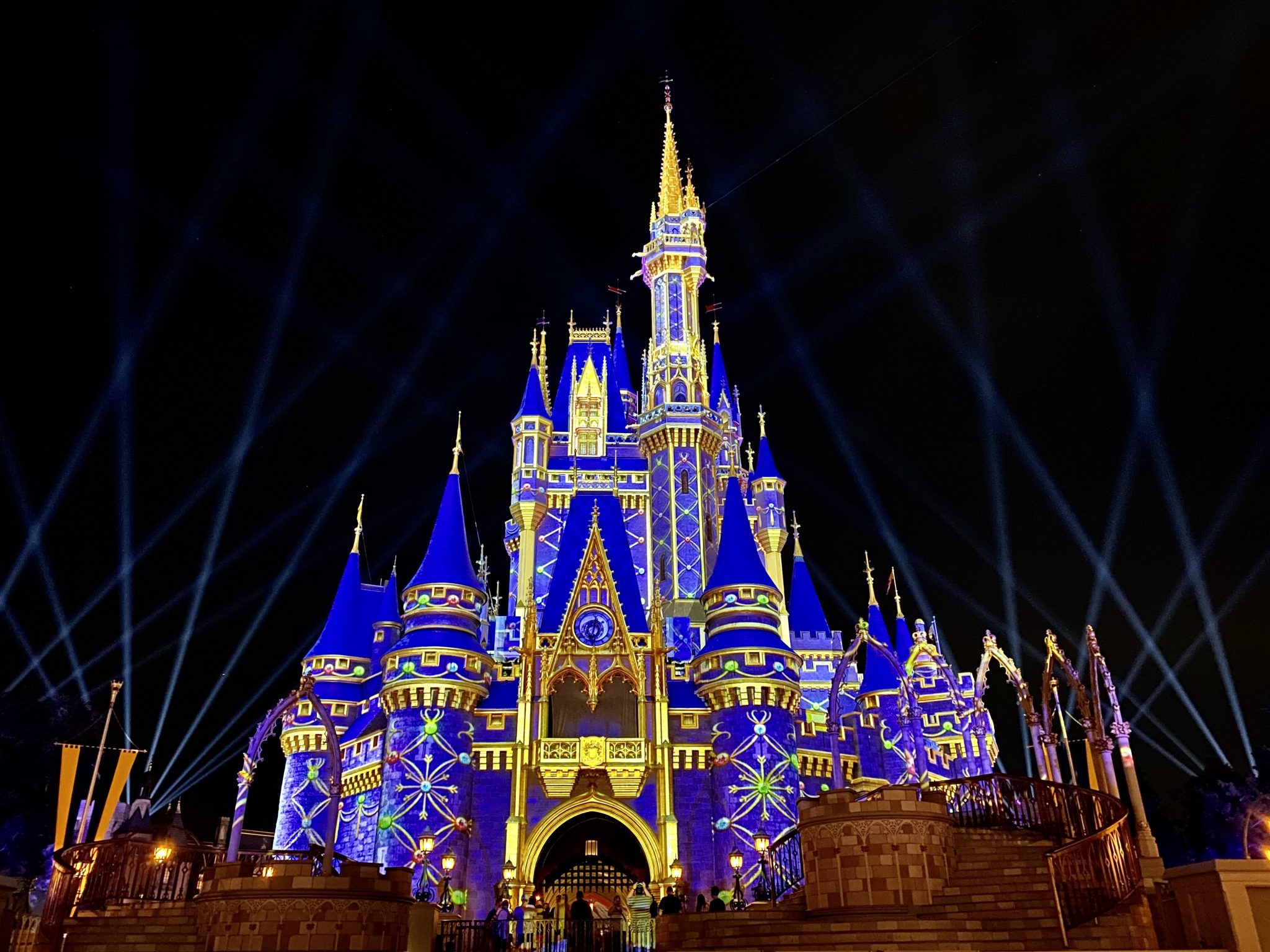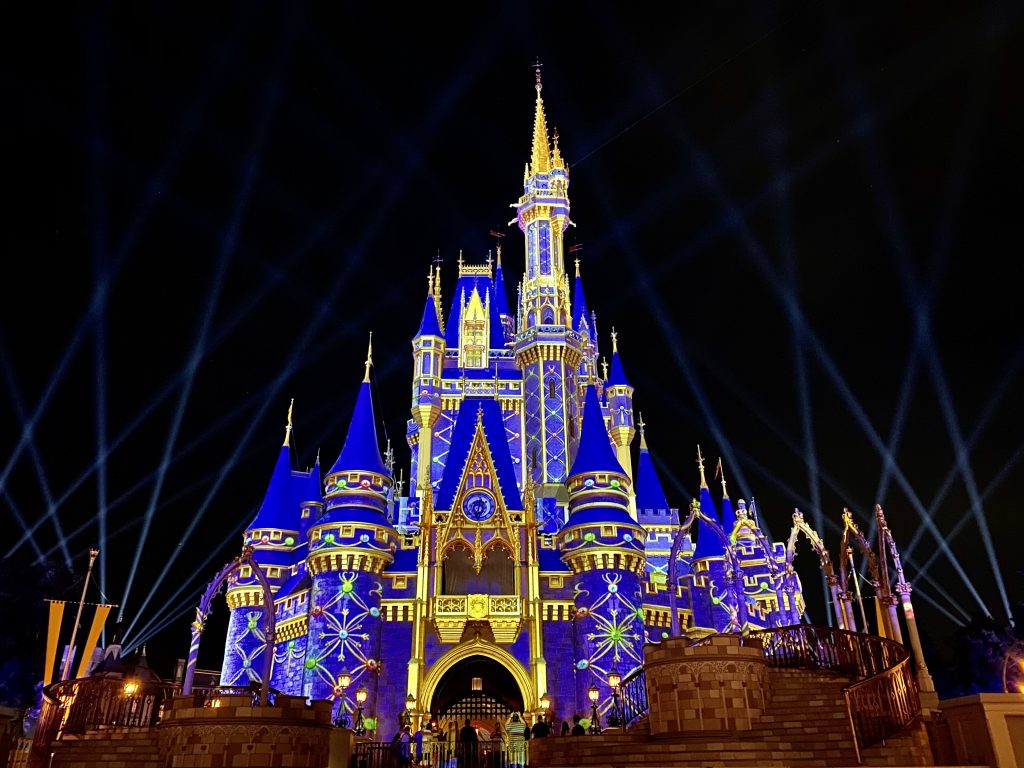 While there's no show and no stage performance in front of the castle, the new castle projections are so beautiful! It's different in 2020, but what isn't? There's Christmas music playing, the castle is lit up for the holidays, what better way to end this year?
Magic Kingdom Decor, Merchandise, and Treats
The Disney World Christmas 2020 Magic Kingdom decorations are just spectacular. If you've never seen Disney at Christmas, then it's time. I've talked to so many people that have never had the chance to visit at this special time of year. And there are people who love Halloween at Magic Kingdom, or they love the spring time at the Parks. But the holidays at Disney World are unlike any other season!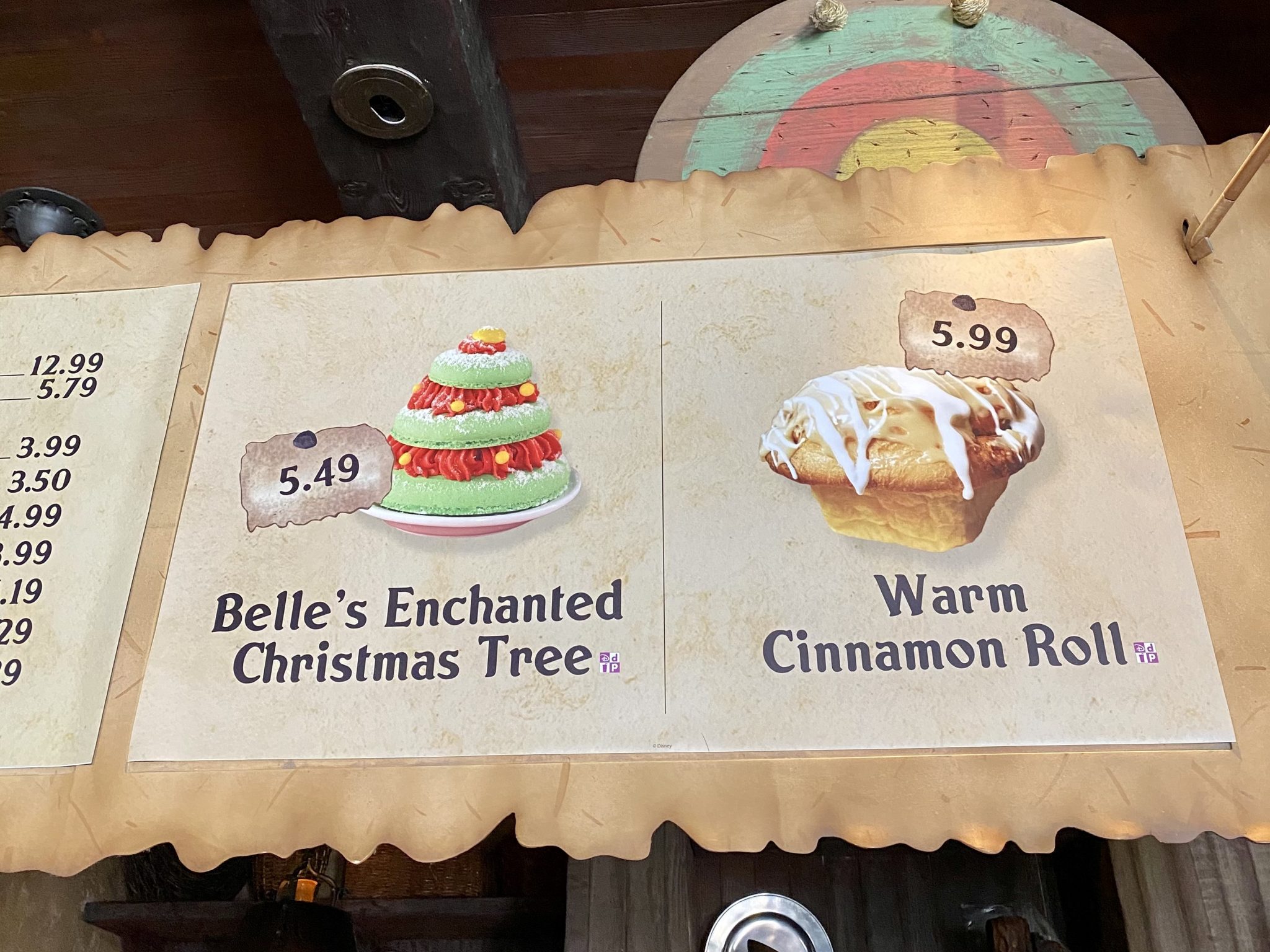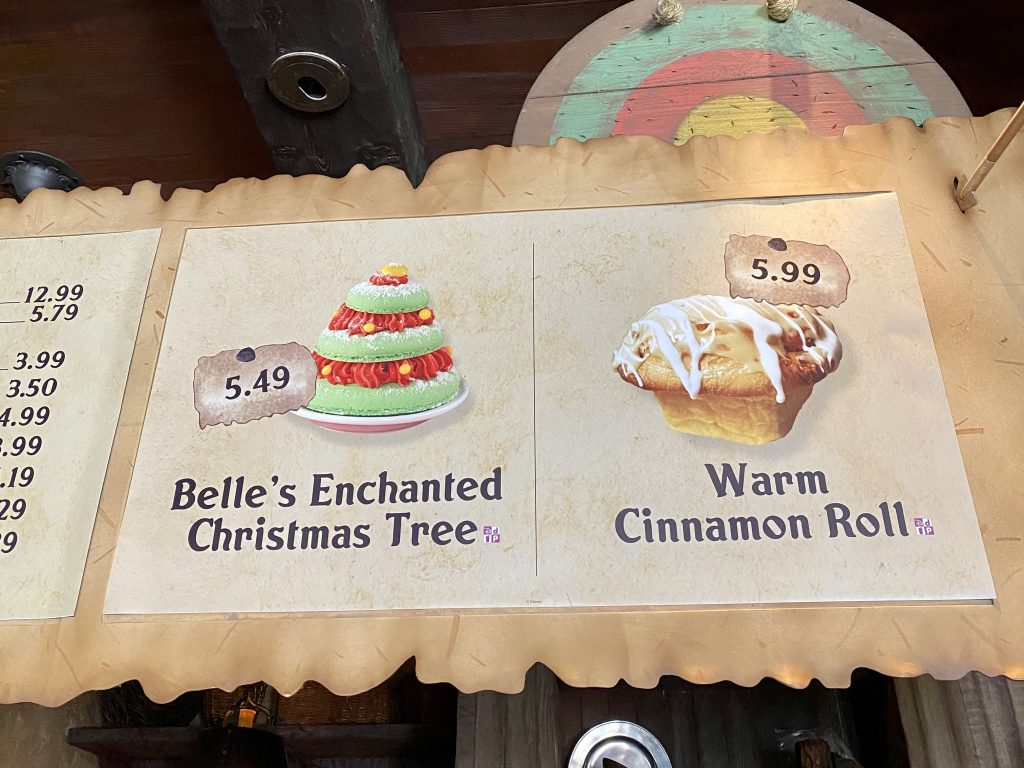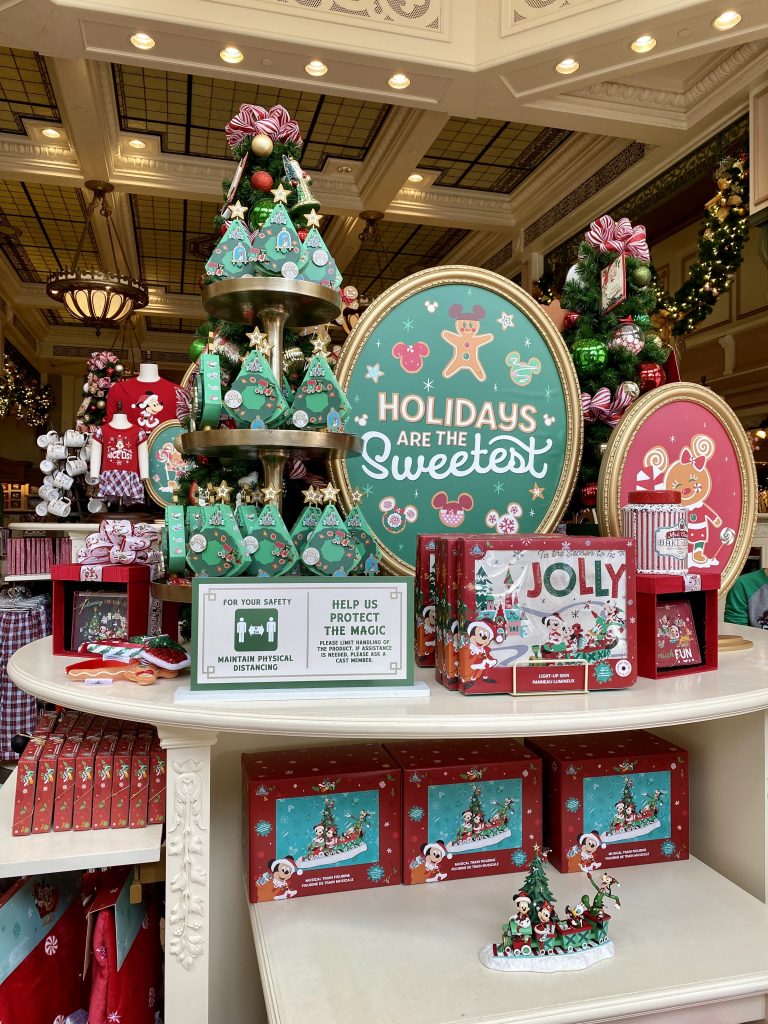 Is Mickey's Very Merry Christmas Party Happening?
No, it's not. And that's very different than years past. However, at Disney World Christmas 2020, there are some advantages to this. Mickey's Very Merry Christmas Party is a separate ticket event. With Disney World Christmas 2020, everything is included! You can see the characters in their holiday costumes, you can buy the treats and the merchandise, and see the castle, all during your regular day at the Parks. So while there's no Christmas Party this year, there's so much holiday cheer!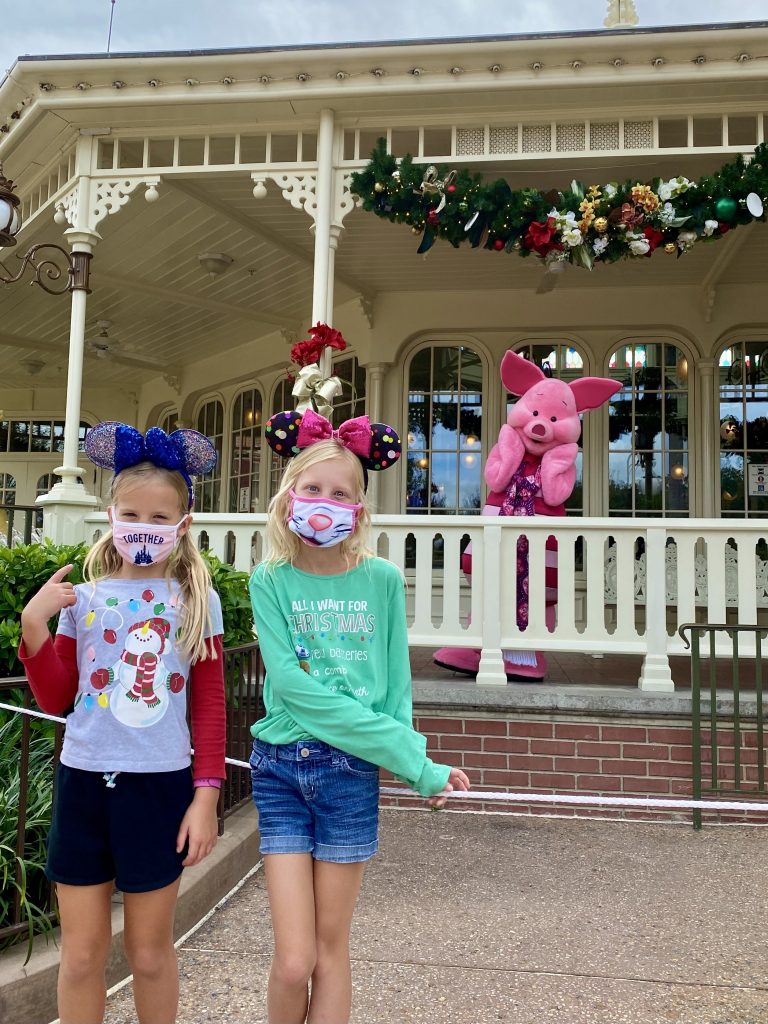 Is it Worth It?
If you're looking for Disney Christmas cheer, then yes, it certainly is worth it. Are the lines long? Yes, sometimes they are long. Are masks required? Yes, and sometimes it's hot. But there's just nothing like the holidays at Christmas. And when you ask me if it's worth it, I only have to think about walking down Main Street. And with Christmas music playing, holding my daughter's hand, it's worth it.
You may also like:
Disney World Accommodations for Large Families
You May Also Like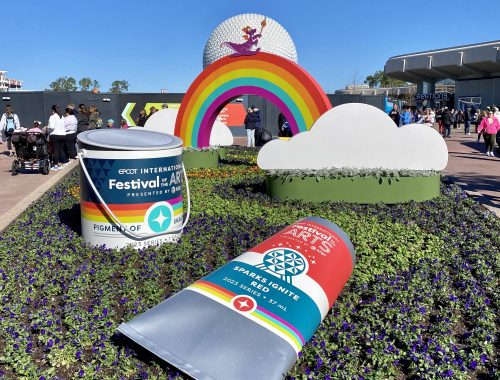 January 17, 2023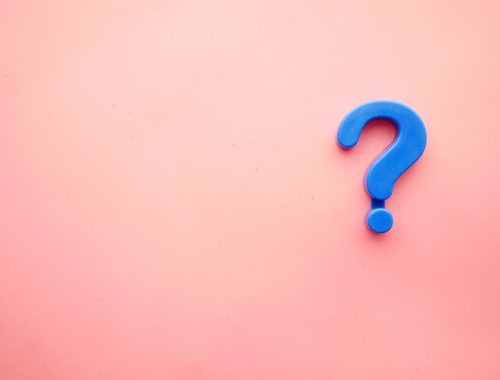 February 8, 2022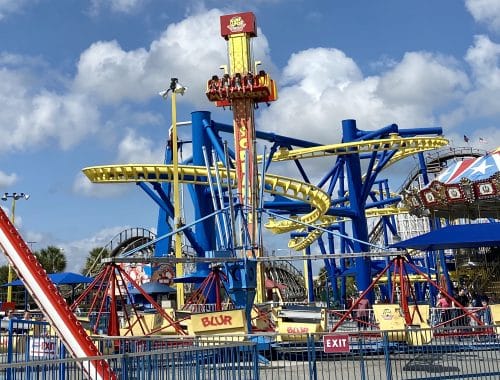 February 18, 2020