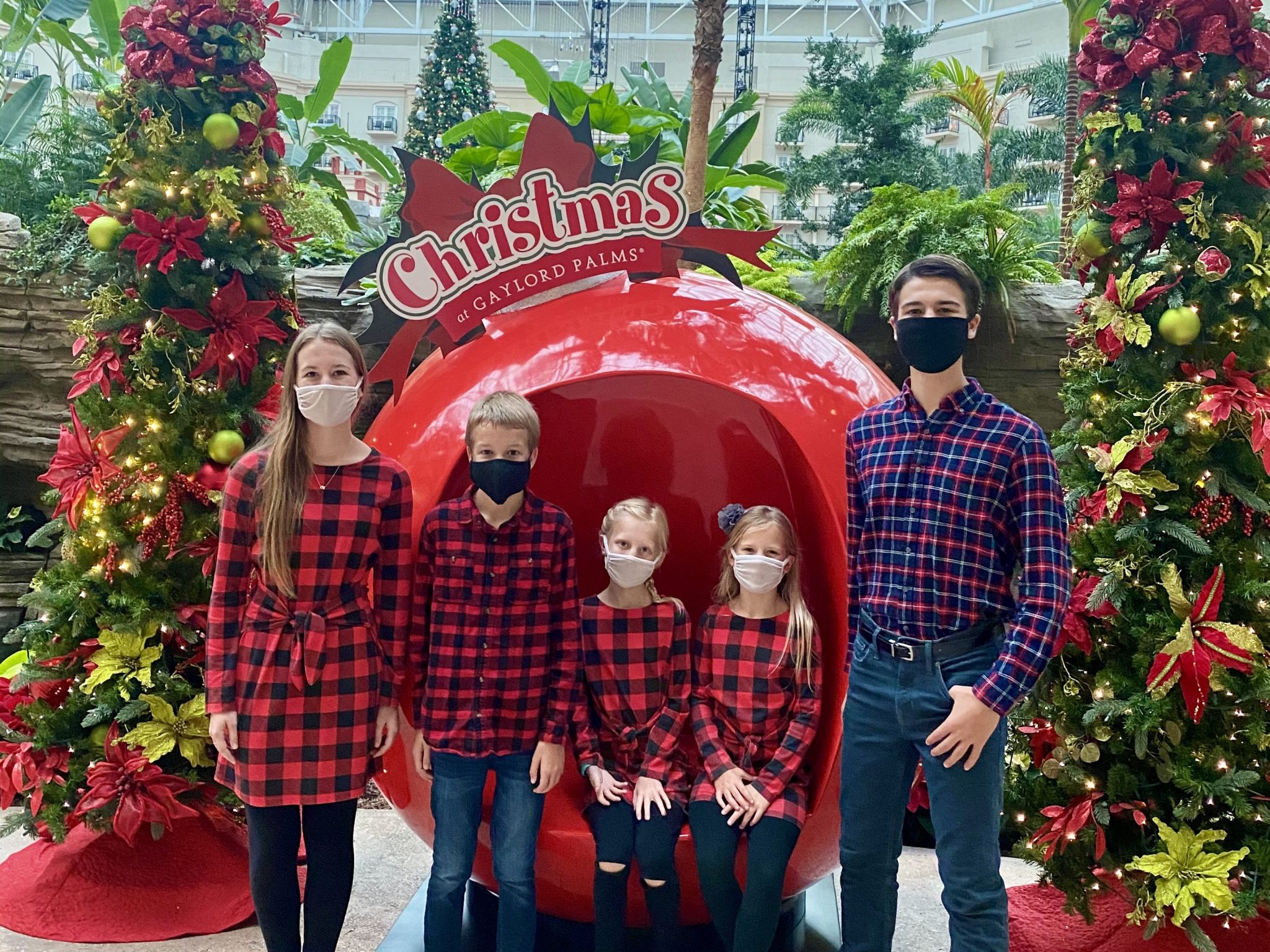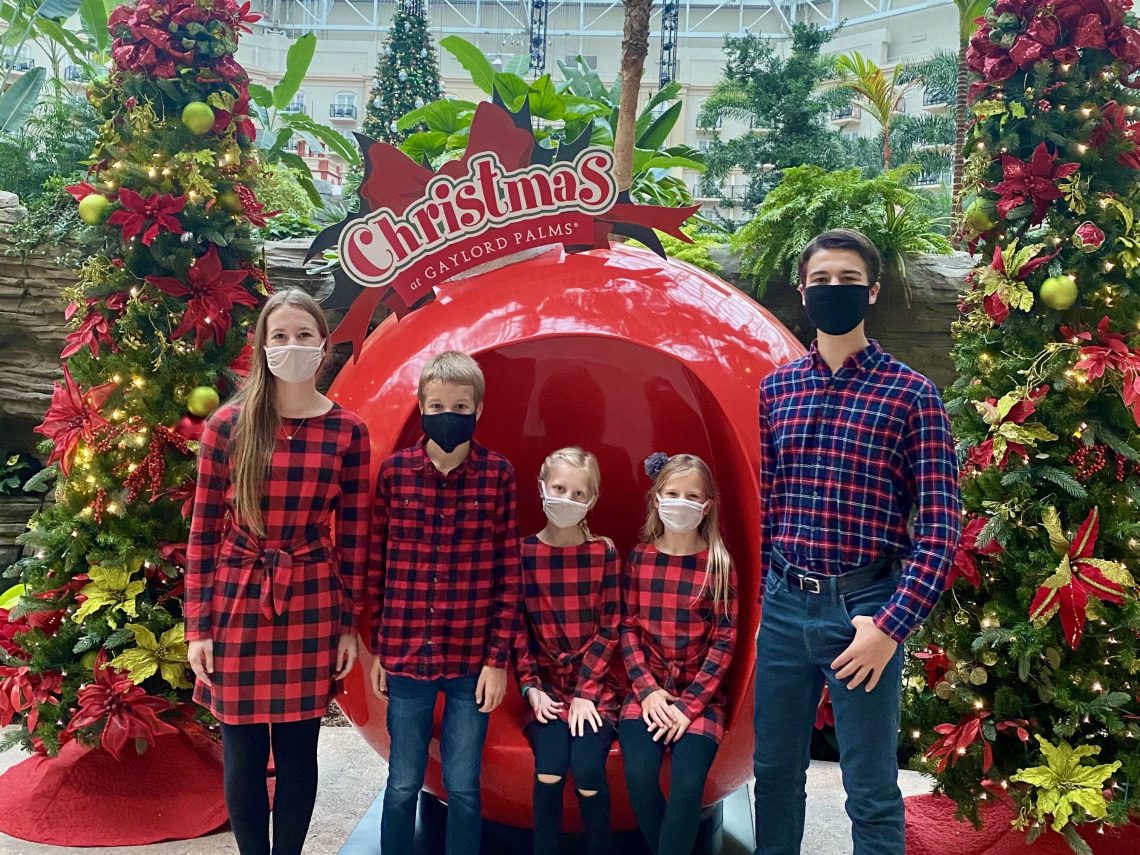 Christmas at Gaylord Palms Creates Flurries in Florida!
November 14, 2020
Sharing is caring!
In our family, attending the Gaylord Palms Christmas event is a tradition we treasure. And just like everything else in 2020, Christmas at Gaylord Palms is a little different this year. Gaylord Palms is well known for their ICE! displays each year. To create these incredible ice sculptures, international artists travel months in advance to begin their work. With travel restrictions this year, they weren't able to create ICE! So instead, Gaylord Palms created a brand new experience with "I Love Christmas Movies!" Keep reading for everything you can find at Christmas at Gaylord Palms.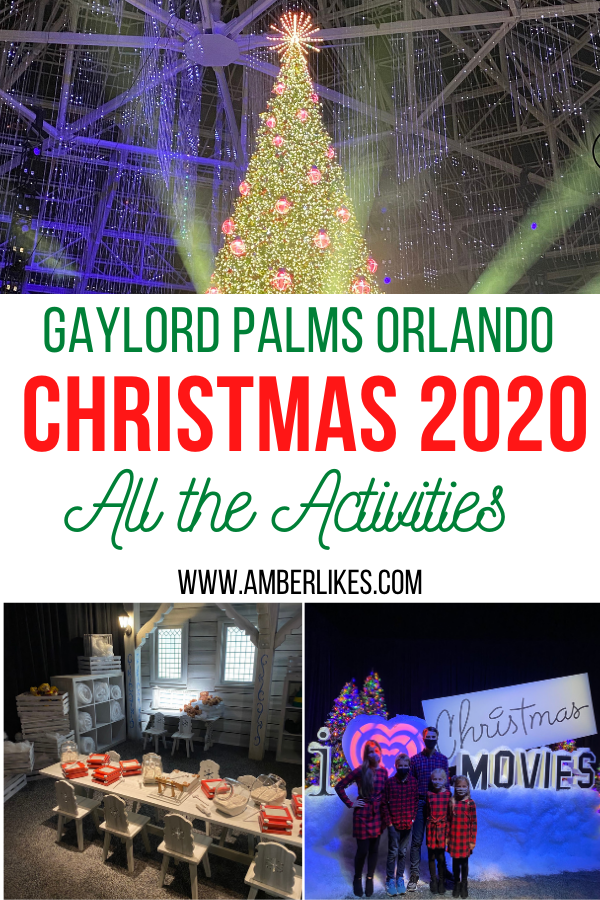 All the Details You Need
Looking for all of the quick details? Look no further!
Christmas at Gaylord Palms Resort begins November 13, 2020 and runs through January 3, 2021.
This event offers more than 15 festive activities for guests and locals to enjoy. And this includes dazzling live performances, a festive breakfast with the Grinch, gingerbread decorating and more.
In accordance with Marriott's "Commitment to Clean" practices, the resort provides enhanced cleaning technology, hospital-grade disinfectants. There are also attendants dedicated to sanitizing frequently throughout the day. Also, there are social distancing protocols, and hundreds of new cleaning processes to take care of guests while they enjoy the resort's amenities.
The all-new I Love Christmas Movies experience was designed with social distancing in mind. Before arriving on site, guests will need to purchase their tickets online, which are only being sold in 15-minute increments.
Thoughout the entire I Love Christmas Movies experience, a guide will help guests navigate through the experience to maintain social distancing.
Face masks are required in all public areas. And this includes all Christmas activities and photos with Santa.
For more information about enhanced cleanliness standards please visit www.GaylordHotelsClean.com.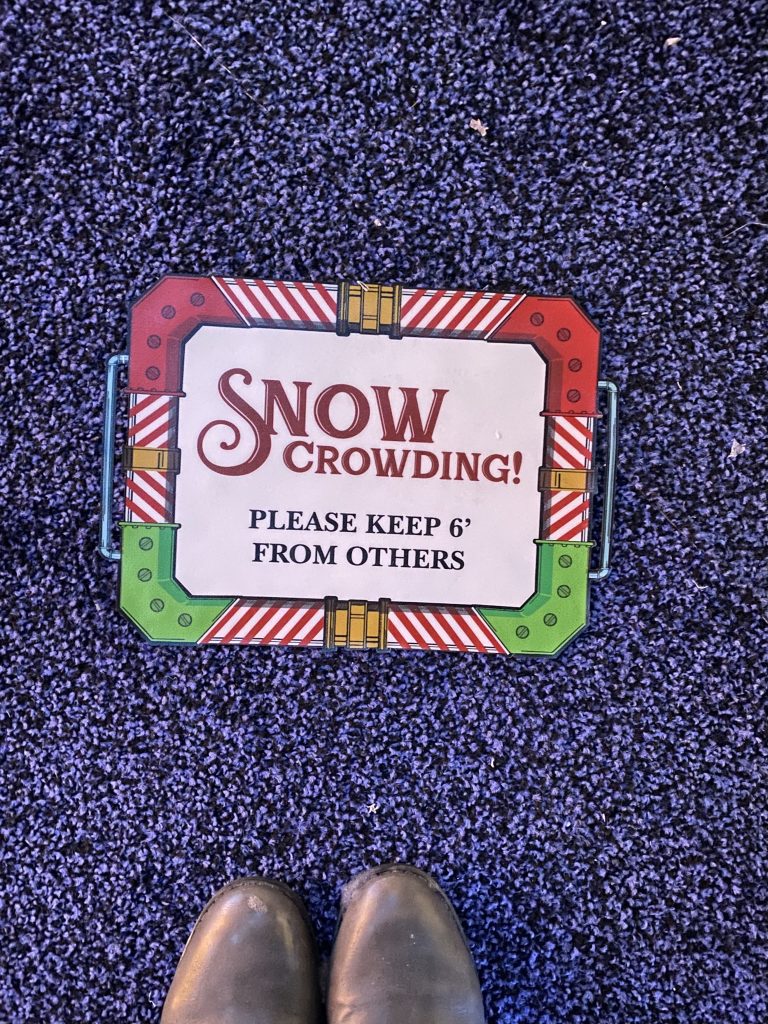 What is I Love Christmas Movies?
When we visit Gaylord Palms at Christmas, we are used to wearing parkas and gloves! But this year, no parkas needed! Since we are Floridians, I actually enjoyed this change. And instead of ice and freezing temps, you now have an immersive collection of holiday sets to experience. There are classic Christmas movies represented. And it feels like you just jump right in and become part of the set! Your guide will not only maintain social distancing. But they will also tell you interesting facts about the movies! This was one of my favorite parts of this experience.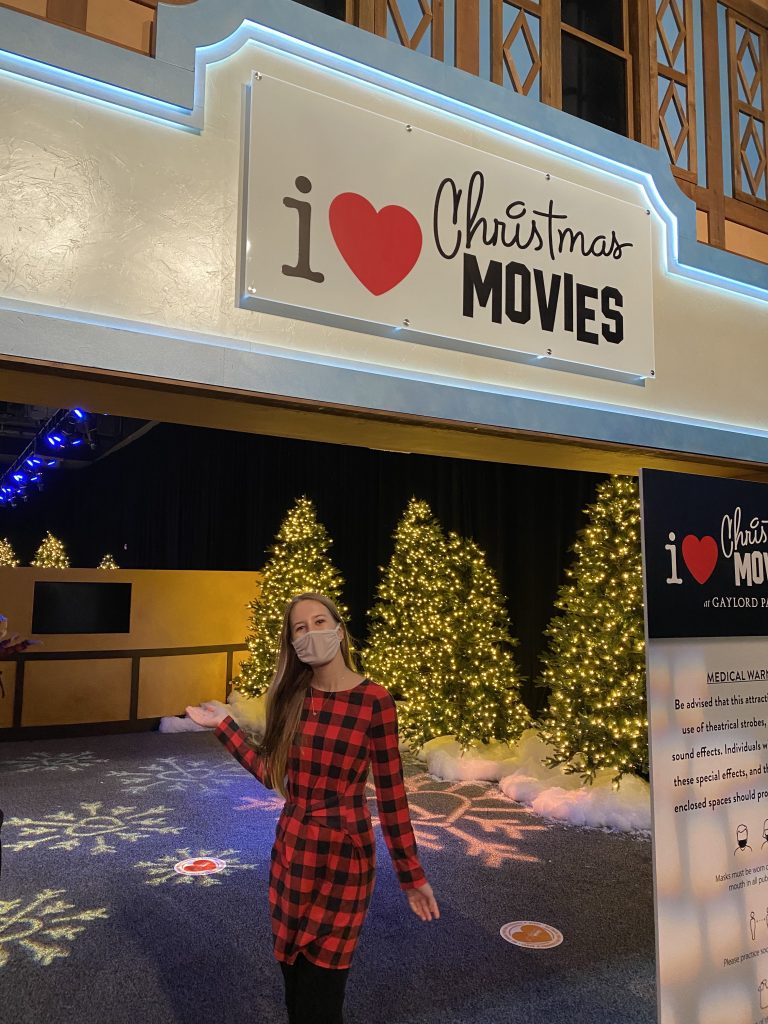 What movies will you experience?
THE POLAR EXPRESS™
A CHRISTMAS STORY™
ELF™
NATIONAL LAMPOON'S CHRISTMAS VACATION™
THE YEAR WITHOUT A SANTA CLAUS™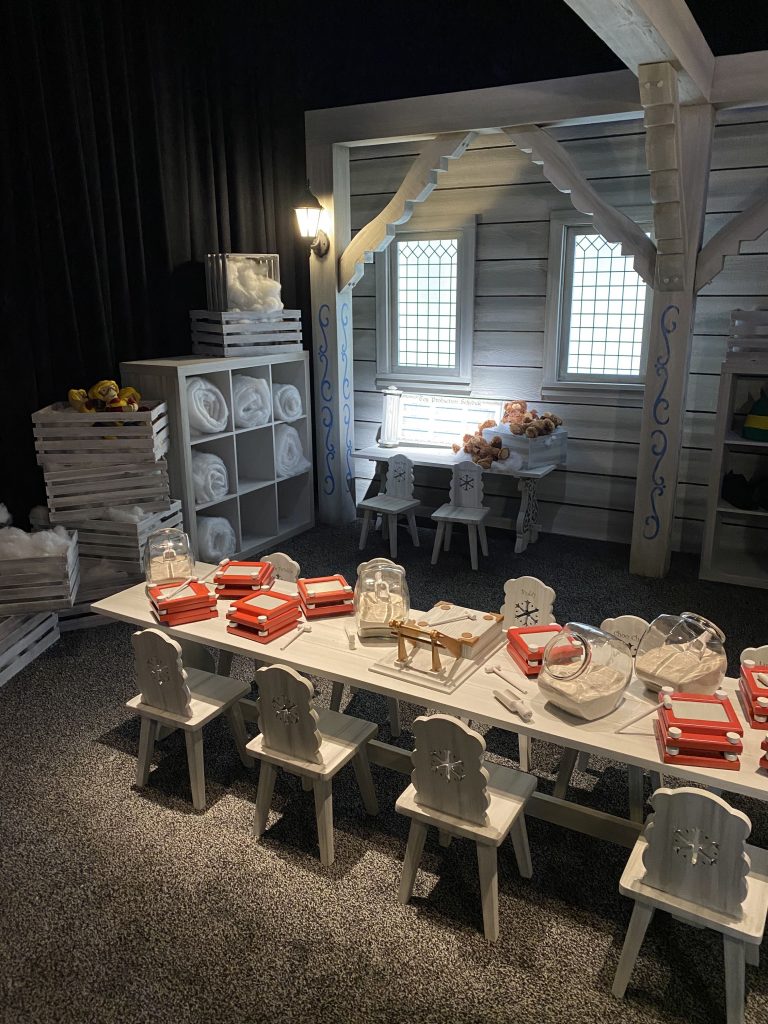 This is a 17,000 square foot exhibit with 13 scenes complete with film props, audio, and movement! In order to maintain sanitary measures, and of course continuity on the set as well, touching is not allowed. There was one interactive spot. And this occurs in the National Lampoon's set! And it's such a unique experience, you really need to see it to believe it.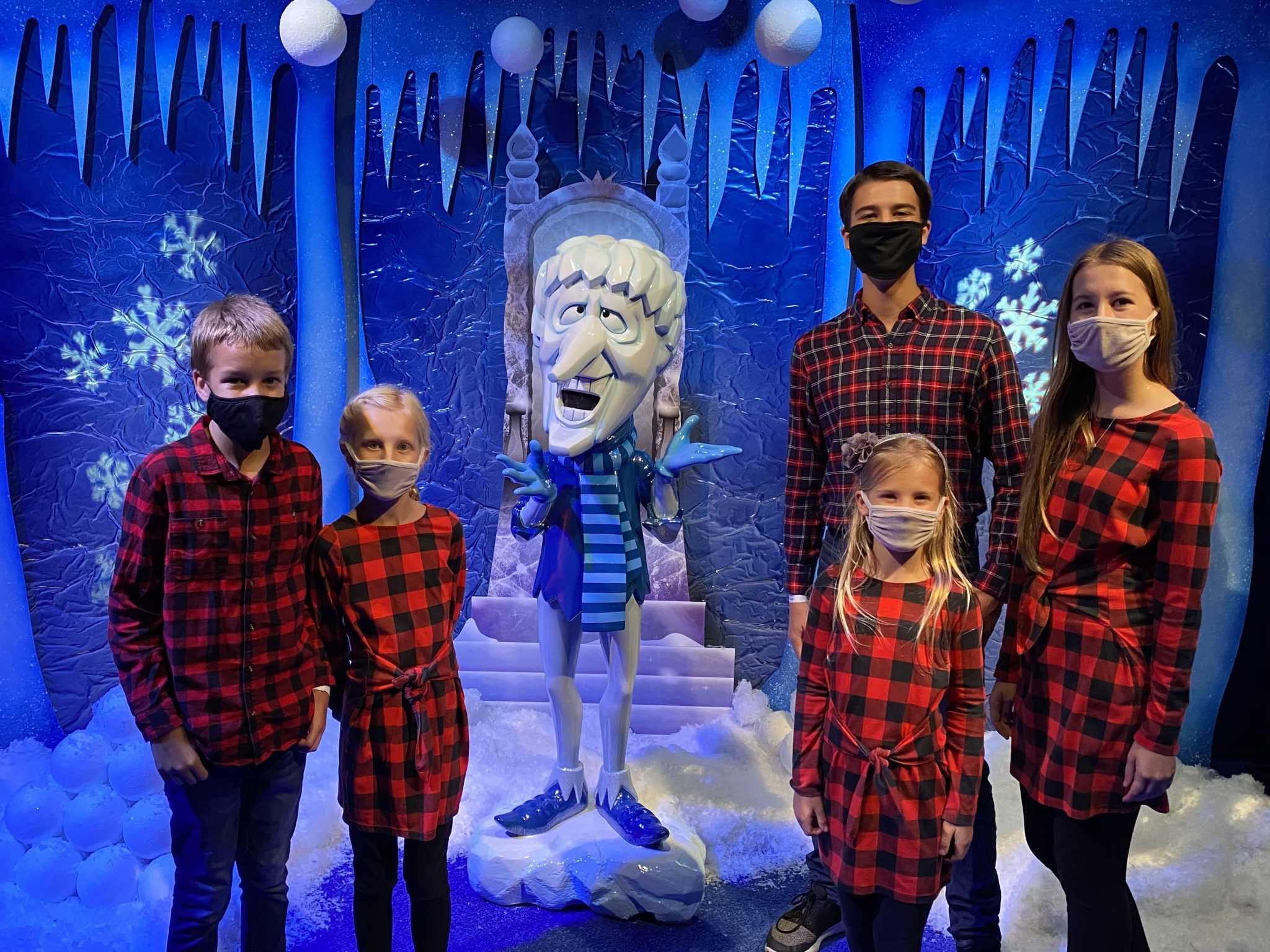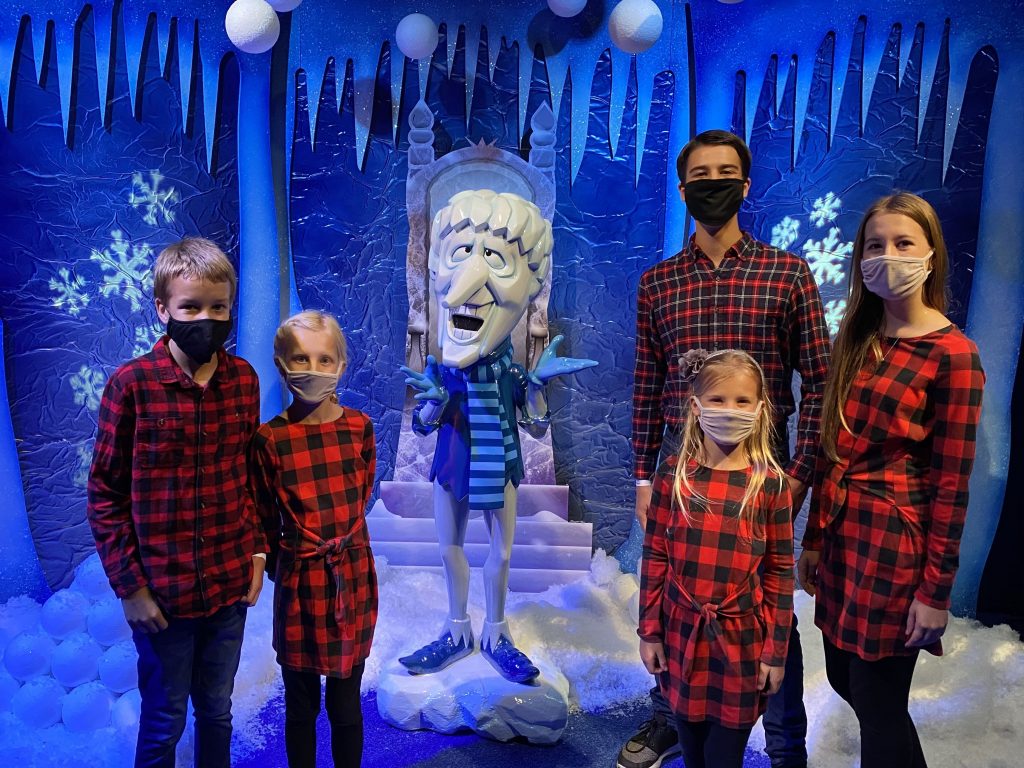 Snow Factory Brings Flurries to Florida
When you live in Florida, you sometimes have to pretend to create seasons. And Christmas is no different! But at Gaylord Palms Christmas, you can experience Snow Factory with flurries in Florida. In fact, not only can you see some flurries, but you can throw snowballs and even go snow tubing. That's not something you get to do every day in Florida.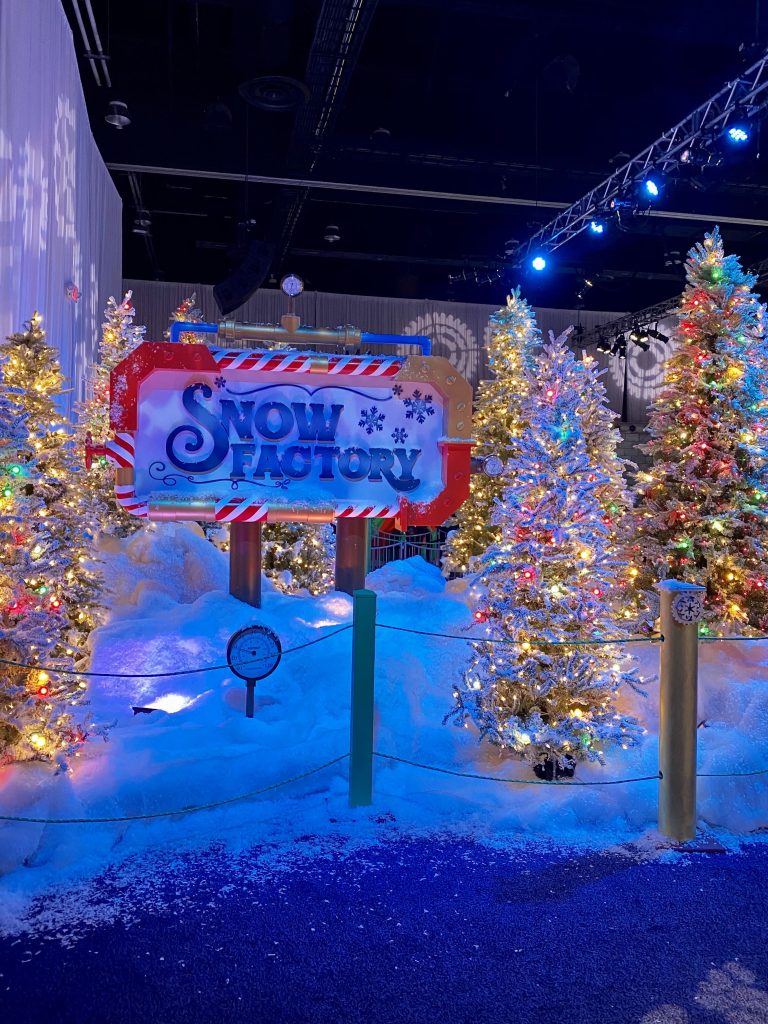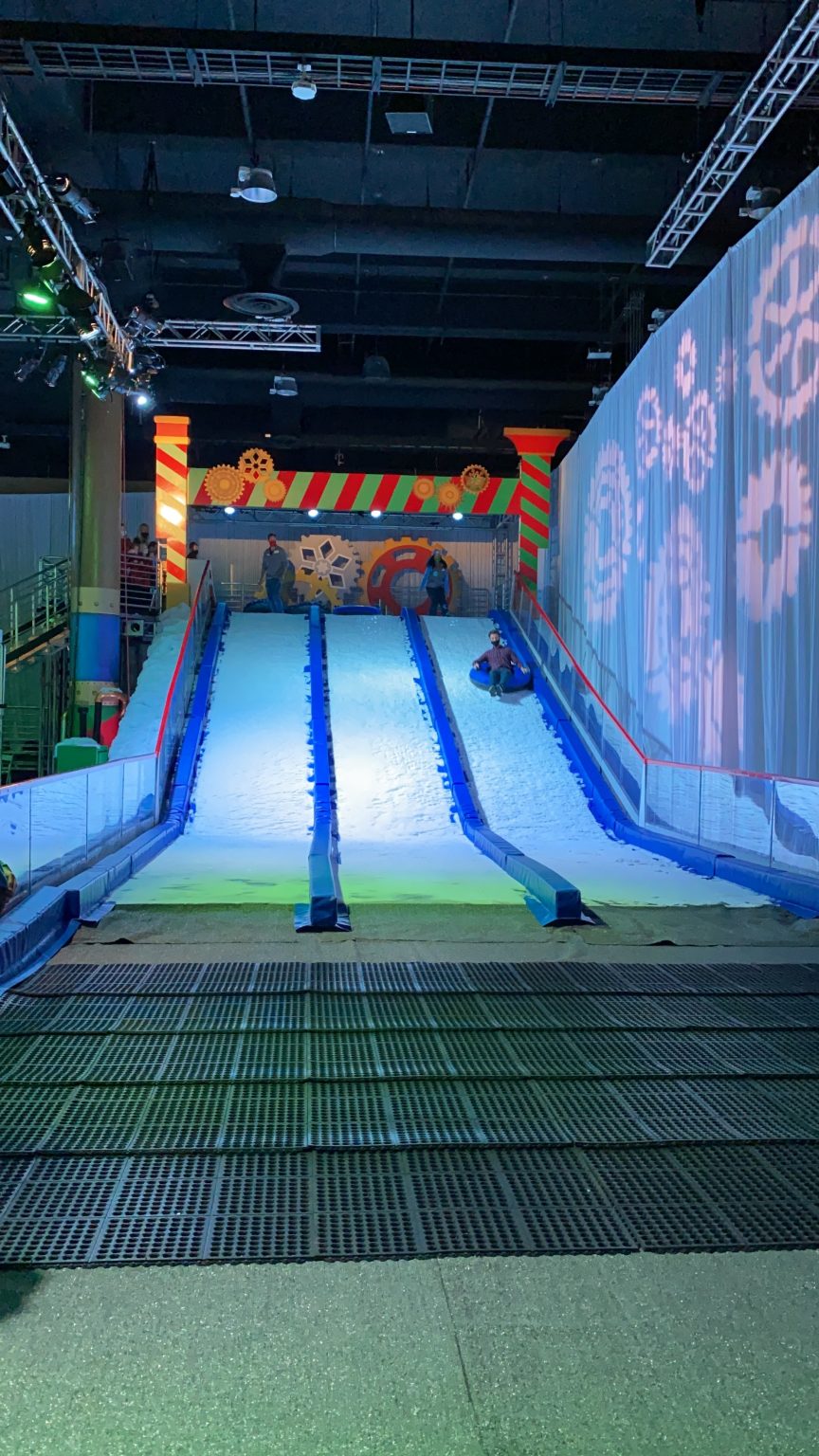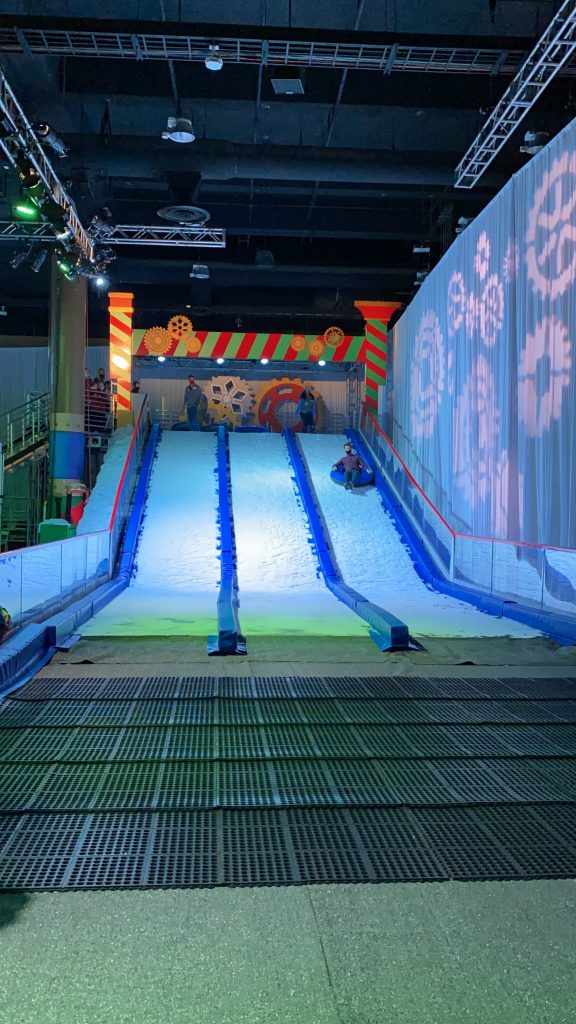 Snow Factory is a brand new experience this year. It includes Snow Flow Mountain, which was my kid's absolute favorite part of Christmas at Gaylord Palms. What is it? It's where you and your family can slide through factory conveyor belts that have frozen solid and ride on tubes down a thrilling plummet slide or hilly ice coaster. And our family loved battling it out at the Snowball Build and Blast! This friendly competition allows guests to build and toss real snowballs to boost the power of snowmaking machines. We had so much fun throwing snowballs as a family!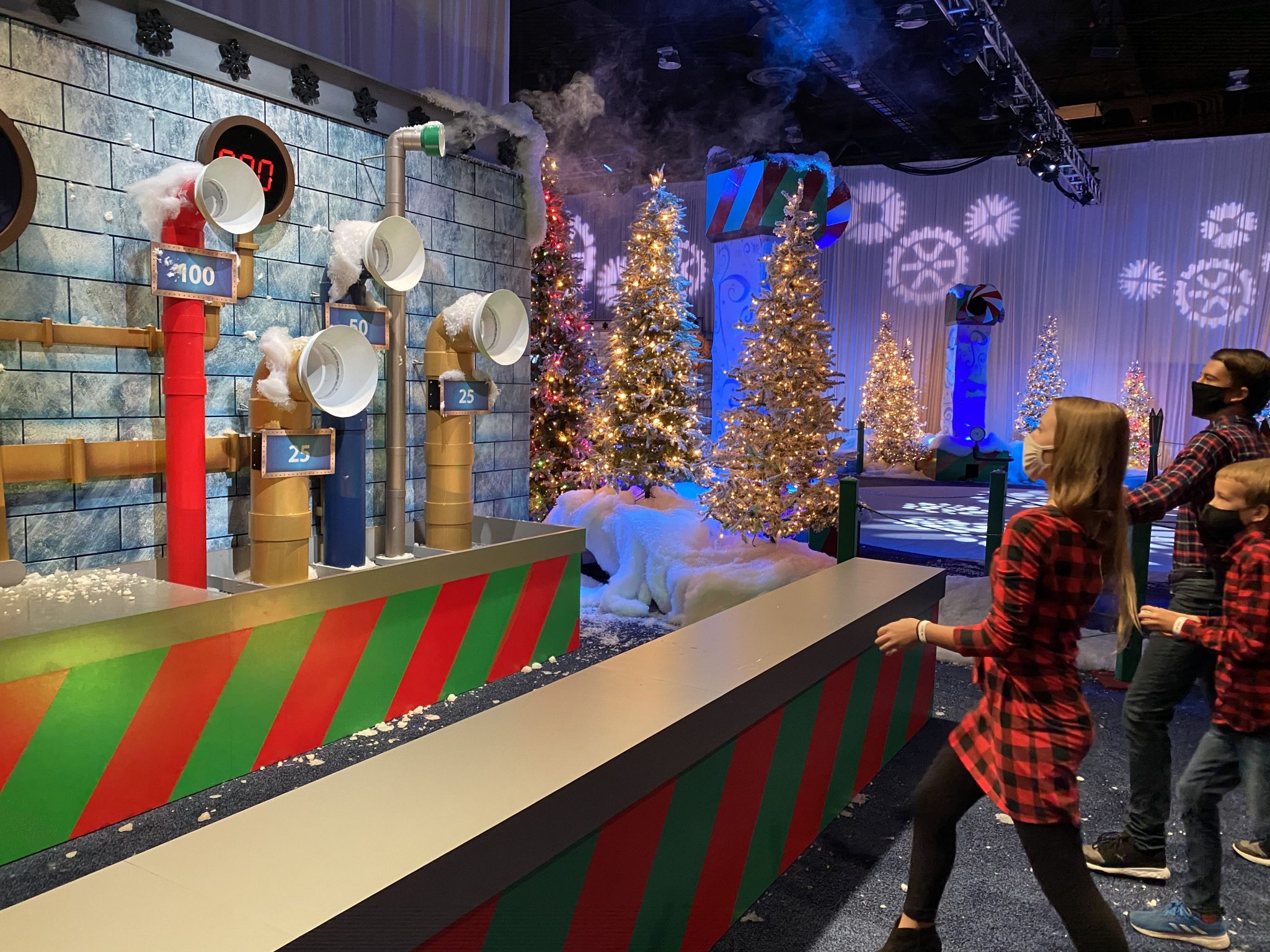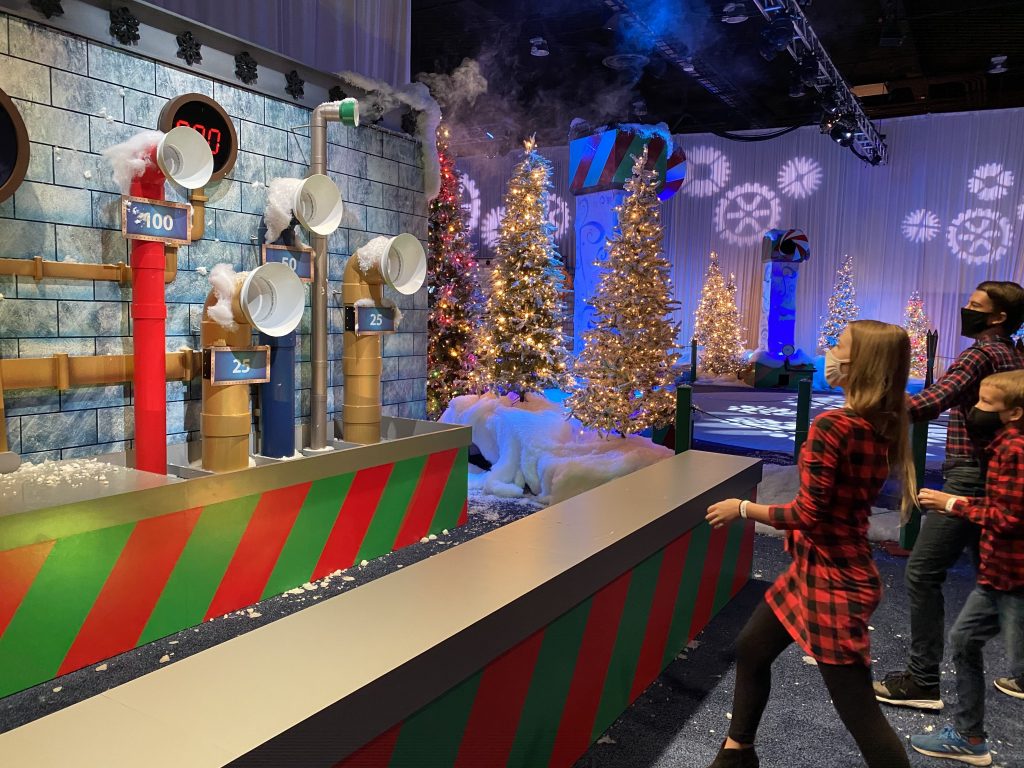 Christmas at Gaylord Palms: What Else Can You Experience?
Even though I Love Christmas Movies and the Snow Factory are amazing, that's not the end of Christmas at Gaylord Palms! With 4.5 acres of airy indoor atriums decorated with millions of twinkling holiday lights, a towering Christmas tree in the St. Augustine atrium and thousands of shimmering ornaments, visitors can look forward to even more festive experiences. These include:
You can meet Santa and Mrs. Claus!
Visit the incredible and expansive gift shop after you exit I Love Christmas Movies. You can find a gift for anyone on your list!
Build-a-Bear with unique and one of a kind options.
Build a gingerbread house while visiting with the Gingerbread Man himself!
A fun and festive breakfast with the mean, green one himself at The Grinch Character Breakfast at Villa de Flora.
An interactive experience that will show kids what it takes to become one of Santa's helpers during the Elf Training Academy.
A holiday-themed scavenger hunt that will help grow The Grinch's heart three sizes and show him the meaning of the season in The Grinch's Wonderful Awful Idea Scavenger Hunt.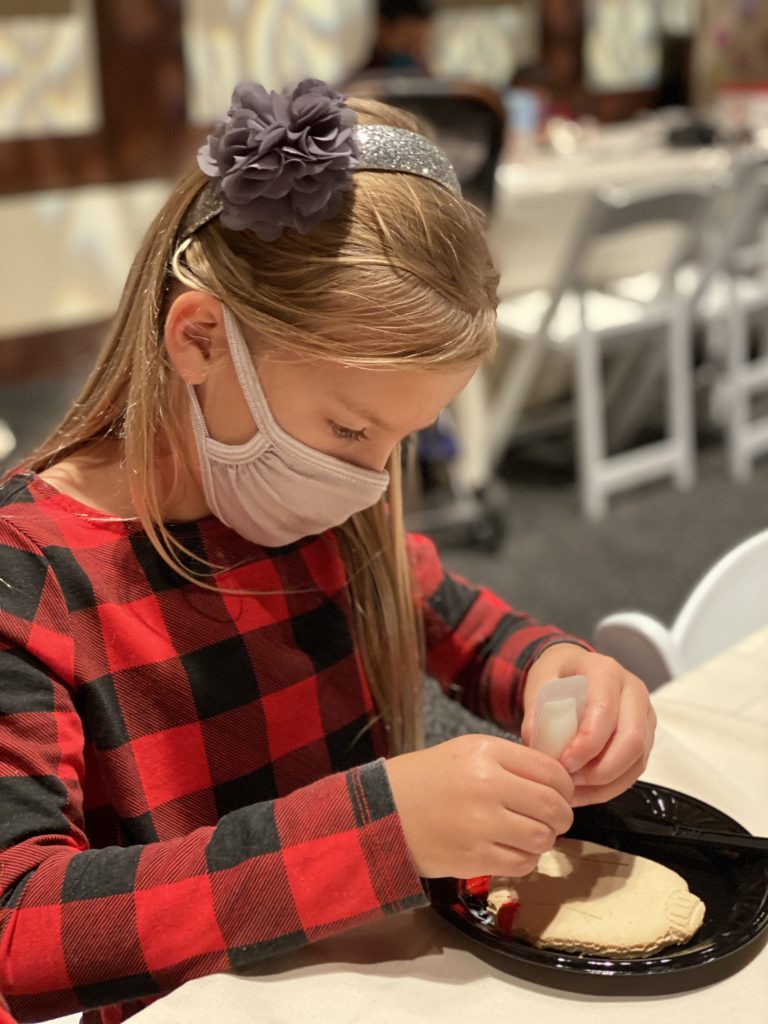 Shows You Don't Want to Miss
Live performances on the St. Augustine Stage, including the dazzling Cirque Dreams Unwrapped featuring stunning feats of showmanship performed on stage and in the air. This show is absolute MUST DO! It's absolutely incredible and you'll want to be sure to not miss a minute.
Holiday spirits will soar during The Greatest Story, a multicultural, musical journey celebrating the story of Christ.
A one-of-a-kind light show in the St. Augustine atrium sky that will bring the fun of decorating the Christmas tree to life in the #LIT Light Show.
And more! To learn more about all the activities and events coming to Christmas at Gaylord Palms visit, www.ChristmasAtGaylordPalms.com.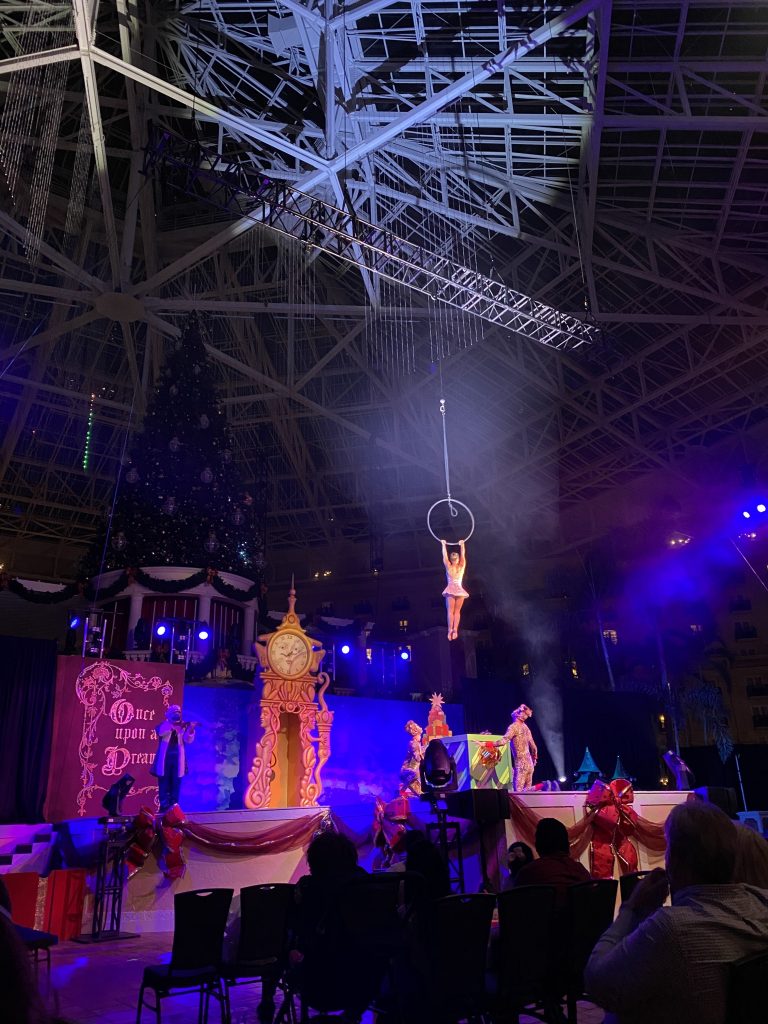 And to truly experience all that Christmas at Gaylord Palms has to offer, book a stay! With an atrium view room that overlooks the Christmas tree and the show stage, you can see so many of the amazing experiences right from your balcony. There are so many fun amenities at the hotel like the water park, delicious dining, and more. You'll want to have plenty of time to be festive and merry at Gaylord Palms Christmas!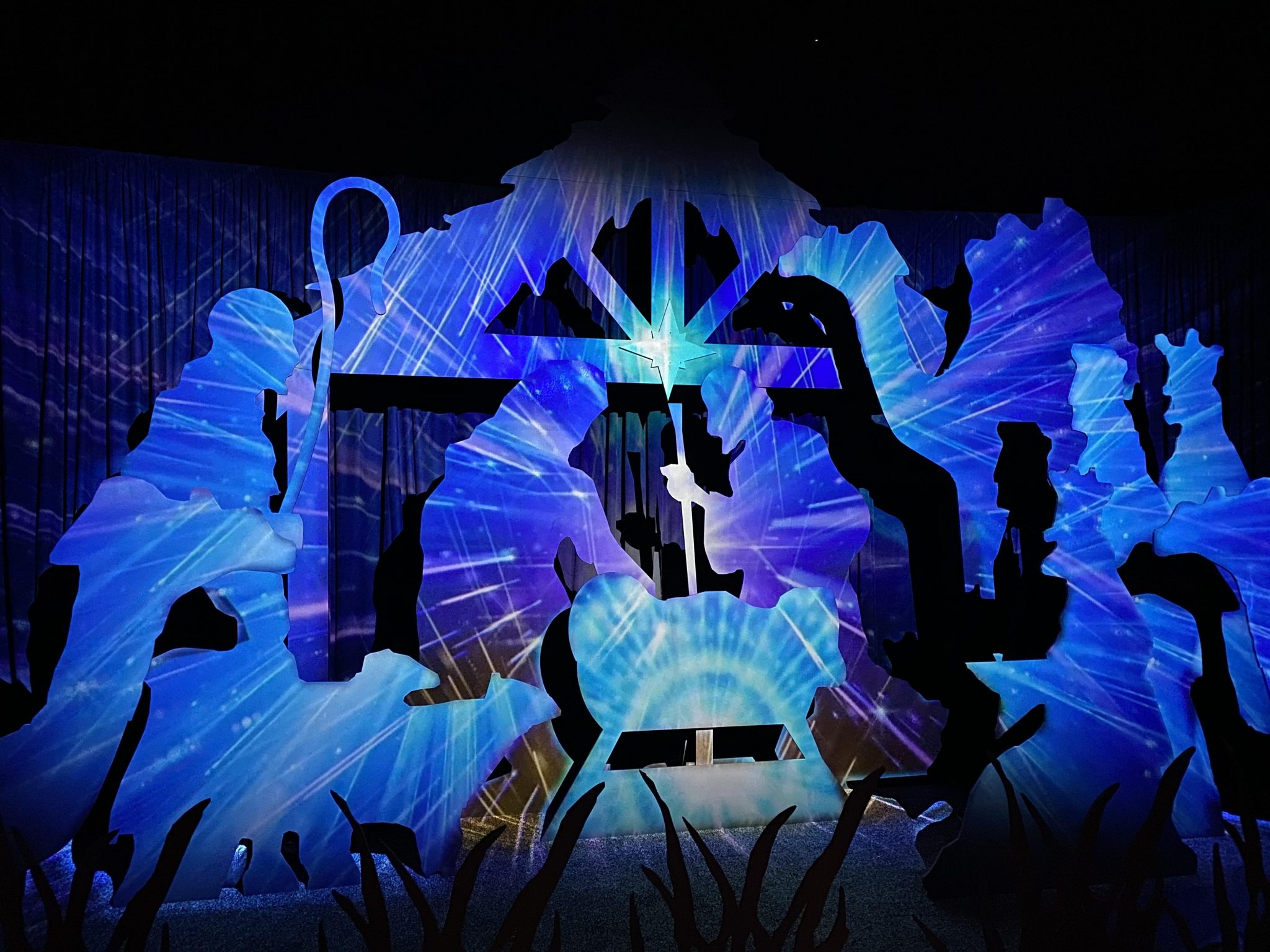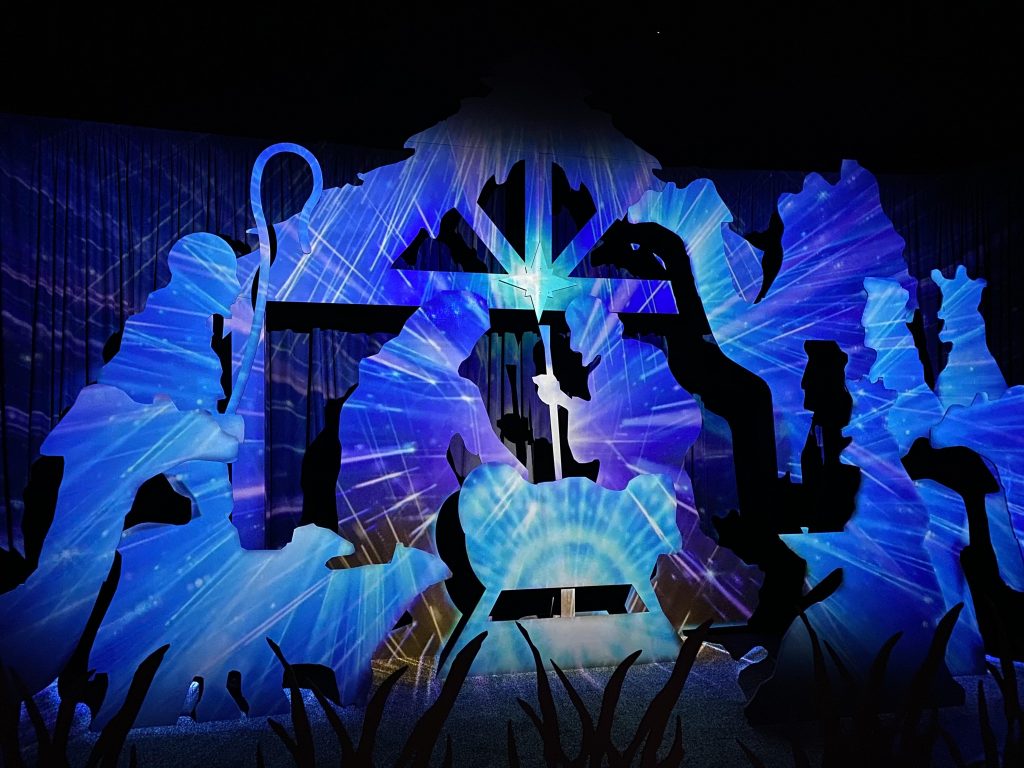 You may also like:
The Best Things to Do in Orlando for Adults
You May Also Like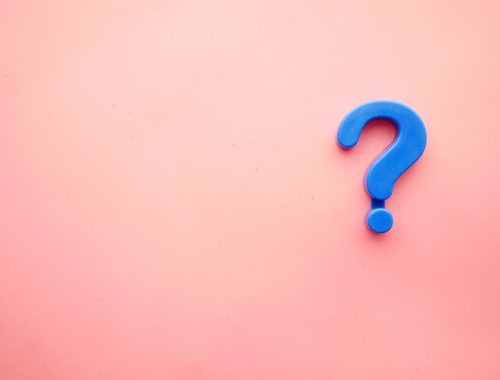 February 8, 2022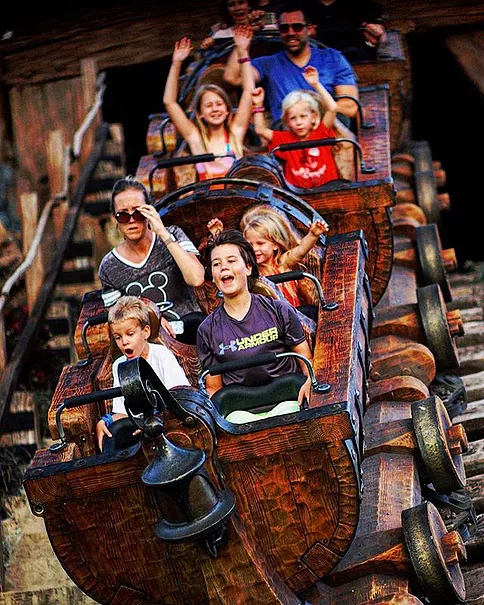 June 14, 2017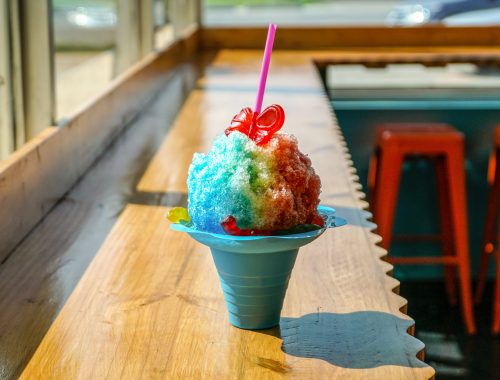 July 6, 2022