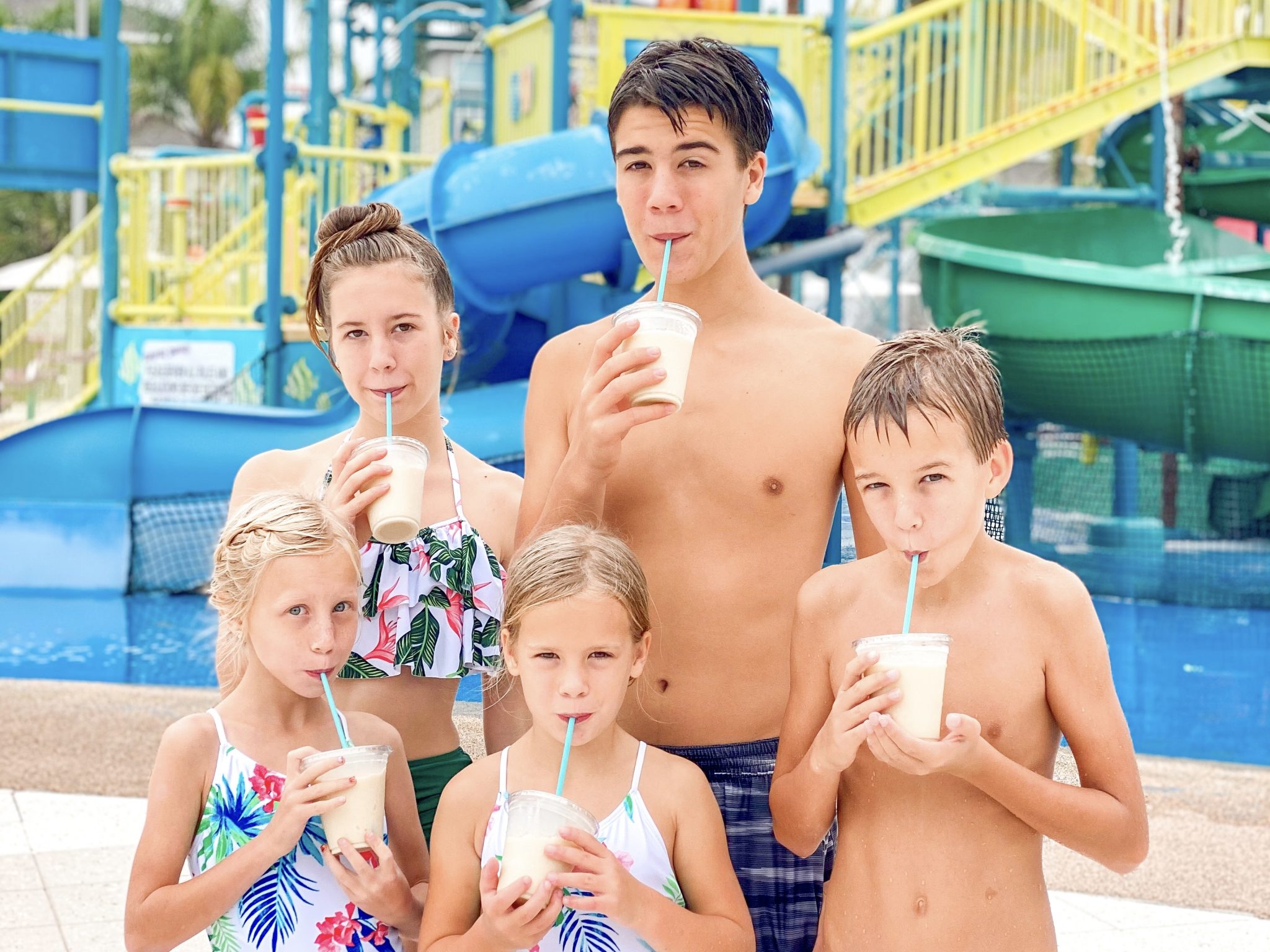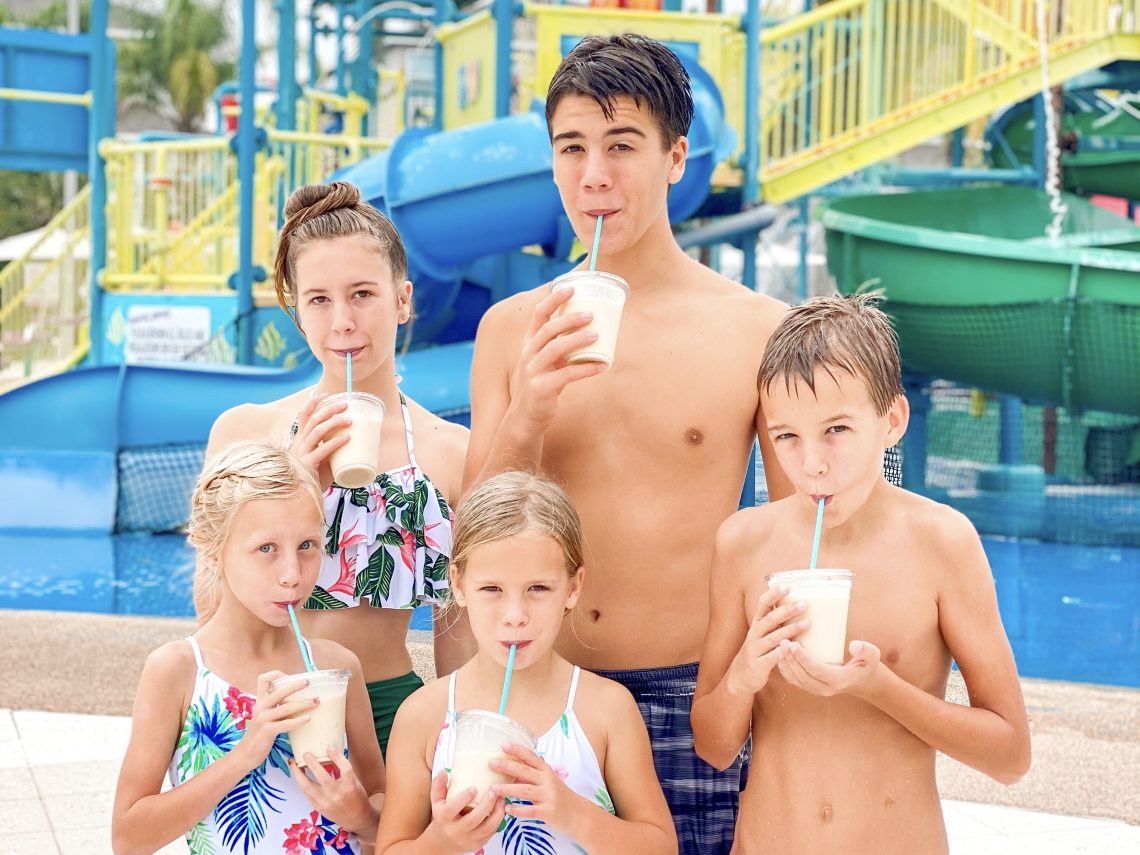 Encore Resort at Reunion Orlando Complete Guide
November 17, 2020
Sharing is caring!
If you've been following along on my Instagram feed, you may have already fallen in love with Encore Resort at Reunion! We were recently invited to stay at this resort in order to be able to share it with you. And now I can telll you; this vacation rental resort has everything you want in an Orlando resort. In fact, there's even a water park right at your rental home! And I don't know about you, but my kids can spend entire days at water parks and still want to go back the next day. I'm so happy to share my experience at Encore Resort at Reunion.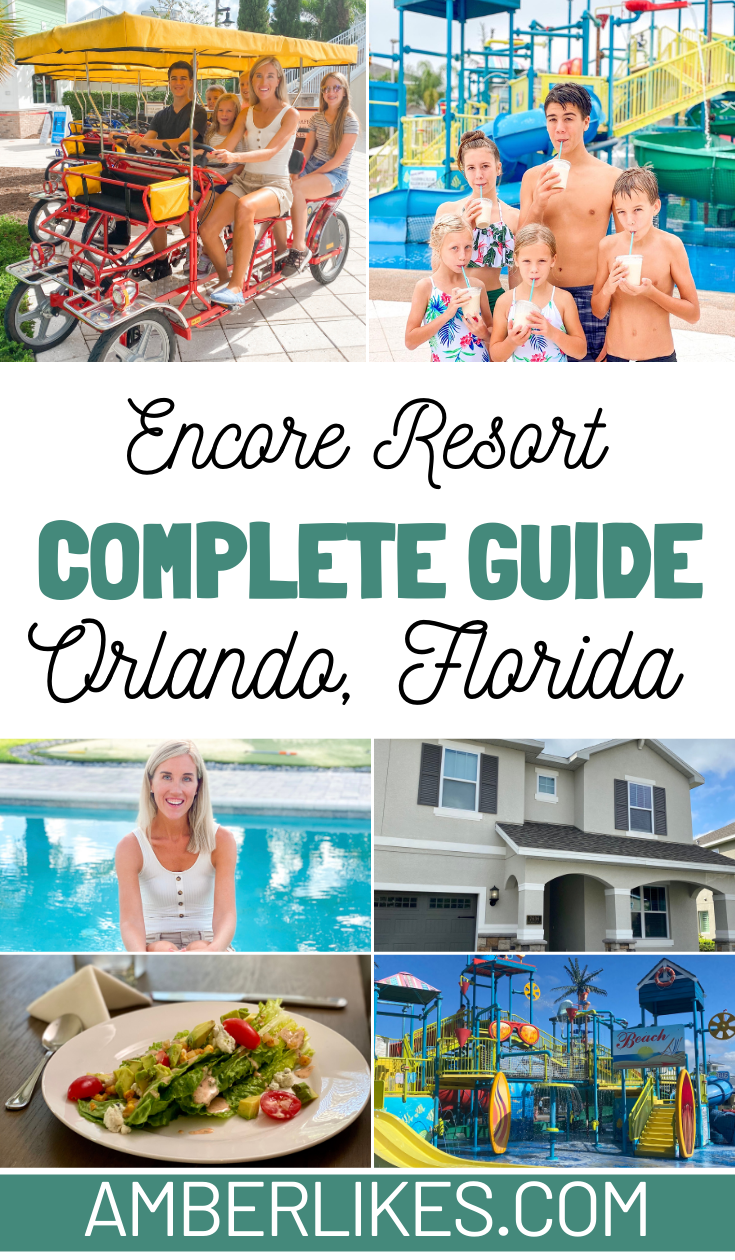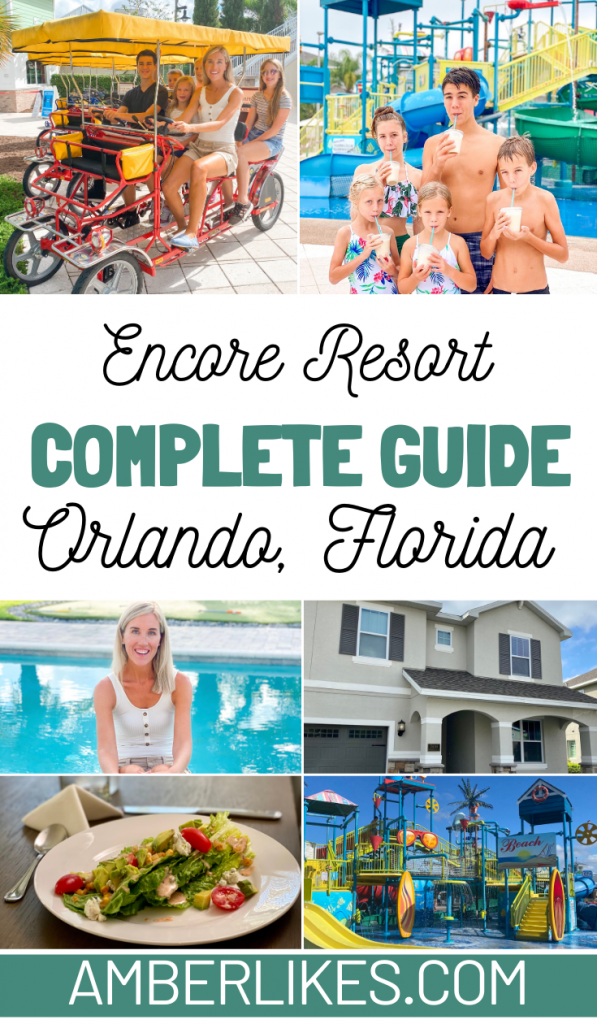 What is Encore Resort at Reunion?
Encore Resort at Reunion is not your typical Orlando hotel. At Encore, you and your family will have your own private vacation home. And with homes that have anywhere from 4 to 13 bedrooms, there's something for everyone! It's the perfect place to have a family reunion, get some friends together, or to enjoy a staycation. Whether you are visiting the theme parks, or just need a change of scenery, Encore Resort will make you feel like you're in a tropical paradise, even if you're just a short ways from home!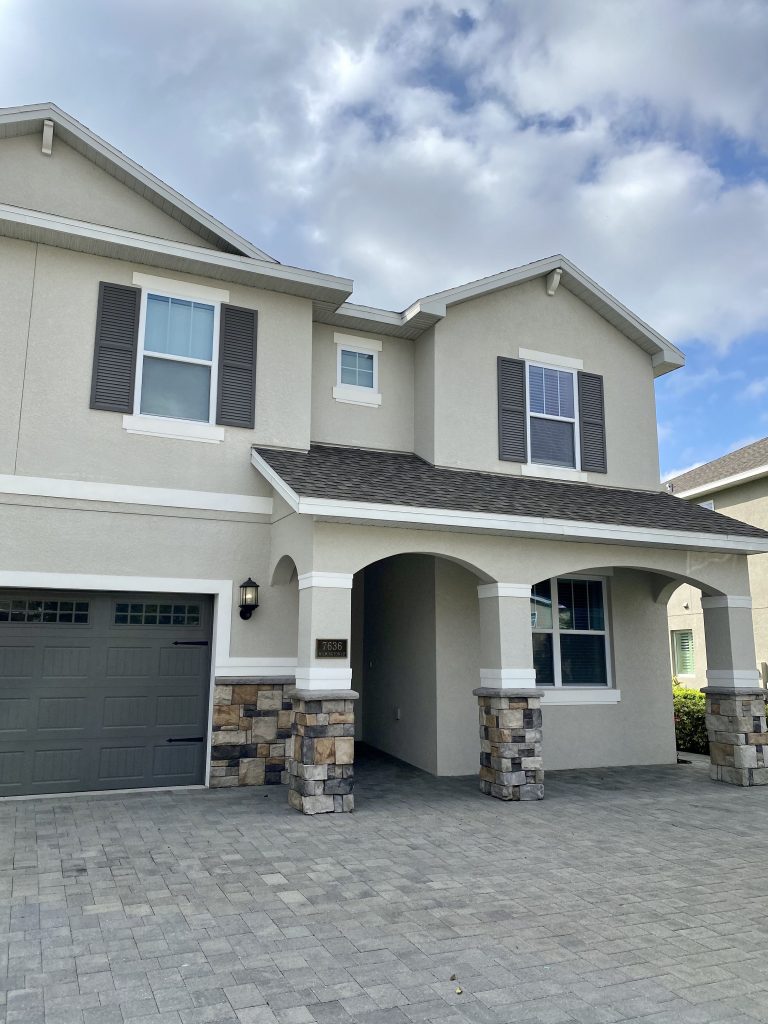 When we visited, we had an 8 bedroom home for our family of seven. This meant that each of our five kids had their own bedroom AND their own television! I'm sure you can imagine how excited they felt about that! For big families, it can be hard to find accommodations that fit us. But at Encore Resort at Reunion, these homes were made for families like us.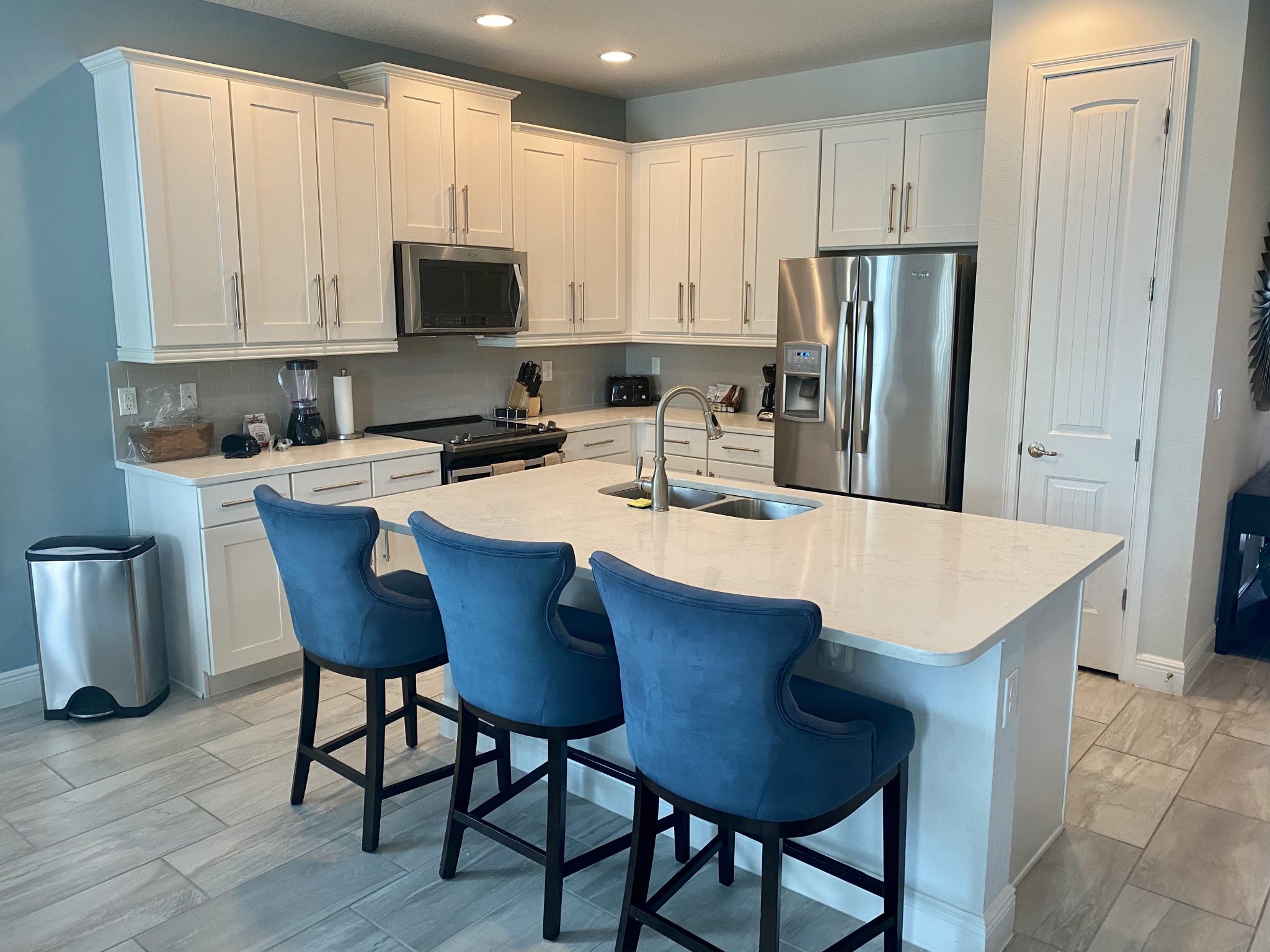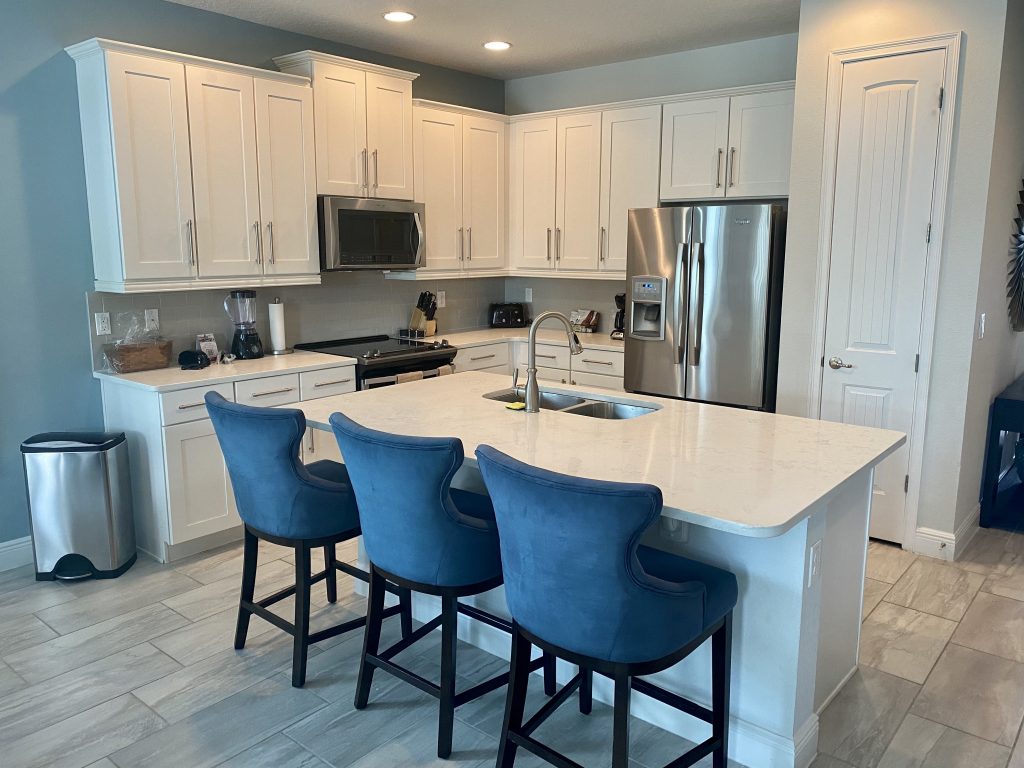 And while Encore Resort at Reunion is not your typical hotel, it has all of the amenities of a luxury hotel! So you get the best of both worlds. This resort includes vacation homes and also world class amenities.
What is there to do at Encore?
It might be easier for me to answer what they don't have instead of what they do! At Encore Resort at Reunion, you can find several dining options, complimentary theme park transportation, a water park, basketball courts, and so much more. While we were staying at Encore Resort in Orlando, we had so much fun together as a family. In addition to enjoying our own private pool and putting green at our vacation home, we also had the chance to take part in several fun activities! And as a Mom, I love doing activities and crafts on vacation that I'm not fun enough to do at home!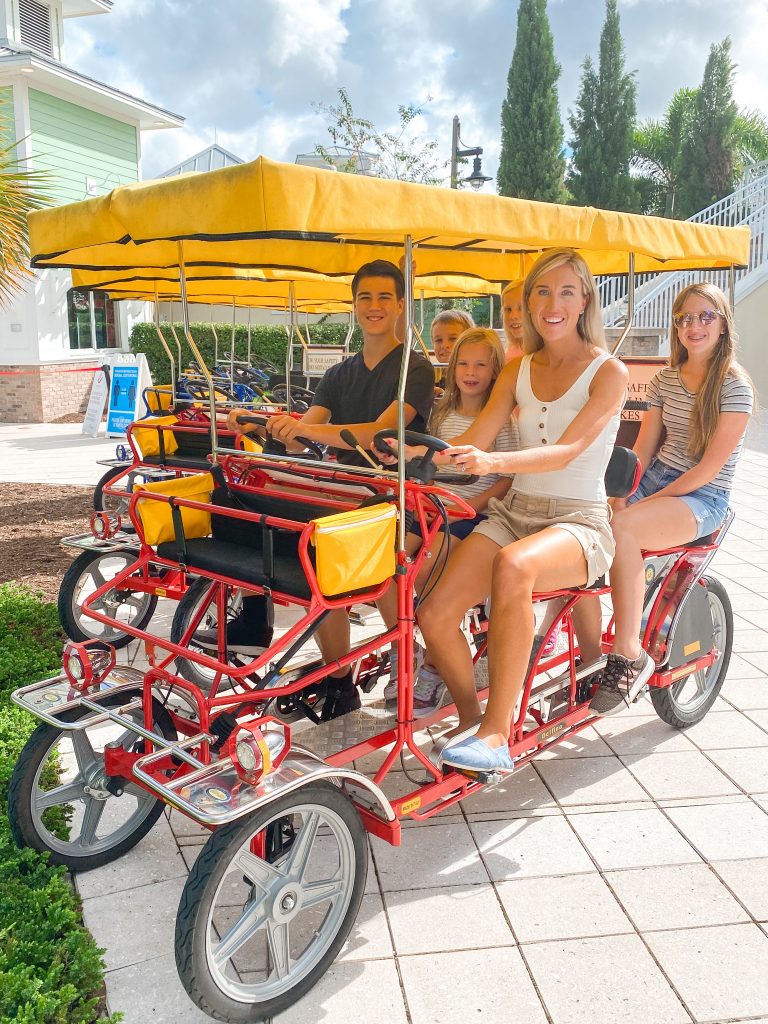 Here are some of the activities you can enjoy at Encore Resort:
Water Park
Surrey bike rental
Spa services
Private cabana rental
Craft time with slime making, candle creations, and more
Tie die shirts
Basketball court
Sand volleyball court
Soccer fields
Tennis
Monthly activities calendar
And more!
In fact, you can even have the help of the Encore Resort at Reunion team in planning an itinerary for your family. With theme parks, water parks, and all of these activities, you'll have so many fun options to keep your crew busy and happy!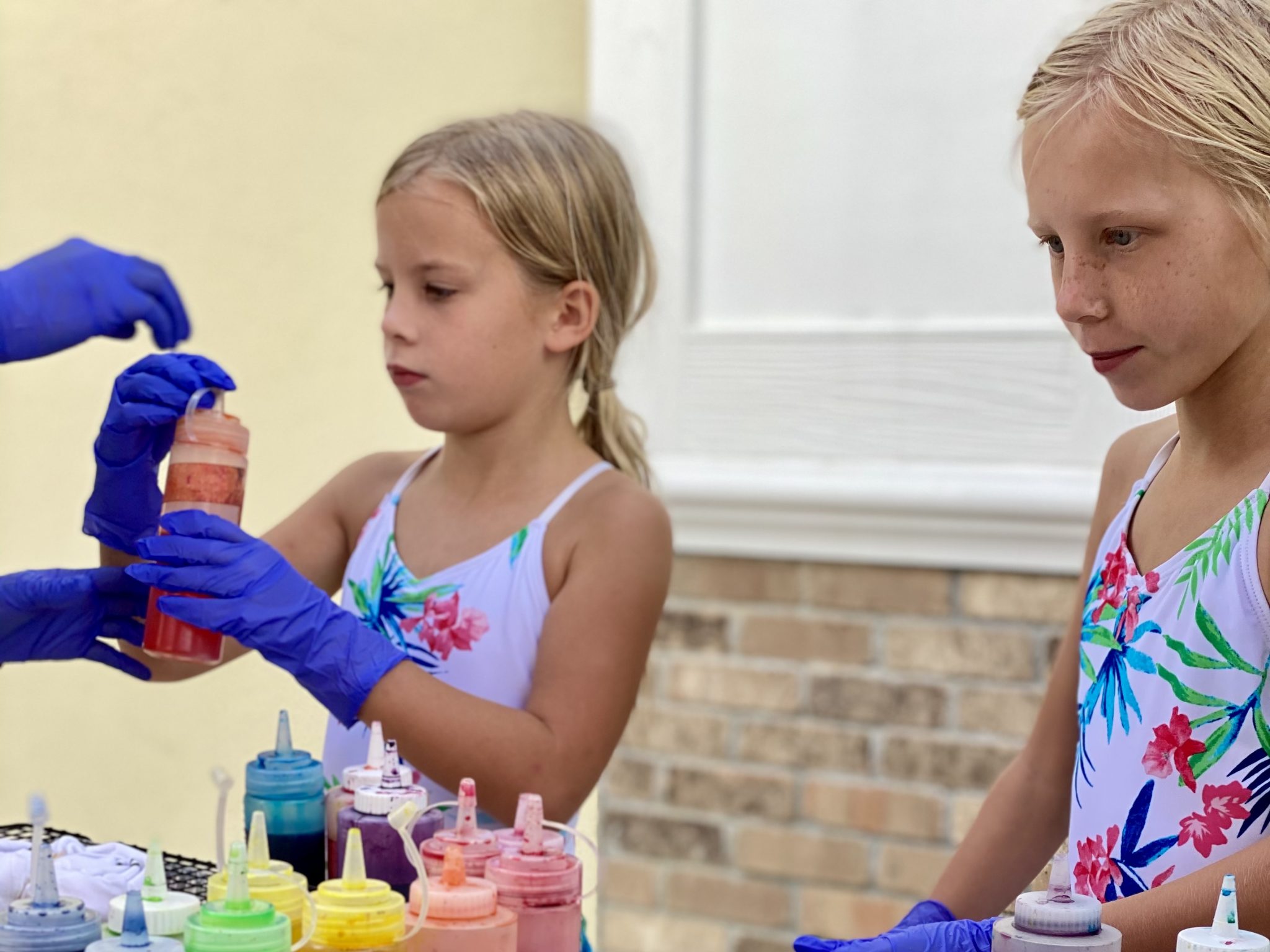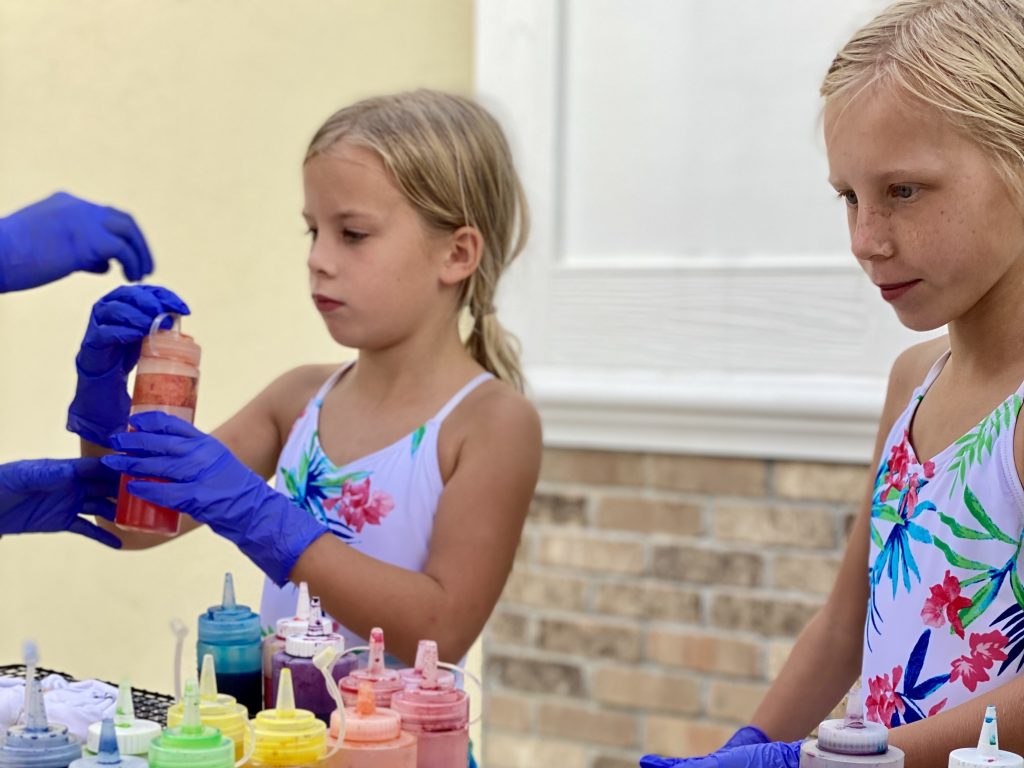 Dining
There are several dining options at Encore Resort in Orlando. These include:
Finns Restaurant
The Bis Grill
Shark Lounge
Grab N Go
Home Delivery
Shopping Services
In Home Chef Experience
Catering
We used the Home Delivery option many times during our stay. It was just so convenient to pick up the phone and have our dinner delivered in no time.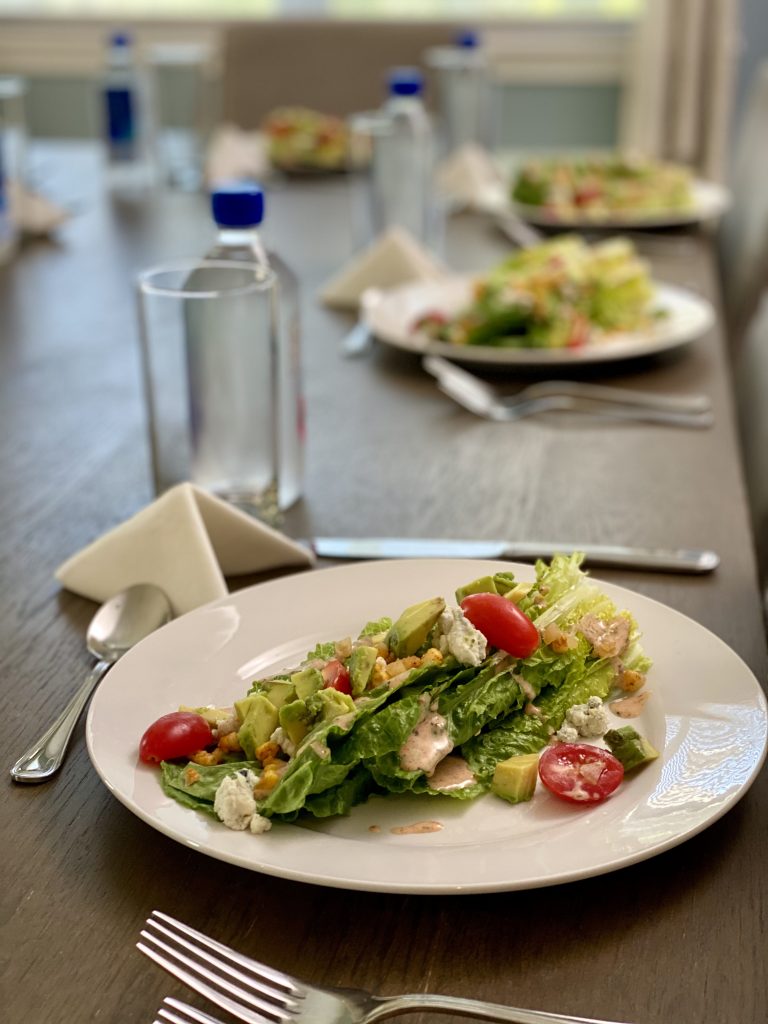 And we also had the opportunity to take part in the In Home Chef Experience. In this experience, you will be able to welcome one of the skilled Chefs into your vacation home. And then you can watch as they prepare a delicious, multi-course meal right in front of your eyes! You can craft the perfect menu beforehand and have something for everyone. The Chefs are accompanied by trained servers who handle everything from the set-up to the serving and clean up. It was so wonderful to have a gourmet meal, right from the comfort of our vacation home!
What's the water park like at Encore Resort at Reunion?
We've been to lots of different water parks all over Central Florida. In fact, you might even consider my kids experts on water parks! And the water park at Encore Resort at Reunion gets their stamp of approval. With 3 exciting water slides, a pool, and an interactive water play area, there's so much to do! There's even an arcade, an outdoor ping pong table, and corn hole. I really love that there are lifeguards and plenty of staff around as well. The entire water park area is very clean and well managed.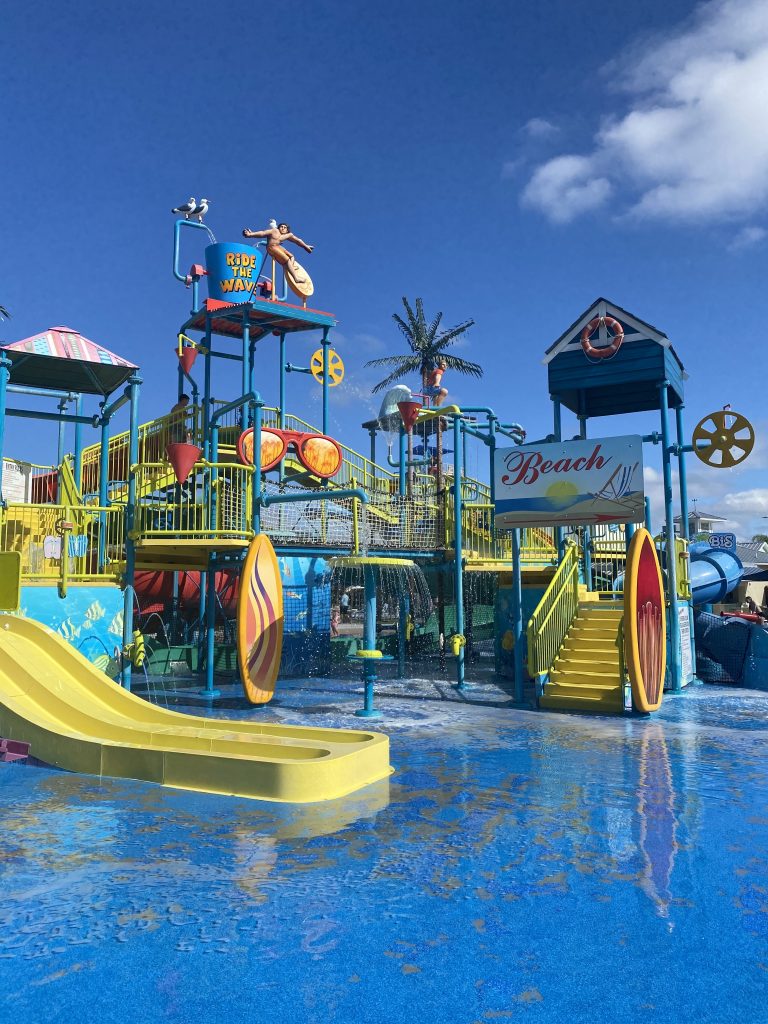 The water park is a 10 acre play area that includes several different areas for kids of all ages. Here's what you can expect:
Slides
The Stormchaser- this 60 foot vertical drop is for the most daring members of your family! My oldest loved it!
The WaveRacers- two slides let you challenge your family and friends to a speed race to the bottom while riding on mats. There's even a timer at the bottom to record your official time!
The Tsunami- this takes you on twists and turns through a dark tube! Ride alone or grab a friend and ride in a tandem inner tube.
Water Play Area
The Surfing Safari Splash Area provides younger guests with a play area just for them! Although my older kids enjoyed it as well. There are four water slides, water cannons, bridges for climbing, and tons of water fountains. Get ready to get wet and have some fun together.
And there's also a huge swimming pool where you can rent private cabanas! These cabanas provide a beautiful overview of the water park. Throughout the water park, there is food and beverage service.
And there's also The Bis Grill at the water park. This is a quick-service restaurant that serves All-American favorites such as hamburgers, hot dogs and a wide variety of specialty drinks for both kids and adults. My kids enjoyed several kids smoothies by the pool. And there's even a souvenir cup with discount refills!
Why choose Encore Resort at Reunion in Orlando?
When you want to be near the theme parks, be able to relax in comfort with your family, and have all of the comforts of home, Encore Resort is a perfect choice. There's so much to do, you wouldn't even need to leave the resort! When we go on vacation, we almost always rent vacation homes instead of staying at hotels. This is just a necessity for a large family in a lot of area! But at Encore Resort at Reunion, you really do get the best of both worlds. You have your own private home, but can enjoy all of the amenities of a resort.
Be sure to head to EncoreReunion.com to book your stay!
You May Also Like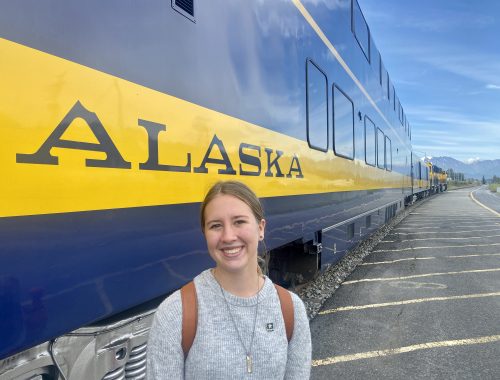 September 17, 2022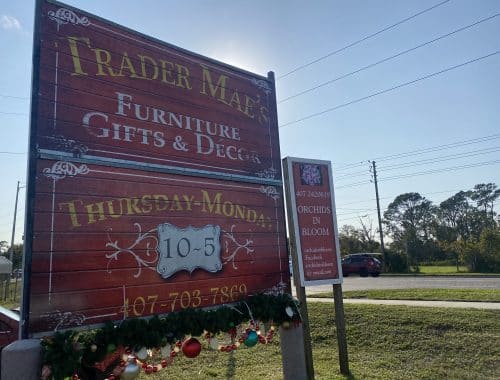 December 8, 2022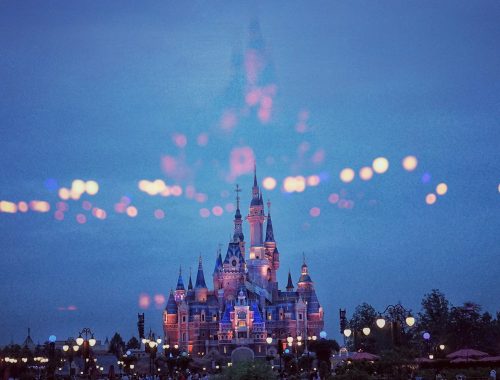 December 10, 2020