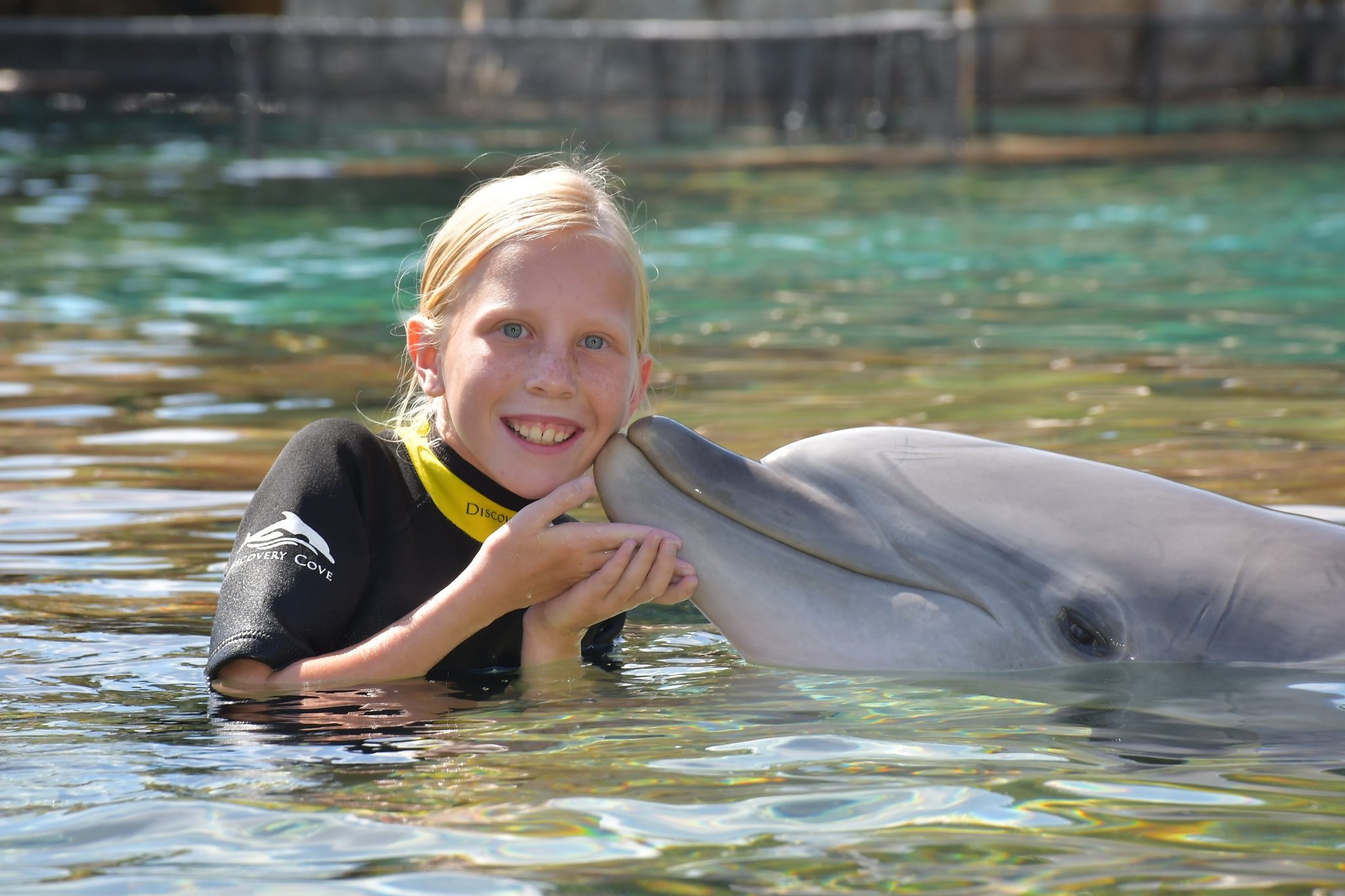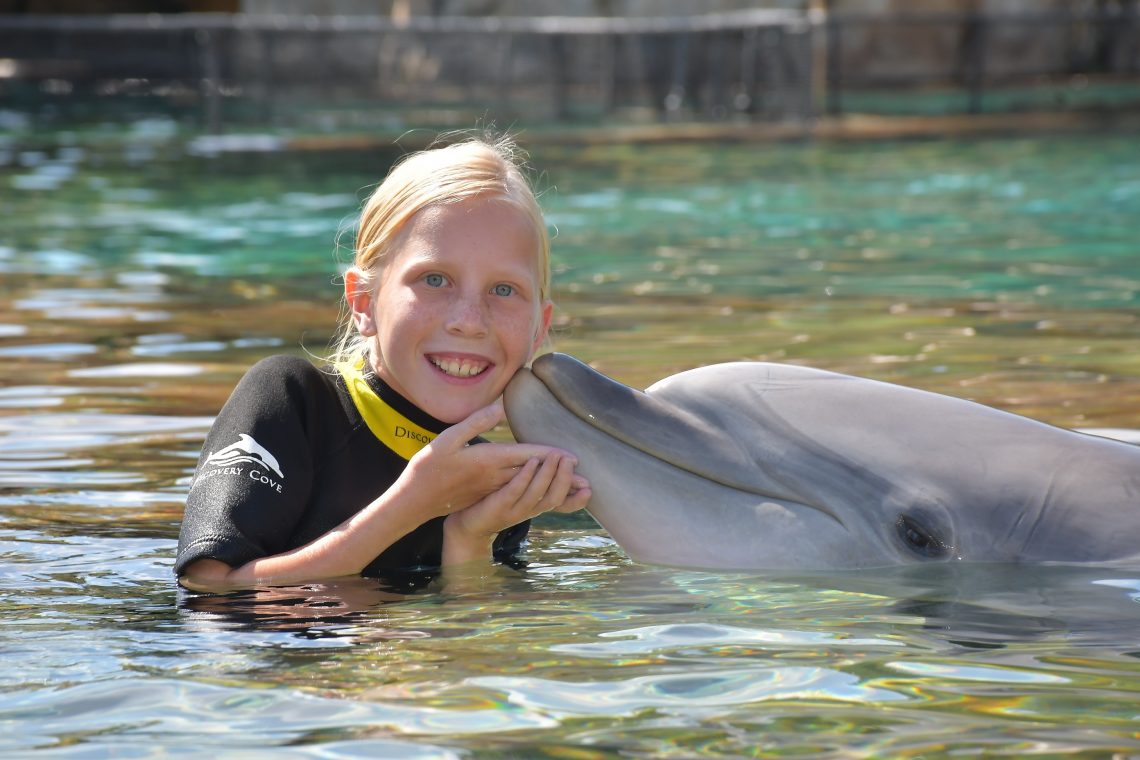 Is Discovery Cove Worth It? Get Your Urgent Questions Answered
September 6, 2022
Sharing is caring!
So is Orlando's Discovery Cove Worth It? Find out now!
Discovery Cove is a truly unique experience. It's a blend of a zoo and an aquarium. With animal encounters around every corner, tropical walkways, and relaxing waterways, it's something you have to see to truly appreciate. But let's be honest, it's not cheap. And in Orlando, you have a lot of choices in entertainment and in theme parks. So what makes Discovery Cove so special? Is Discovery Cove worth it? I was invited to check out this Orlando oasis with my 11 year old daughter. And we have all the details to share!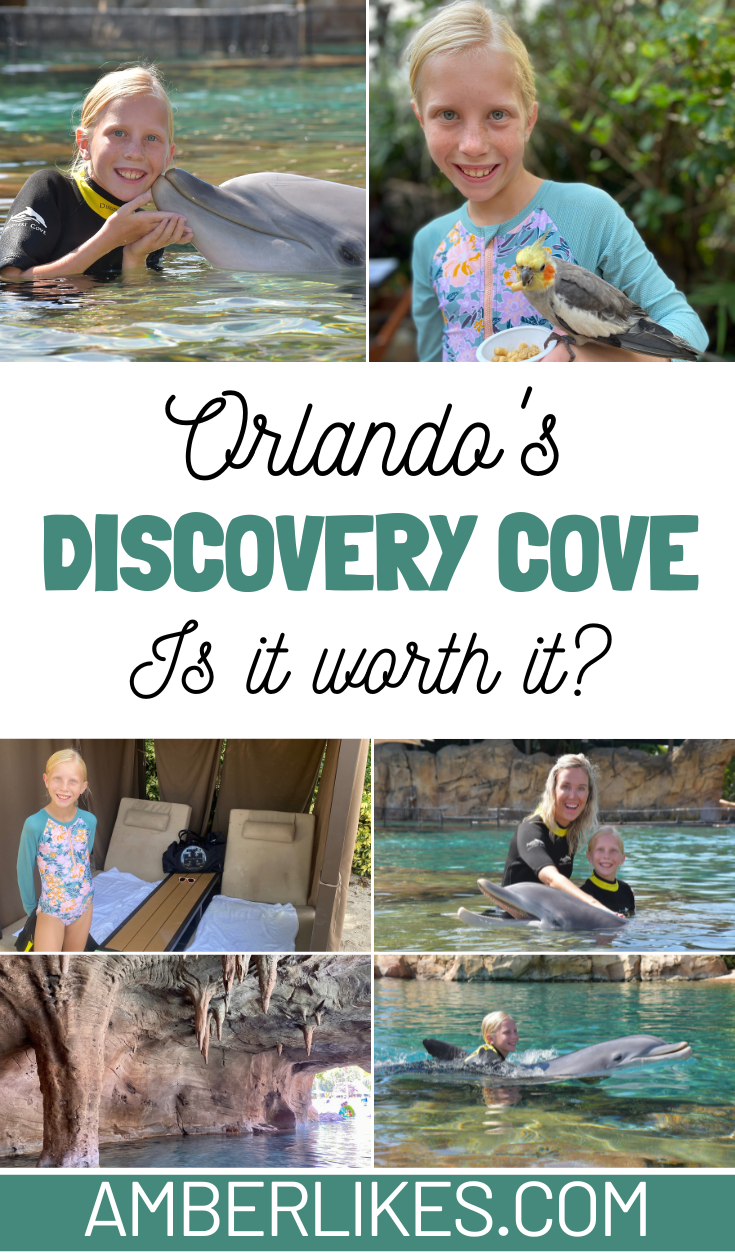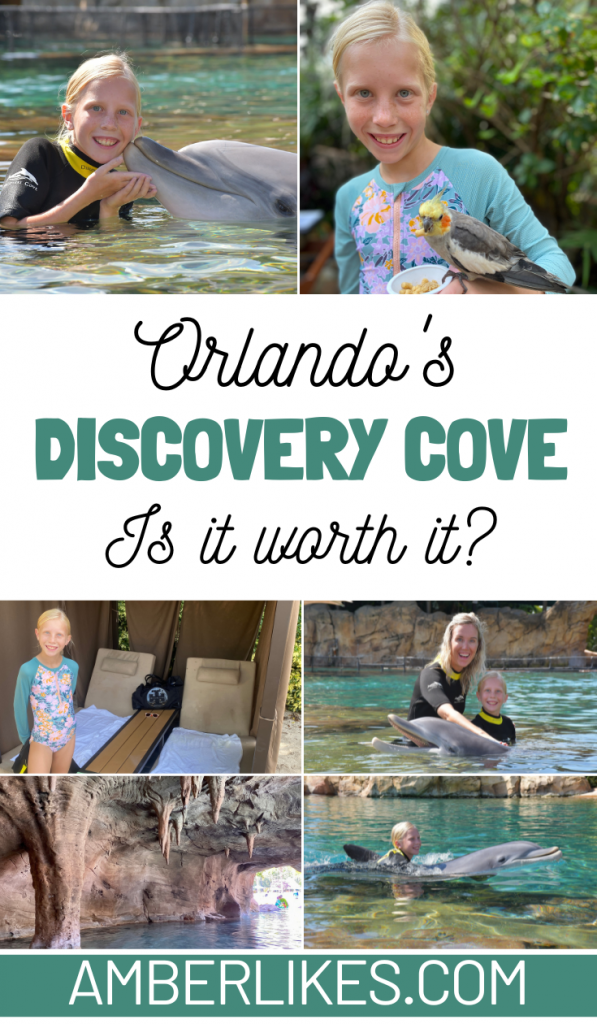 What age is good for Discovery Cove?
If you've been here for a while, you'll know that I'm a Mom of 5. My kids range in age from 9 to 17. But for our Discovery Cove day, it was a birthday treat for my 11 year old dolphin lover. She even got a shirt for her birthday that said, "Future Dolphin Trainer." How perfect for a day at Discovery Cove!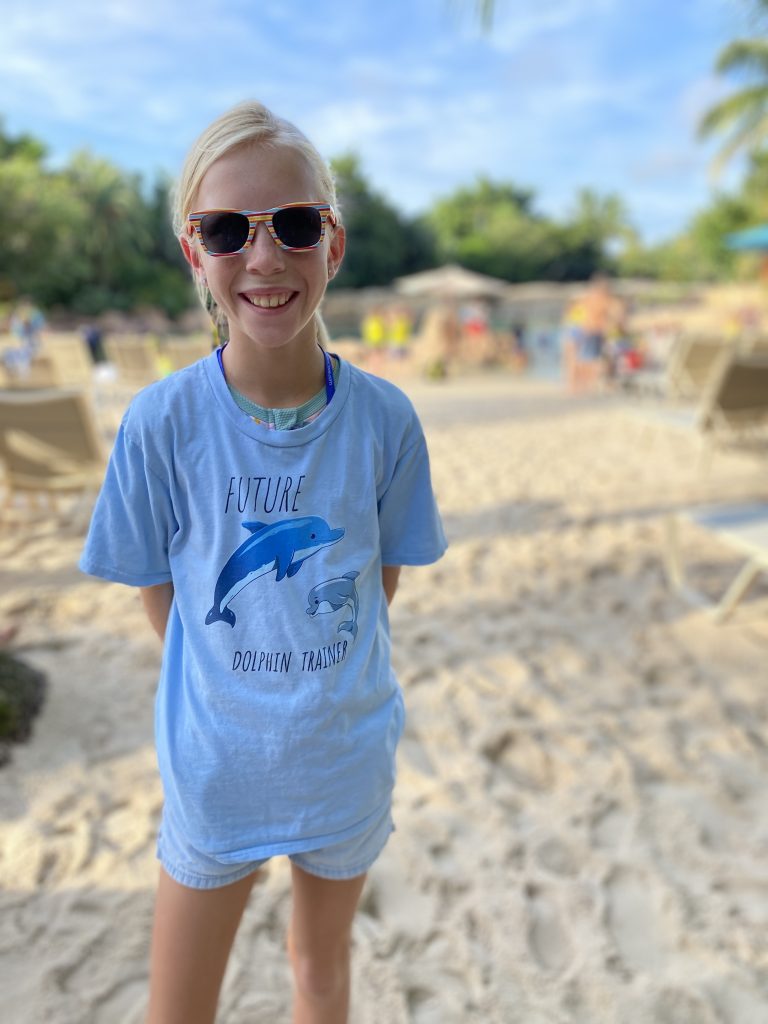 So what Discovery Cove good for an 11 year old? Absolutely! She was old enough for all of the activities and also old enough to truly appreciate the experience. But I also saw many children there who were much younger. For one of the most popular experiences, the Dolphin Swim, it's important to note that children ages 6-12 must be accompanied by a paying adult who also is participating. This is important to know and to plan ahead for when purchasing your ticket!
You can also purchase a Discovery Cove ticket that does not include the dolphin swim experience. This is a great option for younger guests who don't meet the age requirements and for those who aren't great swimmers.
Can babies go to Discovery Cove?
Yes! I saw many families with babies at Discovery Cove Orlando. You don't need to purchase a ticket for children ages 2 and under, but you will need to book a reservation for them. There are about 1300 people allowed in the Park each day, and babies are included in that count. So be sure to make your reservations ahead of time, and include everyone who will attend.
Babies and little ones can float down the lazy river with their families. And they can also delight in the birds and other animals. They can also play in the sand and enjoy the tropical environment!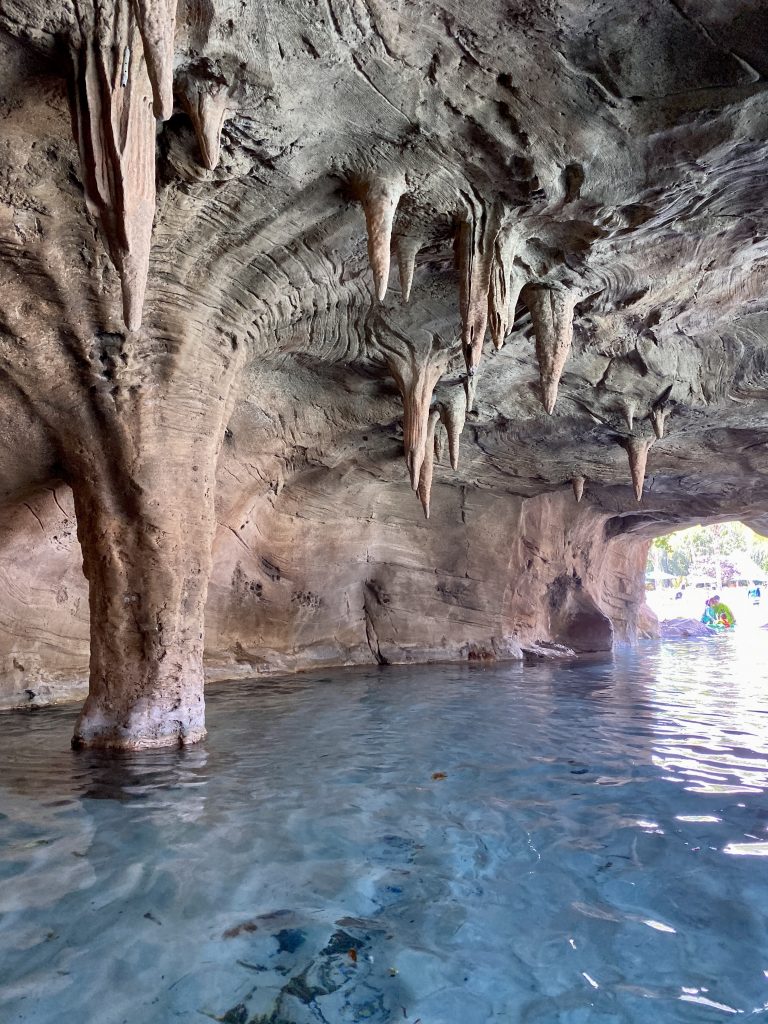 Is the Dolphin Experience at Discovery Cove worth it?
Most guests at Discovery Cove Orlando will include the Dolphin Swim Experience in their day. And there's good reason for this choice! My daughter and I had the pleasure of swimming with a dolphin and it was a beautiful experience. It was something that my daughter had dreamed of for years and years. And the dolphin swim experience at Discovery Cove did not disappoint.
What will you do during the Dolphin Swim Experience? You will pet the dolphin, take various pictures, practice different training exercises, learn about your dolphin, and then finally, take a swim! There's a professional photographer to capture all of the memories. And I would highly recommend planning to purchase those photos! You can have someone on the shore taking pictures, but you can't bring your own camera or phone or anything into the water with the dolphins.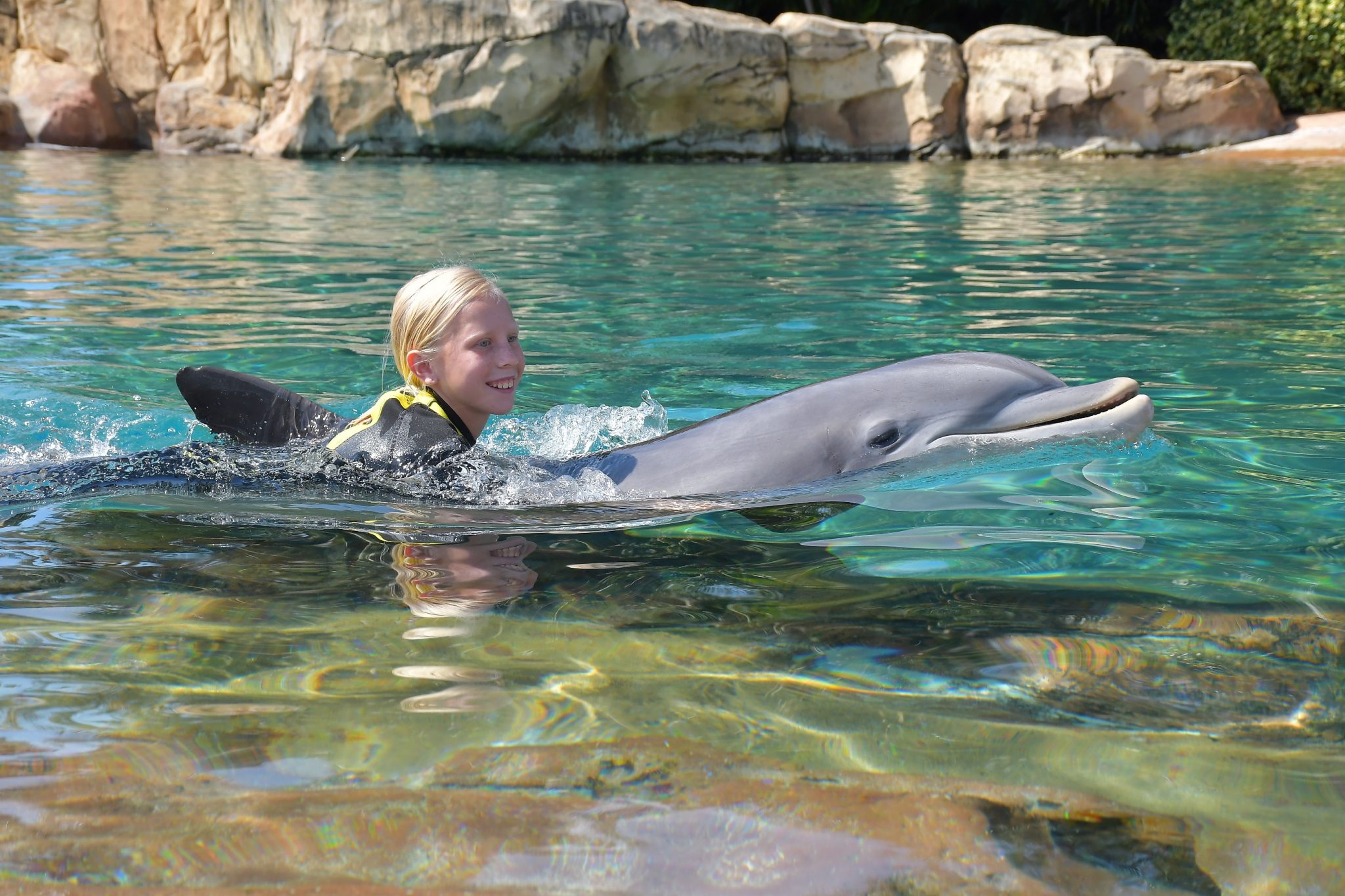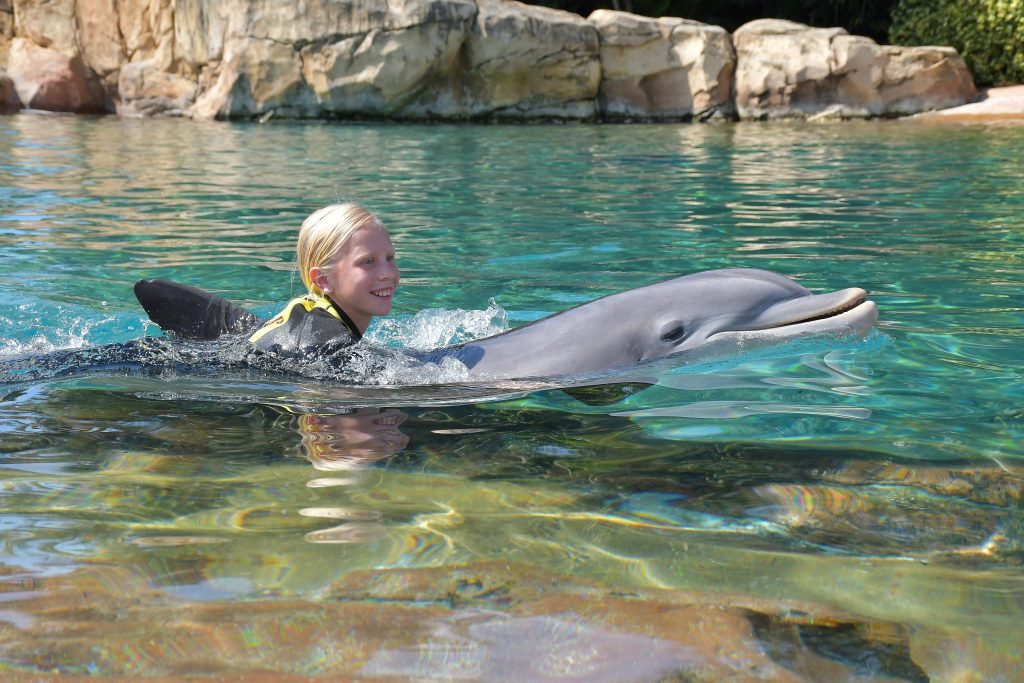 Is one day at Dolphin Cove enough?
I would love to go back to Discovery Cove. But is one day at Dolphin Cove enough? Yes, you can experience everything that Discovery Cove has to offer in one day. You can feed the birds, swim with the stingrays and fish, experience the Dolphin Swim, and enjoy the unlimited food and drink. The Park generally opens early in the morning, and I would recommend arriving early!
Your dolphin swim can be scheduled early in the morning, and then you'll have plenty of the day left to experience all that Discovery Cove has to offer. So is Discovery Cove worth it? With a full day of activities to explore, I vote definitely yes!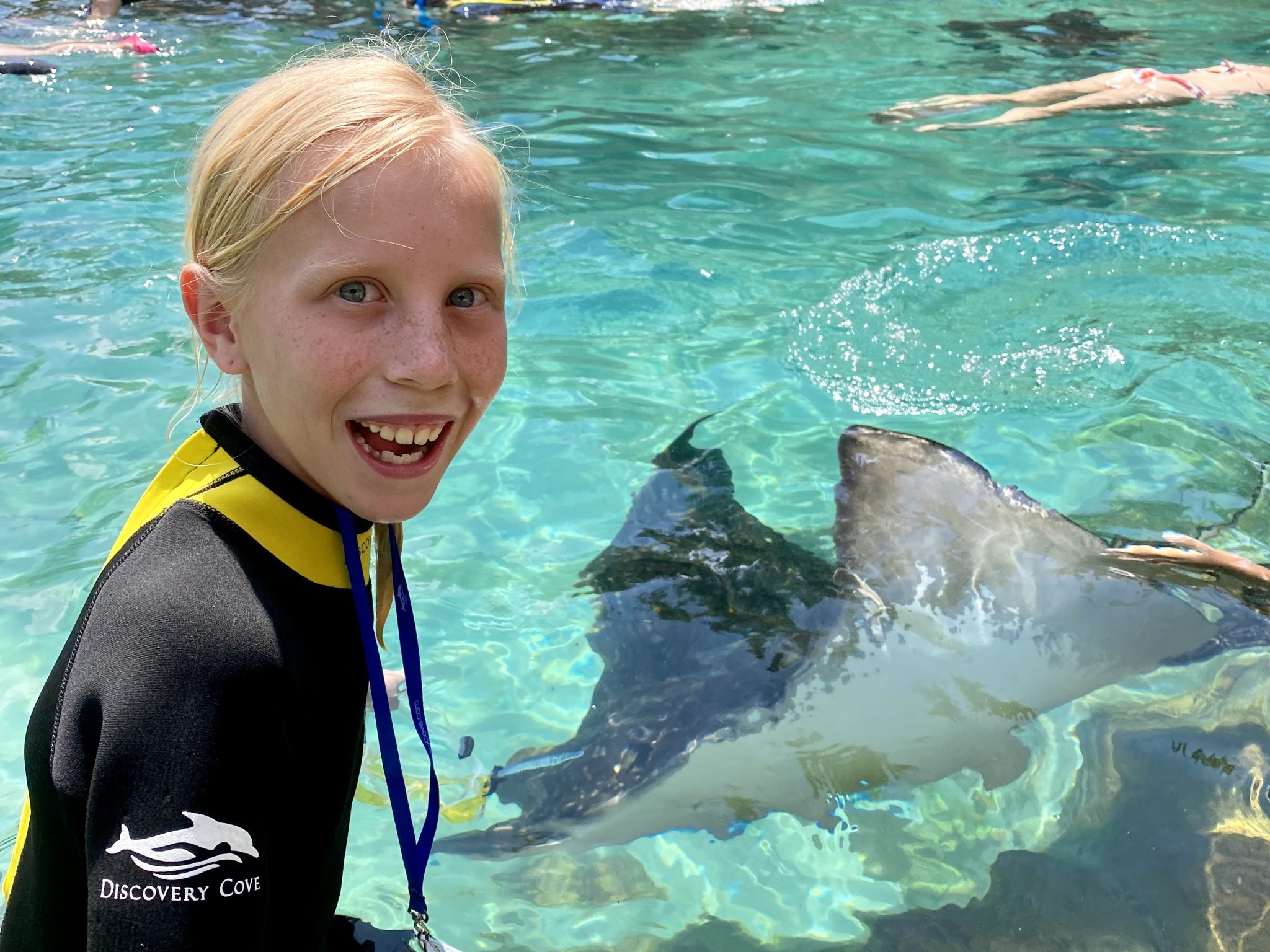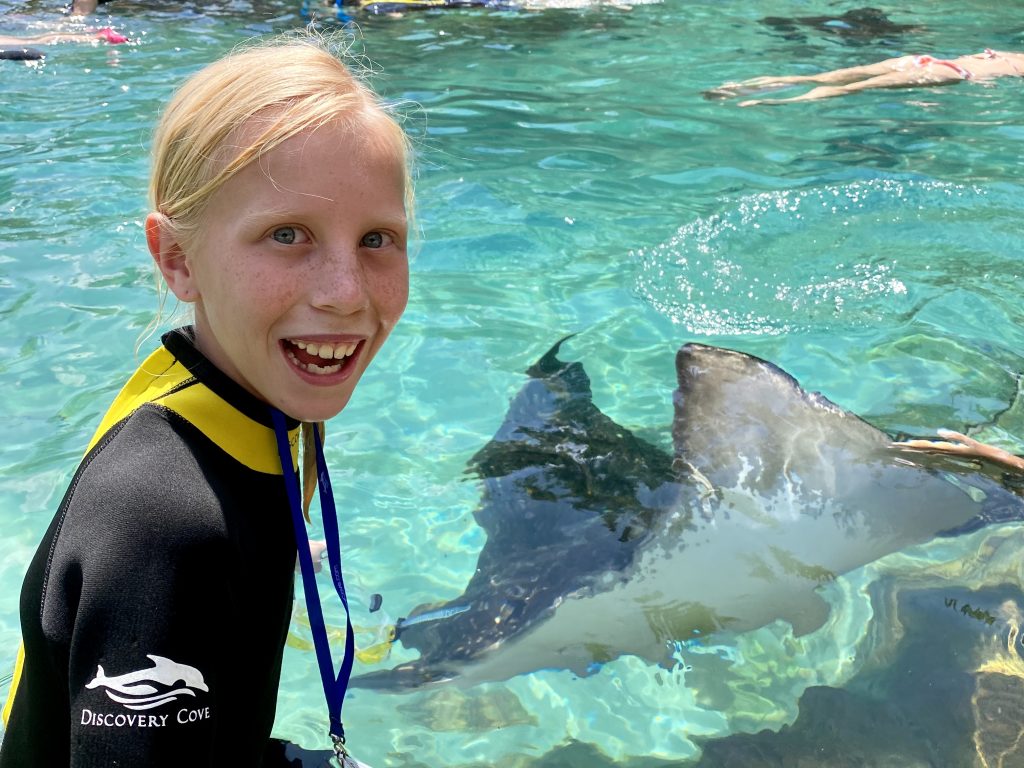 What's included at Discovery Cove Orlando?
It might be easier to answer this question by saying what's NOT included! They've really thought of everything and it is truly an all-inclusive experience.
Here is what is included in a day at Discovery Cove:
All food and drink
Freshly prepared breakfast and lunch
Grab and go snacks, chips, soft pretzels, cookies
Soda, coffee, tea, frozen drinks, juice, and milk
Beer and wine
Wetsuit or vest use for the day
All swim gear (goggles and snorkel)
Towels
Sunscreen
Bags for wet clothes
Shampoo, conditioner, and more in showers
Locker use
Self parking
I really can't tell you how fun it is to just walk by the snack station and grab a freshly baked chocolate chip cookie. Or how fun it is to just grab a cheesecake after swimming with stingrays and tropical fish. My daughter and I aren't huge eaters, but we enjoyed the included food and drink so much! It was one of our favorite aspects of the day. And as someone who enjoys a plant based diet, there were lots of options available for me.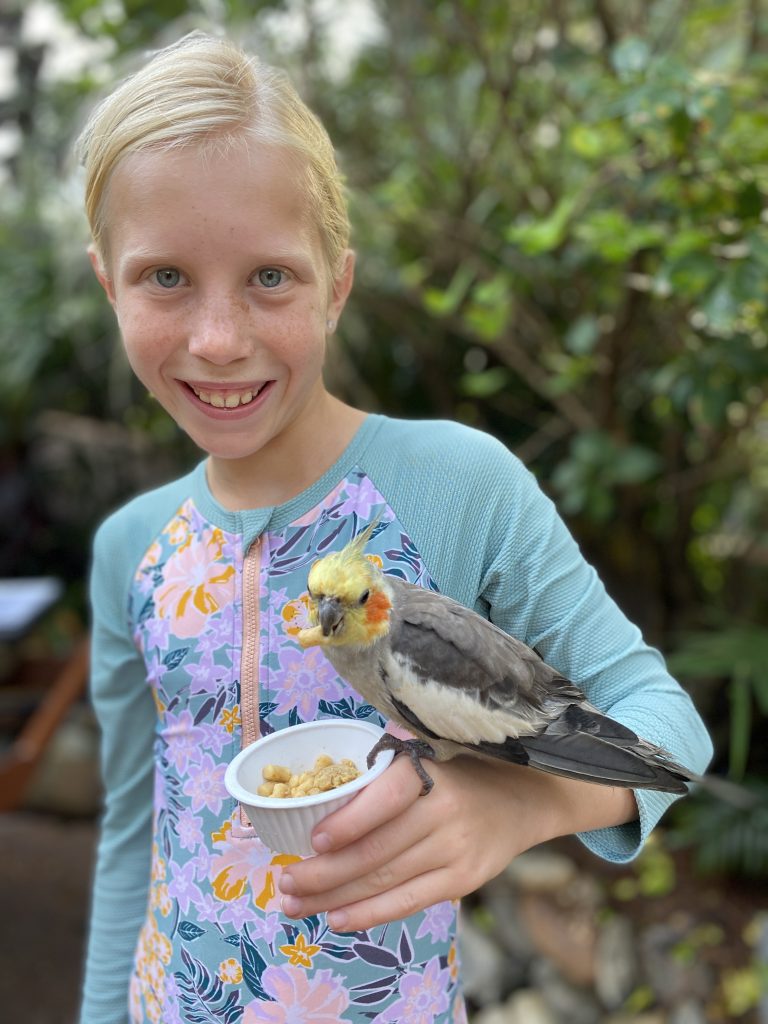 What's a day at Discovery Cove like?
To be honest, I really wasn't sure what to expect when we planned our visit to Discovery Cove. I knew our day included the Dolphin Swim Experience, and that was something to really look forward to. But other than that, I wasn't sure what our day would look like. So what was the day at Discovery Cove like?
Sample Discovery Cove Itinerary
7:30 am- Arrive and check in at Discovery Cove
8:00 am- Head to Daybed (extra charge for this reserved shady spot), get fitted for a wetsuit
8:30 am- Breakfast at Laguna Grill
9:00 am- Go over the bridge to Animal Encounters and to visit the Otters and Birds
9:30 am- Feed the birds! This was a wonderful part of our day.
10:30 am- Head to our meeting location for our Dolphin Swim Experience
11:00 am- Dolphin Swim Experience!
11:45 am- Lunch at Laguna Grill
12:30 pm- Visit the Stingrays at the Reef. This area also includes lots of tropical fish, an Eel viewing area, a shark viewing area, and animal trainers who are available to answer any questions.
2:30 pm- Snack time! Grab soft pretzels, frozen drinks, cookies, and chips and relax at the daybed.
3:00 pm- Float down the lazy river, visit the Aviary while floating down the river, visit the otters.
4:00 pm- Grab some last snacks, repeat any favorites, purchase souvenirs and photos.
5:00 pm- Head out at closing time and enjoy the memories!
I hope that gives you a better idea of what to expect during a day at Discovery Cove! Is Discovery Cove worth it? You can review our sample day and let me know!
You may also like:
Best Rides at SeaWorld Orlando: Full Guide
You May Also Like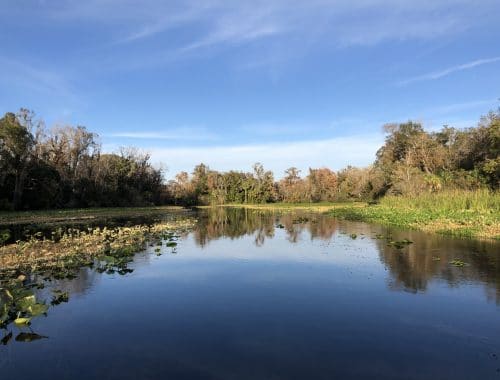 February 19, 2020