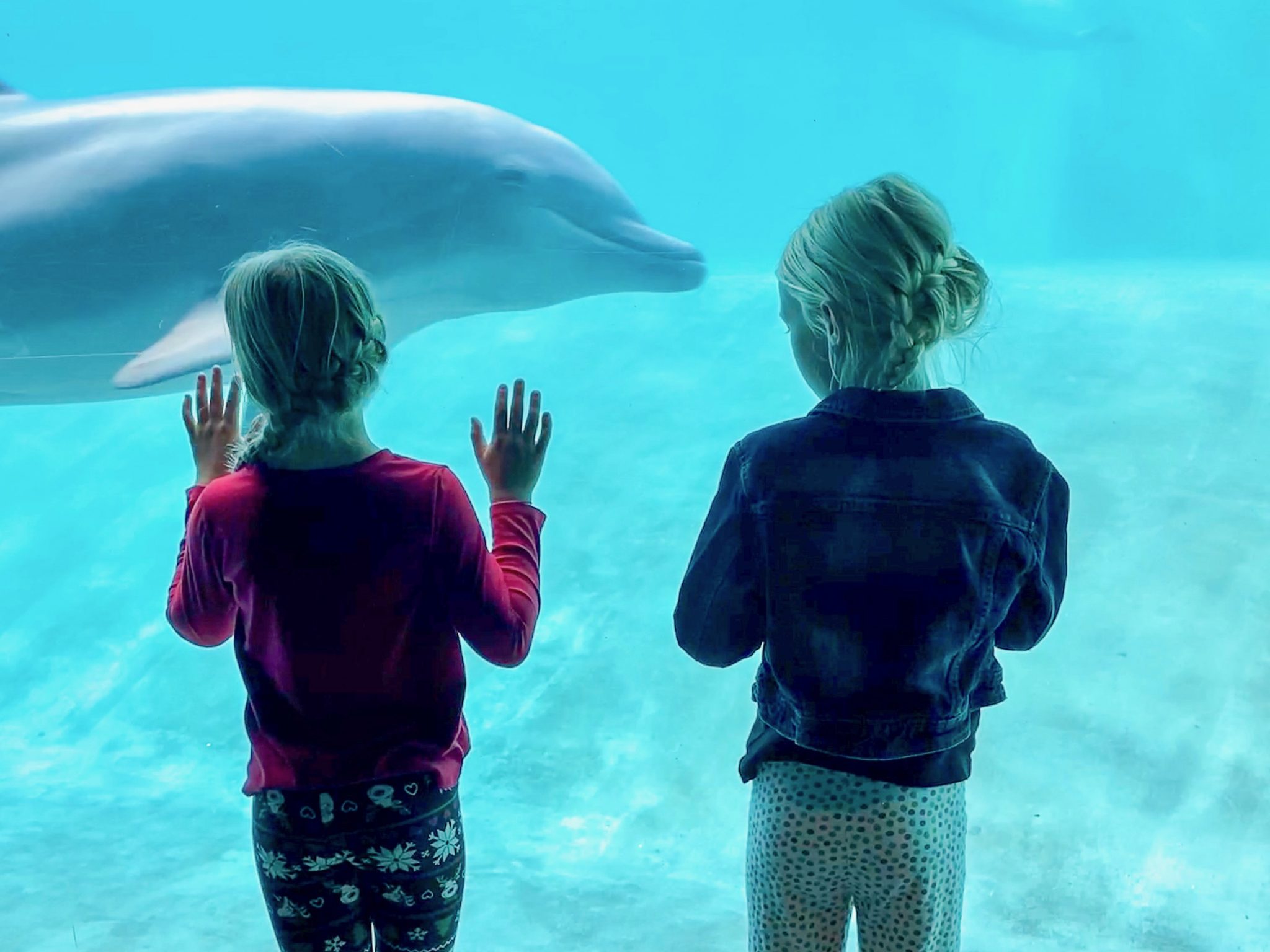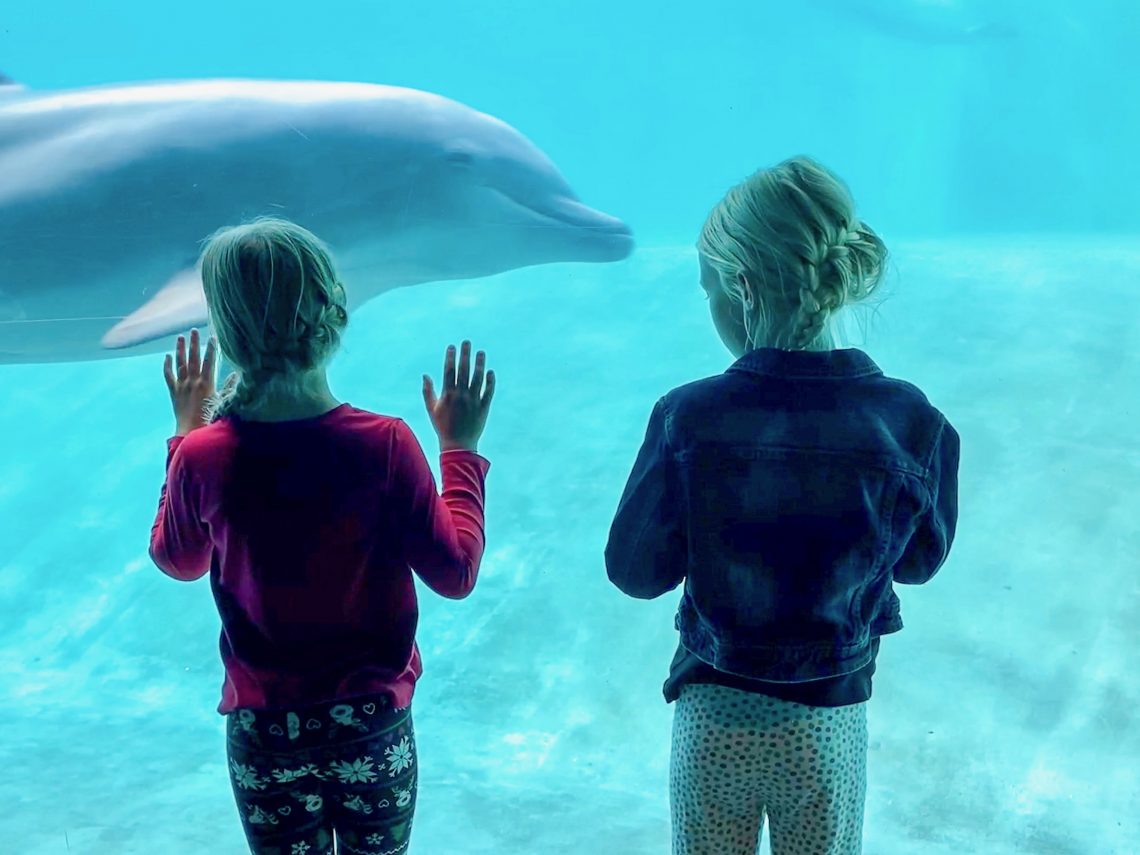 Best Rides at SeaWorld Orlando
December 1, 2021
Sharing is caring!
Full List of Best Rides at SeaWorld Orlando
We recently had the opportunity to visit SeaWorld Orlando. Since we hadn't visited this theme park in a few years, we had a lot of discover! Although we are used to being experts at nearly all local theme parks, we needed to use a map to get around. It was really helpful that SeaWorld Orlando debuted a new app that included the park map, showtimes, dining guide, and more. So now I'm ready to share the best rides at SeaWorld Orlando!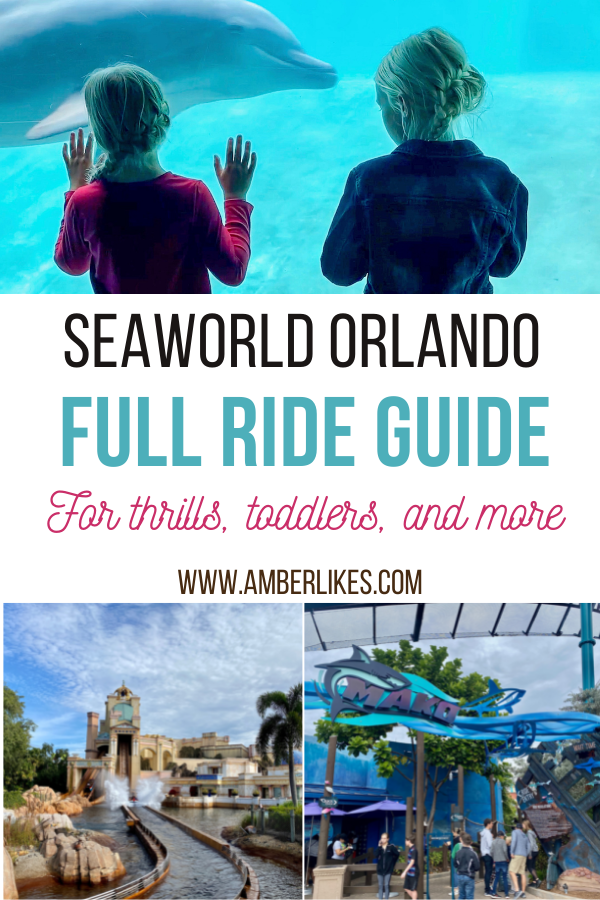 SeaWorld Orlando Rollercoasters
If you're looking for thrills, SeaWorld Orlando has some great options. In fact, some of them are even TOO thrilling for me. But they aren't too thrilling for my kids! So there are some great options for thrill seekers and those that love rollercoasters.
Here is what you can expect at SeaWorld Orlando in thrills:
Ice Breaker- Opening February 2022
We saw this in process of being built on a recent visit. And it looks so cool! This brand new roller coaster will feature four airtime filled launches, both backwards and forwards. This will culminate in a reverse launch into the steepest beyond vertical drop in Florida. This will be a 93 feet tall spike with 100 degree angle!
Manta
This is the first big ride you will see when you walk into SeaWorld Orlando. And in a list of the best rides at SeaWorld Orlando, this is a classic. It's so unique and so fun! You can find out what it's like to spin, glide, skim and fly like a giant ray when you experience the only flying roller coaster of its kind in Florida.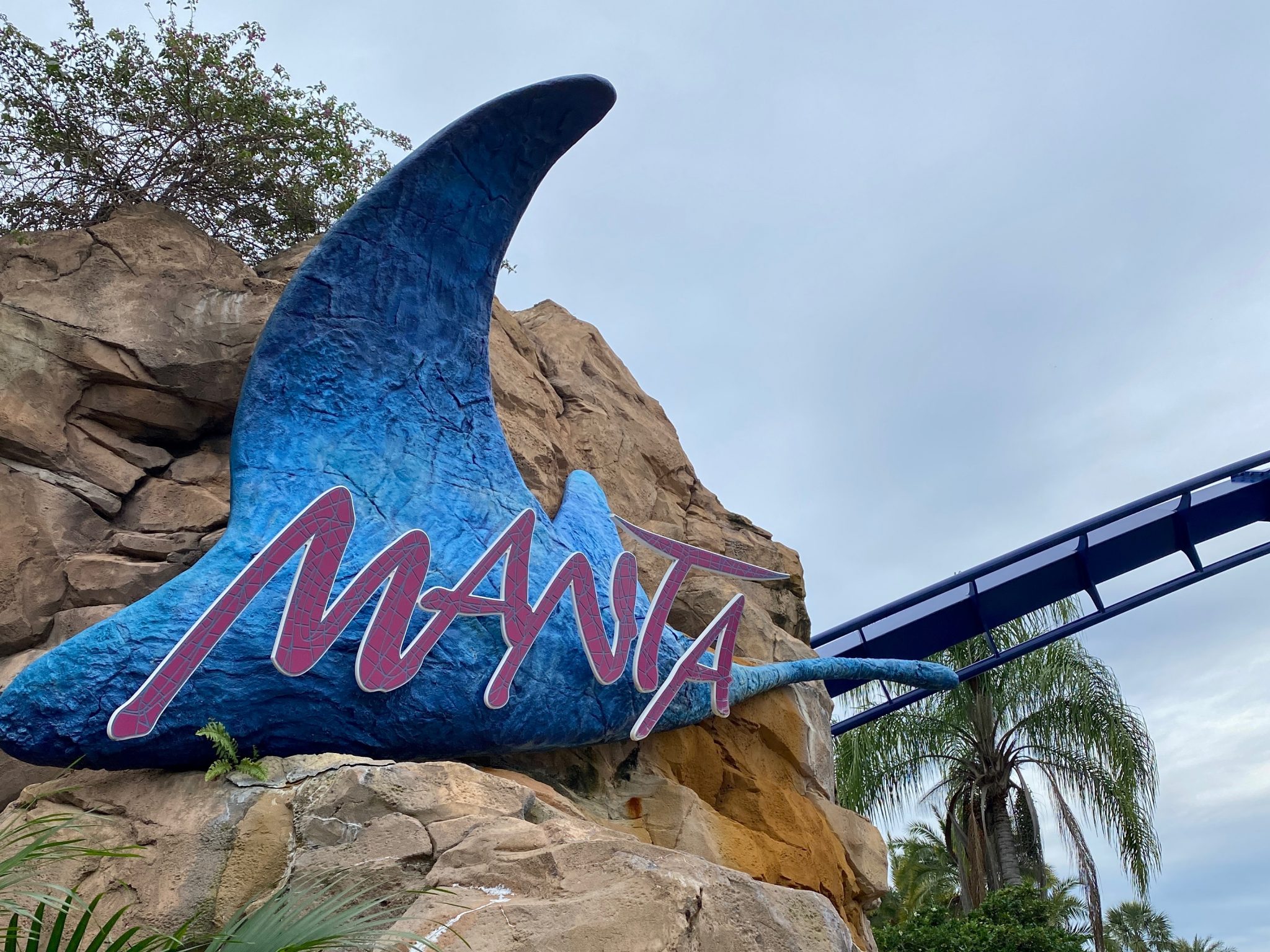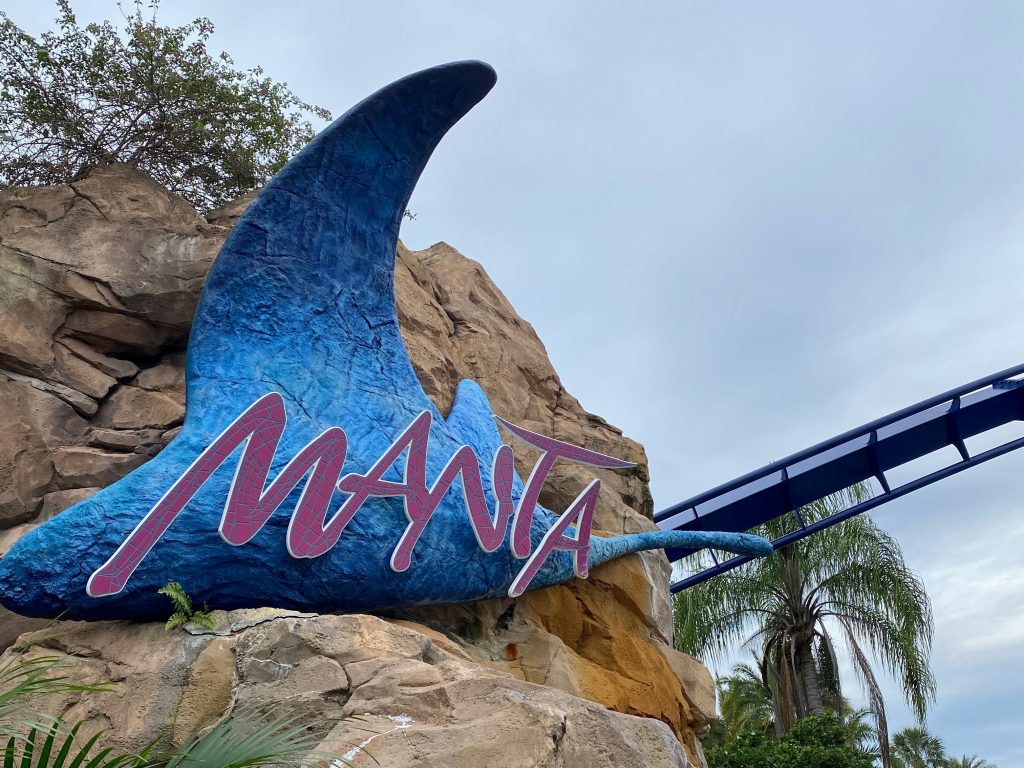 Kraken
Born from tales that struck terror in sailors for centuries, SeaWorld Orlando's mighty Kraken® is a monster coaster like no other. This is Orlando's only floorless roller coaster. And it is themed after a massive, mythological underwater beast unleashed from the depths of the sea. Riders' feet dangle as they travel in open-sided seats, riding on a pedestal above the track at highway speeds to heights of more than 150 feet.
Mako
This ride doesn't go upside down. But it's so tall, it's one that I just can't do more than once every few years! And since it only has a lap belt, it really makes my heart skip a beat. But the rest of my family loves it! They did it about 5 times on a recent visit.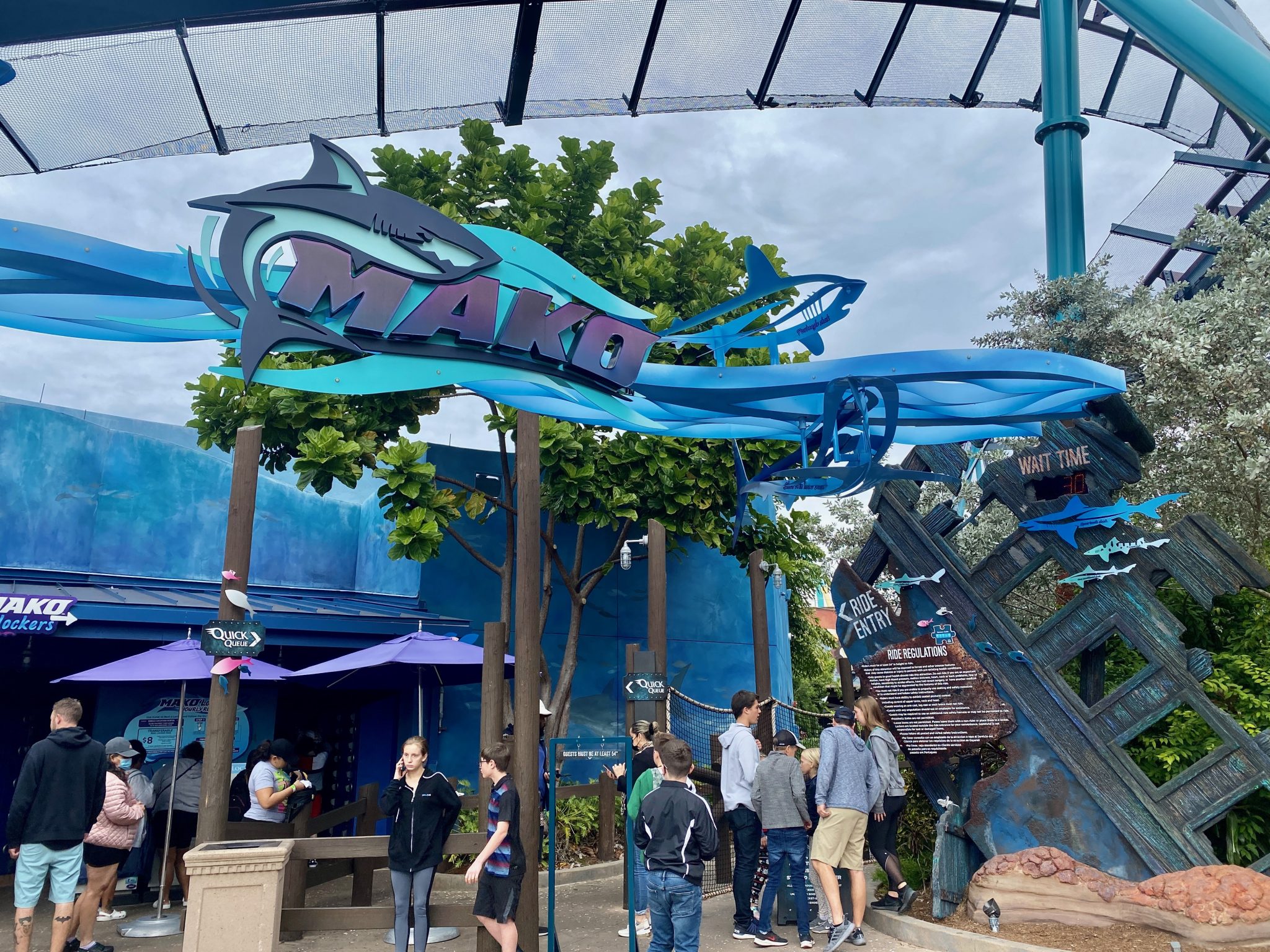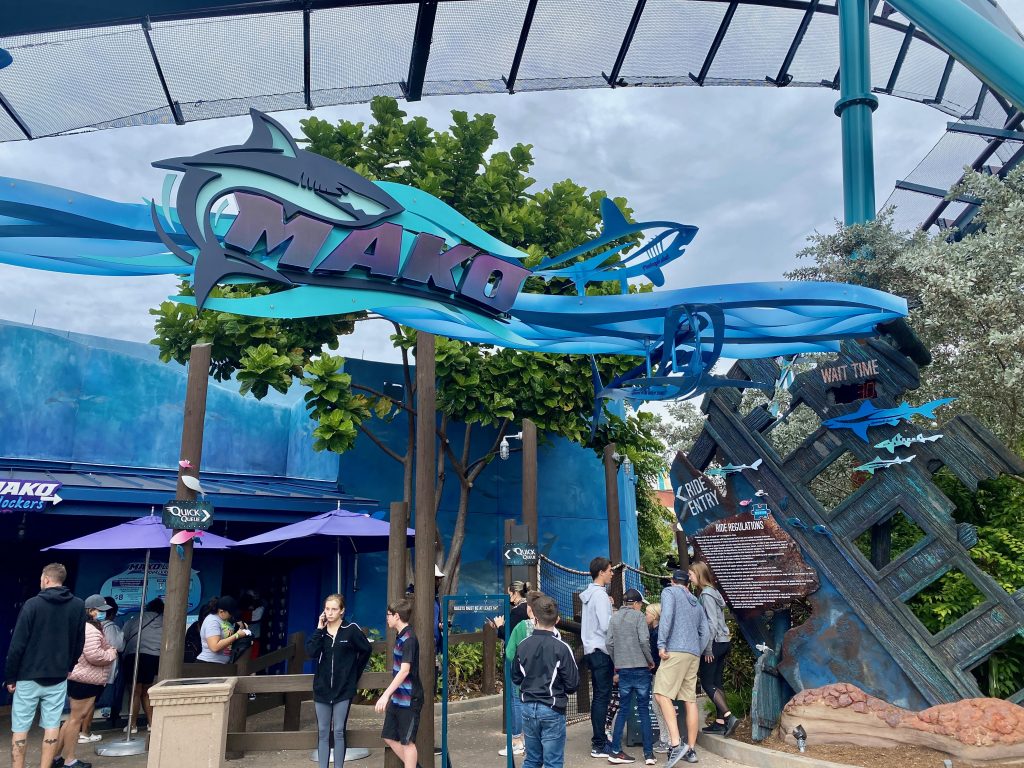 In fact, Mako® has been voted Number 1 for Best Roller Coaster during the 2021 USA Today 10Best Reader's Choice awards! Ride Mako®, a hyper coaster known for high speeds, deep dives, and thrills around every turn. It's named for one of the ocean's fastest known sharks, this roller coaster speeds up to 73 mph and up to 200 feet high. And surge through ship wreck reef on Orlando's tallest and fastest roller coaster.
Journey to Atlantis
This is a classic water coaster ride. When my kids were little, so many of them were scared of this ride! But now they love it! This exciting flume ride/roller coaster hybrid treats you to more than its share of surprises as you explore dark, watery passageways through the sunken city before being flung from its gates down a thrilling plunge into the waters below.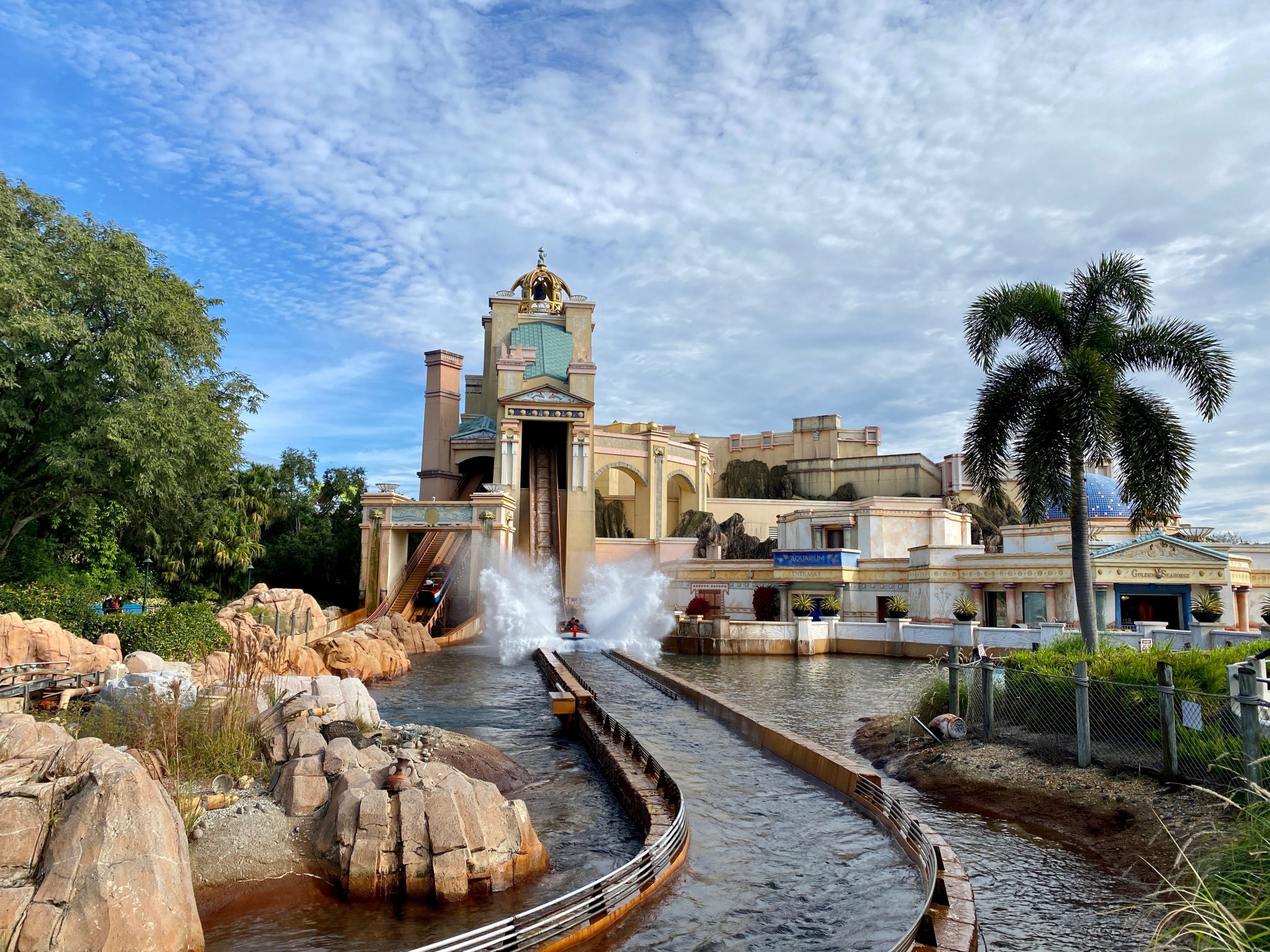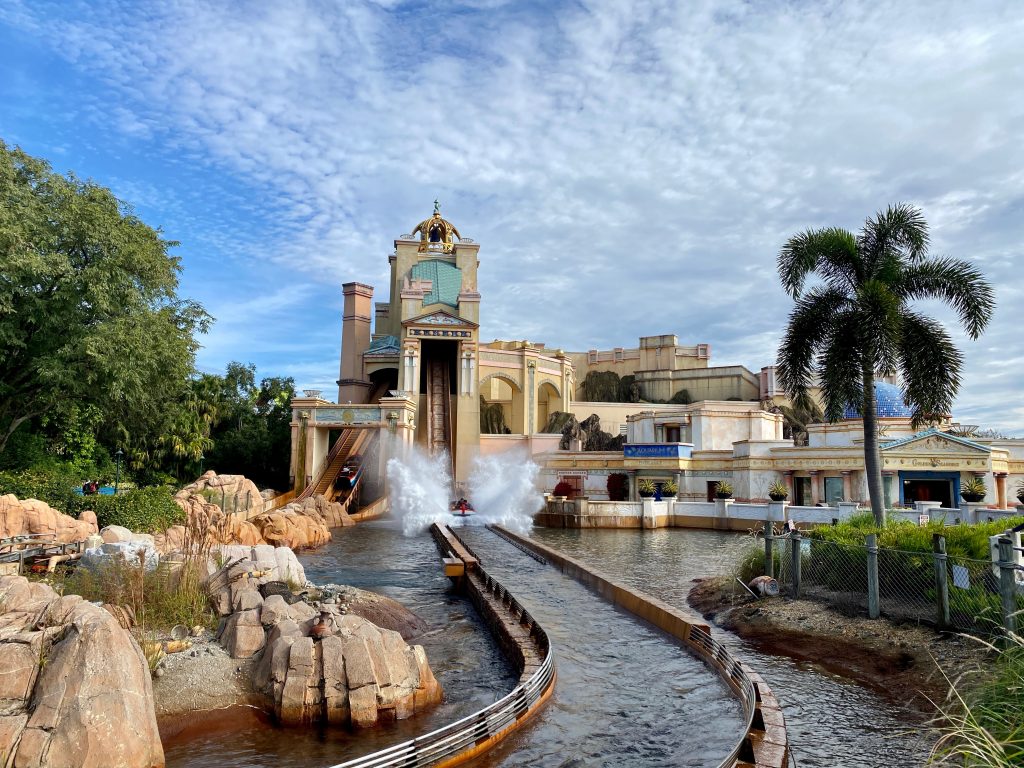 Infinity Falls
Prepare to get soaked on this raft ride! You will wind your way around flowing fountains, surprise geysers and breathtaking waterfalls as you explore tropical ruins-themed surroundings with your fellow raft-mates. Then hang on as roaring world-class rapids send you flying through thrilling chutes and splashing turns before plunging you down one of the tallest drop of its kind into churning whitewater. There are family sized dryers available for a fee if you need to dry off afterwards!
Sesame Street Land Rides at SeaWorld Orlando
I'm not sure who was more excited to visit Sesame Street Land between me or my kids. Well, that's not true. It's me! I was so incredibly happy to walk down Sesame Street. Since I watched this show nonstop and remember watching it with my babies and toddlers, there was so much to love in this area.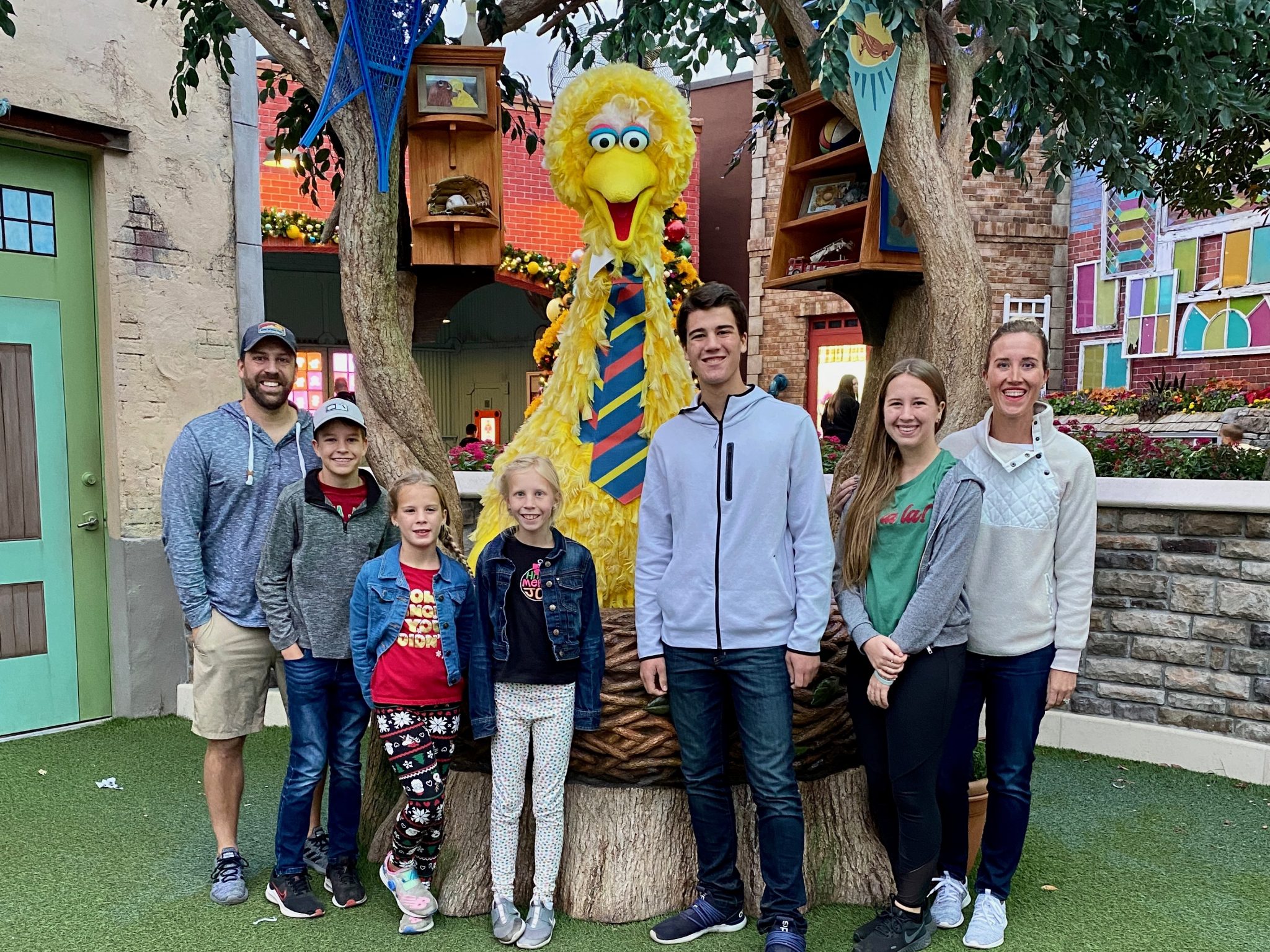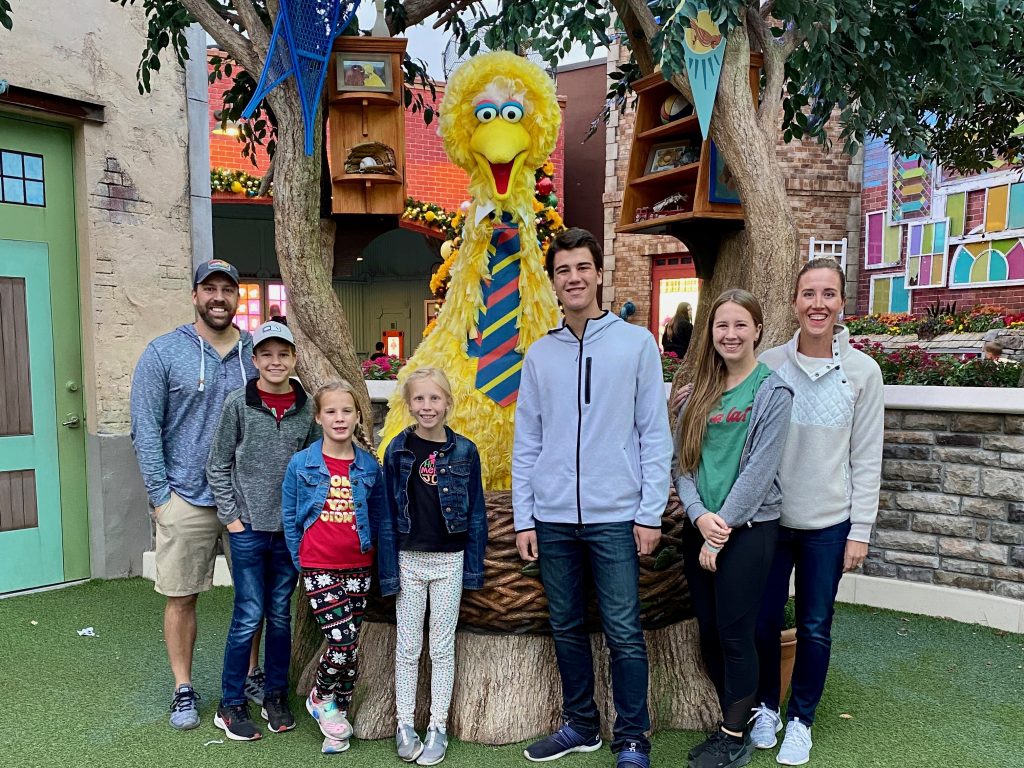 So what are the rides in Sesame Street Land? Here's the list of rides to love!
Abby's Flower Tower
Elmo's Choo Choo Train
Rosita's Harmony Hill
Slimey's Slider
Sunny Day Carousel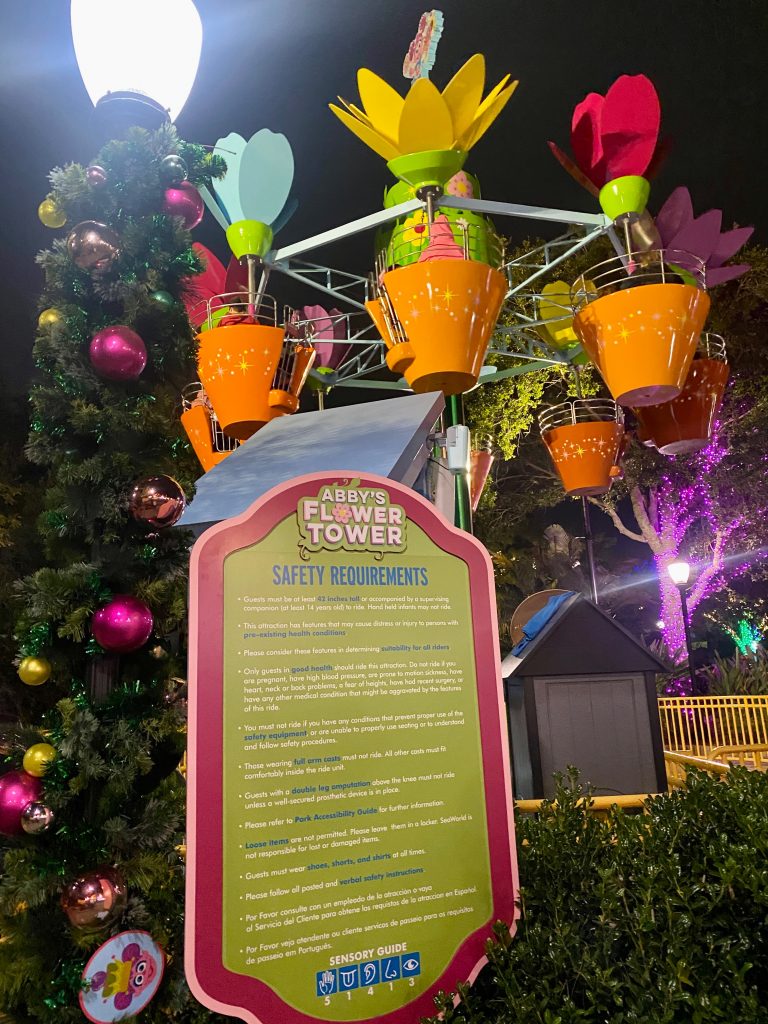 Each of these rides is so cute and so Sesame Street themed! They are perfect for the younger ones in your group. My 8 year old and I enjoyed running around Sesame Street Land together. And in my opinion, these are some of the best rides at SeaWorld Orlando.
More Rides to Love at SeaWorld Orlando
In addition the thrill rides and the wonders of Sesame Street Land, you can also find some more fun experiences! The Flamingo Paddle Boats are a uniquely Florida attraction. You can climb aboard a flamingo paddle boat for a leisurely tour of SeaWorld Orlando's large central lake. These flamingo-themed boats are fun for both the young and young at heart. A small separate fee is required.  Rides are $6 per person for a 20 minute ride.
Turtle Trek®'s 360° theatre showcases the vulnerable sea turtle and asks everyday heroes across the globe to help make a difference in saving animals in the wild. From hatching on a beach and making the mad dash to open waters, to the dangers and hazards they face as they mature and return to the very same beach to lay their own eggs, their tales of life underwater have in the past been impossible to show. Now you can find out what it's like to "be a turtle" and learn about the incredible journey these amazing animals face throughout their lives.
Finally, the 400-foot Sky Tower has stood as an icon for SeaWorld Orlando since it opened in summer 1974. Today the Sky Tower adds a dose of retro-cool to the day's adventures. You can get a seabird's eye view of Orlando during this leisurely capsule ride, and take a load off as you plot the rest of your day in the park. This ride is not currently operating, but hopefully it will be soon!
We loved our visit to SeaWorld Orlando. Stay tuned for more info on this Orlando gem and on theme park fun!
You may also like:
What are the Best Rides at Epcot?
Best Attractions at Magic Kingdom
You May Also Like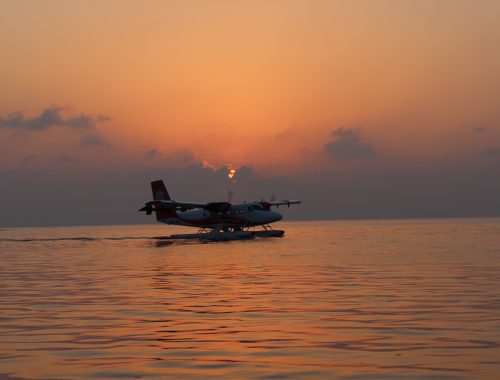 October 21, 2021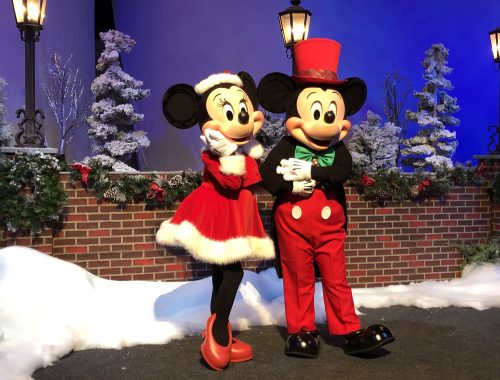 November 24, 2019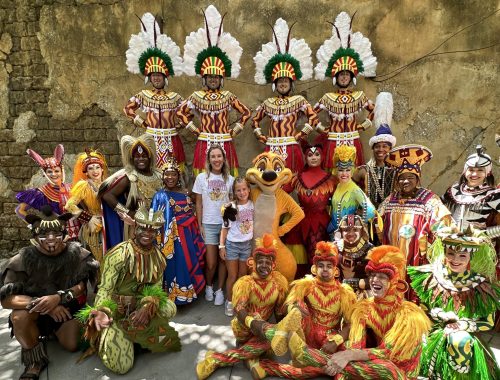 April 23, 2023