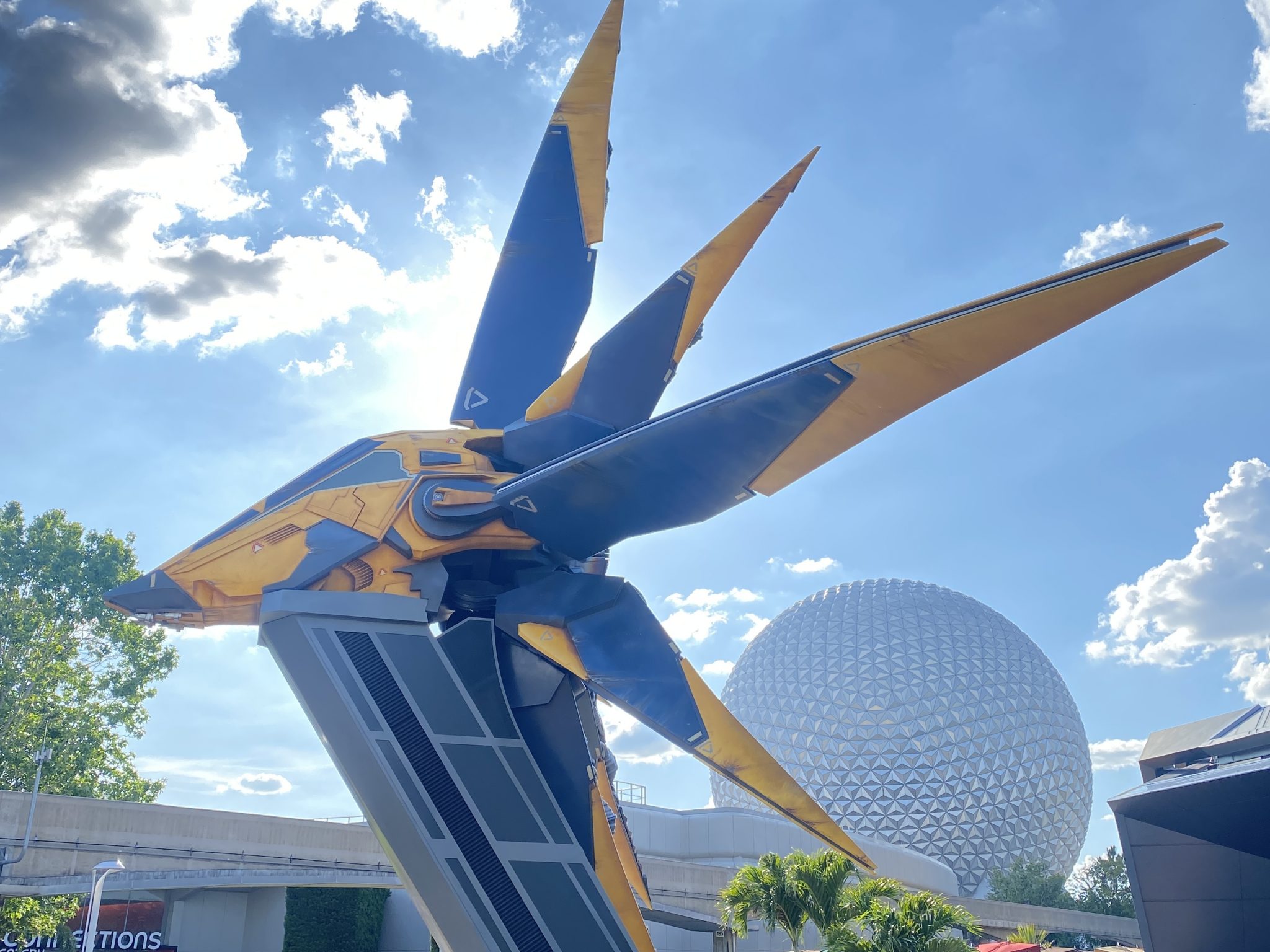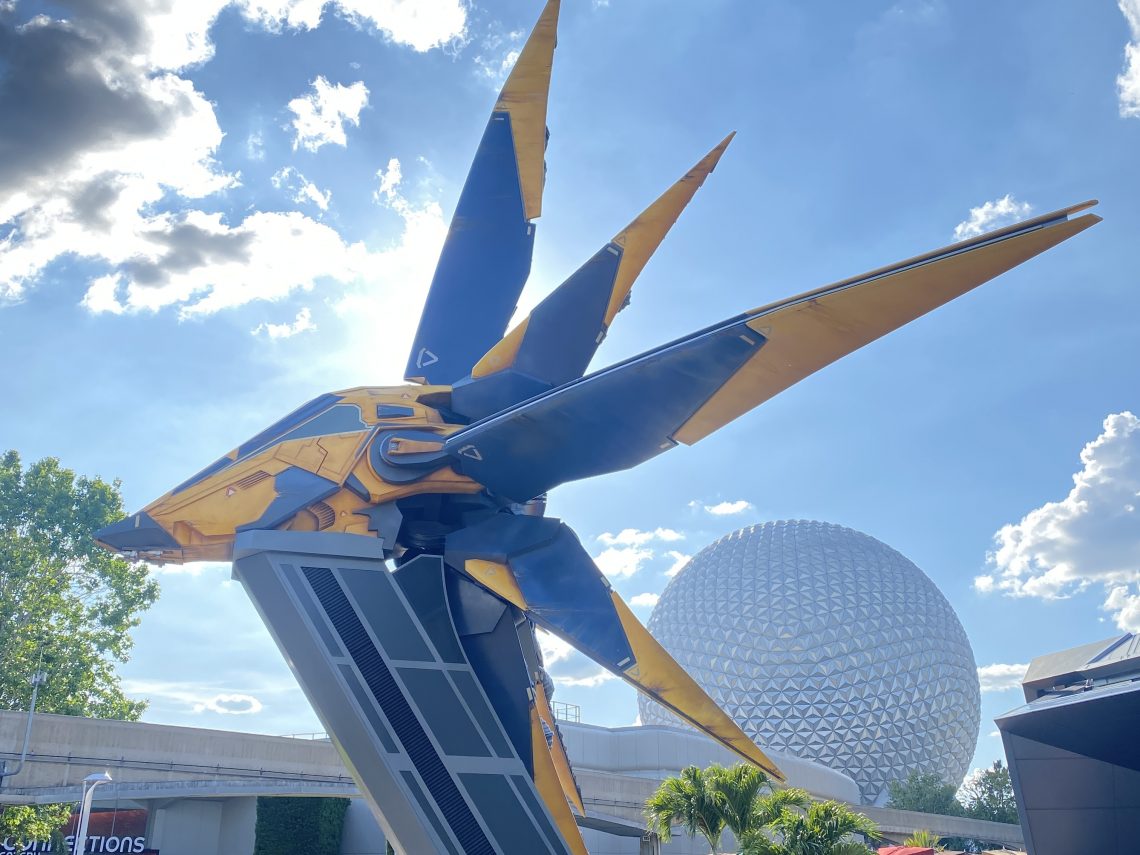 What are the Best Rides at Epcot?
October 31, 2021
Sharing is caring!
UPDATED 2022: Best Rides at Epcot for Thrills, Toddlers, and More
Let's be honest. Epcot isn't exactly known for the rides. However, there are some can't miss attractions at this Disney park! A few of my kids say that Epcot is their favorite park because of their favorite ride that's there! And it has some great choices for toddlers, teens, adults, and everyone in between. There's also some soon to come attractions that will definitely need added to the list of best rides at Epcot!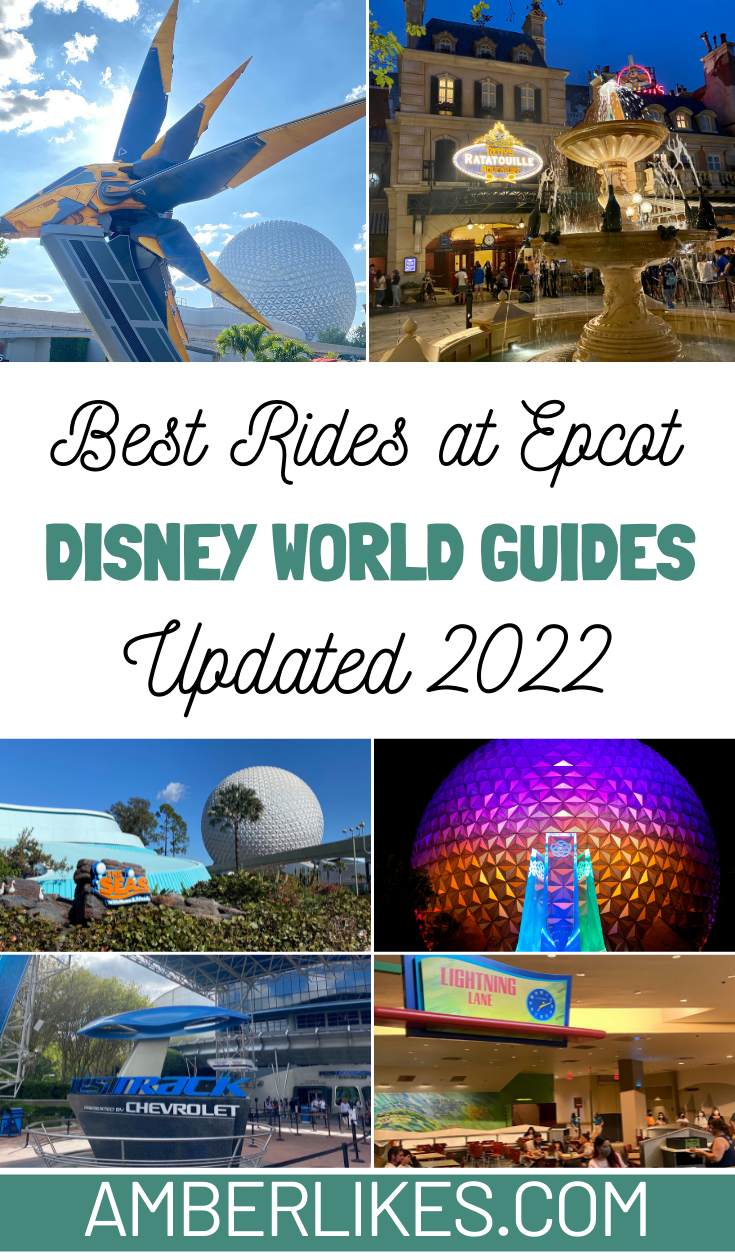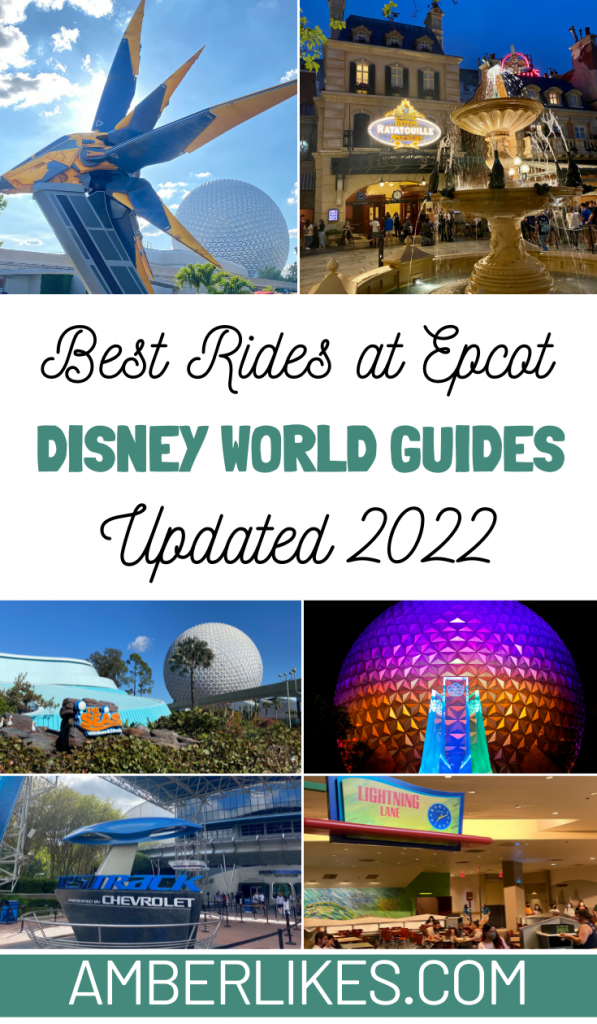 And be sure to keep reading to learn all about how Disney Genie+ and Lightning Lane work for the best rides at Epcot!
What are the top thrill rides at Epcot?
There are a few thrill rides at Epcot. Disney World in general isn't known for huge roller coasters. In fact, while there are some absolutely amazing and thrilling rides, the whole Park is more well known for the overall experience. It's immersive and emotional. But don't get me wrong, there are some great thrill rides too! Here's my recommendations for the top thrill rides at Epcot.
1. Guardians of the Galaxy: Cosmic Rewind
This brand new ride is officially opening on May 27, 2022. But it has been hosting previews for Cast Members, annual passholders and more for weeks ahead of opening. We had the chance to ride during previews, and in the words of my husband and several kids, "It's the best thing Disney has ever done!" It's a roller coaster, but has a completely unique ride motion. It is so much fun! The music from the movie gives it such a great, party feel. It has a 42 inch height requirement. When the ride opens, you'll need to use the Virtual Queue on the My Disney Experience app to ride. Or it will also be available as a Lightning Lane purchase. Don't miss this one! It's epic!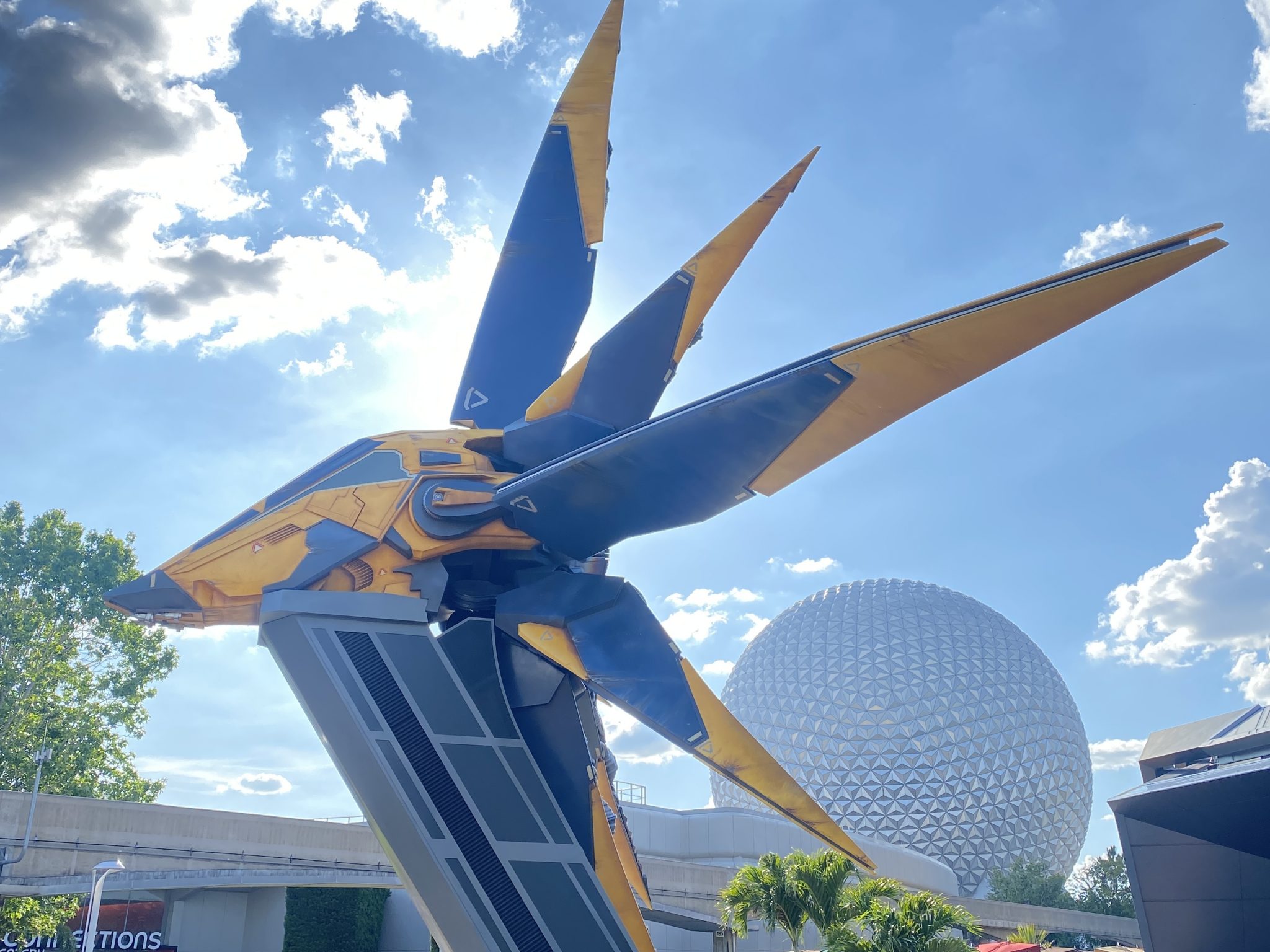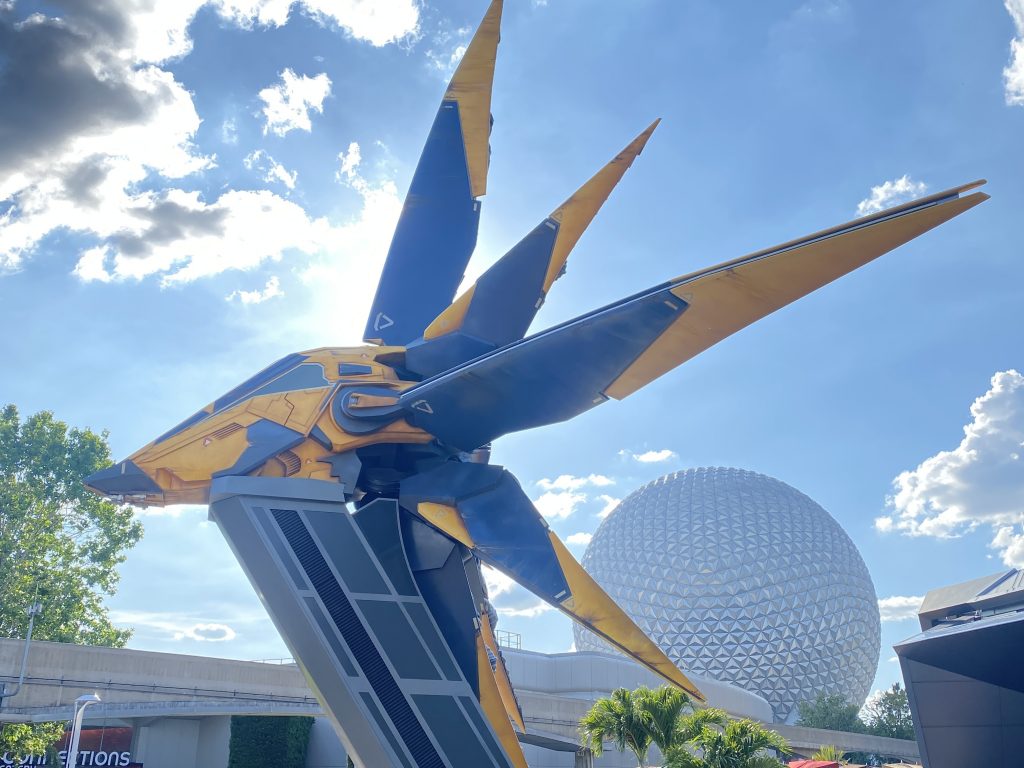 1. Test Track at Epcot
Test Track is a family favorite! This ride has a 40 inch height requirement. There's a pre-ride area where you will virtually design your own car. And then you'll test it out! Be sure to hold on to those sunglasses and hats! This is a really fun ride that picks up impressive speed when it goes outside. It's really unique and a must do in the best rides at Epcot!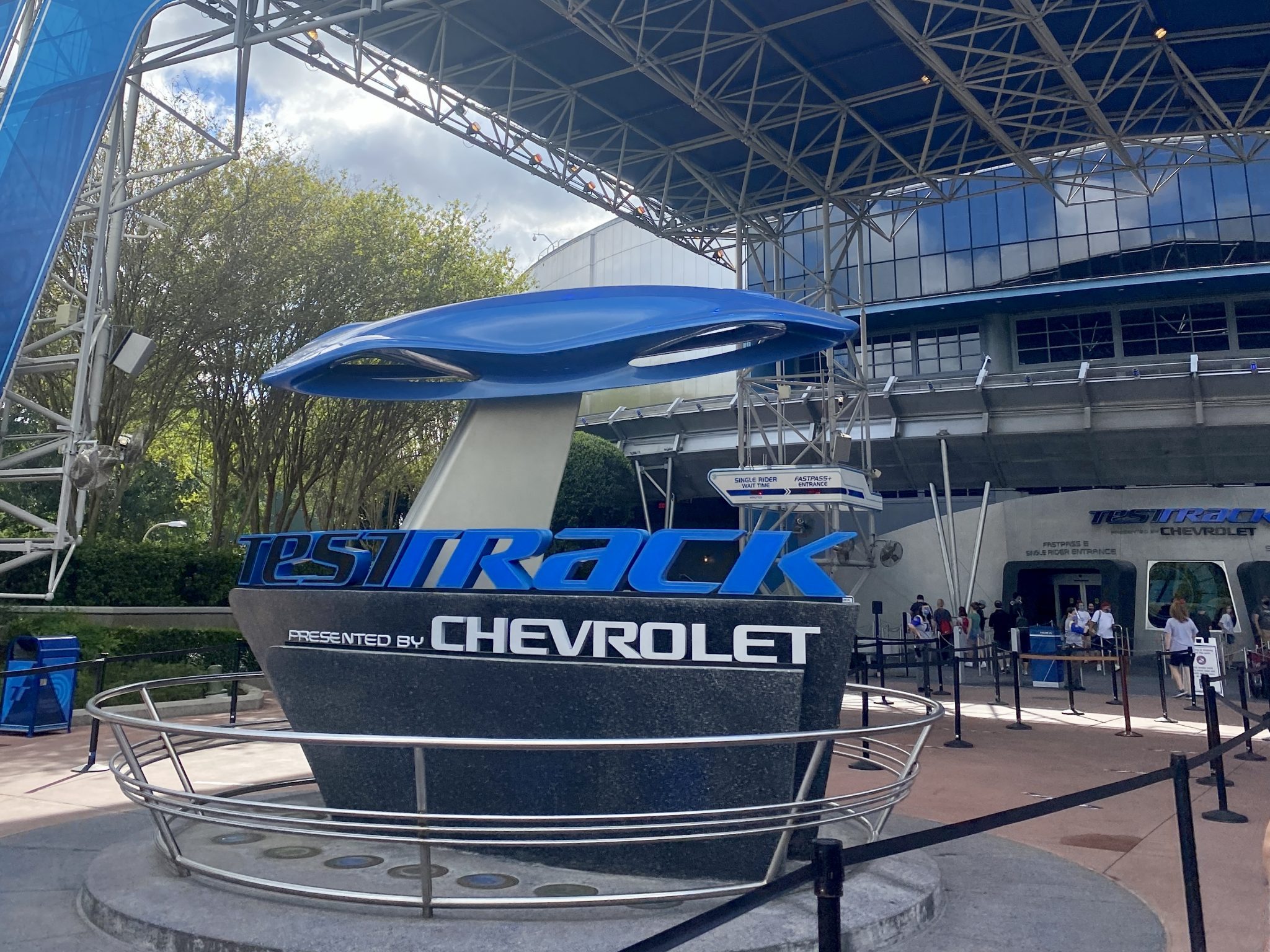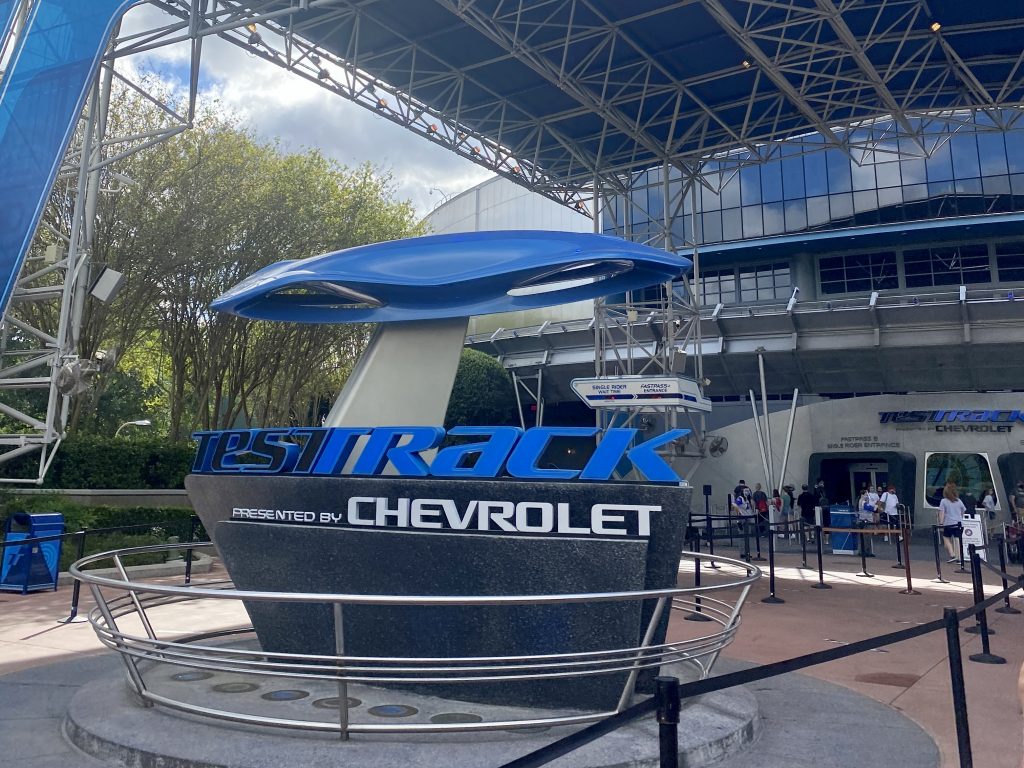 From the Disney World website:
Cruise over to the gleaming Chevrolet Design Center to create your own virtual concept car. When you're done, buckle up in a 6-passenger "SIM Car" and take it for an exhilarating spin on the test track.
Rev through rough terrain and obstacles along the winding circuit. Accelerate through straightaways, maneuver switchbacks through inclement weather, hug curves banked at 50-degree angles and scale hills up to 3 stories high.
Reach speeds of up to 65 miles per hour as you put your car through its paces. After each test, check the scoreboard to see how your vehicle performed!
2. Soarin' Around the World
This is also an absolute must-do for our family. Test Track and Soarin' are always in competition for the top spot with my crew! They are both thrilling in different ways. Soarin' reaches some high heights, but Test Track is much faster. If you're scared of heights, Soarin' will be extra thrilling! It also has a 40 inch heigh requirement.
From the Disney World website:
Feel the thrill as you're raised high in the air and swept from one scenic locale to the next. See the world's wonders—natural and manmade—like you never have before. No mountain is too high. No landscape is too far.
Your journey begins as the clouds part above the majestic Swiss Alps. Next, you'll visit polar bears in icy Greenland, swoop past sailboats on Australia's iconic Sydney Harbour and weave between elephants marching toward Mount Kilimanjaro.
Glide above marvels like the Great Wall of China, the Great Pyramids of Egypt and the Taj Mahal in India. Cruise over Monument Valley, Fiji's Lau Island and thundering Iguazu Falls in South America. Look down on the Eiffel Tower as it sparkles like a jewel in the night, surrounded by the lights of Paris.
3. Mission: SPACE
This ride is very thrilling. But of the three thrill rides at Epcot. it definitely holds the third place for our family. This ride also has a 40 inch height requirement for the Green Mission and a 44 inch height requirement for the Orange mission. Mission: SPACE offers two different types of experiences. Orange is much more intense, and green is calmer. They both have very enclosed spaces and simulate a flight far above Earth. It's intense and can certain cause motion sickness.
From the Disney World website:
What's it like to be an astronaut? You'll find out on Mission: SPACE!
Before you board, you'll train for your mission on the X-2 Deep Space Shuttle at the International Space Training Center (ISTC). Each member of your 4-cadet crew will assume an important role: navigator, pilot, commander or engineer. During your flight, cadets will be instructed to initiate a mission-critical sequence… so be prepared!
Next, count down to liftoff—and an incredible mission through space. Dodge meteorites and slingshot around the moon—or enjoy a flight path with breathtaking views of our home planet.
What are the best rides for young kids at Epcot?
Depending on your children's favorite characters, you may just find your very favorite ride at Epcot! If you have Elsa and Anna fans, or Nemo fans, or even Ratatouille fans, you'll find something amazing. There are several rides with no height requirement. So they are great for the whole family!
1. Remy's Ratatouille Adventure
This is the newest ride at Walt Disney World. And definitely one of the best rides at Epcot! This ride is great for any age and any height. It's a dark ride with 4D effects that makes you feel like you've shrunk down to the size of a rat! This ride requires a virtual queue reservation, which is simple to get through the My Disney Experience app. This is definitely a MUST DO!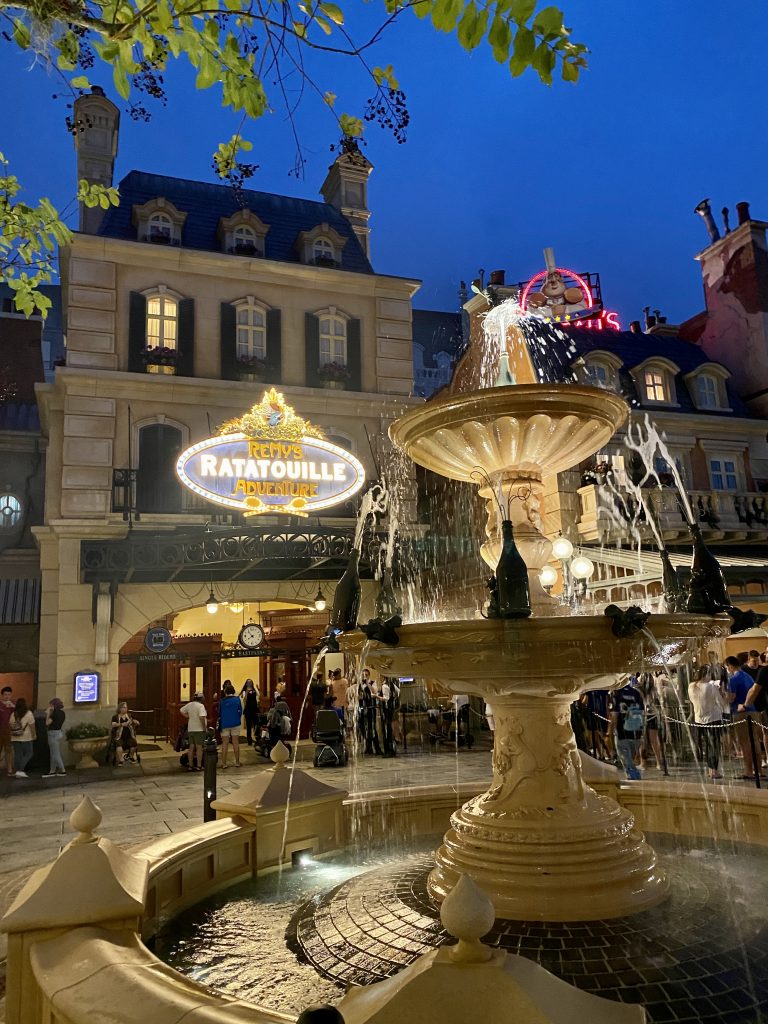 2. Frozen Ever After
Where are the Elsa and Anna fans? This ride is for you! There's no height requirement for this family favorite. And it replaced the classic Norway ride, Maelstrom. If you ever rode Maelstrom, this ride has a similar track and feel. You may get a little wet, and the boat goes both forward and backwards. It's very cute and has a perfect soundtrack. In fact, I cried the first time I rode Frozen Ever After! Frozen is such an iconic for me as a parent, and this ride embodies all of those feelings.
3. The Seas with Nemo & Friends
Another classic! There is no height requirement and your little ones will love seeing all of their Nemo friends mixed in with real aquarium creatures. You'll board a small "clam-mobile" and explore the ocean. When this ride is over, you'll be delivered right into the amazing aquarium at Epcot. This 5.7 million gallon aquarium is full of educational and informative exhibits and experiences. As a homeschooling Mom, this is a must do at Epcot!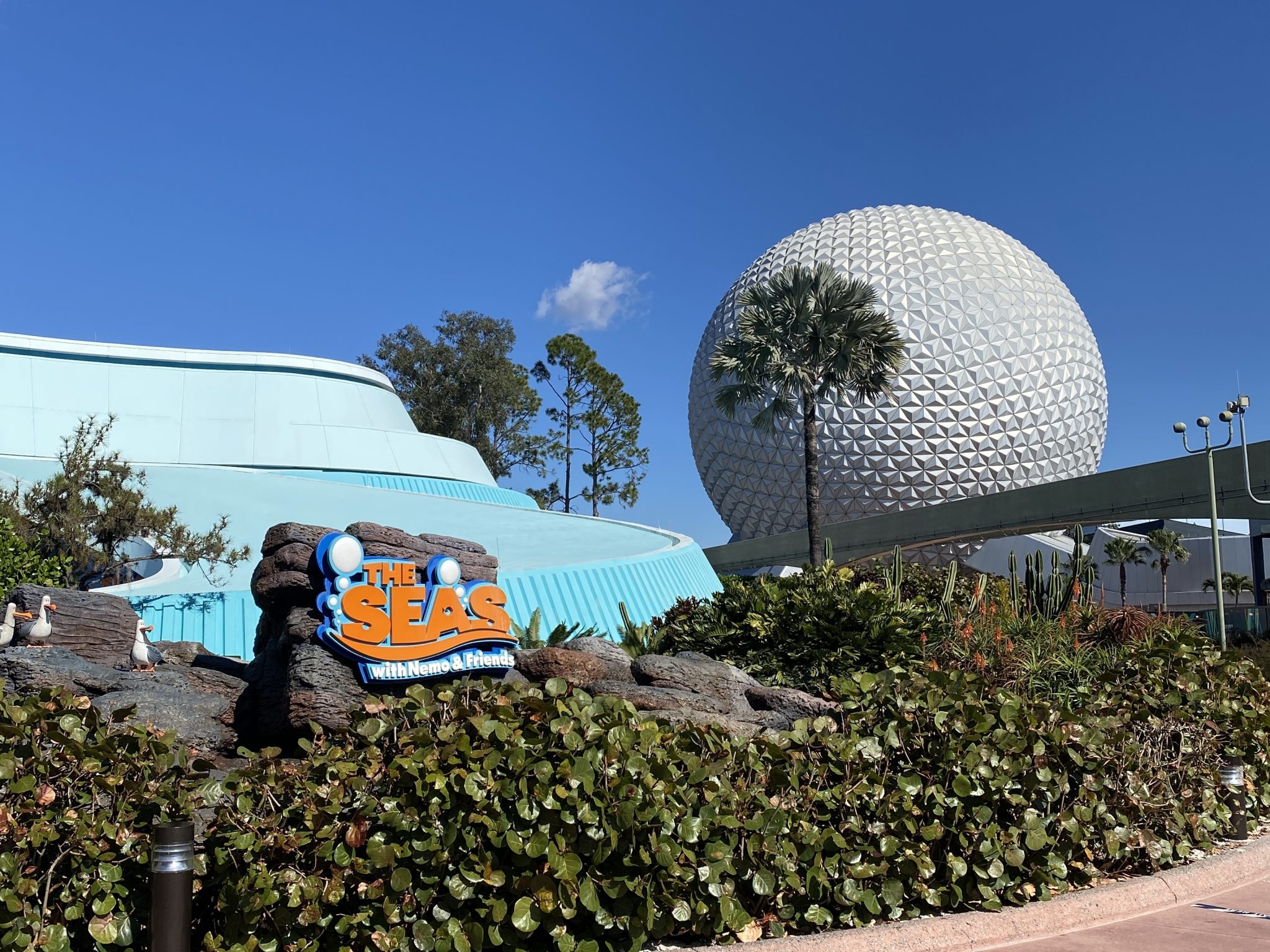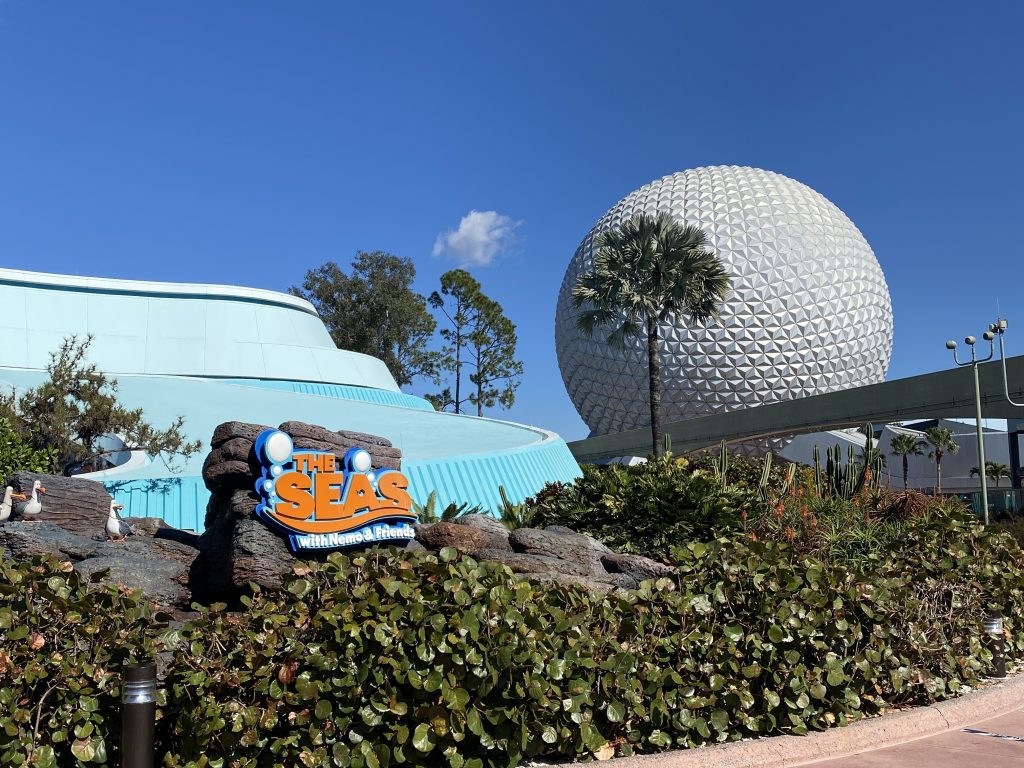 Classic Rides at Epcot
Although they didn't quite make the list of the best rides at Epcot, there are some other classics that hold a special place in my heart. I've been going to Epcot for my entire life. And these have been lifelong favorites too!
Living with the Land– a slow moving boat tour through a working greenhouse. Family favorite!
Journey Into Imagination with Figment– a ride through imagination! No height requirement and zany fun!
Spaceship Earth– the big ball! Can't miss this! But go later in the day. So many people go on this ride first, as soon as they walk into the Park. But the wait time will be less later!
How Does Disney Genie+ and Lightning Lane Work at Epcot?
This is a new service that can really change your wait times at Epcot and Disney World! This is a paid service that we are still learning as a family. But basically, you can make Disney Genie+ reservations for Epcot at 7am on the morning you will be visiting Epcot if you're staying at at Disney hotel. If you are staying off property you can make reservations as soon as the park opens.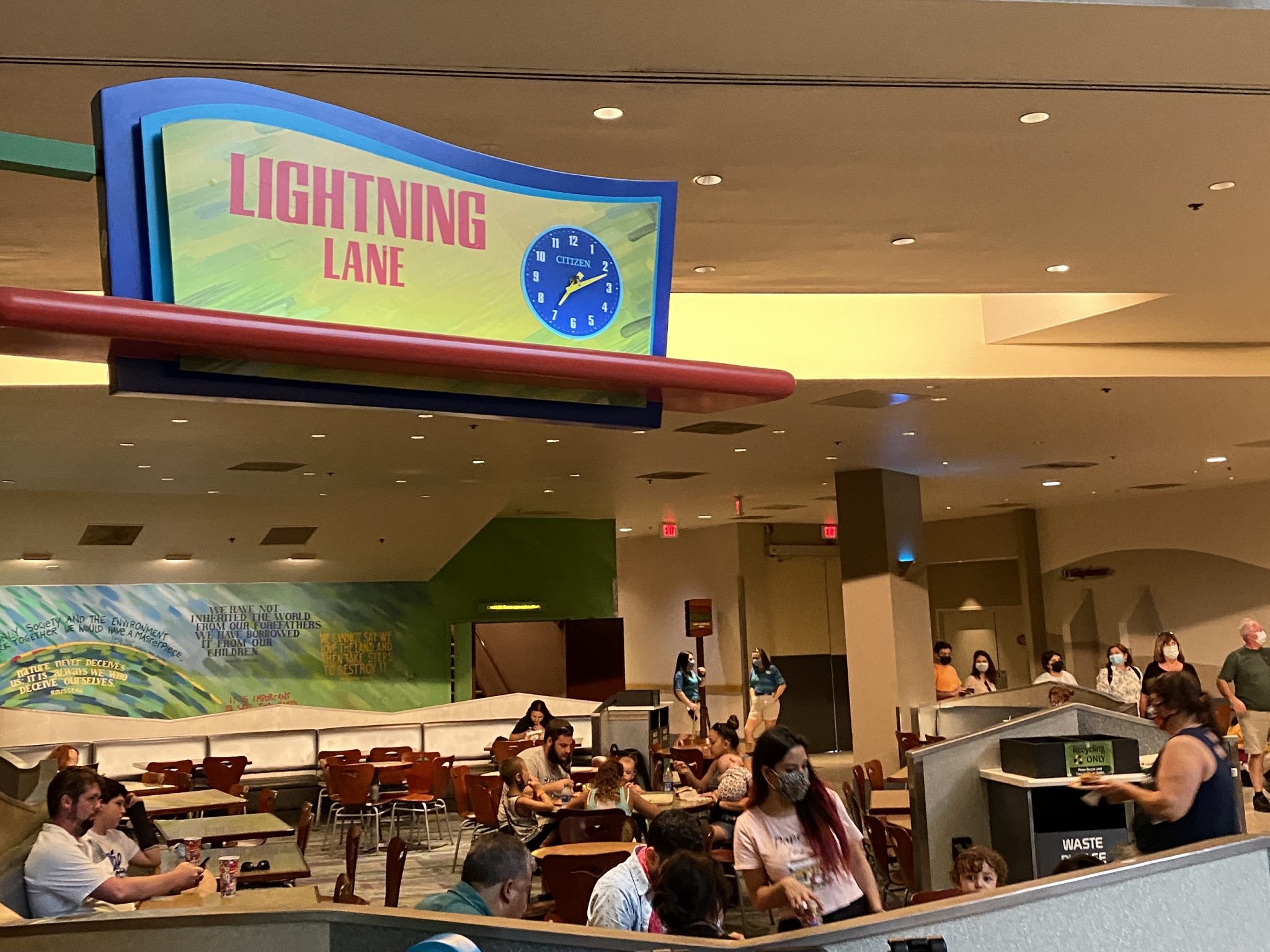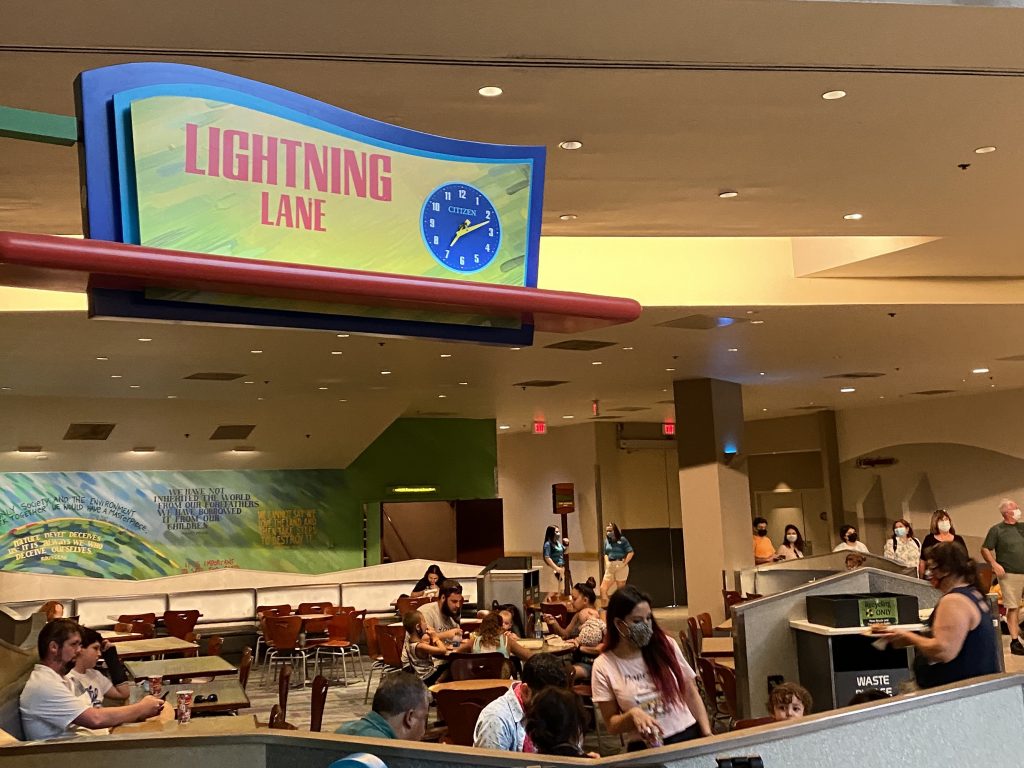 In order to make Disney Genie+ reservations, the price is $15. At Epcot, Genie+ includes all of the rides we've discussed here, and a few more. However, this DOES NOT INCLUDE REMY'S RATATOUILLE ADVENTURE or FROZEN EVER AFTER. These two attractions require a separate purchase of Lightning Lane. The price for Lightning Lane varies depending on the day and season. But a recent price for Remy's Ratatouille Adventure was $11 per person.
Epcot has Great Rides for the Whole Family!
There's something for everyone at Epcot! From toddlers to those who love thrills, you'll find something to love. And with or without Disney Genie+, you'll have manageable wait times and options for some great attractions. Let me know in the comments what's your favorite ride at Epcot!
You may also like:
10 Best Things to Do at Disney World Outside the Parks
You May Also Like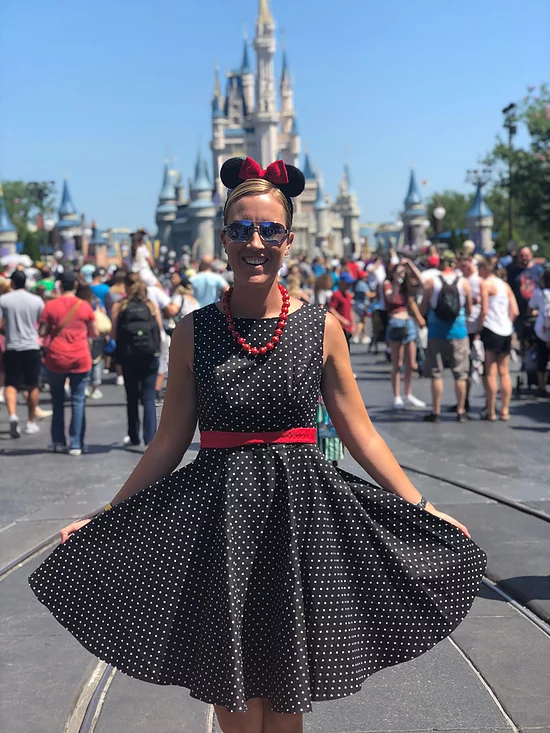 April 29, 2018