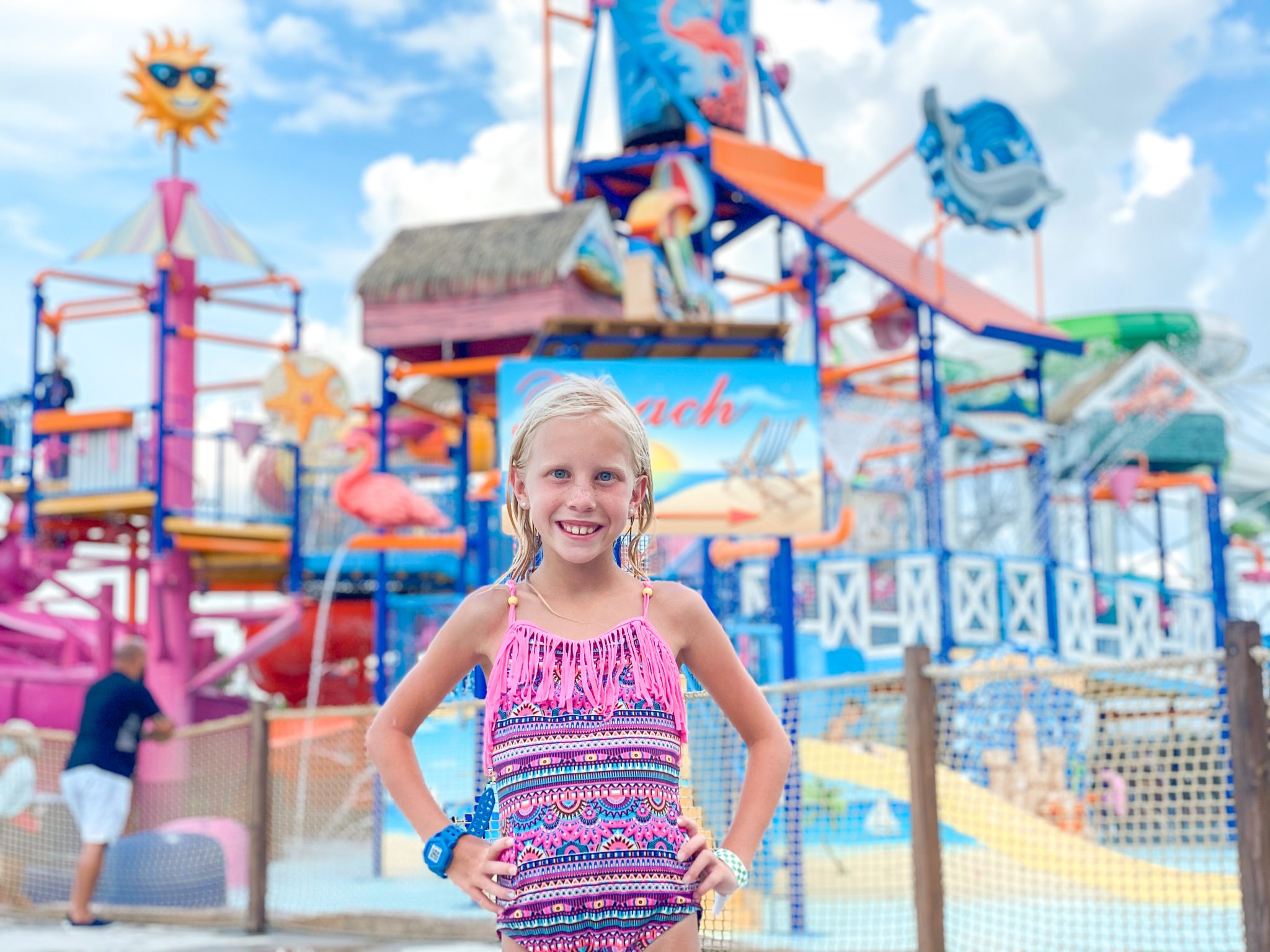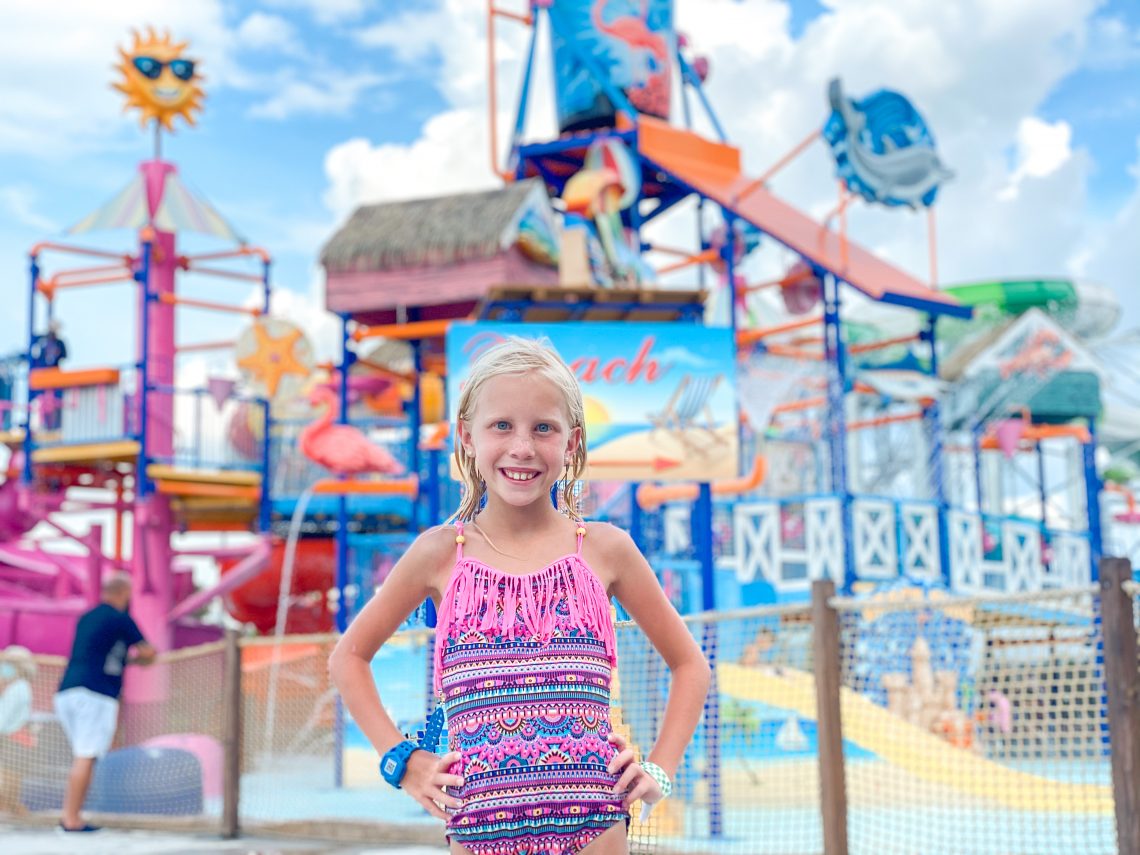 Island H20 Live Water Park: Perfect Florida Day
July 18, 2020
Sharing is caring!
I would call us theme park experts. And surprisingly, somewhat later in life, I discovered the joy of water parks! We've been to several, so I'm familiar with what to expect and what makes a perfect water park day. Of course, in Florida, there are some things you can't control, like the weather. But with a fun water park, you can have the perfect Florida day! We were so excited to be invited to check out Island H20 Live! at Sunset Walk in Orlando.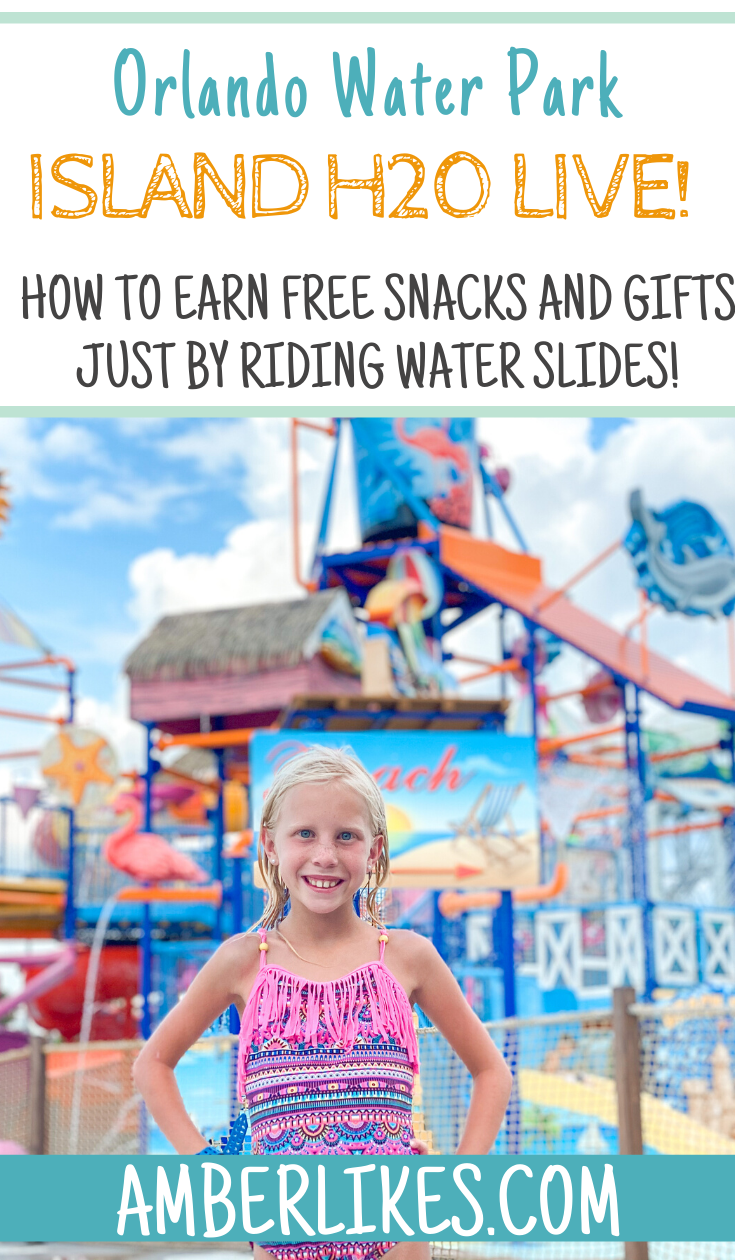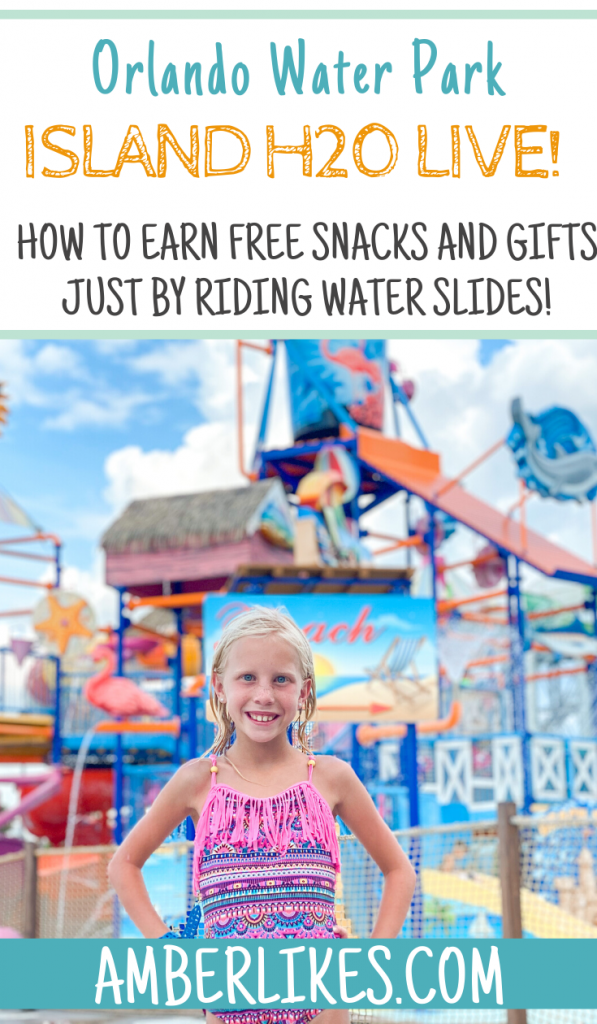 Health and Safety
As with most entertainment options now, there are several safety and health protocols that are in place. Island H20 Live has implemented these in a very thorough way. The park is limited to 50% capacity, employees are screened daily for COVID symptoms, as are guests. Social distancing markers are in place and are encouraged throughout the park. Cashless payment is encouraged. Employees are required to face coverings in nearly every capacity. Guests are encouraged to wear face coverings in lines for food and entrance, but are not permitted on water slides.
Also, there were several other adjustments for health and safety. For example, the tubes were removed from the lazy river because it would be difficult to disinfect them after every ride. But on water slides where tubes are required, they are disinfected and cleaned after every guest. Also, at dining tables, there are "clean" and "used" markers to flip over on the table. After you sit at a table, you switch it over to the "used" side. Brilliant! You can read everything on the new safety and health guidelines at Island H20 Live here.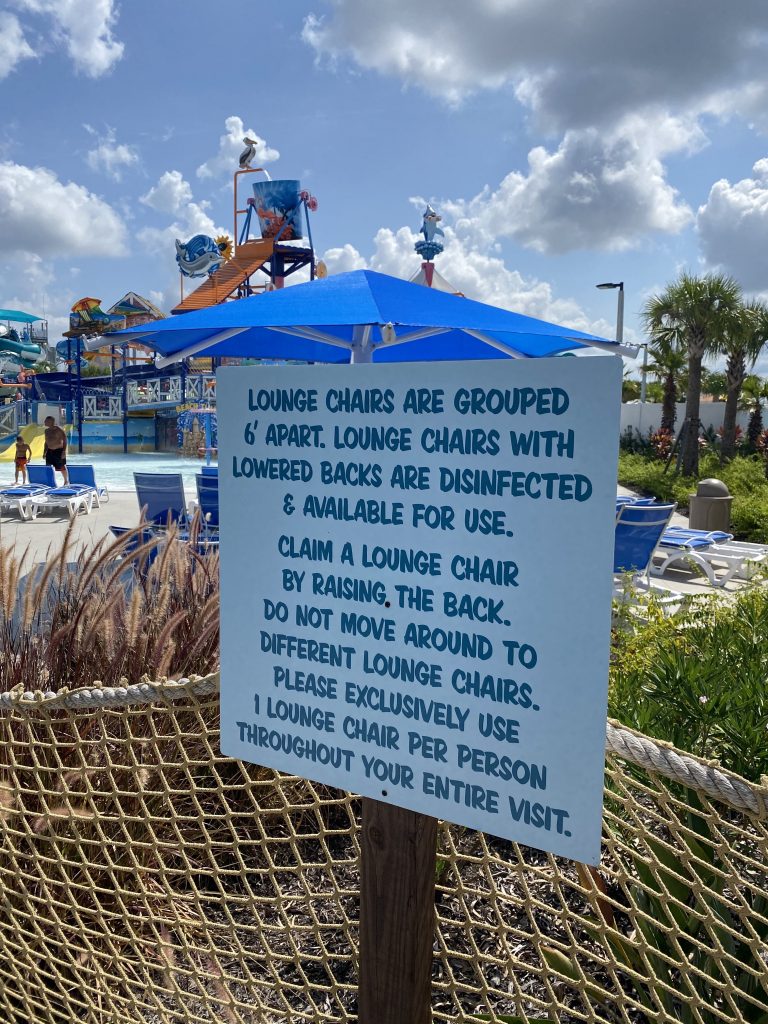 Excellent and Friendly Employees
As we all know, employees really make or break a business. And this is especially true when it comes to theme parks. At Island H20 Live, the employees were so helpful and friendly. There were some slides where I was a little nervous before riding, and they were so reassuring! And almost every single time we were about to go down a slide, an employee would say, "Have fun!" or "Have a great time!" It was so pleasant and such a great way to start each ride.
There was even such a sweet interaction where my youngest was playing on the smallest slides in the park. She was going down over and over again. And the employee offered to count how many times she went down each one. And she did! Bless her heart; under her mask and gear, she counted for Lila over and over. It was so sweet! It can't be easy to be a water park employee, wearing a mask, in the Florida summer heat. But the employees at Island H20 Live made guests feel welcome and appreciated.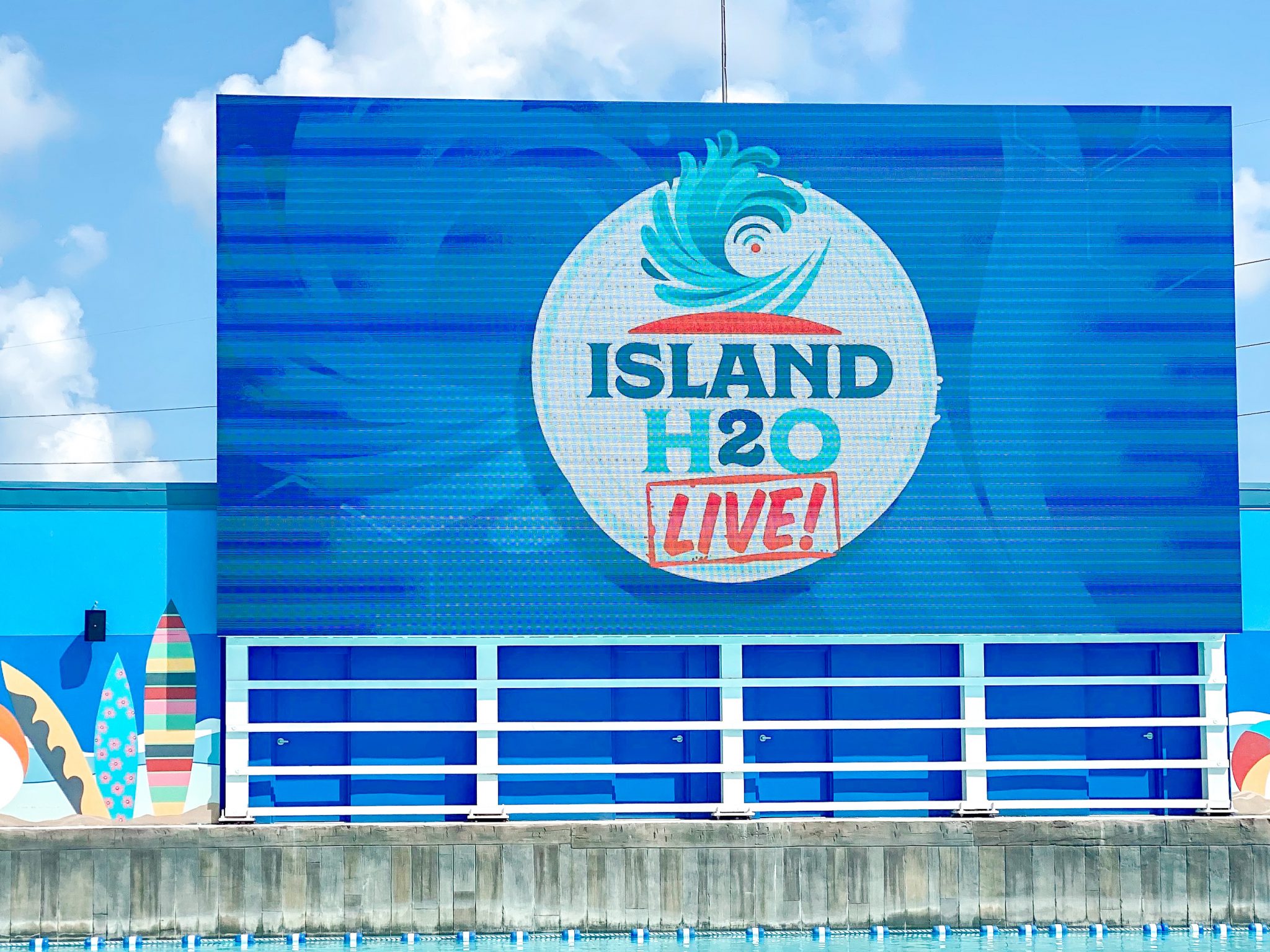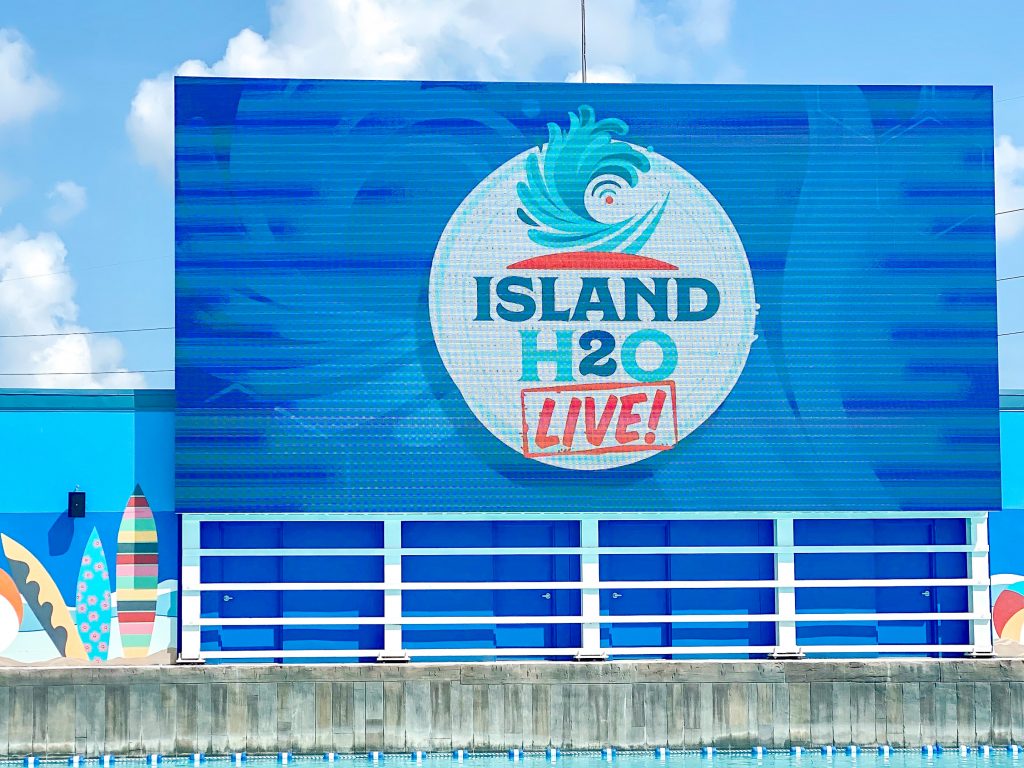 Free Snacks at Island H20 Live!
There are amazing technological aspects to H20 Live! When you enter the park, you are given a wristband. With this wristband, you can choose playlists, connect with friends, and score points! Here's a description for how this system works from Island H20 Live.
How It Works
Throughout the park, you will see the H2O Live icon on our Tech stations. This is where we want you to simply tap your wrist band to the icon. Doing this will then display instructions or give you more information.
You can also check your app to see special promotions that are targeted towards your likes and interests and become available throughout the day. In the Make My Day section, you can select your music playlists, set your favorite colors, view your photos/videos, earn and track badges, see wait times, and even view park information.
In the Family & Friends section, you can link with your family and friends so that you can find them at any point throughout the day. Parents can set parental controls to keep track of their children and limit what attractions and areas they can access. In the Park Perks section, you can view what actions will allow you to earn Park Perks and for how many points. You can also see your current totals, which can be carried over to your next visit when you validate your profile.
So with your points, you can redeem them for such fun rewards like ice cream, funnel cakes, drinks, and more! My daughter collects keychains, so she was so happy to collect all of her points to get a souvenir from Island H20 Live! I've never seen anything like this system. It was so much fun and so surprising to get totally free stuff from just having fun around the park! We can't wait to go back and see what else we can collect.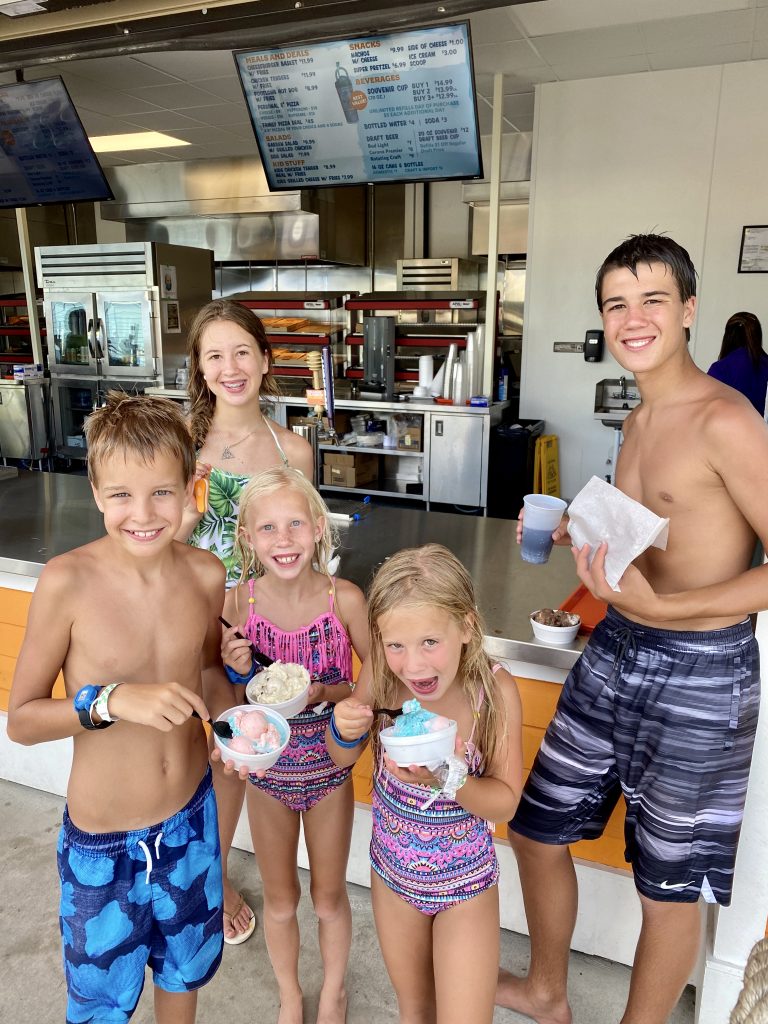 Island H20: What About the Slides?
Islando H20 Live has all the water slides you want at a water park, and then some! There's a beautiful lazy river, a wave pool, an epic kid's splash area with an obstacle course and slides, and a toddler play zone. And there's also bigger water slides for the teens and adults in your group! Personally, I really love the family or group water slides. And usually, when I've done these, the group rafts are some of the more tame slides. At Island H20, they were more adventurous than usual! So much fun!
Whether you like to relax in the water or are a thrill seeker, there's something for everyone! One of the things I love about water parks most is feeling like a kid again. Just running around with the kids and going up and down water slides is such a fun feeling!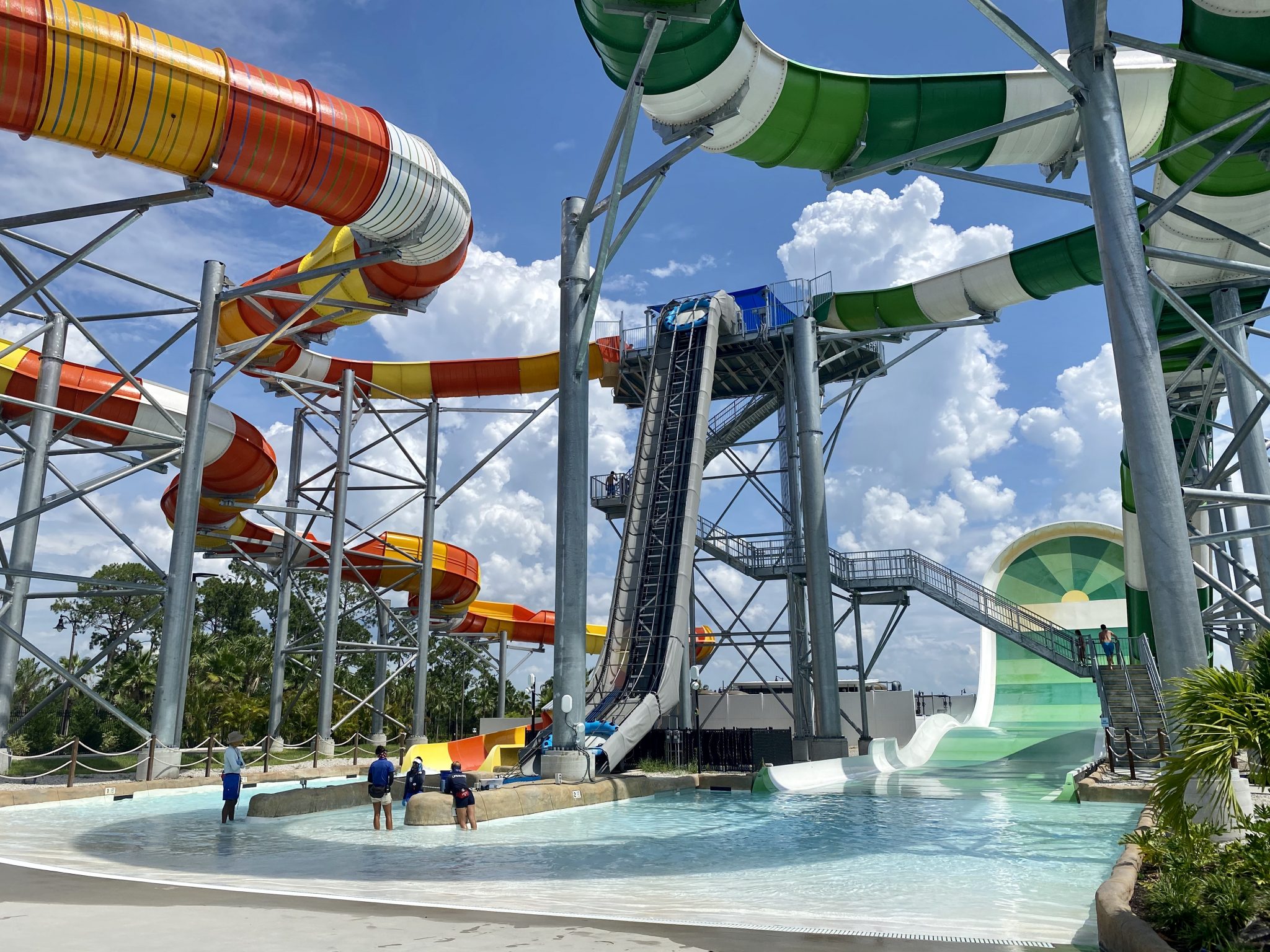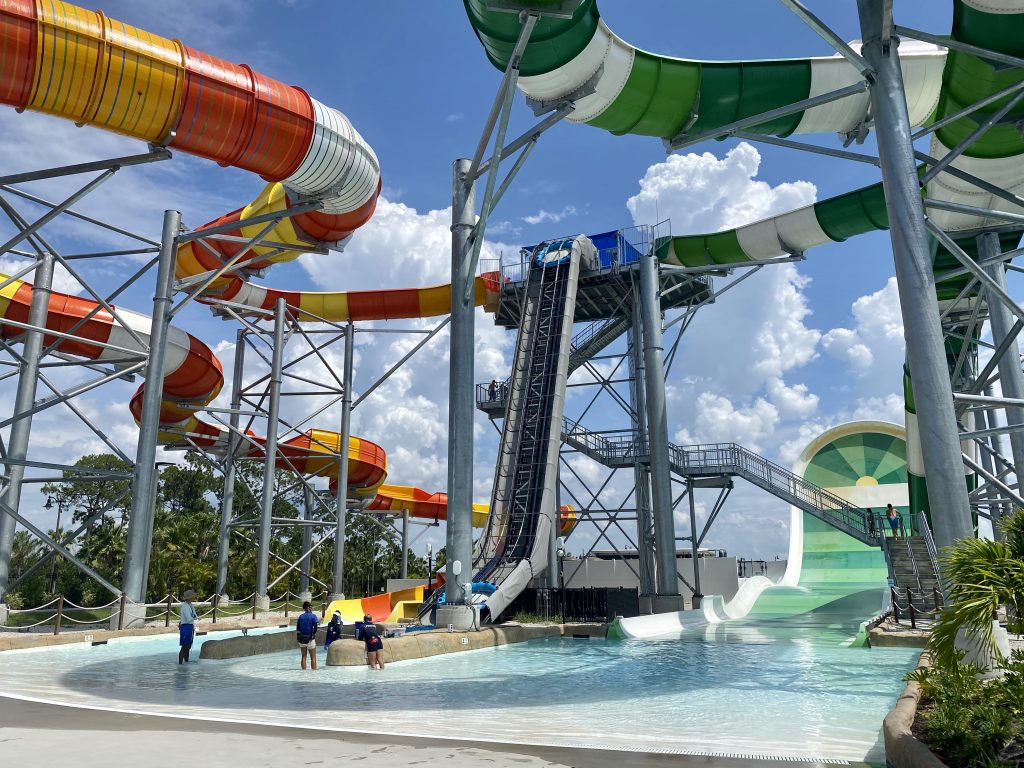 Upgrade Your Day with a Cabana
On our day at Island H20 Live, we had the opportunity to enjoy a private cabana. This is such a nice upgrade to consider! With this cabana, you have guaranteed shade, a cooler, a fridge, and charging ports. You get some water bottles to start, and wait staff to bring your food orders. During those usual afternoon storms, it was so nice to be able to have a comfortable, covered space to hang out. We were served lunch, reapplied sunscreen, and then could go back out to the slides when the storms passed!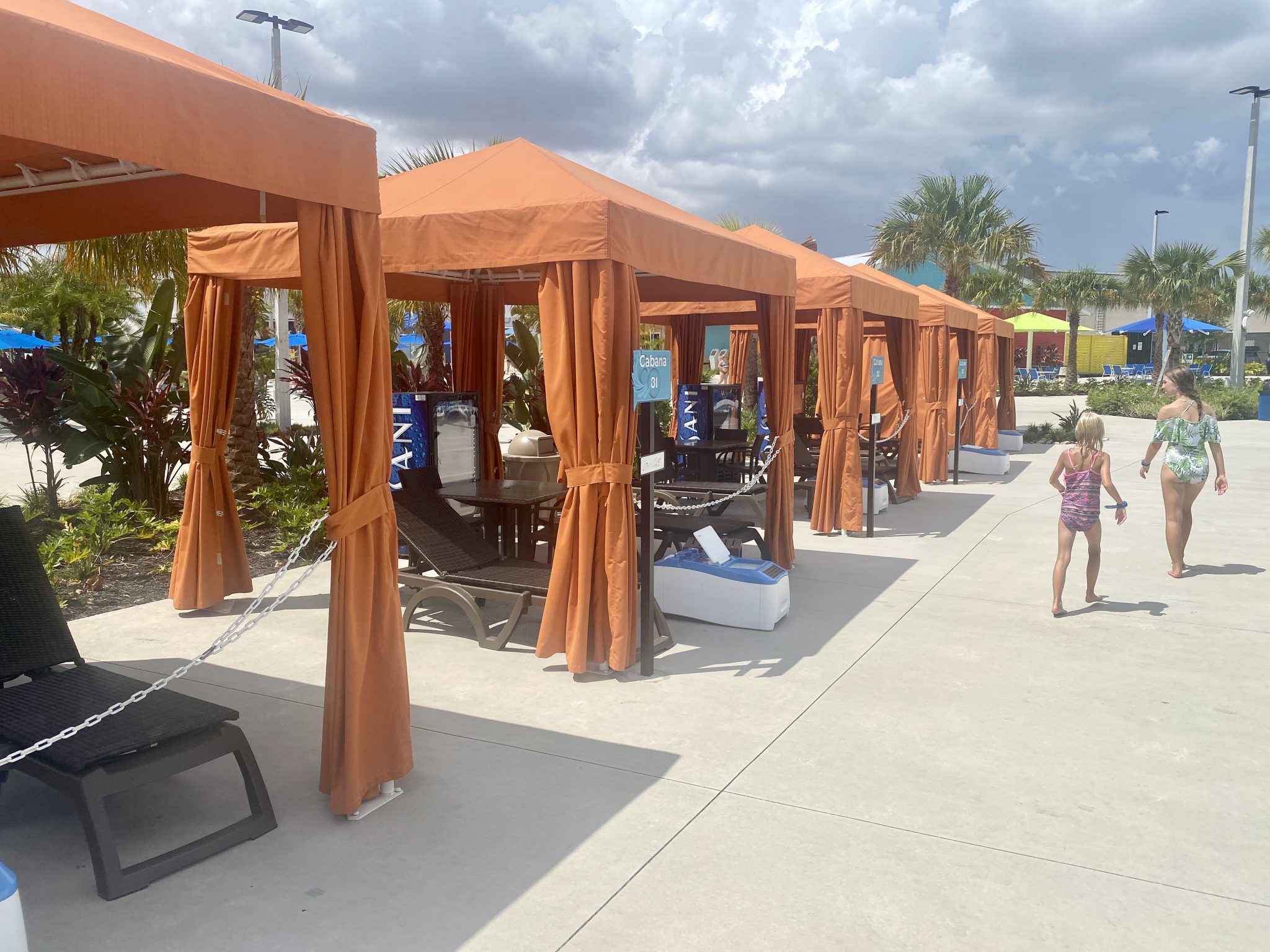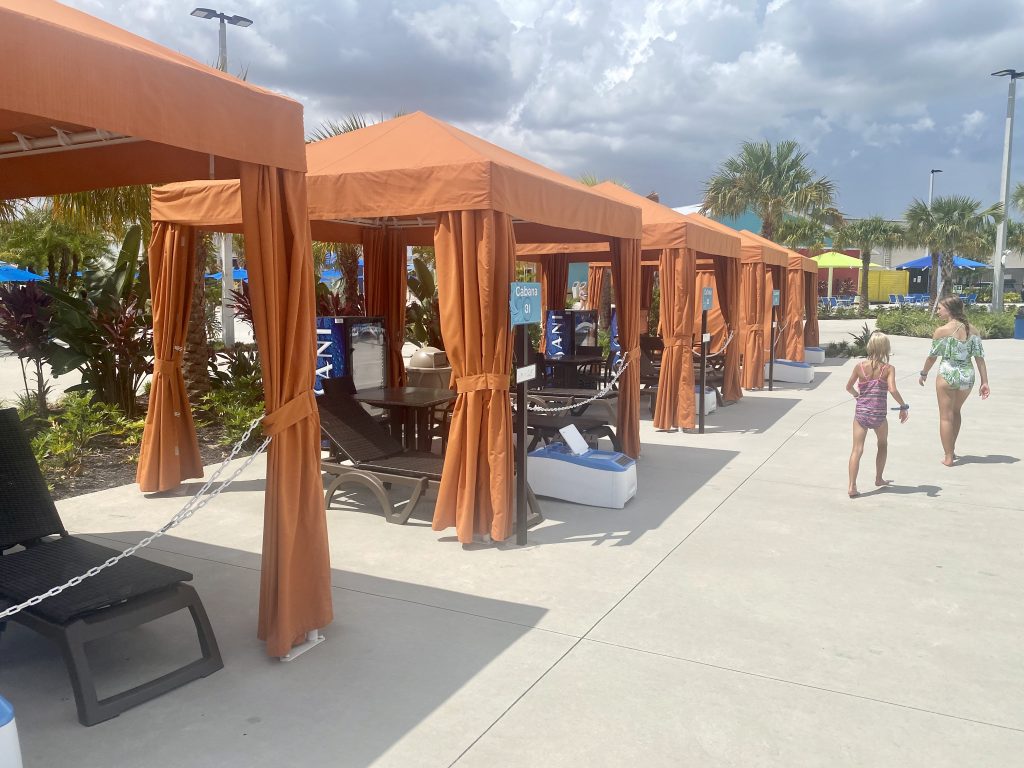 Island H20 Live was one of the cleanest and most well maintained water parks I've ever visited. The employees were friendly, you could earn free ice cream, drinks and souvenirs, and it's a perfect family day of fun. We will definitely visit again and recommend it as a perfect retreat for those hot Florida days!
You May Also Like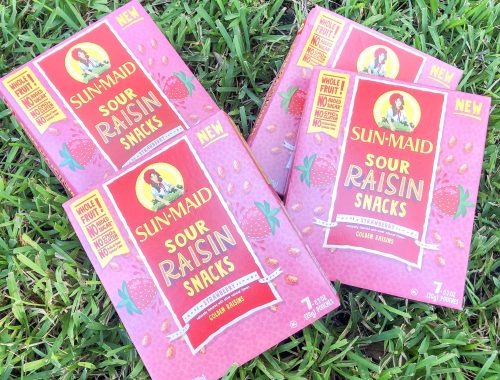 October 1, 2019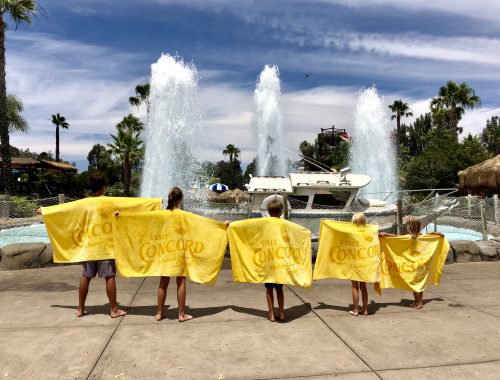 July 16, 2019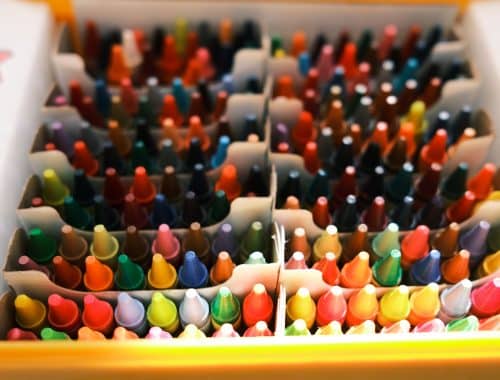 August 24, 2022