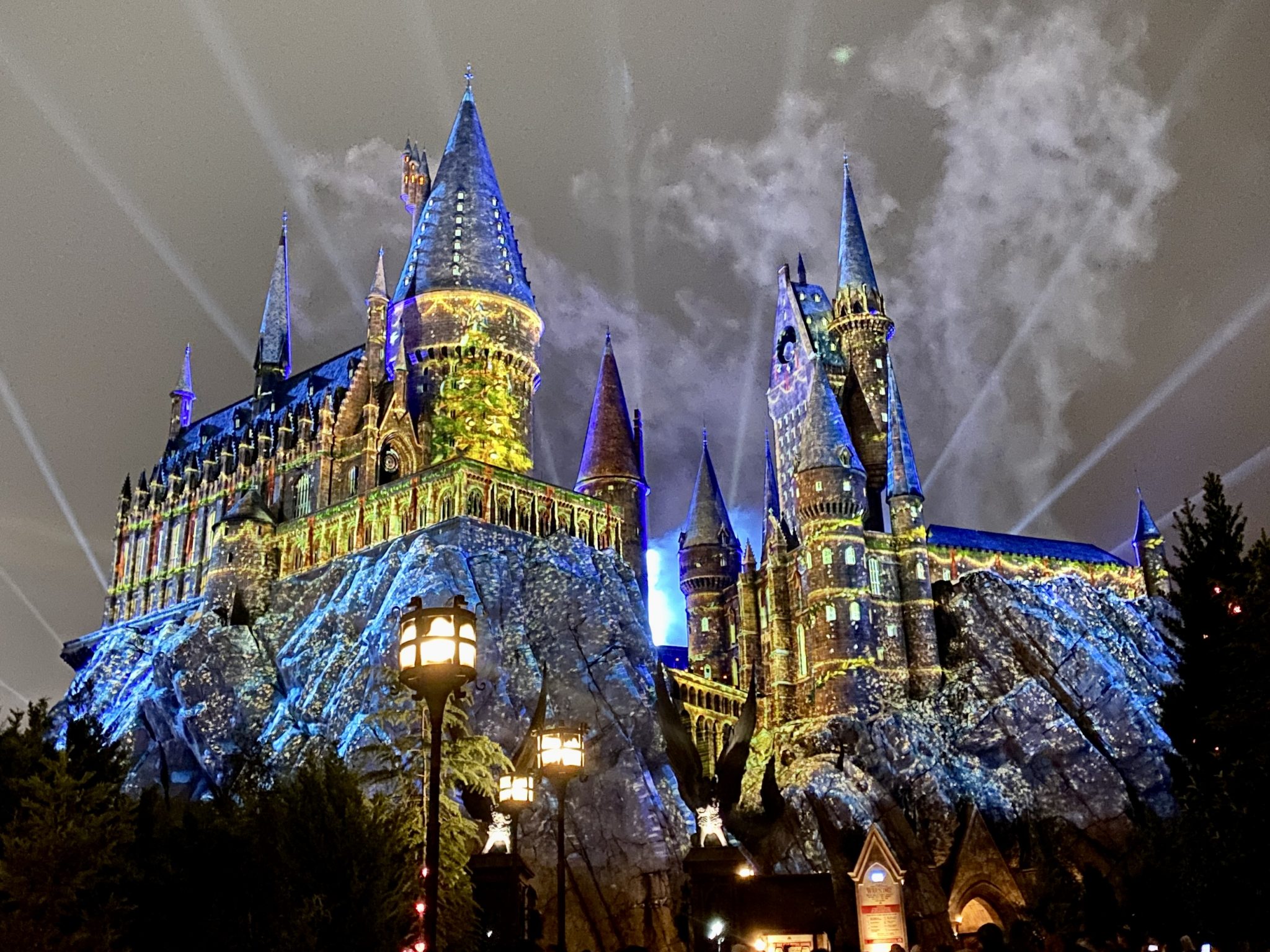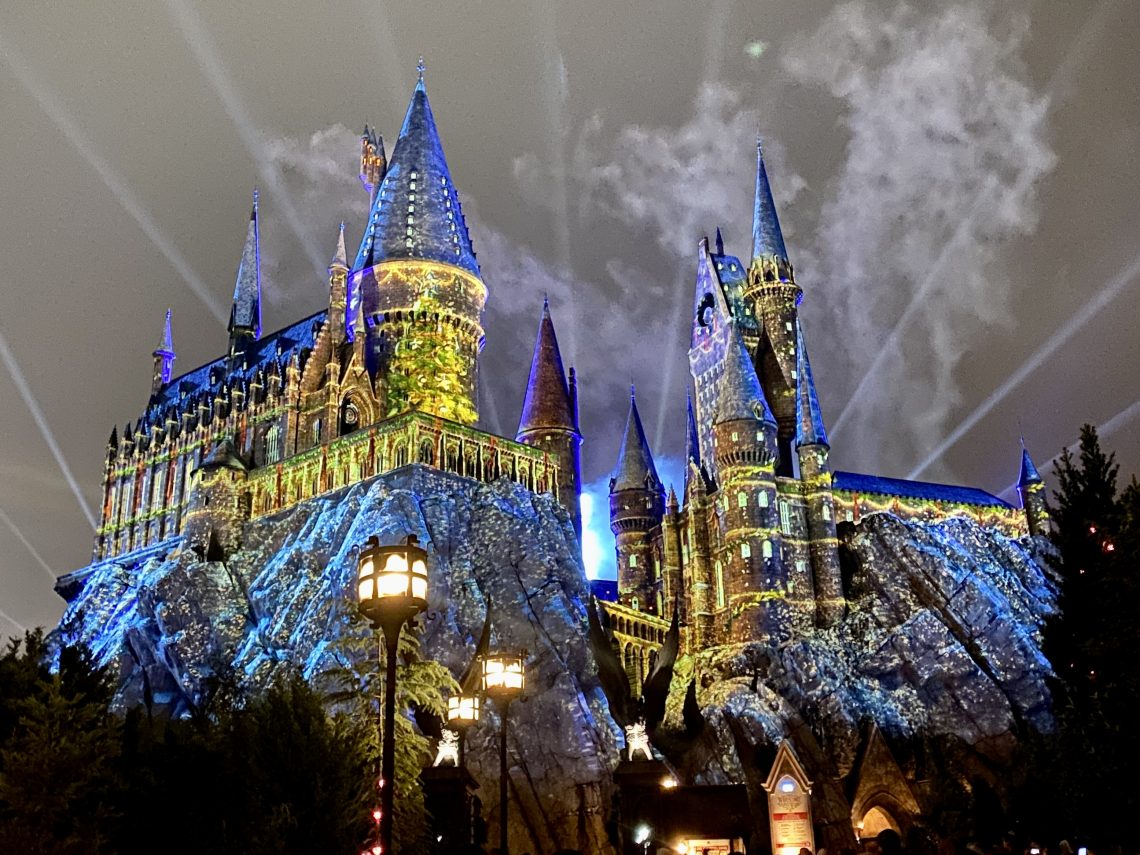 Christmas in Universal Orlando: Complete Magical Guide
November 23, 2021
Sharing is caring!
There's a lot of magic in a lot of different places in Orlando. But at the holidays, magic is everywhere! And Universal Orlando is serving all of the holiday feels with the return of their full line up of Christmas. Christmas in Universal Orlando is my absolute favorite time to visit. There truly is something for everyone. From stage shows to light shows, and even the Grinch, you can experience Christmas in Universal Orlando in your favorite way. And with this complete magical guide from our recent visit, you can find out what to look forward to!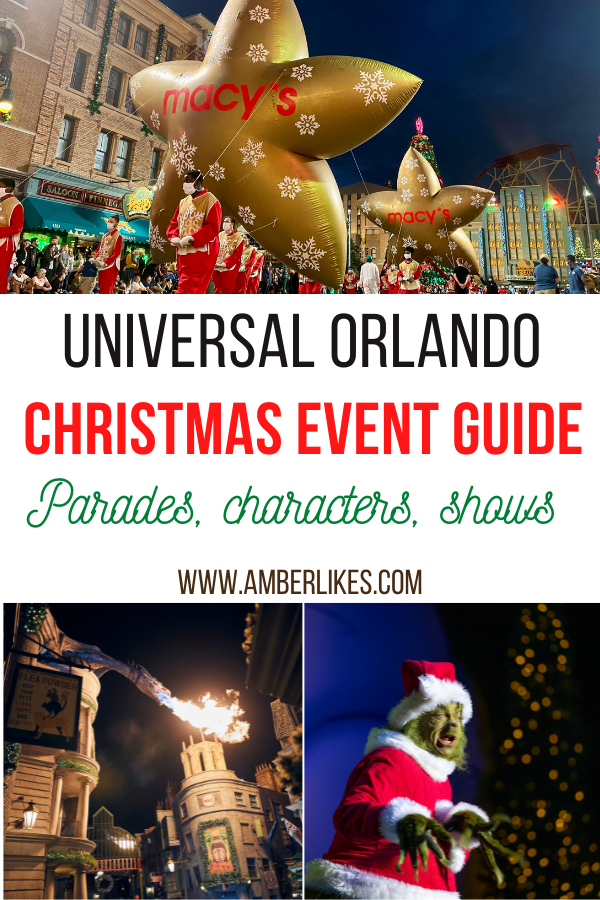 Christmas in Universal Orlando with Harry Potter and Friends
I'm going to start with my favorite was to celebrate Christmas in Universal Orlando! In fact, this is one of my favorite ways to celebrate Christmas in all of Orlando. There's nothing quite as magical as the holidays in Diagon Alley or Hogsmeade. The Wizarding World of Harry Potter feels incredibly immersive and magical year round. But at the holidays, it feels truly special. So what all can you experience at the Wizarding World of Harry Potter?
Entertainment in The Wizarding World of Harry Potter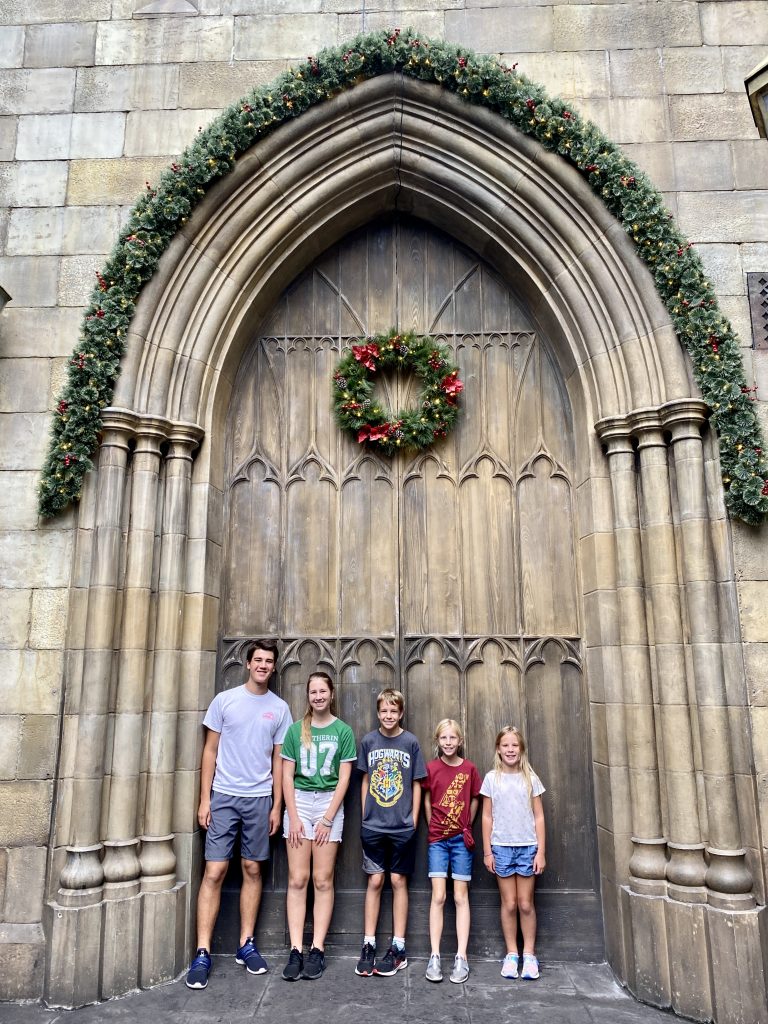 The streets of Hogsmeade, Diagon Alley and London will become beautifully adorned with themed decorations, garlands and lights as the sounds of special holiday-themed performances fill the air. And guests can sip on hot Butterbeer while they listen to Christmas carols from the Frog Choir comprised of Hogwarts students and their giant croaking frogs. In addition, guests can enjoy the unique holiday hits of one of the wizarding world's most popular singing sensations, Celestina Warbeck and the Banshees.
Nighttime Magic at Hogwarts Castle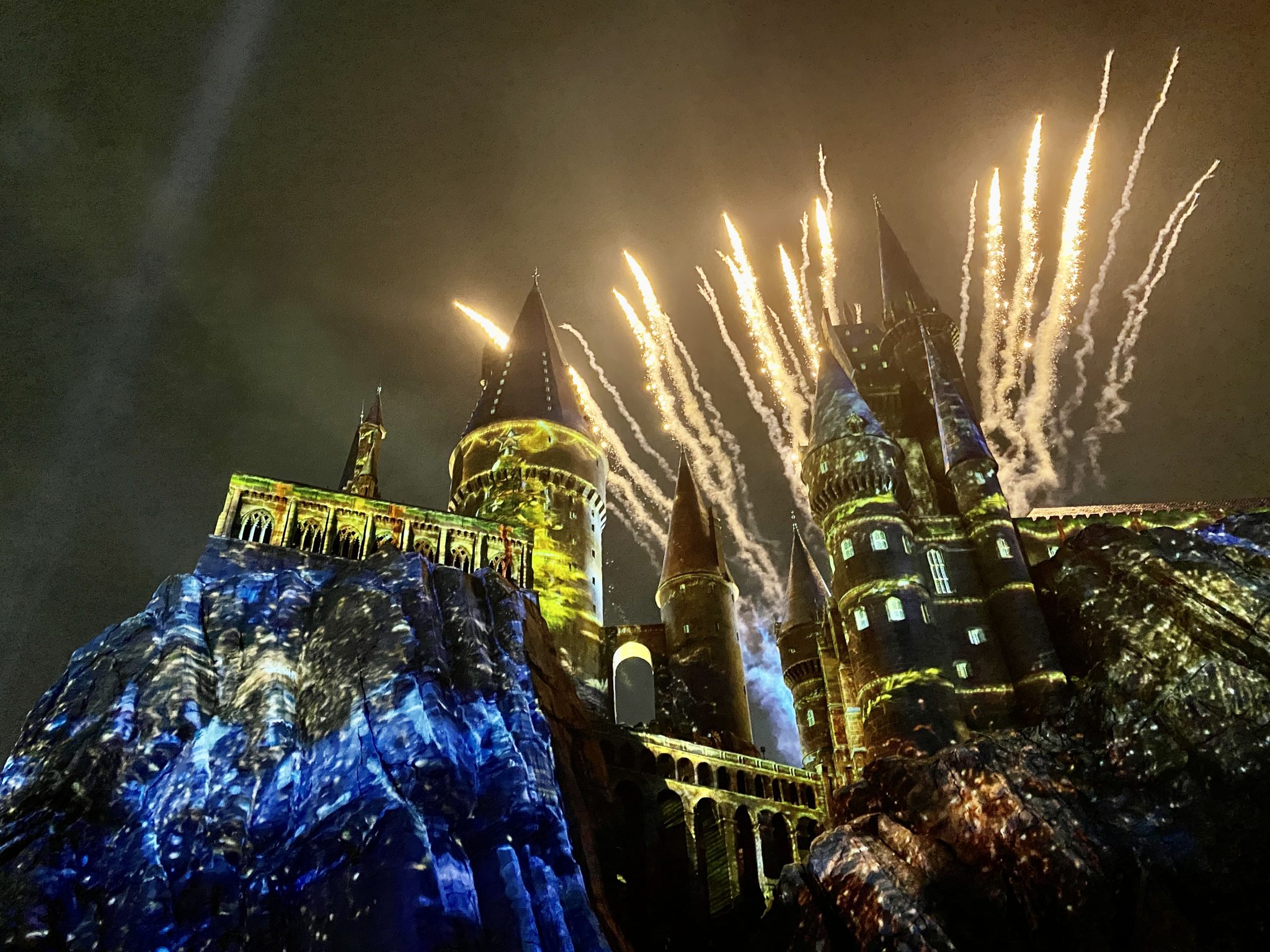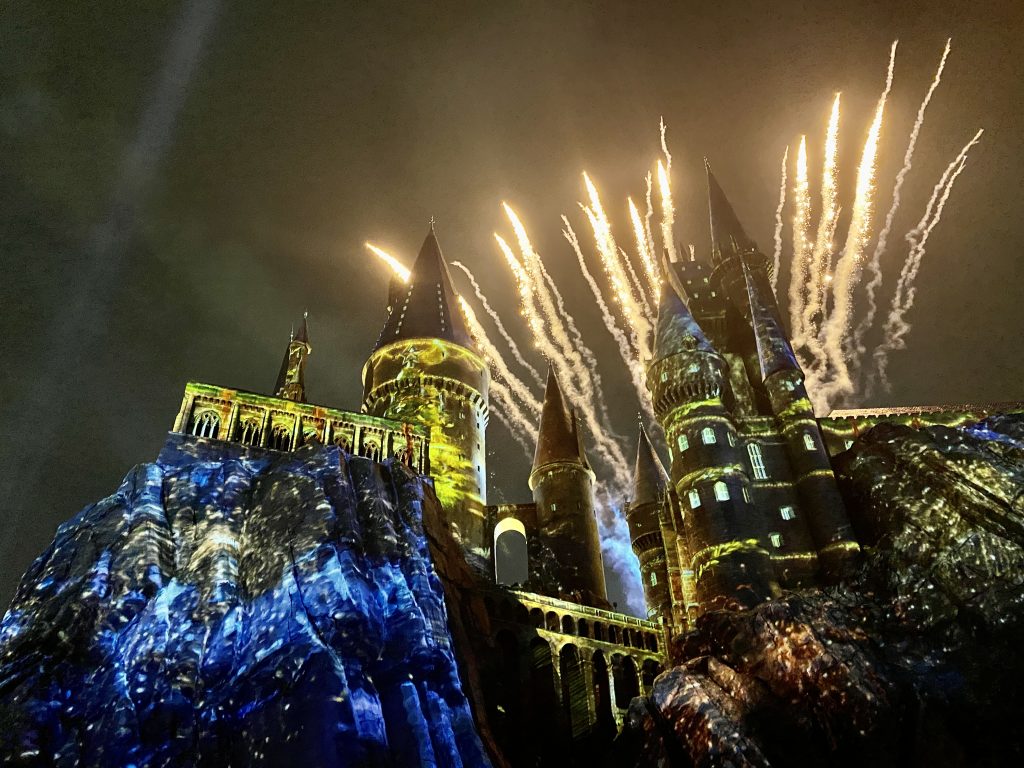 And cap off your evening in The Wizarding World of Harry Potter – Hogsmeade at Universal's Islands of Adventure to enjoy "The Magic of Christmas at Hogwarts Castle." This is a spectacular transformation of Hogwarts castle with a stunning projection of holiday spirit and Christmas moments inspired by beloved Harry Potter films.
You really have to see this to believe it! The show takes place continuously throughout the evenings and is about 7 minutes long. It's a great idea to stop and really enjoy all 7 minutes of this show. But it's also fun to enjoy it while riding Flight of the Hippogriff! If you can time it just right, you can really have an amazing time riding and watching the magic unfold at Hogwarts.
Grinchmas at Universal's Islands of Adventure
Have you always wanted to meet the green guy yourself? Wanted to hop right into the world of the Grinch? Well now you can! Universal's Islands of Adventure has the green guy himself with the Grinchmas celebration!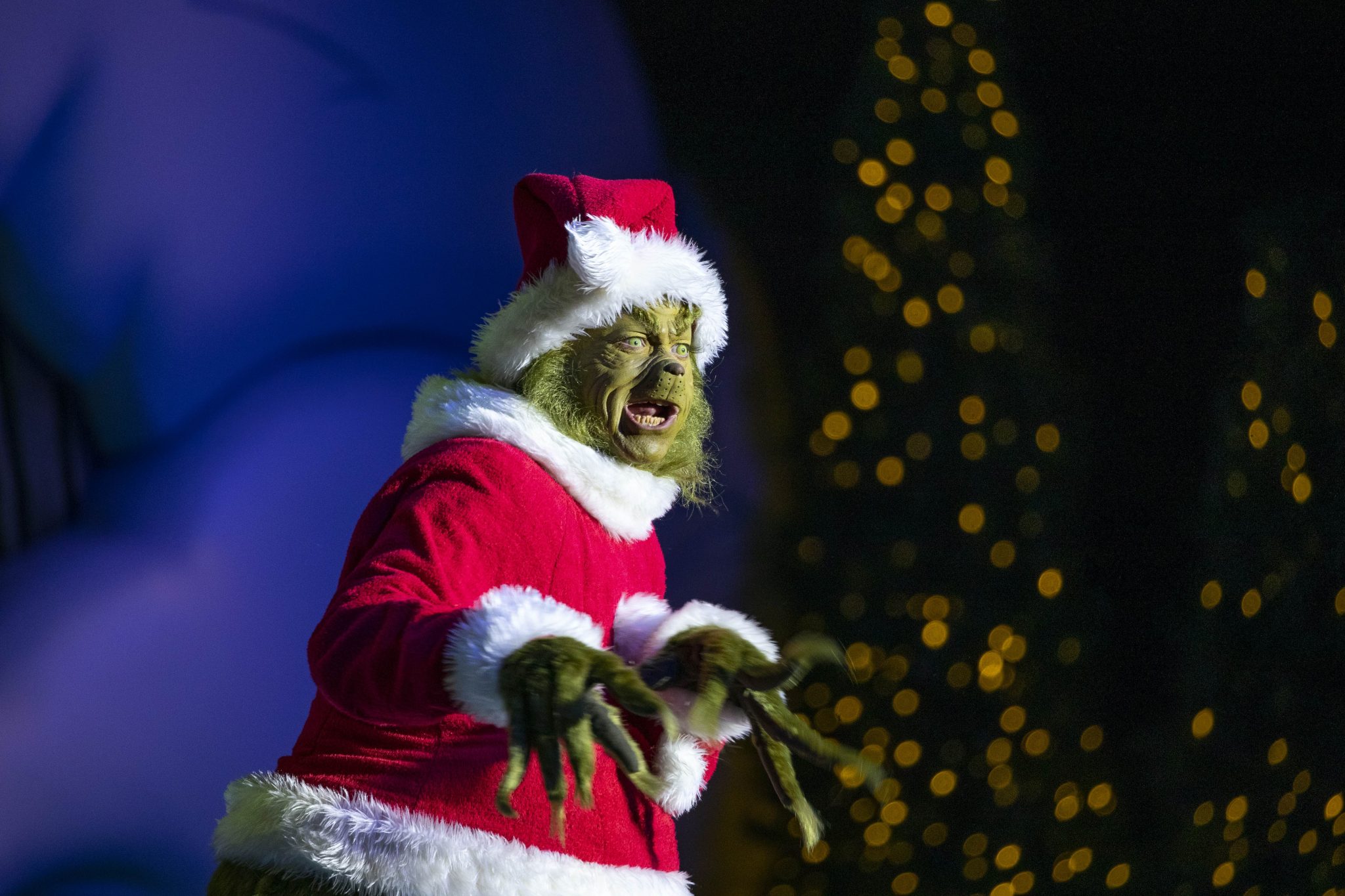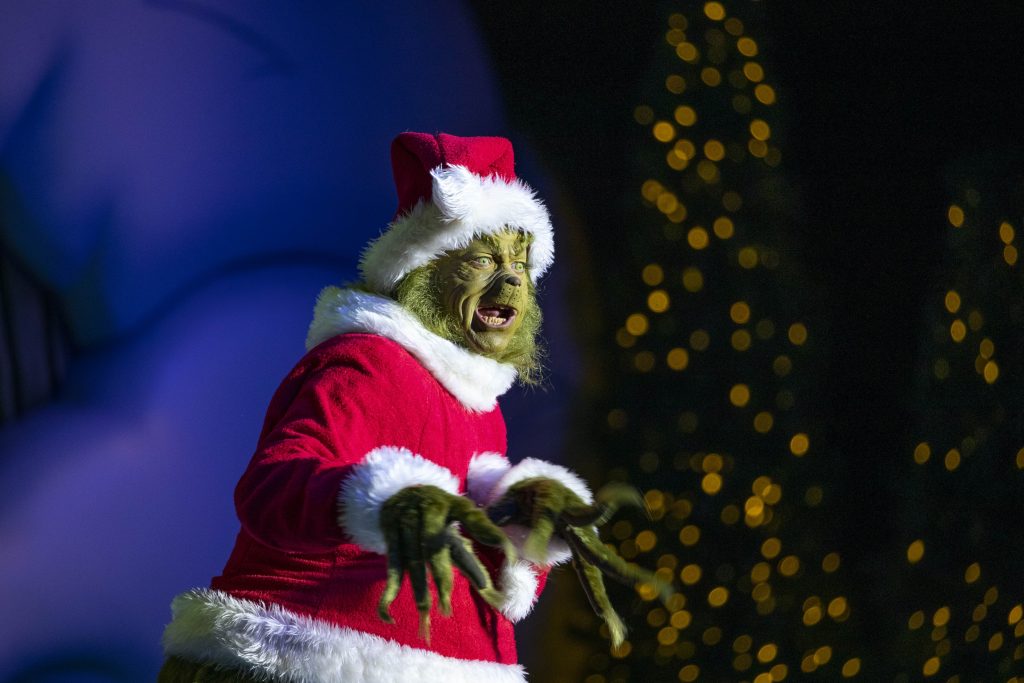 See the maven of mischief himself during Grinchmas at Universal Orlando where guests can enjoy the "Grinchmas Who-liday Spectacular" – a hilarious live retelling of Dr. Seuss's holiday classic "How the Grinch Stole Christmas" starring The Grinch with special appearances by the merry Whos from Who-ville.
And the celebration continues in Seuss Landing, which is completely transformed into a holiday wonderland filled with yuletide décor, including oversized candy canes, Christmas trees, wreaths and beautiful tinsel ornamenting the land. And guests can keep an eye out for resident Whos spreading Who-liday joy as they prepare for their favorite holiday.
This area of the park is decorated so beautifully. And this is one of the areas of Universal Orlando that is best for all ages. There are rides here for even the youngest guest. And during Christmas in Universal Orlando, Seuss Landing is especially beautiful!
Universal's Holiday Parade featuring Macy's at Universal Studios Florida
The Macy's Thanksgiving Day Parade is one of my favorite parts of Thanksgiving. And really, one of my favorite parts of the holidays in general. The parade is such a tradition! So being able to see it at Christmas in Universal Orlando is so fun!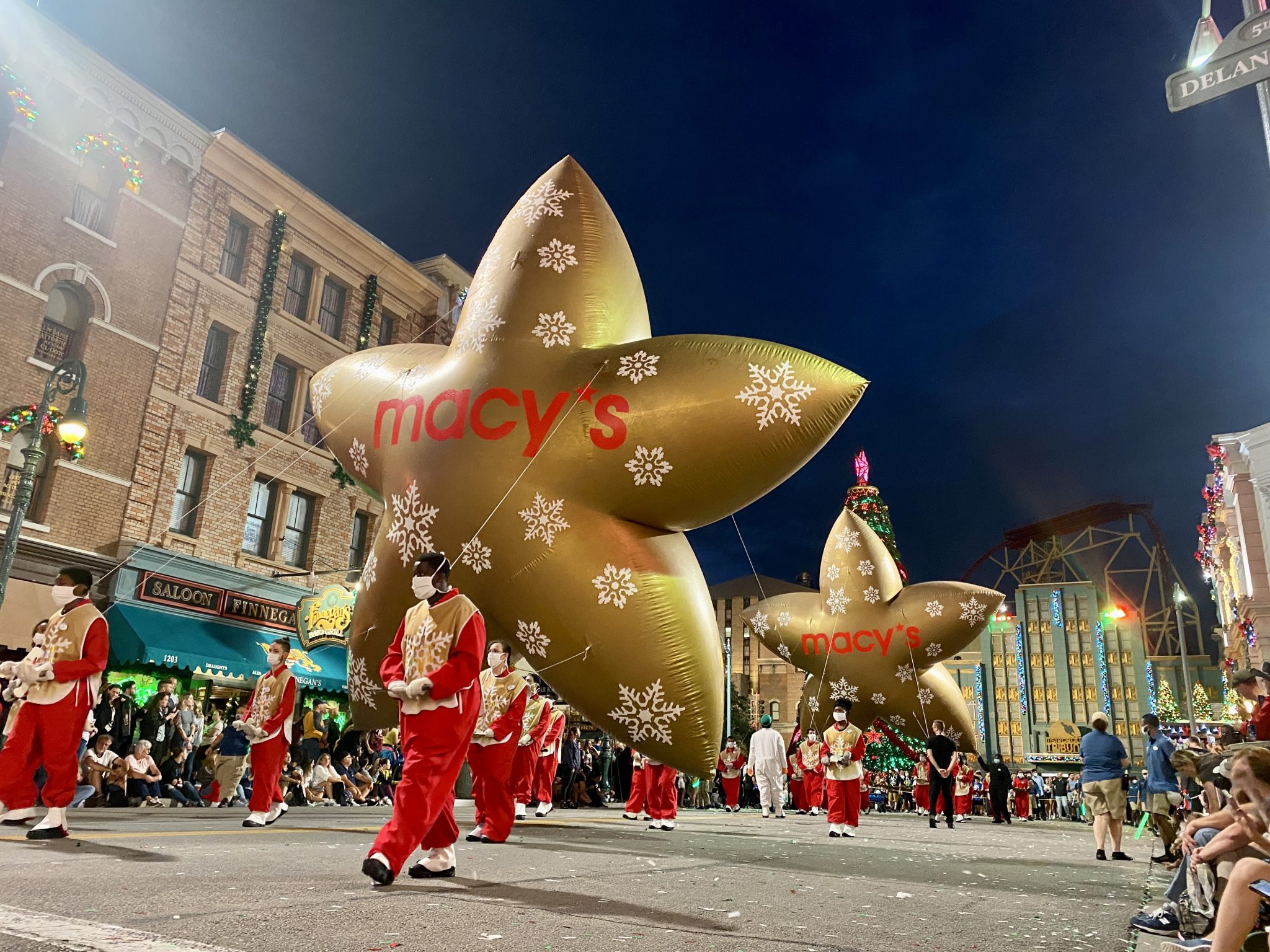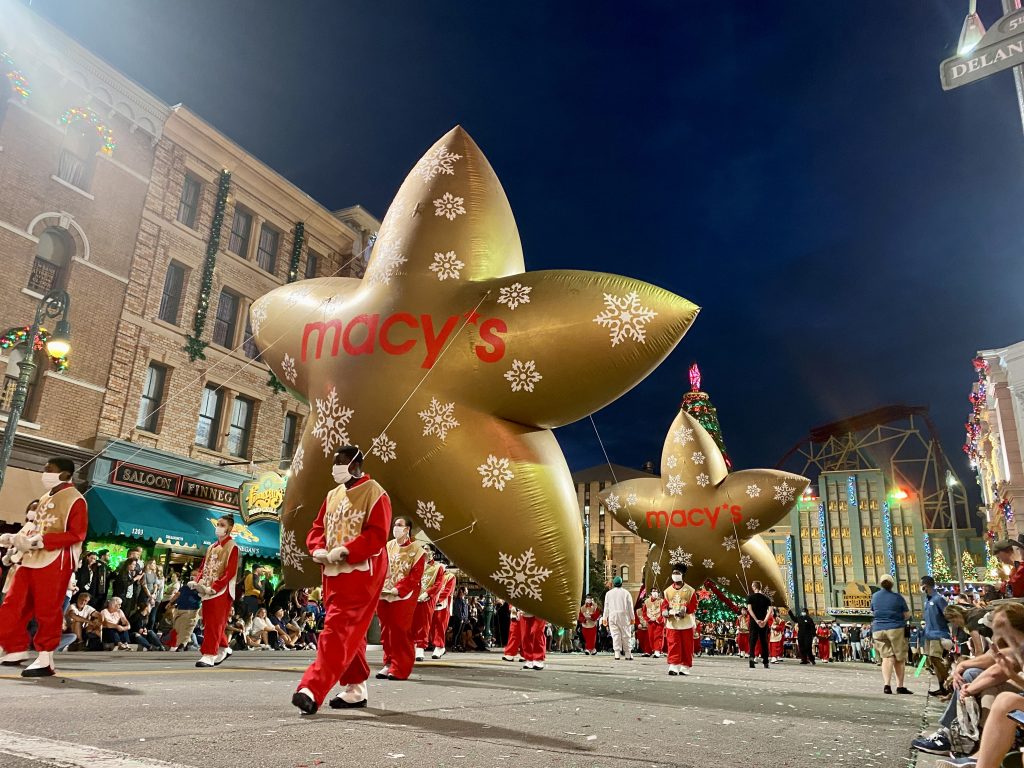 With the return of Universal's Holiday Parade featuring Macy's, guests can experience the excitement as more  than 30 larger-than-life balloons take the streets of Universal Studios Florida, along with appearances by the Minions from Illumination's Despicable Me and other fan-favorite characters from DreamWorks Animation's Shrek and Madagascar. This parade also features beautifully decorated floats and hundreds of festive performers that fill the streets with holiday cheer. And guests won't want to miss the spectacular finale led by the one and only Santa Claus as he passes by and lights the breathtaking 80-foot Christmas Tree that has become a holiday icon at Universal Studios Florida.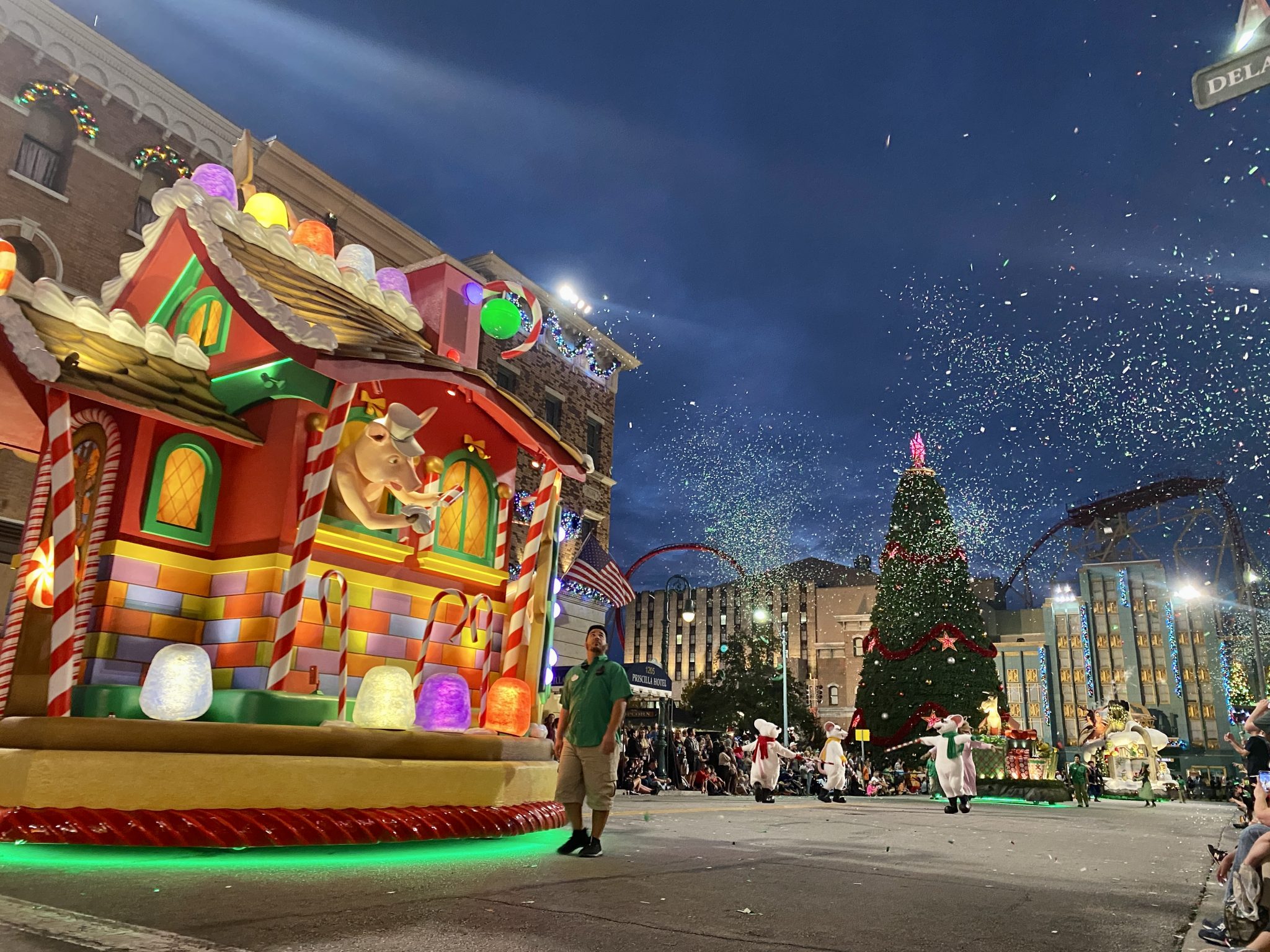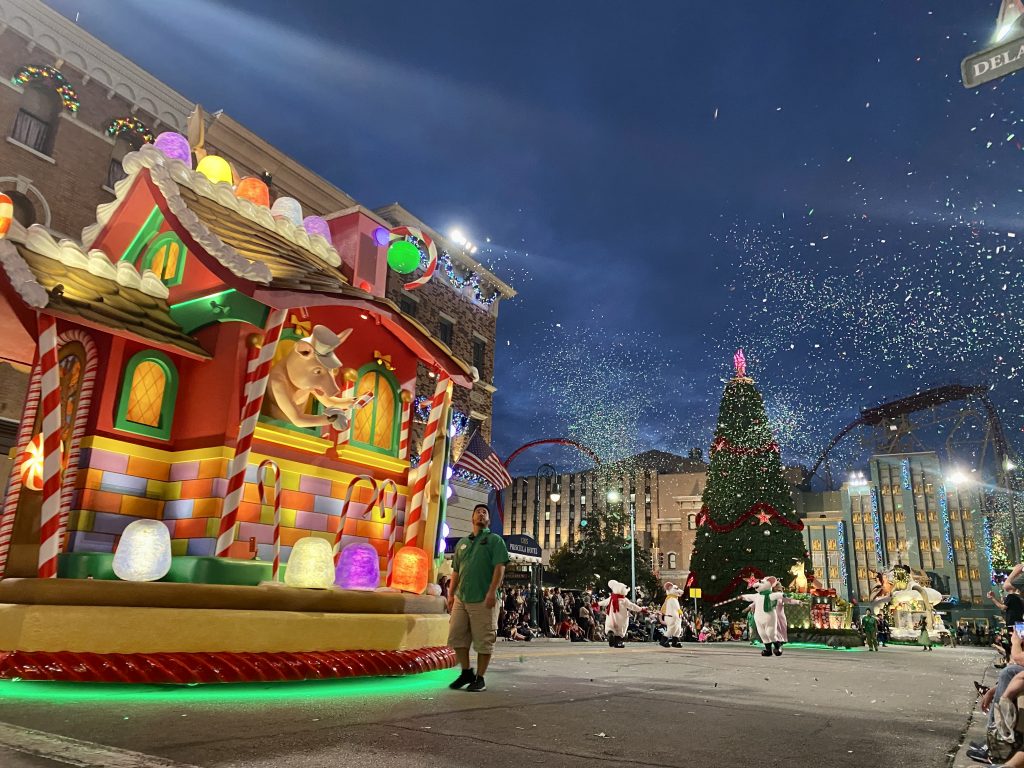 The floats are so beautifully decorated! And with confetti and snow down the streets, it will feel like you're on the streets of New York City. It's a beautiful way to get into he holiday spirit.
Holiday Extras at Christmas in Universal Orlando
Mannheim Steamrollers
In addition to the holiday celebrations with the Grinch and Harry Potter, you can also catch performances from the Mannheim Steamrollers on select dates this December. This show returns to Universal Studios Florida to dazzles guests with the sounds of the season. These live performances will take place at Universal Studios' Music Plaza Stage on Dec. 4, 5, 11 and 12.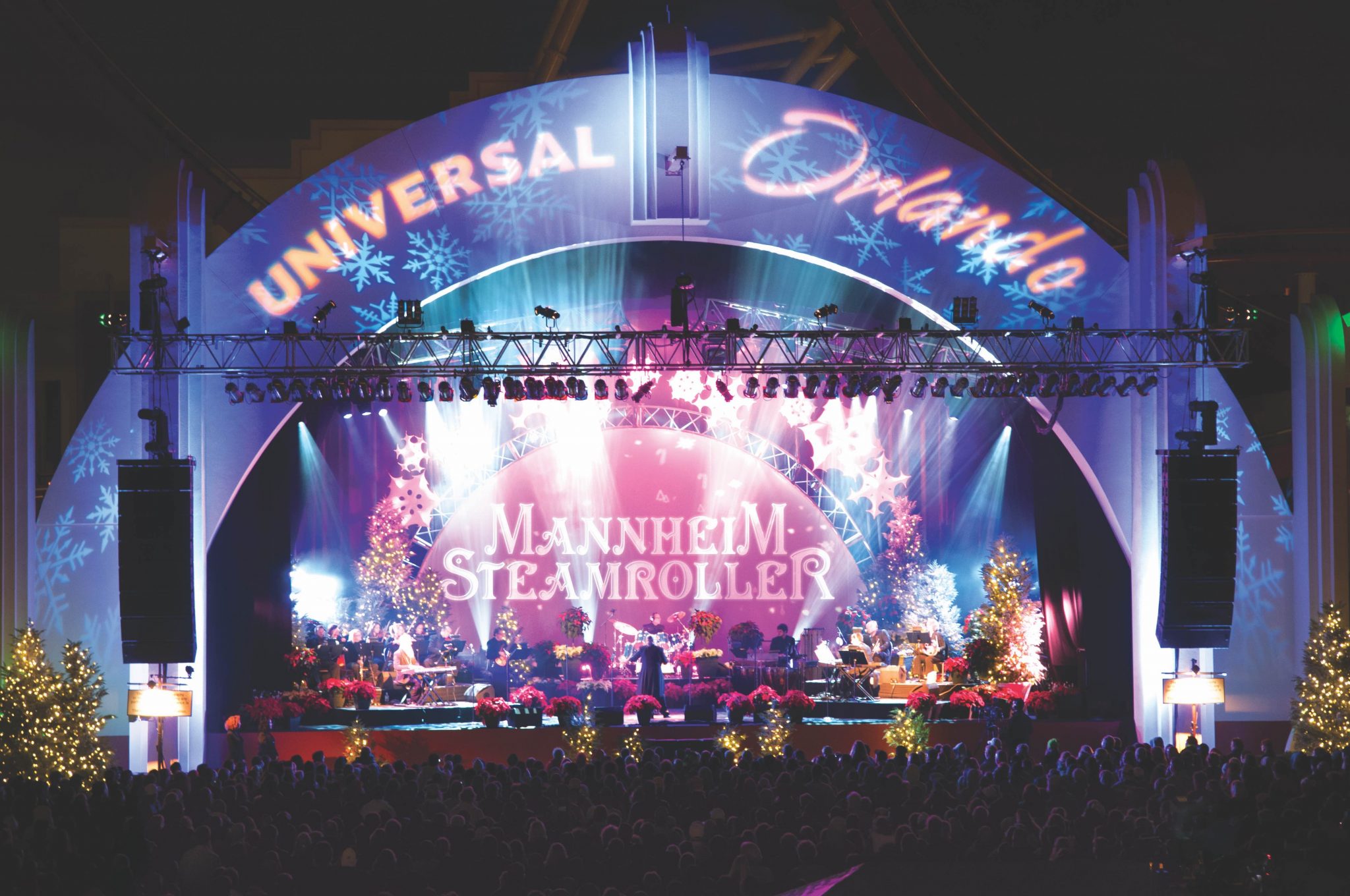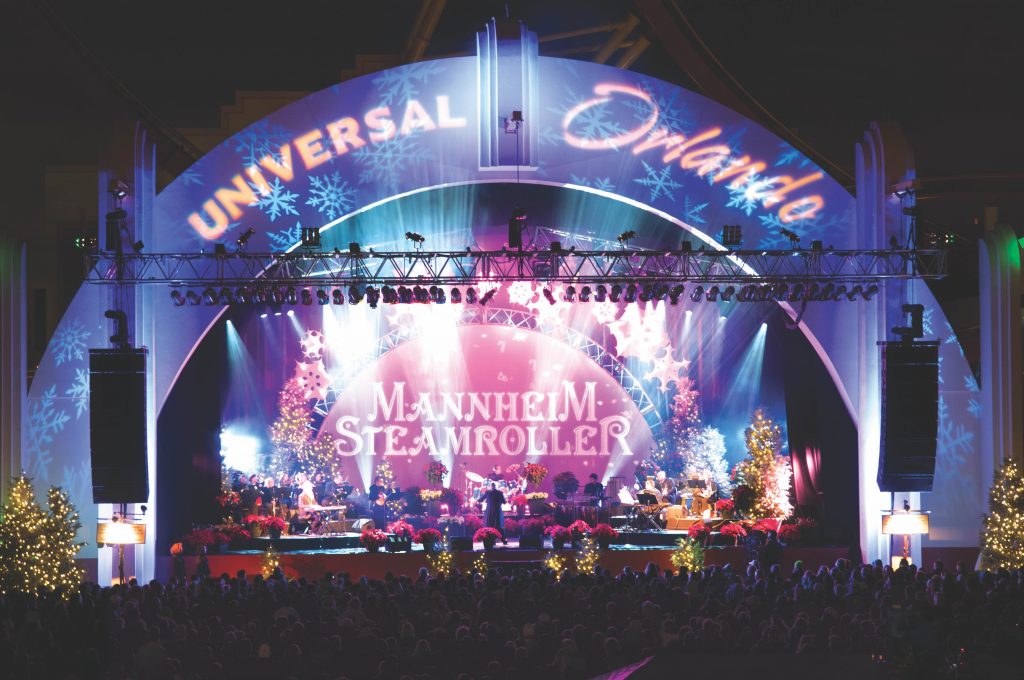 Tree Hunt
The Holiday Tree Hunt is another fun addition to the Christmas season! Purchase the Holiday Tree Hunt brochure to enjoy a fun scavenger hunt locating decorated Holiday trees in Universal Studios Florida, Islands of Adventure and Universal CityWalk and receive a special Holiday ornament.
Tribute Store
You can also enjoy holiday shopping at the Tribute Store. This store is full of holiday cheer! Shop for holiday-themed merch as you explore four festively themed rooms. Enter Santa's Workshop during the busy season and check out what our very own Earl the Squirrel is up to. Plus, pay a visit to the Grinch's Lair and the formal wizard winter celebration, the Yule Ball. This is one of my daughter's favorite scenes from Harry Potter. So it was so fun to experience it with her in the Tribute Store!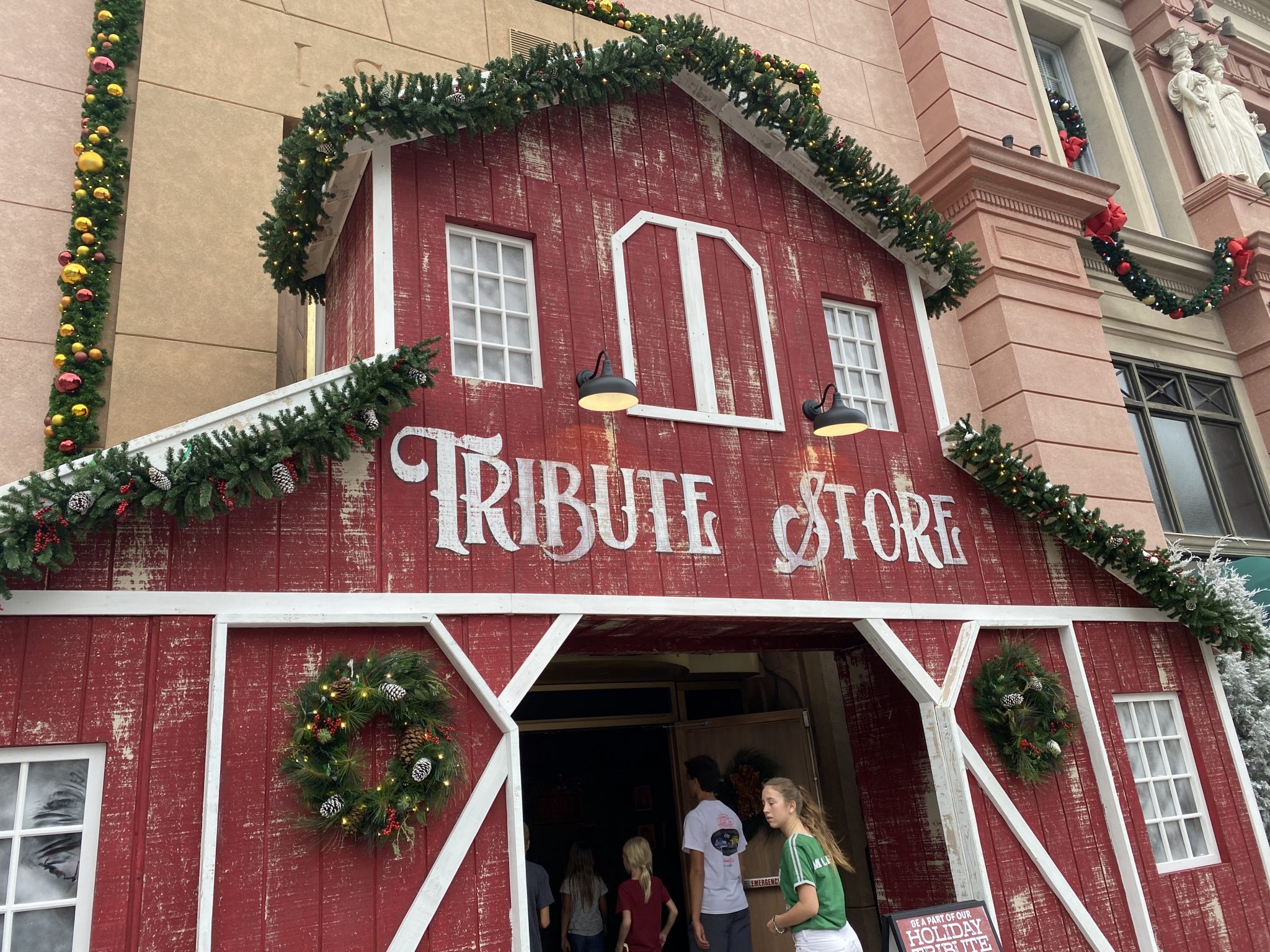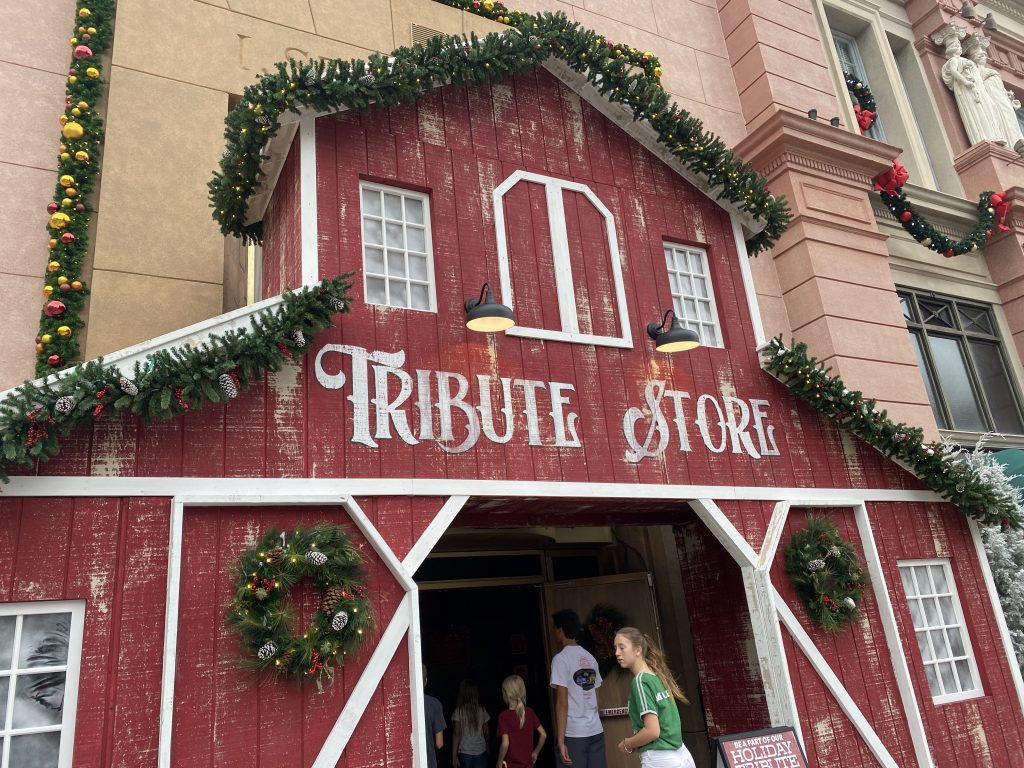 On select dates, you can rip open a holiday gift of non-stop awesome with a guided tour through Universal Studios Florida and Universal's Islands of Adventure. Sip hot cocoa with the Grinch™ and meet Santa. Then snag reserved spots for Universal's Holiday Parade featuring Macy's and The Grinchmas™ Who-liday Spectacular— plus get an exclusive on-stage holidays Q&A with the Whos. Embrace the holiday spirit as you end your night with an exclusive after-hours showing of The Magic of Christmas at Hogwarts™ Castle. Separate Park-to-Park admission and reservations are required. Prices start at $69.99.
Christmas in Universal Orlando is Magical!
We enjoyed Universal Orlando for one day, and went to both parks. But if you really want to immerse yourself in the magic, consider staying at one fo the Universal Orlando hotels. There's festive decor, great food, and perks available only to hotel guests!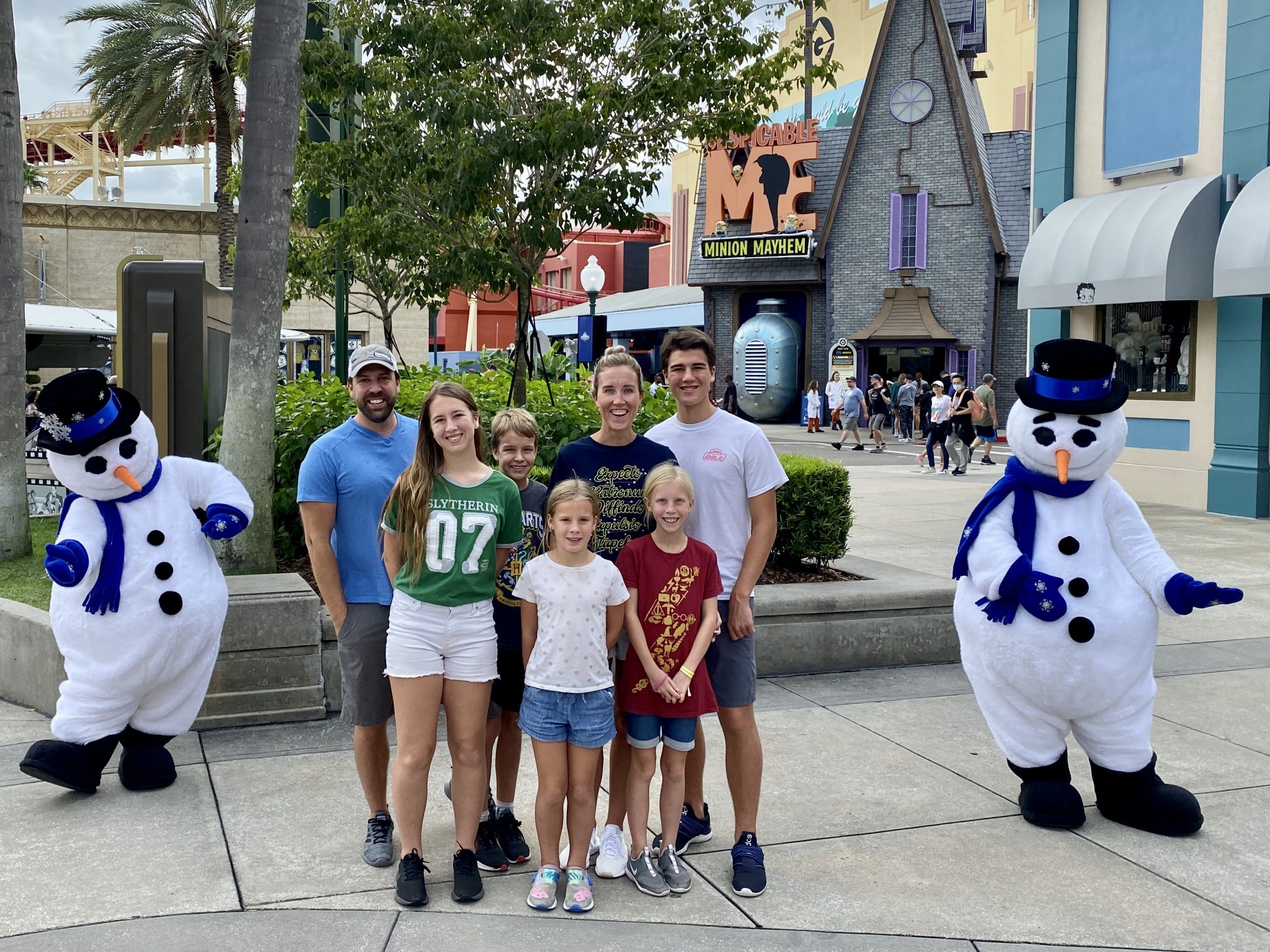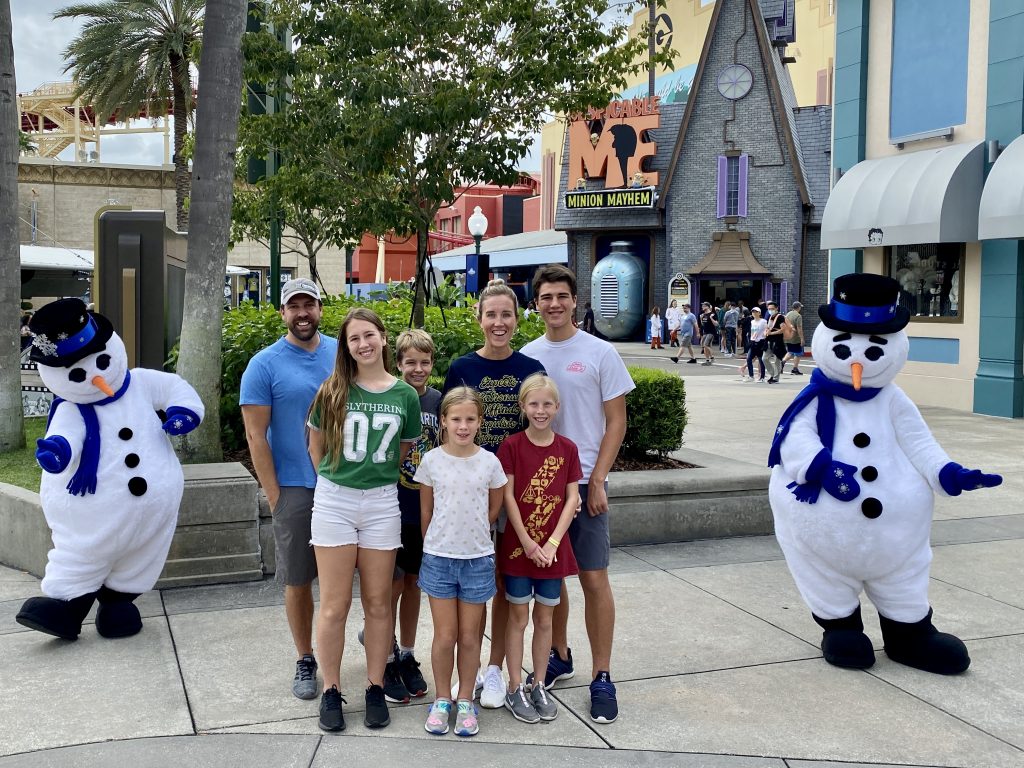 In addition to the holiday magic already listed, there's live shows, characters, and more waiting around every corner. We were greeted by living toys walking through the streets, took a picture with penguins, and encountered elves by the Christmas tree. It was a magical day full of Christmas cheer! Thank you to Universal Orlando for hosting our family so that I could bring you all of the festive options.
You may also like:
The Best Things to Do in Orlando for Adults
You May Also Like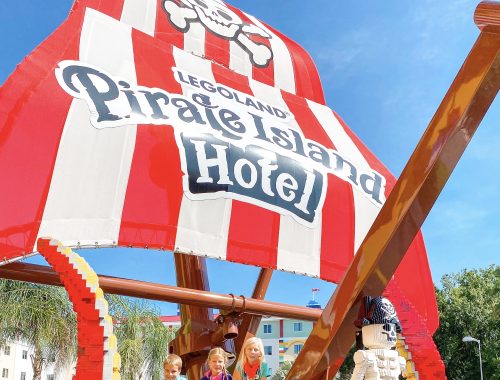 July 8, 2020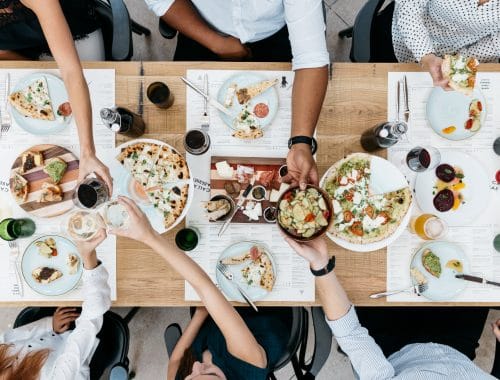 March 12, 2020