Hollywood Studios Flurry of Fun: Holiday Cheer Then and Now at Walt Disney World
November 14, 2018
Sharing is caring!
Even though it's still two weeks until Thanksgiving, all of us are surrounded by Christmas cheer! And I'm not mad about it. I love Thanksgiving, and we have been hosting the meal at our home for 15 years, but I agree with the theo that we just wrap Thanksgiving, Christmas, and New Year's into one wonderful celebration and call it all the holiday season. So we fully decorate for Thanksgiving, and then let a few Christmas decorations and songs trickle in until the day after Thanksgiving, when the house will be transformed into a Christmas wonderland almost as quickly as Magic Kingdom transforms overnight from Mickey's Not So Scary Halloween Party into full Christmas cheer!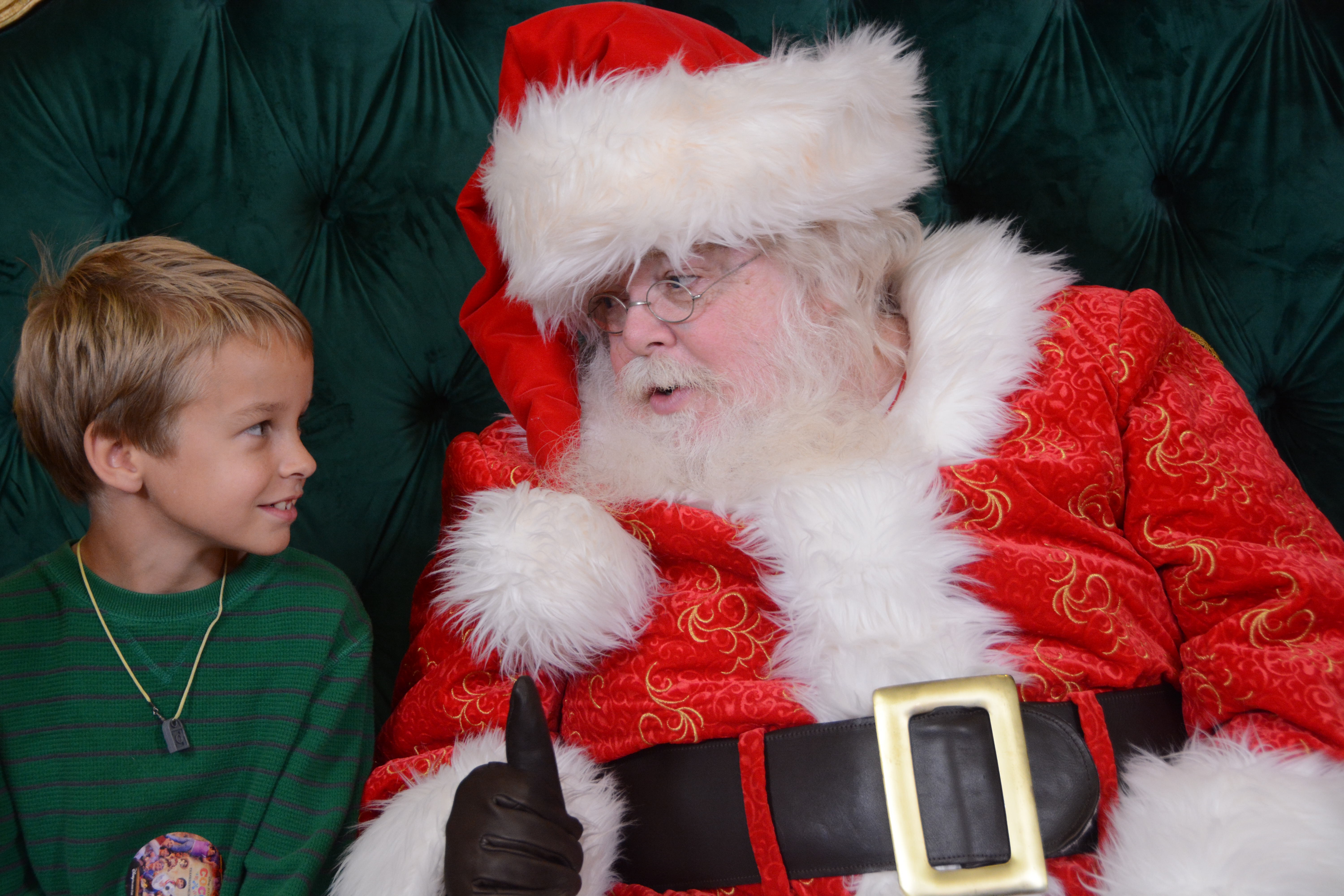 We love
Walt Disney World
all year long, even in the hot summer months. But we love Walt Disney World most of all during the holiday season! In fact, the whole reason I started my
Disney Instagram account
was to honor the Osborne Spectacle of Dancing Lights that ended on January 6, 2016. My oldest son and I were there on the "night the lights went out" and you can watch my YouTube video from that memorable night at the link below. We both shed a few tears that night and I will never forget holding each other's hands as the lights went out for the final time.
We have so many fond memories as a family at the Osborne Spectacle of Dancing Lights; it's still bittersweet to reflect back on this time at Walt Disney World. Each year, we made a point to go many times throughout the season, and even attended the dessert party there with our extended family and dined on desserts and drinks underneath the dancing lights of angels and stars. It was absolutely magical and one of my all-time favorite Disney memories! We would also get a Christmas mug each year filled with hot chocolate on the Streets of New York, and we have quite the collection from all of those years. Looking back on the pictures each year from Walt Disney World, you can watch my kiddos growing up, measured in Disney time.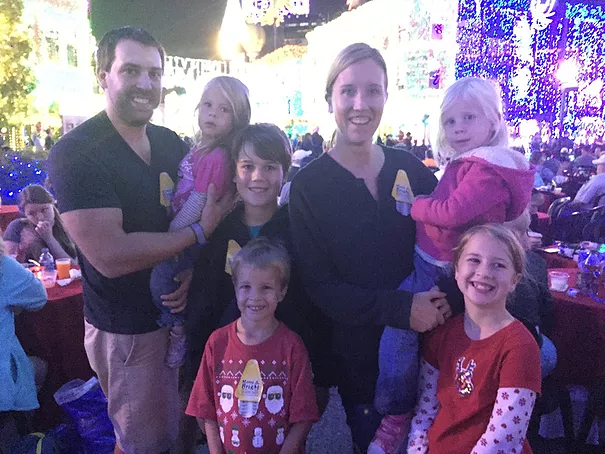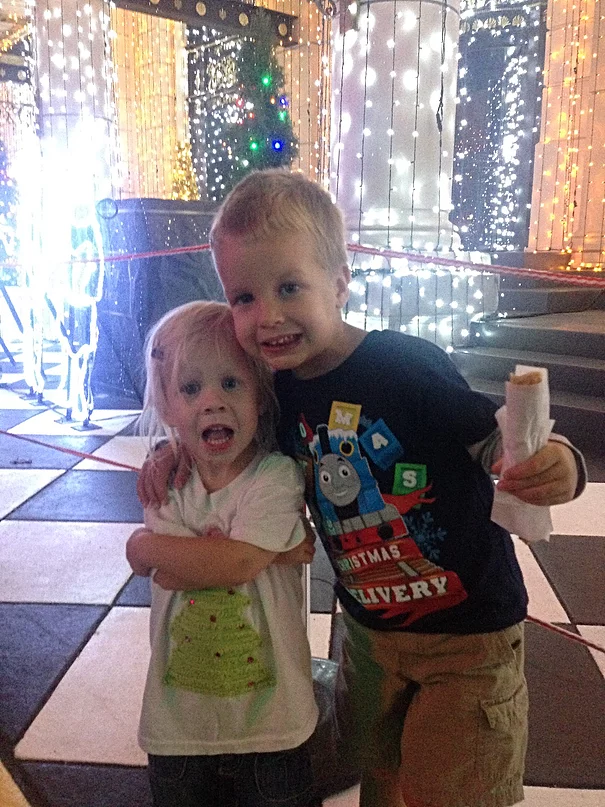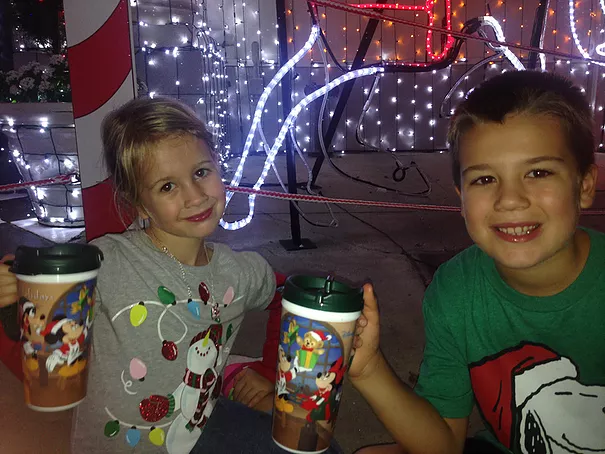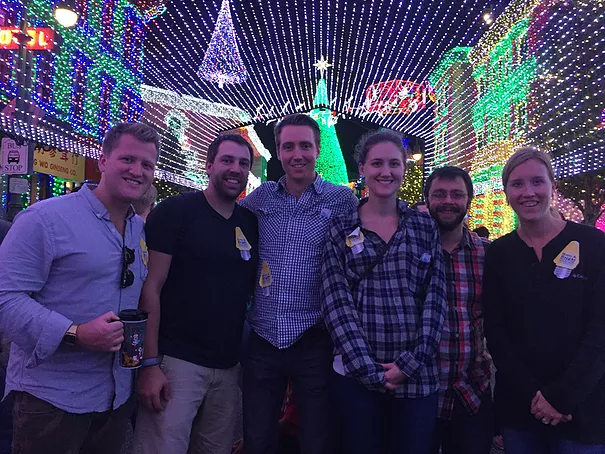 And even though we still really miss this family tradition at Walt Disney World, as Walt Disney himself said, "We keep moving forward, opening new doors, and doing new things, because we're curious and curiosity keeps leading us down new paths." So we keep making new memories and new holiday traditions at Hollywood Studios and Walt Disney World! And each year, there's always new paths to explore!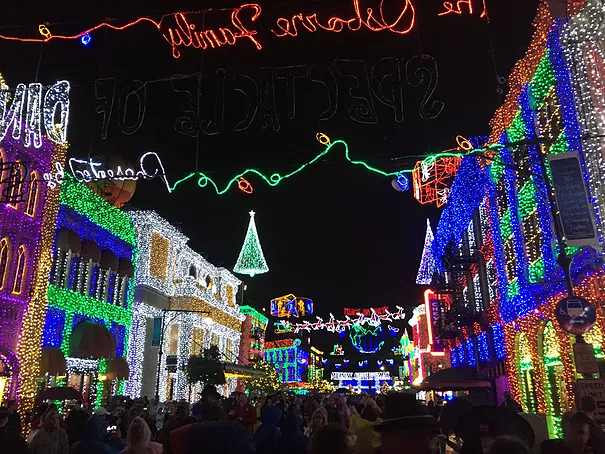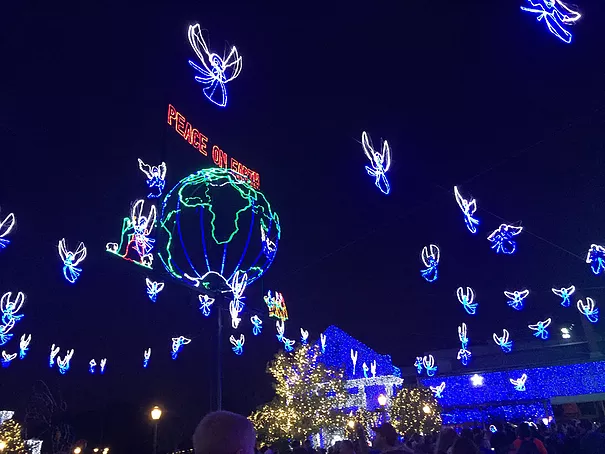 One of our favorite new holiday traditions at Disney's Hollywood Studios is Sunset Seasons Greetings, which premiered last year. This holiday spectacular lights up the Tower of Terror in a very impressive projection show, complete with music and "snow" and telling several different stories through projections, lights, and music. We haven't had a chance to see it yet this year to check out the new stories being shown through projection, but if it's anything like last year's, it's definitely something that's not to be missed! It is slightly remniscent of the Osborne Spectacle of Dancing Lights, and is really fun and magical, and makes me love it even more!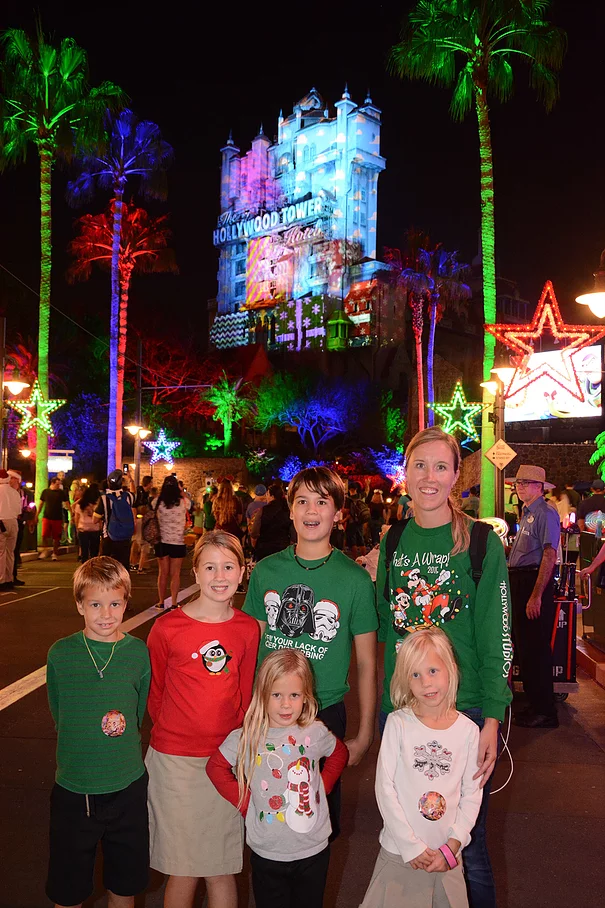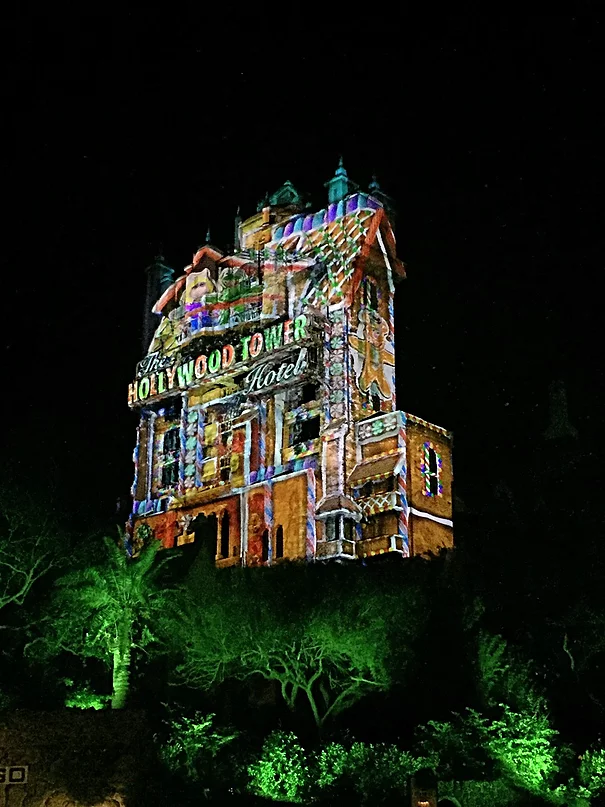 At Hollywood Studios at Walt Disney World, you can also catch Jingle Bell, Jingle BAM! which is the nighttime fireworks show with an available extra ticket dessert party. This show tells the story of Wayne and Lanny from ABC's "Prep and Landing," who are trying to find the missing Jolly Old Saint Nick! It's a really fun way to end the night with your family at Hollywood Studios.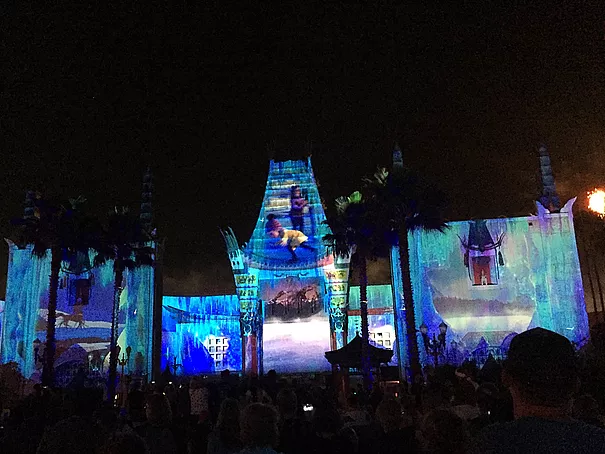 There are retro holiday decorations all around the park, and Woody, Buzz, and Jessie get in on the Christmas fun at Toy Story Land! You can also dine with Minnie and friends in a special holiday dinner at Hollywood & Vine. And what holiday celebration would be complete without a visit to Santa? There is a wonderful Santa meet and greet available on Sunset Boulevard, and then from December 25-December 31, Santa Goofy will me greeting guests while Santa Claus is off doing his work for the holidays!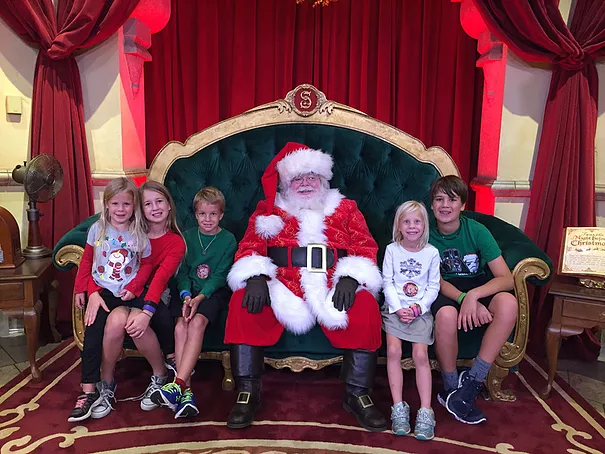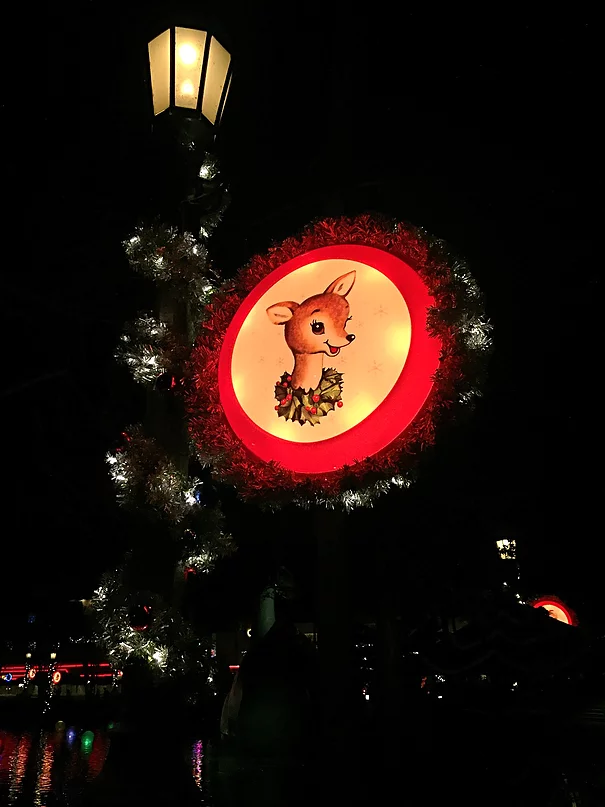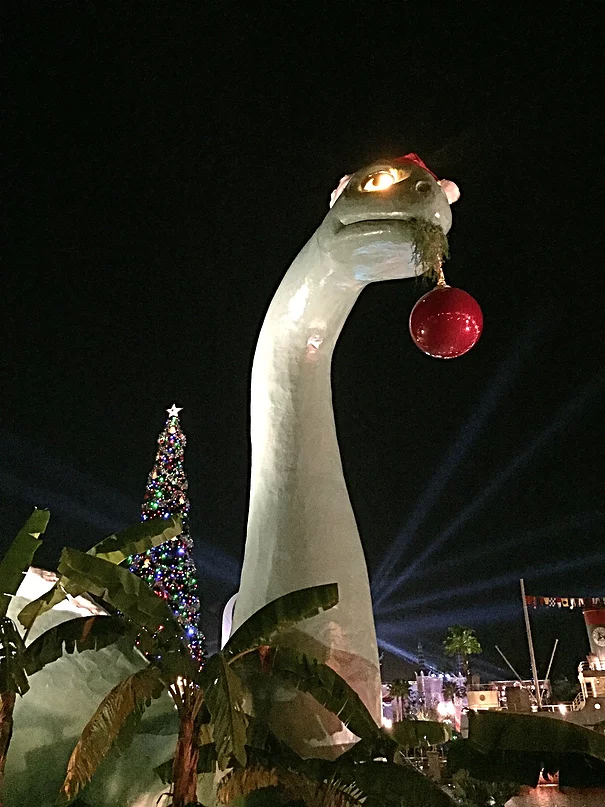 What's your favorite holiday celebration at Walt Disney World? Of course, we really love all of the parks during this time of year, and I will be sharing more of our favorites from Magic Kingdom, Epcot, and Animal Kingdom throughout the next few weeks. This holiday season, we will be visiting Magic Kingdom for our very first Mickey's Very Merry Christmas Party and of course I will be sharing all of the details! We will also be visiting Epcot with a Candlelight Processional Dining Package to enjoy the telling of the Christmas story at the American Theater, with dinner in France to start our evening. Be sure to stay tuned on Instagram for these Disney adventures with our family, and for all of our explorations around Central Florida!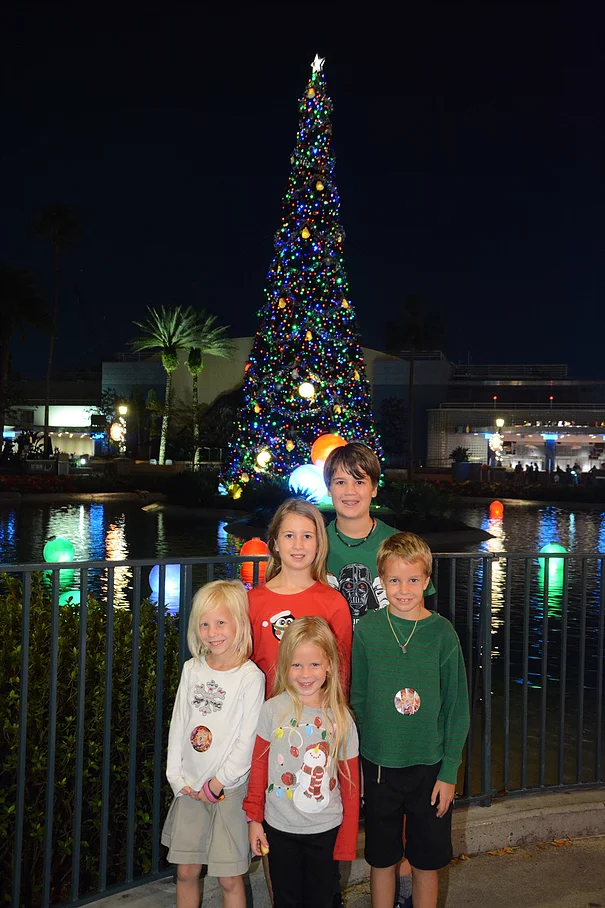 You May Also Like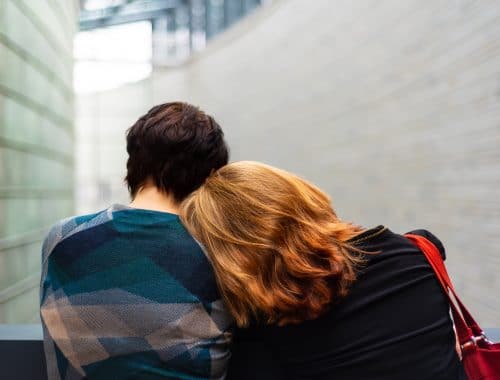 January 28, 2020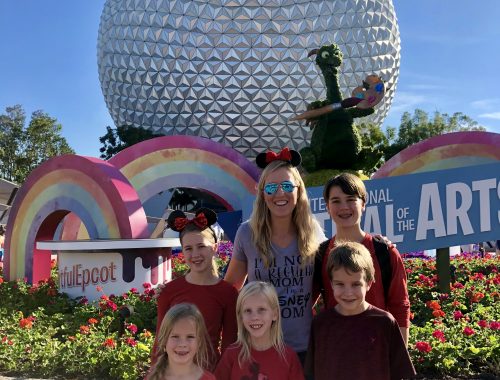 February 22, 2019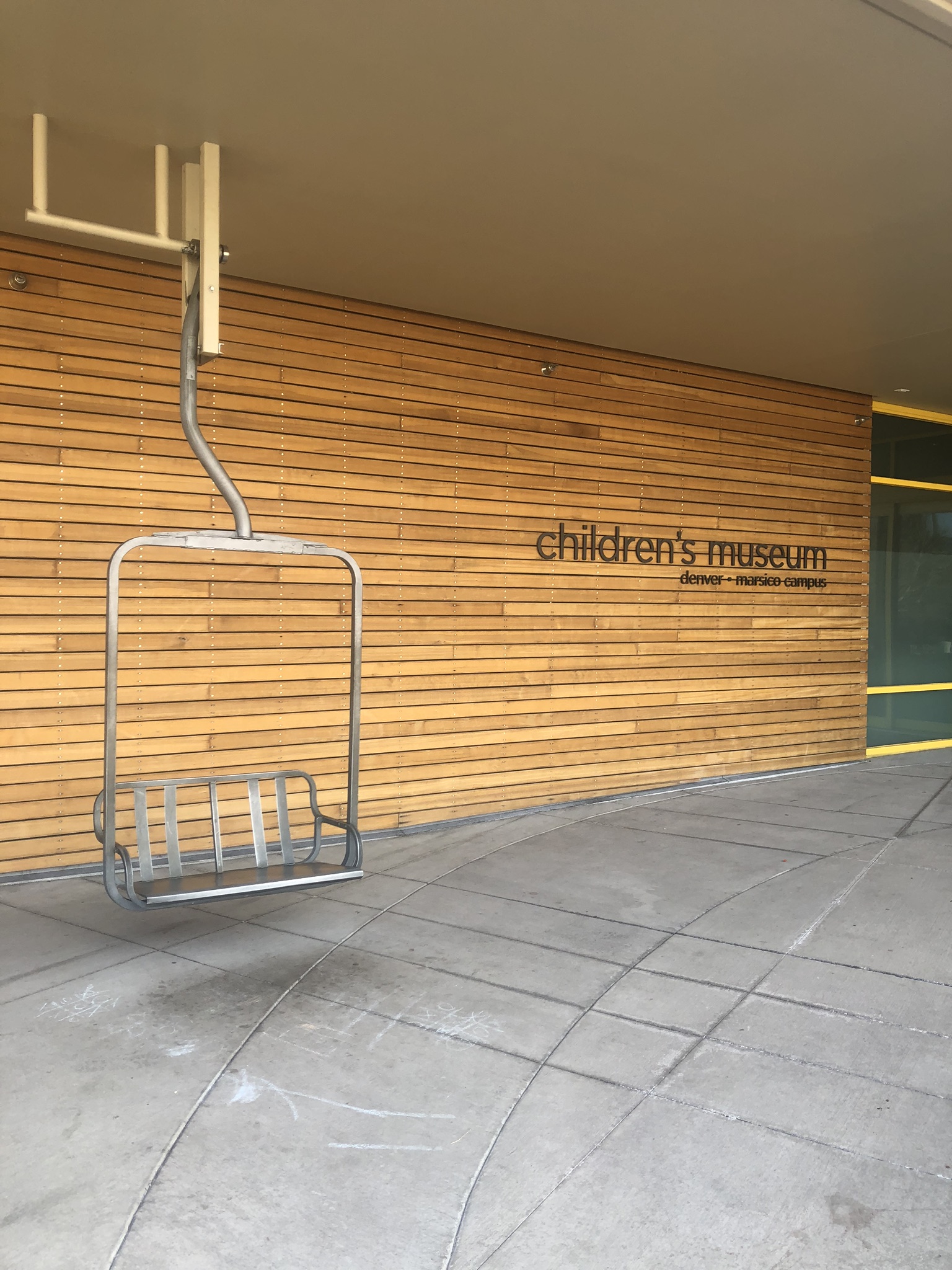 January 6, 2019