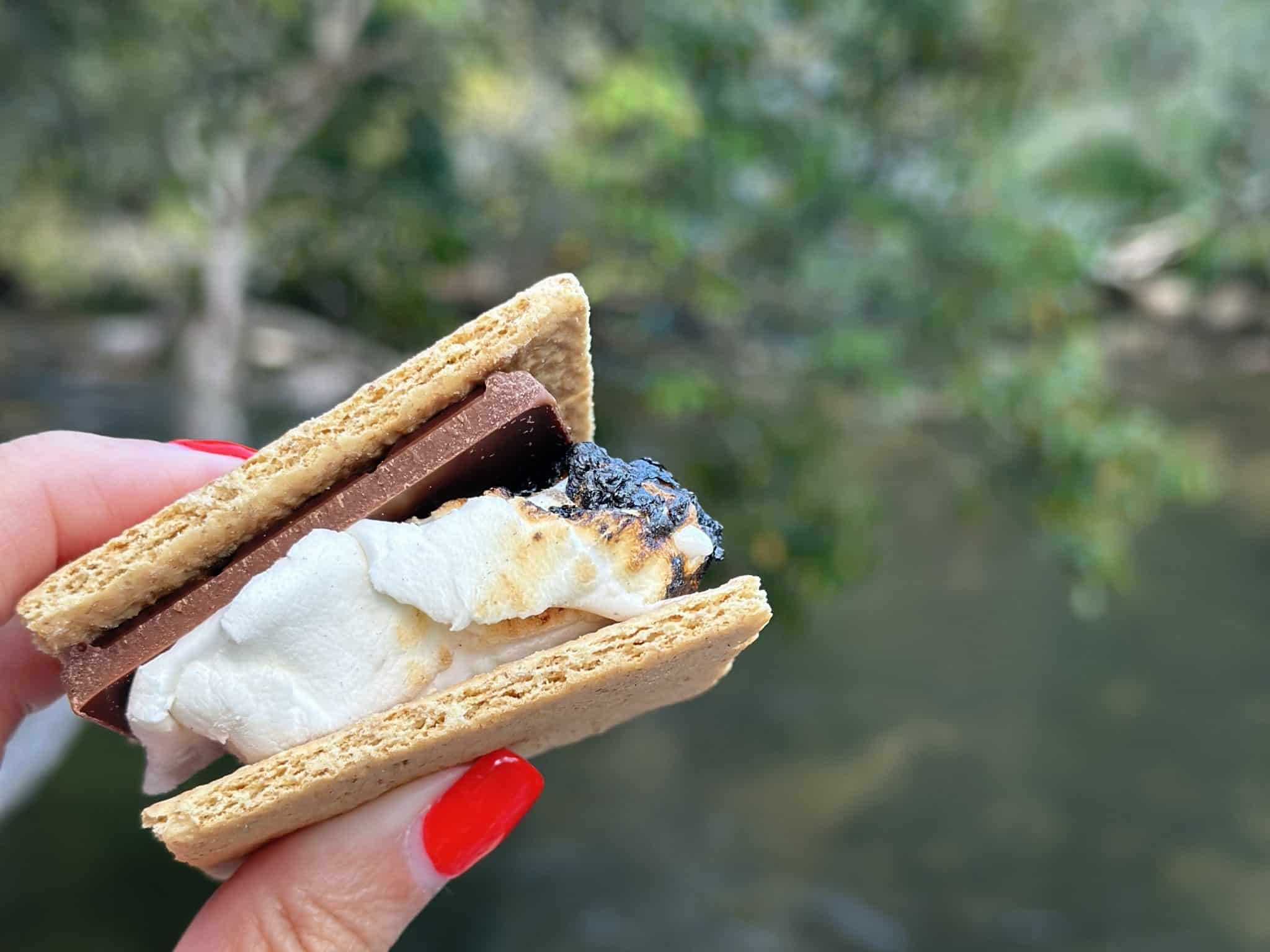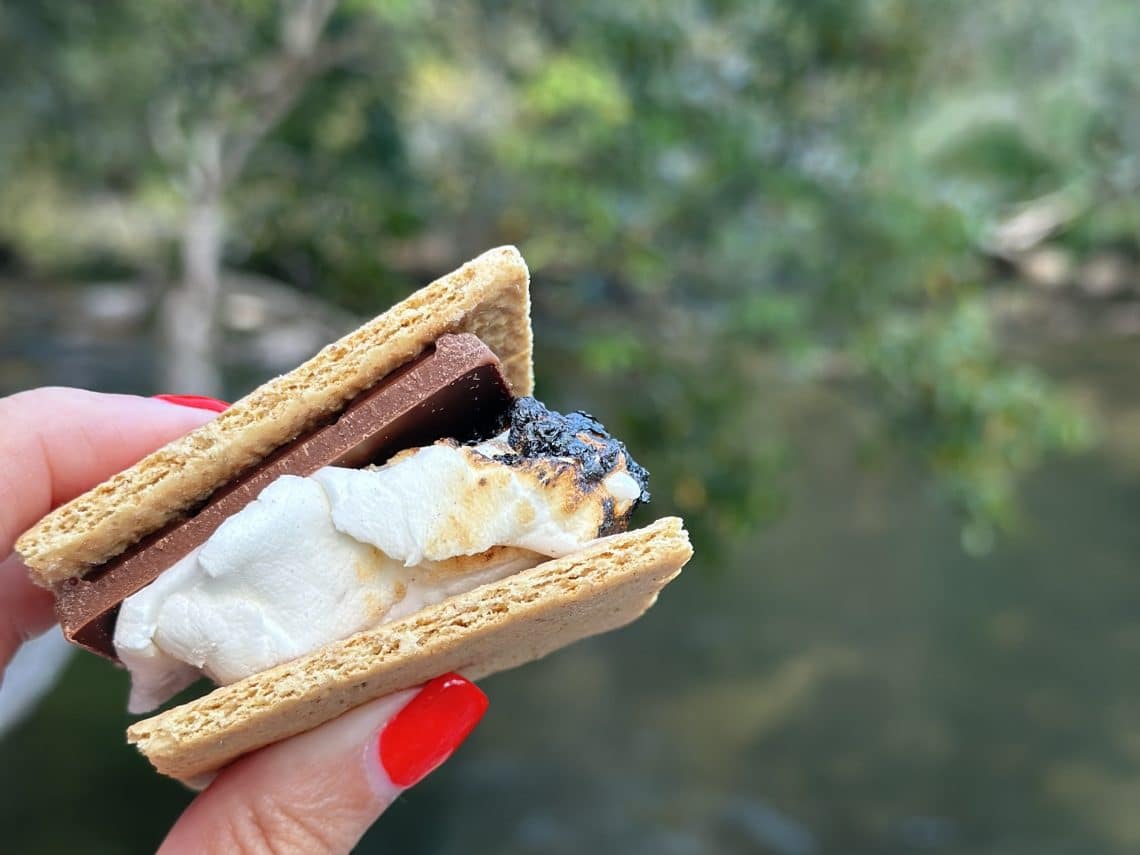 Blue Ridge GA Cabin: Riverfront, Mountain View, and More
October 10, 2023
Sharing is caring!
Where can you find the best Blue Ridge GA cabin for families?
We've been going to Blue Ridge GA for over a decade! And if you are a longtime reader, or even a recent visitor, you know we love to travel! Did you know I've been to each of the 50 U.S. states. And we've been to many National Parks and several foreign countries.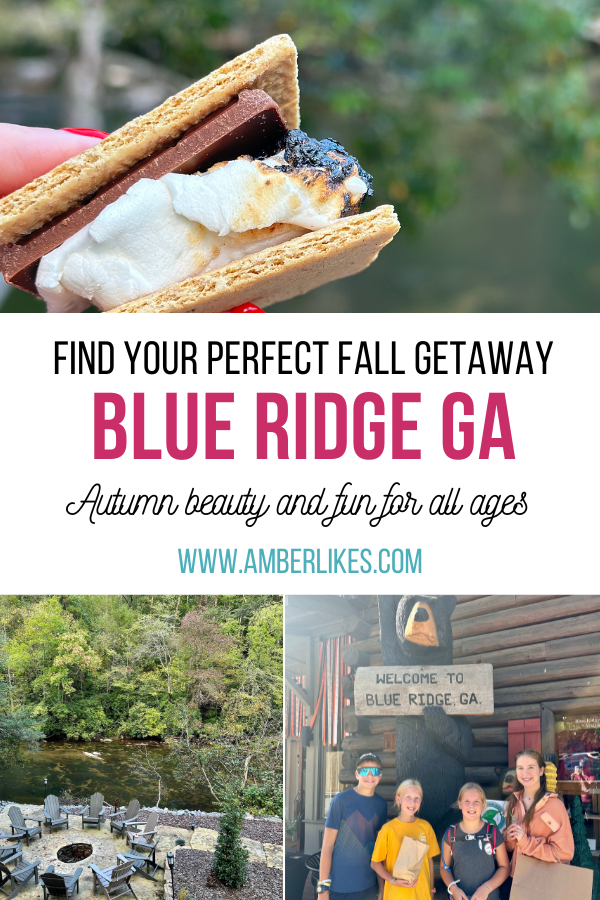 But one of our favorite places to go as a family is just a quick 8 hour drive from our home in Orlando. In fact, I revealed my 4th pregnancy to my husband on our very first trip to Blue Ridge. It's just a really special place to us. And it's growing and growing in popularity! This growth means you have a lot of options in cabin rentals. We have several friends who now visit this area regularly as well. And of course, you have lots of options for vacation rentals. Where do you find the best Blue Ridge GA cabin for your family? Regardless of whether you are looking for a river front, mountain view, lake view, or wooded review, you will find it here!
Here are some things you need to know:
Not all cabins are created equally.
Know what features to look for.
You CAN find affordable options.
There's something for every size family and needs.
There's a difference in rental companies.
Blue Ridge, Georgia has so much to offer!
YOU MAY ALSO LIKE: Find the 10 BEST Things to Do in North Georgia
Visiting Blue Ridge is a great idea any time of the year! But visiting in Fall feels like stepping into a movie! This is the quintessential Fall town. You can take a train ride, pick fresh apples, collect Fall leaves, visit a Fall festival, walk through historic downtowns, hiking in the woods, and even catch a drive-in movie! The options are endless.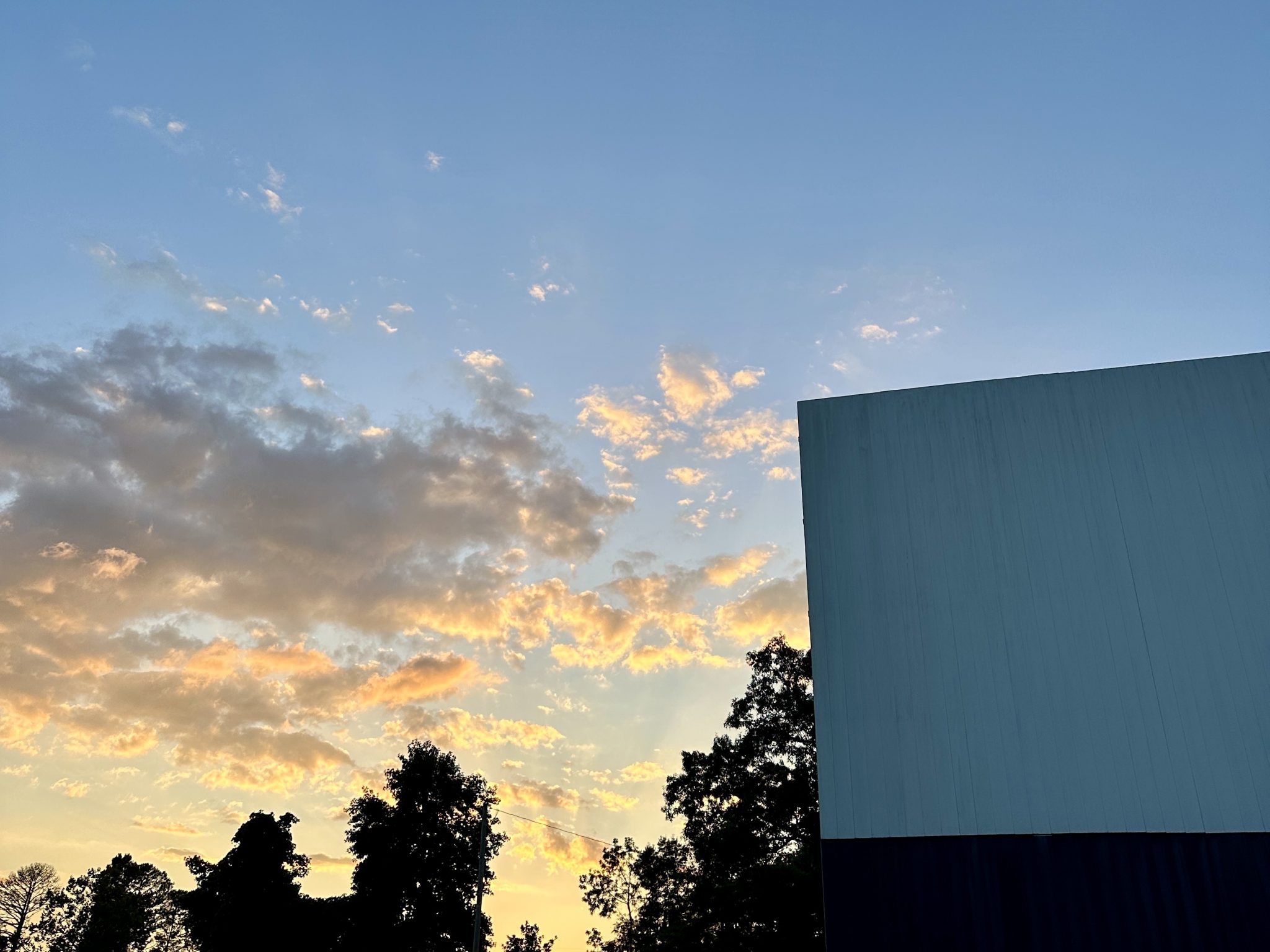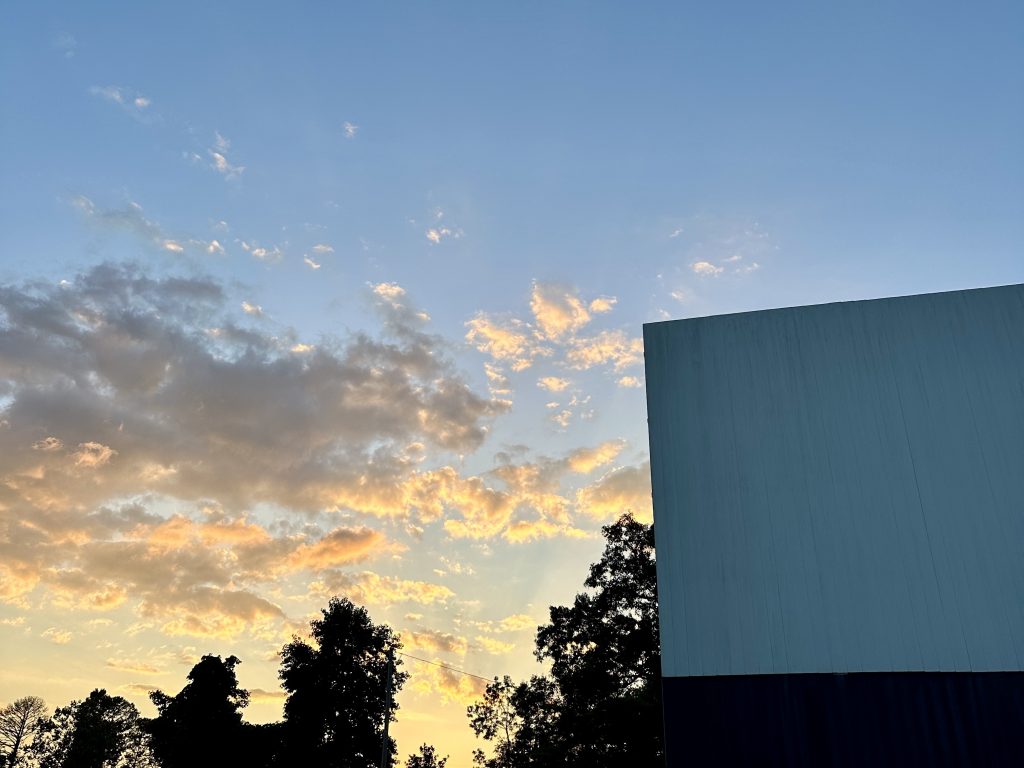 What should you look for in a Blue Ridge GA Cabin?
Every family is different! And every family has different preferences in their vacation rentals. When you are browsing through vacation rental options, you need to consider what's more important to you. And booking early is so important! Those Fall leaves are only at the height of their beautiful color for a short time each Autumn! So you don't want to miss it. But before you book, look through this list to see what features you want to consider.
Here are some things to look for in Blue Ridge cabin rentals:
Mountain, river, wooded, or lake view
Fire pit
Grill
Outdoor dining area
Play area
Dining area seating
Game room
Televisions and entertainment
Wifi and cell service
Porch and outdoor seating
Fireplace
Pet friendly
Baby friendly or amenities
Hot tub
Of course, not every Blue Ridge GA cabin will meet every single one of your first choice preferences. So it's a good idea to have an idea of what's most important to you. And then browse through the best rental company in town, Escape to Blue Ridge, and find the one that speaks to your soul!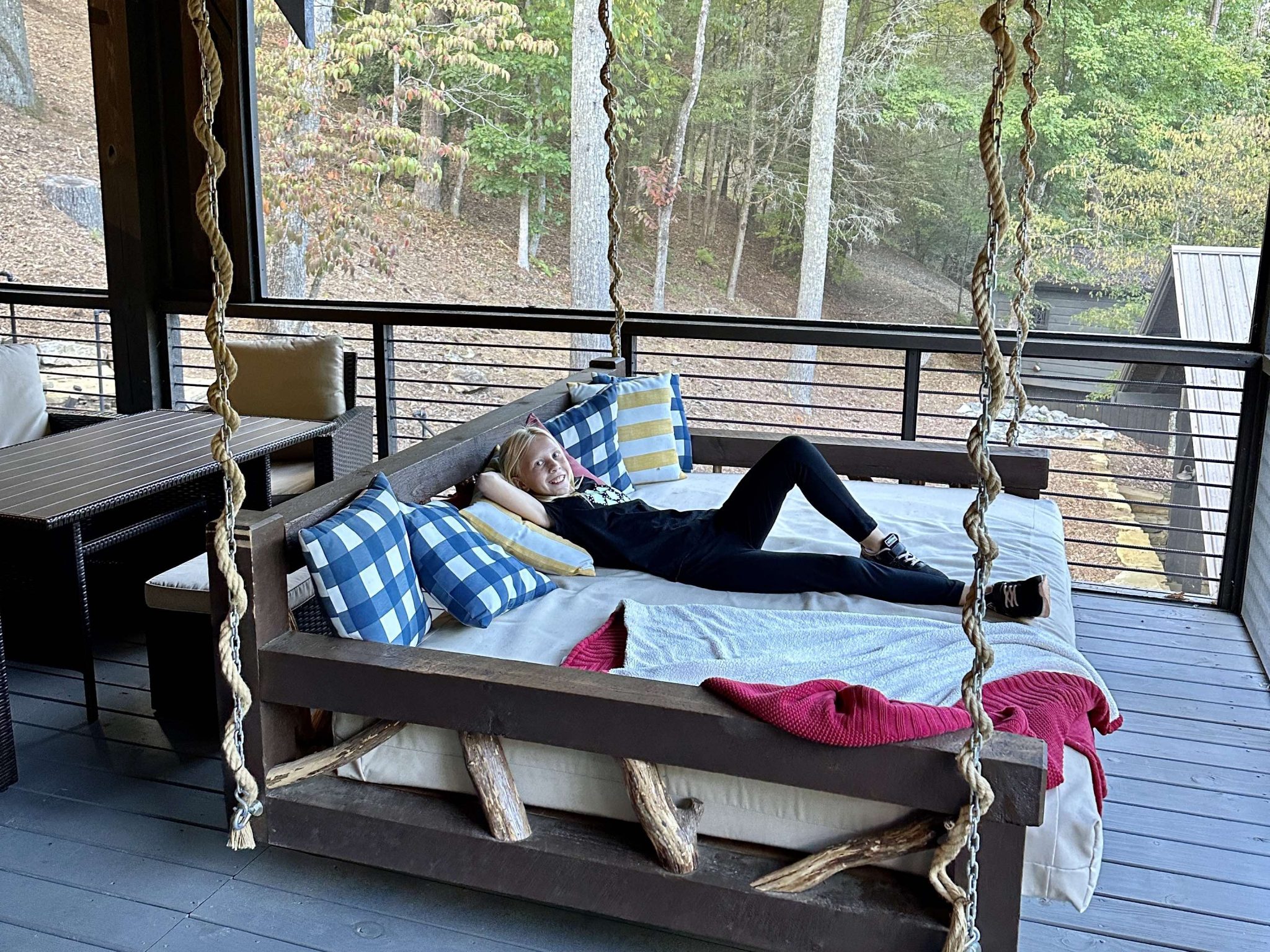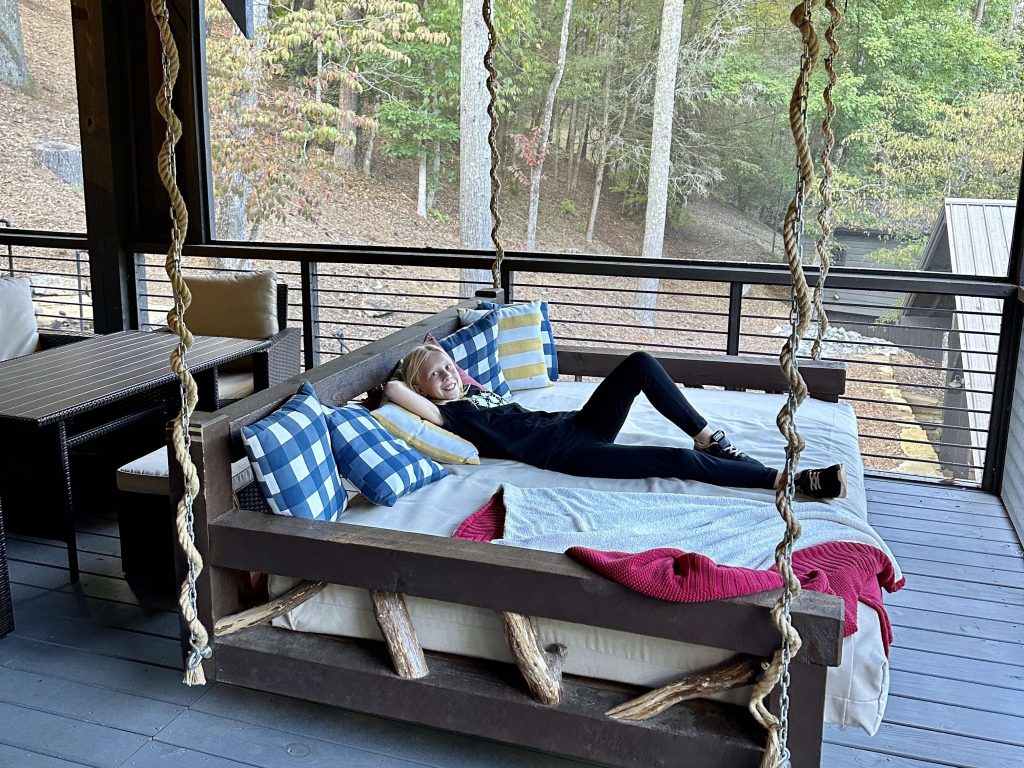 Our Experience in a Riverfront Blue Ridge GA Cabin
We recently had the opportunity to stay in a beautiful riverfront Blue Ridge GA cabin. We've only ever stayed on the river one other time during all of our visits to North Georgia. And there's just something about the sound of the river flowing by that is so incredibly peaceful. The cabin that we stayed in was called Big River. Check out this description from Escape to Blue Ridge for what you can find at this gorgeous rental.
If you are looking for a true escape from reality and the hustle and bustle of your daily life, then look no further than the newly renovated Big River!
Tucked away at the end of a paved road, at the convergence of 2 branches of the mighty Fightingtown Creek, you will hear nothing but Mother Nature's soundtrack of rushing water from every location on this magnificent property.
Inside, this beautifully decorated cabin offers plenty of space for your guests to gather together, as well as to enjoy relaxing in privacy. Four spacious bedrooms have king size beds. The master suite on the main level features a comfortable seating area around a gas log fireplace, a wet bar, wall mounted Smart TV, a private bath with a walk-in shower & soaking tub. It even offers deck access so you can enjoy the view and sounds of the Creek during your morning coffee!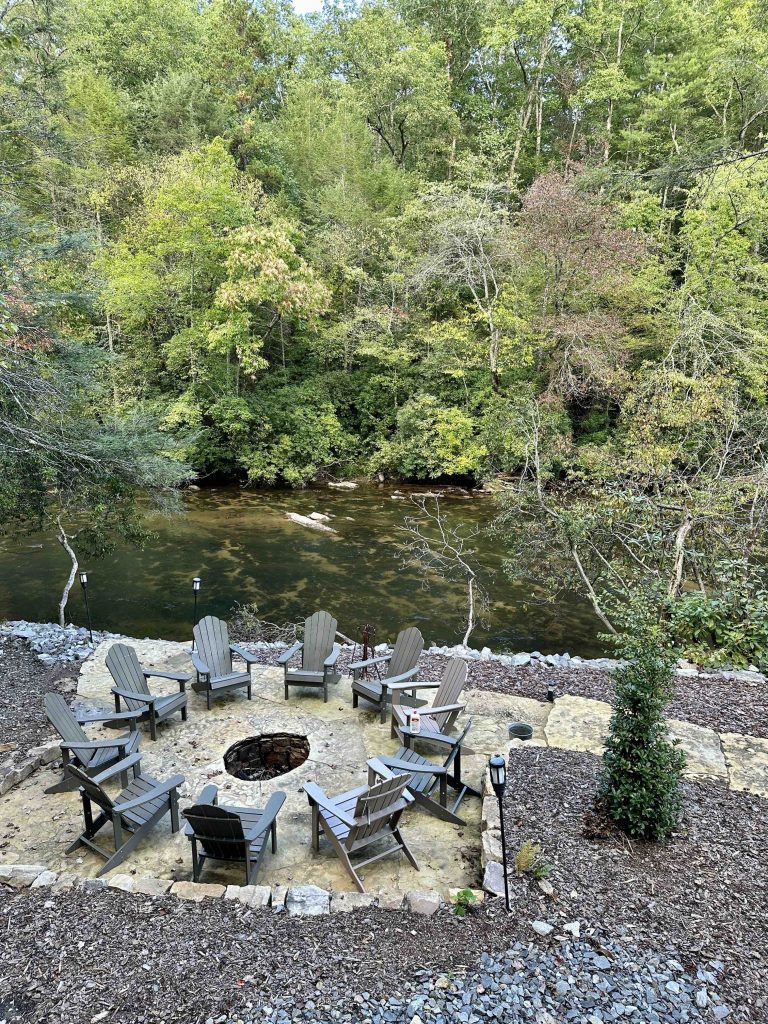 The second master suite is on the upper level of this A-frame home, and also features a sitting area with a TV. A bathroom with a walk-in shower is shared with the third bedroom, also located on the upper level. This bedroom has twin bunk beds and plenty of room for children to lounge and play. The fourth bedroom, which is accessible on the lower level, has deck accessibility, additional seating, a Smart TV, and a private bath with walk-in shower. The fifth bedroom suite is nestled amongst the trees, in a separate fisherman's cabin with its own bathroom, and includes a sitting area and deck to sit and commune with nature while you enjoy the Creek vista.
When everyone gathers together indoors for meal time, the main level dining room has a large table that will fit all of your guests. The kitchen is fully equipped with stainless steel appliances, custom cabinets and pantry, and quartz countertops.
The main level family room is designed for comfort, with a leather sofa and two leather lounging chairs, set around a stone gas fireplace with a Smart TV. The downstairs family room boasts a wet bar, a 70" Smart TV, and a multi-sectional sofa for your guests to gather for movie night.
The outdoor amenities cannot be duplicated! The main level screened porch includes a designated rocking chair area overlooking the Creek, a hanging queen size bed swing, and plenty of outdoor seating around the 30 ft stacked stone fireplace with gas logs & wall mounted heaters. There is also a dining area for you and your guests, and a gas grill. The lower level deck has a seating area, hanging swing and also houses the relaxing & private 8 person hot tub.
Besides relaxation, Big River is prepared to optimize the fun factor. The separate outdoor Creekfront entertainment pavilion is equipped to make any party a huge success.  This spacious area includes a large wood-burning fireplace with a mounted Smart TV, comfortable seating to watch the game, bar, hanging swing and even an outdoor kitchen with a grill, burner, refrigerator and Traeger smoker! Adjacent to the pavilion is a magnificent stone firepit with Adirondack seating and Creek access.  Additionally, there is a small swing set and a fenced-in play area for the kids to play the day away, and a large patio area for relaxing by the Creek or enjoying a game of corn hole.  Lastly, a small, sandy Creekside beach serves as an ideal spot to fish for trout, sunbathe or just listen to the soothing sounds of the rushing water.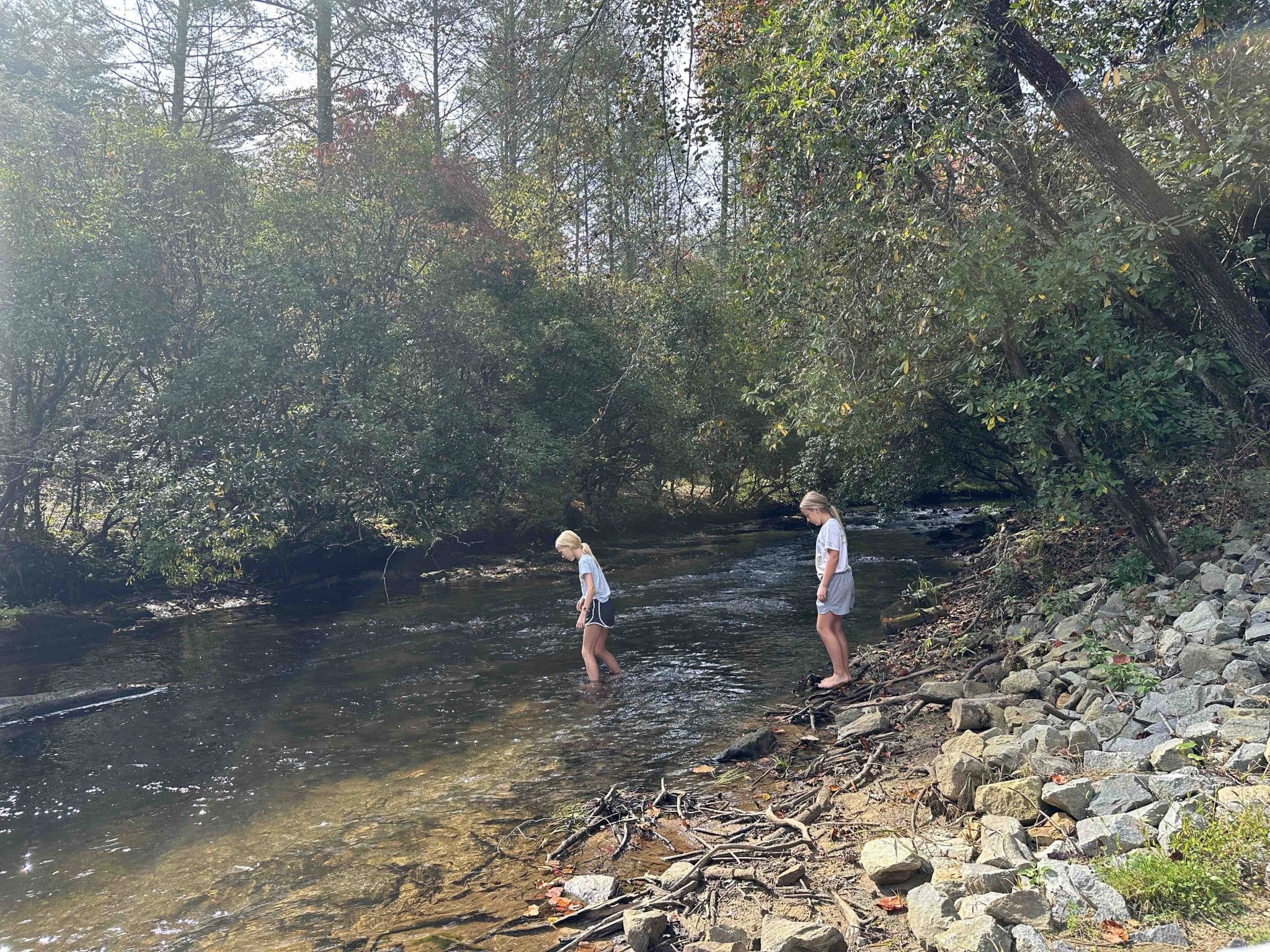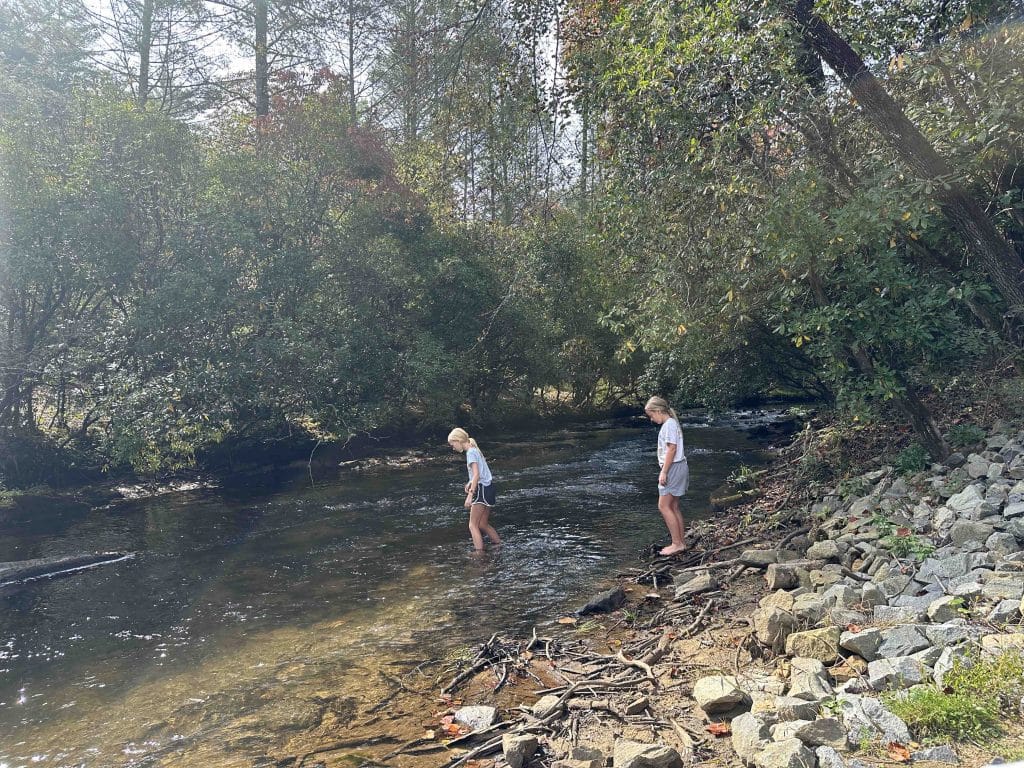 And after visiting, we can attest to this being true! Even though my kids are slightly older than the usual age to enjoy a swing set, they had such a great time! I'm not sure if those swings were ever NOT in use when we were home. We waded in the river and watched for fish. And we had a fire in the beautiful fire pit nearly every night! Snuggling with my kiddos by the riverside while roasting marshmallows is a memory I won't soon forget.
What are you waiting for?
Take the trip! Your kids aren't getting any younger. In fact, one of our five kids is in college now. And this was the first Fall trip that he wasn't able to join us. And every two years after this, one of our kids will graduate and start their own lives. So I'm going to roast every marshmallow, watch every "show" on the swing set, marvel at every spider, and snuggle under blankets watching every movie I can. A Blue Ridge GA cabin is the perfect place to make those memories that last a lifetime.
You may also like:
Amtrak Auto Train Review with Kids
Fort Mountain State Park in North Georgia
*I received a discount on lodging in exchange for my honest review.
You May Also Like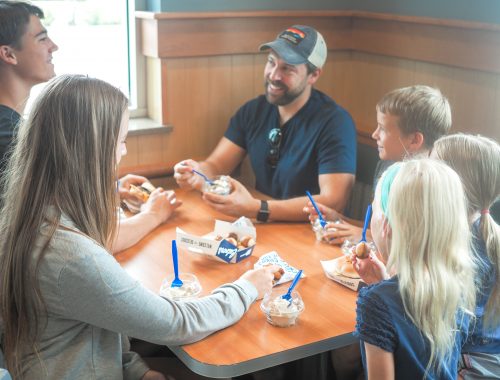 June 16, 2021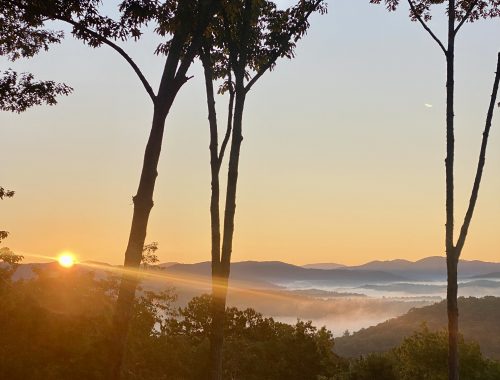 October 11, 2022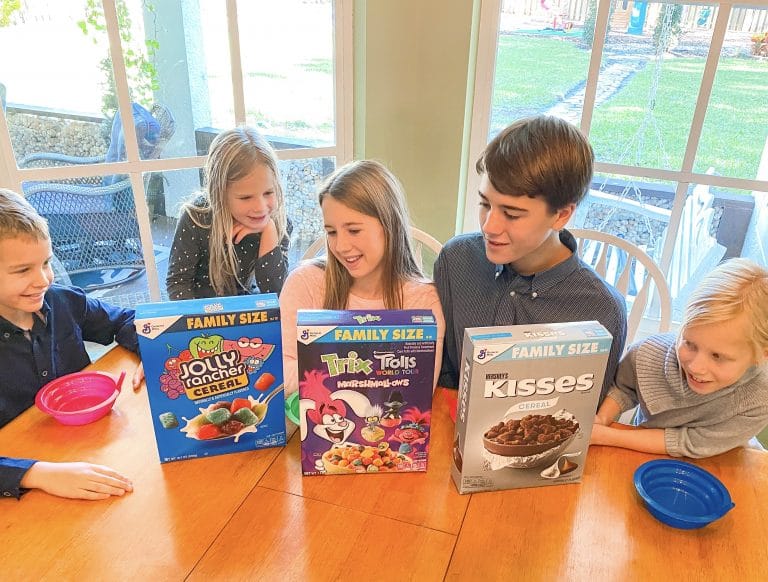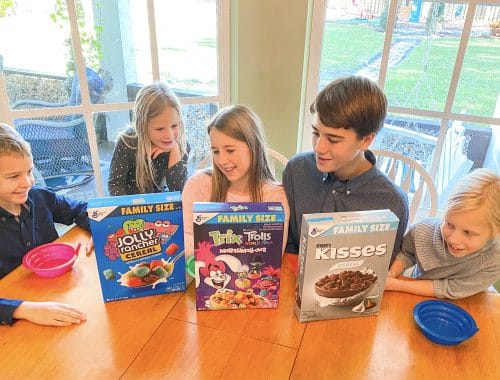 January 13, 2020