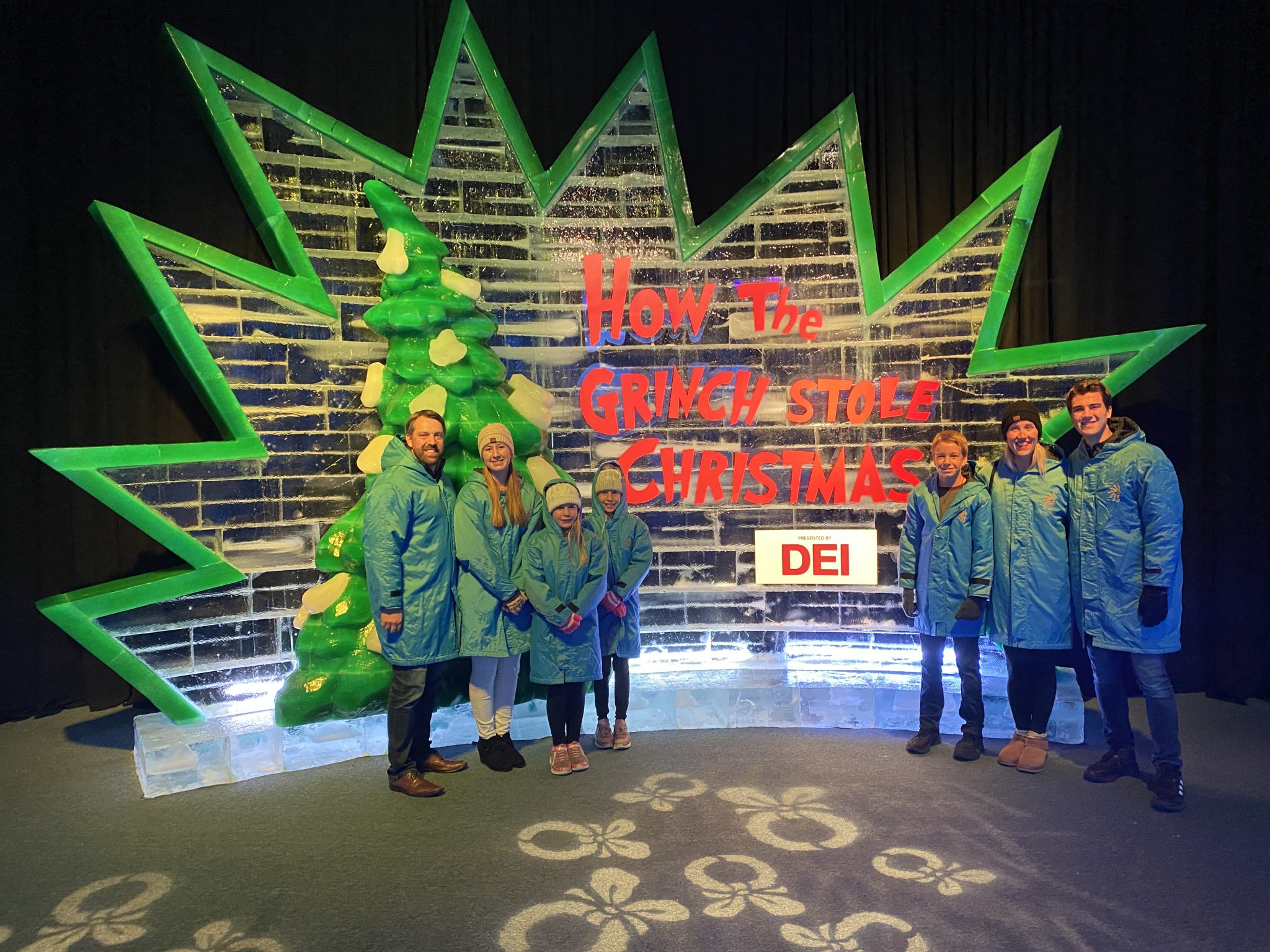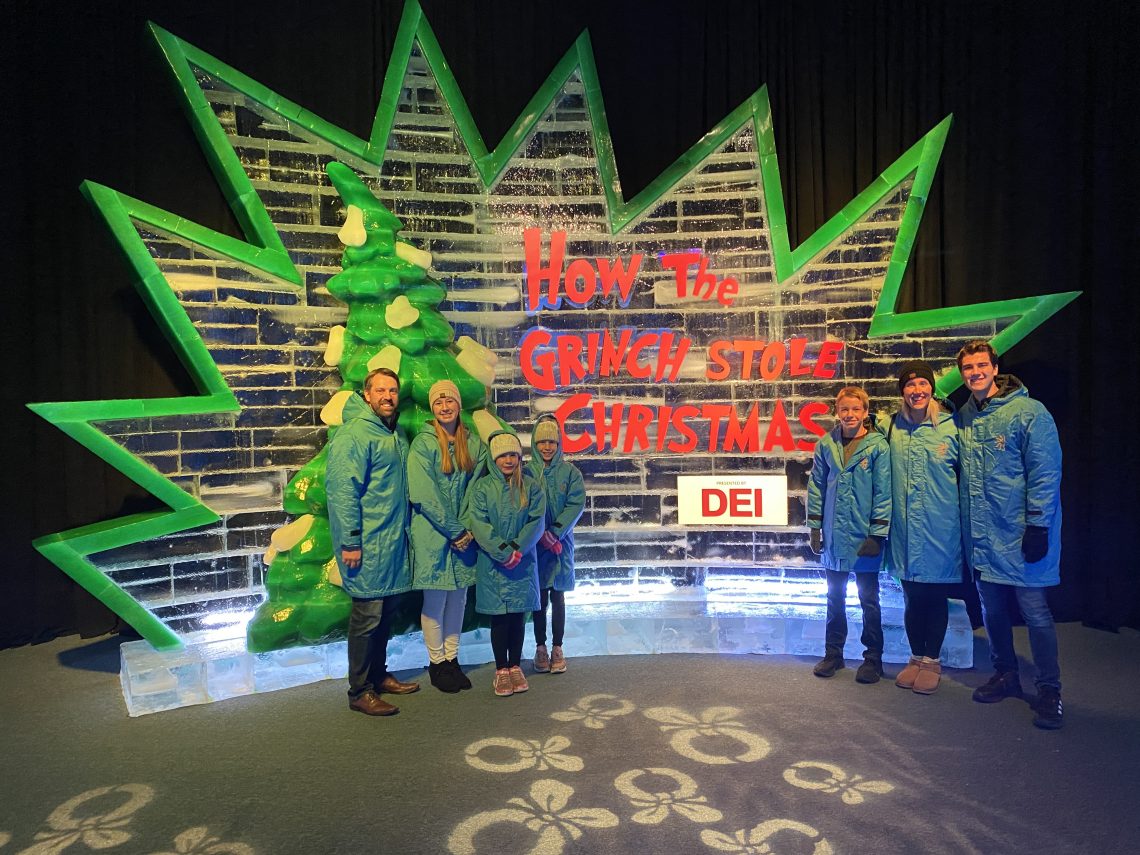 Gaylord Palms Christmas: ICE is Back and Better than Ever!
November 20, 2022
Sharing is caring!
Gaylord Palms Christmas is so much fun! And in 2022, ICE is BACK!
We've been visiting the Gaylord Palms for years! Long enough that babies were in strollers and being pushed through the beautiful atrium. And now that our five kids are older, the memories just keep getting sweeter! This year, Gaylord Palms Christmas has the long awaited return of ICE! After being gone for two years, this flagship Gaylord Christmas experience has its triumphant return. And we were so thrilled to be there to welcome it back on opening day.
At Orlando's Gaylord Palms, this year's theme features the 1957 Dr. Seuss classic, How The Grinch Stole Christmas. What a classic?! You'll find iconic scenes like the Grinch lurking through the chimneys of the Who-ville homes. And you'll also find the Grinch's heart growing three sizes! And you can watch as the Grinch carves the roast beast at the Who's' feast. Walking through the 9 degree ICE experience is a delight for the senses!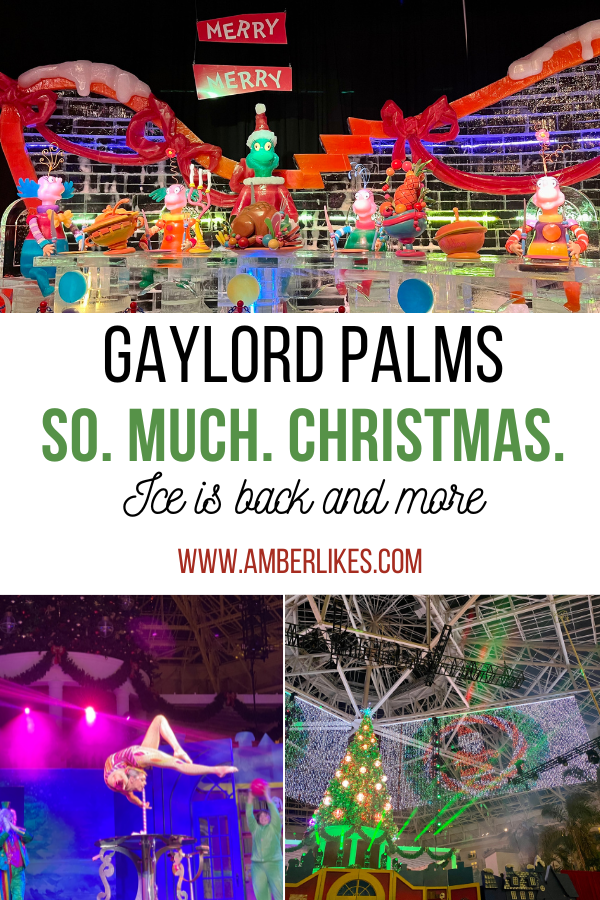 What does Gaylord Palms Christmas include?
We were invited to stay for the weekend at the Gaylord Palms. So we had the chance to truly immerse ourselves in everything that the Gaylord Palms Christmas includes. Whether you are an Orlando local or visiting from out of town, the absolute best way to experience the wonder of Gaylord Palms Christmas is with an atrium view room stay. These rooms offer grand views of the gorgeous Atrium and Christmas tree. And from some rooms, you can even see the stage shows like Cirque: Spirit of Christmas.
But whether you book a room or not this holiday season, a visit to the Gaylord Palms Christmas offers So. Much. Christmas! Check out this list:
ICE! Featuring Dr. Seuss' How the Grinch Stole Christmas
Ice Tubing on Snow Flow Mountain
Grinch Scavenger Hunt with a Prize
Milk and Cookies with Mrs. Claus
Elf Training Academy
Photos with Santa
Shopping in Market Square
Build-a-Bear Workshop
Gingerbread Decorating Corner with Nutmeg
Feast with the Grinch Character Breakfast
Cirque: Spirit of Christmas stage show
Snowball Build and Blast
Naughty or Nice Escape Room
Shine Light Show
Christmas Tree Trail
Snow Factory
The Greatest Story stage show
Journey of Los Tres Reyes Magos show
Snowy's Snack Shack
Acres of Festive Decorations
Can you believe it? There really is So. Much. Christmas. at Gaylord Palms. Let's dive in to some of our favorites!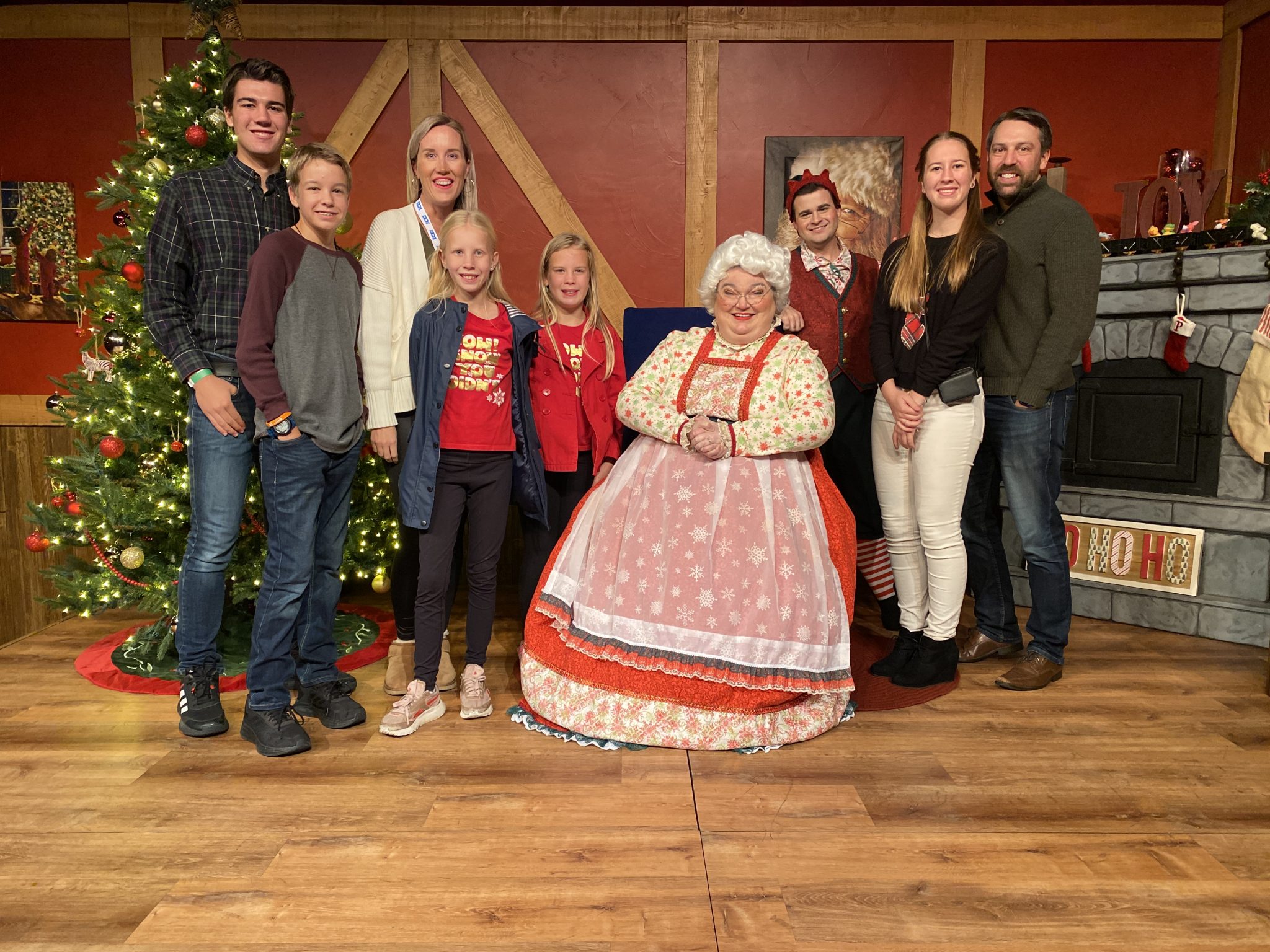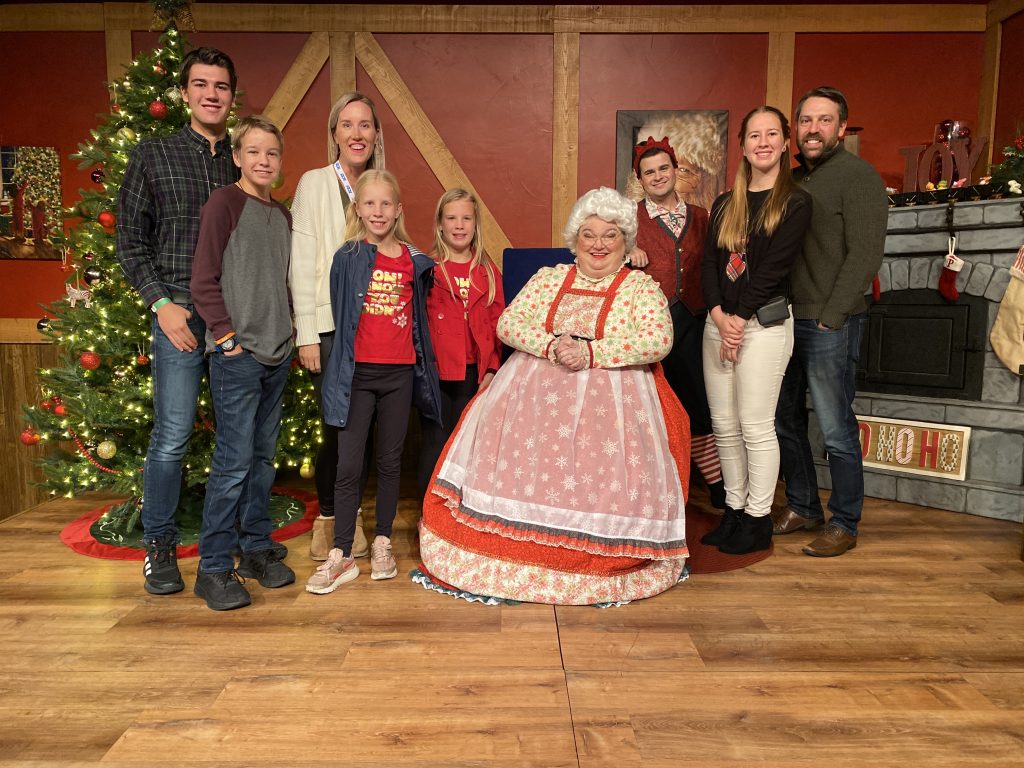 What actually is ICE at Gaylord Palms?
Even though I've been sharing about this amazing event for years, sometimes there's still some confusion as to what this experience is really like. And besides saying, "You have to see it to believe it," I'll do my best to prepare you!
Is it really cold?
Yes! Bring or purchase gloves and hats. That will make the experience so much more fun! As soon as you walk into ICE, you'll be shocked at how cold that 9 degrees really feels. Just a little preparation ahead of time can really increase your family's enjoyment.
What do you actually do in ICE?
Mostly, this is a walk through experience. You will be absolutely delighted at the artistry in the ice carving. But there's also a slide made entirely out of ice that kids love to go down over and over! And there's even a smaller one for the younger kiddos in your group. At certain times, you can even see the ice sculptors at work in a demonstration. There are several rooms to explore. And you can walk through them at your own pace. Bringing touch screen friendly gloves are important so that you can take pictures more easily without freezing your hands!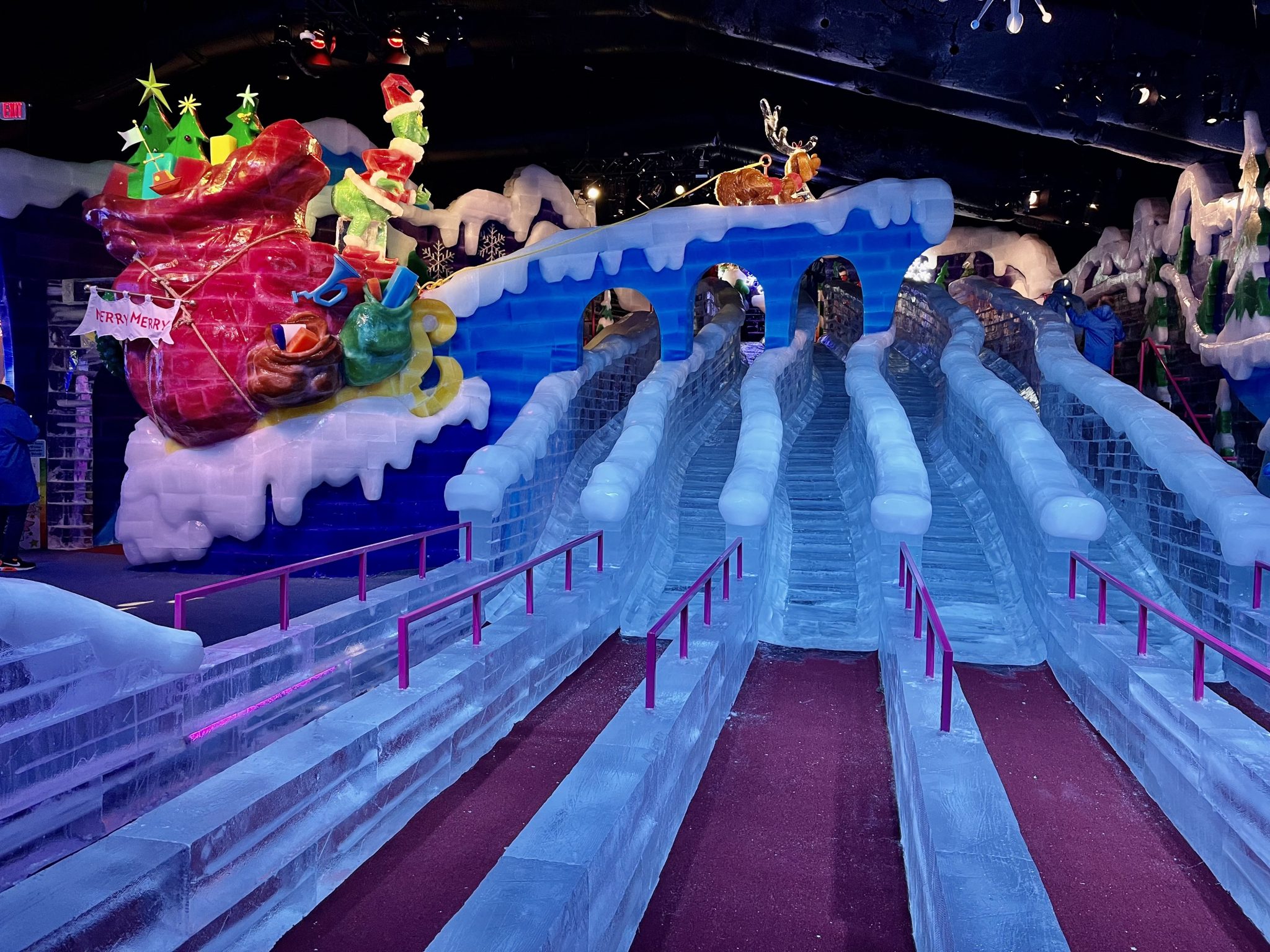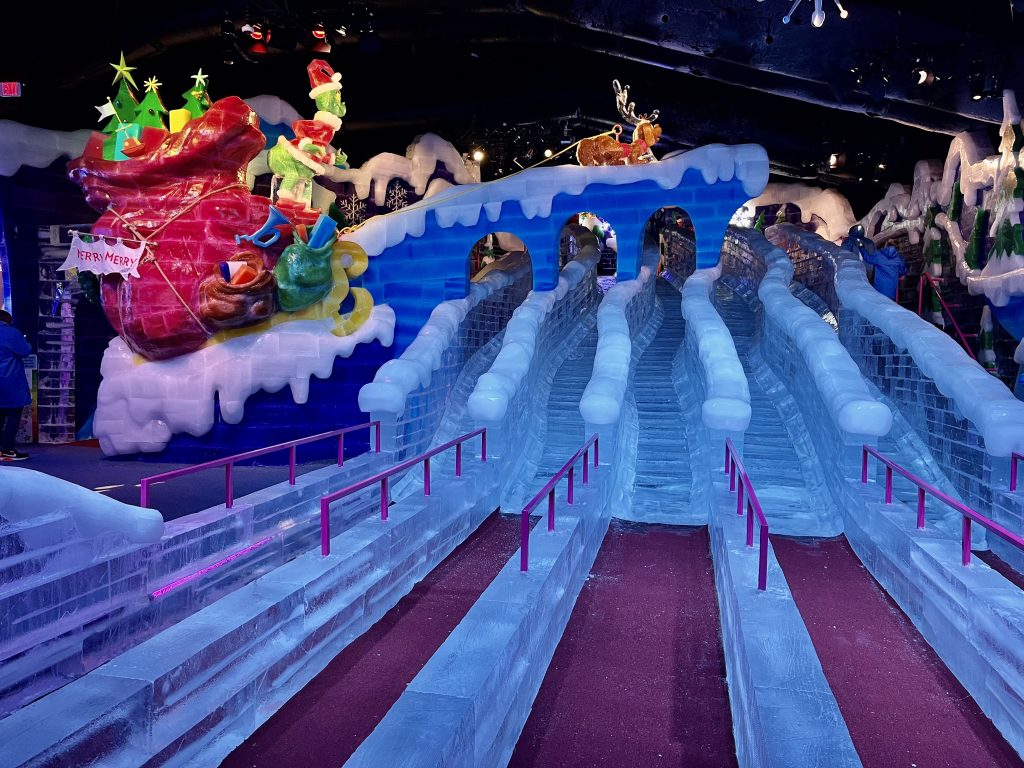 Details on ICE!
Check out this information from the Gaylord Palms website:
A longtime tradition first presented more than two decades ago, Gaylord Hotels' signature, larger-than-life ice installations will take shape at each resort this festive season. This one-of-a-kind holiday showcase will be created from more than 33,500 massive blocks of ice weighing over 10 million pounds – or 5,000 tons – across the five resorts. Kept at a chilly 9 degrees, each ICE! attraction will bring beloved scenes and characters from classic Christmas films to life with magnificent sculptures and slides. Ice carvings range in size from details as tiny as a coin to soaring scenes more than 30 feet tall. Over six weeks, 40 specialized ice artisans, using skills passed down from generation to generation and following a 300-page design book, will create the magnificent spectacle.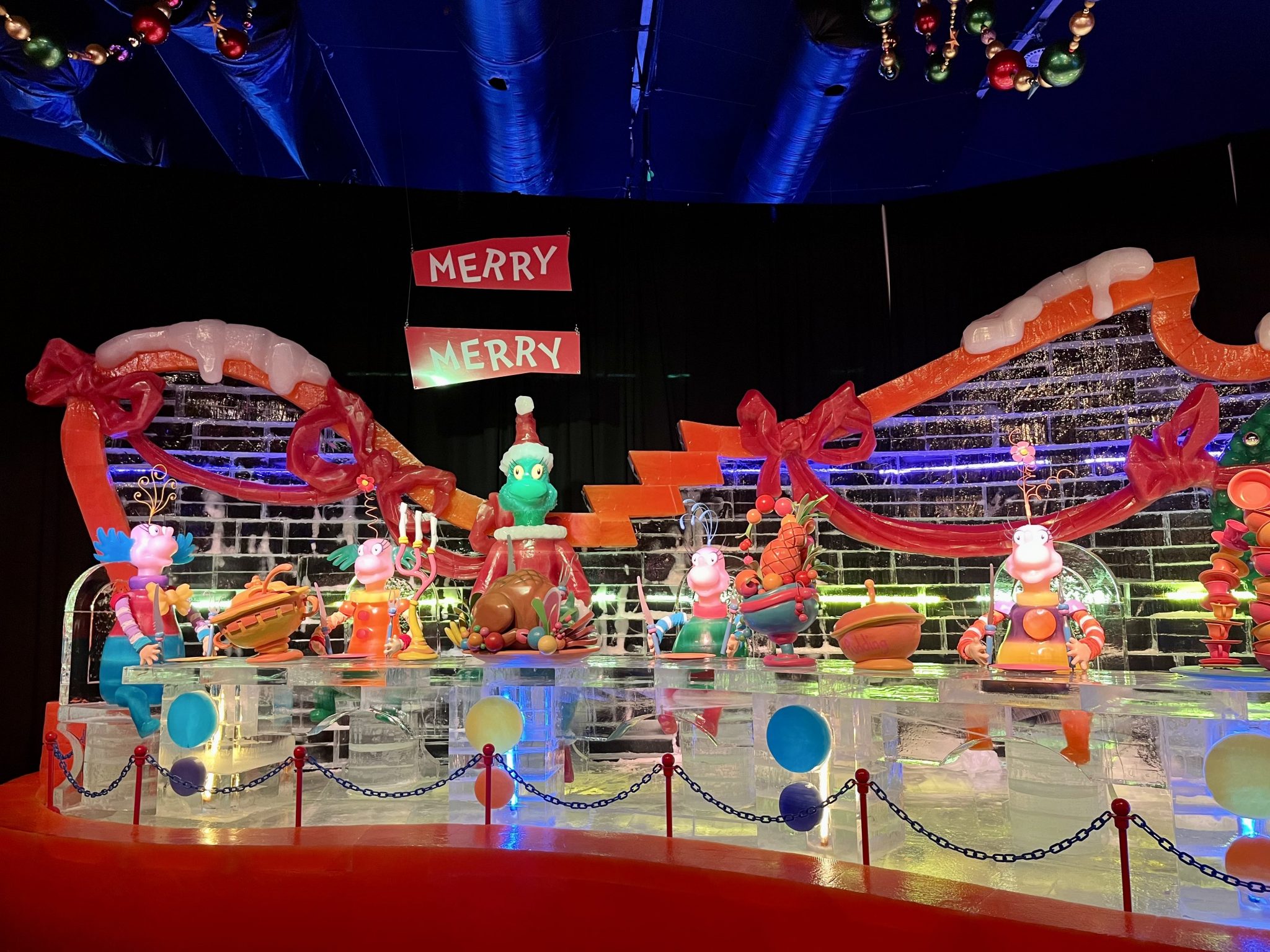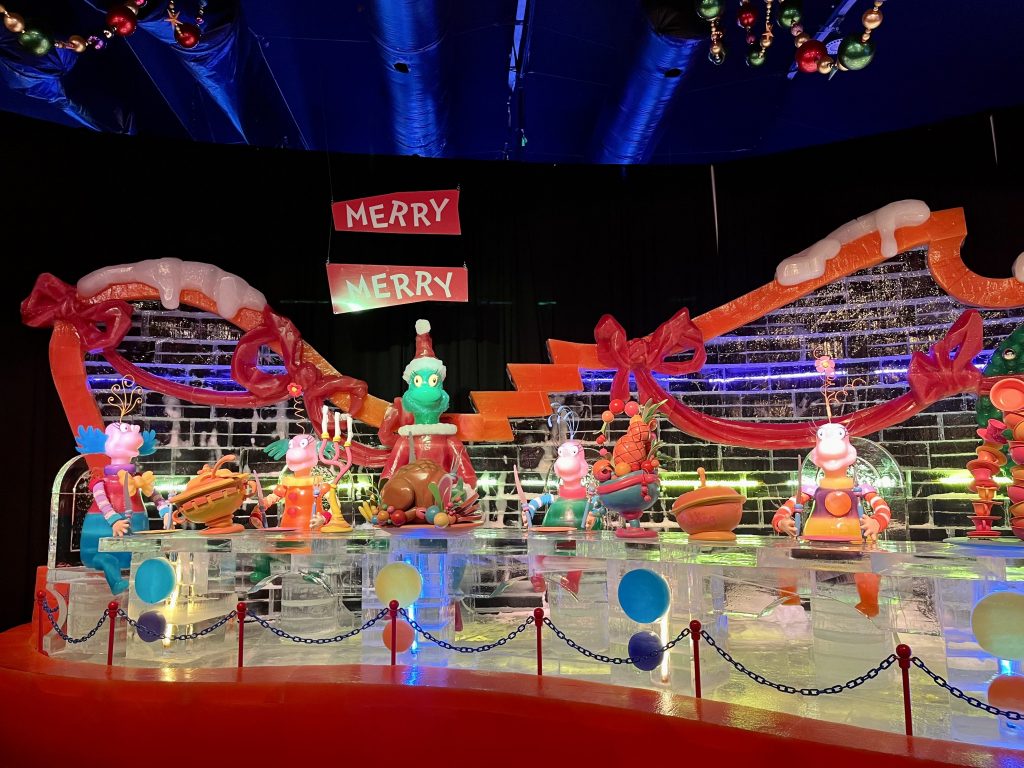 More Christmas Favorites at Gaylord Palms
It's hard to pick our favorites because from the moment we walked into the Gaylord Palms, we've truly been immersed with Christmas. Some of my favorites really are the acres and acres of decorations. They are so beautiful and are just a sight to behold! The Christmas Tree Trail takes you through the lobby and the atrium to find some of the most beautifully decorated Christmas trees you've ever seen!
Grinch Scavenger Hunt
My kids really loved the Grinch Scavenger Hunt, which took us all around the hotel to find clues and answer questions. For adults that really like to walk around and enjoy the decorations, this is a great way to get kids involved and interested in doing that as well. This scavenger hunt can take about an hour, or more if you have trouble with some of the clues! And there's even a prize at the end that kids will love!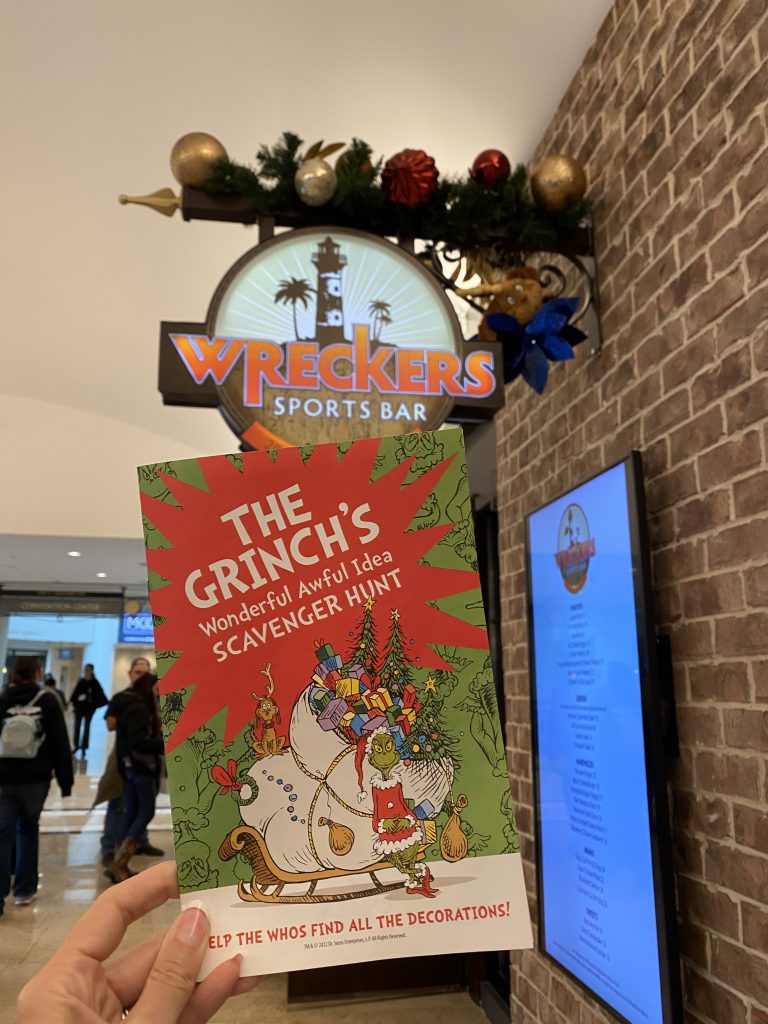 Snow Flow Mountain
Also, in our list of favorites, would have to include Snow Flow Mountain. As Floridians, we don't get to sled ride or snow tube very often. Although we visit Pennsylvania every year for the holidays, you can't even guarantee that they will have enough snow there to do this holiday classic! But at Snow Flow Mountain, the conditions are always right for snow tubing. And although you are tubing on ice, it's not very cold in the room, so it's a much more pleasant experience. When you buy a ticket for Snow Flow Mountain, you can tube all day! I can't even count how many times my kids went down the mountain. This is definitely a favorite among all my kids.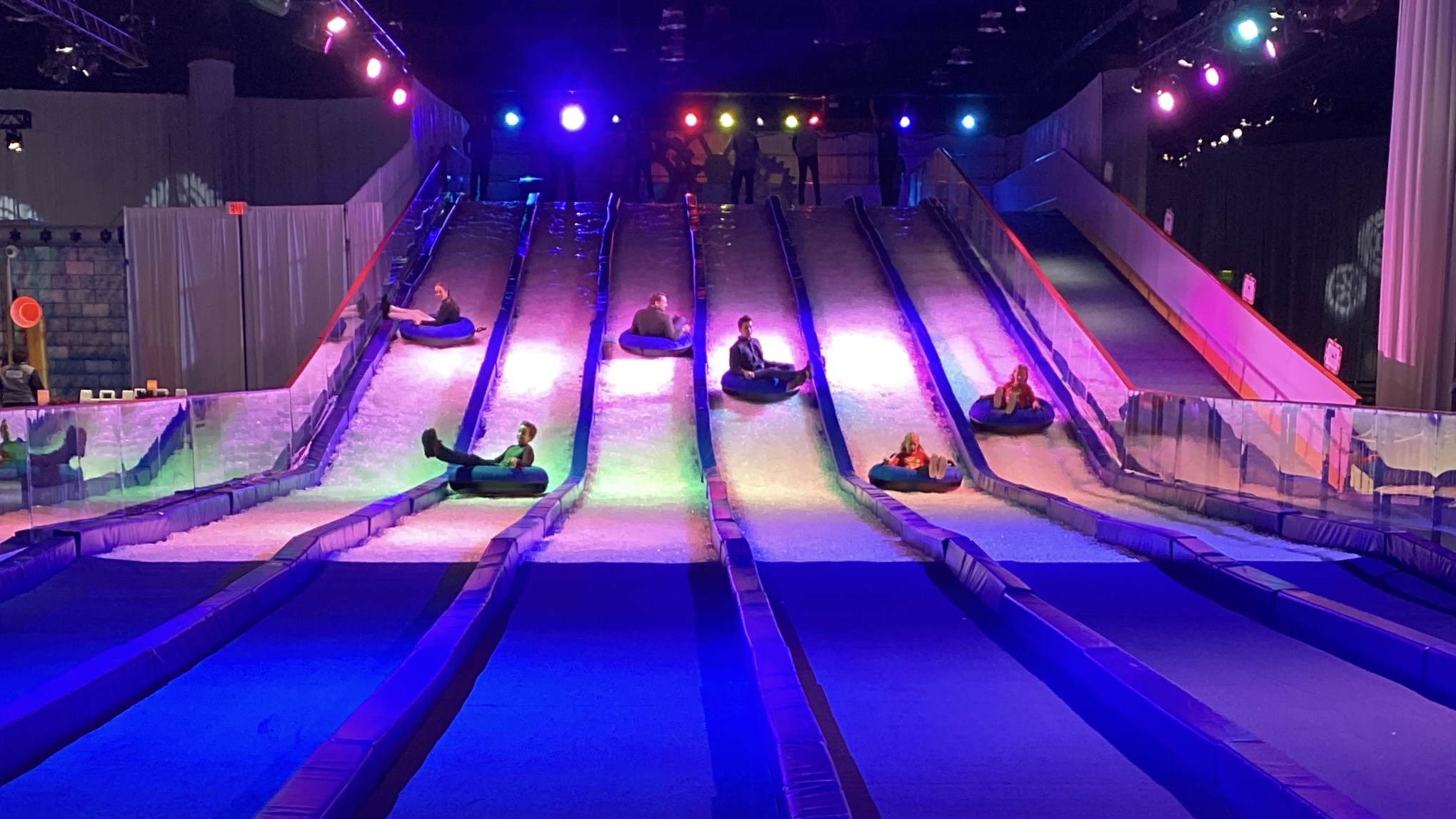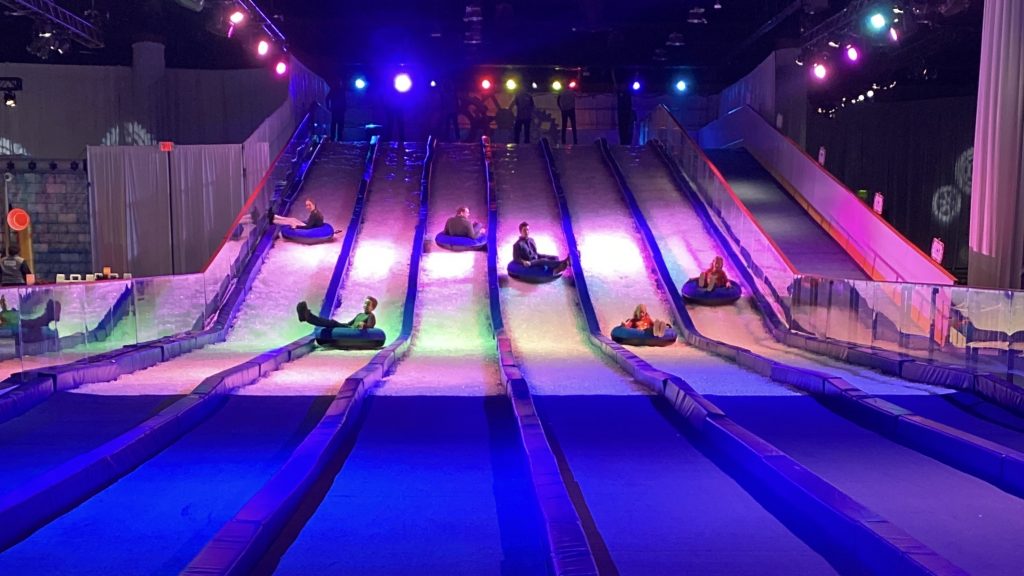 Cirque: Spirit of Christmas Stage Show
If you've never seen a Cirque du Soleil show, then you definitely have to see this to believe it. This Cirque-styled Christmas show features dazzling acrobatics, feats of flexibility, and high-flying stunts. This Broadway-style spectacle centers around Noel, a child dismayed and distressed by the hustle and bustle of the holidays. Trying to recapture her lost love of the season, she is visited by spirits who bring back the true meaning of the season in energetic, dreamlike chapters. This 25 minute show is absolutely breathtaking and definitely a family favorite. Be sure to check out my Instagram to see highlights from this show!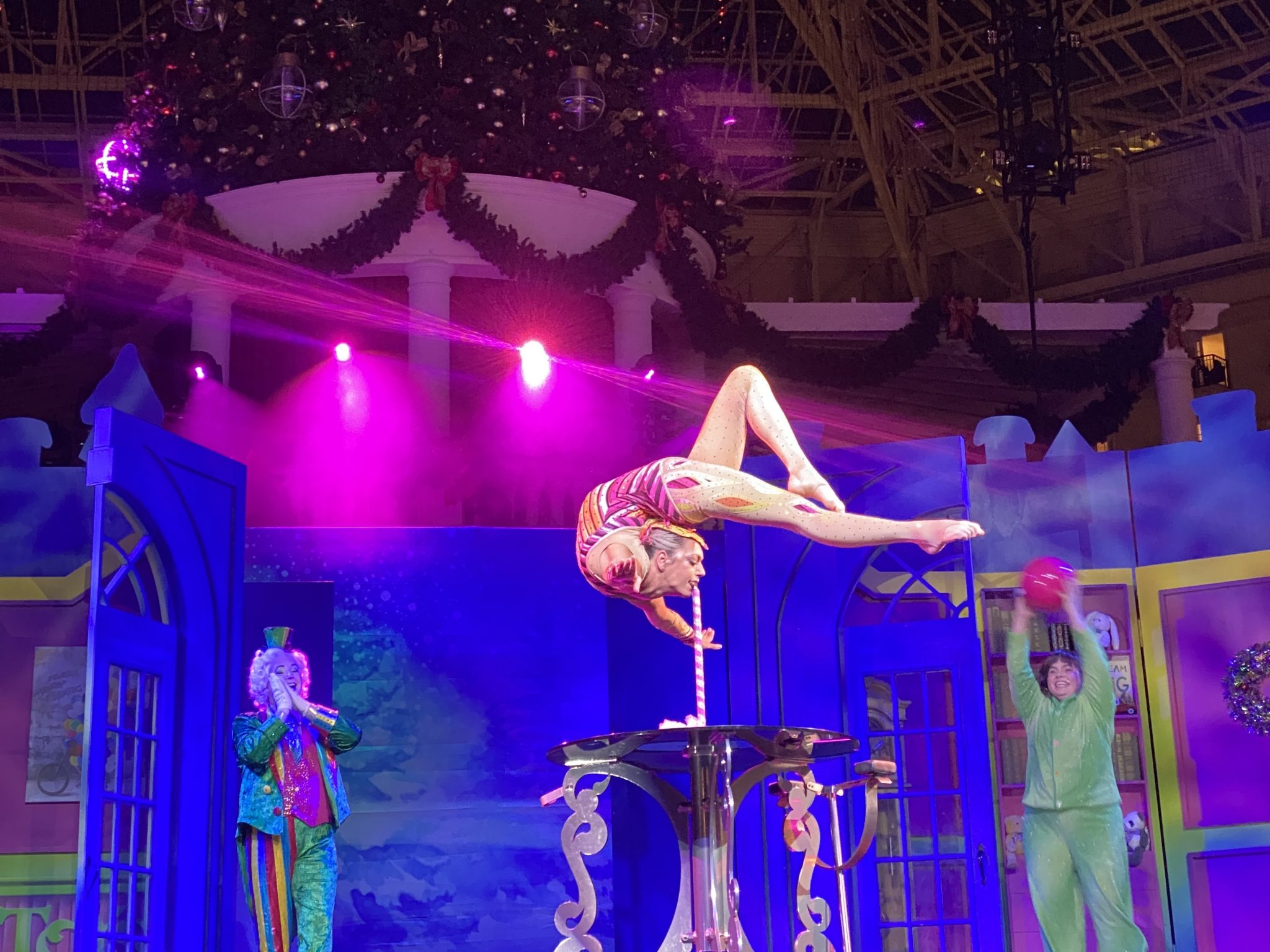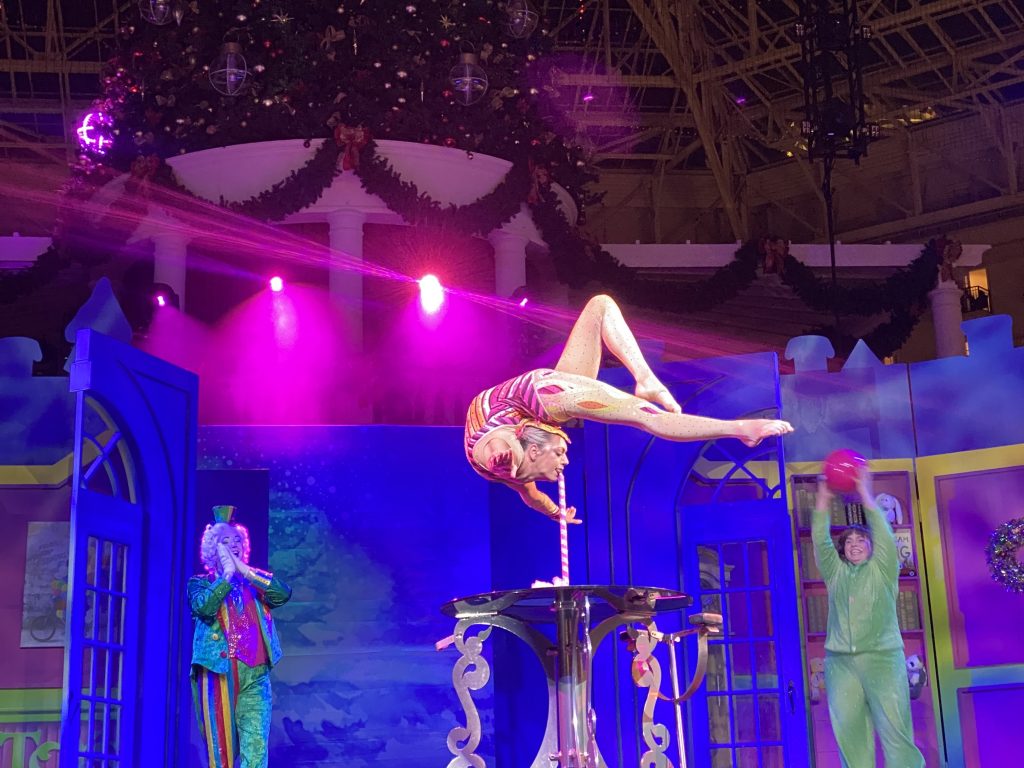 What's the best way to experience the festivities?
As I mentioned earlier, the best way to experience all of this Christmas is with an overnight or weekend stay at the hotel. We had Atrium view rooms, and were able to enjoy all the Shine Lights show right from our balcony, in our pajamas! There are room deals for Stay and Play packages that allow guests to fully immerse themselves in the magic. With an Emerald Bay Atrium view room, you can even see the stage shows from your very own balcony! Get those adorable Christmas pajamas pictures with one of the most beautiful backdrops you can imagine.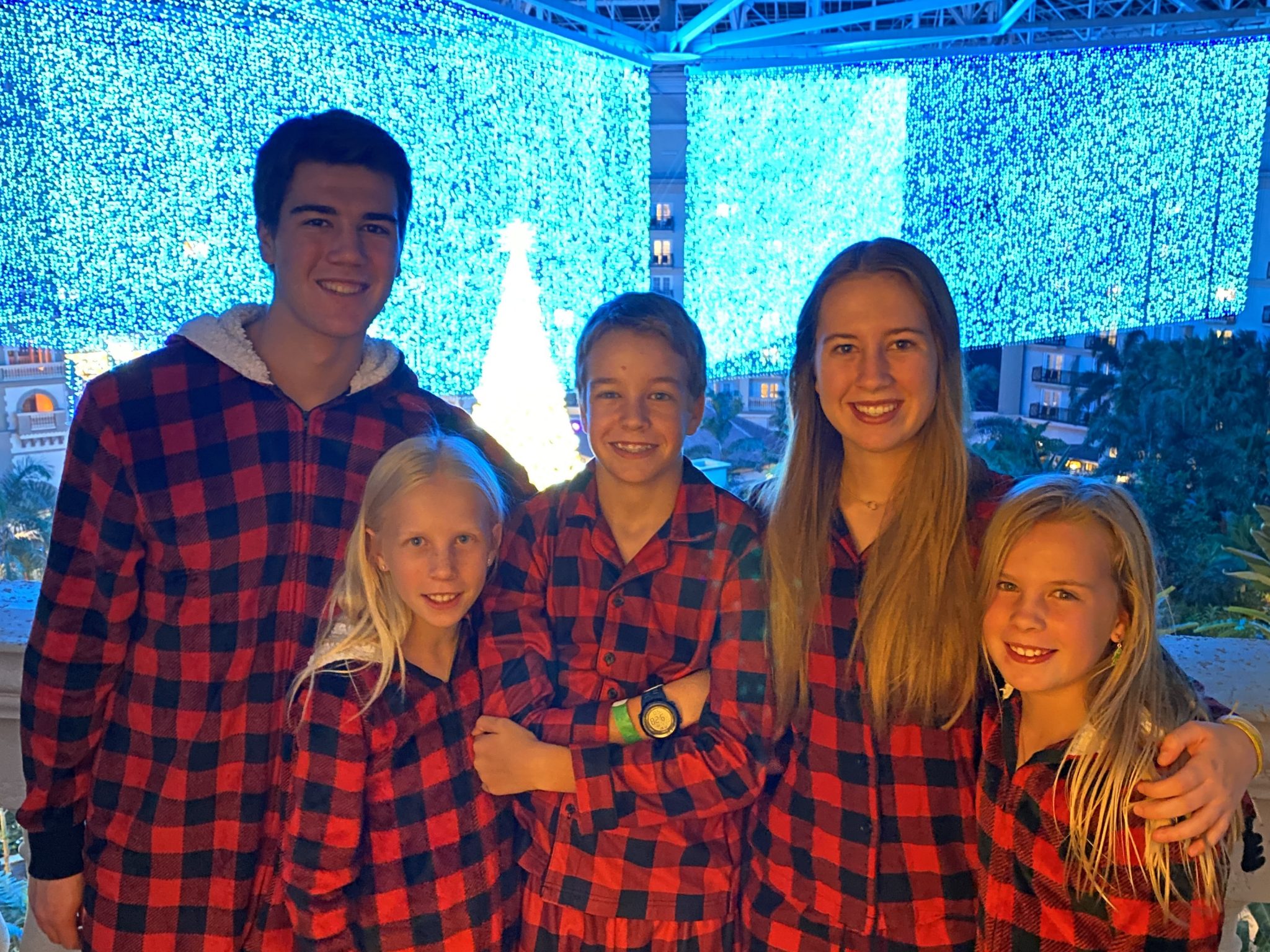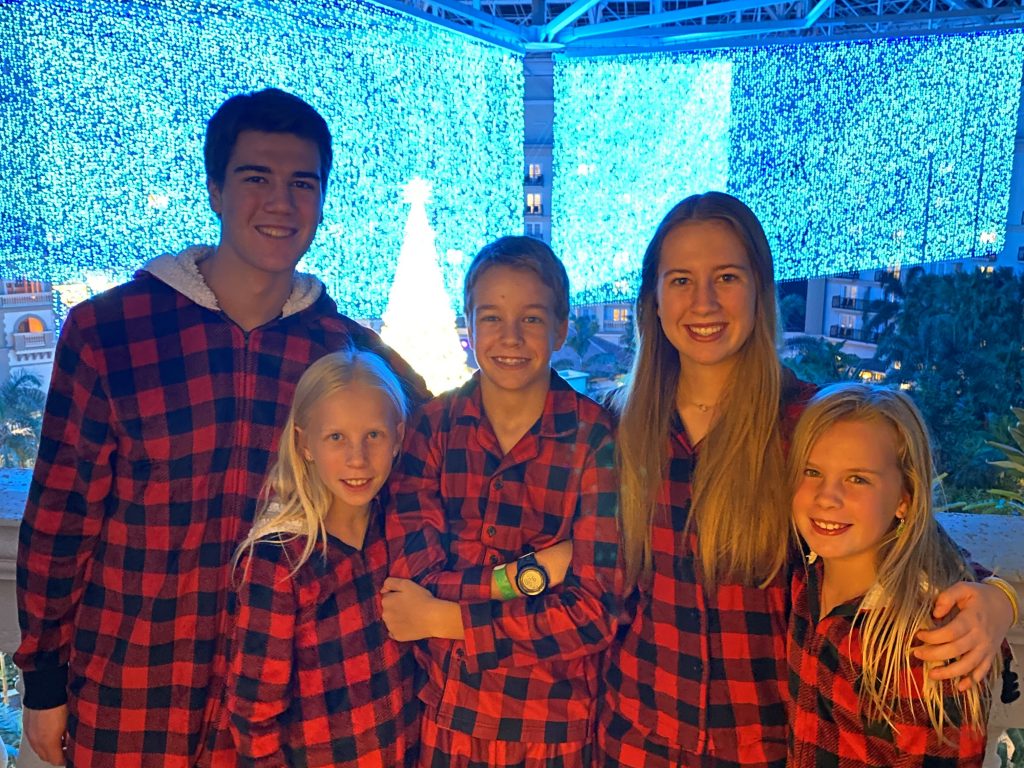 If you're local and don't have time for a hotel stay, you can also visit ICE and all of the Christmas festivities with bundles of tickets. There are weekday ticket deals, early bird specials, and lots of different ticket bundles where you can pick and choose what's best for your family or group. Have friends visiting from out of town for the holidays? This is the perfect way to dazzle and delight visitors! I bet most people think you can't snow tube in Florida! You can prove them wrong and take them for a fast moving journey down Snow Flow Mountain!
You can't go wrong with a Gaylord Palms Christmas. This event runs from November 18 – January 1, 2023. Days and times do sell out and same day tickets are often unavailable. So get your tickets now and enjoy So. Much. Christmas!
You may also like:
How to Pick a Cabin Rental in North Georgia
Alaska Railroad GoldStar Experience with Kids
You May Also Like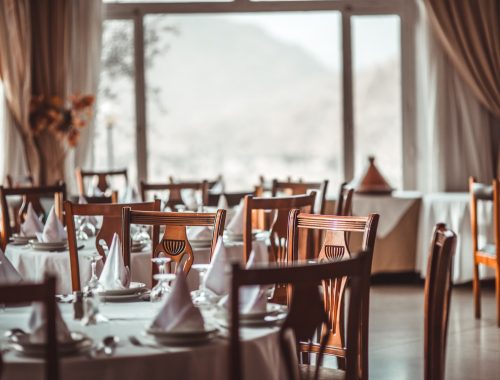 June 22, 2023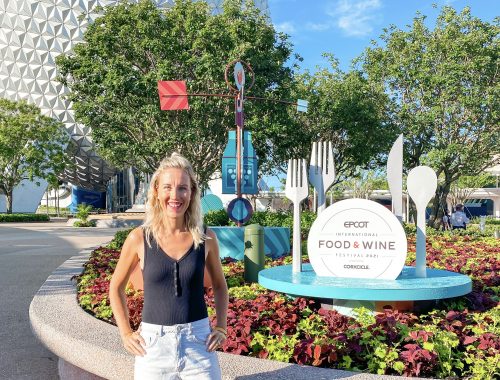 July 17, 2021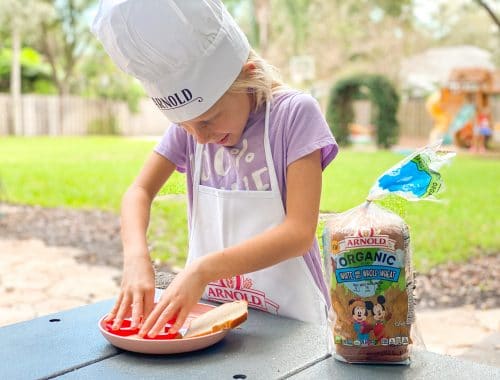 January 26, 2021