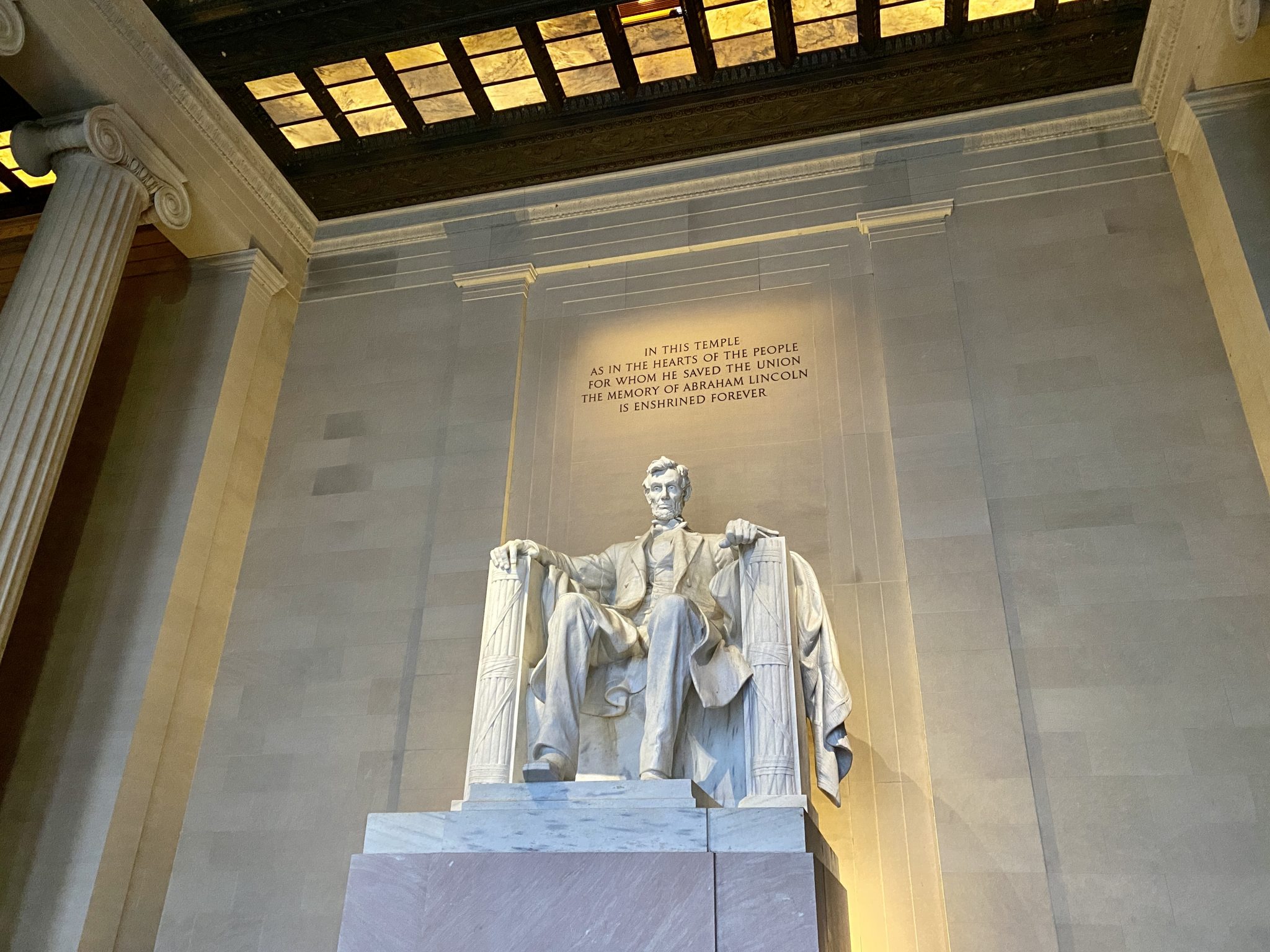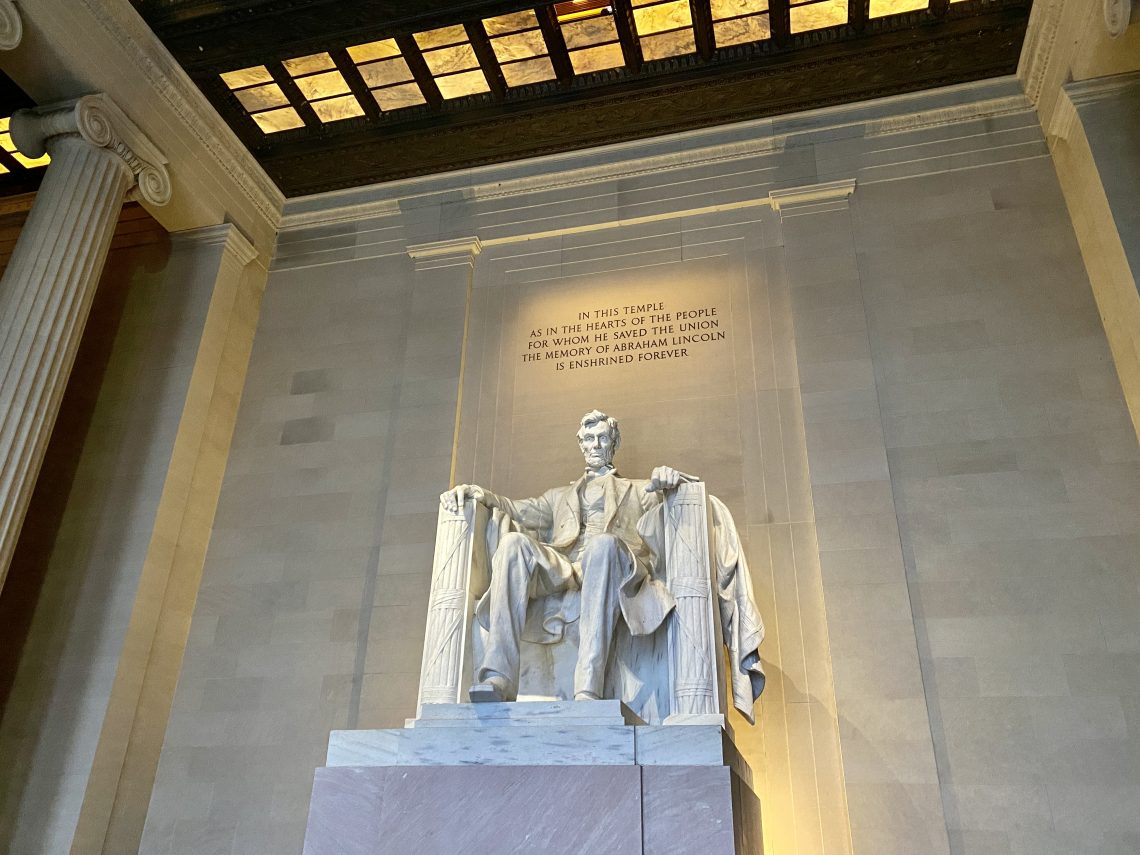 Washington DC Kid Friendly Itinerary and Guide
May 19, 2022
Sharing is caring!
Washington DC Kid Friendly Itinerary
As previously mentioned, our family is big on travel! We did a home exchange in Washington, D.C. last month and saw so much, we had to share some of the highlights. Check out some of our favorites and must-sees for a Washington DC kid friendly itinerary.
Contrary to some of our parent friends, my husband and I like to build kid-friendly itineraries based on what we find fun or interesting, especially if it's specific to the destination. As a result, we often skip generic children's museums or science museums, opting instead for local history museums, points of interest, or even restaurants. In fact, you learn a lot from the food of a place! So, depending on the amount of time that you have in our nation's capital, you will find lots of options to fill a 3-day, 5-day or even 10-day itinerary with kids!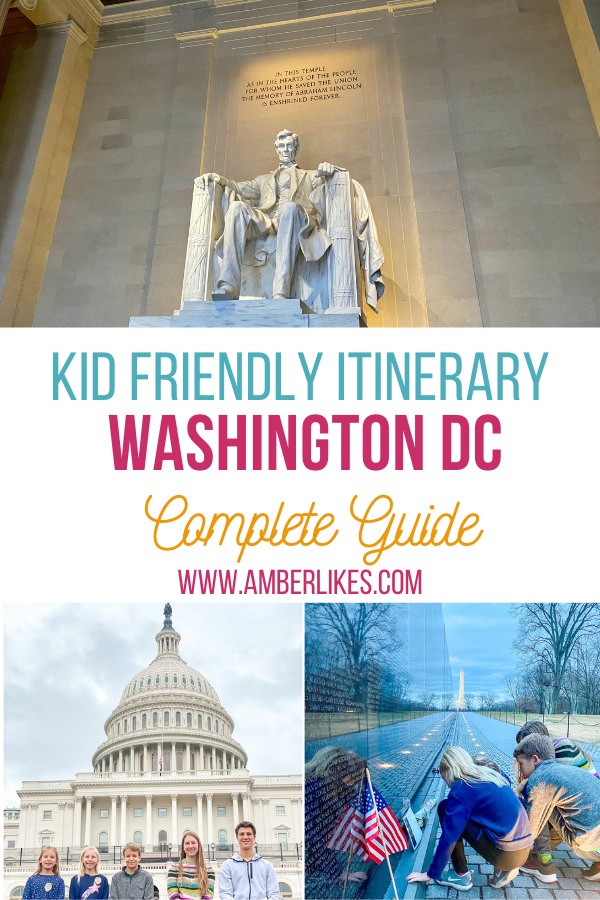 Thanks to blog contributor Holly! This blog is a combination effort, with writing by Holly and some pictures from Amber's last trip to DC with kids as well.
Memorials for a Washington DC Kid Friendly Itinerary
We spent a lot of the first day biking around to see the biggest, best, most well-known memorials and buildings centered around the Mall. Our house was in the Capitol Hill area, which meant we passed right by the Capitol Building itself first. This was incredible to see up close! Not all of it was currently open to the public, but we could get pretty close on the uphill side. But honestly, all sides were impressive! And no Washington D.C. kid friendly itinerary would be complete without the major stops.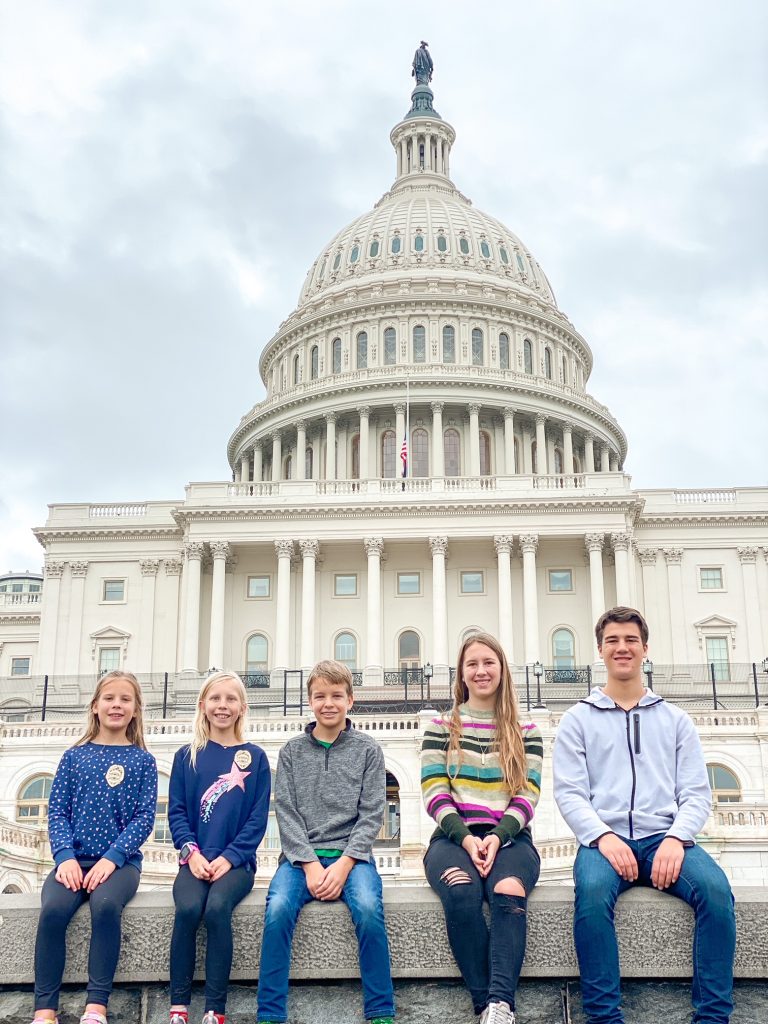 Next, we rode the two and a half miles to the Lincoln Memorial. This remained some of our kids' favorite stops of the whole trip. It's beautiful, impressive, solemn, and inspirational. We read the inscriptions on either side of the arcade and had quiet discussions about them. It's also a good gift shop stop – it's small, so you can only spend so much time there!
We detoured to the Vietnam Memorial next (bikes are walked here). There were volunteer veterans to answer questions, but as our children were shy, we just said hello and made some small talk about the memorial overall. I would definitely recommend doing the same! They're there because they love to inform people, and even if your children (ahem, you, ahem) don't know what to ask, they will likely offer information you didn't even know you didn't know! This is a must do in a Washington DC kid friendly itinerary.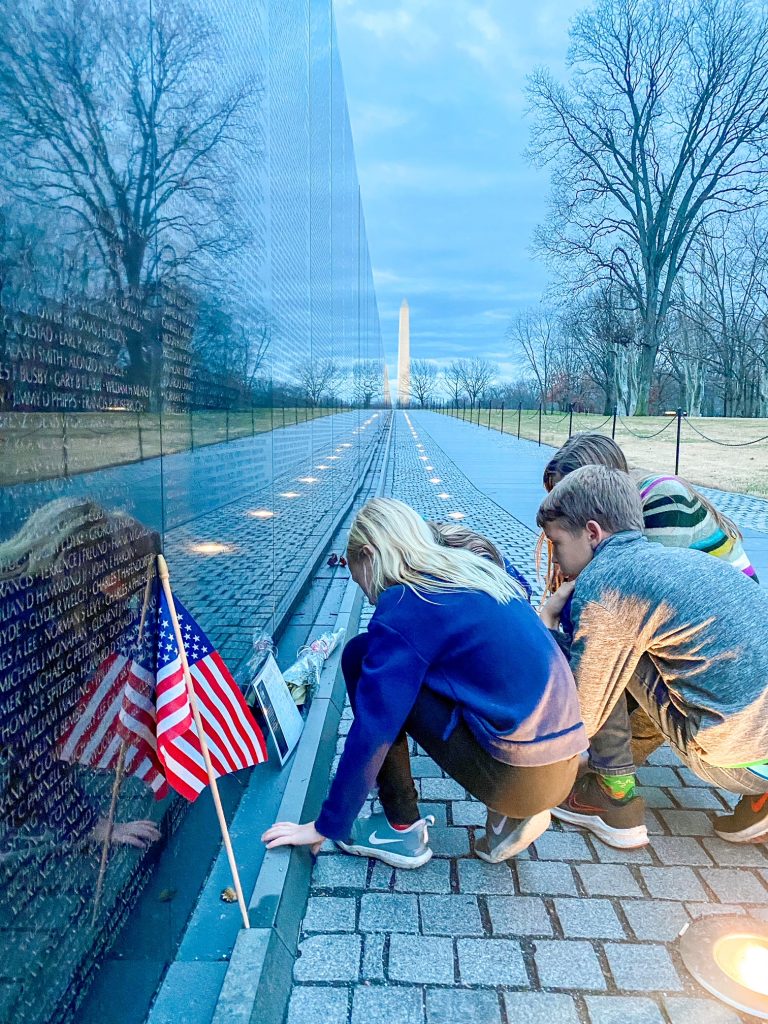 Our last memorial stop was the Jefferson Memorial. It's not as far as it looks, and affords a unique view of the Mall from across the Tidal Pool. The steps are the perfect place for a packed picnic lunch. We have children pretty well-versed in all things "Hamilton" as well, so it was a good one to make a connection for them! Another must do for a perfect Washington DC kid friendly itinerary!
Washington Monument with Kids
The Washington Monument was also a trip favorite. There's a catch with this one, though. It's a ticketed entry, and at the time we went, you had to request tickets for the next day at 10am the day before. I booked ours at 10:08 during the off-season and got one of the last time slots for our party of 5. We built another day's itinerary around this, pending the availability of tickets. And we also wanted to go on a clear day for the best possible views.
We only had a few days of good biking weather, and this day was too chilly. So we had our minivan with us, and chose to park in the downtown area and walk to the Washington Monument. You can check prices and compare garages online, but $24 is the average for a day. We parked early enough for a museum stop on the walk in (why not? – they're all free!) and made it to our scheduled time at the Monument perfectly.
Washington DC Kid Friendly Itinerary for Washington Monument
The Washington Monument was worth all the trouble! The National Park Rangers were all so nice and just bursting with information for kids and adults alike. They too are there for the love of educating the public. So just say hi and see what they have to say!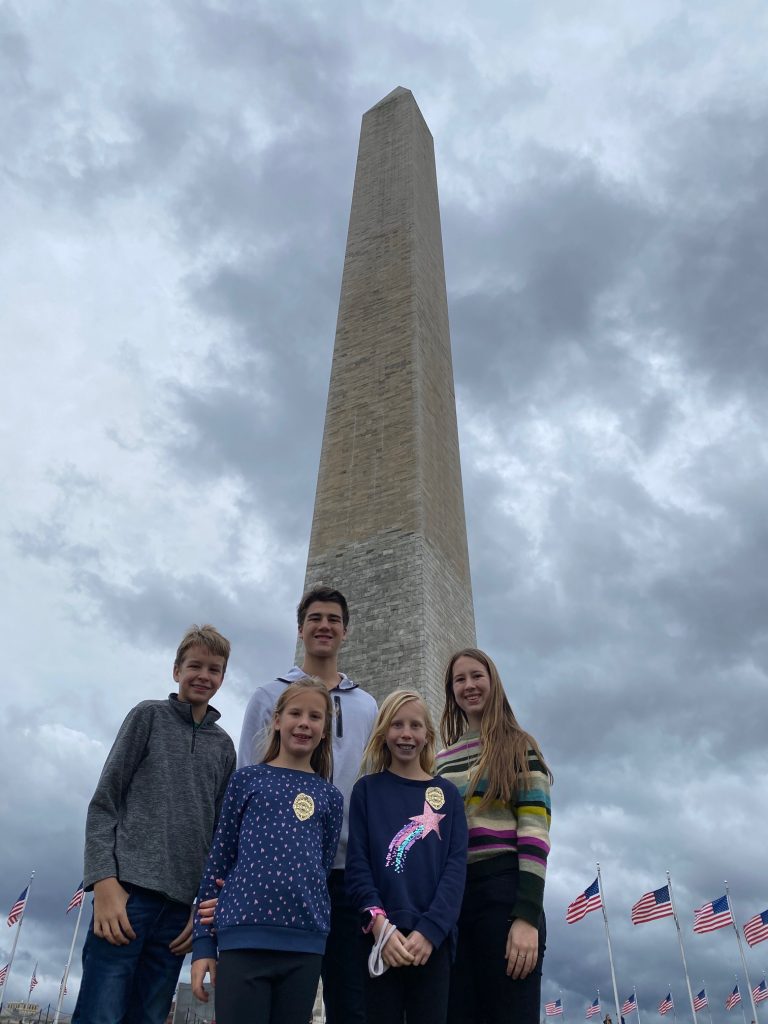 Since it was a sunny day, we stopped at one of the many ice cream trucks parked thick along the Mall roads. We also made a small walking tour of the downtown on the way back to our car garage. It would be an opportune time to see the White House Museum as well as the exterior of the White House itself, just a few blocks away.
We find the Chinatowns of cities to be really interesting as well. For some dim sum (appetizers), we researched and found Reren to have some of our favorites on the menu and located just outside the classic Chinatown archway. All in all, we walked about 5 miles that day, but with it so broken up and constantly having a destination nearby, it was totally doable even for our 5 year old.
Washington DC Kid Friendly Itinerary: Museums
If you do any search of kid-friendly itineraries in Washington, D.C., top of every list are the amazing museums – and for good reason! Our family makes museums a staple of any travel, and D.C. offers the creme de la creme.
National Museum of American History
My personal favorite was the National Museum of American History (formerly the National Museum of History and Technology). I love it because it tells the story of our culture's advances and inventions throughout history. There was a section on communication technology; transportation starting from ships and pirates and including a simulated elevated train; a room on food culture and technology, with Julia Child's actual home kitchen brought from Cambridge, Mass.; the entire collection of inauguration gowns worn by the First Ladies in a presidential history room; even a special display of the real Muppets scattered throughout the museum! We saw the *actual* Fozzy Bear! We often stopped in here for an hour or two at a time throughout our stay in D.C. and hated to leave every time.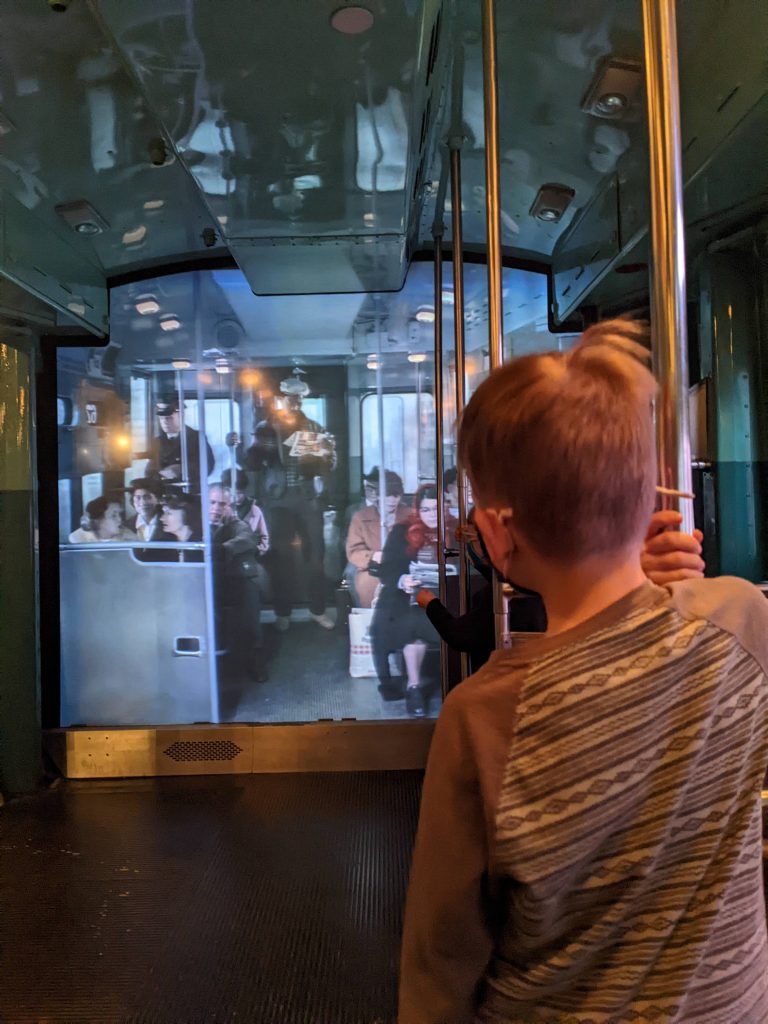 The National Gallery of Art is part of the Washington D.C. Kid Friendly Itinerary
The National Gallery of Art is actually our family's second favorite museum! I don't think every parent imagines taking their small child to a collection of fine art, but I seek them out in every city we visit. For one thing, they're rarely crowded. For another, I've found it's a lot of fun to share the delight of art with my kids. It doesn't take much to ask questions of a child of any age what they like or don't like about a piece of art. There are also lots of questions online to prompt discussion: "Is there something similar about these pieces in this room?" "Oh, what do you notice about this one that's different than the last one we looked at?" or "I see a painting with lots of little dots of paint. Do you see it? That's called 'pointillism'!"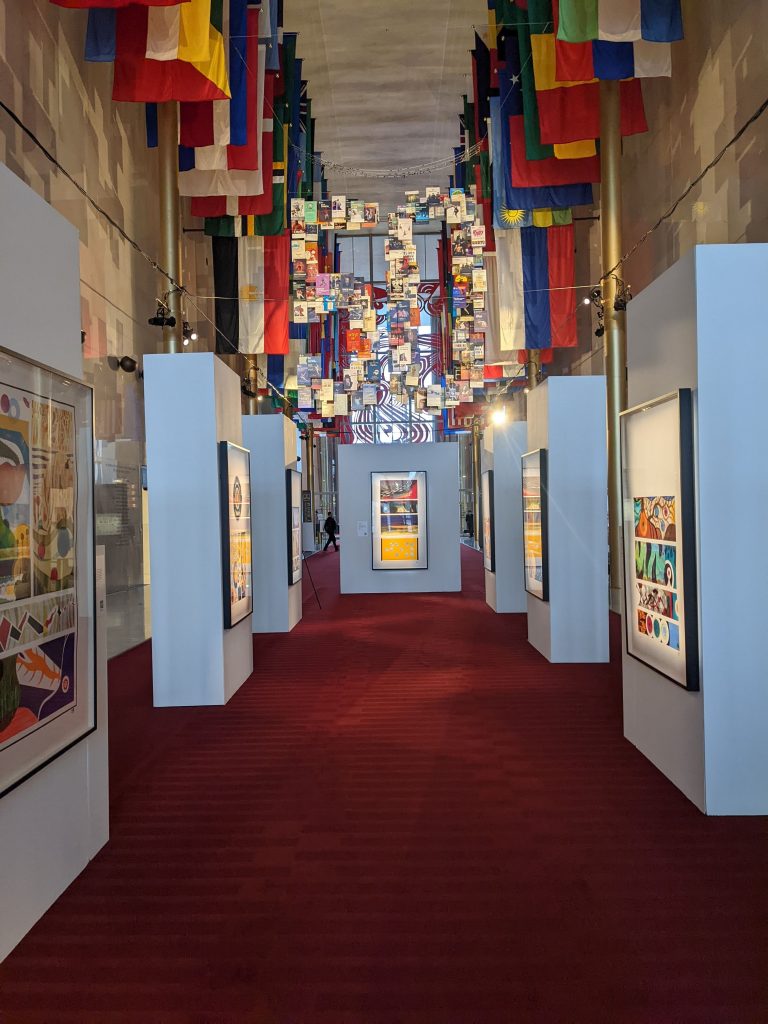 In addition, this particular gallery is really worth checking out. If nothing else, the lobbies situated in the center and at either end are worth a visit themselves for their beauty and lushly growing gardens. Did you know our National Gallery of Art has the only painting by Da Vinci in all of North and South America? We saw art by Raphael, Jan van Eyck, Vermeer, Rembrandt, Homer, and more – even with the more modern rooms having been closed for renovation!
Kennedy Center for Performing Arts
There are many museums to choose from, and you can never choose poorly. But one that may be often overlooked is the Kennedy Center for Performing Arts. We found they had a display of art by Mo Willems (of "Elephant and Piggie" fame, which is as big as it gets in our house). On display were his abstract paintings inspired by Beethoven's first 9 symphonies.
The center also offers children's education programs at the Moonshot Studio, part of the REACH Annex. We did a free hour-long interactive lesson on shadow puppets, and were given the supplies to make, perform, and take home our own – even the adults! Our kids loved it and we got to see another side of the performing arts that isn't as common. The Kennedy Center has lots of ongoing activities, and a full schedule online. When we visited, we happened upon a free concertina going on in one of the lobbies performing regional music of Ukraine. There's always something going on!
The White House Visitor Center
The White House Visitor Center is also an amazing museum on all things relating to the Presidential residence. It's run by the National Park Service and boasts a very nice gift shop as well. We learned so much about the food, staff, technology, design, and evolution of the most popular American private home. It's also free to the public and has an onging movie in the rear. It's one single large room, but we spent over 90 minutes there and didn't even see all the information! It felt only fitting to learn about the White House when being across the street from it!
Food
We had the joy of experiencing a few of Washington, D.C.'s own food. Our home exchange guests had left us an extensive list of recommendations, and we did a bit of our own research. Bottomless brunches seem to be a big deal in D.C., and we spent a couple hours of our first Sunday afternoon at Gatsby, enjoying the roaring 20s ambiance, movies, and food. I highly recommend the shakshuka!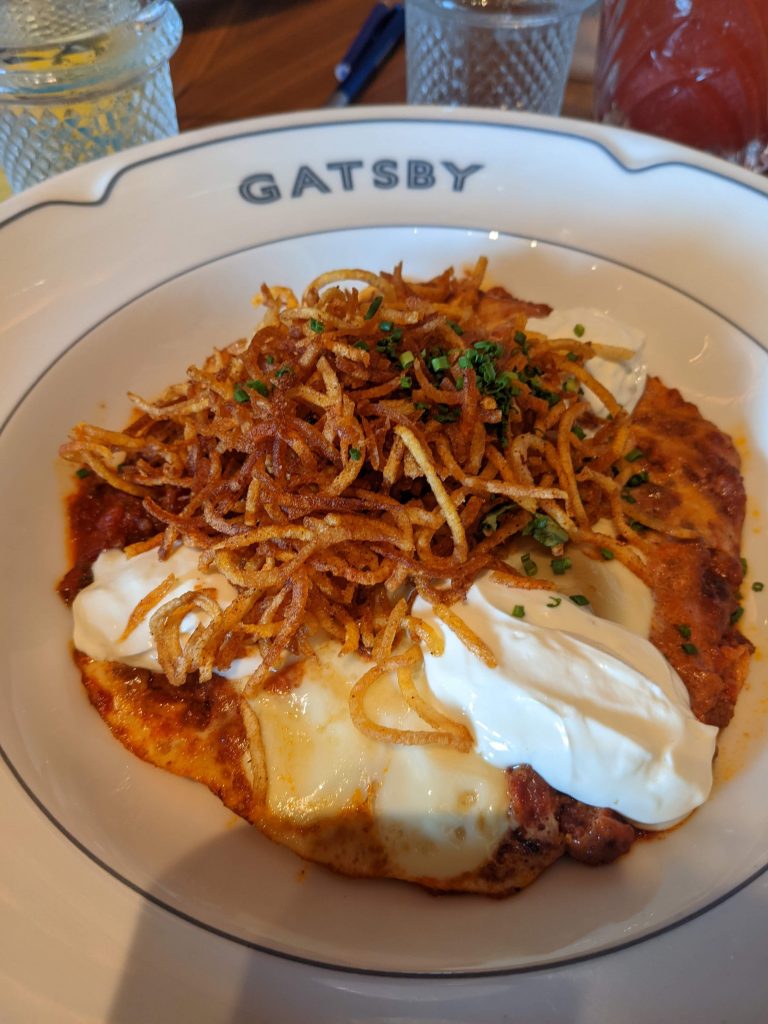 Another amazing experience was Ambar. Our hosts had raved about it, as had online reviewers. My husband's birthday was the day we traveled home, so we justified it as a birthday celebration, as Ambar was a bit of a splurge. But the boys had their own bottomless dinner and just loved that freedom. It's a Michelin-rated Balkan tapas restaurant, with interesting small plates served to your heart's content. It's like an upscale buffet! There were interesting dishes, like beet tzatziki spread appetizer, or easily-accessed dishes like Brussels sprouts and fresh-cut fries. We stayed our entire 2 hour limit and not one complaint from the kids, who were enjoying ordering to their hearts' content!
Neighborhoods and More in Washington, D.C.
One of our other staples of our family trips is checking out cool different neighborhoods. To create a kid-friendly itinerary, we try to get a flavor of the city and not just the touristy areas with the most points-of-interest.
One key to this it to find a used bookstore with good reviews. They usually are situated in chic or cozy parts of neighborhoods with coffee shops and boutiques nearby. Capitol Hill Books was a great find – quirky categorized sections, interesting finds, and good prices. They're apparently been a staple for decades as well! The area around has free parking and small restaurants, a Trader Joe's, and small shops to browse.
The Yards is another nice walking area out of Washington, D.C. And it should be part of a Washington D.C. kid friendly itinerary. Originally it was just the naval yard, and has some cool old brick buildings reminiscent of its history. Nowadays, it's home to Nationals Park, D.C.'s Major League Baseball team. The area around is classy and has nice restaurants, shops, ice cream parlors, and pleasant waterfront to walk around. We also found some giant grass chairs and couches to climb and play around!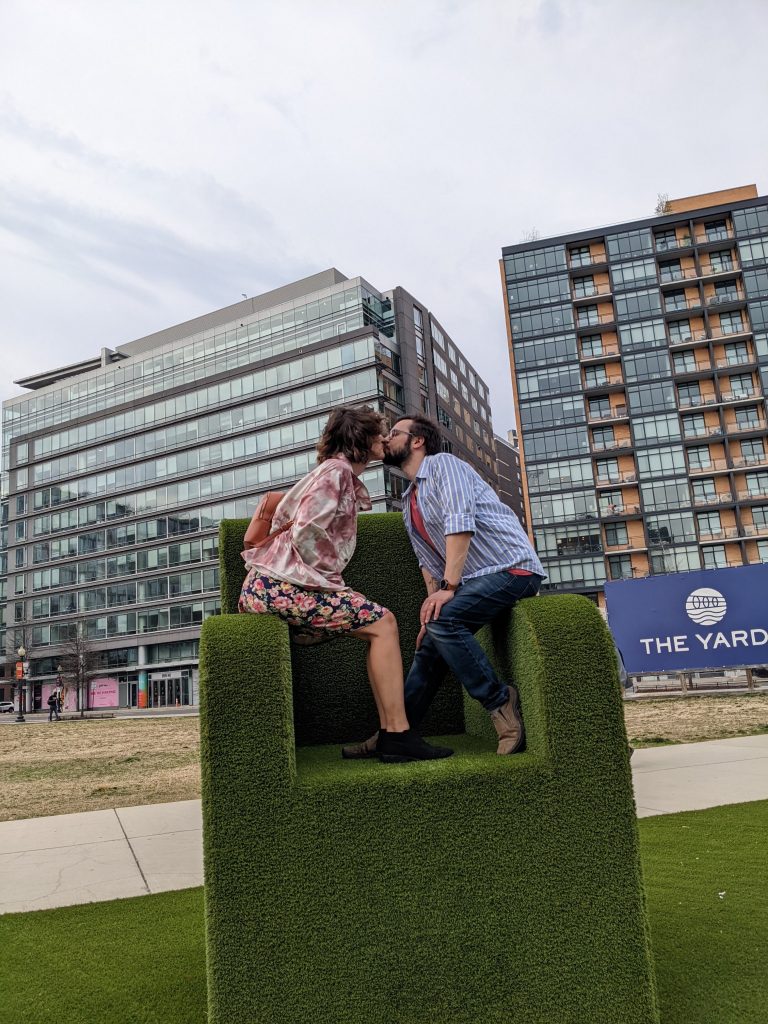 St. John's Episcopal Church
Lastly, one of the things I would not miss is attending St. John's Episcopal Church. This is not a common stop to include in a Washington DC kid friendly itinerary, but it was a wonderful experience! We were there over two weekends and had the joy of attending both weeks. They offer a choral eucharist service, and with a small dozen-person group, it was some of the most beautiful music I've ever heard. We aren't Episcopal, but thoroughly enjoyed the services.
Built in 1816 during James Madison's presidency, every sitting president has attended a service, and President Lincoln was a regular attendee. It's a National Historic Landmark, and known as "the Church of the Presidents". In fact, Pew 54 is reserved for the President when in attendance. It was designed by the same architect who designed the White House, and the bell was cast by Paul Revere's son. It also sits directly across the street from the North Lawn of the White House (see how I buried the lede there?). They also offer – get this – free valet parking. Free! Just pull up to the curb and someone takes your car and hands you a ticket!
I hope you've enjoyed this brief tour through our nation's capital from the standpoint of a family on vacation. We really did. Our kids loved eating, learning, touring, and biking our way through every one of these places. I hope your family gets a chance to travel and enjoy it there soon!
You may also like:
Things to Do in Islamorada, Florida with Families
Amtrak Auto Train Review for Families with Kids
You May Also Like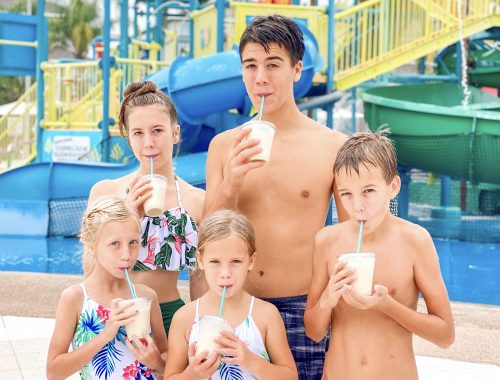 November 17, 2020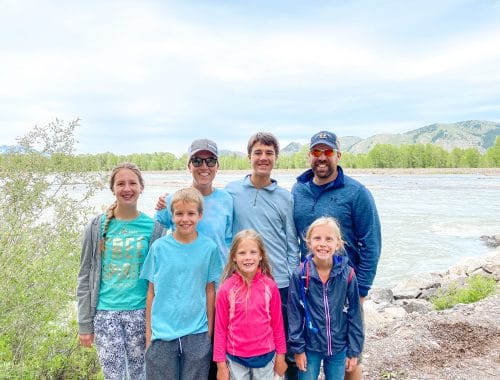 June 25, 2020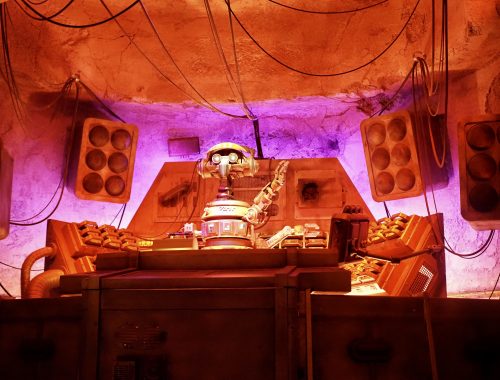 January 22, 2021