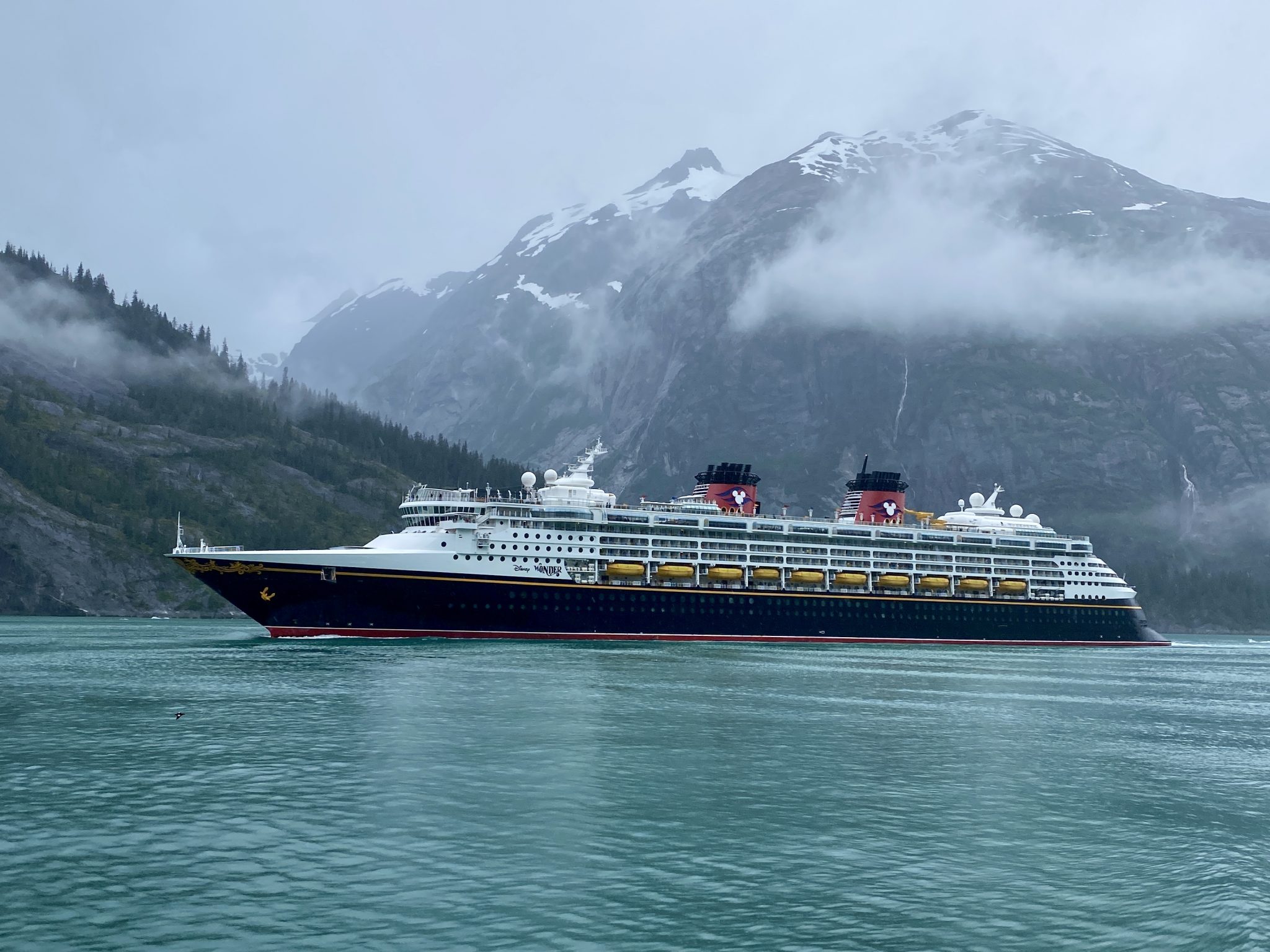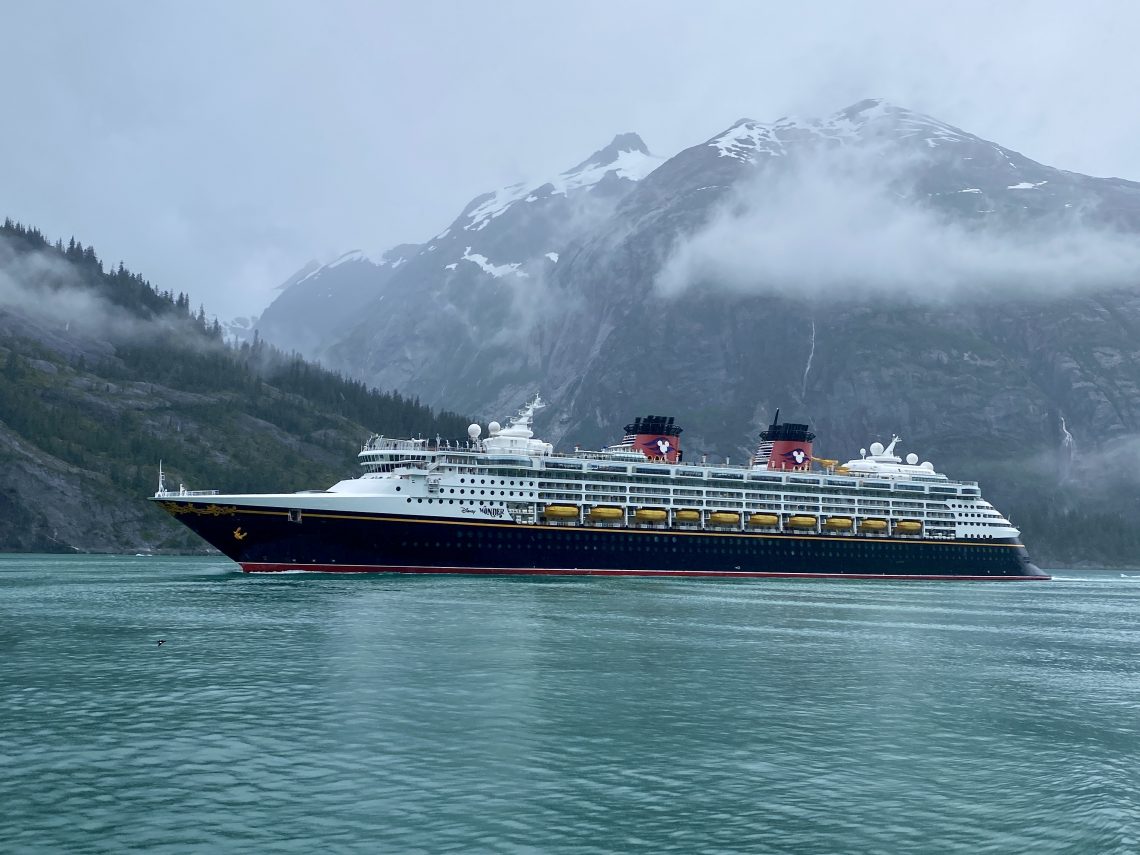 Printable Packing List for Alaska Cruise: Get Ready for Anything!
August 16, 2022
Sharing is caring!
Get a free printable packing list for Alaska cruise for the family
If you follow my social media at all, you know that we recently took an incredible 8 day Alaska cruise on the Disney Wonder. After that week, we also toured the inland of Alaska for an additional week. With a family of 7, packing is always complicated. But going to the doorstep of the Arctic in the middle of summer made things even more complicated. We travel a lot. In fact, our family is on a journey to visit all 63 National Parks. Admittedly, this is a slow moving journey, but we plan a lot of our travel around National Parks. Alaska was no different! But being able to pack properly for two adults and 5 kids, ages 9 to 17, presented a lot of challenges. So after returning, I thought a printable packing list for Alaska cruise would have been really helpful! And now I made one!
Find my Alaska cruise idea list on Amazon for the best deals.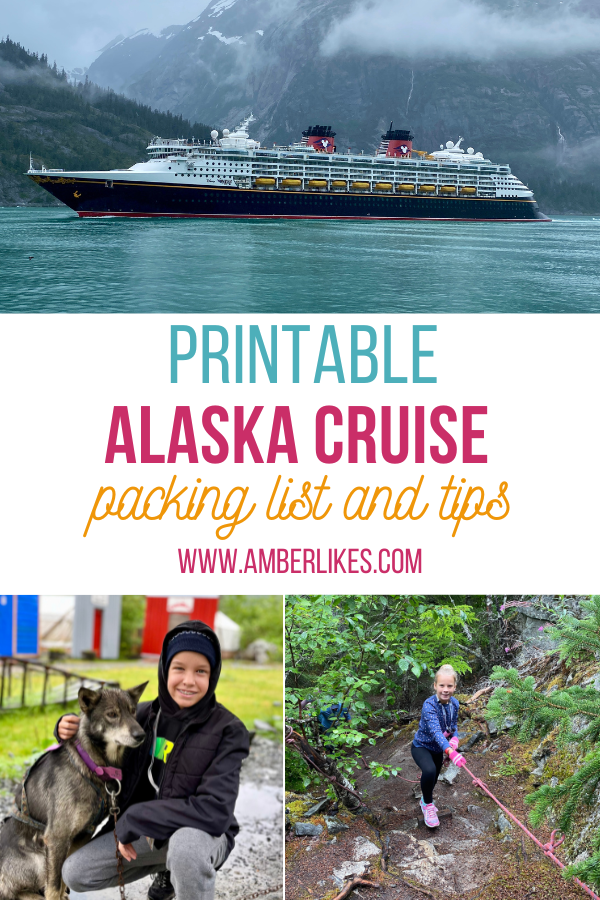 What Should You Bring to Alaska?
I am a very organized person. But when it comes to packing, I tend to do things last minute. Part of the reason for that is because I want all the clothes to be clean, the house to be tidy and organized, and THEN I can start packing. You can see how that can become time consuming with a family of seven. So for our recent Alaska cruise, when I started trying to pack my own clothes, I really had no idea what to include! It's a cruise, so will I really be cold? What excursions are we doing? The questions are endless!
Here are some things to consider when you start to pack:
What time of year is the cruise?
How much daylight will there be in Alaska during your visit?
Are you doing an excursions that require special clothing or gear?
Are you an active person who wants to visit every port?
Do you mind getting wet?
Are you generally cold or warm?
Do you get cold easily in air conditioned places?
How dressy do you want to be during the cruise?
This is just a list to get you started thinking about what your cruise will look like, and what you need to pack. We are a very active family! So we planned on hiking, kayaking, and dog sledding. For this reason, we needed to pack accordingly. But not every family is going to be so active. If you plan to stay on the cruise ship for most of the week, you can probably skip the hiking books in the printable packing list for Alaska cruise. But if you plan to swim a lot, no matter how cold the weather, then you might need some more swimming gear on this list.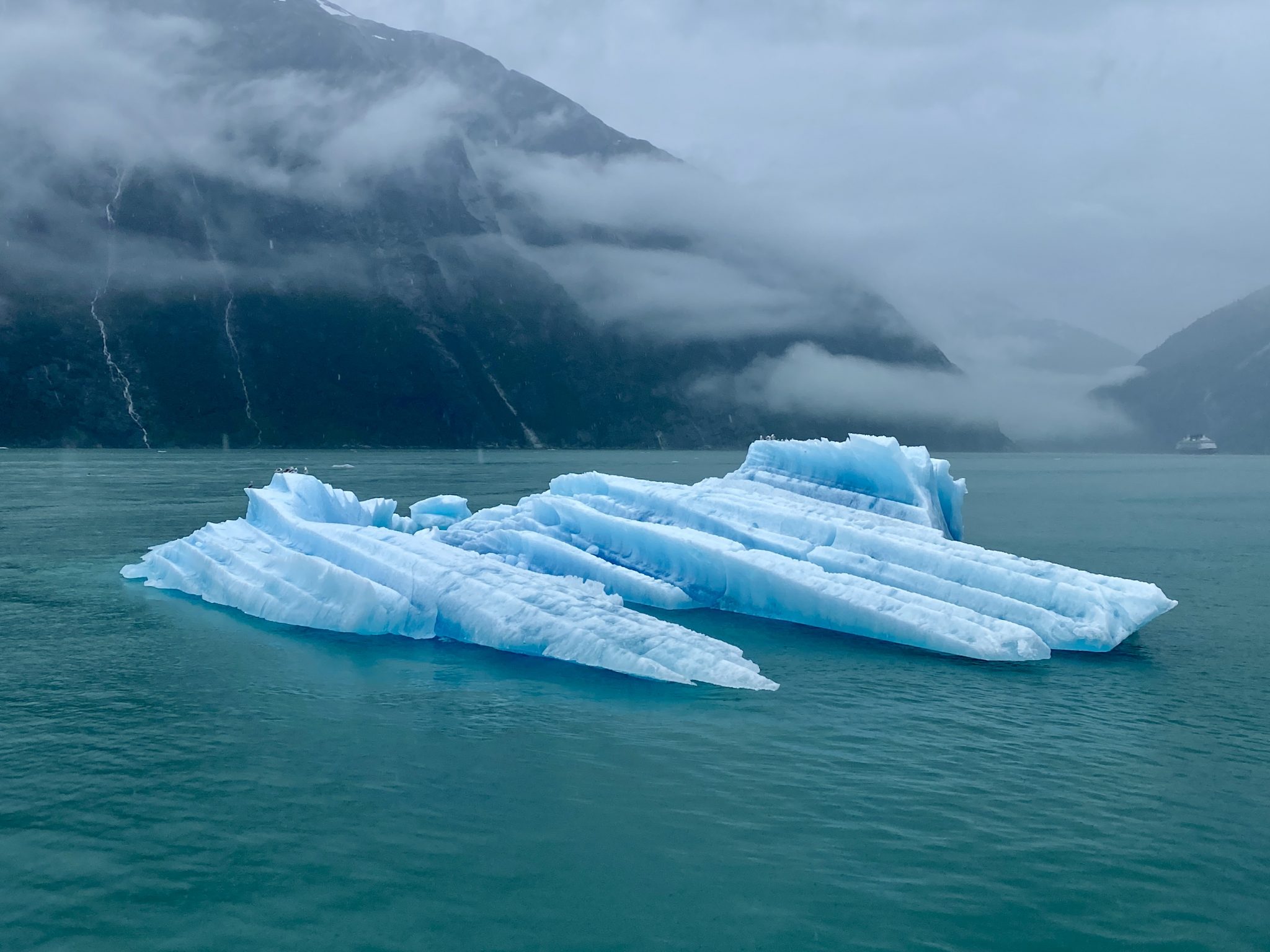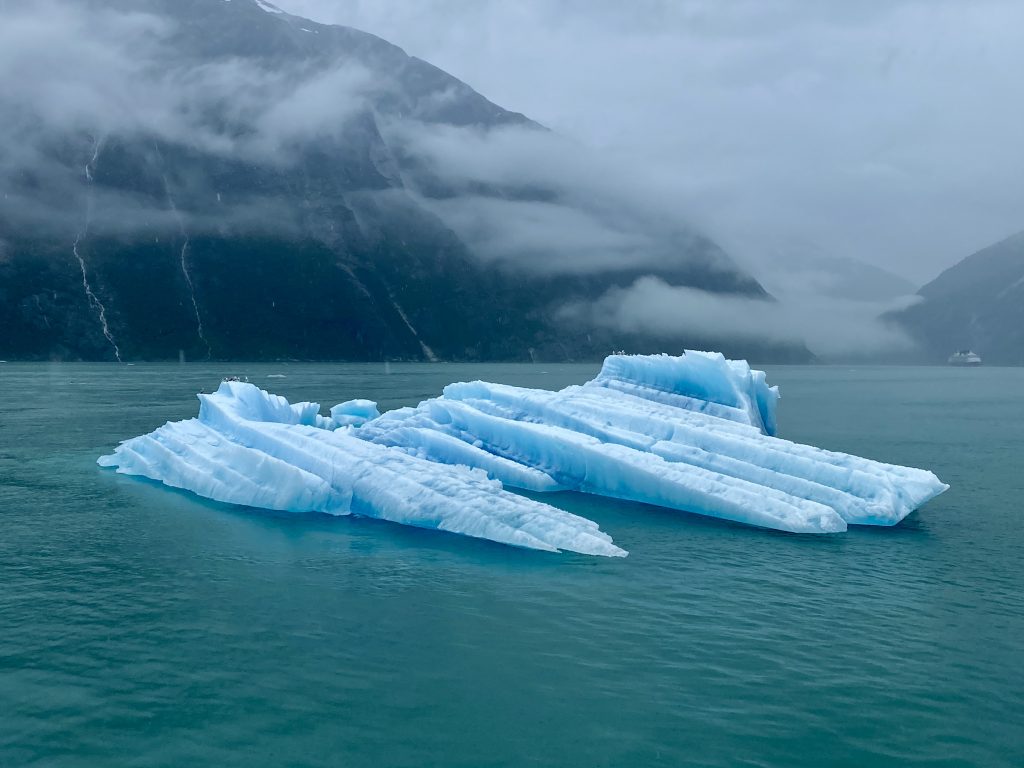 Excursions Matter: Plan Accordingly
As I mentioned before, what you need to pack on your Alaska cruise really depends on what you plan to do during your time in Alaska. With most cruises, you'll have a lot of opportunities to get off the ship at Port. But what you do with that time is completely up to you. Here are some excursions that we had planned that we definitely needed to plan for accordingly.
Helicopter transport to glacier with dog sledding training and ride
Wilderness hike with ropes and helmets
Sea kayaking among whales, seals, and more
Sky tram ride with mountaintop hike
These are all excursions that we had planned but some couldn't be completed because of weather. But when we were packing in Orlando for a glacier experience, we needed to prepare as best we could!
The key to most packing for an Alaska cruise is layers. Lightweight long sleeve shirts, jackets, pants, and more are your friends. There's also very limited laundry service available on a cruise. So wearing layers allows for items of clothing to be reused. We got so dirty on several excursions, we did have to have laundry done on the ship.
Find my Alaska cruise idea list on Amazon for the best deals.
What's the Weather Like on an Alaska Cruise?
Oh my… that is the big question. However, I bet you can guess the answer. It totally depends on the week you happen to be there! For example, a few weeks before our Alaska cruise, my friend took a cruise with nearly the same itinerary. She had very warm weather, in the low 80's, and her kids could swim on the ship several days. But during our cruise, we were cold nearly every day! The temperature was never over 70 degrees and it was rainy and overcast every day. We also found ourselves in the rain on several occasions. So it really just depends!
Printable Packing List for Alaska Cruise
So here you have it, a printable packing list for your Alaskan cruise. There are a few blank spaces so that you can add your own items. And if you're a Mom of many like me, once you have lit finalized, you can make copies and hand it out to your family members. As a parent, I always check what my children have packed. But giving them a list makes me life a lot easier!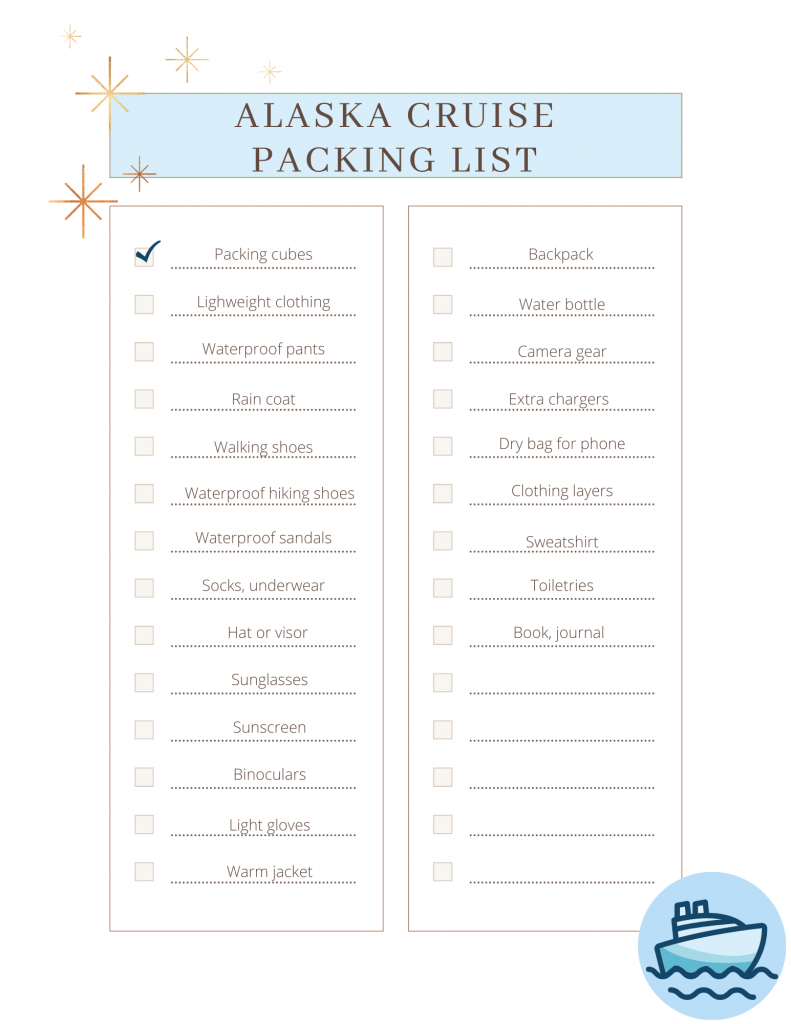 Feel free to use this list to prepare for your big trip! And here's a list, with some links to my favorite products from Amazon:
Packing cubes (never leave home without these!)
Lightweight clothing for layers
Waterproof pants
Rain coat
Walking shoes
Hiking boots
Waterproof walking sandals
Socks, underwear
Hat/visor
Sunglasses
Sunscreen
Light gloves
Warm jackets
Sweatshirts
Backpack
Water bottle
Camera gear
Extra chargers
Toiletries
Book
Find my full Alaska cruise idea list on Amazon for the best deals.
You may also like:
Keys to the Kingdom Tour Review at Disney World
You May Also Like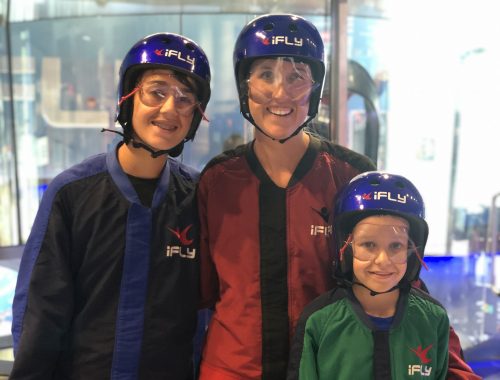 April 17, 2019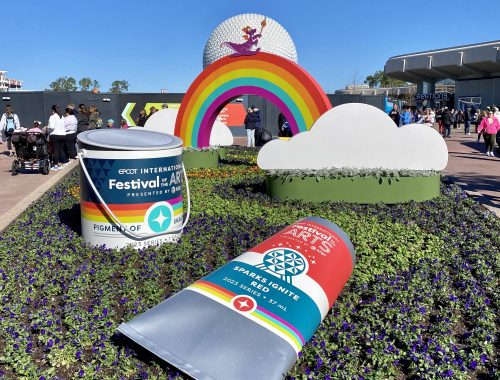 January 17, 2023