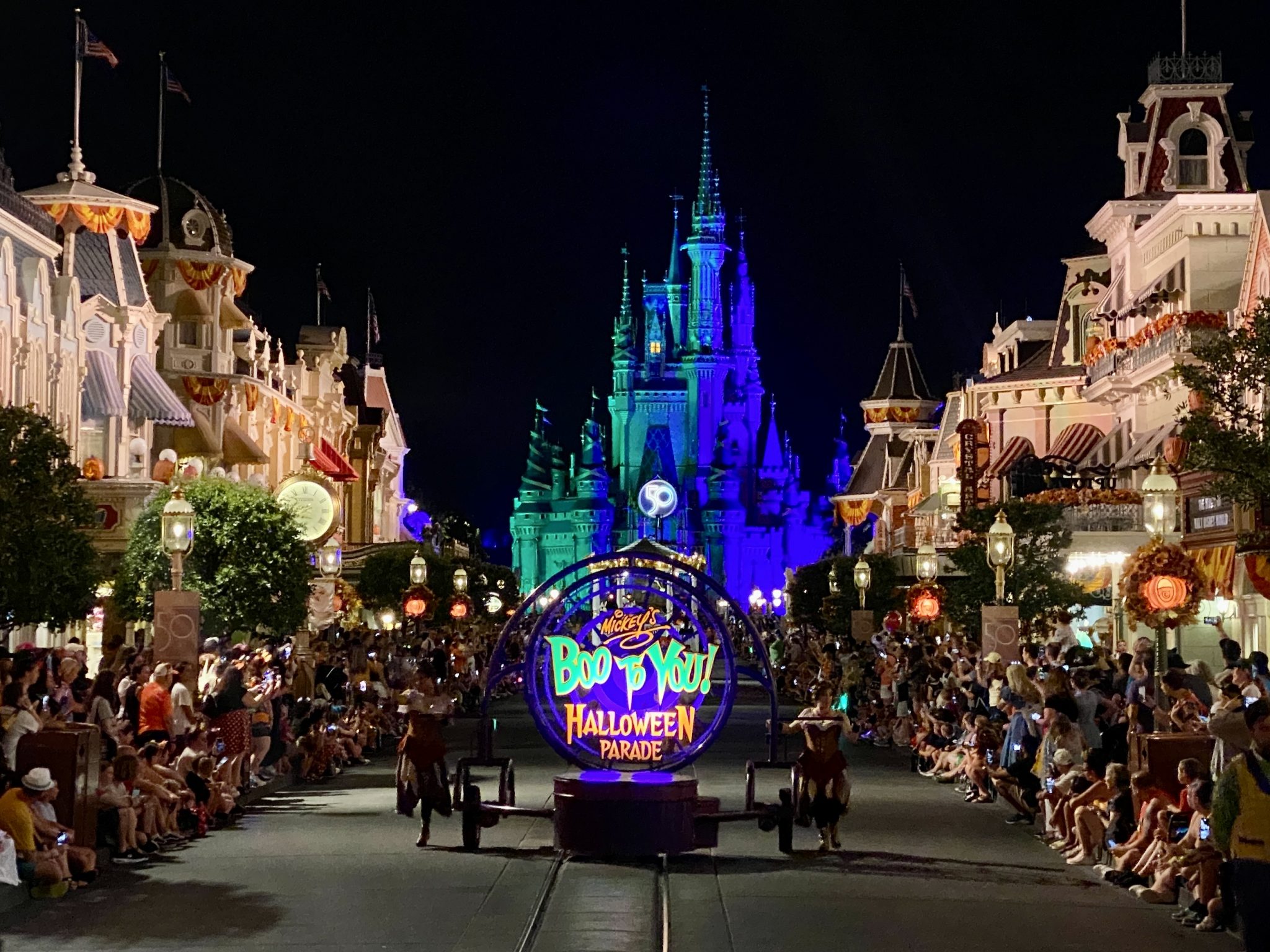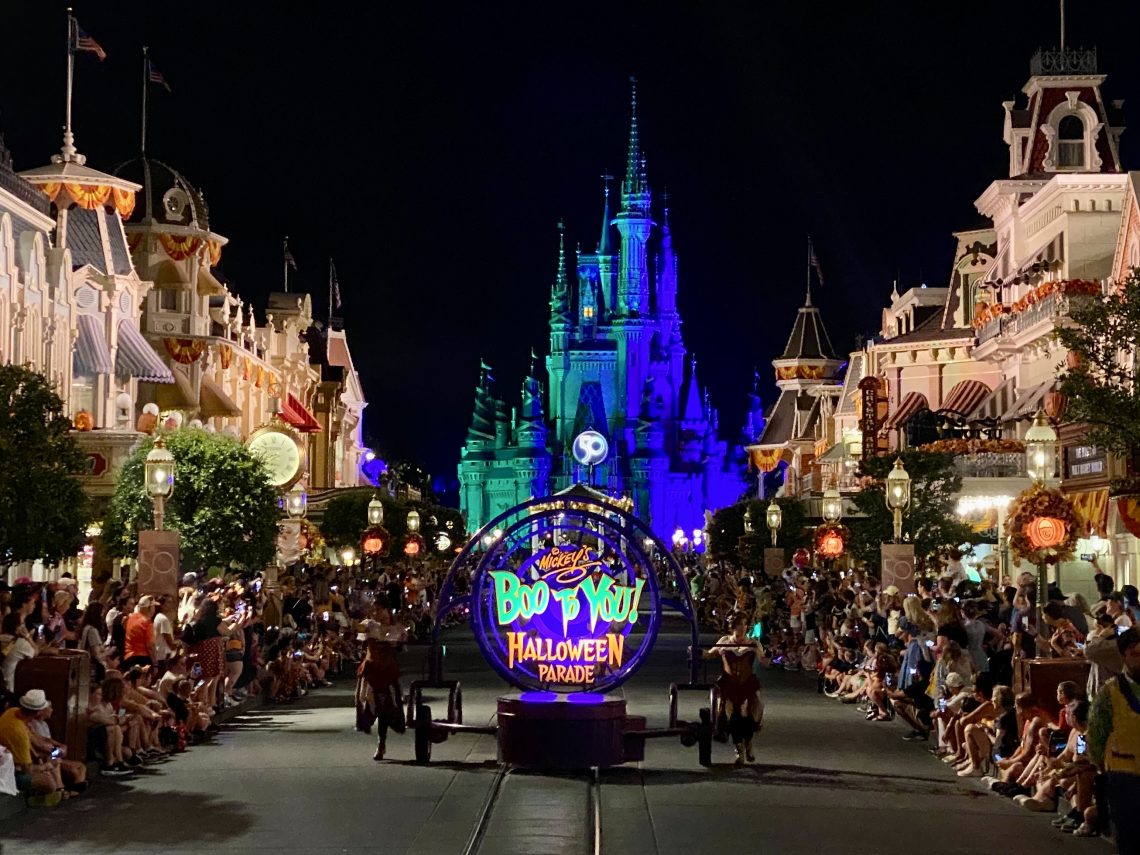 Halloween at Disney World with Not So Scary Party and More
August 19, 2022
Sharing is caring!
Halloween at Disney World Means Mickey's Not So Scary is BACK!
We love all things Disney. And Disney World is one of my favorite places on Earth. But holidays at Disney are on a whole other level. There's so much magic in the air during the holidays at Disney World. The start of the holiday season at Disney World begins with Mickey's Not So Scary Halloween Party. This is an epic Halloween event that takes place after hours at Magic Kingdom. In case you don't know, there are 4 different theme parks at Walt Disney World. Magic Kingdom is the original Park, and is the home of Cinderella's Castle. And this is the location of the biggest event of Halloween at Disney World!
Get your Ultimate Disney Packing List for Families here!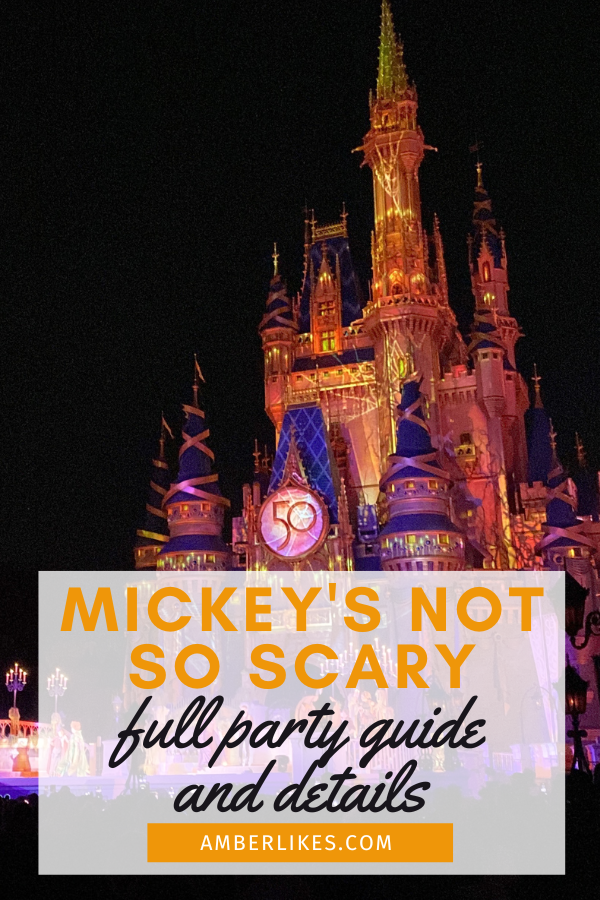 Mickey's Not So Scary Halloween Party Details
This event is the hallmark of the Halloween at Disney World season. Mickey's Not So Scary Halloween Party is also commonly known as MNSSHP. So if you see it written that way, you're in the know! Fireworks, a parade, Halloween characters, Magic Shots, treats, extra spooky attractions, and more await you at MNSSHP.
Thank you Disney Parks for inviting us to experience MNSSHP. I'm so thankful to get to share it with all of you!
This is a separately ticketed event. It is not included in regular admission to the Park. Guests with regular park admission are required to leave Magic Kingdom by 6 pm. Between 6 pm and 7 pm, Magic Kingdom transforms to Halloween at Disney World party central!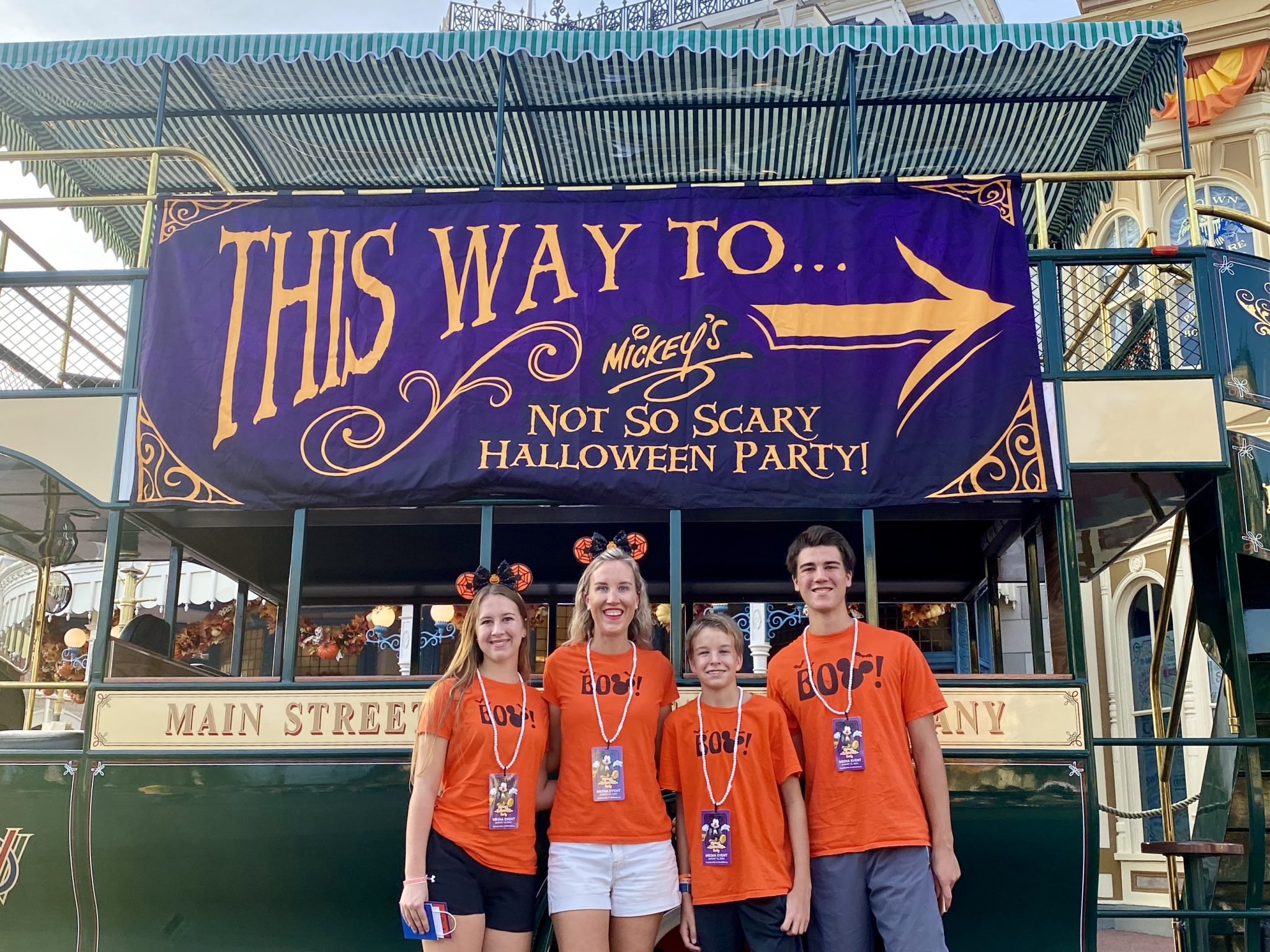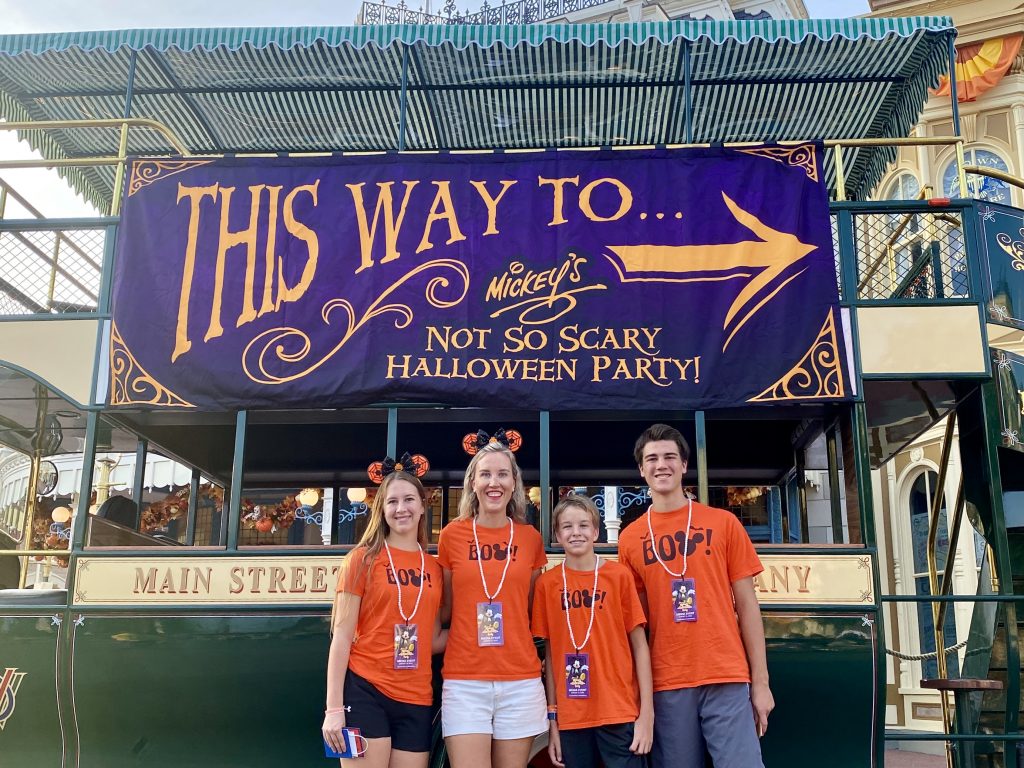 Here are the details you need to know:
The special ticket event is offered at Magic Kingdom Park on select nights from Aug. 12 to Oct. 31 after normal park hours from 7 p.m. to midnight.
Guests can dress in their happiest or most-haunted Halloween costumes to get in the spirit of the season!
Frightfully fun entertainment abounds in "Mickey's Boo-To-You Halloween Parade," the "Hocus Pocus Villain Spelltacular" stage show featuring the Sanderson Sisters, and "Disney's Not-So-Spooky Spectacular" nighttime extravaganza hosted by Jack Skellington, featuring fireworks, projections, iconic Disney characters and more.
New for 2022, partygoers awaiting "Mickey's Boo-to-You Halloween Parade" can 'Stand Out' and dance their way onto Main Street U.S.A., with a majorly awesome 90's crew led by Max Goof cosplaying as Powerline – his favorite pop superstar!
Also new this year, guests can join Zombies and Cheerleaders at the ZOM-BEATZ BASH! as they BAMM out to music inspired by the ZOMBIES original movies on Disney Channel.
Several classic Magic Kingdom attractions will be costumed for Halloween including Mad Tea Party, Space Mountain, Haunted Mansion and Monsters, Inc. Laugh Floor.
Guests can trick-or-treat their way through the park and indulge in delicious sweets like SKITTLES, SNICKERS and M&M's.
The most wicked snacks of the season with specially themed fall and Halloween treats are available to savor throughout the park.
Special spooky photo opportunities from Disney PhotoPass. Get the full list here! There are 13 to find all around the Magic Kingdom!
Guests can even bring home the memories with an event-exclusive, step-in photo experience, plus a reusable trick-or-treat bag and commemorative print that all guests will receive to round out the special Halloween offerings.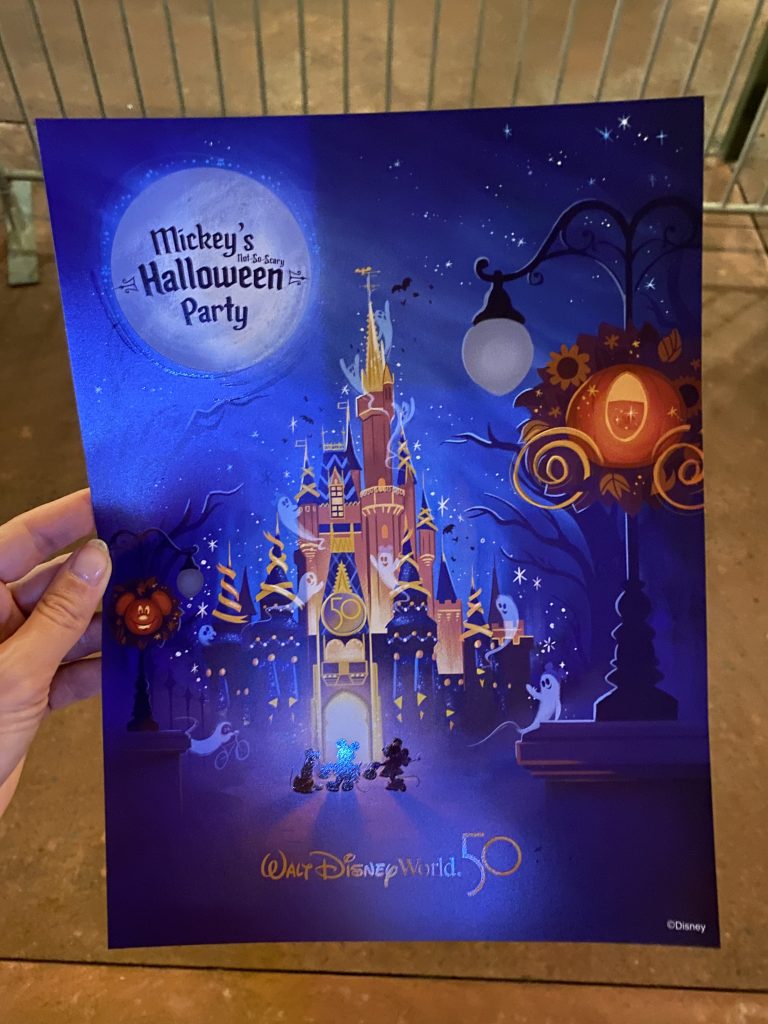 So is MNSSHP worth it?
Let's be honest. Mickey's Not So Scary Halloween Party is expensive. Is it worth it? That depends on what your goals are for your time at Disney World! If you're looking for a nighttime visit, a holiday experience, extremely low wait times for attractions, or characters in special costumes, this is the event for you! We visit Walt Disney World a lot. And to us, that means at least once or twice a month. But even for us, who visit Disney World so often, MNSSHP creates memories that last a lifetime. We remember costumes we wore to MNSSHP years and years ago. We remember eating candy at midnight from over a decade ago. So this Party is memorable and totally worth it for our family.
Favorite Mickey's Not So Scary Halloween Party memories:
Watching the Headless Horseman gallop down Main Street, U.S.A.
Dancing with Powerline Max on the streets of Disney World before the parade
Eating candy with my kiddos at midnight
Riding Space Mountain in total darkness with a spooky soundtrack
Taking photos with Stitch dressed as Elvis in Tomorrowland.
Jumping into a retro Mr. Toad's Wild Ride photo backdrop
Riding Big Thunder Mountain Railroad twice in a row with zero wait times
Hugging my kids during the Not-So-Spooky Spectacular fireworks
Dancing with Zombies
Singing along with the Sanderson Sisters live on stage
If you want to create these memories with your family, get your tickets now! This event sells out quickly, so you don't want to miss out on one of the premiere Halloween events in the area.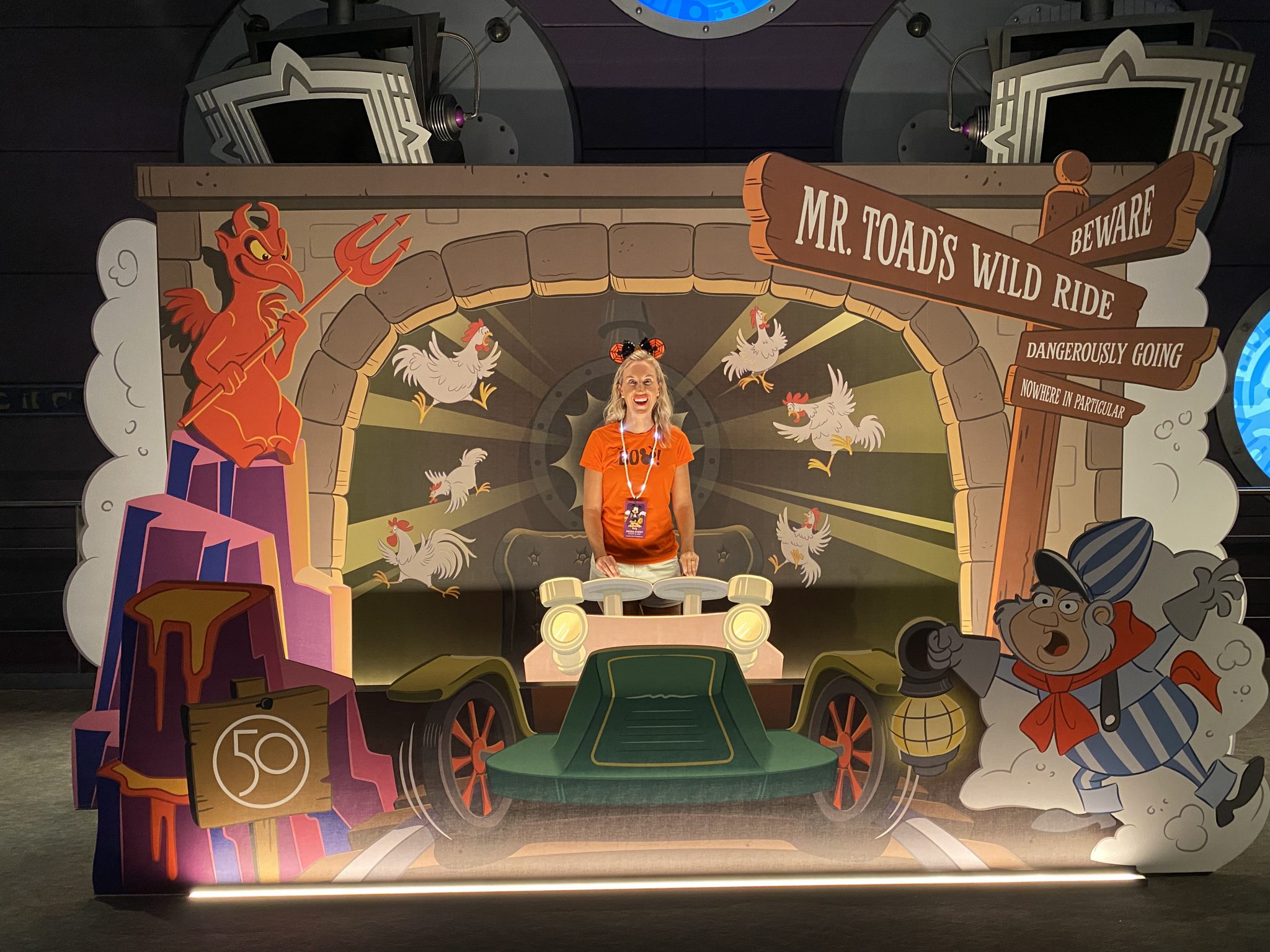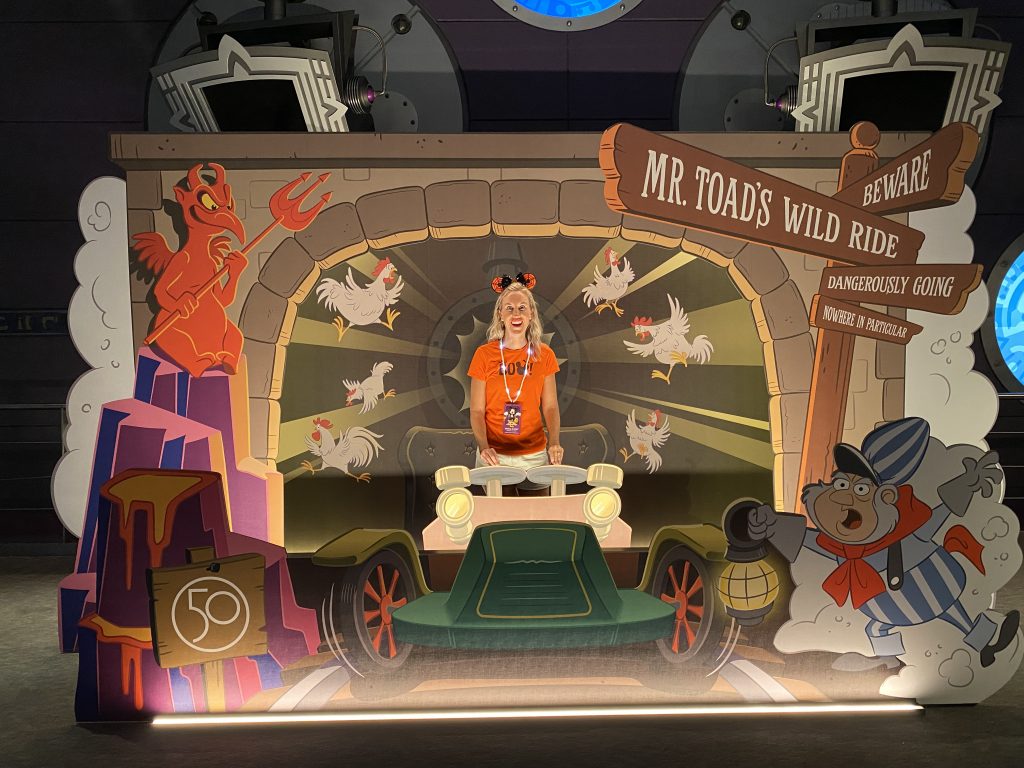 Also, with your event ticket, you can enter Magic Kingdom as early as 4 pm! Although the Halloween party doesn't officially start until 7 pm, you can maximize your ticket value by arriving early. You can do some non-Halloween activities before start time and then be ready for all things spooky when the clock strikes 7 pm!
Want to get a FREE vacation quote from an Authorized Disney Vacation Planner? Click here to fill out the form to get a no obligation quote. Your vacation is the same cost to you, and you get the help of an expert!
Spooky Attractions at Mickey's Not So Scary Halloween Party
This year, there are four attractions that have spooky overlays and experiences. There's not a lot of detail on these out there, so I wanted to share some details on what you'll find.
Space Mountain
During MNSSHP, Space Mountain takes place in complete darkness! There's also a different and spookier soundtrack.
Monsters Inc. Laugh Floor
There is a treat trail that takes you directly through the Laugh Floor. This is one of our favorites! Inside the Laugh Floor, the show is continuously taking place, and has a Halloween twist to it. You can sit and watch for as long as you want, or you can keep walking. It's a fun place to sit and rest for a little bit while you enjoy some Halloween themed laughs.
Mad Tea Party
This classic attraction has a spooky feel! There's fog, Halloween colors, and special effects.
Pirates of the Carribean
This was our favorite spooky attraction! There are live Pirates scattered throughout the attraction! They are throughout the queue and inside the ride. And they also interact with guests on the attraction. This was such a fun and different way to experience this classic ride. Don't miss this one!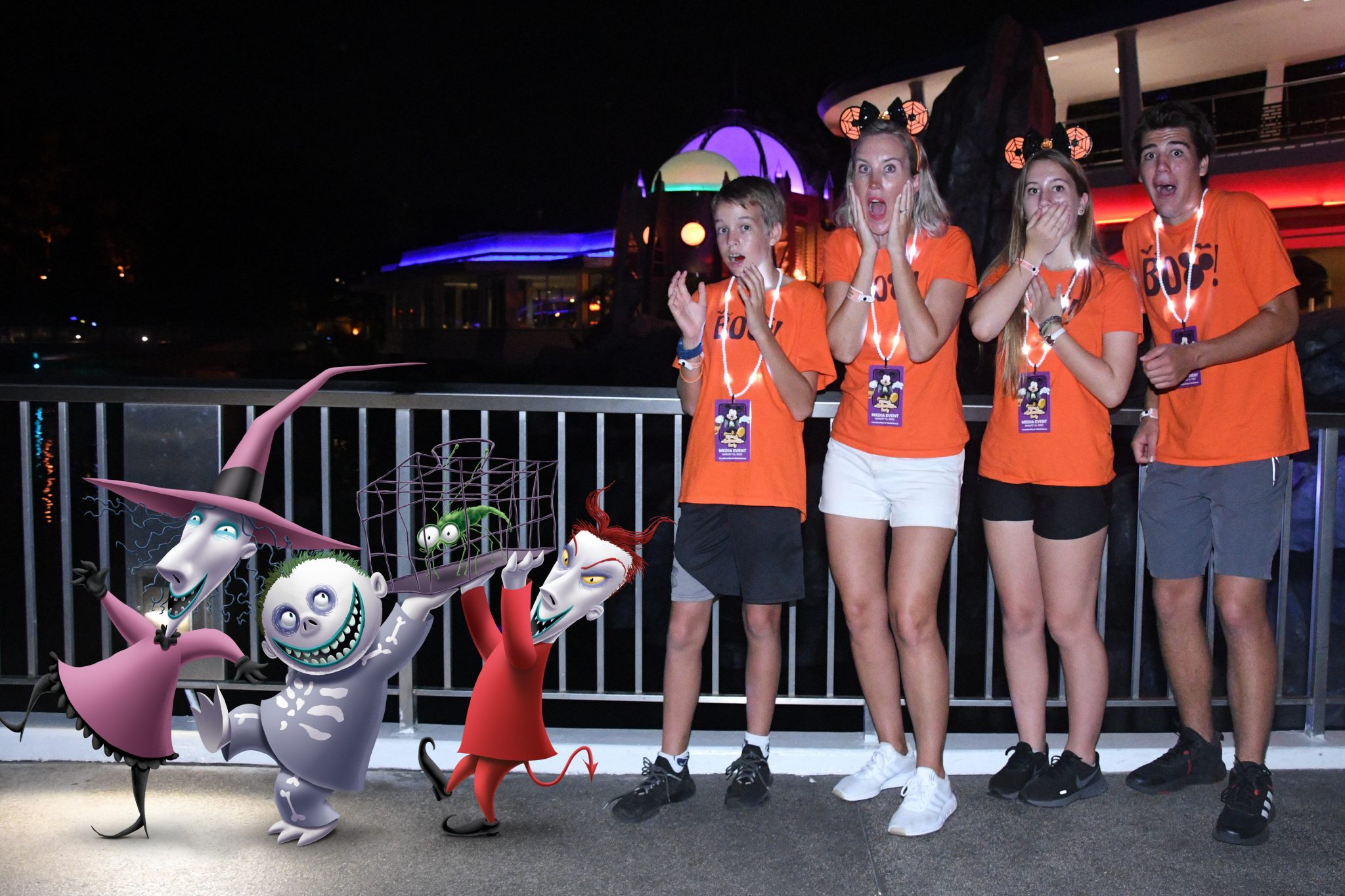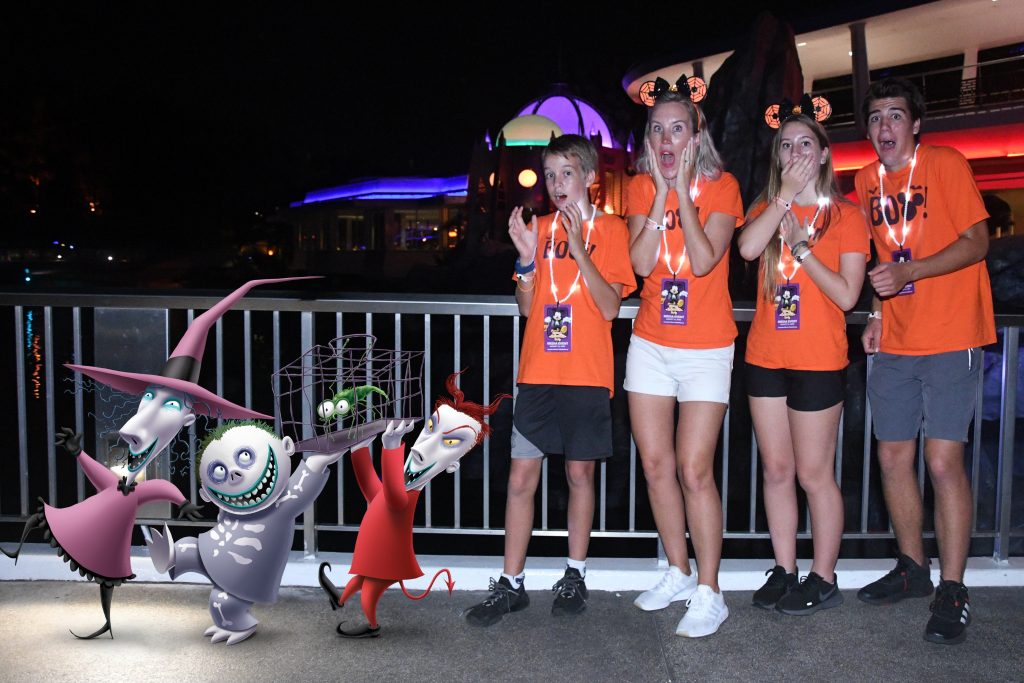 Should You Wear a Costume to Halloween at Disney World?
During Mickey's Not So Scary Halloween Party, at least half of the guests generally wear costumes, if not more. Guests really go all out! When we visited, we wore matching Disney Halloween t-shirts, but we've done costumes many times in the past. The temperate in Orlando is definitely a factor. The temperature in August, even at midnight, is still often in the 80's. So plan accordingly to not get overheated in a big, bulky costume!
One of our favorite parts of attending MNSSHP is seeing all of the amazing costumes. And this year, my son kept a list of some of his favorites.
Here's the list of our favorites (and all of these were adults!):
Jack Skellington
Sally
Kusco
Pinocchio
Elsa and Anna
Dr. Facilier (kid)
Hades complete with big hair
Dr. Doofenshmertz
Pluto
Peter Pan
Tinker Bell (with huge wings)
Jack Sparrow
Ellie and Carl
Snow White
Mother Gothel and Rapunzel (with some holding a plush Pascal)
Maui (and a little kid version with tattoos and no shirt)
Big Mickey Bar (made out of cardboard)
Lilo and Stitch
Wanda and Vision in Halloween outfits
Moana
Leia, Han Solo, Rey (kid), Ewok (kid) (family)
Prince Charming and Cinderella (Cinderella holding plush Gus)
Vanellope von Schweetz and Wreck it Ralph
Peter Pan's Shadow
Mr. Incredible and Incredible family
Thor and Loki
Max from A Goofy Movie (who danced with Max in the parade)
Woody, Bo, Duke Caboom (Bo has plush sheep)
Belle (with huge yellow dress)
Milo Thatch and Kidagakash Nedakh
Queen of Hearts
Roger Rabbit and Jessica Rabbit
Mary Poppins and Bert
Kronk and Yzma
Doctor Strange
Tweedle Dee and Tweedle Dum with Alice
Pool dad (funny shirt with floaty and snorkel)
Jedi (with lightsaber)
Maleficent (with big horns and feathers)
Captain Hook
Jane Banks (votes for women sash)
Russell
Oogie Boogie
Yelena Belova
Mad Hatter
Cheshire Cat
Ghostbusters
Miraculous Ladybug
Winnie the Pooh and Piglet (cute couple)
Harry (kid), Carlos (kid), and Mal (maybe mom)
And these were just some of our favorites! This is not nearly a complete list. And you can't even imagine how deluxe some of these costumes were in detail, size, and beauty. So if you want to dress in costume, you will NOT be alone.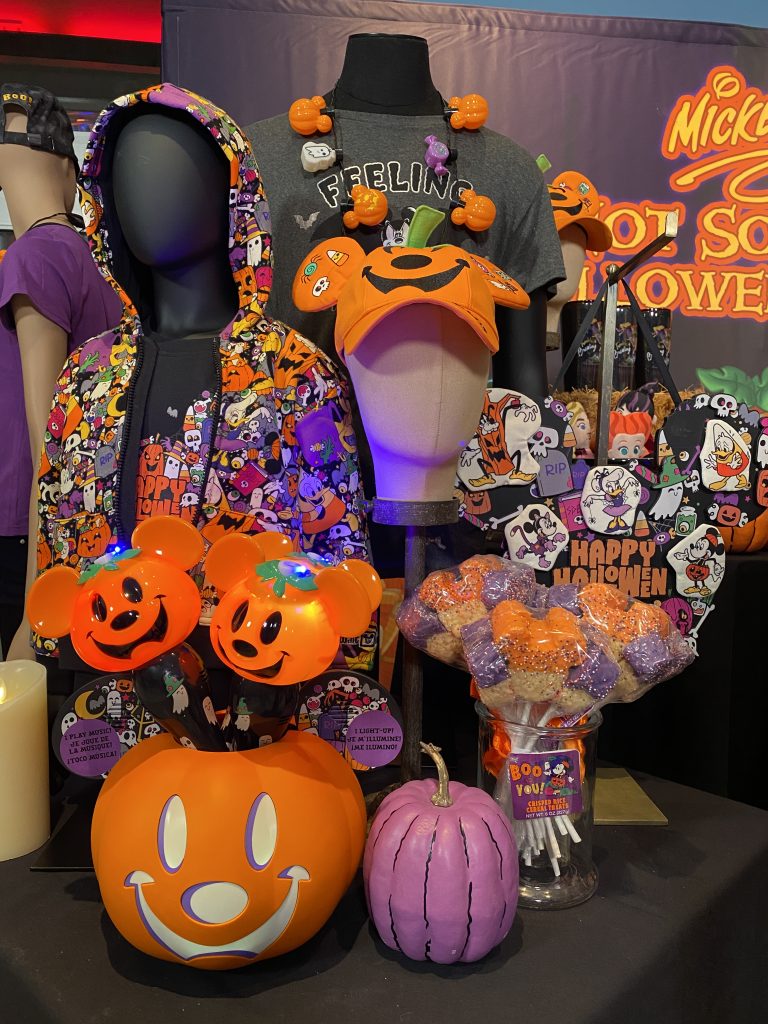 Have a very spooky Halloween season! I hope it includes Mickey's Not So Scary Halloween Party this year!
You may also like:
Keys to the Kingdom Tour at Magic Kingdom Review
You May Also Like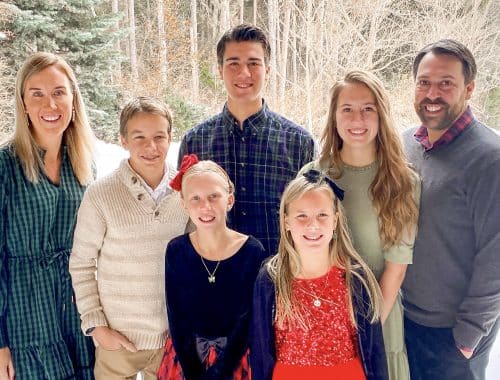 January 14, 2023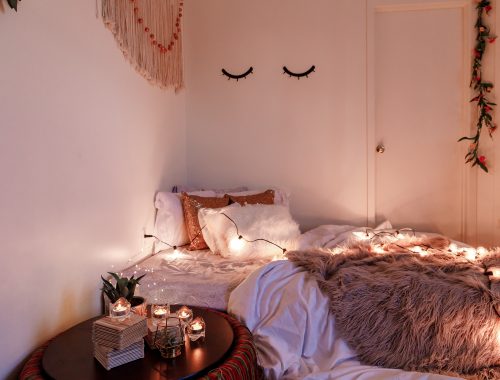 August 20, 2021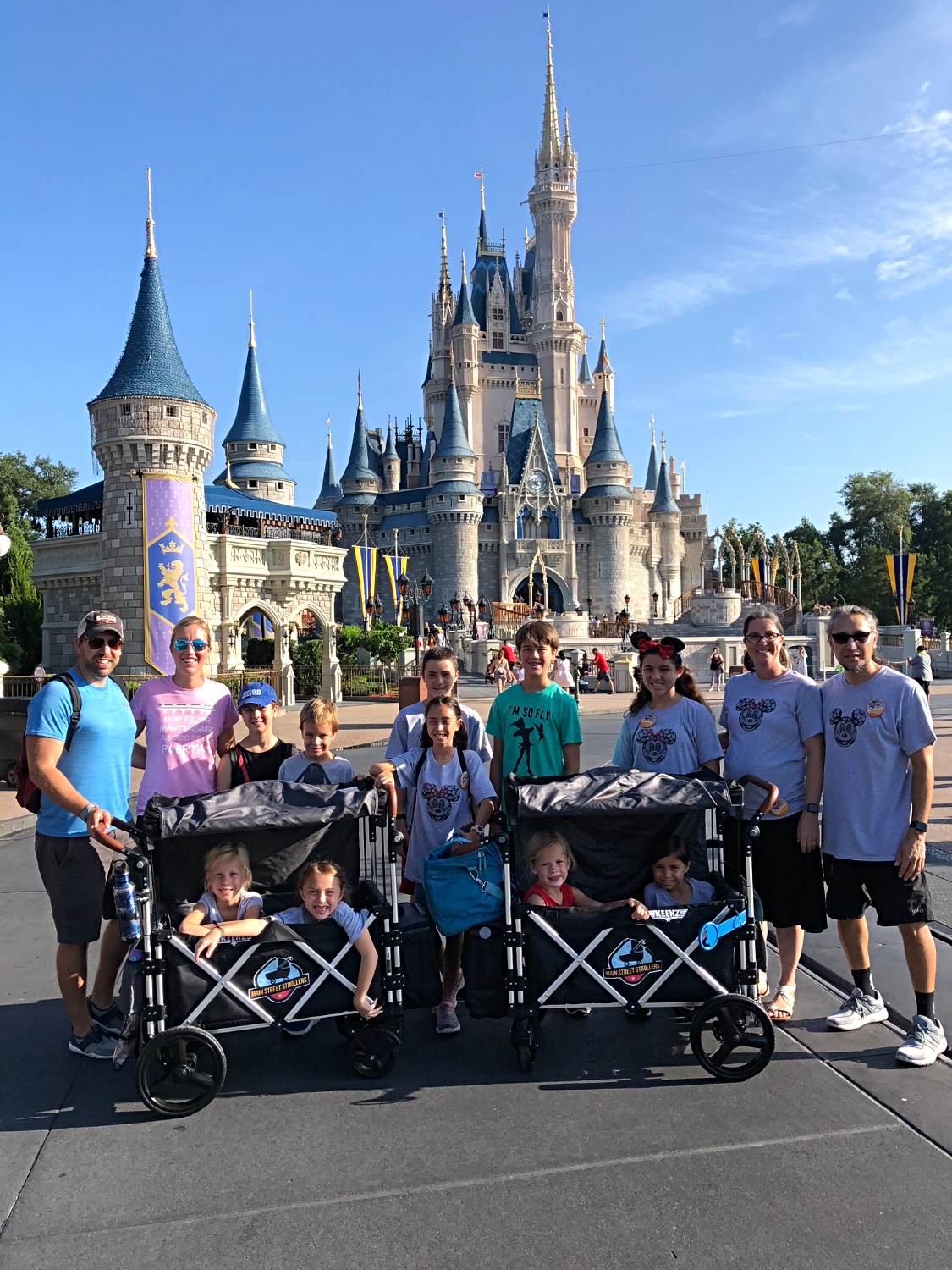 September 25, 2018