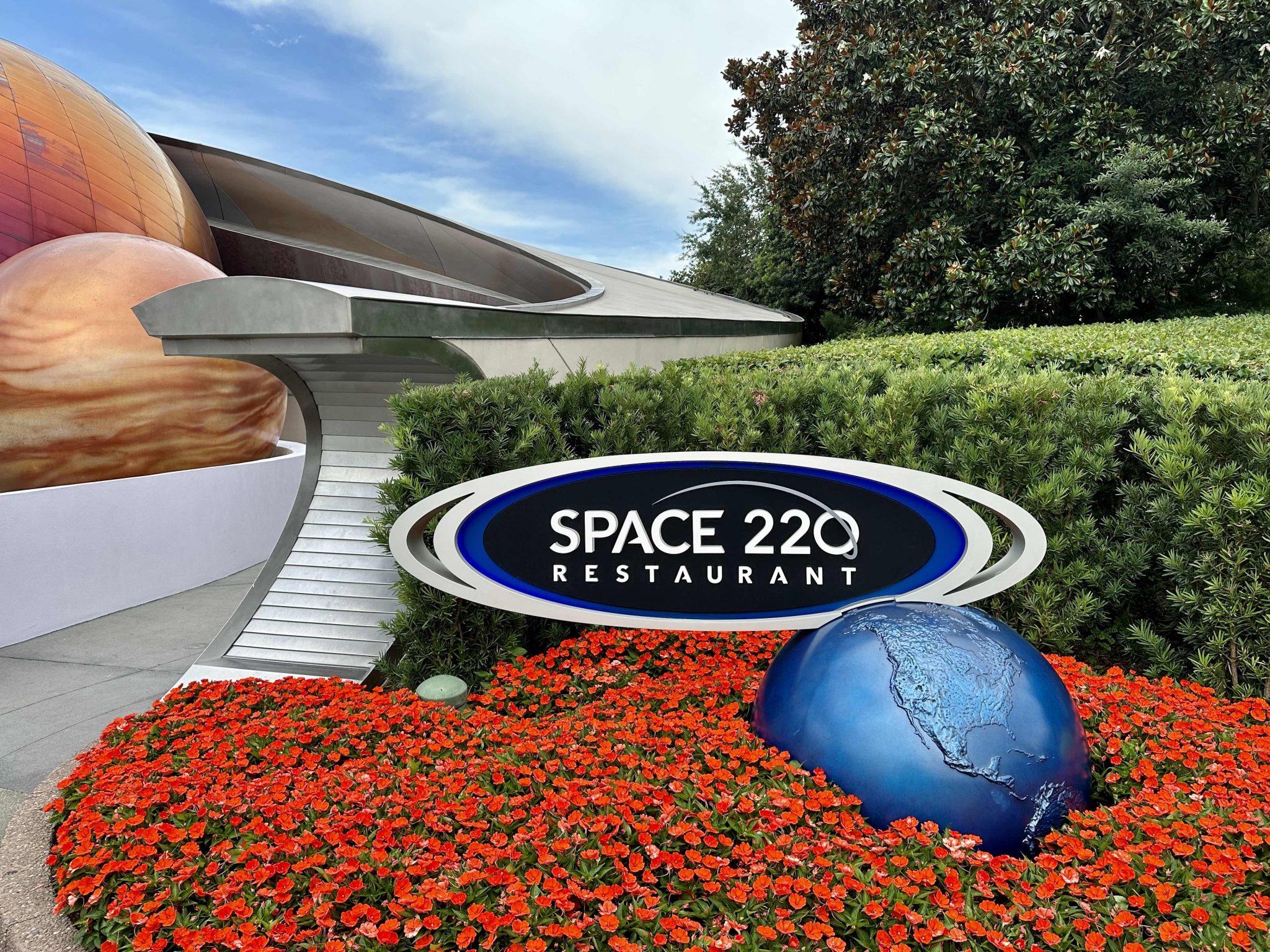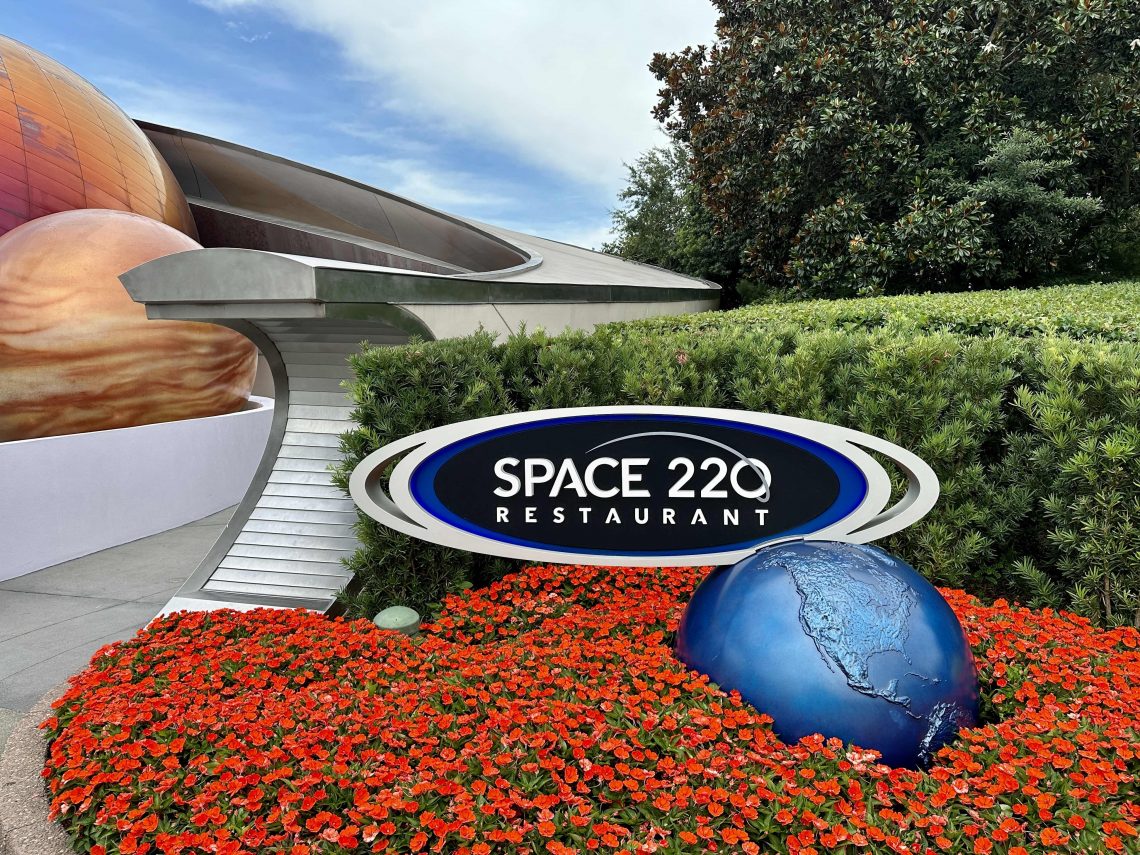 Space 220 Reservations and More
May 26, 2023
Sharing is caring!
How do you get Space 220 reservations and more info you need to know!
As a Disney World passholder family, we try to work our way around Walt Disney World, doing all of the best experiences. So ever since Space 220 opened a few years ago, we've been wanting to try it. However, I wasn't totally clear on how to get Space 220 reservations or what to expect. But on a low crowd day in May recently, we got the chance to try it out and travel 220 miles above Earth!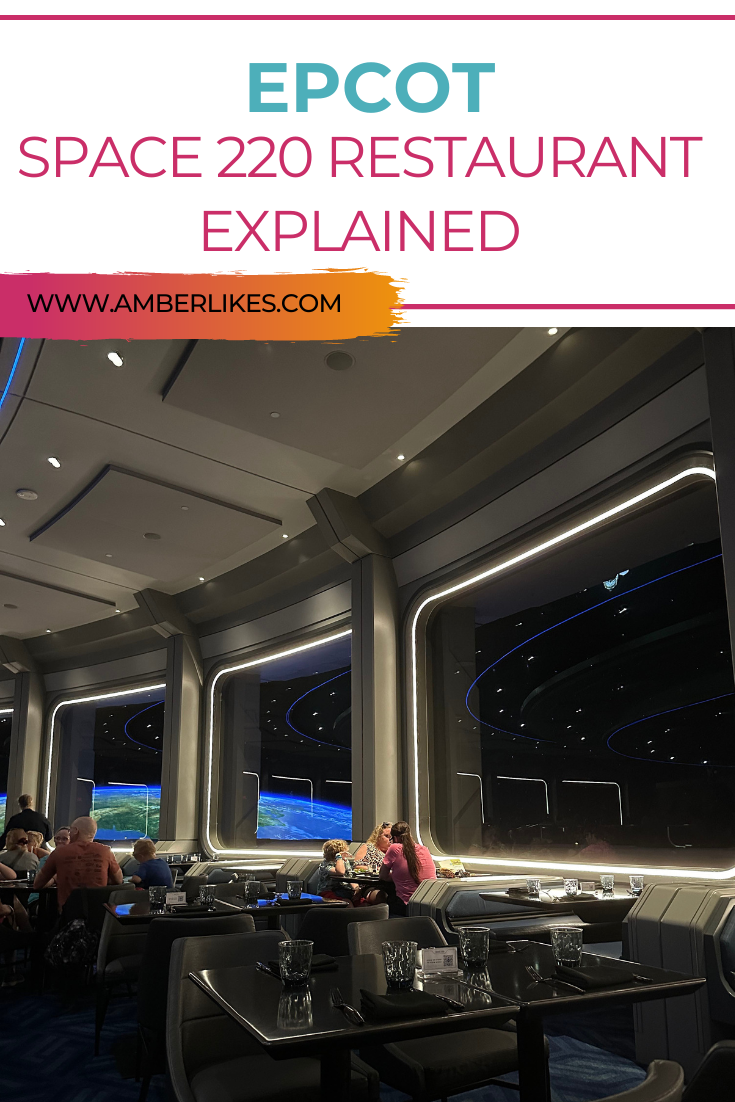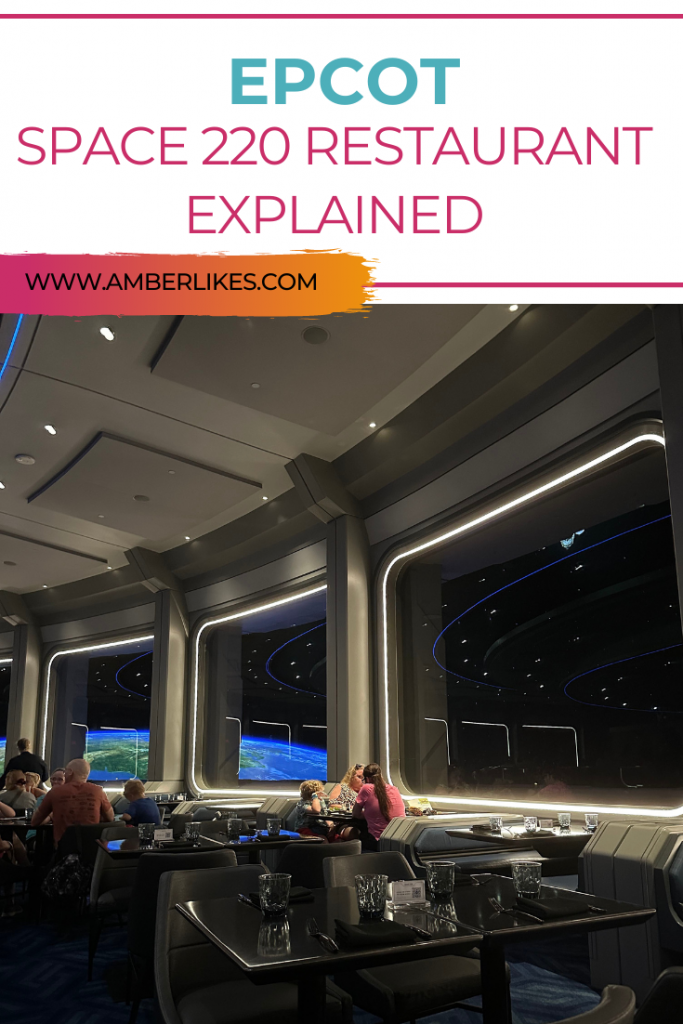 So how do you get Space 220 reservations?
Well, the answer to this is shockingly and somewhat annoyingly simple. The My Disney Experience app is your key to all things around Walt Disney World! You can make dining reservations on that app, check wait times, and much more. However, for Space 220 reservations, you have the chance to also just walk up and check. When we recently visited, that's how we got reservations! So I walked up to the restaurant, which is located in the same building as Mission: Space. And I asked the Cast Member and there were several reservations available!
So keep checking if you really want to try it out! And if you have a Disney World trip planned for the future, be sure to make your dining reservations 60 days before your trip. That way, you'll have the best options for availability for all restaurants at the Parks.
What is Space 220?
Space 220 is a unique and immersive dining experience located at Epcot, the Walt Disney World Resort in Orlando, Florida. The restaurant takes guests on a simulated journey to a space station located 220 miles above Earth. It opened to the public in September 2021.
The concept behind Space 220 is to create a futuristic and otherworldly environment where diners can feel like they are dining in outer space. The restaurant's entrance is designed to resemble a space elevator that transports guests from Earth to the space station.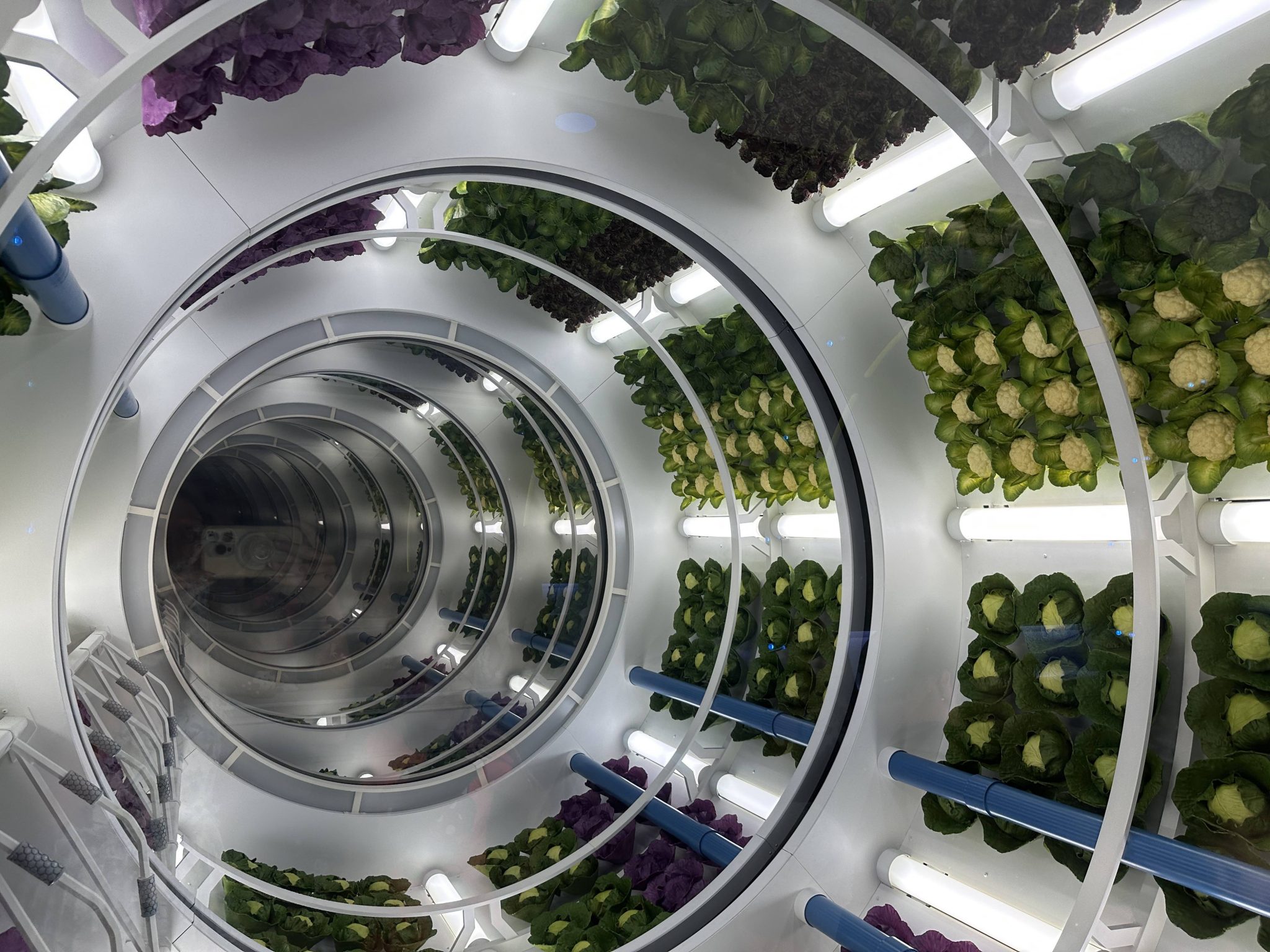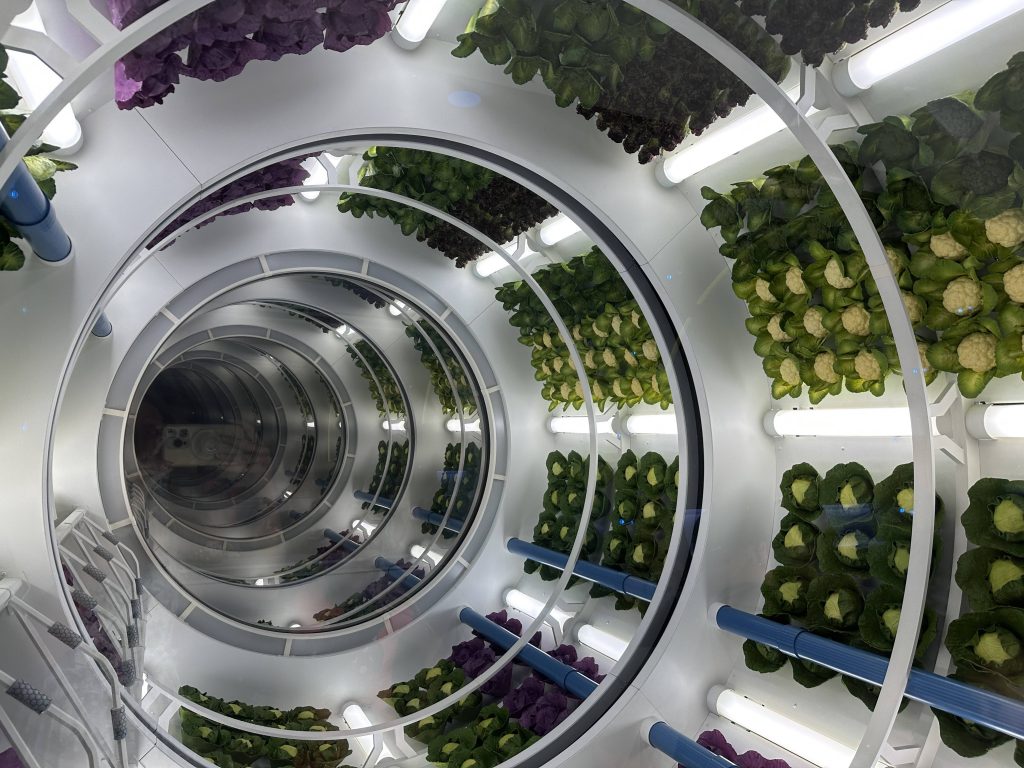 Once inside, guests are greeted with a stunning view of Earth through a massive viewport, providing the illusion of being in space. The dining area is designed to resemble a space station, complete with a variety of space-themed decor. There are also animated windows that showcase the movement of astronauts and other spacecraft.
But what's the food like?
The menu at Space 220 offers a blend of contemporary cuisine with futuristic twists. The dishes are inspired by international flavors and feature a range of options, including seafood, steak, and vegetarian dishes. Guests can also enjoy a selection of fine wines, craft beers, and specialty cocktails.
There is also quite the price difference between lunch, at $55, and dinner, at $79. In addition, there's a kid's meal option for $29 that my kids really enjoyed! See the images below for the menu options on the fixed price menu.
Appetizers/First Course: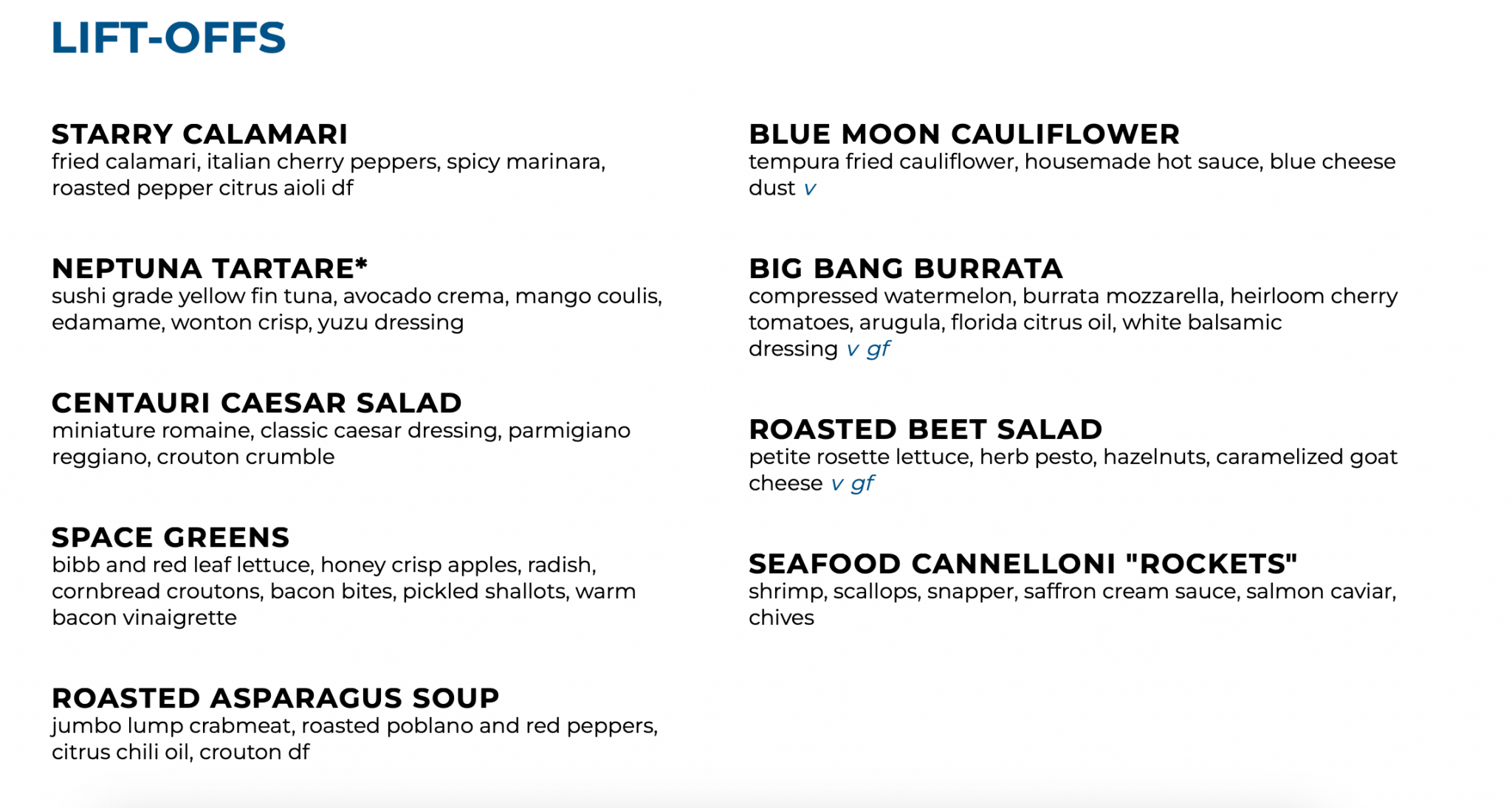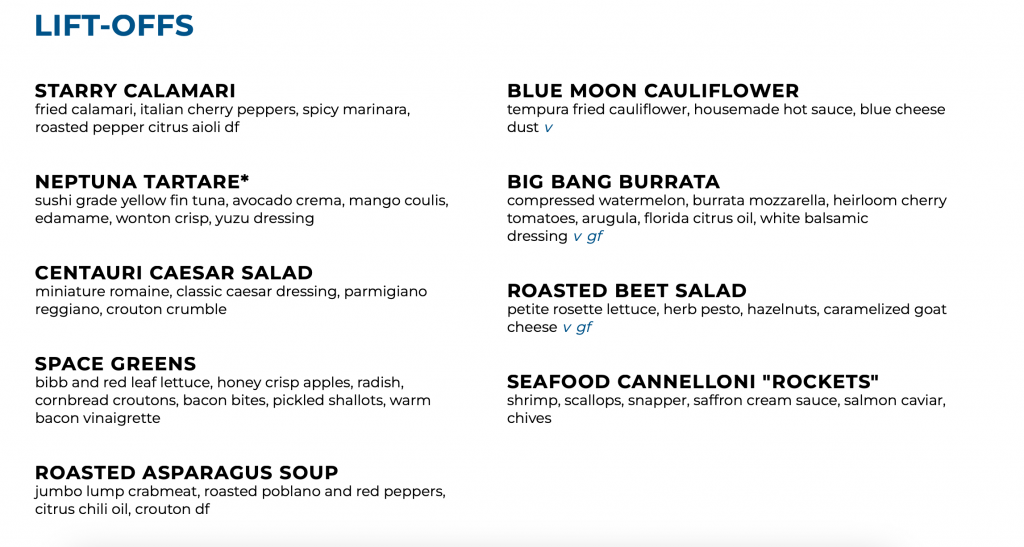 Main Course: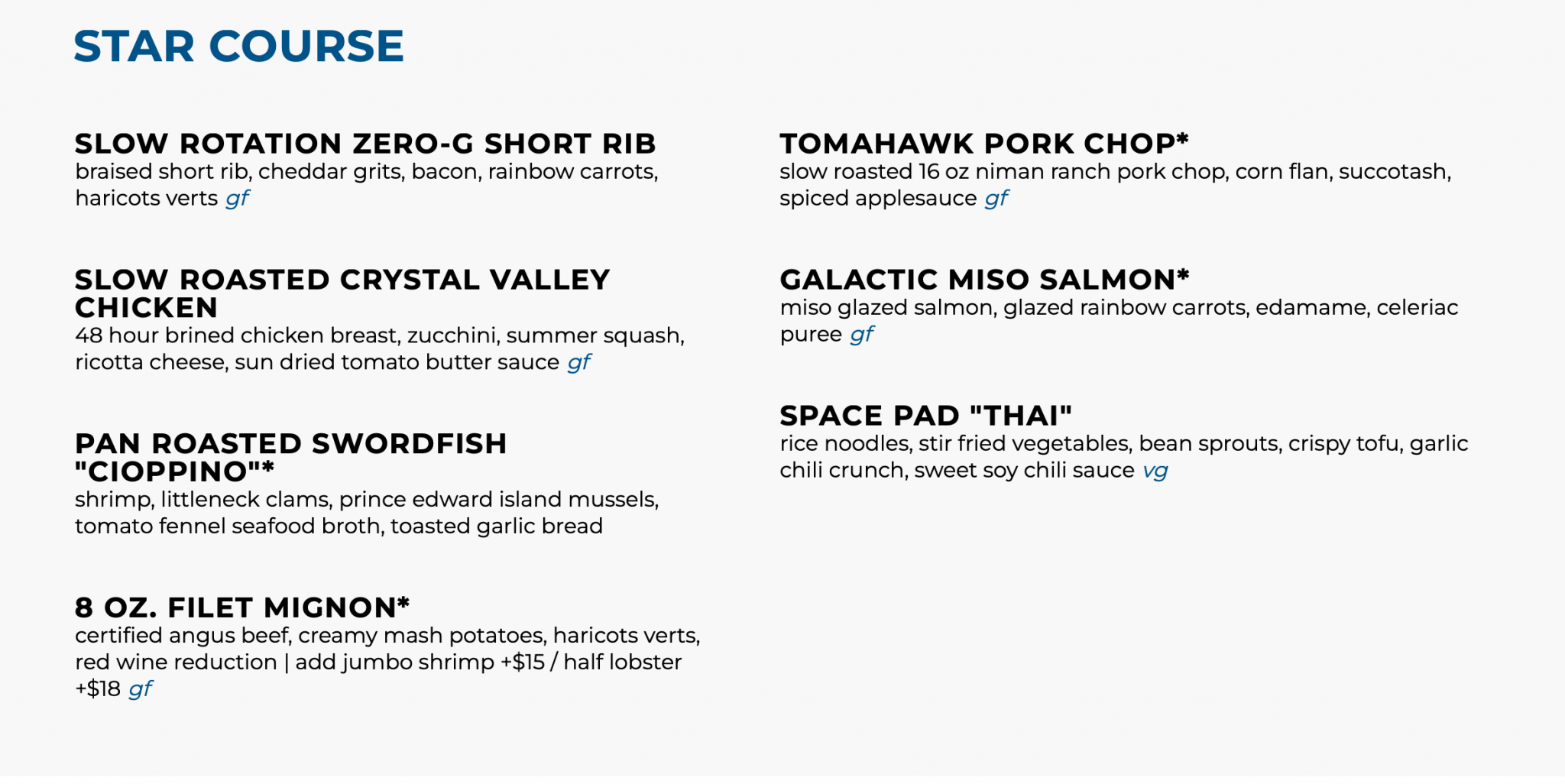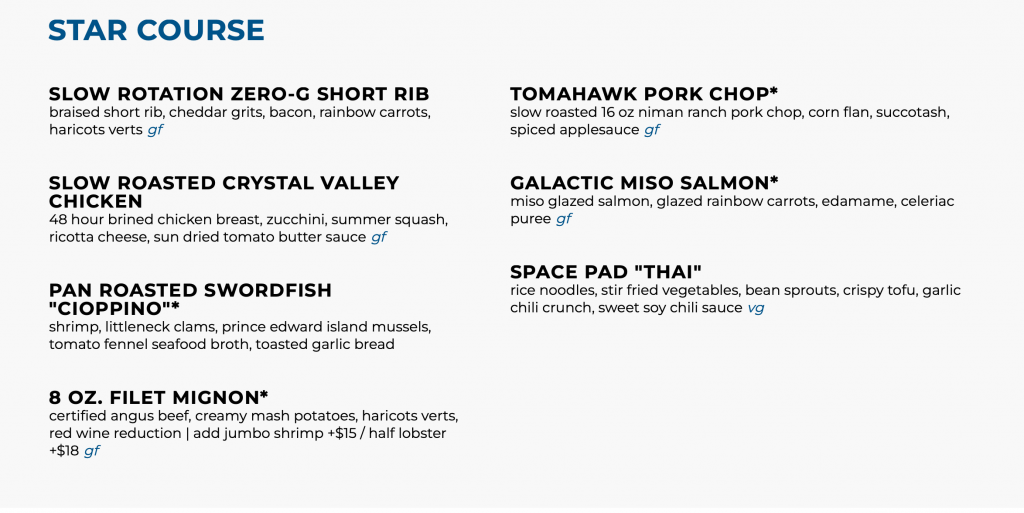 Dessert Course:


Kids Menu: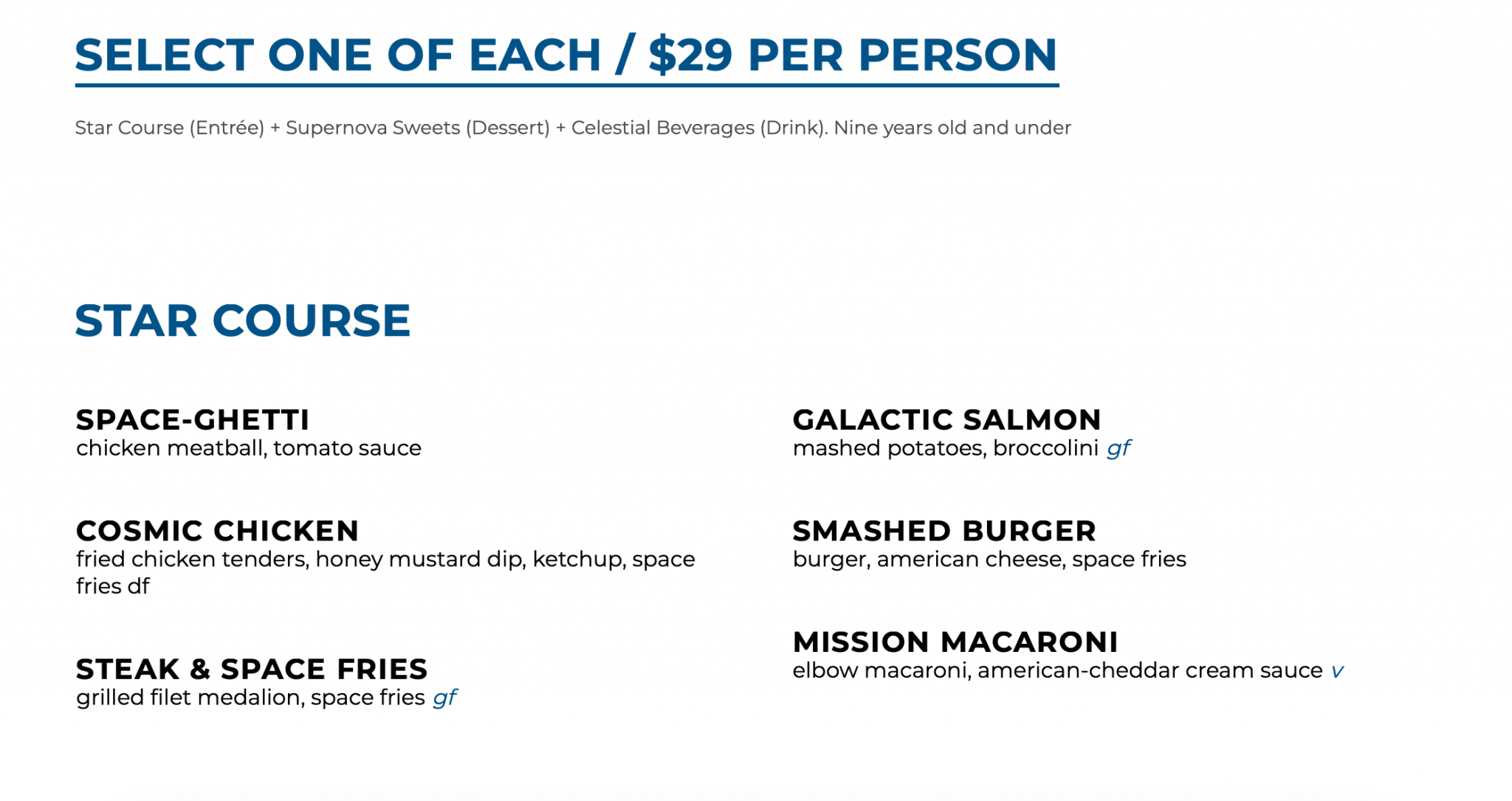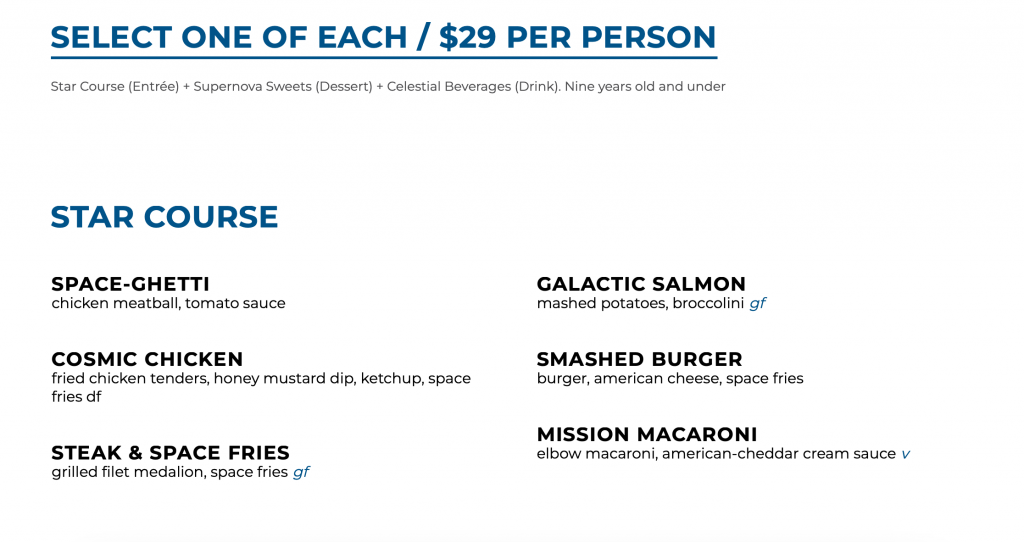 We really enjoyed all of our meals! I had the Blue Moon Cauliflower and Space Pad "Thai." My husband had the Neptune Tartare and the Miso Salmon. And we all had the Chocolate Cheesecake for dessert. They were all incredibly good and very much enjoyed. We couldn't even finish our beautiful cheesecakes!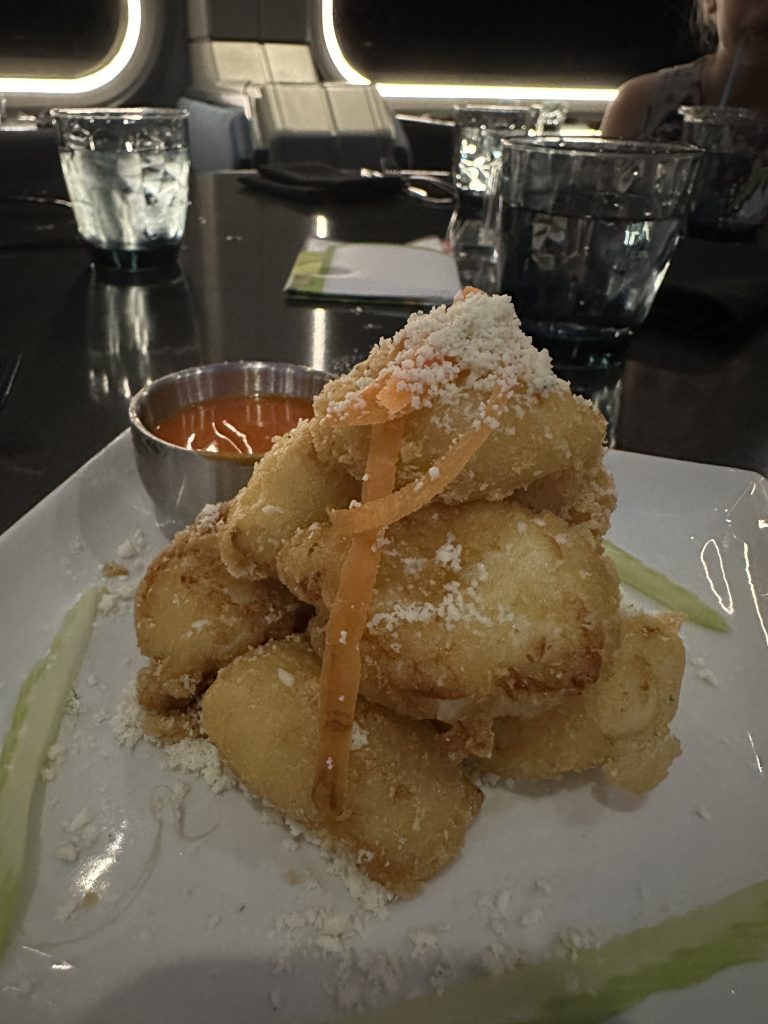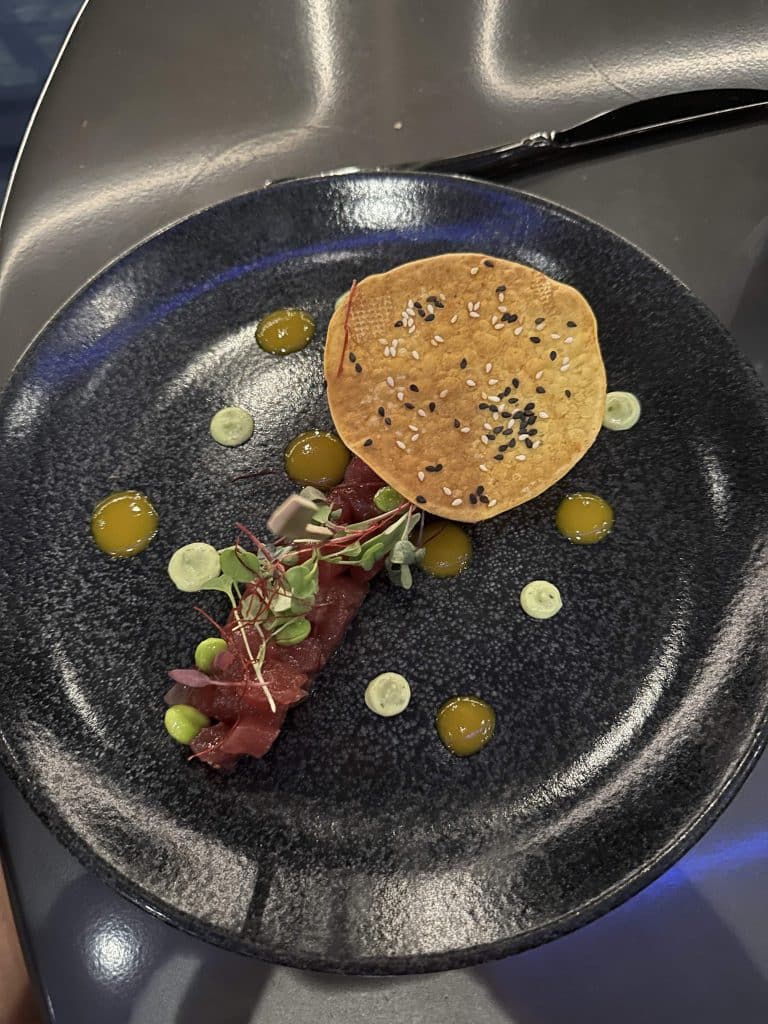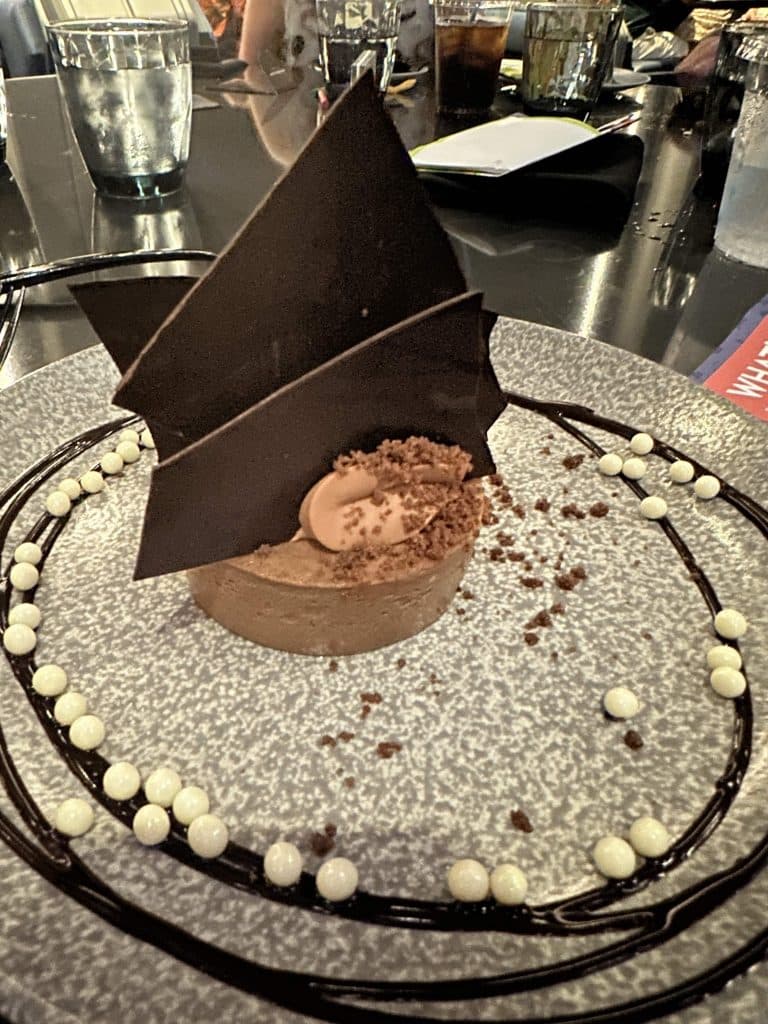 Space 220 Need to Know Details
Location: Space 220 is located in the Future World section of Epcot at the Walt Disney World Resort in Orlando, Florida. It can be found adjacent to the Mission: SPACE attraction.
Elevator Experience: Upon arrival, guests are directed to a special space-themed elevator that simulates a journey from Earth to the space station. The elevator provides a thrilling and realistic experience as it ascends, displaying virtual views of Earth transforming into outer space.
Immersive Setting: The dining area of Space 220 is designed to resemble a space station orbiting Earth. The environment features sleek and futuristic interior design elements, with walls adorned with digital screens showcasing space vistas and animated displays of astronauts and space objects.
Viewport: One of the standout features of Space 220 is its massive viewport. The viewport is a floor-to-ceiling window that provides an impressive panoramic view of Earth from the space station's perspective. Guests can enjoy the breathtaking sight of our planet while dining.
Interactive Elements: Space 220 incorporates interactive elements throughout the restaurant to enhance the immersive experience. Guests may witness astronauts floating by the windows, spacewalks taking place, and other space-related activities.
More to know…
Menu: The menu at Space 220 features a variety of dishes inspired by international flavors. Guests can indulge in a range of options, including seafood, steaks, vegetarian dishes, and decadent desserts. The menu is carefully crafted to offer a blend of contemporary cuisine with innovative twists.
Beverages: Space 220 offers an extensive selection of beverages to complement the dining experience. Guests can choose from a curated wine list, craft beers, signature cocktails, and non-alcoholic specialty drinks.
Reservations: Due to its popularity, reservations are highly recommended for Space 220. Guests can make reservations in advance through the Walt Disney World website or by contacting the restaurant directly.
Accessibility: Space 220 strives to accommodate guests with disabilities or special needs. The restaurant is wheelchair accessible, and assistance is available for guests with mobility concerns or other accessibility requirements.
Kid Friendly: With a kid's menu, trading cards, and an interactive space, kids get the royal treatment here! They will love it!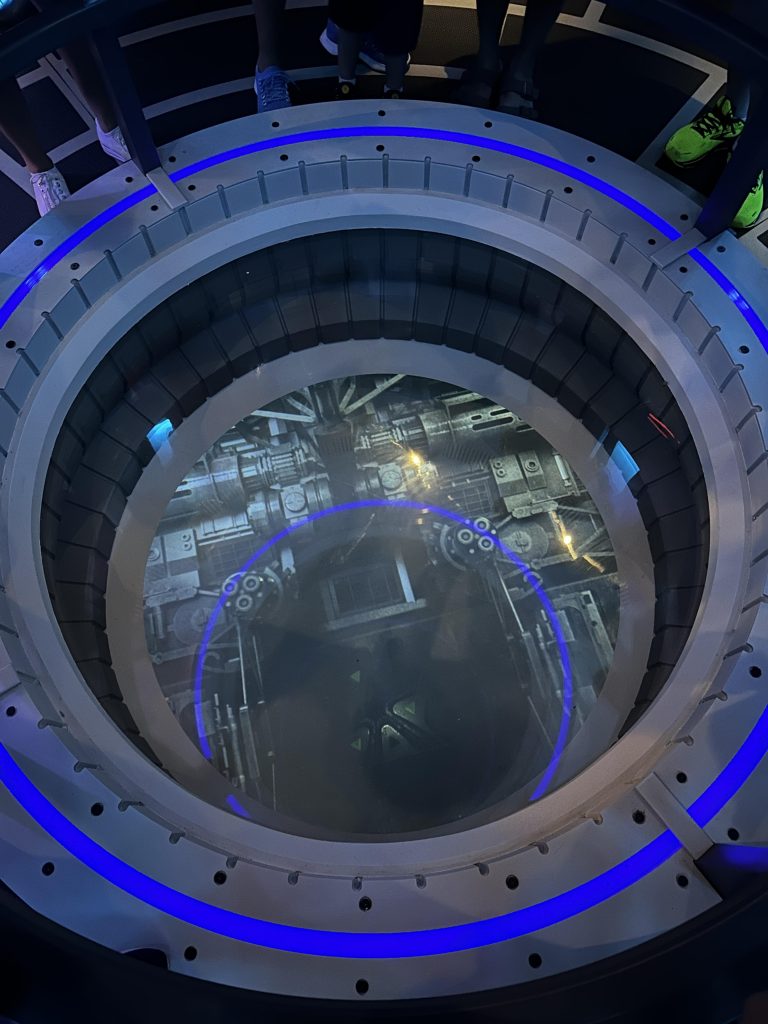 Space 220 aims to transport guests on an immersive journey to the depths of space, providing a memorable dining experience that combines imaginative theming, culinary delights, and a futuristic atmosphere.
Special Experience Dining
With a higher price point than a lot of dining options at the Park, this is a special experience dining for us and for most. But it's worth visiting and really incredible! Check out the app and book your trip to space!
More you may like:
Everything new to love at Animal Kingdom
Every Height Restriction at Disney World
You May Also Like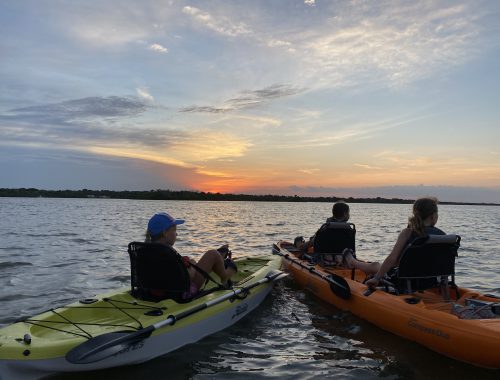 June 21, 2022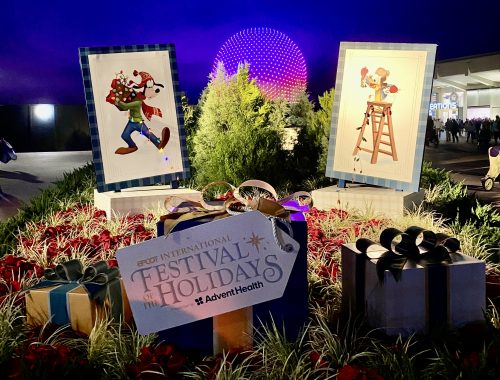 December 3, 2021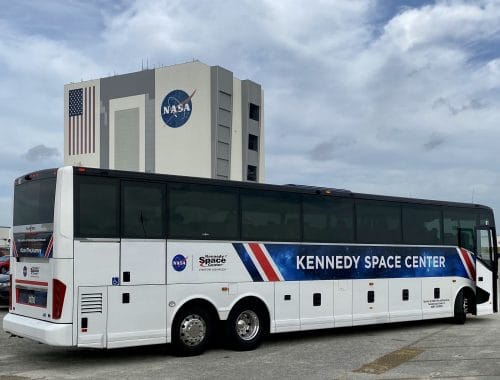 February 9, 2020