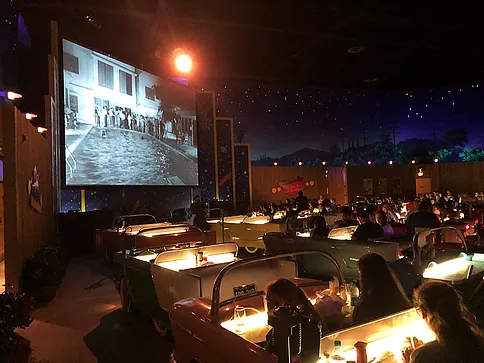 Hollywood Studios Sci-fi Dine-In Theater Restaurant
February 20, 2018
Sharing is caring!
Have you ever dreamed of going back in time to the 50's and eating at an old fashioned drive-in theater? If so, the Sci-fi Dine-in Theater Restaurant at Hollywood Studios is the place for you! It comes complete with 1950's sci-fi movies, car hops, picnic tables, and concession stand. We recently visited and I was reminded why this is one of my favorite dining experiences at Walt Disney World!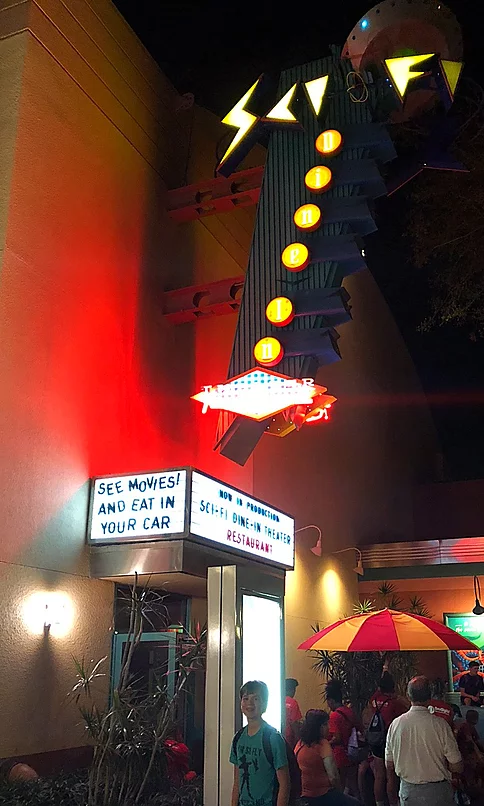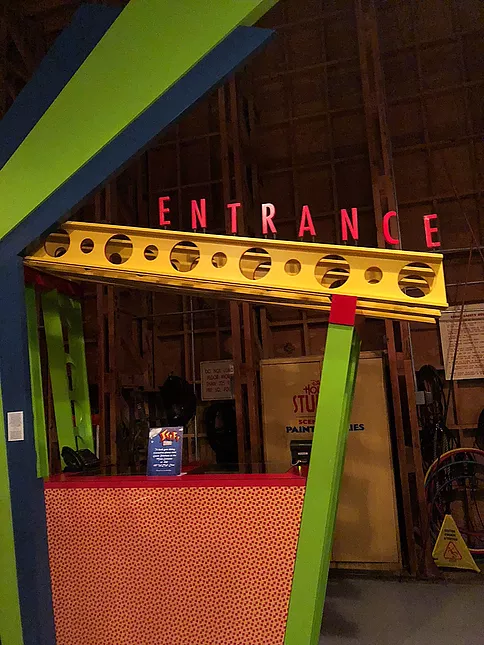 This themed restaurant is located in Hollywood Studios at Walt Disney World. It can be easy to miss when walking around, as it is located right past the ABC Commissary and across from a DVC information booth. You can see the entrance above, with the second picture showing the check-in stand.
Very rarely, walk-in seating may be available, usually with a considerable wait. Reservations are highly recommended at any Walt Disney World restaurant, and this one at Hollywood Studios is no exception! In fact, a reservation is the only way you will be able to sit in the "car" rather than at a picnic table in the back. In my opinion, sitting in the car really provides the full experience.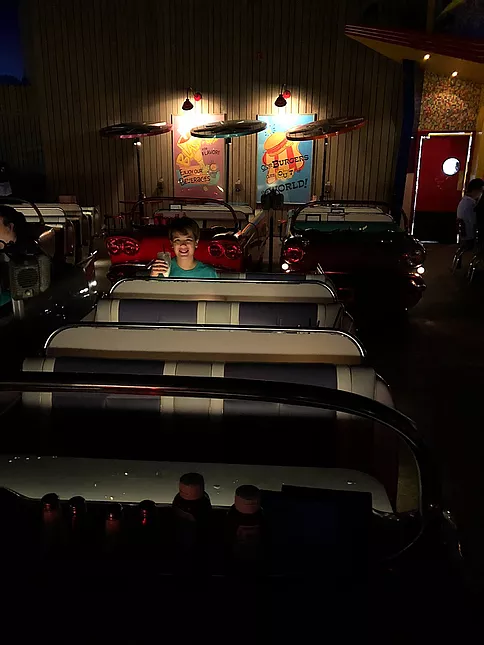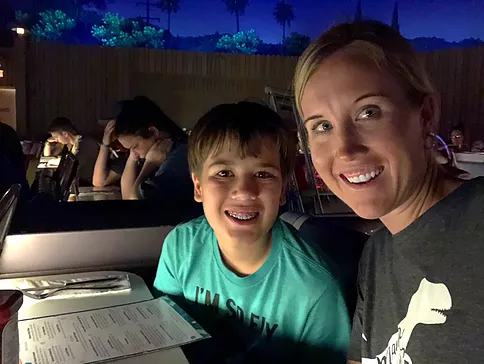 In each car, you can fit 2-3 people per row, depending on size. Two adults and one small child would fit rather tightly, with not much room to spare. On this visit to Walt Disney World, I was with my 12 year old son, and with the two of us in the back row of a car, we didn't have much room to spare.
The menu is not huge at the Sci-fi Dine-in Theater Restaurant at Hollywood Studios, but there is something for everyone. I am mostly a vegetarian, and actually mostly a vegan. But during this meal, I had the vegetarian option of the Caprese Sandwich. It was amazing! My son had the kid's grilled salmon, which he thoroughly enjoyed. I was thankful they had such a healthy option on the menu! And just in case you are wondering, we view the kid's meal age more of recommendation than a requirement. My son is 12, and he often orders from the kid's menu. If we feel this is enough food for him, it seems it shouldn't matter to Disney. And we have never had any Walt Disney World wait staff give any hesitation or question when doing so.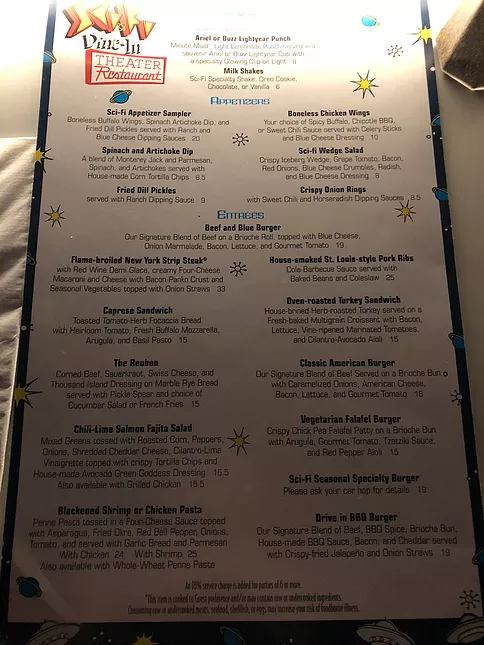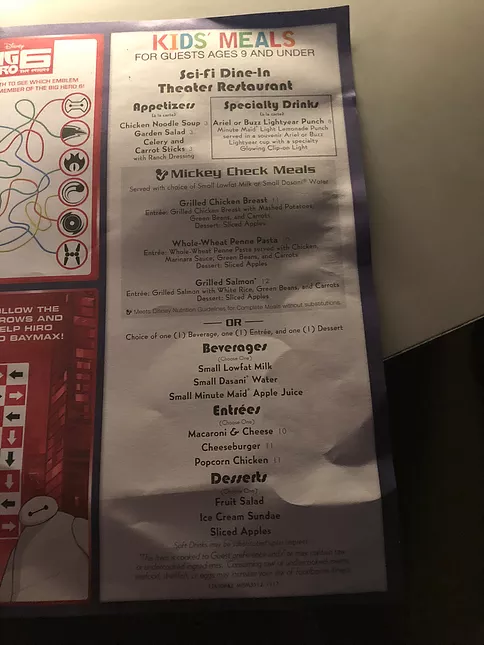 The food is wonderful, but the ambiance is what really makes this dining experience special at the Sci-fi Dine-in Theater Restaurant at Hollywood Studios. It is usually quiet in this restaurant, as most diners are enjoying the 1950's programming. There are not so scary sci-fi movies playing, interspersed with commercials for the concession stand at intermission, safety announcements, and commercials. It's really fun to have this look back in history at life in 1950's America!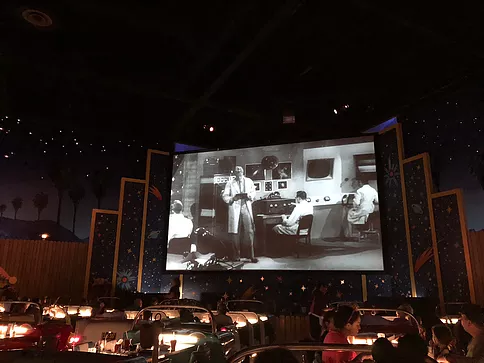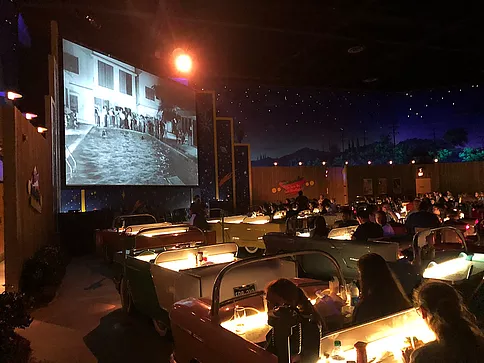 If you can get the reservation, this dining experience is definitely worth the trip! It is one of my favorite experiences, and really unlike any other dining experience I have had around the world. The theme is fun and entertaining, and the food is delicious!
Have you ever been to the Sci-fi Dine-in Theater Restaurant at Hollywood Studios? If so, let me know on my youtube video at my channel at AmberLikes or on instagram at @ambershimel Look forward to hearing from you!
You May Also Like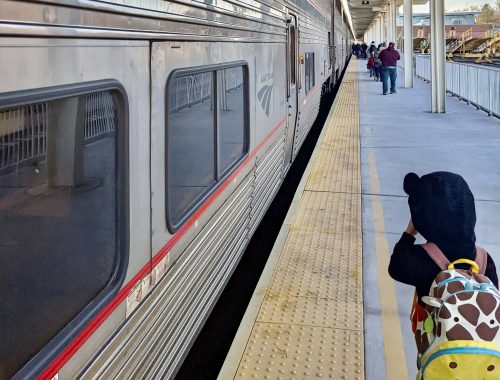 January 29, 2022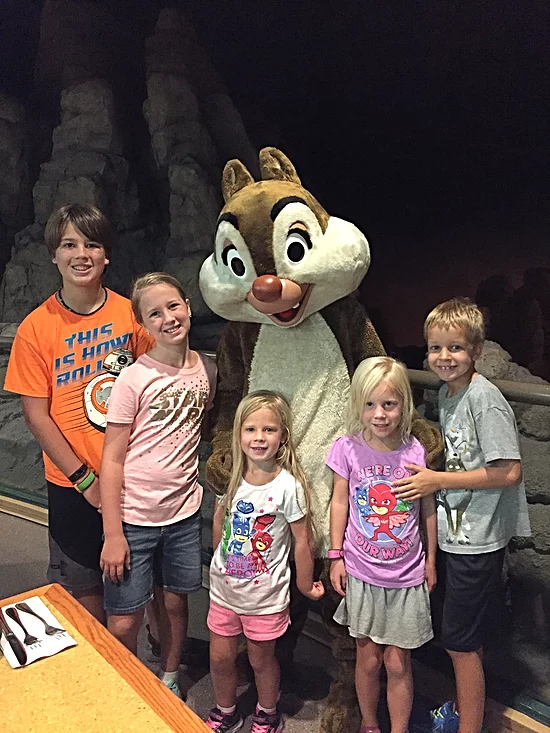 August 26, 2017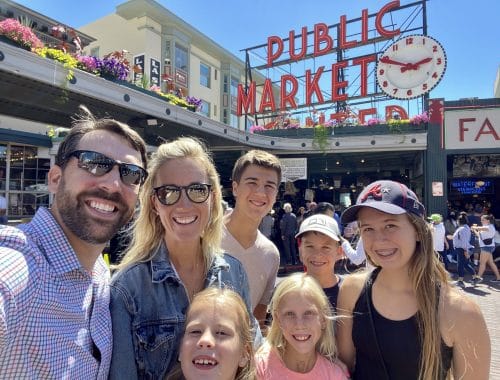 August 7, 2021