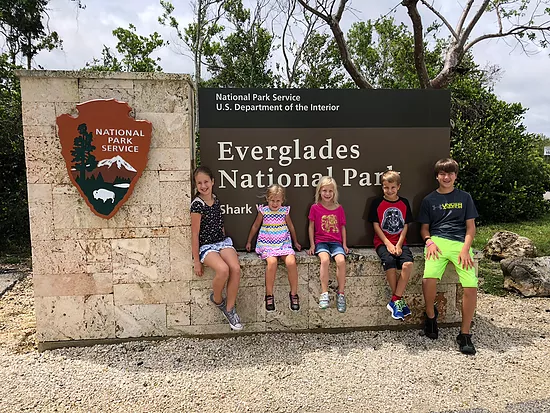 The 3 Most Surprising Things about the Everglades National Park
May 31, 2018
Sharing is caring!
On our trip to Southwest Florida, we were able to check off another National Park from our list! I had been to the Everglades several times before, but since our National Parks goal requires all 7 of us to be together, this was the first visit that officially counted for a sticker on our map. This makes 4 out of 60 (one more Park was added since the last time I wrote about the National Parks!).
The Everglades is the largest subtropical wilderness in the United States. It is home to alligators, manatees, snakes, birds, fish, and many other animal species. There are four Visitor's Centers in the Everglades National Park. These are Flamingo, Ernest F. Coe, Gulf Coast, and Shark Valley. From our location in Fort Myers, we were closest to the Gulf Coast Visitor's Center. However, this Visitor's Center was severely damaged in Hurricane Irma, so that location only has one small trailer at this point in time. We decided to drive about 40 minutes farther to the Shark Valley Visitor's Center. At this location, there is a small display area, a tram tour, bike rentals, and a 14 mile trail. After our visit to the Everglades, here are the things that surprised me most about this National Park.
1. You can get SHOCKINGLY close to alligators.
Our first stop in the Everglades area was the Big Cypress National Preserve. We decided to stop here on our way into the Everglades National Park mostly to use the facilities. However, we were totally shocked to see lots of alligators in the water, right below our feet at the boardwalk!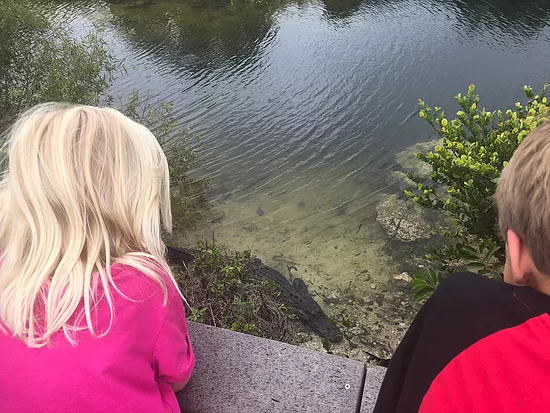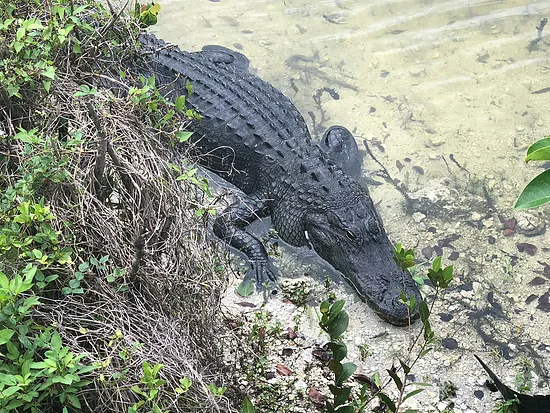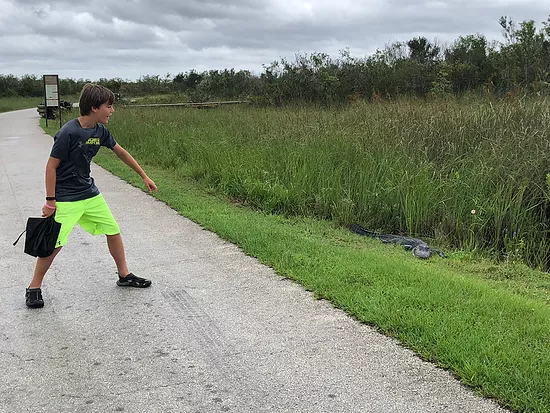 When we made it to the Shark Valley Visitor's Center, an alligator greeted us on the short driveway into the park! When we walked along the road, alligators were everywhere! As a Floridian, I have been taught a very healthy respect of these creatures. I would never get so close to them normally, but the park rangers were totally fine with this and there were pictures in the visitor's center of this happening frequently!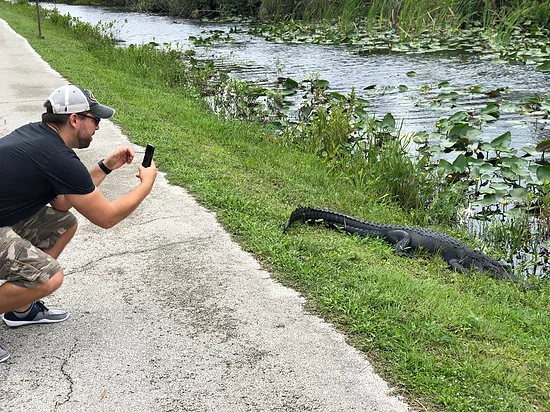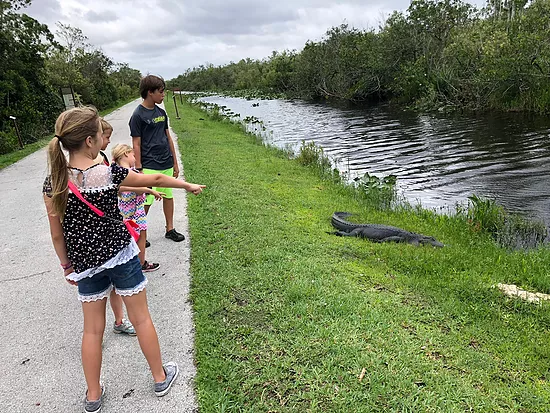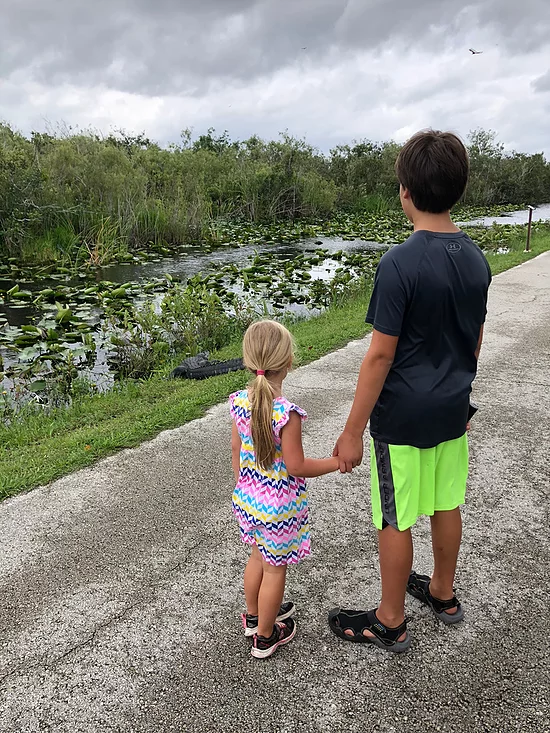 I would normally never recommend getting this close to these creatures, but this was a very memorable experience for our family. We talked A LOT with the children about the dangers of alligators, and to never approach them. It was a great opportunity to discuss a Florida safety issue that we might not have normally remembered to discuss.
2. Tours are expensive for large families!
To get into the Everglades National Park, it costs $25 per vehicle. At the Shark Valley Visitor's Center, there is a tram service that offers a two hour guided tour of the area. However, this tour is $25 per adult! With 7 of us, and three considered adults, this was cost prohibitive for this particular day. Also, when we arrived, the next tram tour did not start for two hours. We had spent a lot of time at Shark Valley by the time the next tour time was available, so we decided to head home. I read that there is an official boat tour at the Gulf Coast Visitor's Center, but this was even more expensive!
There were bicycles available for rent at Shark Valley, but we ran into a problem here too. There were no child bike trailers; only bike seats that fit children 35 lbs. or less. My four year old weighs more than 35 lbs., but does not know how to ride a bike, so there was no way for us all to go. This was frustrating and I doubt most 4 year olds know how to ride their bikes, let alone for a 14 mile trip!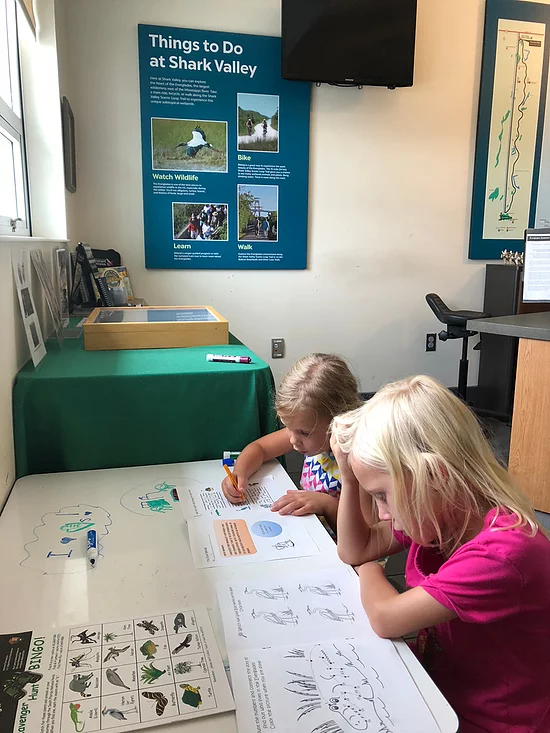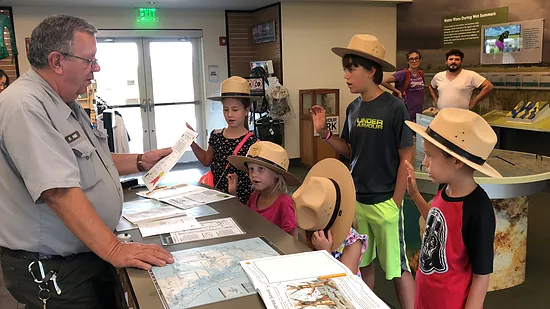 However, one of the resources that is available at every National Park is the Junior Ranger Program. During our visit, we were dealing with Tropical Storm Alberto, so it was raining off and on. As usual, the park rangers were very engaging and welcoming to our whole family. Sensing that we were feeling frustrated and bored, the Park Ranger offered all of our children the chance to complete an activity book in order to become an official Junior Ranger and receive a badge! The children got right to work and completed the tasks necessary to be sworn in as Junior Rangers! It was a wonderful rainy day activity and helped us all learn more about the Everglades.
3. Parts of this park are very remote!
Most people don't realize Florida has so much wilderness. When we think of the Sunshine State, most of us don't think of wide open spaces. But after driving for two hours on the Tamiami Trail, you better understand the scope of the Everglades!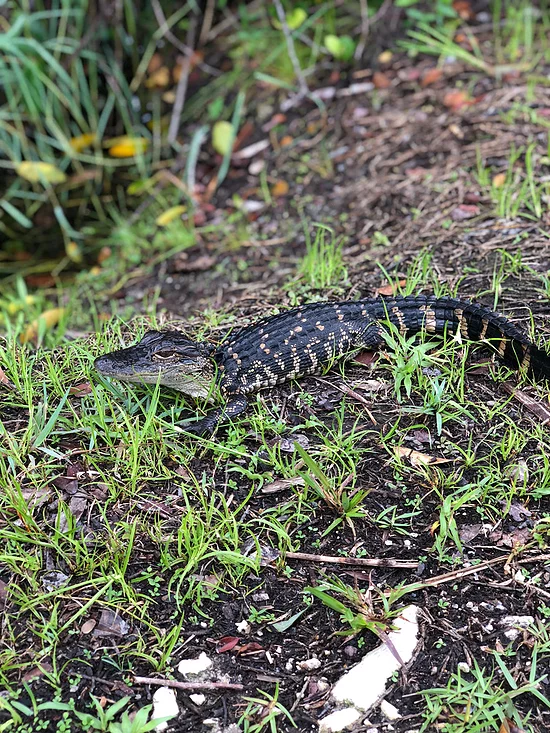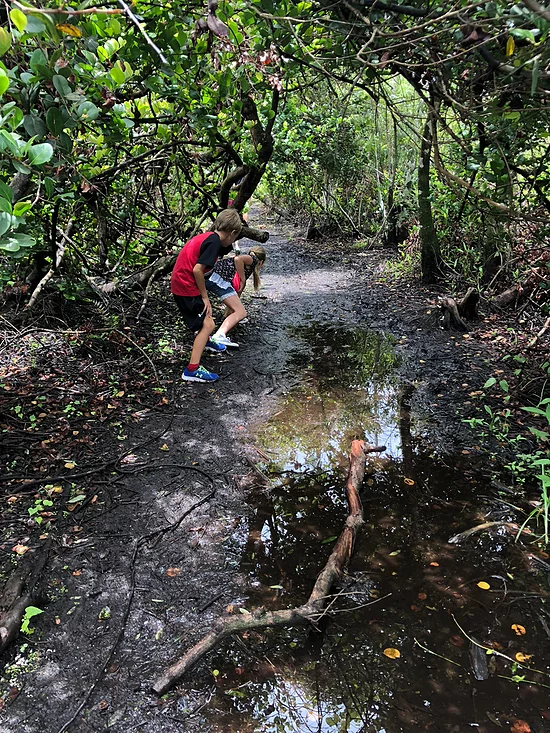 During our time at the Shark Valley Visitor's Center, we walked along a trail called the Otter Cave Hammock Trail that was muddy and fun! The kids loved it and again, it was surprisingly remote and adventurous. We really loved getting out in the wildlife!
The Everglades National Park is easier to get to from Miami and the Southeast side of Florida. This is particularly true if you go to the Ernest F. Coe Visitor's Center. However, if you are coming from Southwest Florida, be prepared for a drive and plan accordingly! There are very few food and gas options along the drive, so bring snacks and fill up the tank.
We had a wonderful time and were so happy to make progress on our National Parks goal! We love our home of America, our parks, our rangers, and the many programs available to visitors. Get our there and go find your park!
You May Also Like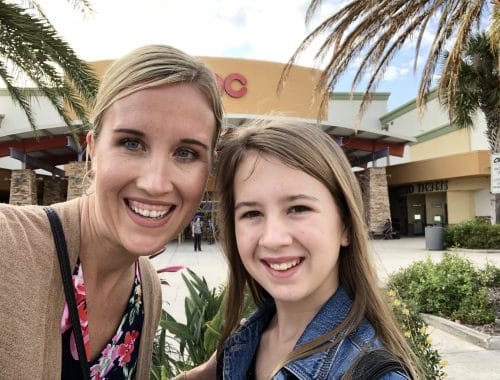 January 6, 2020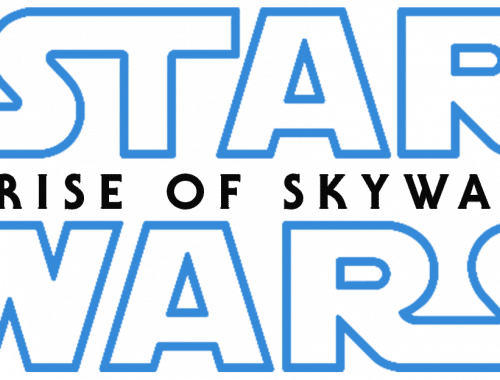 March 17, 2020