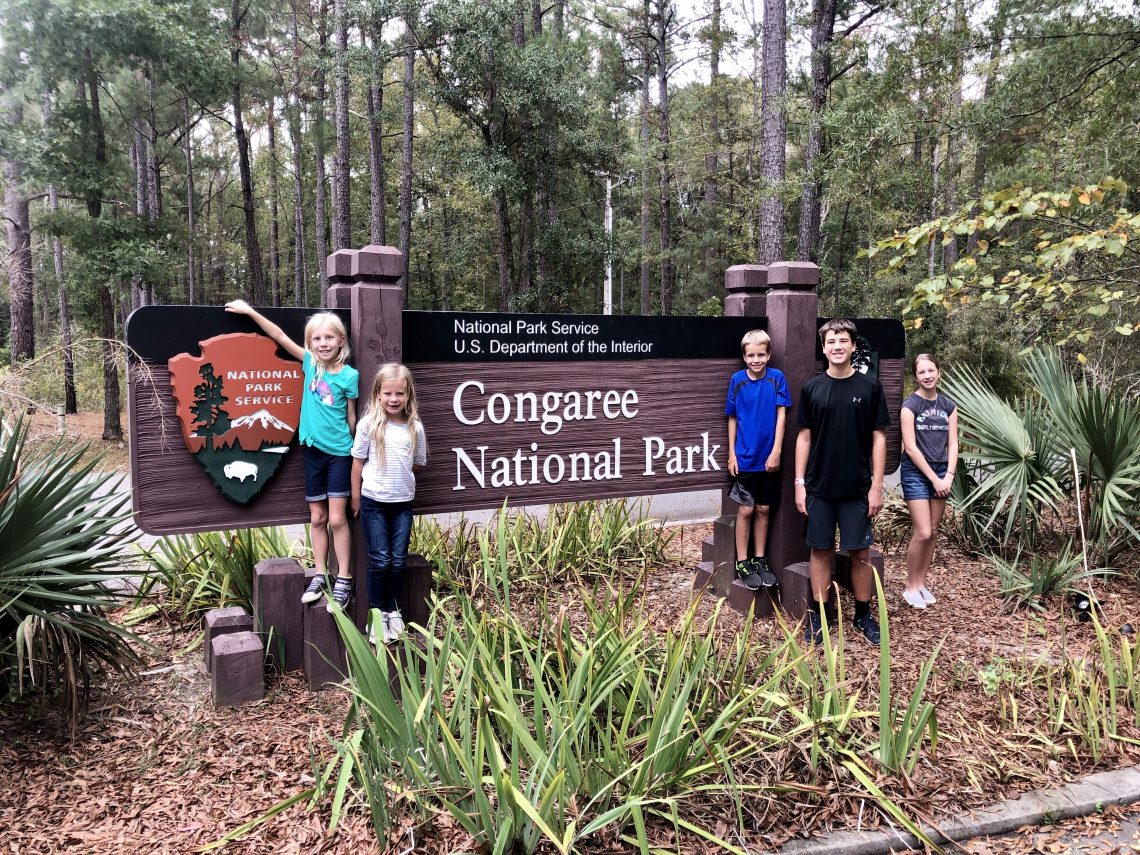 A Guide to Congaree National Park with Kids
October 23, 2019
Sharing is caring!
Aa you know, we are on a mission to visit every National Park with our five kids! On a recent road trip to Pennsylvania, we checked off two more on our list. First, we visited Shenandoah National Park in Virginia on our way North. Then, on our way back home, we visited Congaree National Park with kids. Congaree National Park is a 27,000 acre old growth floodplain forest in South Carolina with free admission. What can you expect at Congaree with kids? A lovely visitor's center, the popular Junior Ranger program, Passport stamps, and a perfect boardwalk for exploration!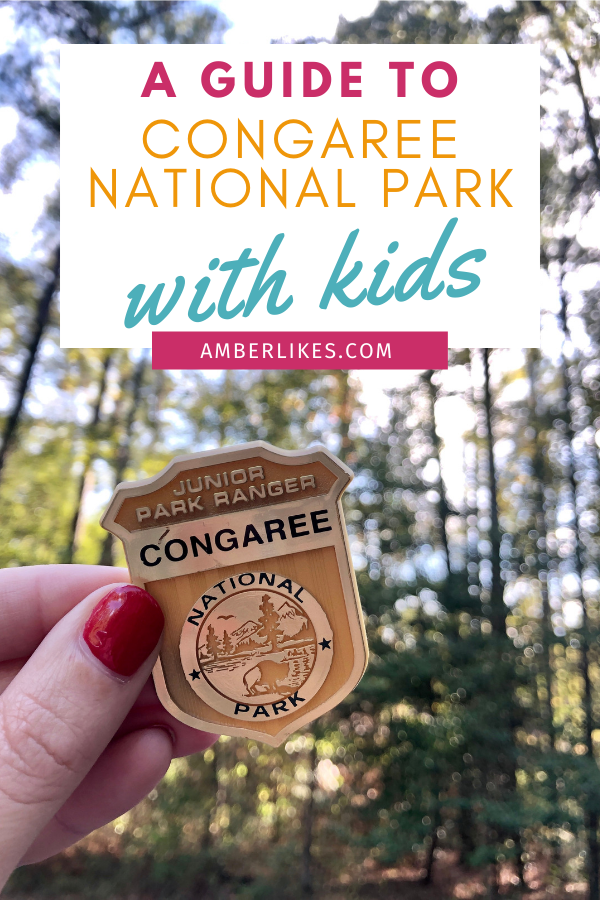 What can I find at Harry Hampton Visitor's Center?
When visiting any National Park, it's always a good idea to start at the Visitor's Center. Since Congaree National Park is relatively new, and also relatively small, there's basically one road in and one road out. If you follow the road into Congaree, you will come to the Harry Hampton Visitor's Center. Like most National Park Visitor's Centers, this one is open Monday-Sunday from 9 am – 5 pm.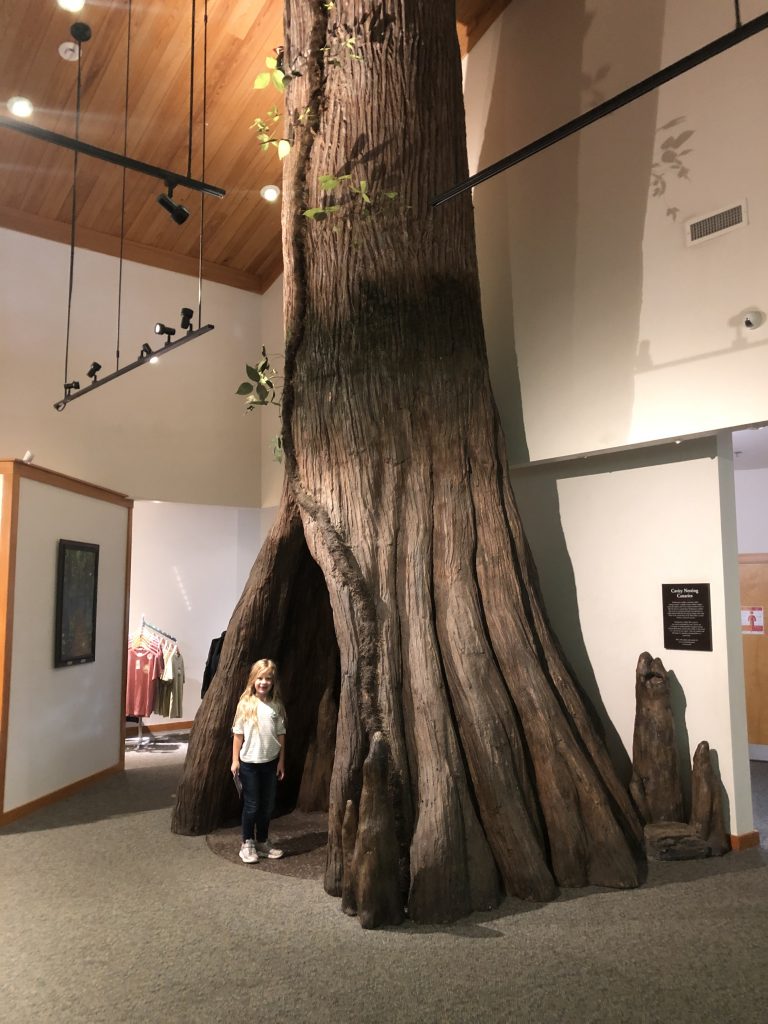 One of our favorite things to do at National Parks is to watch the Park movie! This is always a great overview of the Park, and is a great way to get oriented to what you will find. At Congaree National Park, this was no different. We enjoyed the 19 minute film that was available upon request. We then explored the Visitor's Center more and signed up our Junior Rangers.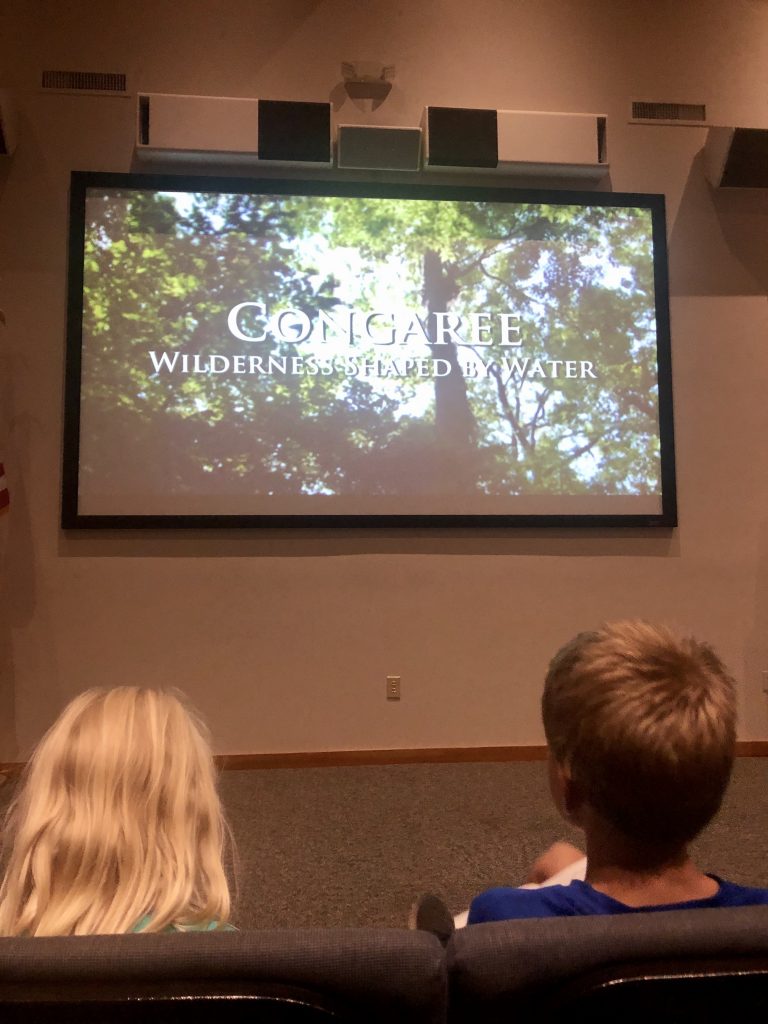 In the Harry Hampton Visitor's Center, they also had several interactive displays, a small gift shop, a small table and chairs for children, and a large tree you could walk inside! As you can imagine, this was a favorite for the kids. There was even a realistic looking spider and bats inside! Of course, there's also a place to get your National Park Passport book stamped. Always a necessity for our family!
How can kids become Junior Rangers at Congaree National Park?
At most National Parks (if not all), there's a Junior Ranger program offered. This is a free program where kids of all ages complete activities in a specially designed book. Then, they present their work to a Ranger and can earn their Junior Ranger badge! This is one of our favorite things to do and is such a perfect educational addition to visiting a National Park with kids.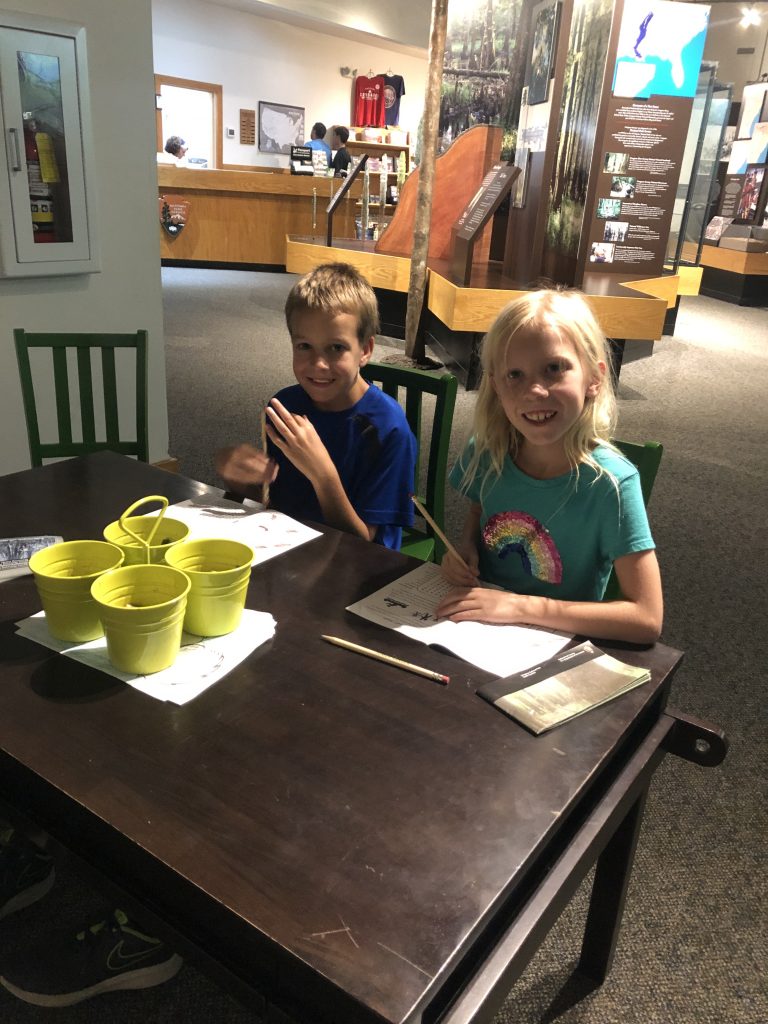 One of the best aspects of the Junior Ranger program is that it's adjusted for the age of children. So our six year old only had to complete 3 activities in the book while our 10 year old had to complete six. They think of everything at the National Parks! Congaree National Park Junior Ranger program had a maze, a word search, a timeline of the Park, and many others. One of our favorite activities was to interview a Park Ranger. It's always so interesting to find out more about our Park Rangers!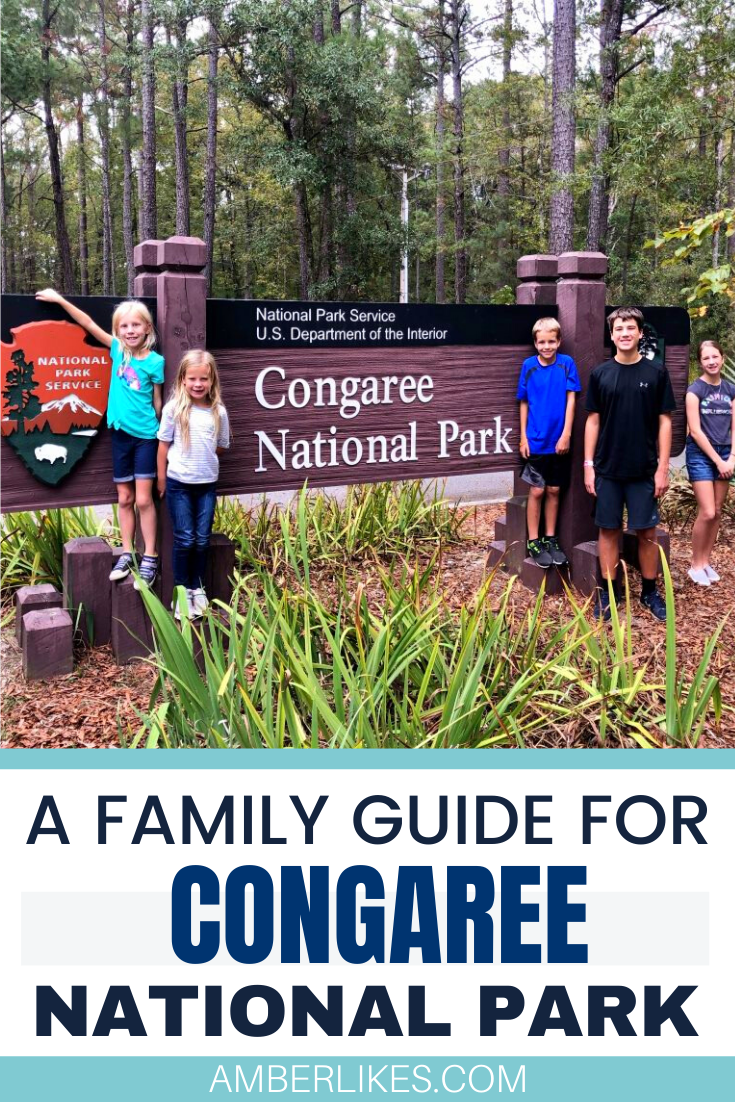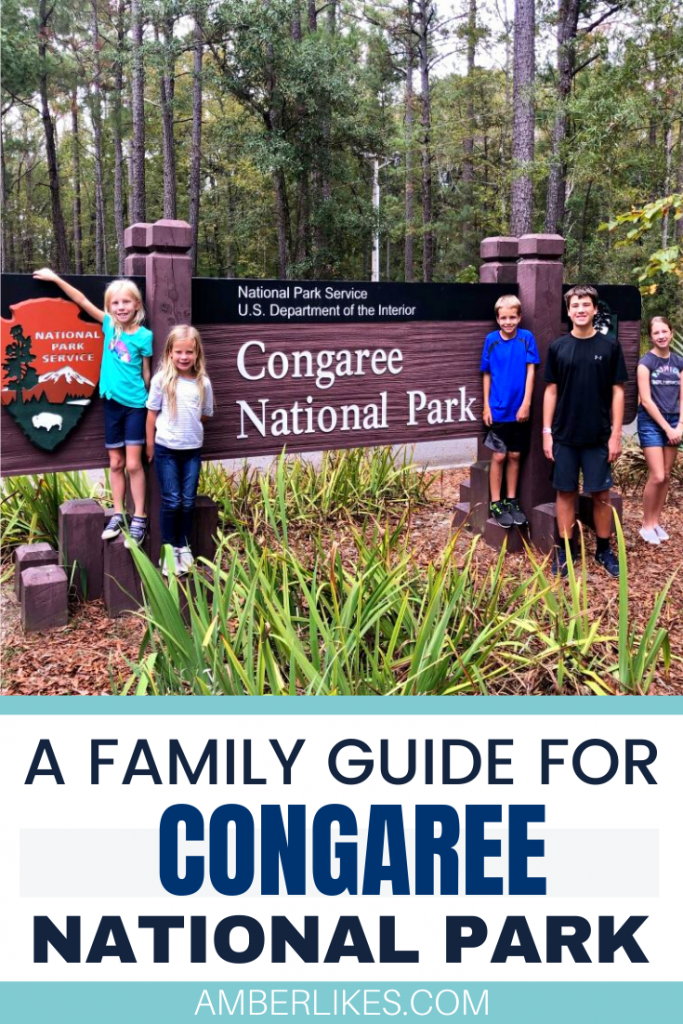 Where can I explore nature at Congaree National Park with kids?
There are several trails at Congaree National Park. There's also a very popular canoeing program that requires reservations in advance. However, one of the most popular hikes is the Boardwalk Loop. This is a 2.4 mile loop that's also dog friendly! In fact, most of Congaree National Park is dog friendly!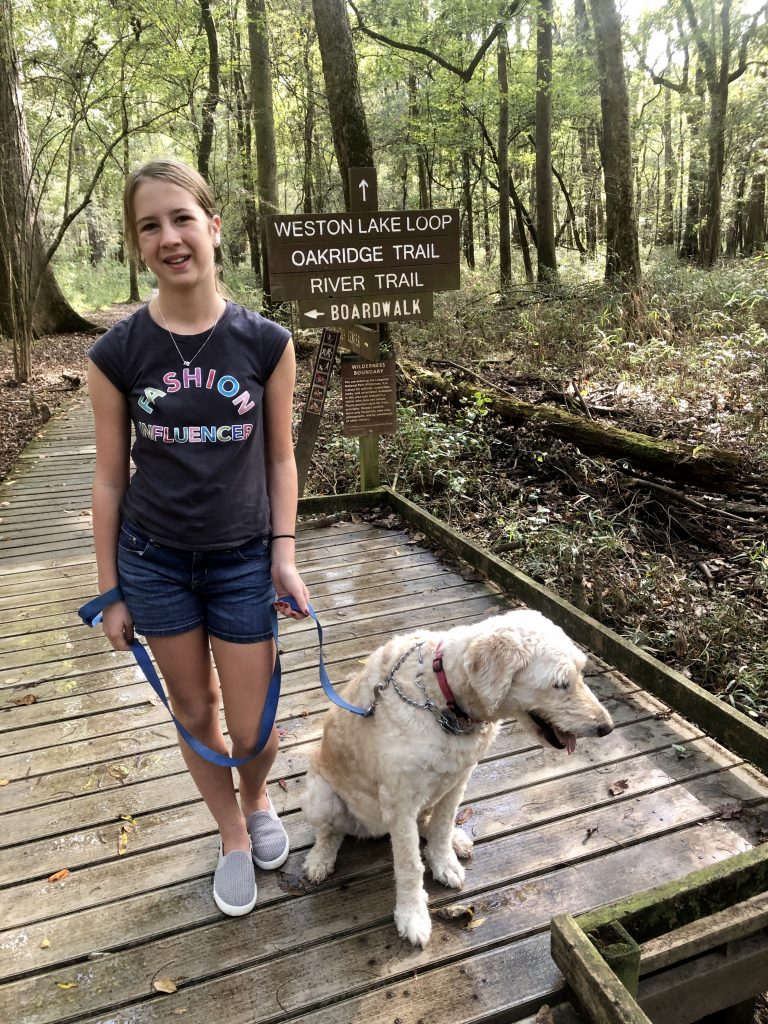 The Boardwalk Loop trail starts from the Visitor's Center. It's an elevated boardwalk that also has 20 interpretive stops. Be sure to grab a trail guide before you head out into the forest. We really enjoyed learning about each stop on the trail and reading the paragraphs out loud.
There was a tree struck by lightning and now serving as a home for wildlife. You could find evidence of bootleggers from the Prohibition Era. There was also evidence of when tornadoes that had ripped through the area and changed the landscape. The 20 interpretive stops were so interesting and really added a lot to the Boardwalk experience!
Will I see wildlife?
On the Boardwalk Loop, we saw deer, squirrels, birds, spiders, and salamanders! In our whole 2.4 mile loop, we only saw a few other visitor's, but since this is the most visited part of Congaree National Park, I was surprised that we saw as much wildlife as we did! The couple of deer that we saw were very close to the trail. And even with our goldendoodle along, the deer weren't too scared of our party!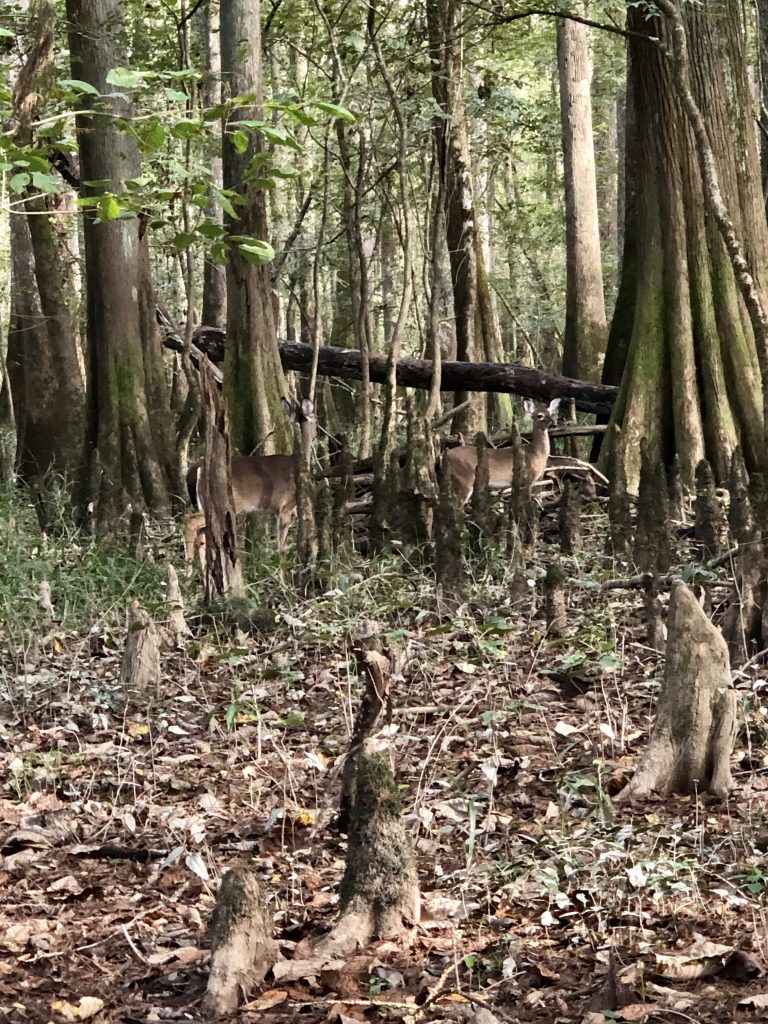 If you had a quieter group with less animals of our own, you'd probably have an even better chance of seeing wildlife on your journey. If you took some of the lesser traveled paths, I'm sure there would be even more to see!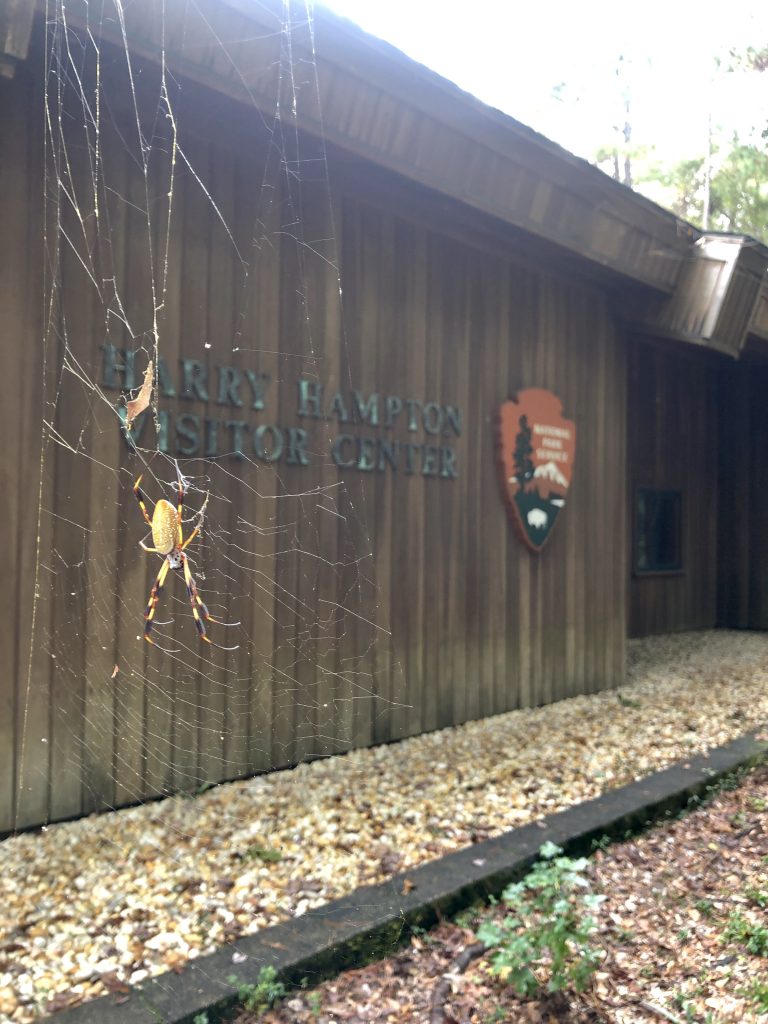 Congaree National Park is perfect for kids!
This Park, located near Columbia, South Carolina, is a perfect stop for kids. While you may not want to spend a week at this National Park, like some of our other favorites like Acadia and the Redwoods, it has a charm all it's own. This is an important part of our National landscape and is home to some of the country's largest deciduous trees. If you're ever in the area, it's a perfect place to stop, stretch your legs, and learn something about the history of the area. And don't forget your four legged family members!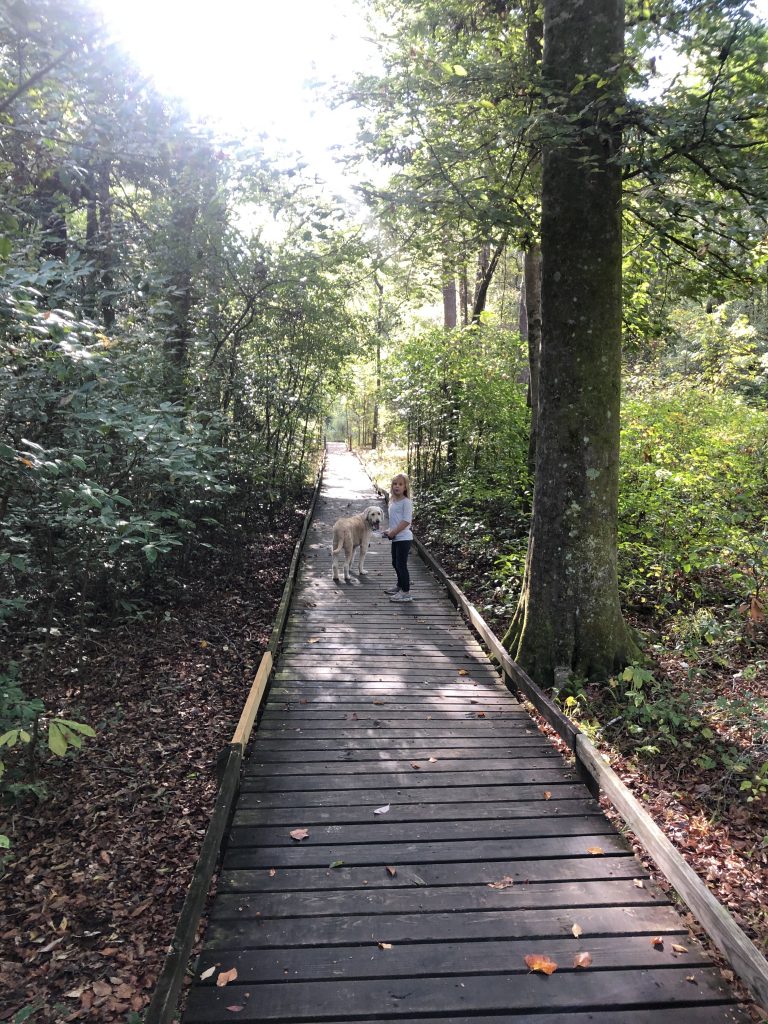 You May Also Like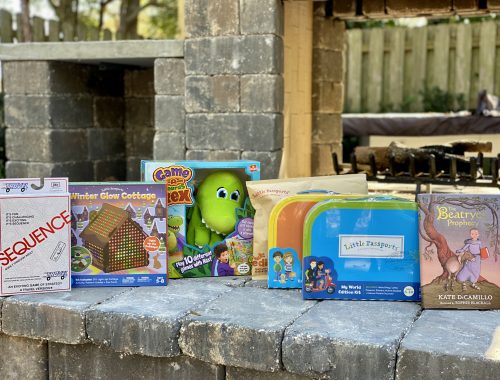 December 4, 2021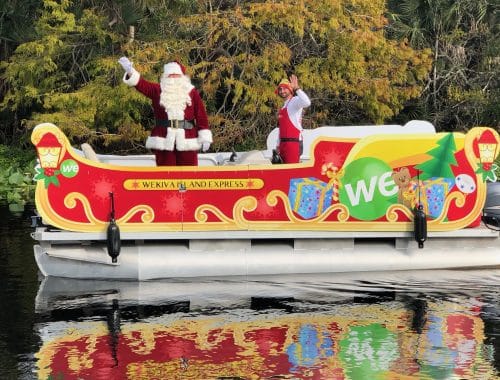 December 6, 2019