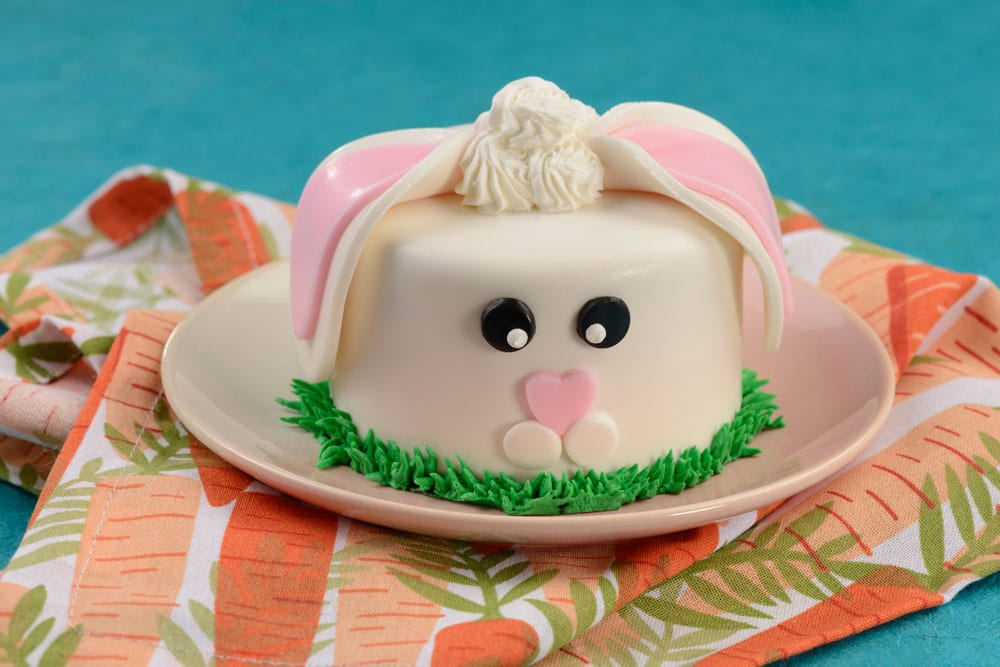 Easter at Disney World: All the Fun Details
March 23, 2021
Sharing is caring!
Every holiday is unique at Disney World. And Easter at Disney is no different! While it's certainly not one of the biggest holiday celebrations at the Park, there are still several fun experiences to enjoy. There are so many fun ways to celebrate holidays in Central Florida. In fact, when people wonder why we go to Disney or other theme parks so much, we explain that things are always changing! Every holiday brings something new and different! When we recently had a chance to spend a Spring day at Epcot, it really helped usher in the next holiday. Easter at Walt Disney World is so fun! And I'm happy to share the details with you. So whether you can visit in person this year or not, you can at least virtually experience all that Easter at Disney has to offer.
When is Easter at Disney?
The answer to this question clearly varies from year to year since the date of Easter also varies. Depending on what year you are reading this post, will depend on when you can find Easter touches around Walt Disney World. In 2021, Easter at Disney has begun, and started around March 19. With Easter 2021 being on Sunday, April 4, this is a little over 2 weeks of time. March 19 was the first day that the Eggstravaganza, which is Disney's Easter Egg Hunt at Epcot. This is certainly one of my family's favorite events, and really signals the start of the season for us. And we were there to complete the Disney egg hunt on the first day it was available!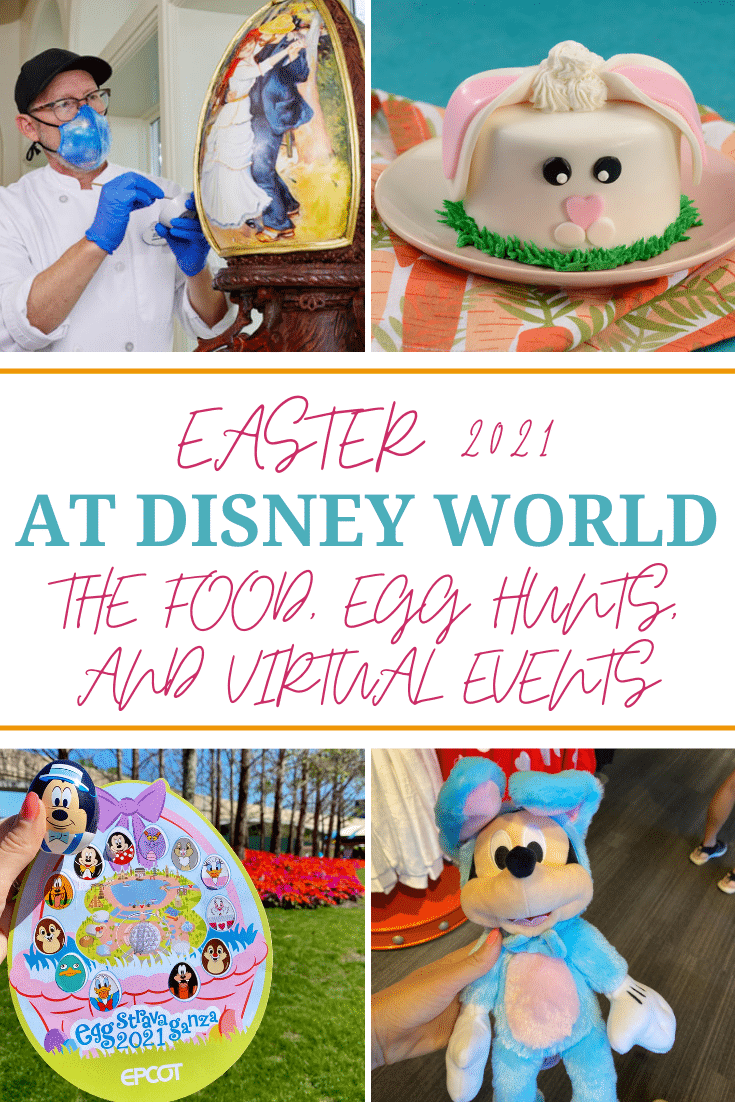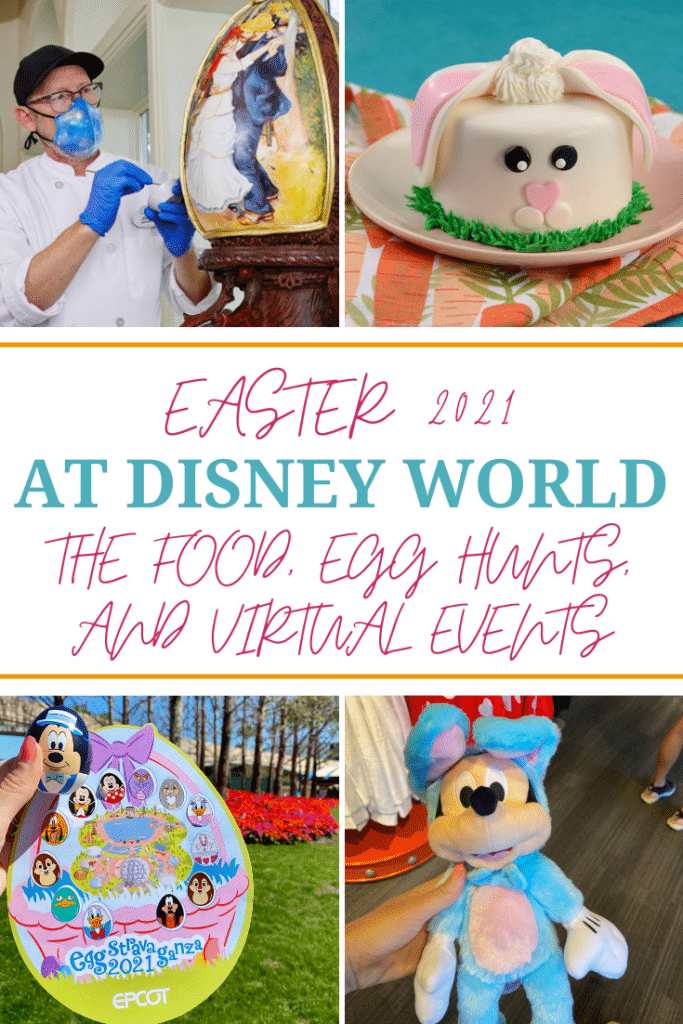 What is the Disney Egg Hunt?
The Disney Egg Hunt is officially known as the EGGstravaganza at Epcot. In this adorable Disney egg hunt, guests can purchase a scavenger hunt for $7.99 and find 12 themed character eggs hidden all around Epcot. you can purchase your map at at Disney Traders, Pin Central, or Port of Entry. When you are finished, you can also redeem your map for your prize at any of these locations. I'm so glad there are several different places to redeem the map! It saved some tired legs a lot of steps when we completed our Disney egg hunt!
Without giving too much away, here are some photos of some of the character themed eggs you will find as you walk around the World Showcase for your Disney egg hunt. I really love this activity for the whole family because it's something that kids can do without waiting in line. And as an adult who doesn't drink or even buy much food at the Parks, it's a great activity for me too! When you are searching for these eggs high and low, it really makes you appreciate some new details in the World Showcase.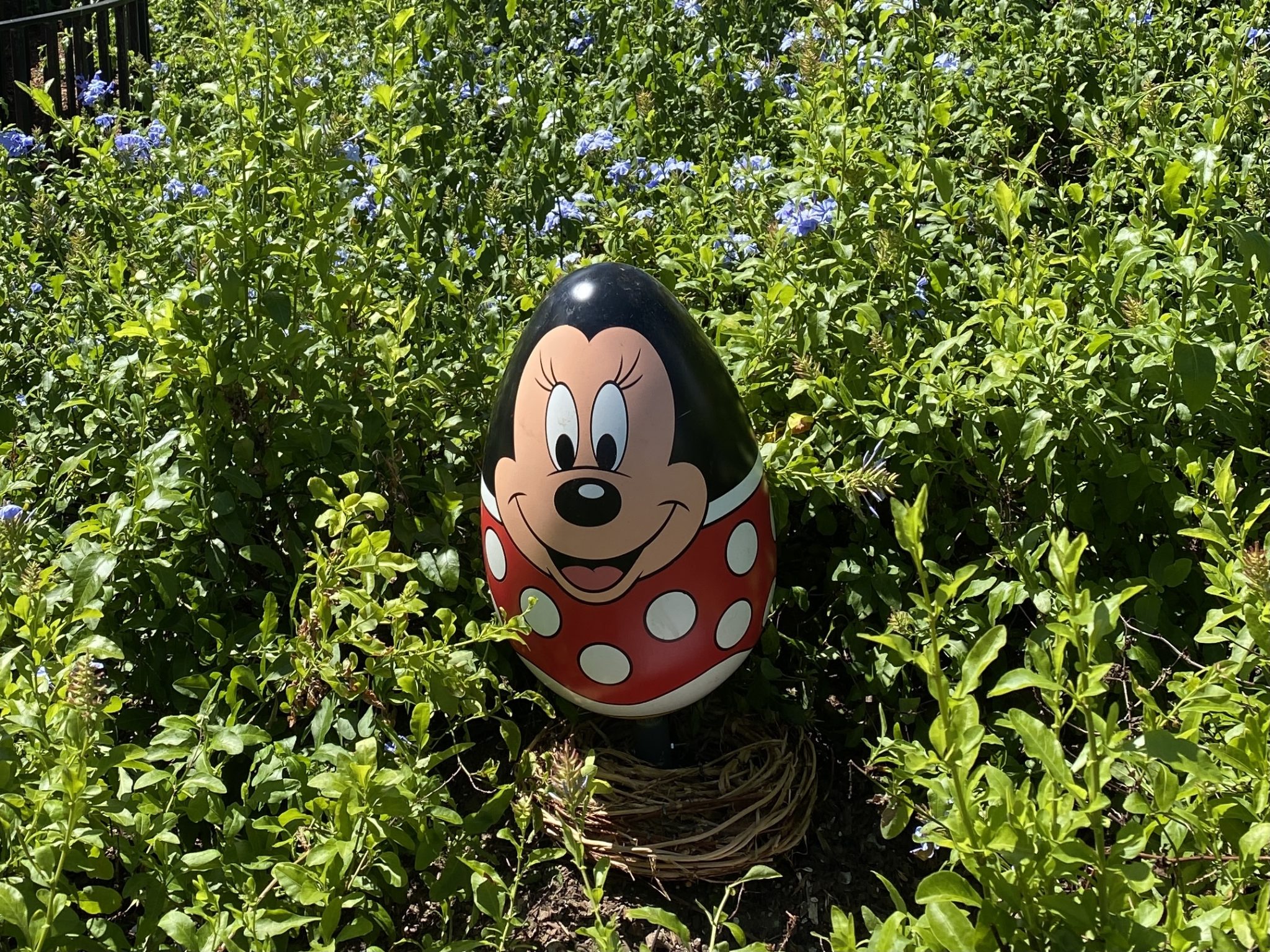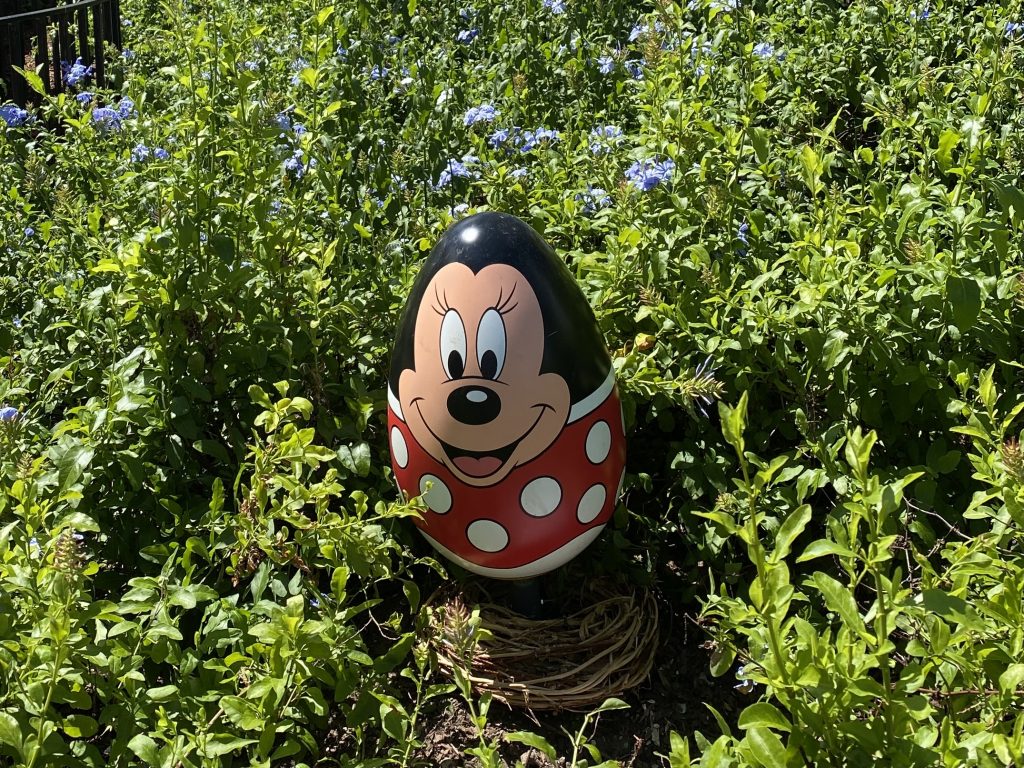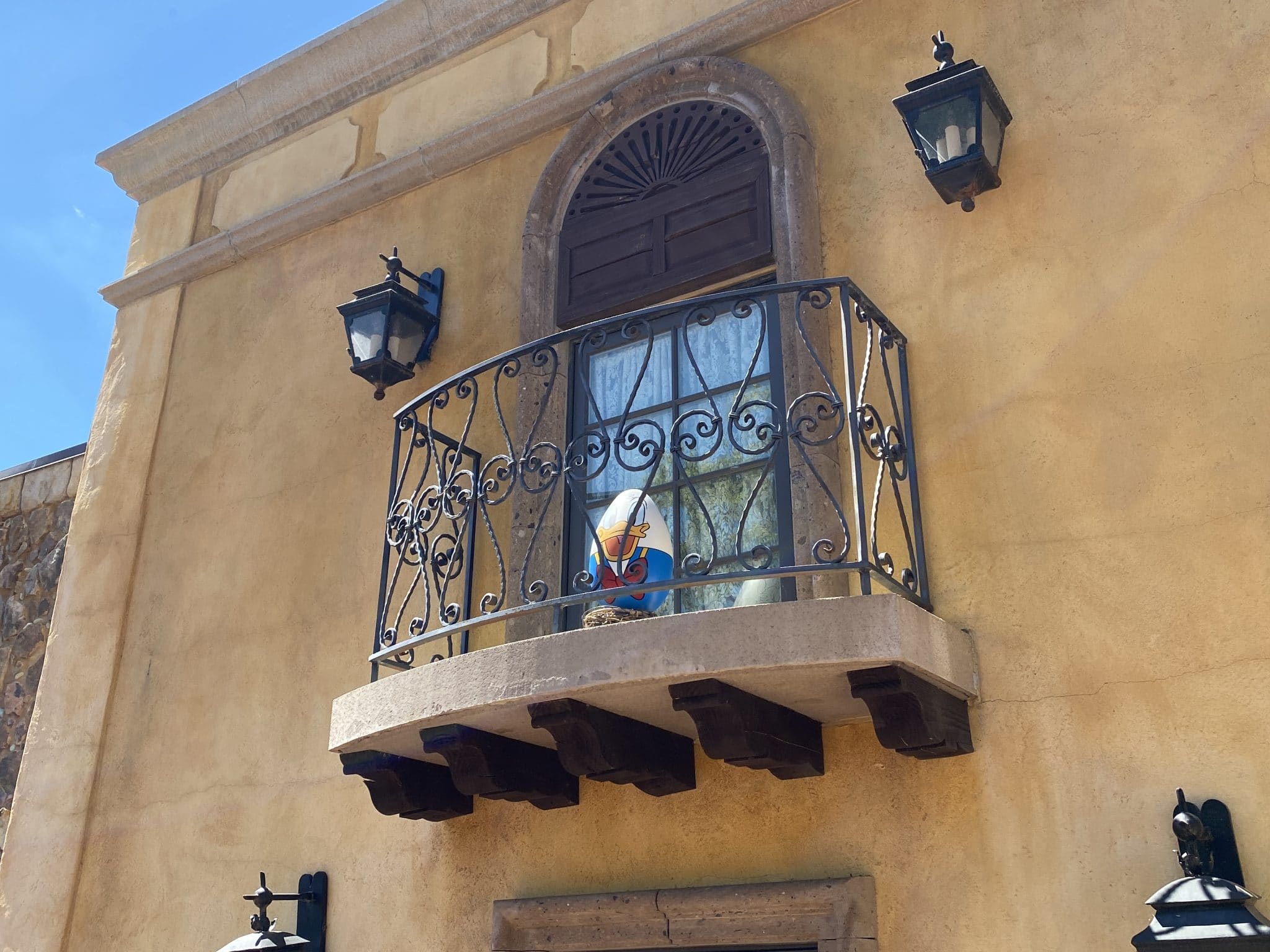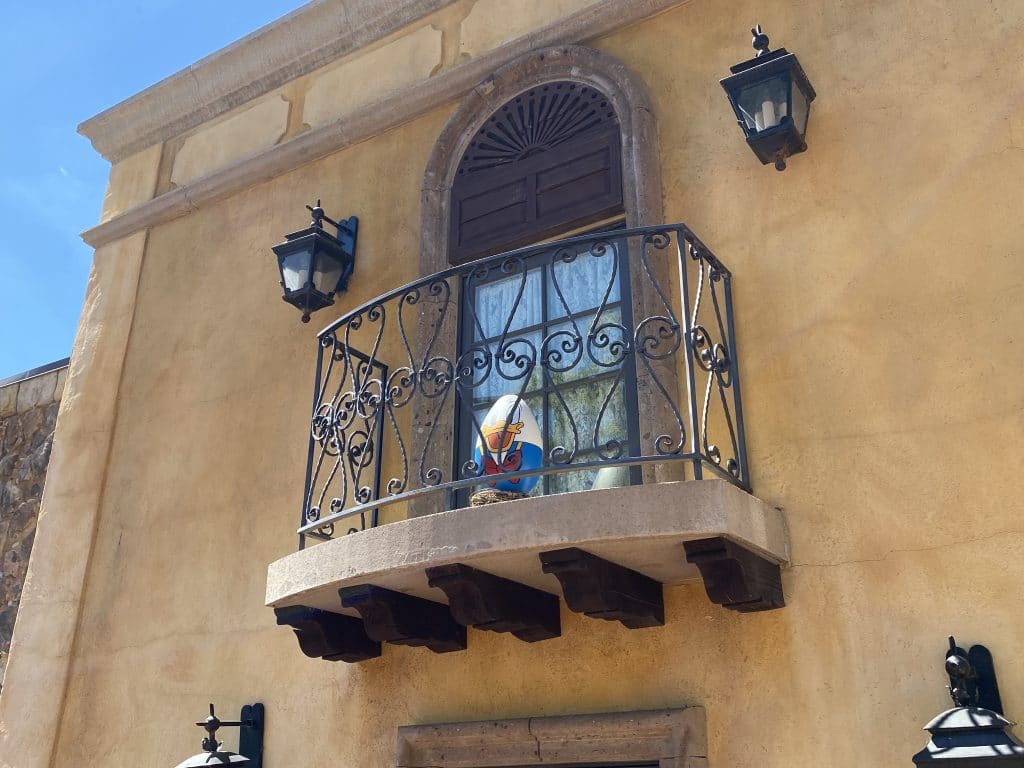 Disney Easter Egg Hunt Details
Be sure not to look at the next image of this post too much if you don't want to know all of the answers! However, if you are a tired Mom, and having trouble finding them all, maybe bookmark this post in order to save some steps! We actually couldn't find the hidden Easter egg in Morocco. And we just used the process of elimination to figure out which one it was. So we did give some feedback to Guest Services after we completed the Eggstravaganza. That one egg might be more visible after a few days pass! Also, be careful! There's an extra egg hidden in Africa in the World Showcase. That really confused us as well! But we loved the Disney Easter egg hunt. And you get to choose a Disney Easter egg as your prize at the end. It's such a fun way to involve everyone in the family.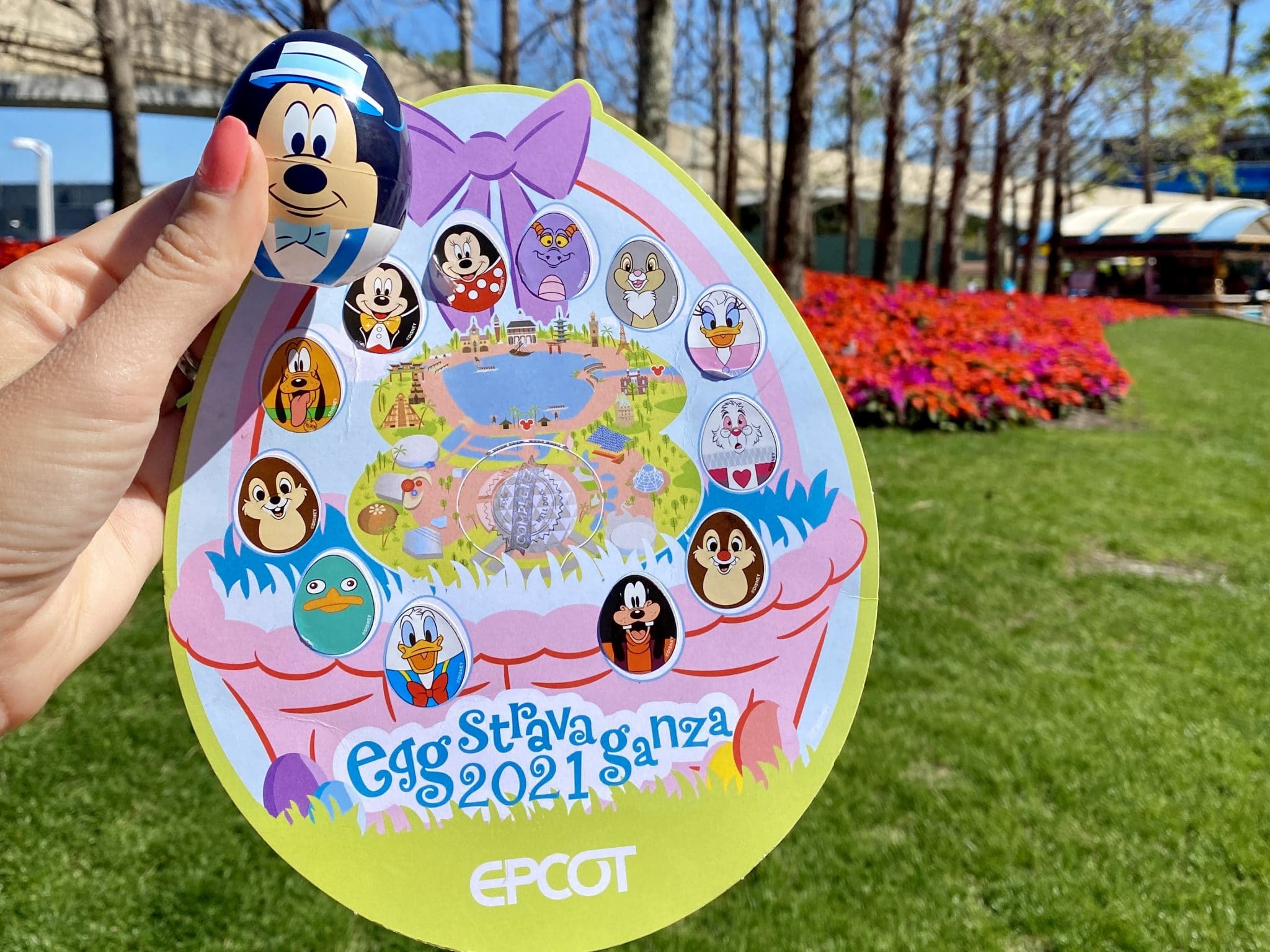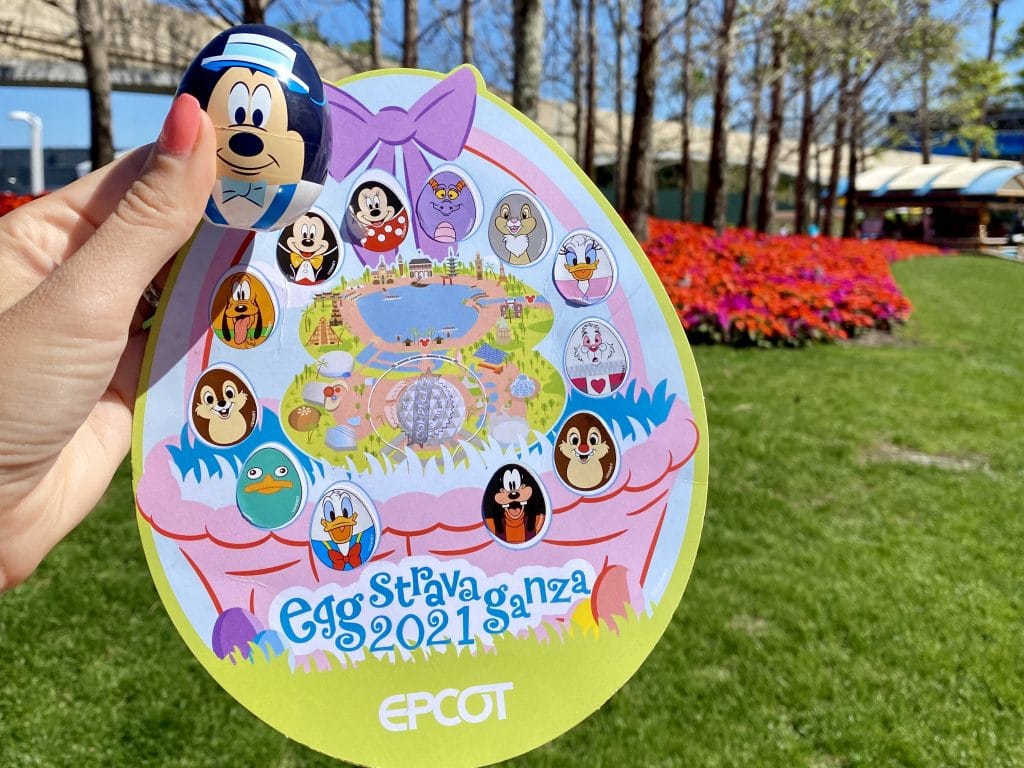 Easter at Disney Food Guide
I would never describe myself as a foodie. And we don't actually spend much money on food when we are in the Parks. As an annual passholder and a mother of 5, I just can't do that on every visit! We certainly do purchase food at the Parks and dine at Disney on special occasions. However, it's not a regular part of our visits. So I turn to Disney Parks Blog to get all of my info on Easter food at Disney World! They always have all the details and are a great resource for all things Disney Parks.
From the Disney Parks Blog Easter Foodie Guide: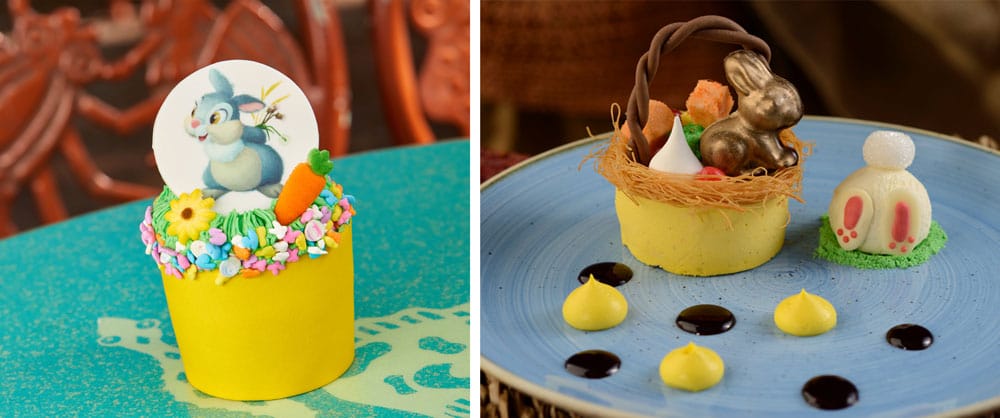 Creature Comforts, Disney's Animal Kingdom Theme Park (mobile order available)
Flame Tree Barbecue, Disney's Animal Kingdom Theme Park (mobile order available)
Restaurantosaurus, Disney's Animal Kingdom Theme Park (mobile order available)
Thumper Cupcake – Carrot cupcake with cream cheese filling, caramel buttercream, and a chocolate "Thumper" (available Mar. 18 through Apr. 5)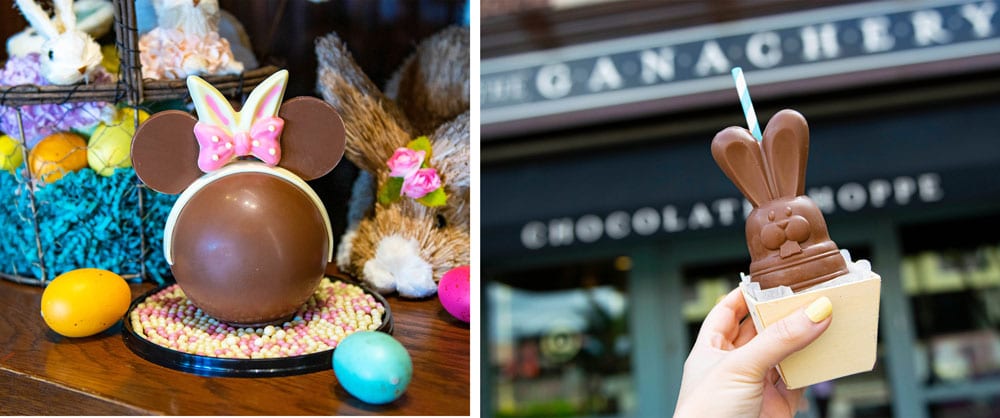 The Ganachery, Disney Springs
Easter Minnie Bunny Piñata – Milk chocolate sphere filled with marshmallow treats (available Mar. 21 through Apr. 4)
Boozy Bourbon Chocolate Bunnies – Milk chocolate bunnies filled with bourbon chocolate drink (available Mar. 21 through Apr. 4)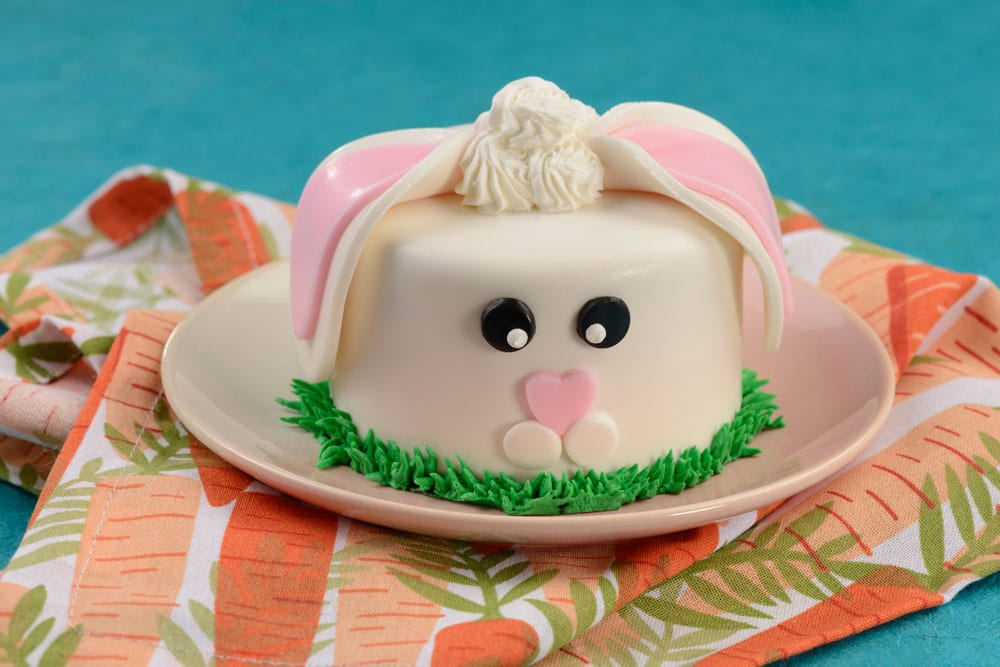 Contempo Café. Disney's Contemporary Resort
Mini Bunny Cake – Mini carrot cake filled with cream cheese icing decorated with fondant and buttercream (available Apr. 2 –4)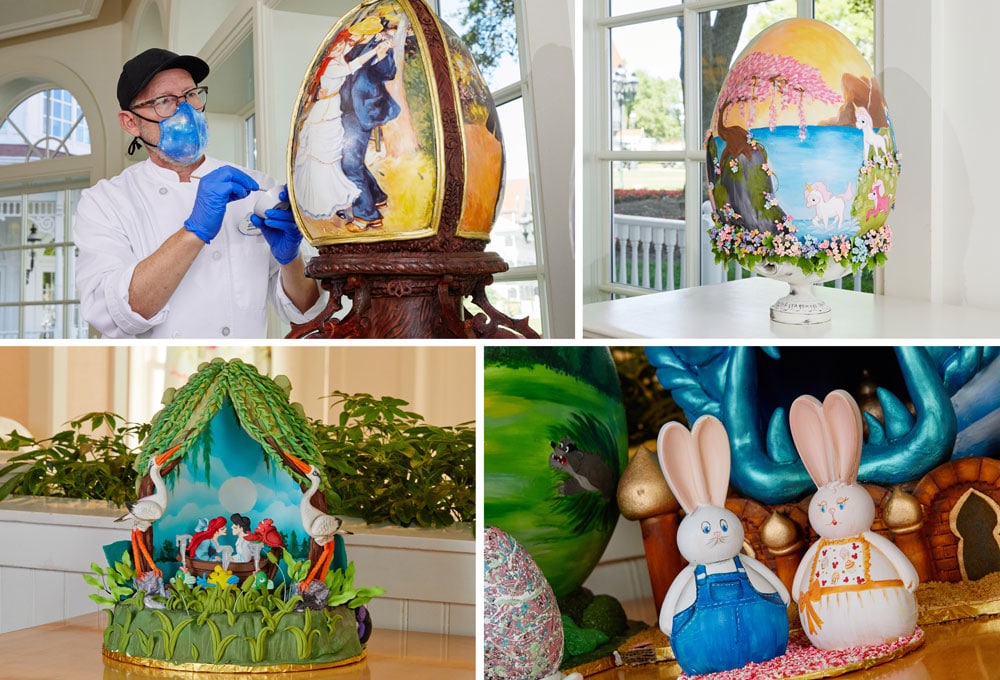 Resort Easter Egg Displays
Our talented pastry chefs have created eggs-travagantly detailed pieces of sweet edible art that will be on display at various resort locations.
Disney's BoardWalk Resort – Lobby area (available for viewing Mar. 26-April 4)
Disney's Grand Floridan Resort & Spa – Lobby area, concierge level, and Grand Floridian Café lobby (available for viewing Mar. 15-April 4)
Disney's Saratoga Springs Resort – Carriage House (available for viewing Apr. 1-11)
Disney's Yacht and Beach Club Resort – Beach Club lobby, Yacht Club lobby, Ale & Compass Restaurant, The Market at Ale & Compass (available for viewing Mar. 18-Apr. 4)
And be sure to check out Disney Parks Blog for lots more Easter treats! And you can find more pictures of these goodies there too.
Character Greetings in Years Past
In the past, you could meet the Easter Bunny on Main Street, USA at Magic Kingdom. However, in 2021, this meet and greet is currently not happening. But we hope this will change soon and that we can see these floppy eared friends soon! In general, these meet and greets usually happen a few weeks before Easter. So if you are reading this in another year, be sure to check out the schedule at Magic Kingdom to see if the bunnies are out to play!
Easter Brunch and Religious Services
You can enjoy a delicious Easter brunch at several locations around Walt Disney World. Here is a list from Disney Parks Blog:
Join us for Easter brunch at these Walt Disney World Resort restaurants:
Olivia's Café, Disney's Old Key West Resort – View brunch menu and make reservations here.
Ale & Compass Restaurant – View Easter brunch menu and make reservations here.
Whispering Canyon Café – View Easter brunch menu and make reservations here.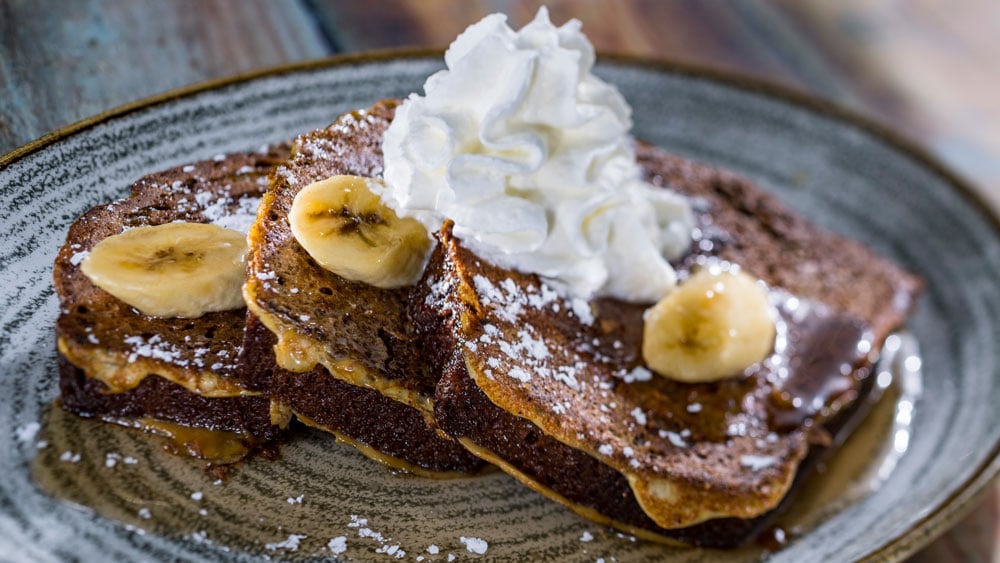 In the year 2021, no religious services have been announced due to social distancing. However, in years past, religious services were held in a ballroom at Disney's Contemporary Resort. I certainly hope these return in years to come!
Virtual Easter at ShopDisney
Did you know that you can actually celebrate Easter with ShopDisney? Even if you can't physically visit Walt Disney World this Easter, you can have some fun at home! With these fun printouts, you can make your own Disney egg hunt at home! The Easter at Disney fun continues right in your own living room.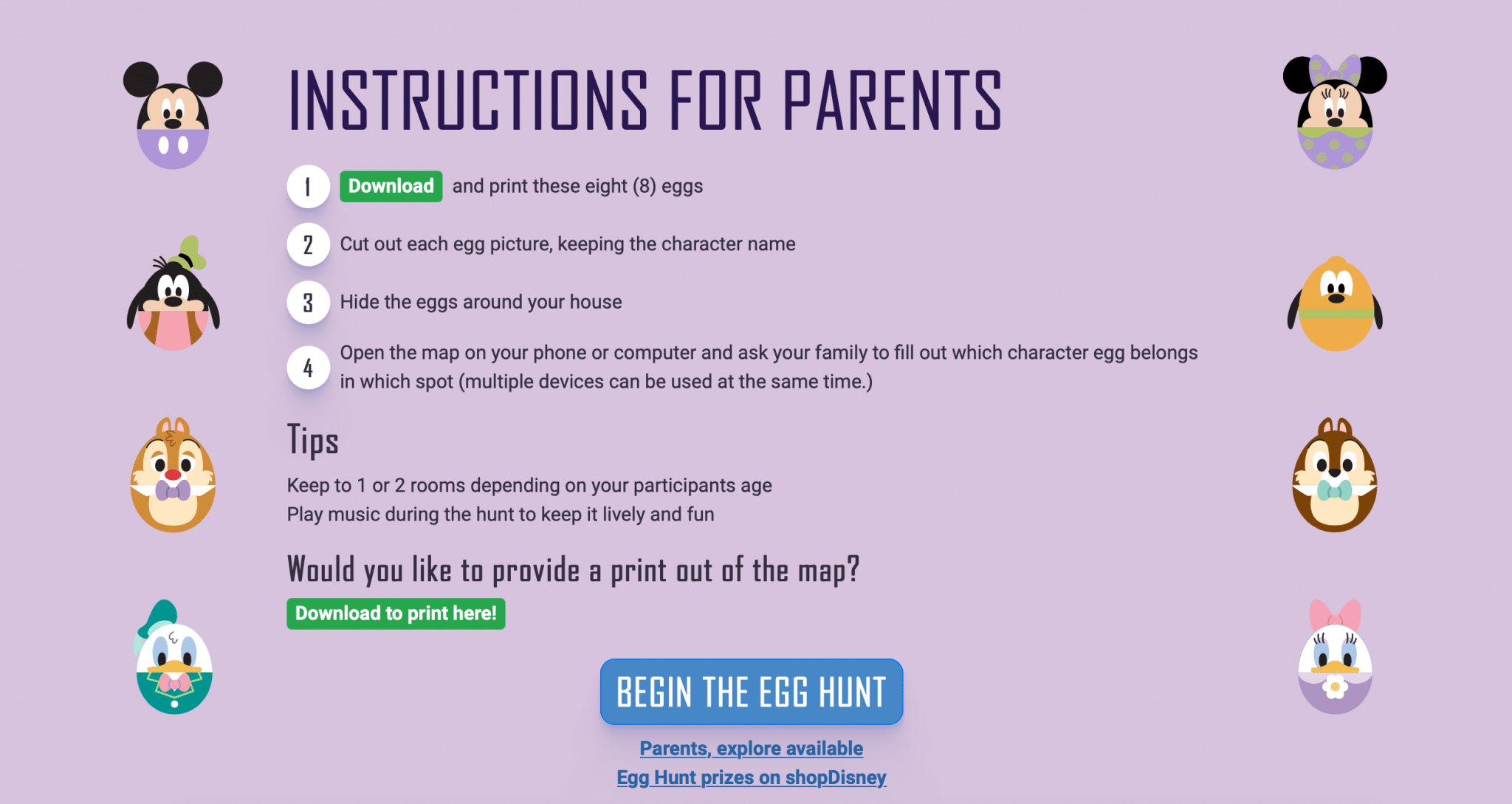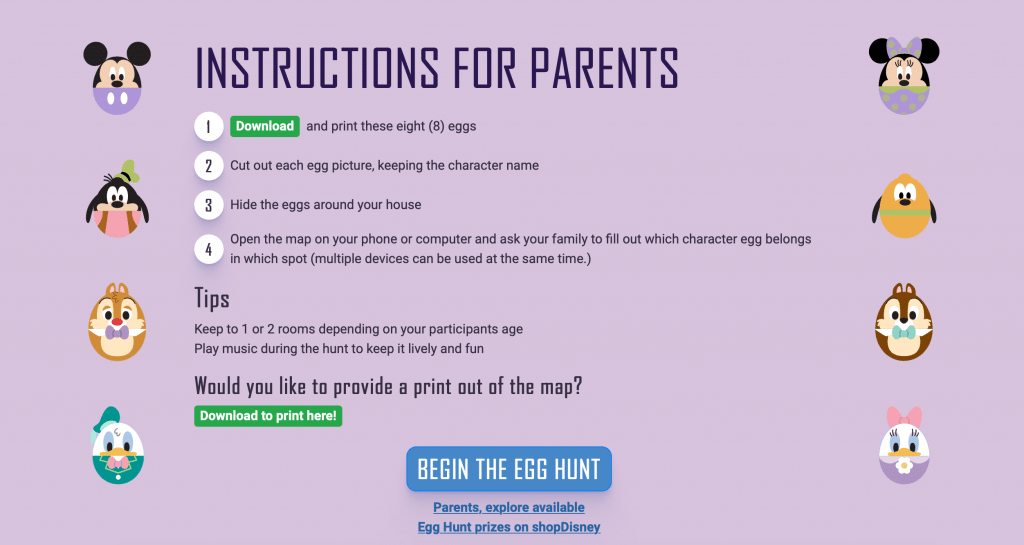 So there you have it! A full guide to this year's Easter at Disney options. Whether you are looking for good food or good fun, you'll find it at this year's events. Have fun!
You may also like:
How to Adopt a Banshee at Animal Kingdom
You May Also Like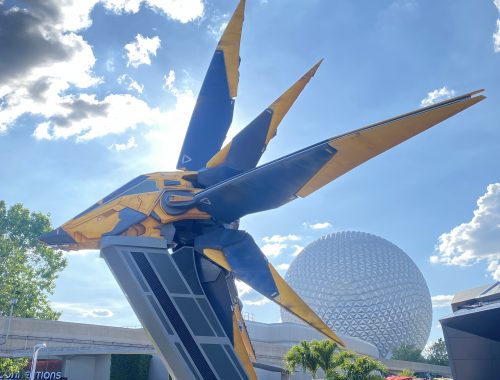 October 31, 2021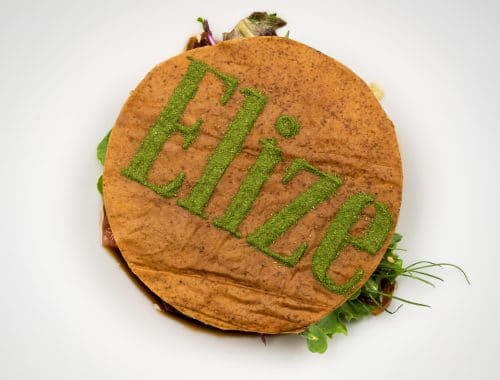 March 3, 2020