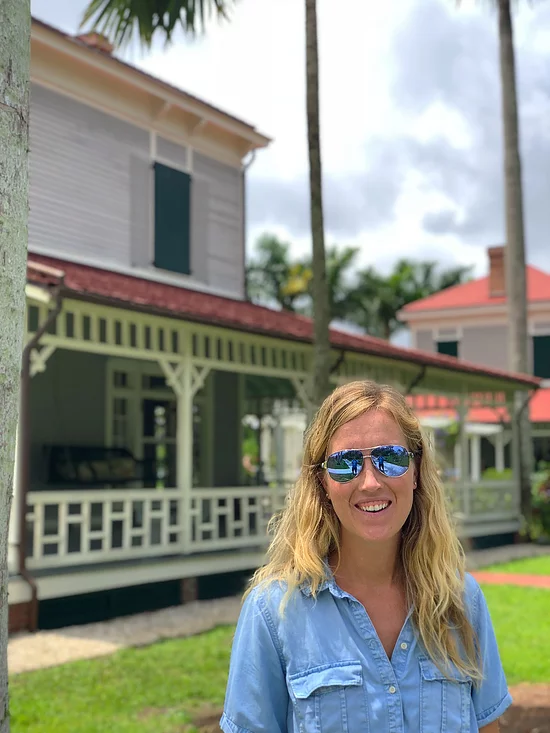 Edison and Ford Winter Estate: Creating Future Scientists and Dreamers
May 29, 2018
Sharing is caring!
Although this may sound dramatic, as soon as I had children, and they got old enough to be able to explore the world, I looked forward to taking them to the historic Edison home in Fort Myers. I have such magical memories of my one visit to the historic site as a child during a choir trip in 4th grade. Ever since that visit, the huge banyan trees, historic living rooms and kitchens, and Edison's lab, were burned in my memory.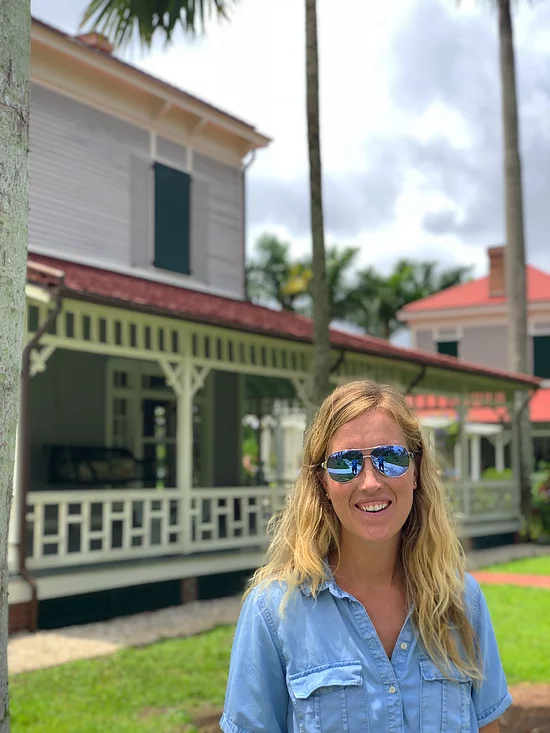 When I had the chance to visit as a blogger, it was one of those moments in life that really came full circle. We visited the Edison and Ford Winter Estate on Memorial Day, on the last day of our weekend visit to Fort Myers. Although the weather had been rainy off and on all weekend from Tropical Storm Alberto, we had a breezy and mostly dry visit!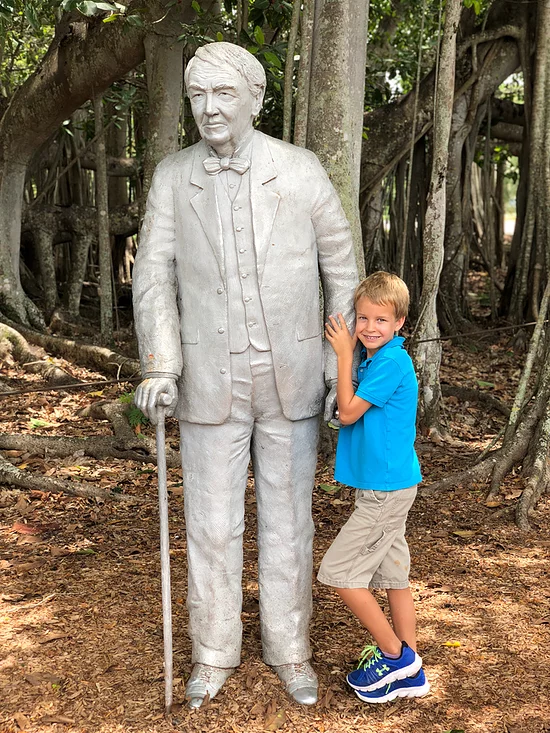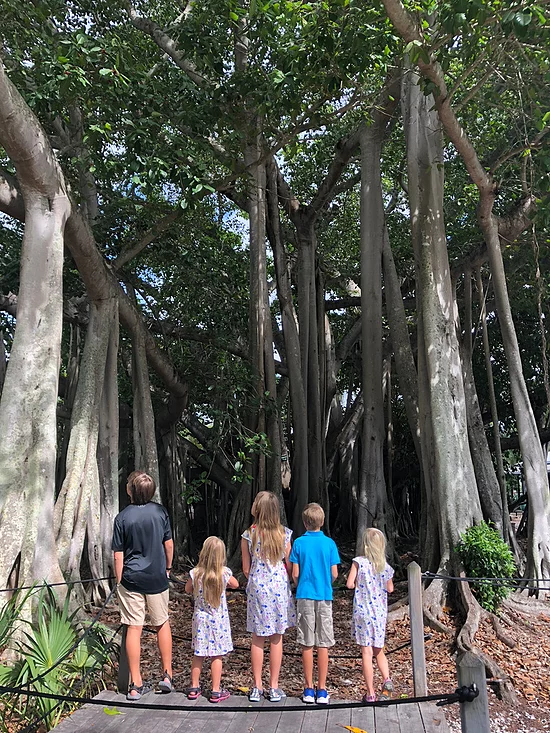 There are three different tour options when visiting the Estate. The lowest priced option is $15 for adults for entrance to just the museum and laboratory. The museum and lab have plenty to do and see for both adults and children! You could easily spend a few hours in just these area. We particularly enjoyed the Spark!Lab, which is a Smithsonian exhibit that is located in nine museums across the country. In the Spark!Lab there were lots of hands on activities that allowed the children to practice some of the essentials they had learned about in their studies of Edison and Ford. We made bridges and tunnels, created circuits, and tested flying contraptions for flying capabilities. The children could have spent at least an hour in this area alone!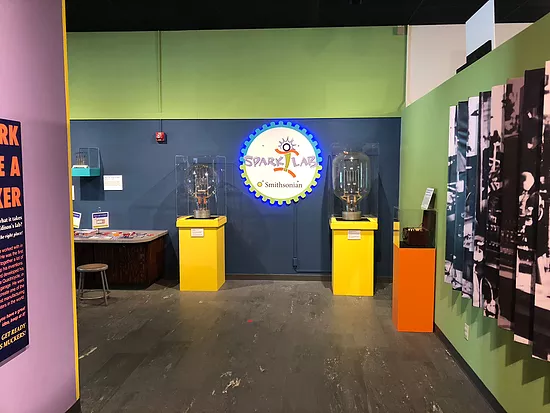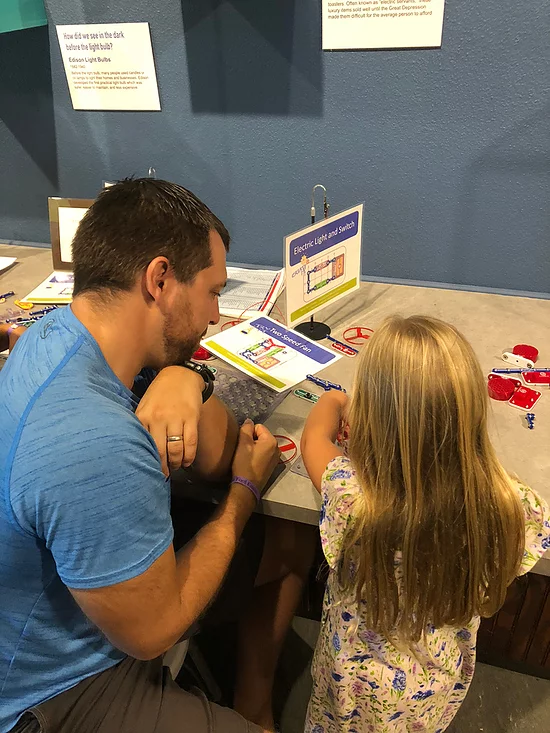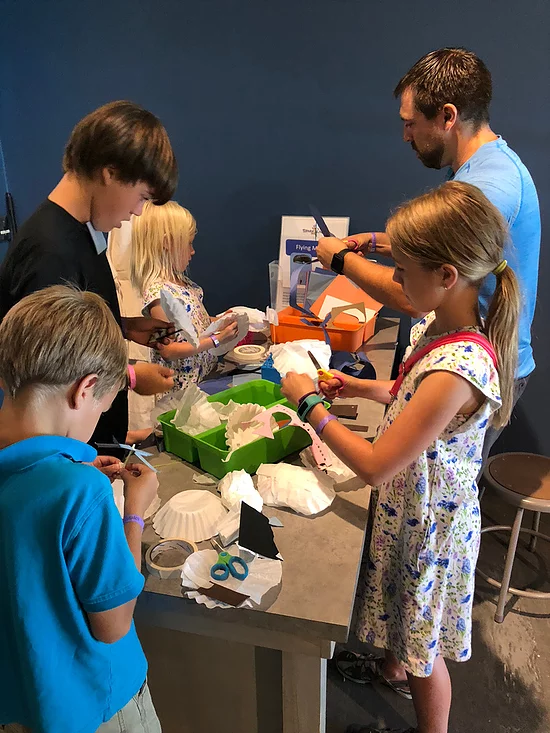 There were many exhibits that feature actual items from Edison and Ford's private collection, as well as examples of products and inventions they had created. There was a large interactive exhibit about the use and improvement of rubber, which was one of the great interests of Thomas Edison's life during his time in Fort Myers. There was also a large theater, as well as other shorter films in other areas of the museum. The children also enjoyed creating rubbings of plants and stems, and learned how Edison recorded his observations in a very similar way.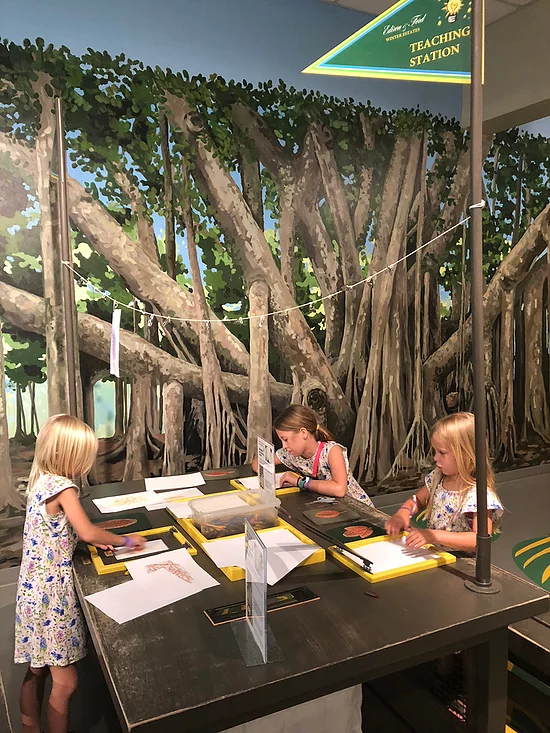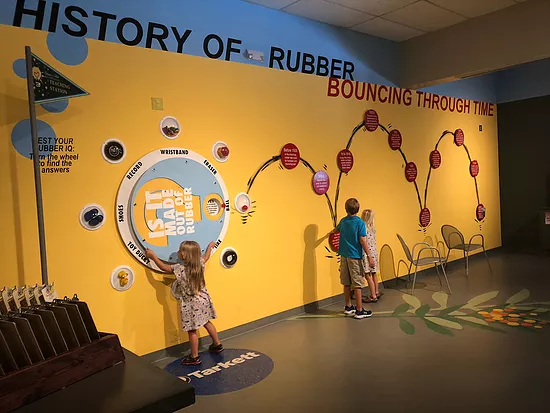 In this admission level, entrance to Edison's lab is included. This was the highlight of our visit for all of us! There is something incredibly powerful about seeing a historic figure's private space, preserved exactly as it was when he was working. As a child, this was one of the most impactful parts of the experience. Years later, when I was one of the few women in my college chemistry and pre-med courses, I thought back on Edison's lab, and on my desire to contribute to the world. Seeing the actual lab made all of Thomas Edison's work seem so real, it makes you believe you too could change the world.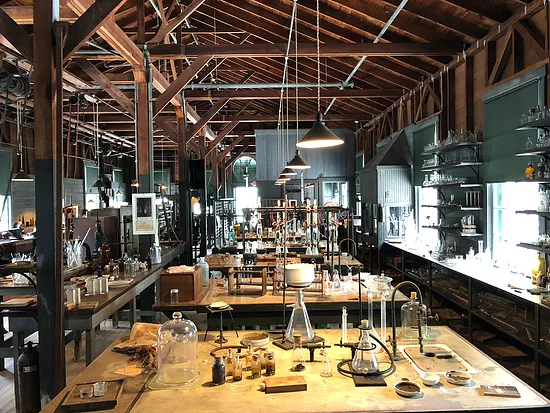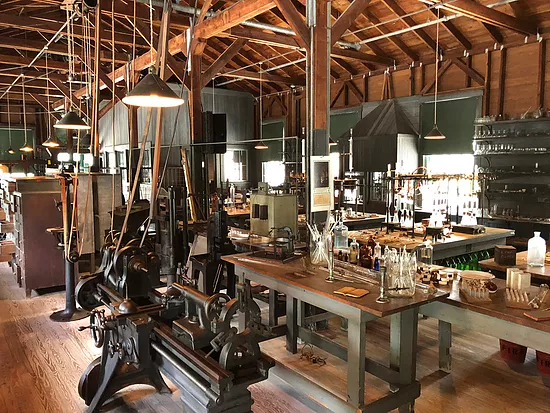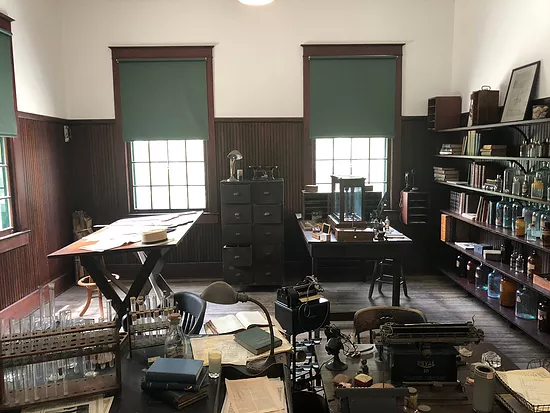 For an additional fee, you can also go on a self-guided audio tour of the historic Edison and Ford homes, or take a guided tour of these properties. We had the opportunity to take the guided tour, and it was wonderful! I really love guided tours of any kind, as you learn so much in such a short amount of time, from an extremely knowledgeable and entertaining guide. As a mom, guided tours also take the pressure off of me to make sure the children are learning. Just pay attention kids! The guide is doing all of the work and you just have to listen! In honor of our visit on Memorial Day, our guide included many tidbits about Thomas Edison and Henry Ford's contributions to their country in the War, which was very interesting and informative.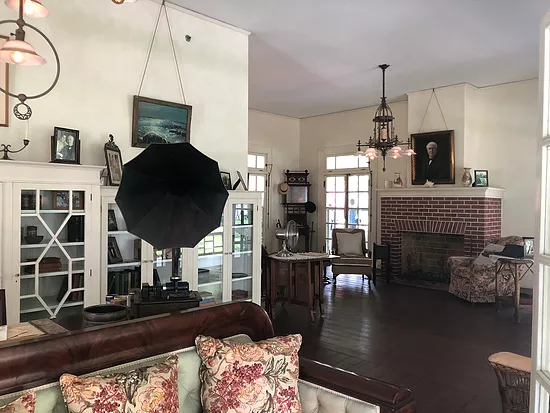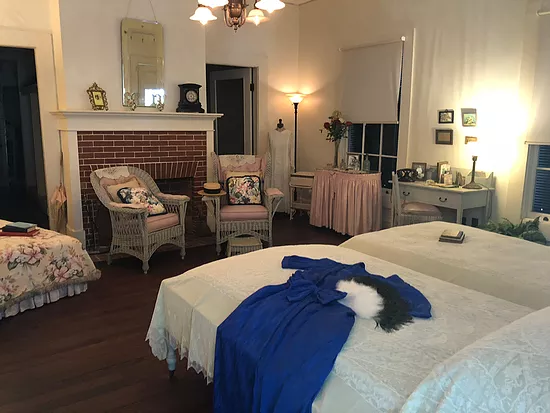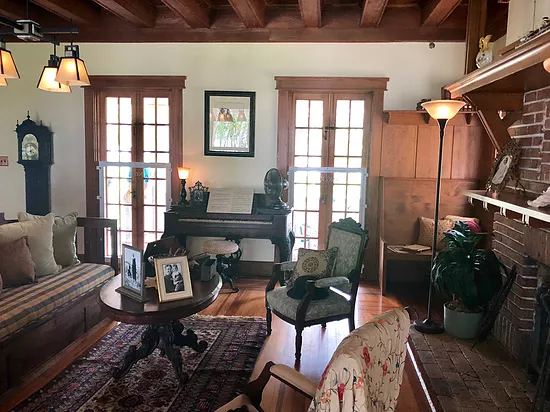 The historic homes have that magical "old" smell and you can almost picture Edison and his second wife, Mina Miller Edison, walking around, entertaining guests, and talking about recent inventions. During the guided tour, you are taken to several different spots, and then are welcome to go back at your own pace. One of my son's really enjoyed the car exhibit, which included a Model T, among other historic automobiles. We had studied Henry Ford and Thomas Edison for months in preparation for this visit, and being able to see the vehicles, inventions, and homes of these inventors really brought history to life.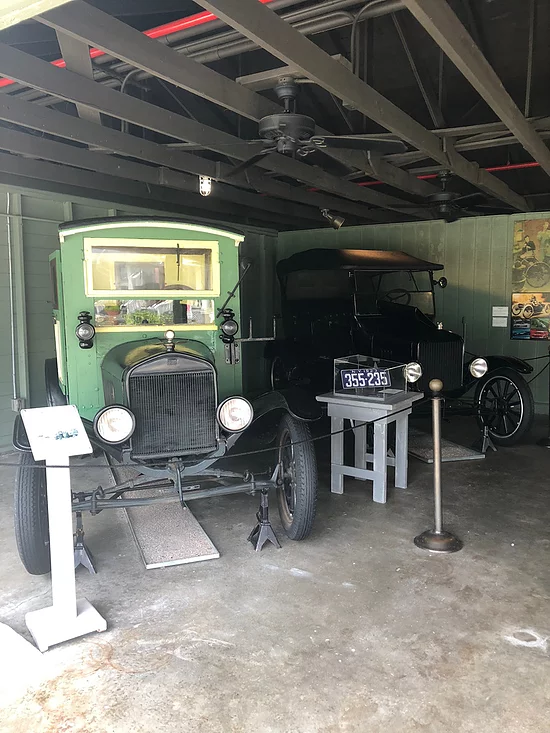 I cannot highly recommend the Edison and Ford Winter Estate enough. It is an interactive, historic, and beautiful part of both Florida history, as well as our national history. It is good for all ages, and you can easily make a day out of your visit. We love learning through play, and through unique experiences, and creating lifelong learners. Bring history to life and create future scientists and world changers with a visit to the Edison and Ford Winter Estate.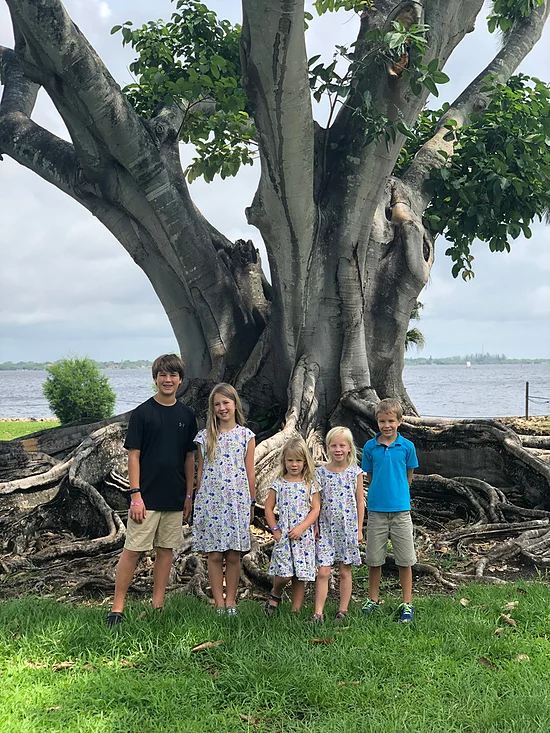 *I was given complimentary admission in exchange for my honest review.
You May Also Like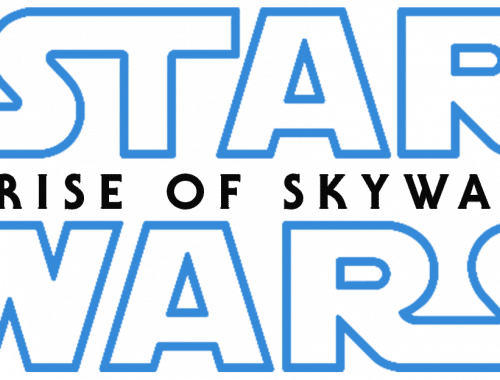 March 17, 2020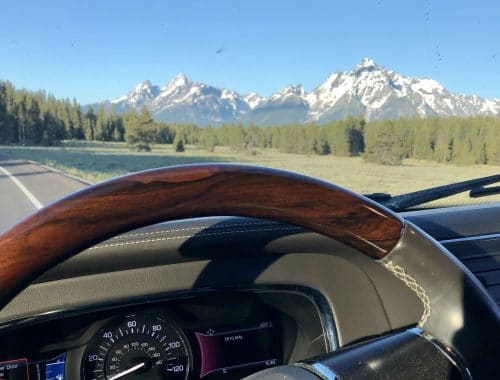 August 4, 2020