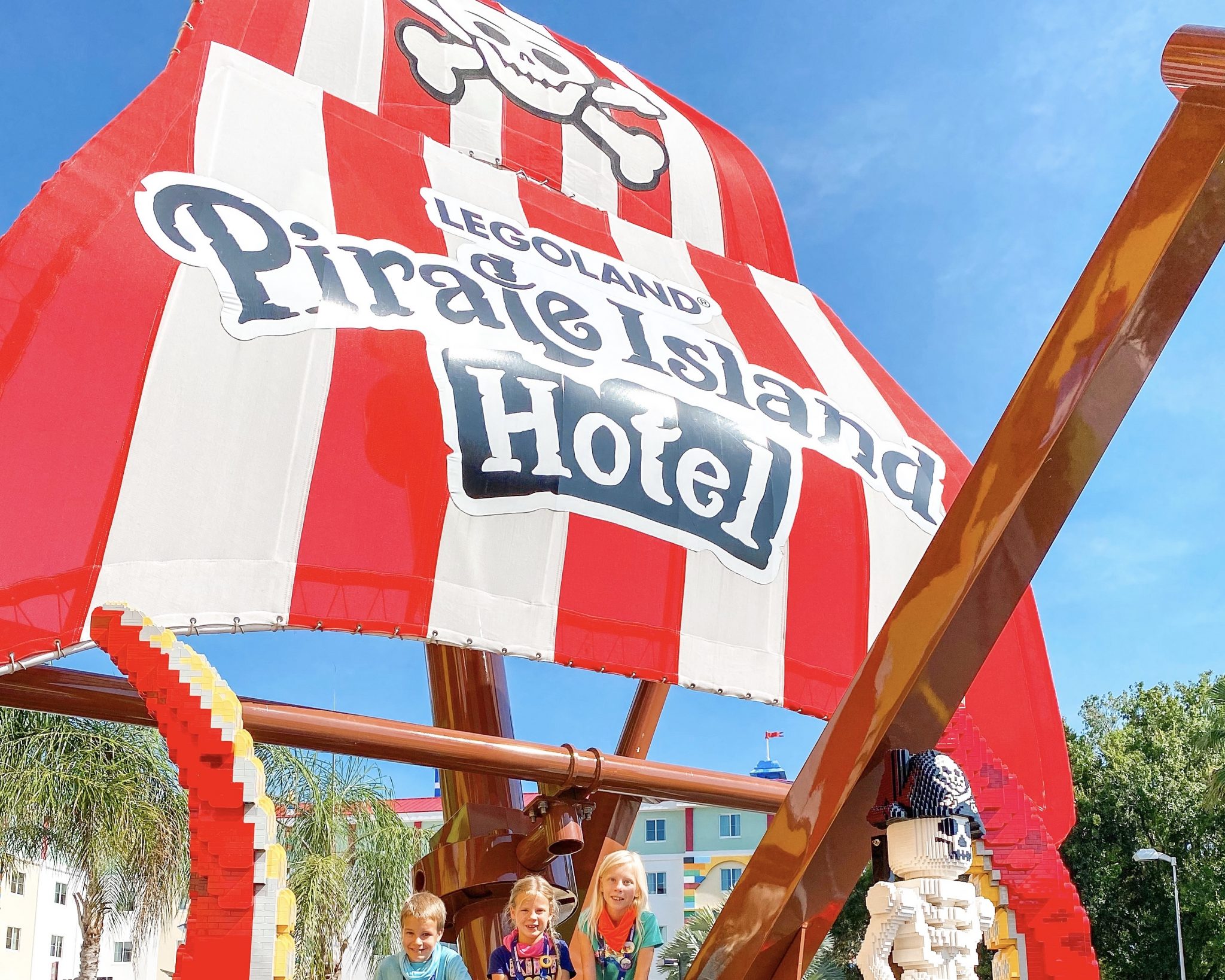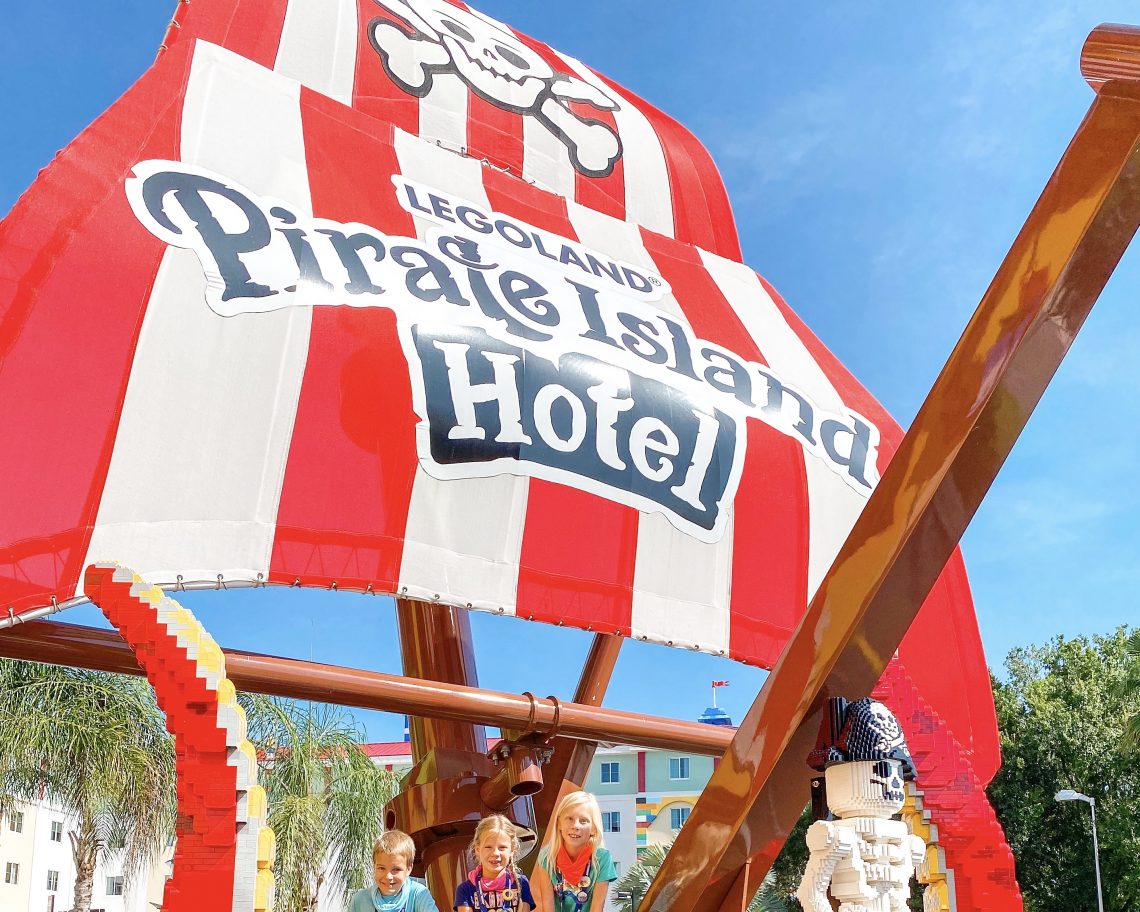 Legoland Pirate Island Hotel Full Review and Guide
July 8, 2020
Sharing is caring!
We are big fans of Legoland Florida! In the past, I've shared about the Lego Movie World opening and what to expect during Christmas at Legoland. But did you know that Legoland Florida has a new hotel? On June 1, 2020, the all new Legoland Pirate Island Hotel opened to the public! Since this happened during the pandemic, there hasn't been much shared about this amazing hotel. So we were so happy to be able to be hosted at the hotel and share with you why your family needs to book a stay! Keep reading for your full guide to the Legoland Pirate Island Hotel. And keep reading to the bottom for an exclusive deal for my readers!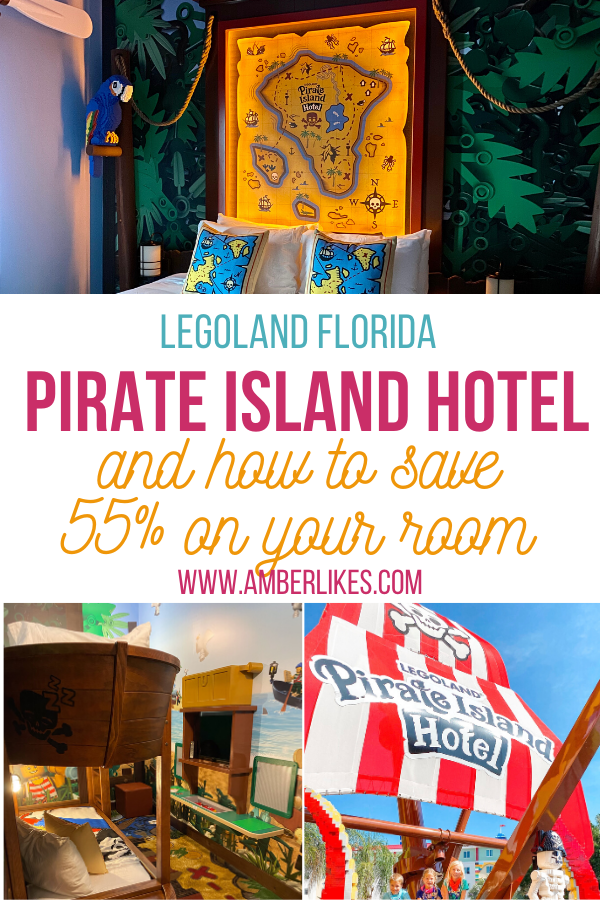 Legoland Pirate Island Hotel Overview
Legoland Pirate Island Hotel is technically part of the Legoland Hotel. They share an entrance and a check-in area. But the Legoland Pirate Island Hotel then has an entire separate space, pool restaurant, and play area. Here are some more quick facts:
LEGOLAND® Pirate Island Hotel is just 130 kid steps from the entrance to LEGOLAND Florida Theme Park.
More than 1.6 million LEGO® bricks make up more than 600 models throughout the hotel.
The wreckage of a 34-foot LEGO pirate ship, made of more than 32,000 Duplo® bricks, sits directly outside the entrance of the hotel and offers guests a playful photo opportunity with 11½- foot sea monster tentacles, three LEGO pirate models and a skeleton model upon the ship's mast.
• Pirate Island Hotel guests can vacation like a pirate with uniquely themed entertainment, character encounters and Master Builder Workshops – all included with their stay.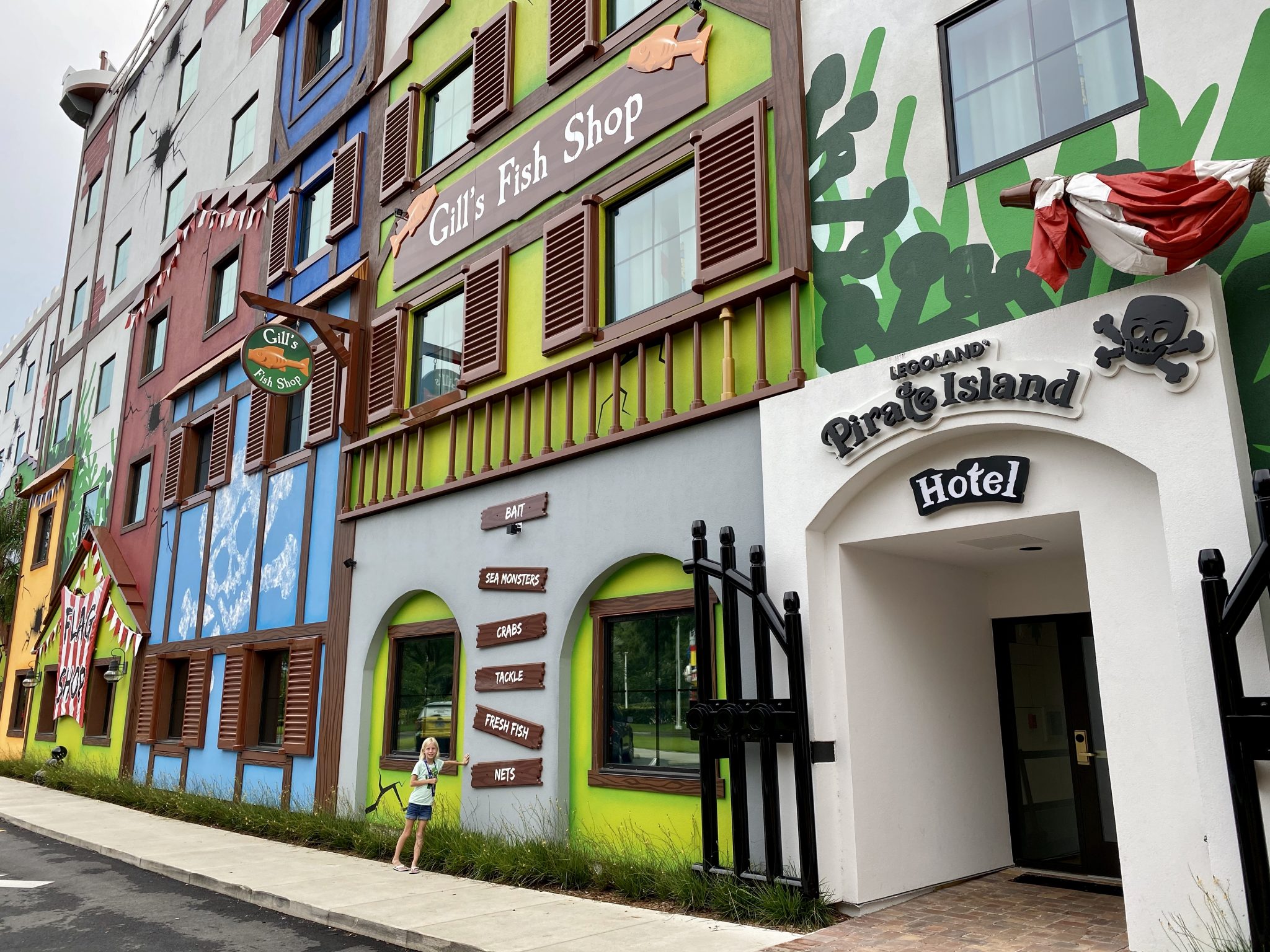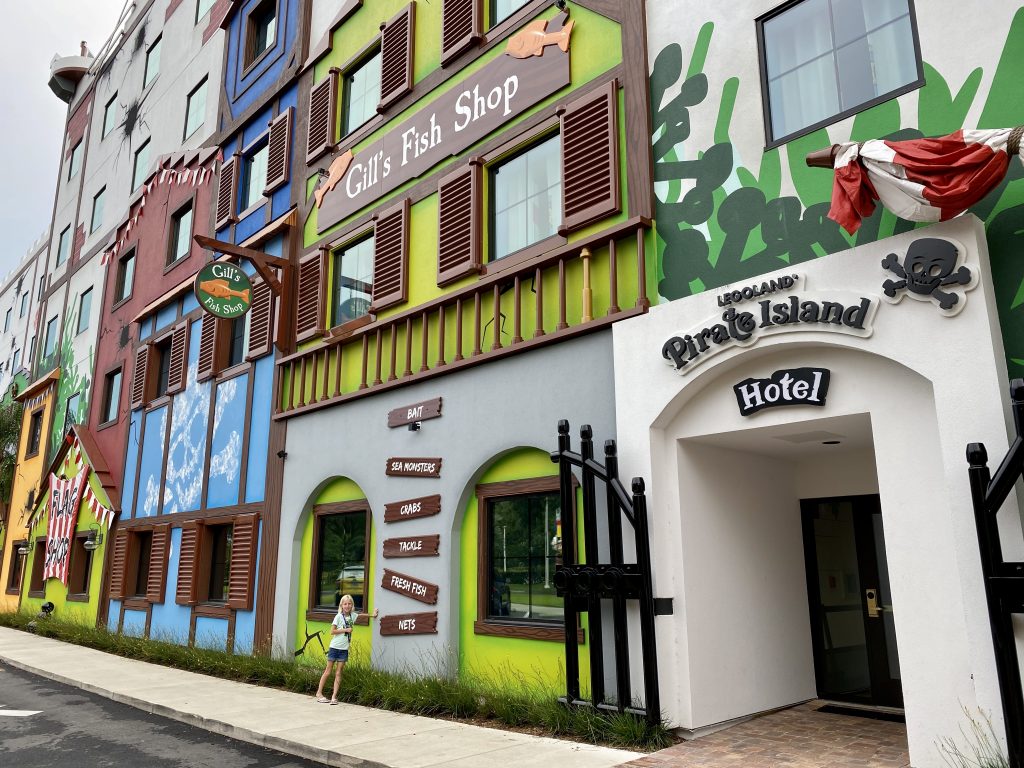 Where can I eat at Legoland Pirate Island Hotel?
We had some amazing meals at Legoland Pirate Island Hotel! You can see full footage of the restaurant in the YouTube video.
Here are the dining options at Legoland Pirate Island Hotel:
Shipwreck Restaurant– features the resort's first family-style dining option. They serve bountiful platters sure to satisfy all kinds of pirate palates!
Dinner at Shipwreck Restaurant includes a three-course meal for your crew to share. Soft drinks are included with dinner and there is a bar menu with local craft beers. 
Complimentary breakfast includes a breakfast skillet to share including eggs, pancakes, fruit, and more!
Smuggler's Bar, offers local Grove Roots beer on draft, made-to-order signature cocktails and kid-friendly "mocktails." This restaurant is located right next to the pirate themed play area, where nightly activities are held. So that makes it easy for parents to enjoy some time together, while still watching the kids have fun.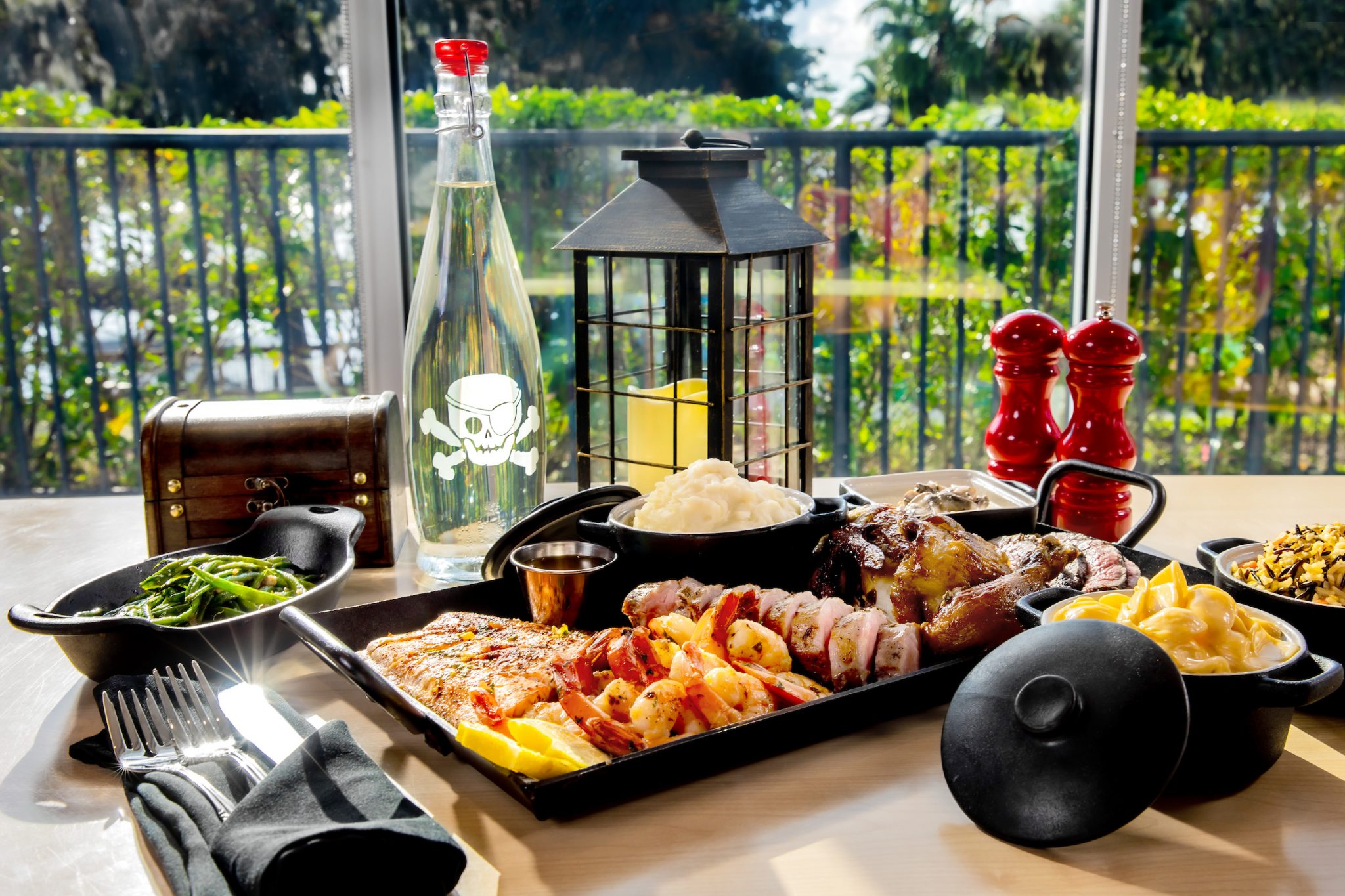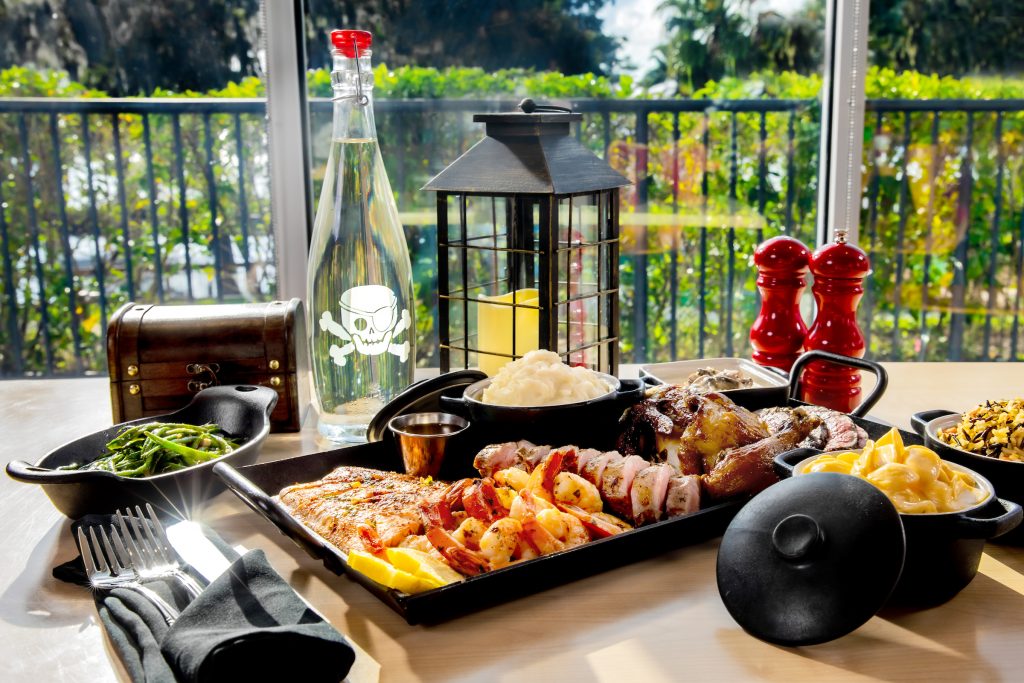 We really enjoyed our meals at the Legoland Pirate Island Hotel. For dinner, Shipwreck Restaurant had an amazing vegan platter option. Since my daughter is a pescatarian and I'm a vegetarian, this was perfect for us! And you'll absolutely have to save room for dessert. It was absolutely delicious!
You are also welcome to dine at the restaurants at the Legoland Hotel as well. So you have plenty of options for good meals!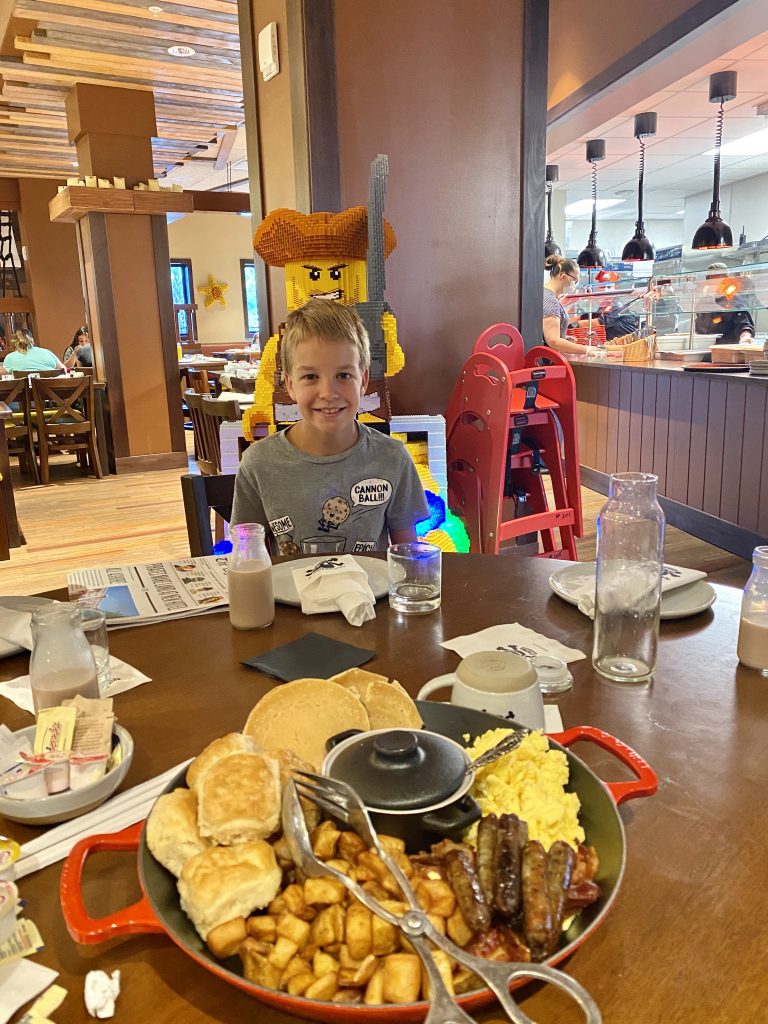 What are the rooms like?
Legoland is known for being "built for kids." And this is so incredibly accurate! In fact, there are so many little touches that make kids feel like this is a place just for them. For example, there's a kid-sized peep hole in the door. And there's even a kid-friendly Legoland newspaper delivered to your door in the morning! How cute is that?
As a family of 7, it's not always easy to find hotel rooms that actually fit us. However, the Legoland Pirate Island Hotel family suite fits our family perfectly!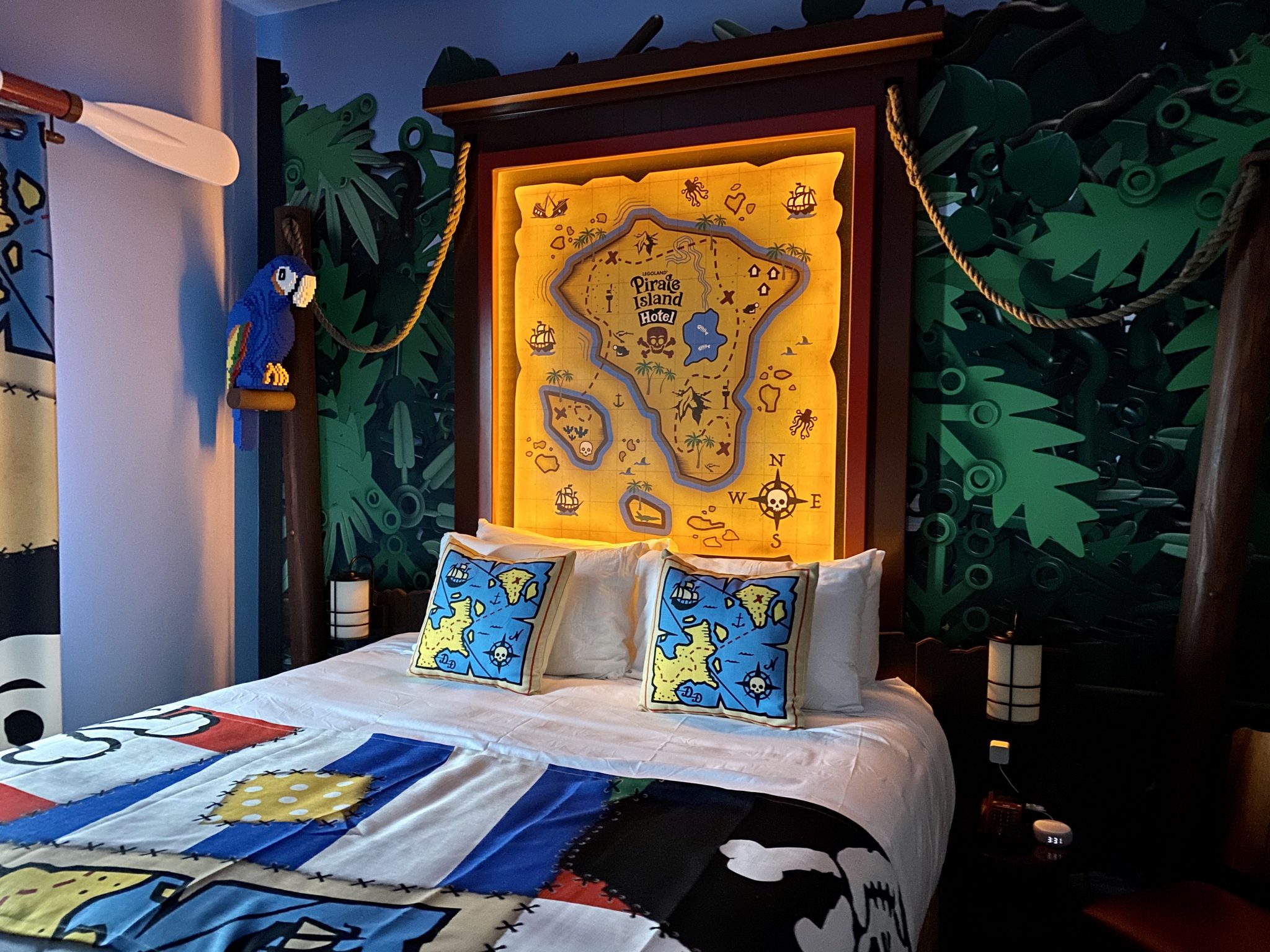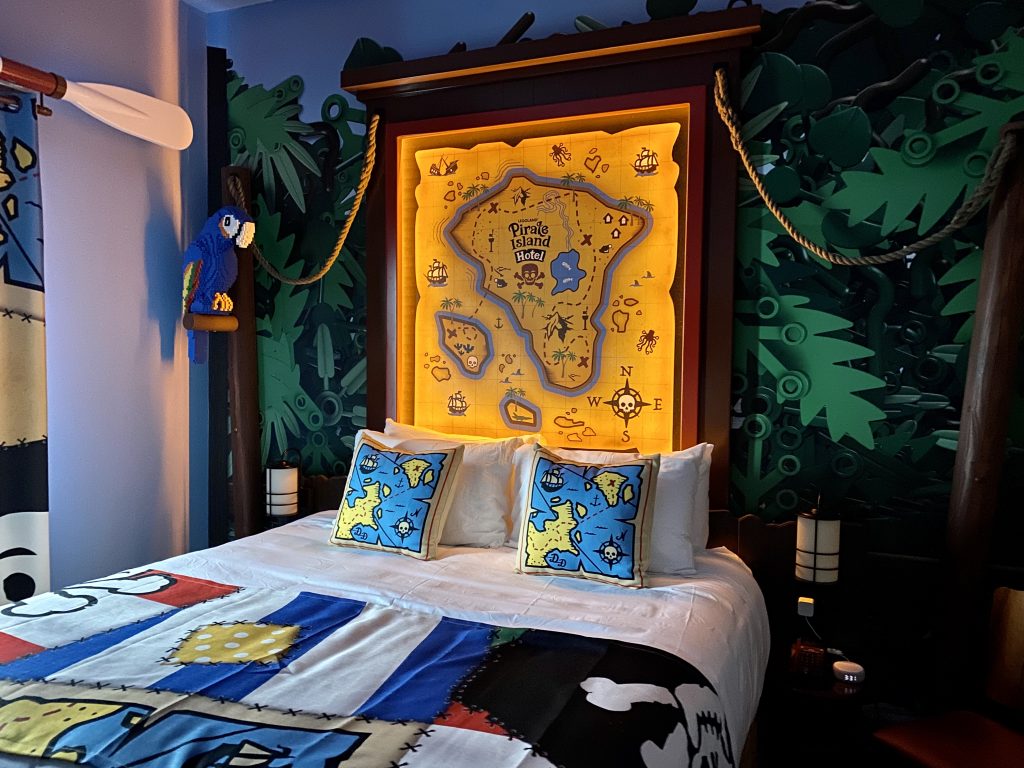 Check out these specifics on the rooms:
Designed to feel like a pirate adventure, Pirate Island Hotel features 150 themed rooms, including four suites.
Guests can choose from a standard or lake view room overlooking the shores of beautiful Lake Eloise or upgrade to a suite. 
Each room is filled with a LEGO crab, monkey and parrot made of 6,600 total LEGO bricks.
Kids can go on a treasure hunt inside their room to unlock a chest filled with LEGO surprise each night of their stay! This was definitely a favorite for my kids!
Pirate Island Hotel rooms sleep five; a king-size bed and a separate sleeping area for kids complete with a bunk bed, pullout trundle and television.
Pirate Island Hotel suites sleep seven; a king-size bed, a sleeper couch and a separate sleeping area for kids complete with a bunk bed, pullout trundle and television.
All rooms include: two high-definition flat panel TVs with complimentary On-Demand content, mini-fridge and coffee maker, vanity/workstation, hairdryer, complimentary toiletries, in-room safe, and family-minded amenities like bathtubs, built-in toddler potty seats and step stools.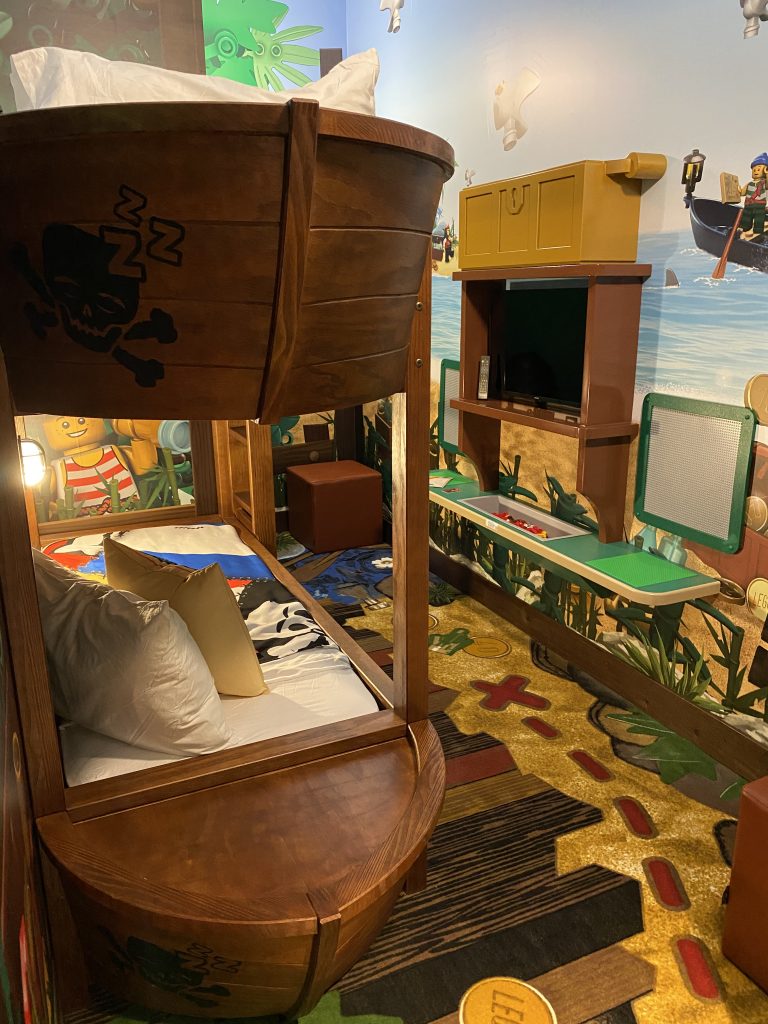 What is there to do at the hotel?
Since we stayed at Legoland Pirate Island Hotel during the summer, we had the typical Florida summer thunderstorms. It was so perfect to come back to the hotel from the Legoland theme park and both rest and have fun. There's indoor activities that the kids loved so much!
Pirate Island Hotel has its own heated swimming pool filled with floating LEGO soft brick.
Guests at Pirate Island Hotel can also enjoy visiting the LEGOLAND Hotel pool.
A hands-on LEGO building activity where kids can contribute their own original creations to an original Pirate Island Hotel LEGO play table made of 38,000 LEGO bricks.
Free Wi-Fi accessible throughout the entire resort.
Nightly children's entertainment, including character meet-and-greet experiences. In addition, there are also fun activities, on a rotating basis, like bingo, building challengers, and bedtime stories!
Access to boat rides, a lakefront boardwalk and miniature golf (separate purchase required) located on Lake Eloise near Pirate Island Hotel.
Ride the elevator. And, if you've never taken an elevator ride at LEGOLAND Hotel, swing over there for a quick ride too! This is always a kid's favorite! In fact, you can see one of my daughters getting her groove on in the elevator!
Sign up for daily LEGO builds with Master Model Builders in the LEGOLAND Hotel lobby. We did one of these each days we were at the hotel, and the kids loved taking home these souvenirs that they built themselves!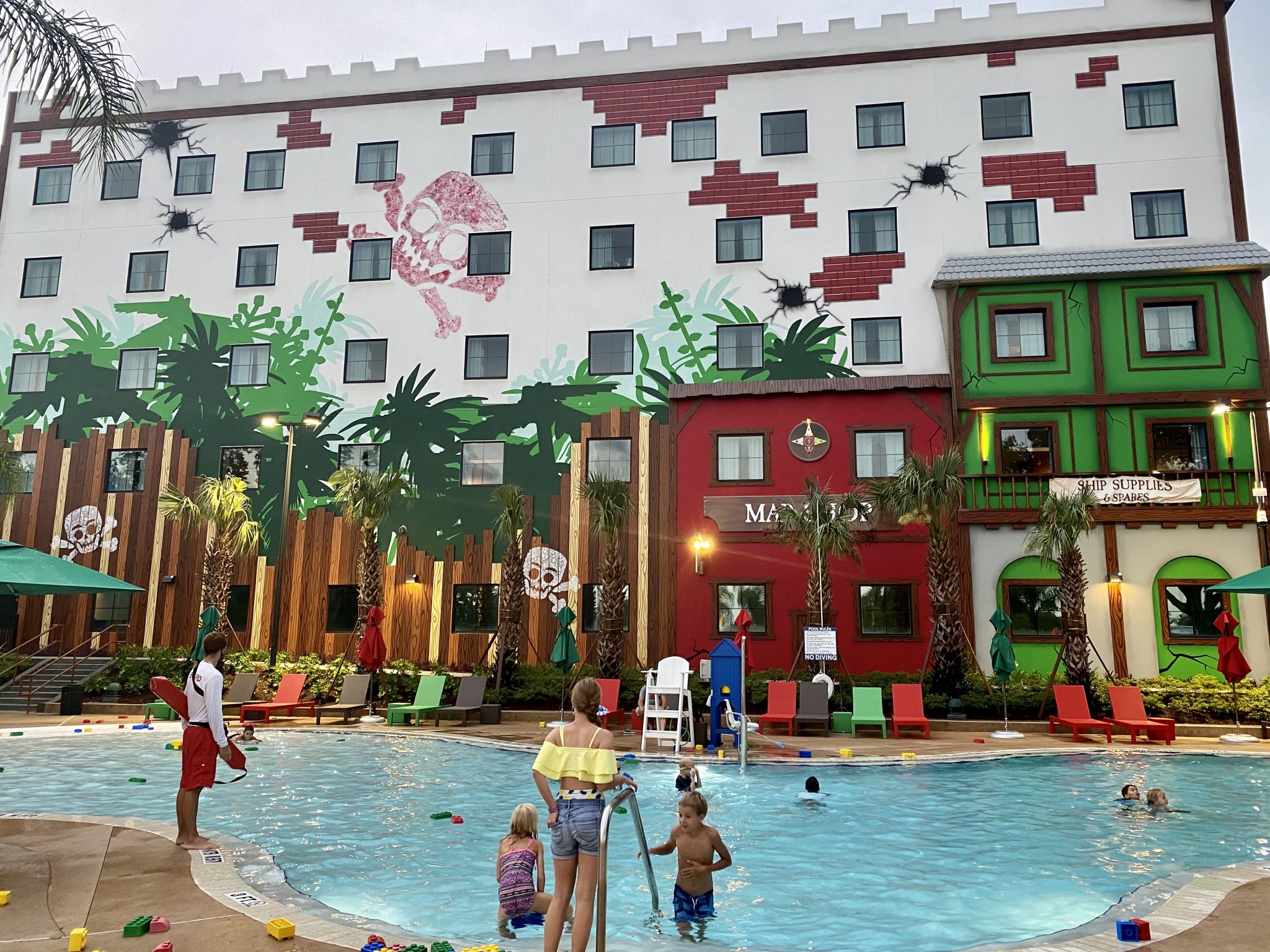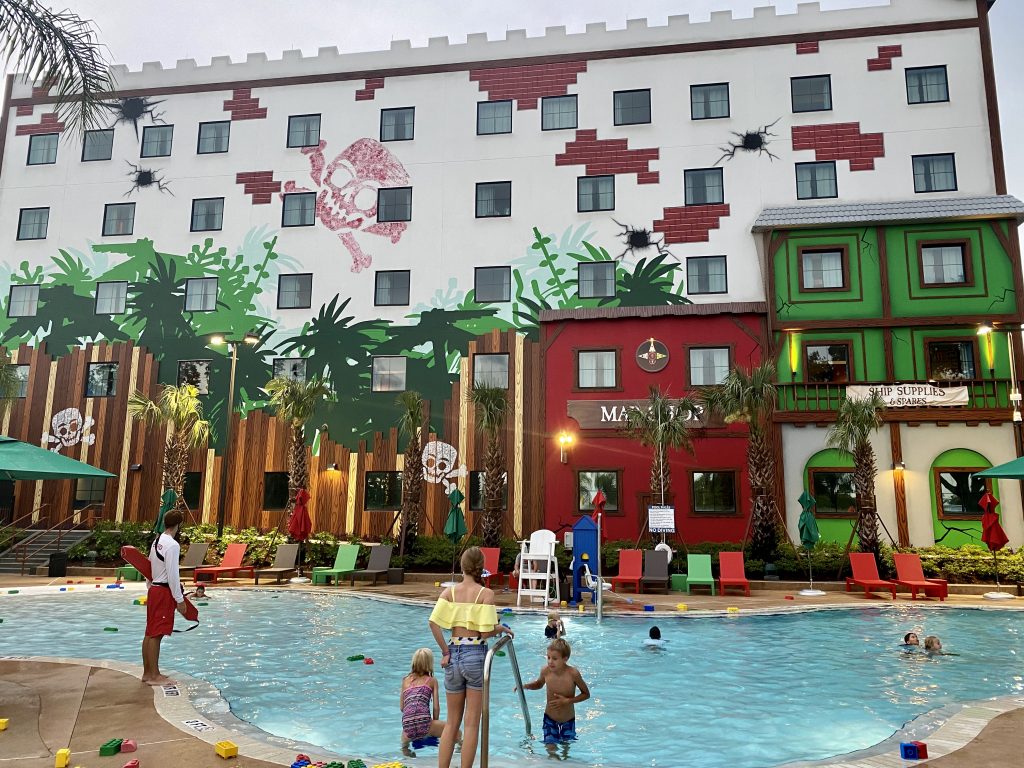 How is Legoland keeping you safe?
During our visit to Legoland Florida, we felt completely safe. All of the employees are wearing masks, and guests are highly encouraged to do so also. There are sanitizing stations everywhere, and I mean everywhere. Temperature checks are required prior to entry to the hotel or the theme park. In the theme park, rides and attractions are sanitized often and guests are spaced out.
We felt very secure, and that Legoland was doing their very best to keep guests safe and happy. Be sure to check out this website to find the full list of how Legoland is protecting your safety.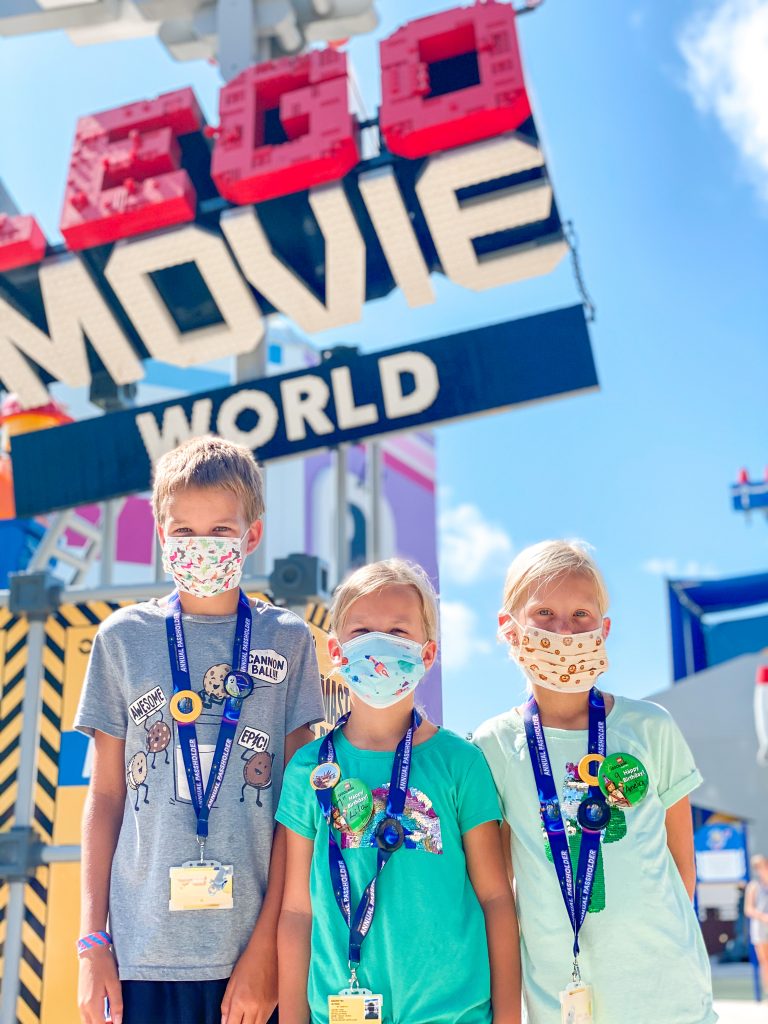 Legoland Pirate Island Hotel Exclusive Deal
LEGOLAND Florida Resort has extended awesome discounts for my fans and followers! These special rates start at just $189 a night. This is a savings of up to 55% off, based on the night selected. And these deals are available now through August 31 for travel through September 4. 
DETAILS:
Book by August 31, 2020 
Travel by September 4, 2020 (Black Out July 3 & 4, 2020) 
Discount Detail by Day: June/July Sunday – Thursday, $239 and Fri/Sat $289; August Sunday – Thursday $189 and Fri/Sat $239 
TERMS:
LEGOLAND Pirate Island Back to Summer Promotion! Save up to 55% off Summer Rates ($189 rate available Sunday – Thursday in August) room only. Cannot be combined with any other discounts or promotions and discount not available on suites. All reservations are subject to resort fee which includes nightly self-parking, standard wireless internet throughout the property and in-room, children's evening entertainment, pool towel and toys, local and domestic long-distance phone calls. Rate is net non-commissionable. Breakfast included with reservation for all parties in group (not available on arrival day). $100 daily credit card authorization paid at check-in.
Deposit: Full prepayment of all room, tax and resort fee is due at the time of booking. LEGOLAND Pirate Island Hotel reserves the right to cancel reservations due to lack of valid credit card and/or deposit. 
To learn more about Legoland Florida, be sure to check out these links:
Facebook: https://www.facebook.com/LEGOLANDFlorida/
Instagram: https://www.instagram.com/legolandflorida/
Twitter: https://twitter.com/LEGOLANDFlorida
You May Also Like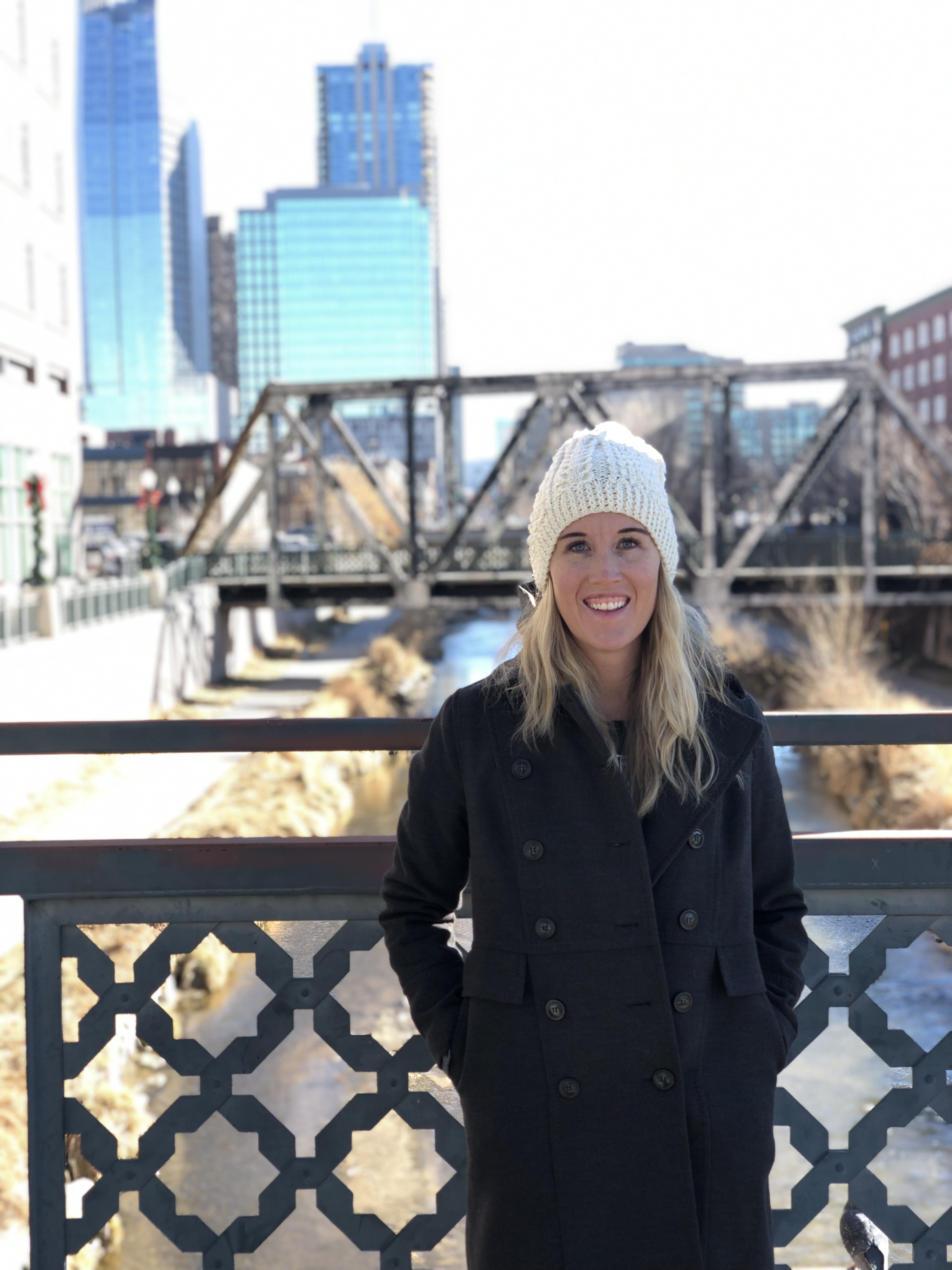 January 1, 2019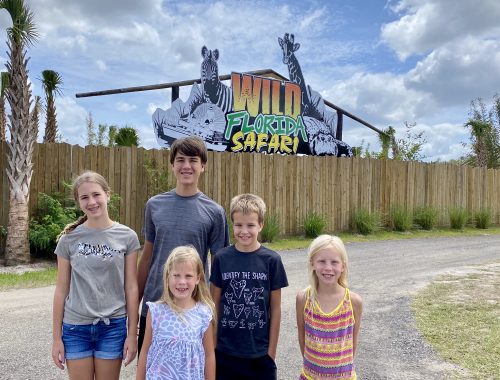 May 15, 2020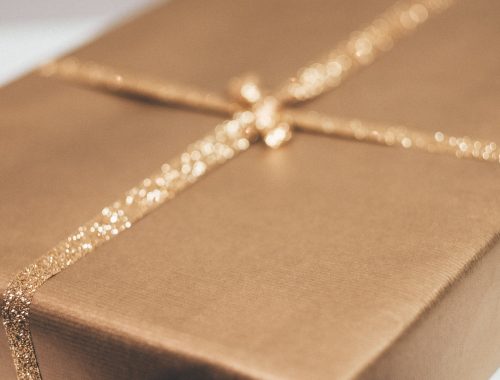 October 23, 2021