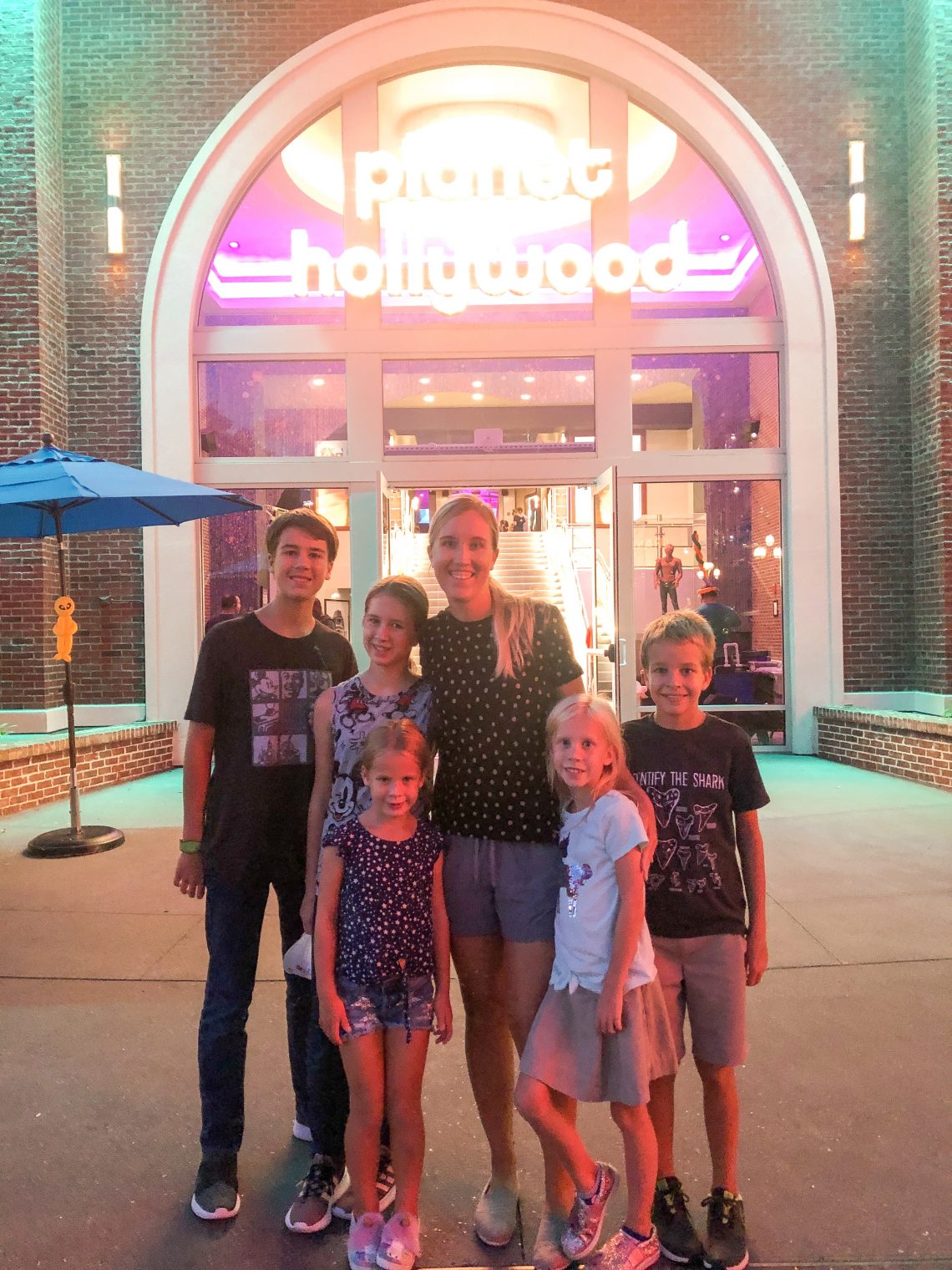 Planet Hollywood at Disney Springs: Perfect for Families
September 5, 2019
Sharing is caring!
Planet Hollywood at Disney Springs was one of my favorite spots as a middle schooler and high schooler. When my friends and I wanted a "cool" spot to go for dinner, we always chose Planet Hollywood. I mean, what's not to love? Film memorabilia, awesome music, delicious food? Perfect! And guess what? It turns out that Planet Hollywood is still just as cool! It seems Planet Hollywood has grown with me. A few years ago, this location had a major renovation, and I was so impressed with the new look! Not only is it a perfect date night spot, it's also so perfect for families with kids. Keep reading for why Planet Hollywood at Disney Springs is a wonderful spot for families.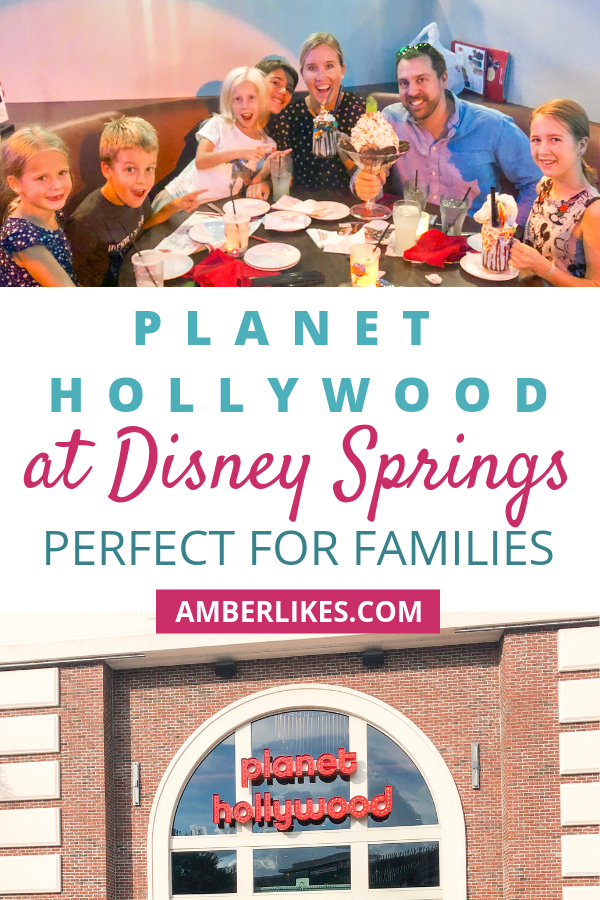 Your kids will be entertained for hours.
As soon as we walked in to Planet Hollywood at Disney Springs, we were all in complete awe of the decor. There is a larger than life screen that covers an entire wall of the restaurant. It's really hard to describe in words, and you just need to see it for yourself! Or the next best option would be to watch my Instagram stories with all of the details. It's really incredible!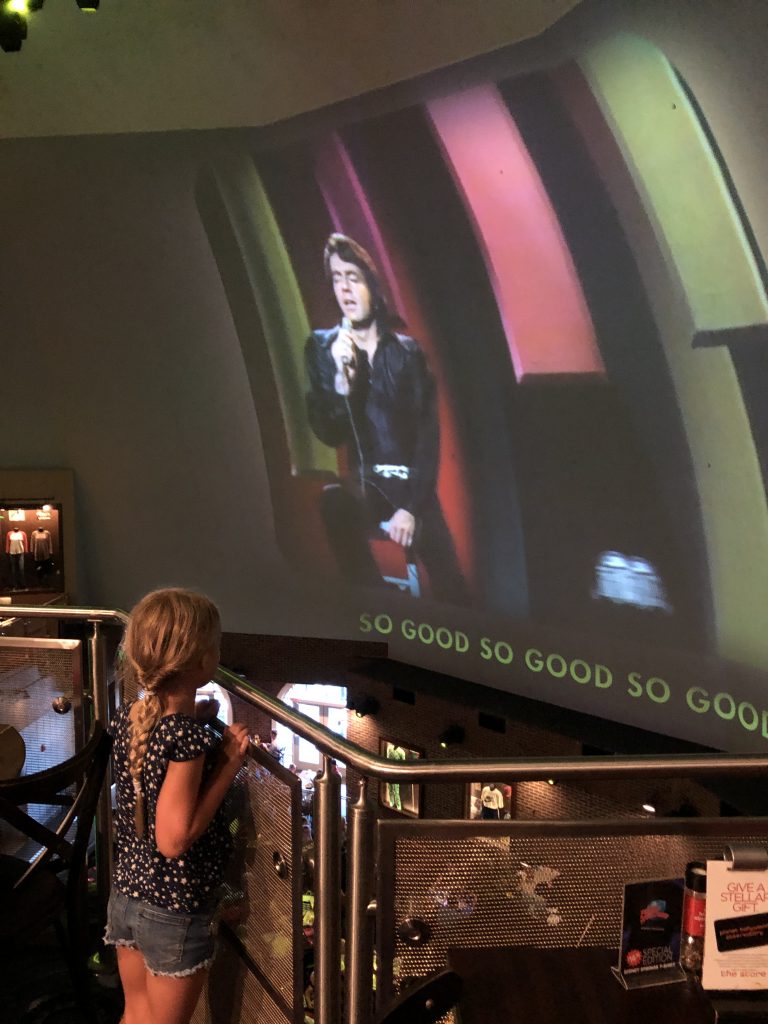 What's on this screen? And is it safe for kids? Absolutely. There are sing-a -longs with Frozen classics. There's also songs that are more fun for adults like "Y-M-C-A." We all had such a great time the entire time, watching this screen, singing along as a family, and seeing some great movie clips.
You can even get on the big screen during a dance spotlight! Our family absolutely ate this up and were living for getting on this screen at Planet Hollywood at Disney Springs. We danced our hearts out from our seats when we were on this ginormous screen! Parents- can you imagine eating in peace for the entire meal? I'm not a big fan of screens at meals, but for Planet Hollywood, this is an absolutely needed exception. It's so fun and so interactive and we all just had such a wonderful time together.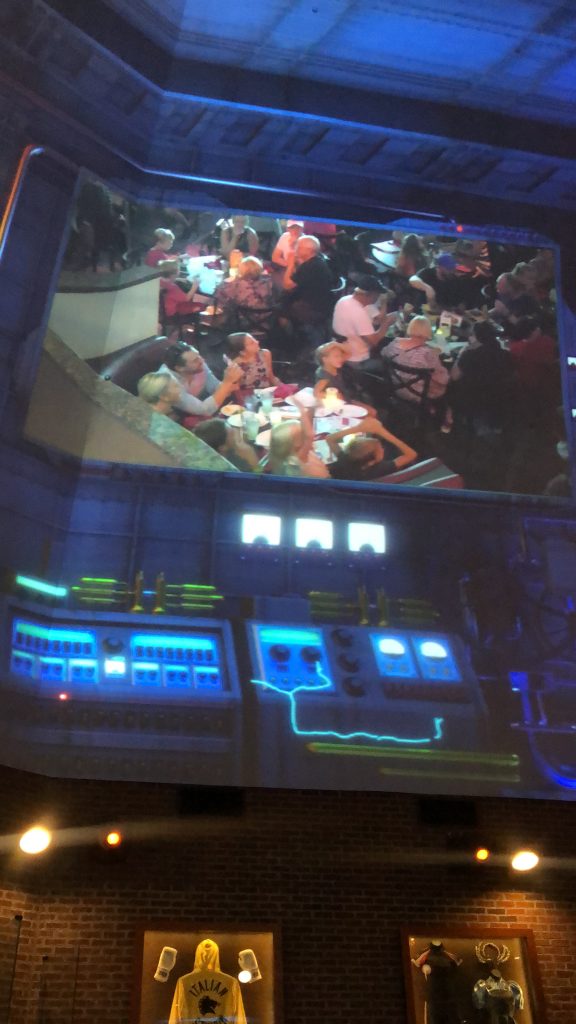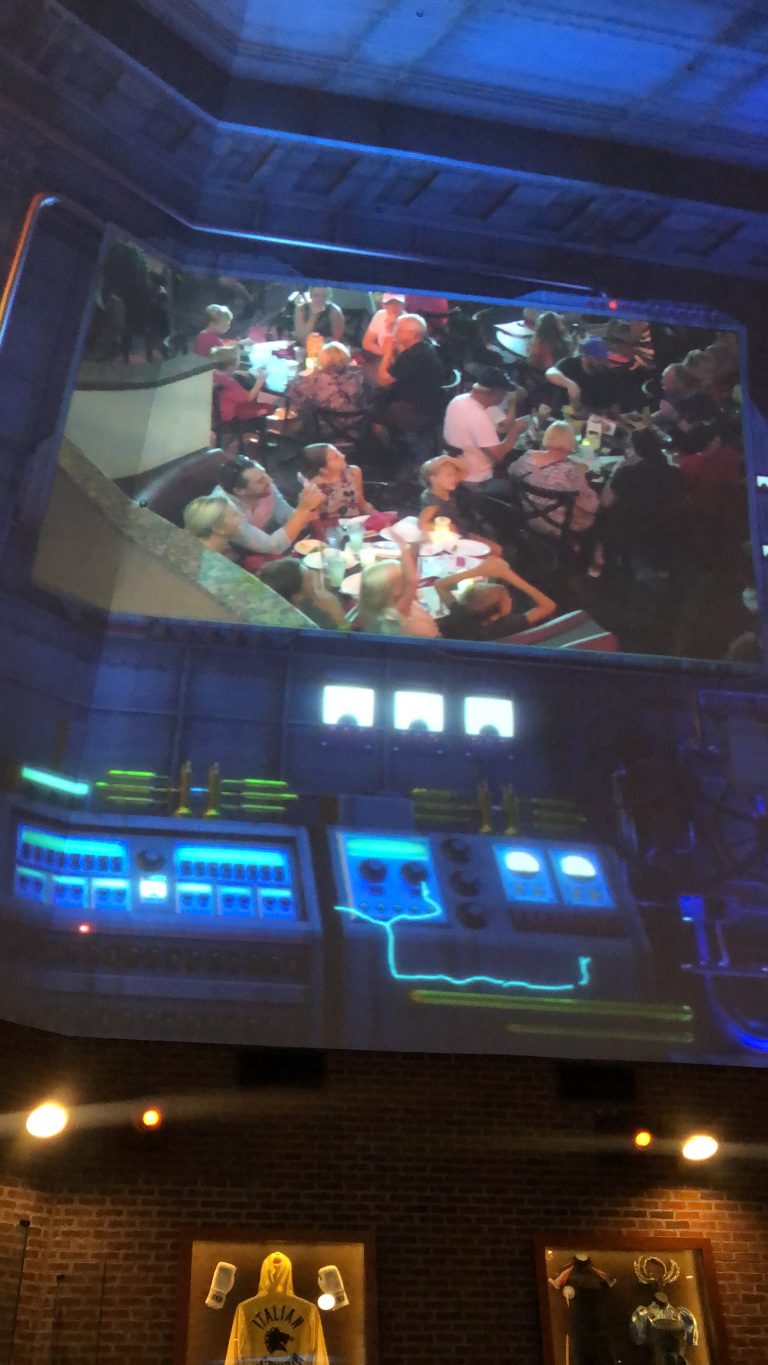 It's the perfect spot for movie buffs!
Do your kids like Star Wars? They have actual Star Wars memorabilia straight from the movie set. My sons needed a picture in front of these, of course! How about Home Alone? They have the actual sled that Kevin rode down the stairs in the Christmas classic! We were just in awe of all of the genuine movie artifacts you could find at Planet Hollywood. How about Rocky's robe from that classic film? Yep, they've got it! It's just incredible!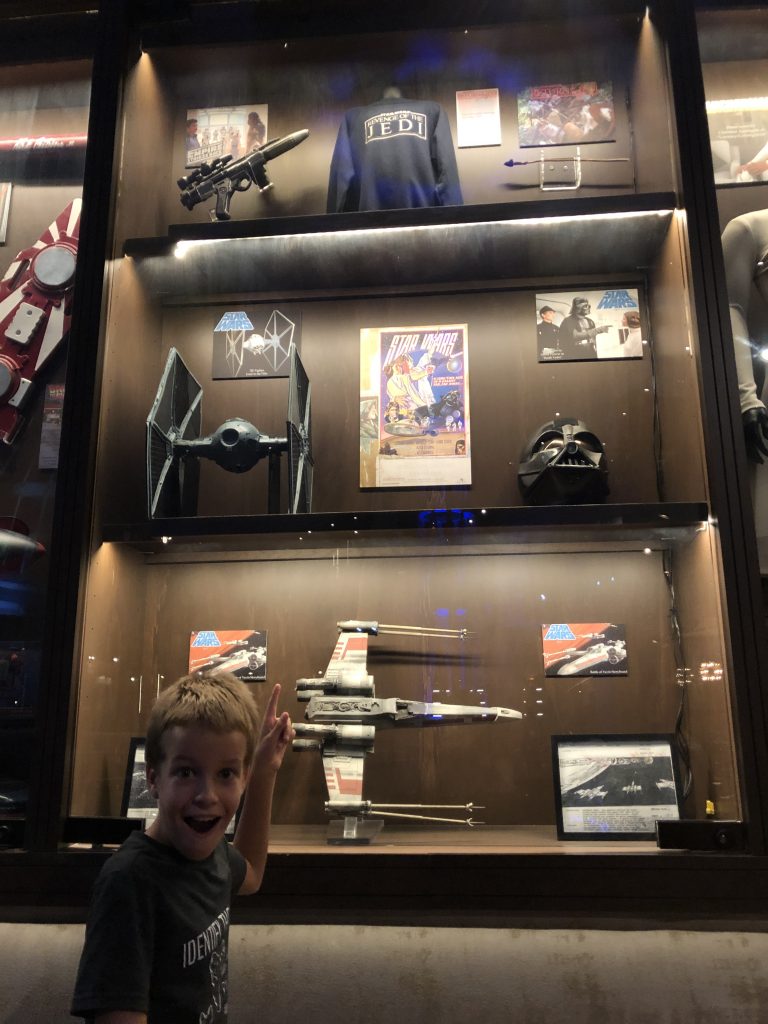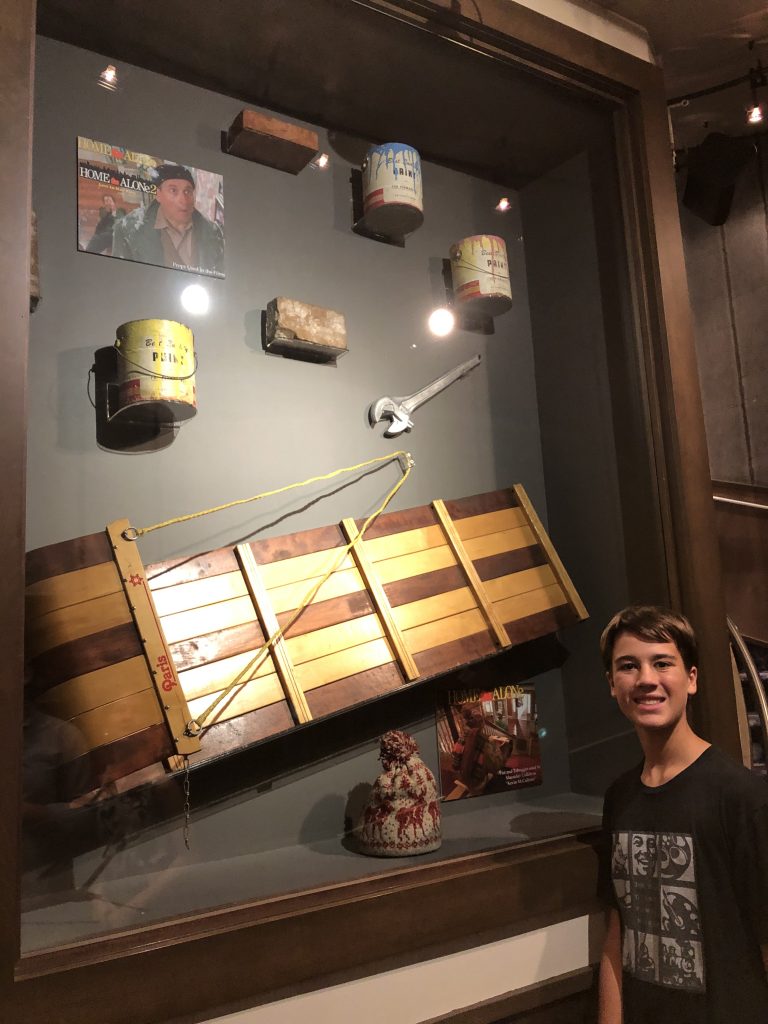 The food is unbelievable.
Have you ever seen a wheel of appetizers? If you go to Planet Hollywood, then you can order this party pleaser and sample some of their absolute best options. It's such a spectacle when it's brought to the table, and causes quite a stir around the restaurant. It was such a great topic of conversation, and it was so fun to share this as a family. We really did feel like high rollers when we ordered the High Roller appetizer sampler.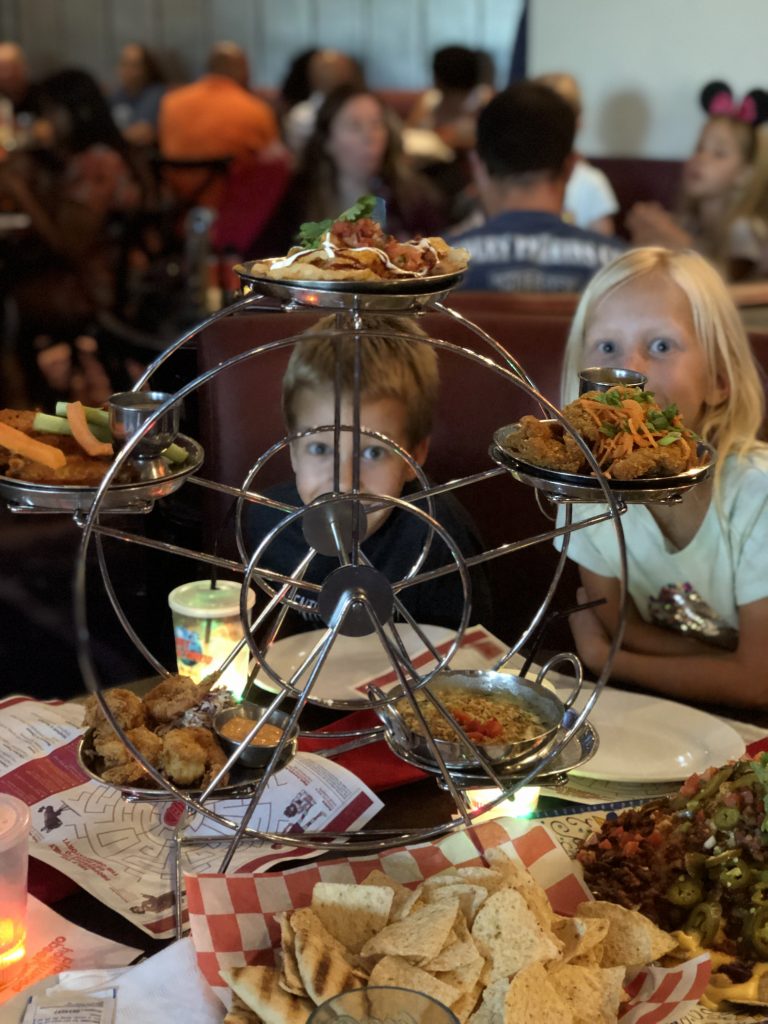 There's also something for everyone! The kids were absolutely in love with their light up souvenir cups, and again, it kept them entertained for quite some time. There was an amazing veggie burger that would be perfect for the plant based eaters in your group. And my oldest son was so enamored with the ribs, which were served on a really fun and photo worthy mini picnic table! Planet Hollywood at Disney Springs not only has amazing food, but they really know how to present it!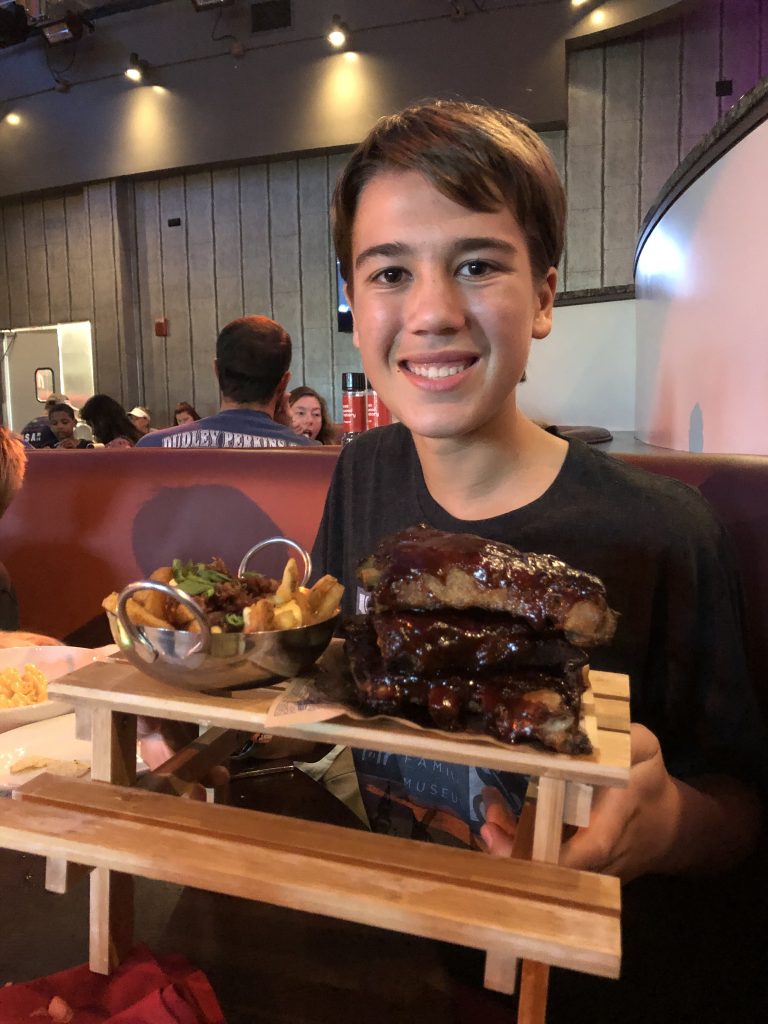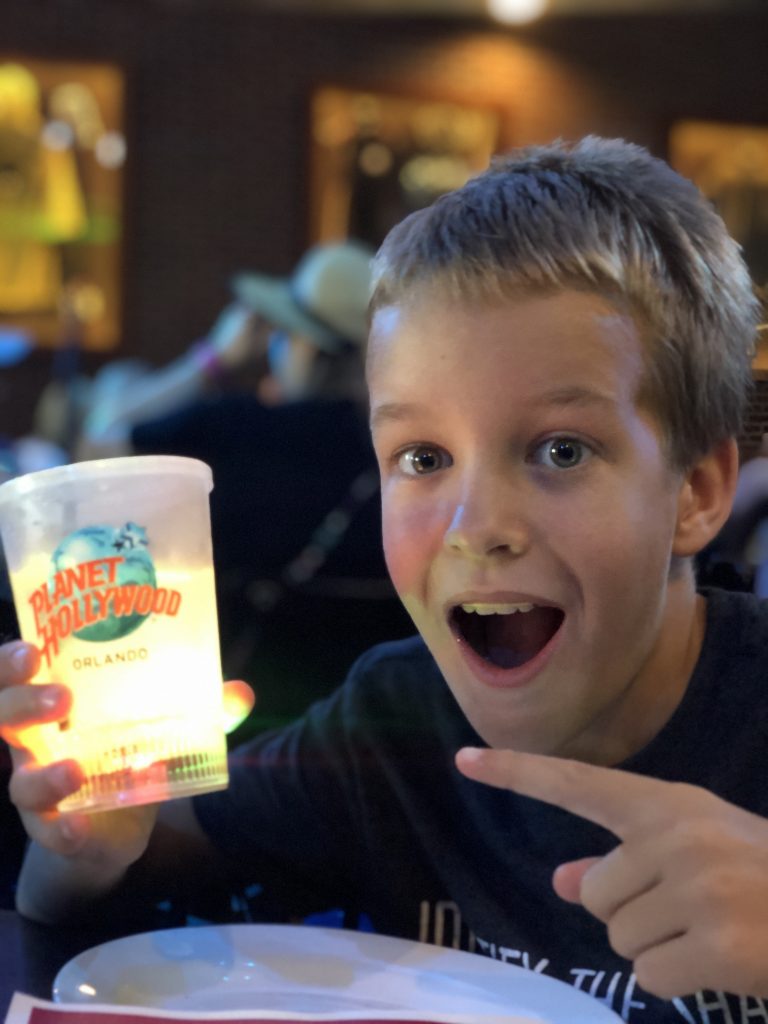 The kids meals are a generous size.
With 5 kids, I am very familiar with the general size and amount of kid's meals. I judge a restaurant quite strongly based on the quality of their meals for kids. Planet Hollywood at Disney Springs did not disappoint. They had crowd pleaser options like Mac and Cheese and Chicken Fingers. Some of my older kids finished their meals and others had leftovers. So it was a good portion size and they all really loved the taste.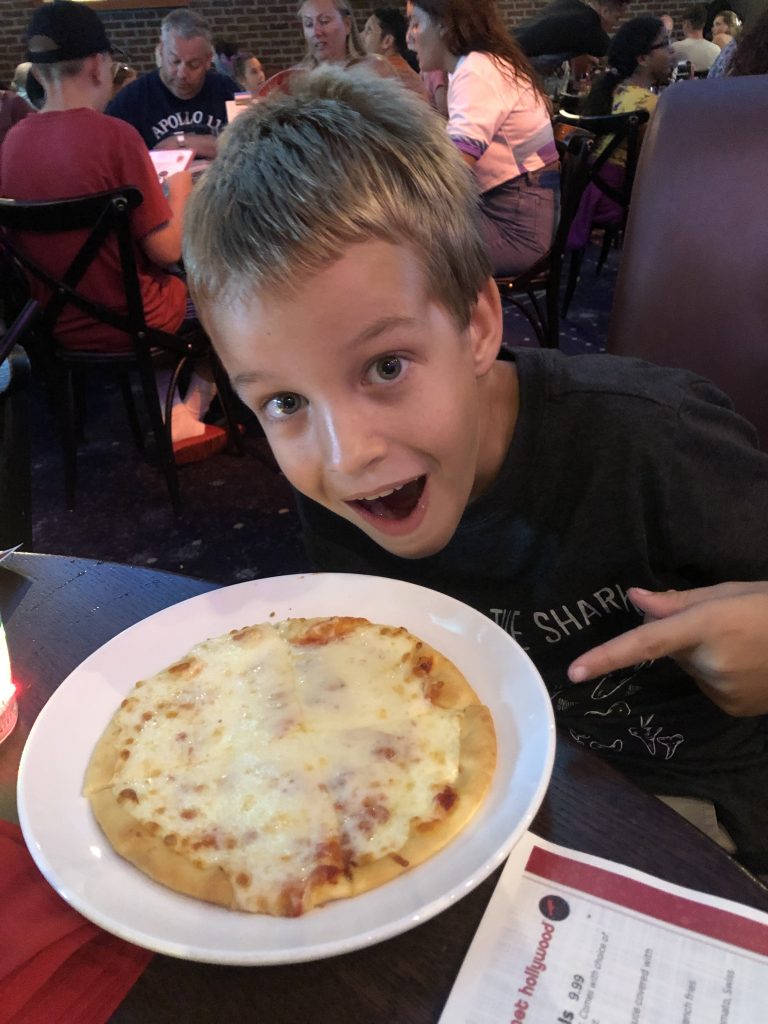 You MUST order dessert at Planet Hollywood.
Even though all of the appetizers and main courses were incredible, the real star of our meals were the over the top desserts! We ordered the Brownie Sundae Martini, and we were just in complete shock! I might have thought the High Roller Sampler was a spectacle earlier in our meal, but I had no idea what was waiting for us at dessert. Our waiter strongly suggested that we order this family friendly dessert, and he was so right! As soon as he brought out this amazing dessert, all of us were literally squealing with delight. It was so fun, and such a great family memory. With six scoops of ice cream and twelve chunks of brownie, it's plenty to share, and makes for amazing photo opportunities!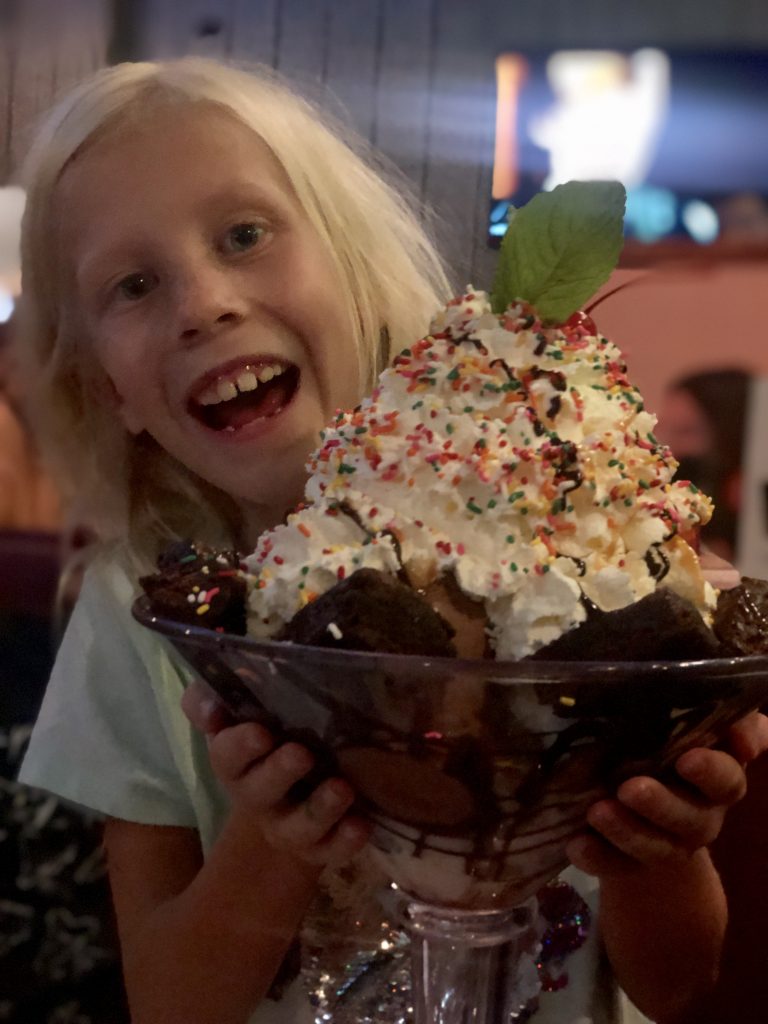 And then there's the shakes. Oh my… as you can tell, I gained about five pounds from this meal, and every ounce was worth it. These milkshakes have amazing names like the Cosmic Cotton Candy and the Chocolate Comet. With candy coated cups, fun toppings, and a huge size, they were the perfect ending to an incredible meal. Although all of the food was amazing, the real star of the show was the dessert at Planet Hollywood at Disney Springs.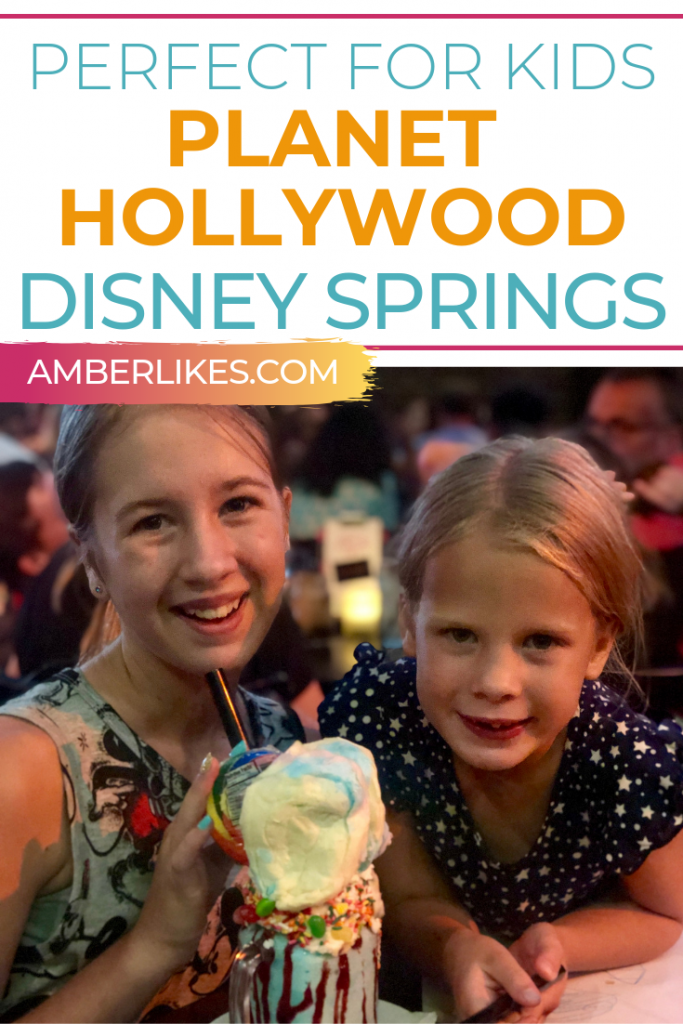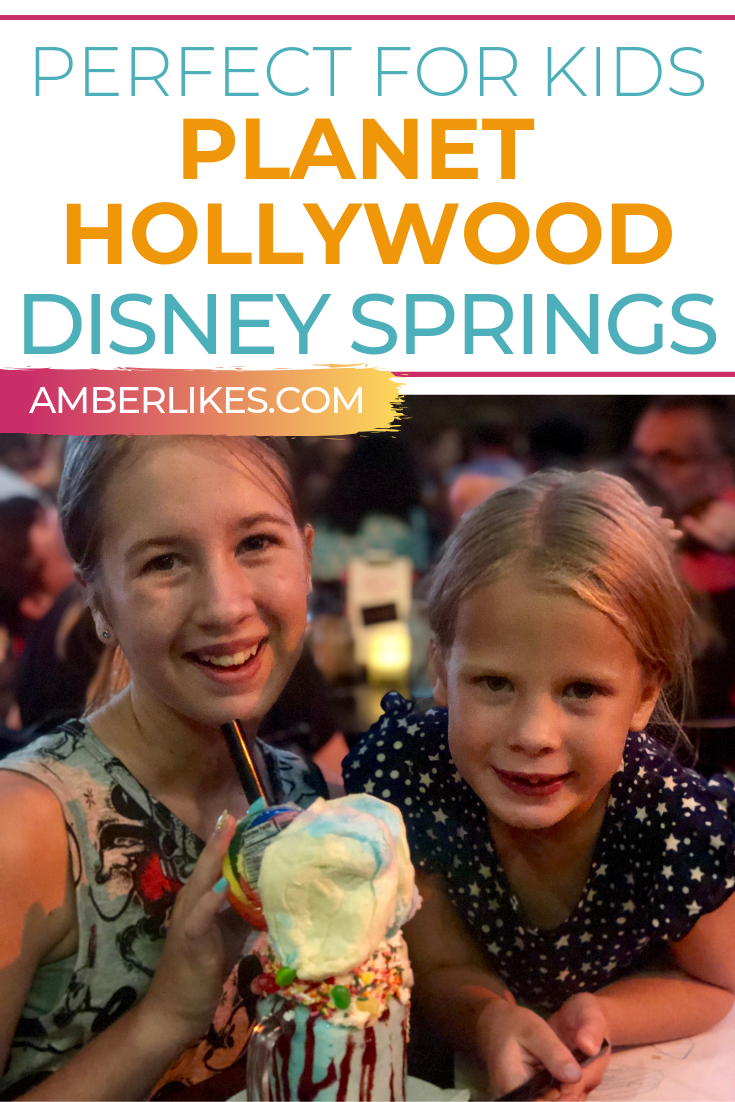 So is Planet Hollywood at Disney Springs good for families?
I couldn't answer more emphatically YES! From the food to the decor, you know your kids will be entertained and get a great meal. Our server was one of the best I've ever had, even in comparison to the top five star meals I've enjoyed. If you are overwhelmed by all of the choices at Walt Disney World, you should start with a visit to Planet Hollywood!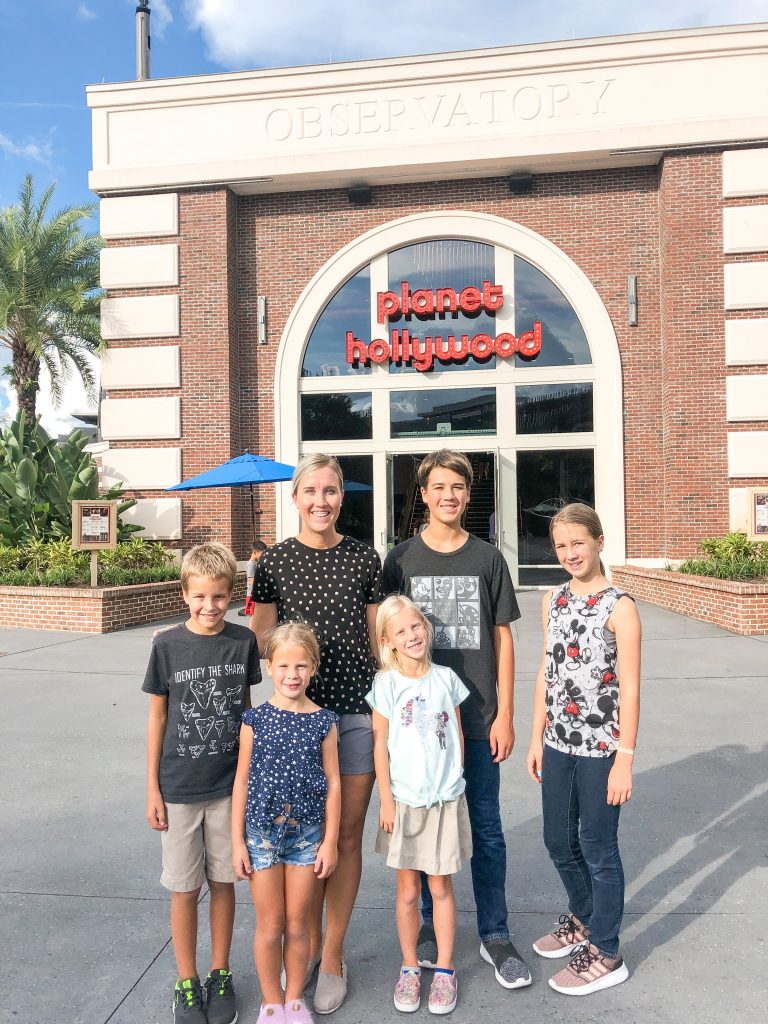 *We were provided with a complimentary dining experience in exchange for my review. All opinions are my own.
You May Also Like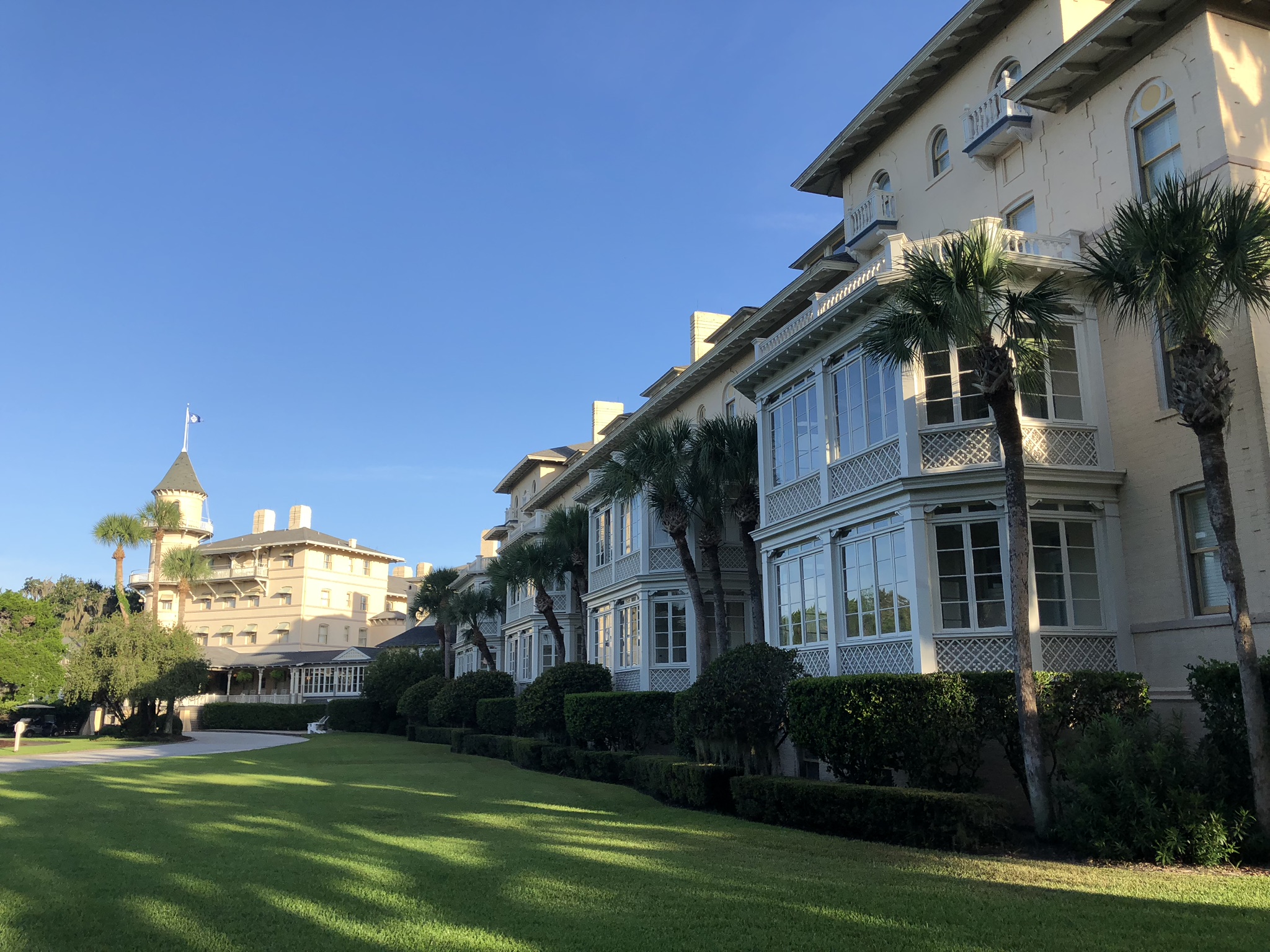 October 4, 2018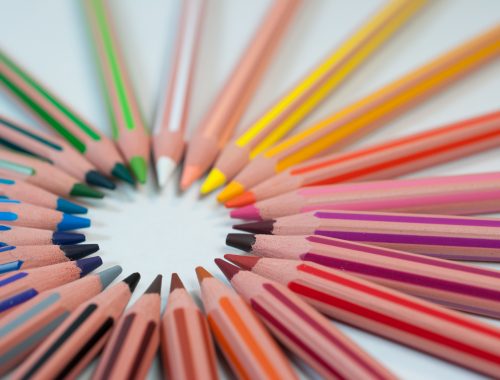 October 8, 2019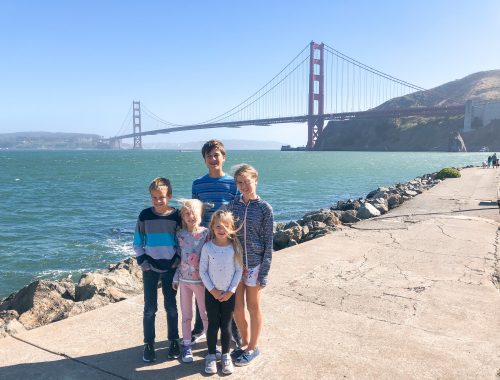 October 31, 2019