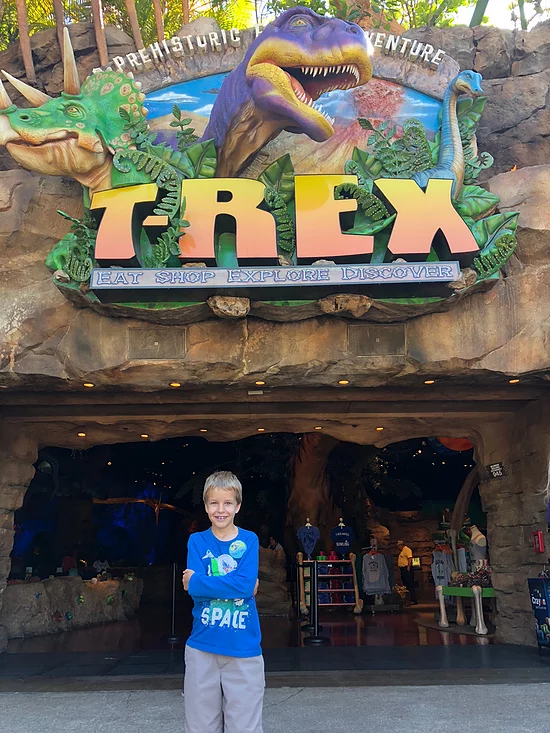 T-Rex Cafe at Disney Springs: Where You Can Dine with the Dinosaurs!
April 18, 2018
Sharing is caring!
If you have been a reader for a while, you know that in Central Florida, you can dine in a castle, dine in the rainforest, and more, but did you know you can go back in time and dine with dinosaurs? At the T-Rex Cafe at Disney Springs, you and your little prehistoric fans can eat amongst the dinosaurs! We recently visited this restaurant, which is part of the Walt Disney World resort, for my son's 9th birthday, and had a wonderful time!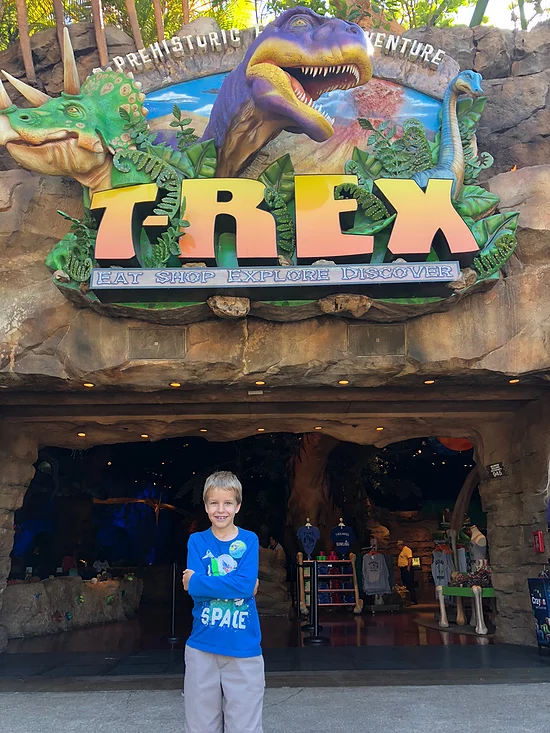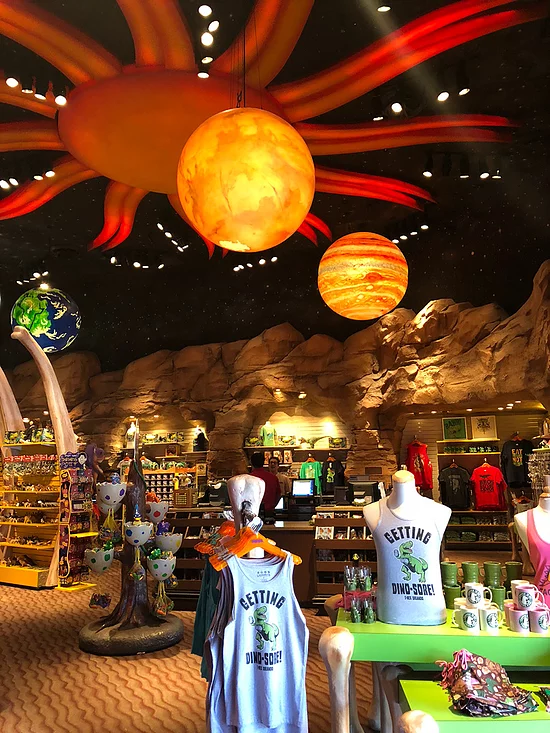 Reservations are highly recommended. They can be difficult to get, but there is a little known secret about how to have an even better experience at Landry's restaurants like T-Rex Cafe and Rainforest Cafe, among many others. We have been members of the Landry's Select Club for years and it has helped us get priority seating and earn lots of free rewards. Being part of this club is an easy way to get a table at even the busiest times of the year.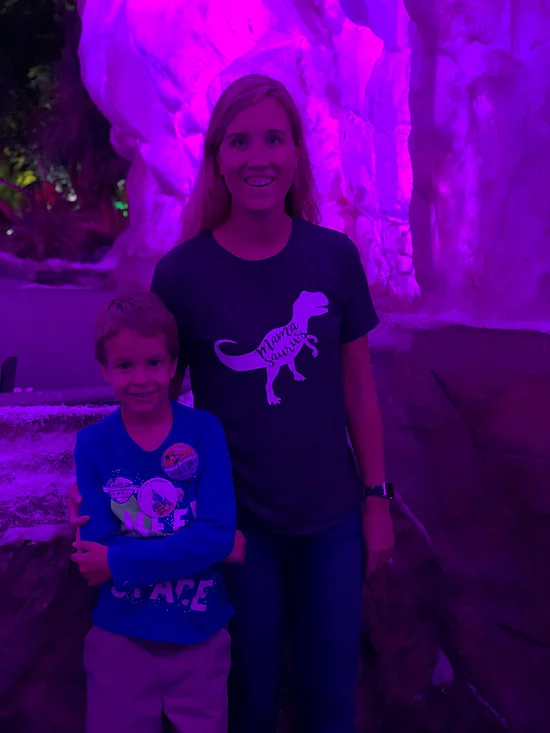 As soon as your approach T-Rex Cafe at Disney Springs, you know this is no normal dining experience. A huge skeleton is across the entrance, as well as a jeep and an enticing souvenir shop. There is also an animatronic T-Rex that roars and greets visitors. This is one of my children's favorite part of the restaurant and is quite a dramatic entrance into a dining experience!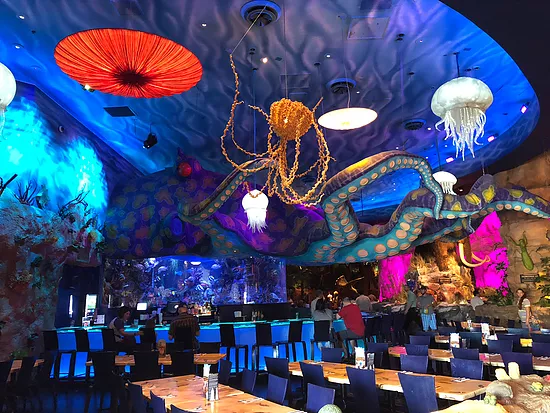 There are three areas of dining at the T-Rex Cafe at Disney Springs. There is an underwater area, an ice cavern, and a forest area. There's really no bad place to be seated! From any spot, you can see animatronic dinosaurs, wooly mammoths, and simulated meteor showers! The meteor shower is a time when the whole restaurant gets quite dark, thunder rolls, dinosaurs roar, and lights flash. My four year old was a little scared of this when it first happened, but after some hugs, she got used to it quickly. It really adds to the experience and makes the whole meal so much more dramatic!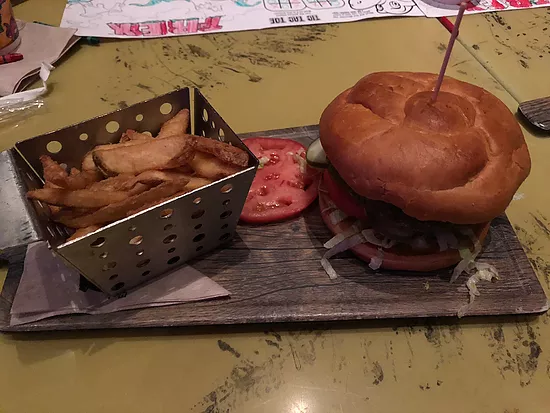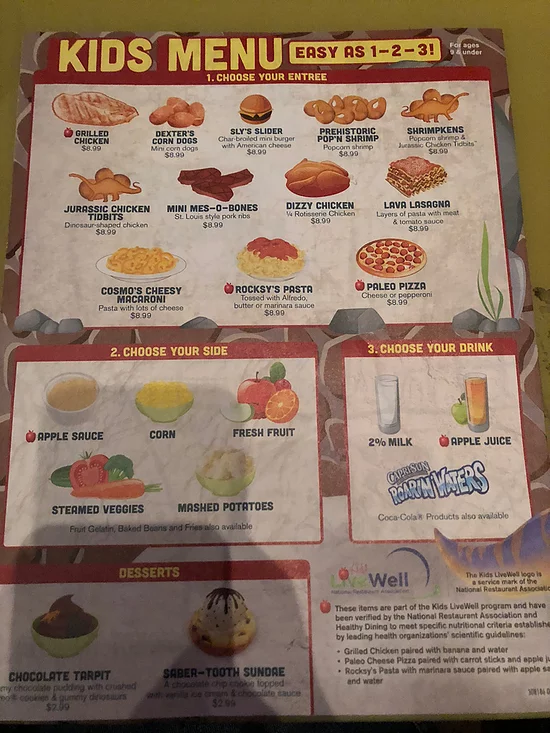 The food was delicious, including my veggie burger, and the deluxe kid's meals. Afterwards, our waiter and more waitstaff sang "Happy Birthday" to my son and brought a complimentary cupcake with a candle! He was thrilled and we were so happy to celebrate our son, even though we were too stuffed to order a full dessert.
After dinner, we went to the Build-a-Dino shop inside the T-Rex Cafe at Disney Springs. This is part of Build-a-Bear Worskshop and is a fun twist on that concept. As part of my son's birthday gift, he got to create his own prehistoric creature, stuff him with love, name him, and get his very own birth certificate! He was so proud and happy to have this new friend!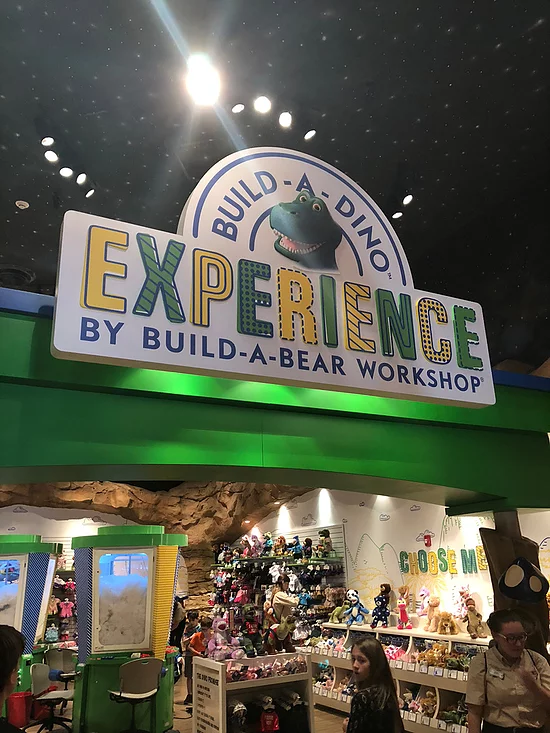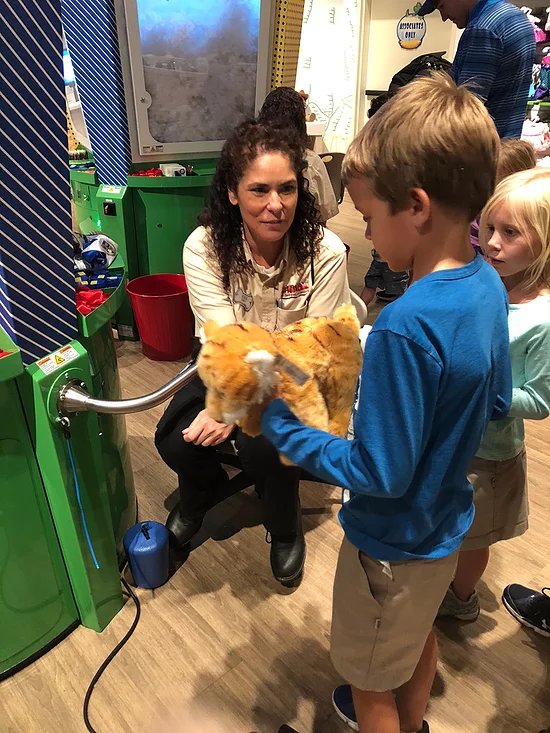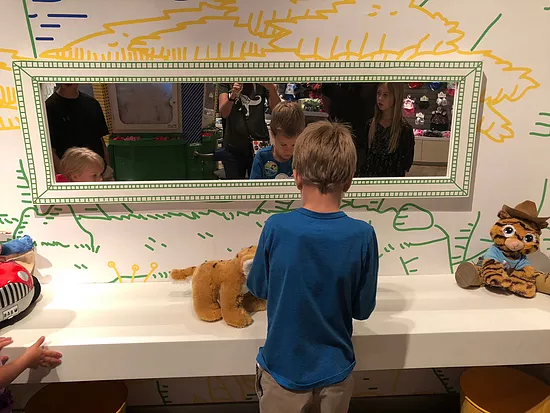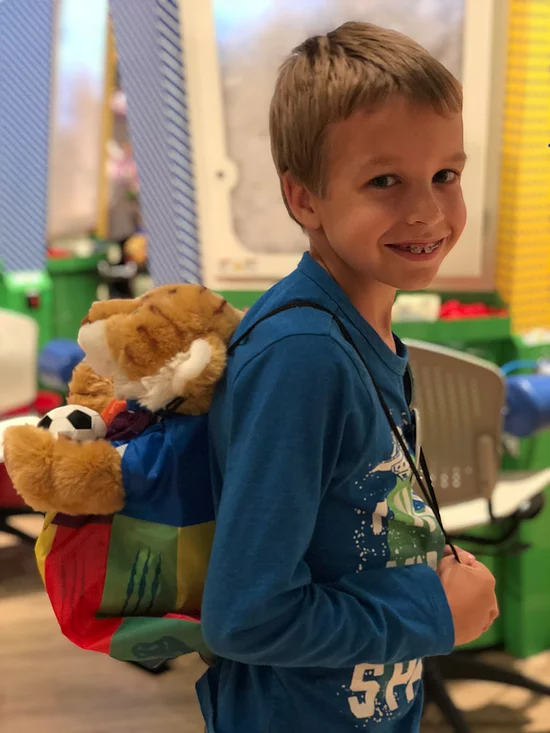 We then walked around the shop, and visited the Discovery Dig fossil site located right outside. Our children love digging for bones and this area has provided some wonderful photo opportunities throughout the years. We took some great pictures and then continued our night by walking around Disney Springs on a beautiful Florida Spring evening.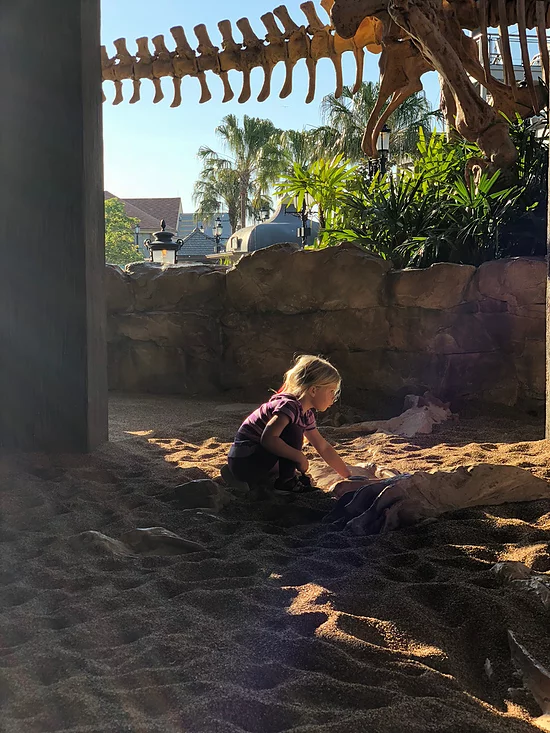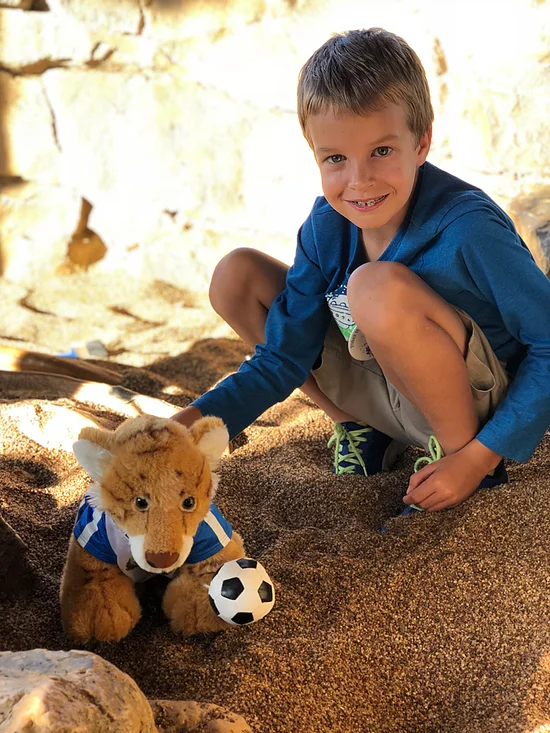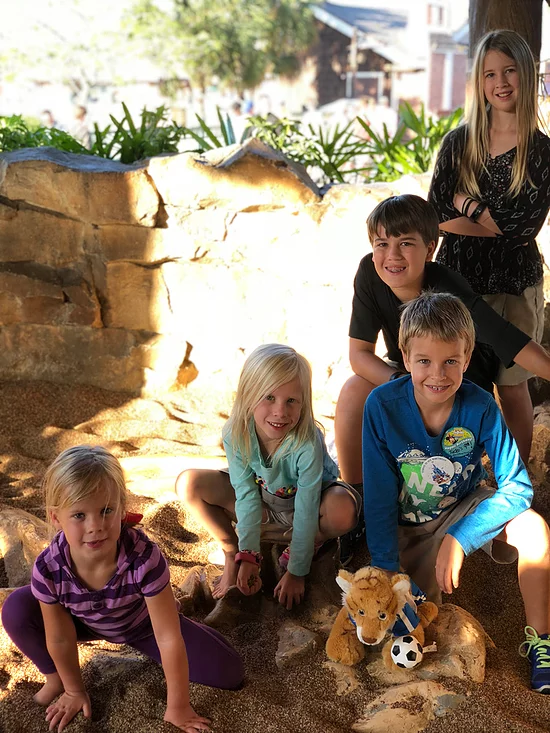 Go check out T-Rex Cafe and enjoy dining with the dinosaurs! Be sure to follow along on Instagram and YouTube for more details on our adventures.
You May Also Like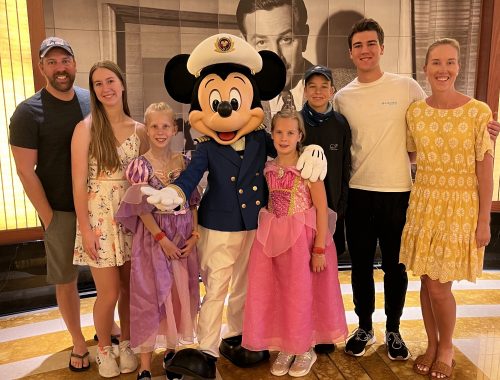 March 10, 2023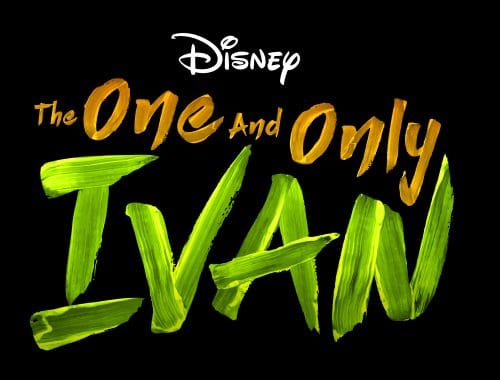 August 25, 2020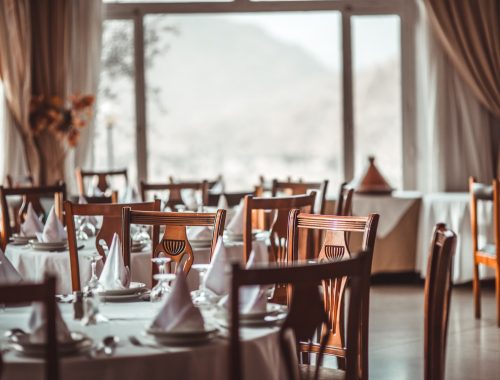 June 22, 2023