The Top 5 Reasons to Stay at Drury Hotels
December 21, 2017
Sharing is caring!
It's easy to write about things you love. I write and post about Walt Disney World, my family, our travels, and naturally included in that list of things we love is Drury Hotels. My friends and family are used to me raving about this hotel chain for at least 5 years. They could almost write this post just from my recollections of our pleasant stays over the years!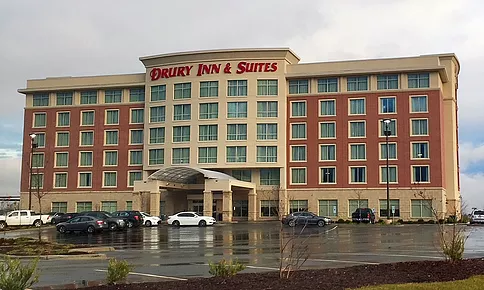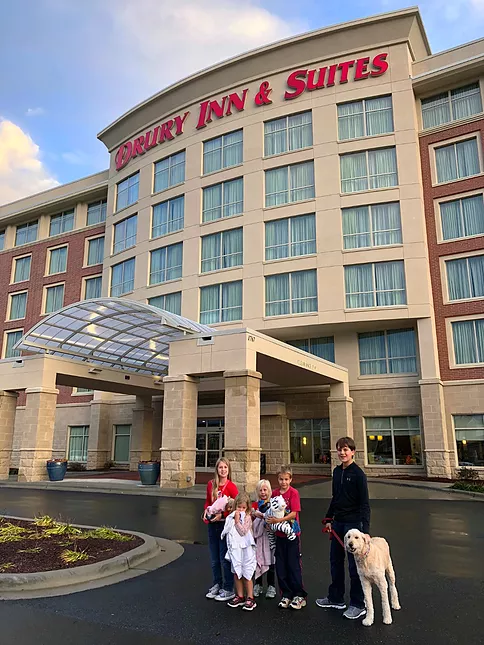 We live in Orlando, but we have never missed a Christmas with our extended family in Central PA. Ever since we had more than two kids, and also a dog, we started trading flying in favor of driving. Our oldest son is extremely connected to our golden doodle NGO (named after the butchering of the B-I-N-G-O song by a four year old), so we try to bring her along as much as possible. However, finding hotels to stay where they have rooms big enough for 7 people, and that also accept large dogs, is no easy task. That is where Drury Hotels became a lifesaver for us.
Drury Hotels have 150 locations in over 25 states. They have several options on our route from Florida to Pennsylvania. Last year, we stayed at thee Drury Inn & Suites Burlington, NC location, and this year, we had the pleasure of staying at the same location again. Here are the top five reasons you should consider Drury Hotels on your next vacation or road trip.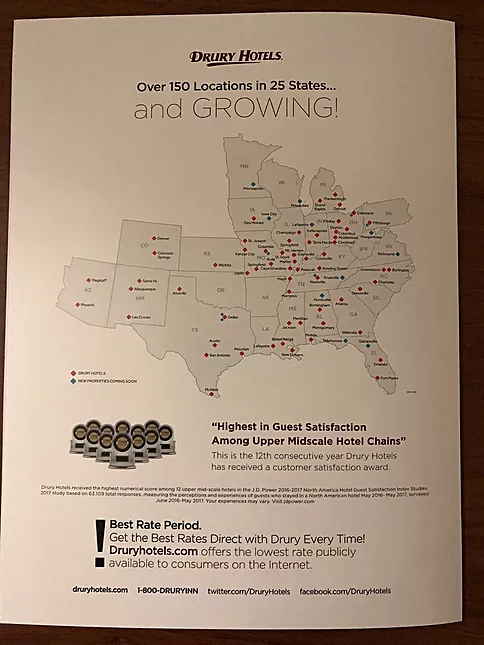 1. A Genuine and Warm Welcome
From the moment you walk in a Drury Inn & Suites Burlington, you feel truly welcomed. The front desk attendant greeted all of us, from the youngest to the oldest, including our four-legged family member. They gave NGO a dog treat, gave us our room number, and told us about the 5:30 kickback and the hot breakfast in the morning. They also told us about the free wi-fi, free popcorn and soda in the lobby, and we were off to our room. The whole process of check-in took no more than 5 minutes, which is exactly what you want when you have been on the road for 8 hours with 5 kids and a dog.
Every employee we encountered during our time at Drury Inn & Suites Burlington, NC was friendly, pleasant, and helpful. It makes such a huge difference to a guest to have excellent customer service. This is something that I treasure at Disney World, and Drury Hotels employees live up to the same standard.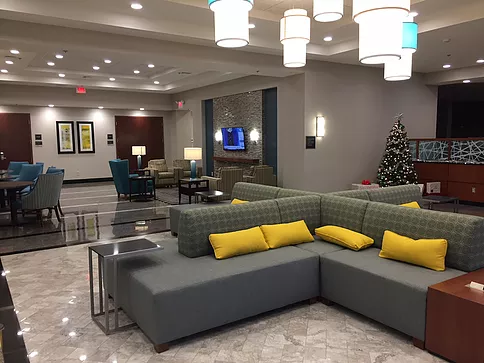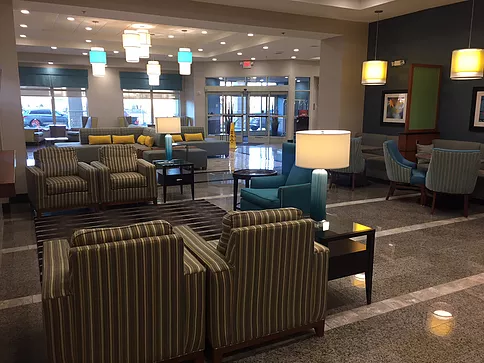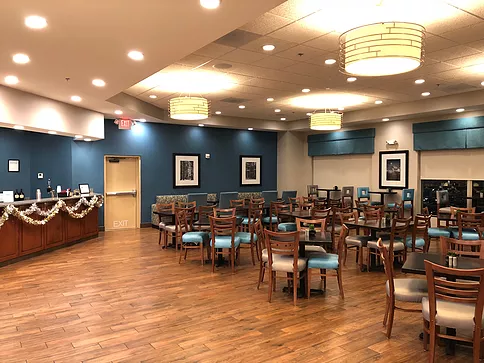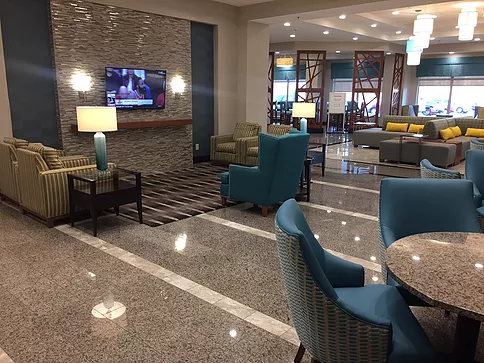 2. Spacious, Clean, and Comfortable Guest Rooms
When we went up to the room at Drury Inn & Suites Burlington, we were pleasantly reminded of how spacious the Deluxe 2 room suite is for our family. In the bedroom, there were two queen beds, and then a pullout sofa in the living area. We had also requested a cot so that each of our five children would have a bed. There was plenty of room to walk around and more than enough space for NGO to lie down as well. There were two large televisions, a microwave, coffee pot, a mini fridge, and a spacious and clean bathroom. In the bathroom, there are soap and shampoo dispensers that are not only so much better for the environment than the small bottles, but easier for the guest to use.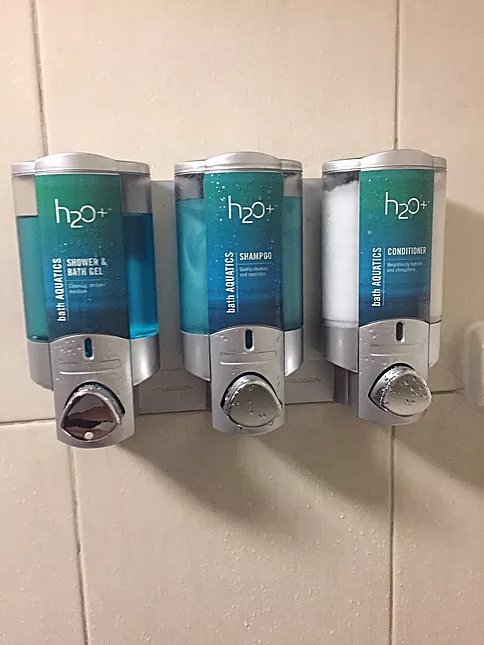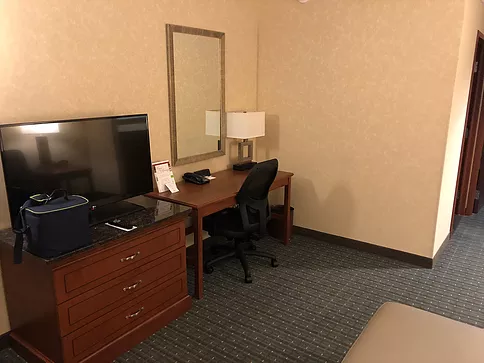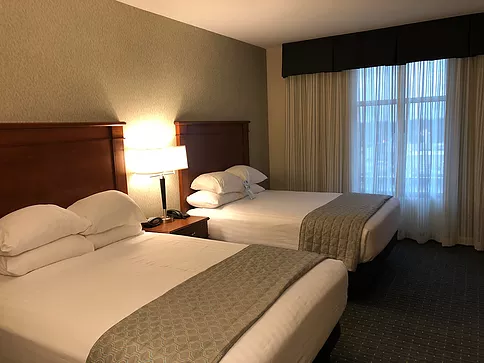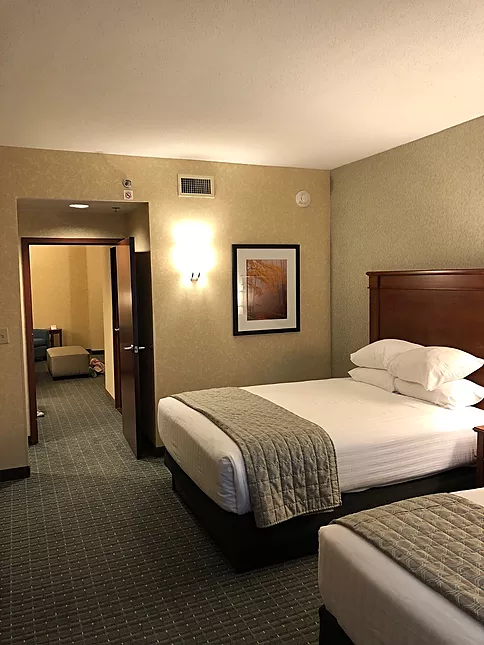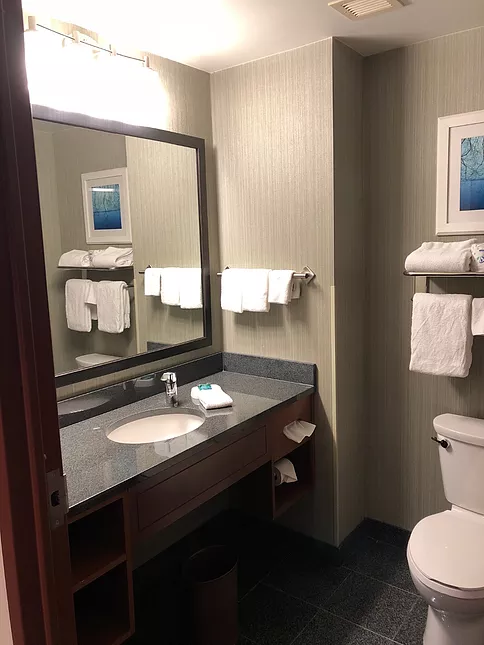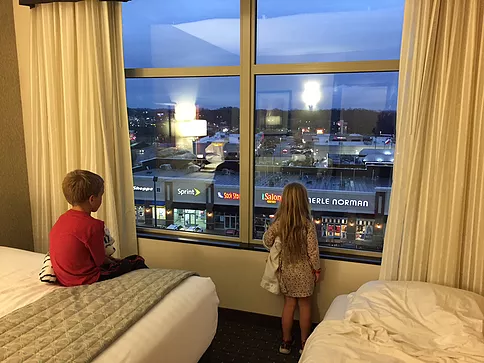 The beds are comfortable, the shower has good water pressure, the towels and linens are good quality, and the room is immaculately clean. Your room at Drury Hotels really cannot disappoint you.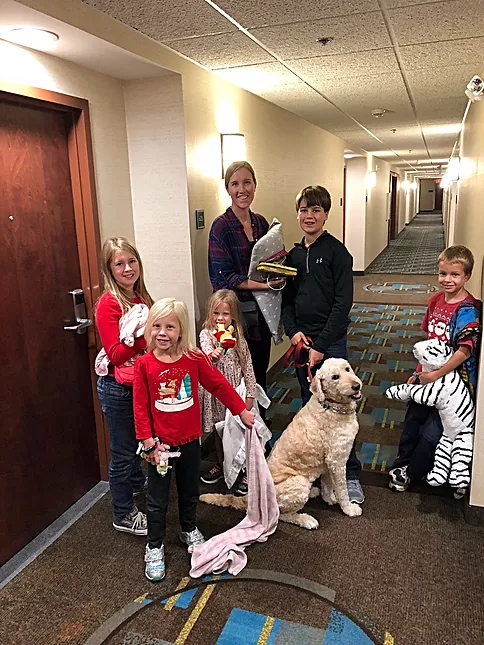 3. Free Food Abounds
When you have a big family, even the smallest expenses add up. If each child wants chocolate milk, and the milk costs $2 per bottle, you've just dropped $10 on just beverages. I wouldn't describe our family as frugal, but we are wise with our money. We try to be good stewards of what we have been entrusted with, and Drury Hotels is a smart choice for big families.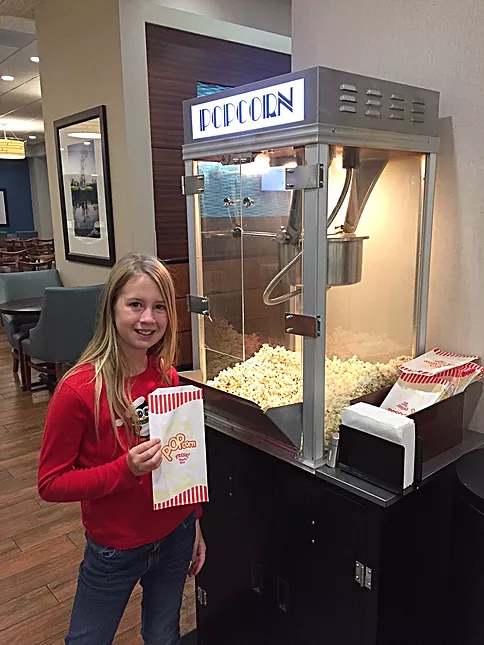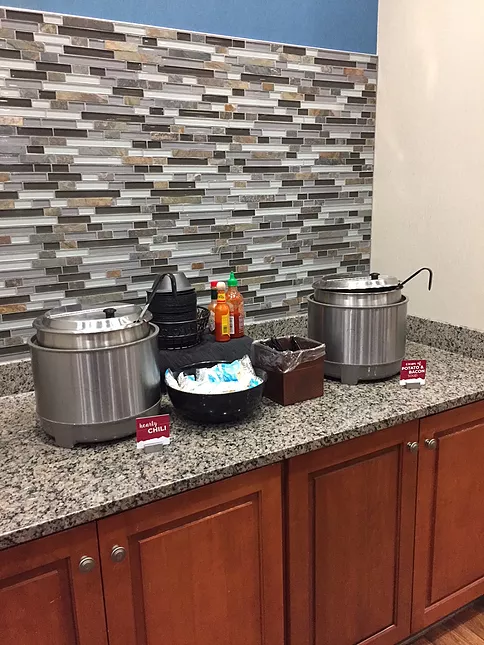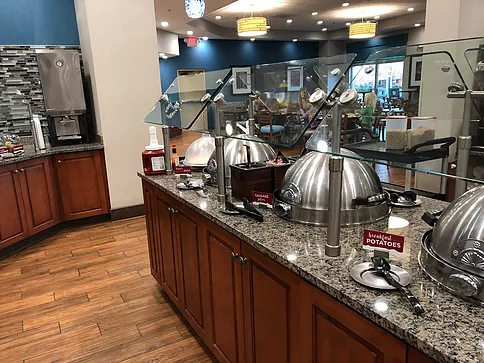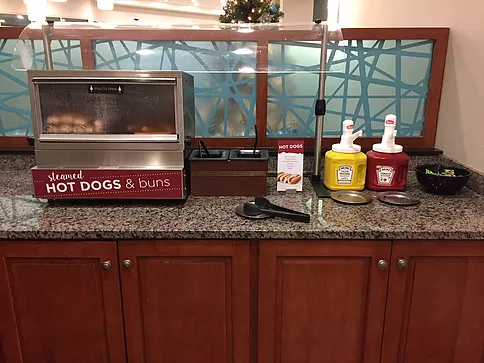 At Drury Inn & Suites Burlington, throughout the day, there is freshly popped popcorn and soda available in the lobby. At 5:30 pm every day, they have their "kickback," which is not marketed as dinner, but you can easily use it as a quick dinner. The options change day by day, but on the night of our stay at the Drury Hotel in Burlington, there was chili, potato and bacon soup, hot dogs, salad, nacho chips and cheese, penne pasta, grilled chicken, and baked potatoes. In order to make it a healthy well-rounded meal, I would need another kid vegetable, but we all know that when you are on the road, you do the best you can. Being provided this many options for a free dinner is such a huge cost savings to our family!
For breakfast, they have the signature Drury Hotel Quikstart breakfast, which on weekdays, starts at 6 am. There is a waffle maker, organic granola with fixings, oatmeal, cold cereal, muffins, bagels, doughnuts, eggs, tortillas, salsa, breakfast potatoes, biscuits and gravy, and sausage. There was also coffee, juices, and milk. Since I am dairy free, I asked the very friendly and sweet food attendant, if they had any almond milk. She apologetically answered that they did not, but that next time, to just let the front desk know the night before, and she would pick some up on her way to work! How kind and accommodating of Drury Hotels!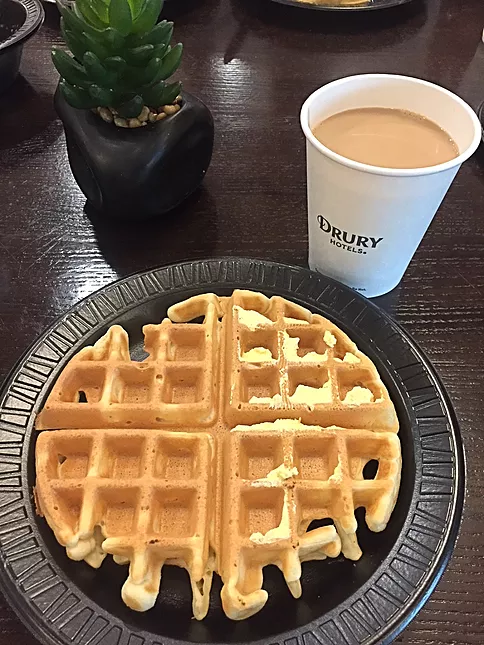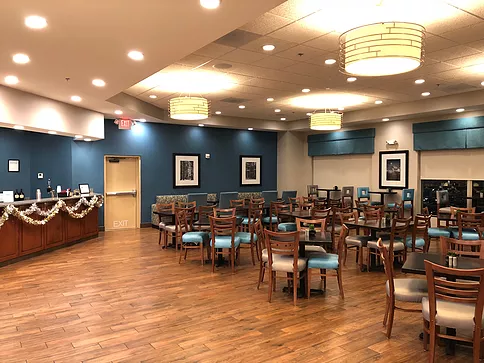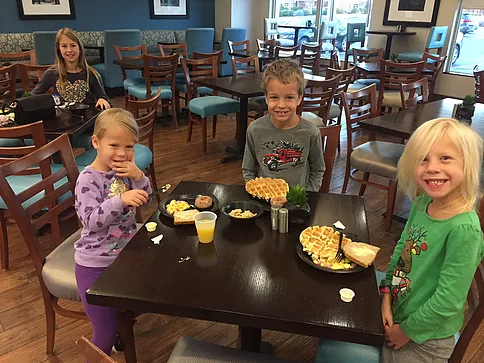 Sometimes, when we go places, we feel as if our big family is a burden or a bother. We never get that feeling at Drury Hotels. They seem genuinely happy to see us, and treat the children and our pet with respect and kindness. Sadly, this simply does not happen everywhere we go.
4. Truly Dog Friendly
Many hotels say there are "pet friendly," but then charge exorbitant pet fees, limit the size of the dog, and restrict their access around the hotel. At Drury Hotels, there is a nominal $25 cleaning fee, but this is much smaller than most hotel chains. I suffer from allergies, and often have severe reactions in hotel rooms to the various new chemicals and smells. However, this has never happened at Drury Hotels. So while they allow dogs, there is no remnant of any past furry friends in the rooms.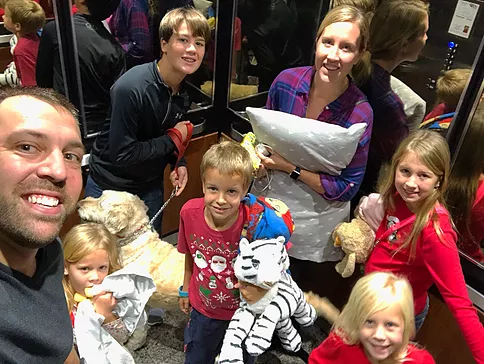 As I mentioned before, the front desk welcomed NGO with a dog treat, petted her, and made us feel welcome. Pet owners know that this is not always the case, even in places that claim to be "pet friendly."
5. "Where the extras aren't extra."
This is Drury Hotel's motto and it really couldn't be truer. The little things they have thought of, that just make your stay more pleasant, really add up to an overall wonderful experience.
For example, there is a list right by the TV of the most watched channels, and what number they are at this location. I have stayed at luxury hotels where you spend way too long trying to figure out the TV. There's just no need for this when you are tired and just trying to find "Friends" reruns to go to sleep to after a long day. Thinking of these little things just makes life easier for the weary traveling mom.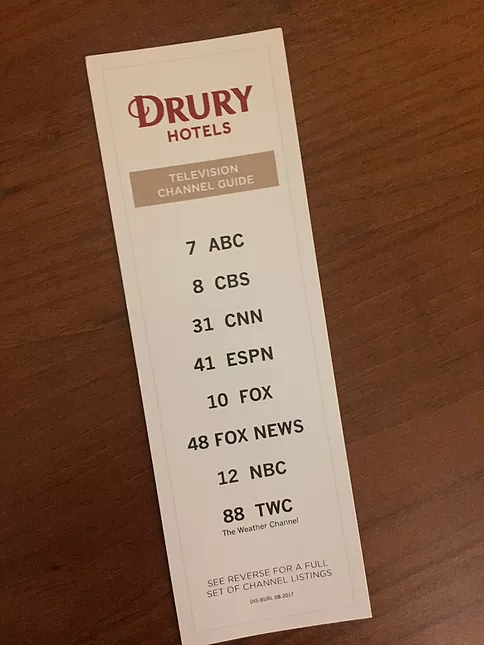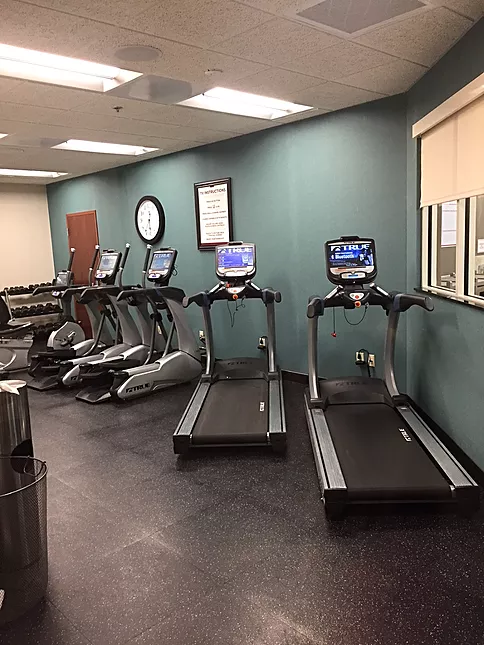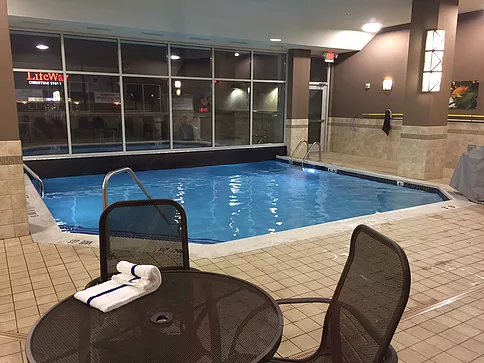 At every location, there is a free fitness center, and a year round pool. As a child, this was one of my fondest memories of road trips; finding out what the next hotel pool would look like! At the Drury Inn & Suites Burlington, they have a really fun indoor/outdoor pool that we may take advantage of on our next stay. There are beautiful lounge areas, a business center, and welcoming spaces to talk and visit.
Also, there is free wifi, with no password required at Drury Hotels. Can the whole world just hurry up and switch to this? Again, at luxury, top of the line hotels, wifi is usually not included, and there are some ridiculous fees associated with the service! Why? Even if a person or a family can easily afford the fee, it just never feels good to be nickel and dimed. It's not a pleasant feeling. Drury Hotels makes you feel like everything has been taken care of from the moment you check in.
For this stay, we had the pleasure of having a sponsored stay. However, we have stayed at Drury Hotels for years, and will continue to stay for years to come. We are so excited about their expansions, and would seek out and go out of our way to stay at a Drury Hotel on any road trip. For all of my Disney friends, they have a beautiful Orlando location that is convenient to all of the major attractions. Imagine how much money you could save by eating dinner and breakfast at your hotel every day!
Let me know if you have any questions and check out their website at ww.druryhotels.com Thank you Drury Inn & Suites Burlington for a lovely stay!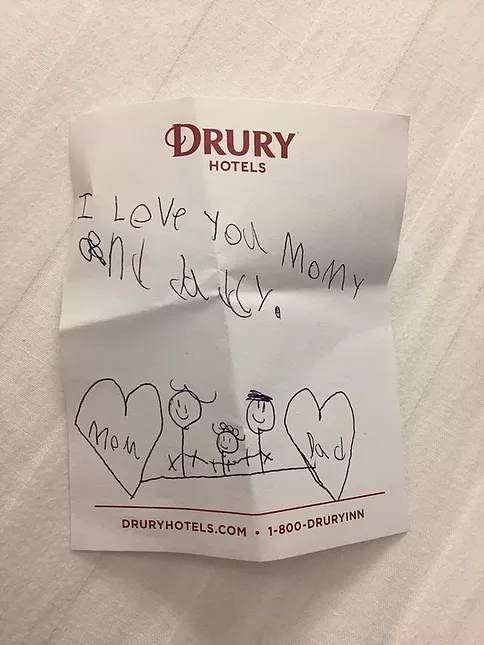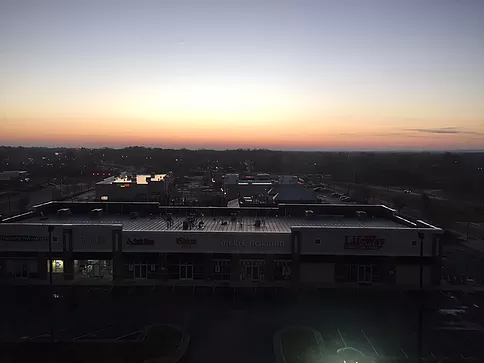 You May Also Like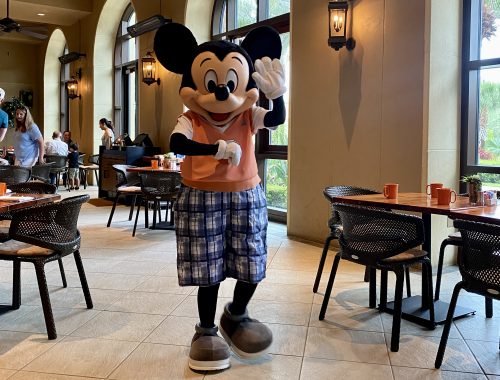 October 26, 2022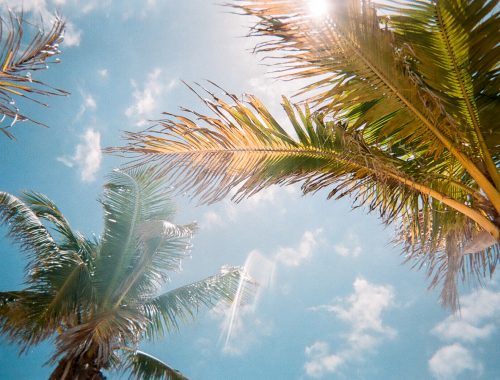 March 9, 2021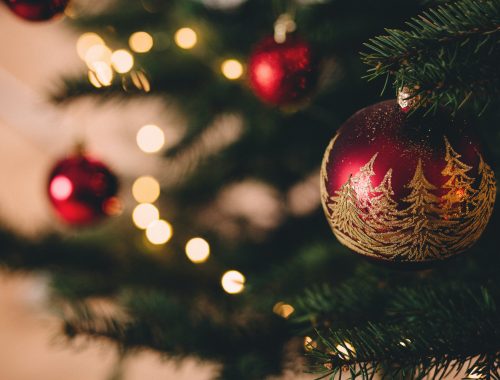 November 3, 2020