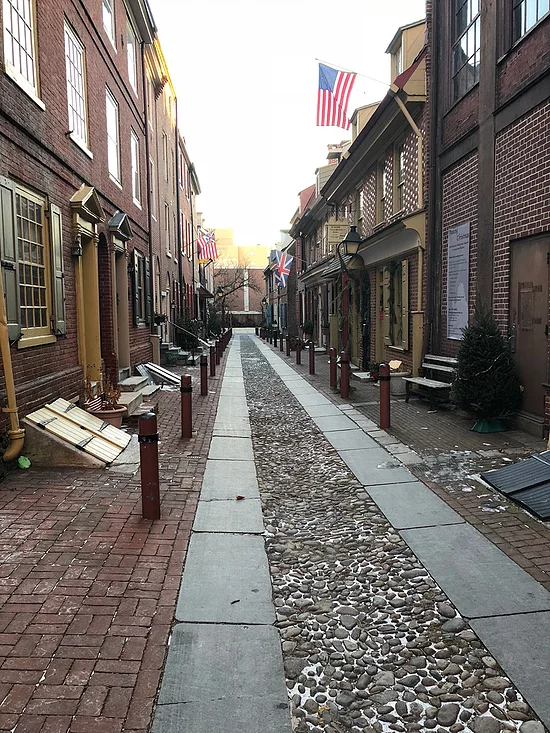 Historic Philadelphia with Kids: 5 Ideas for Success
January 4, 2018
Sharing is caring!
After our time in Central PA for Christmas and New Year's, we decided to take a family adventure to Philadelphia! My 10 year old daughter had been asking for years to see the Liberty Bell. I'm not sure what sparked her fascination with that particular national symbol, but to the best of my ability, I try to run with any of the children's specific interests, especially when they are educational!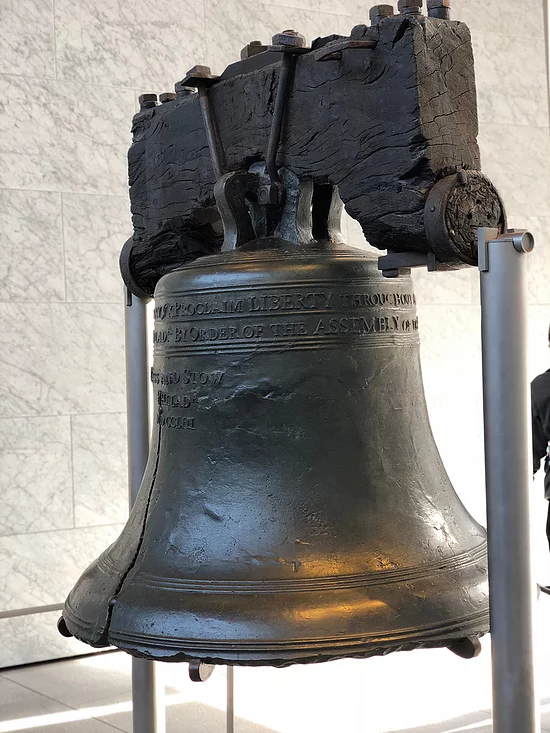 As a part time homeschooling family with a 7th grader, 5th grader, 3rd grader, 1st grader, and preschooler, we try to incorporate learning and unique experiences as much as possible. Since we had some extra time in our schedules after New Year's, we decided to seize the day and visit historic Philadelphia! As we have discussed in the past, it is not easy to travel with a large family that includes five kids and a dog. It can be difficult to find places to stay, things to do that fit all of our age ranges, and activities that aren't exorbitantly priced for a group of seven. Read on to learn more about how we managed our large family and our dog, all while learning and making wonderful memories in Philadelphia.
1. Check out Free Tours by Foot.
Since we had such a short time to visit Philly and I had not had the time to extensively plan our itinerary, I really wanted to take a guided tour of the historic part of town with an experienced tour guide. After doing some research and speaking with several tour companies, we decided to go with Free Tours by Foot. This company offers regularly scheduled "name your own price" tours of the major historic sites around Independence Mall, as well as some other interesting tours around the city. They also offer private tours, which is what we went with since no group tours were offered on the day of our visit.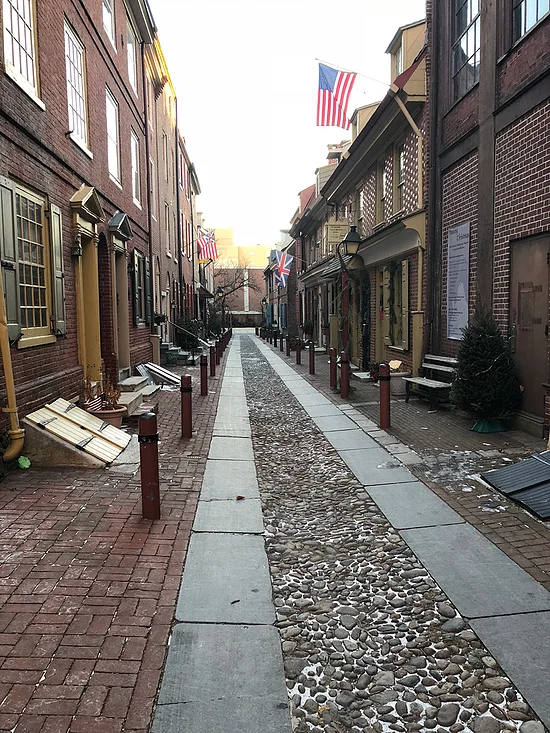 Our guide, Jennifer, accommodated our family by meeting us on the street where we were staying, which also happened to be a stop on their regularly scheduled tour, Elfreth's Alley. She texted me when she was outside, which was about five minutes ahead of schedule. When we came downstairs and met her on the street, she was kind and friendly, and paid special attention to our five children. The temperature when we started our tour was about 15 degrees, so she made accommodations to the schedule to include times inside; in gift shops, museums, and wherever we could find some warmth. She was flexible, and even extended the tour time to make up for the time that we had lost from stopping to warm up.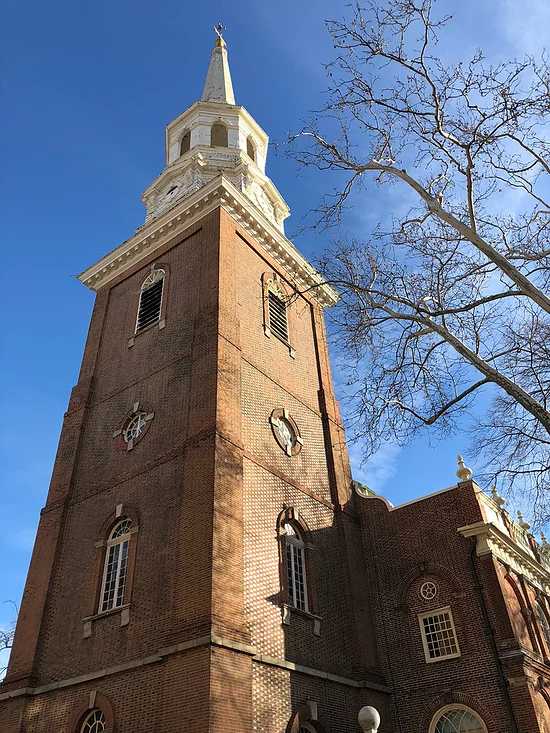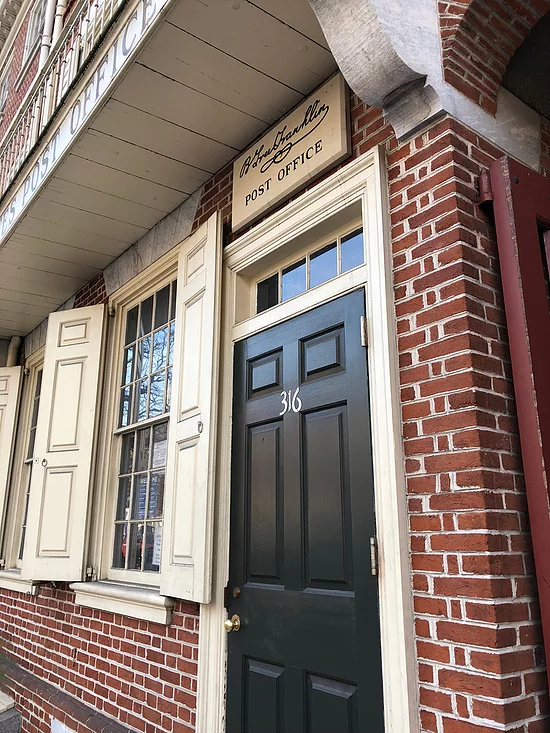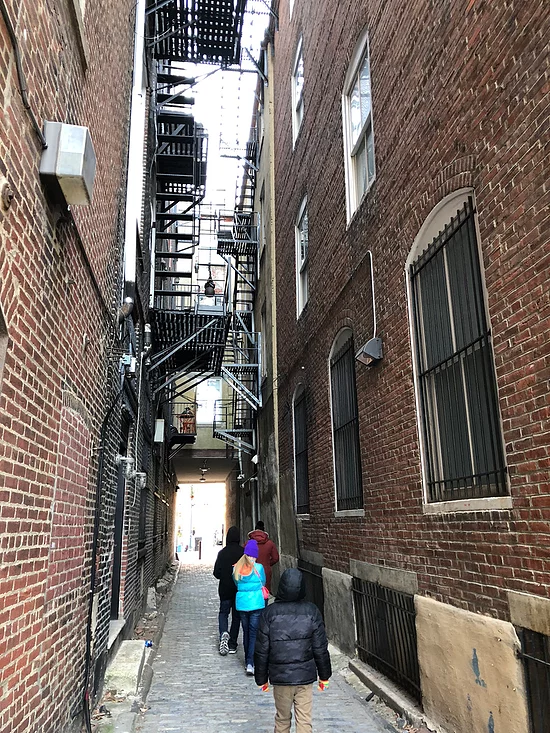 With Jennifer, we visited Elfreth's Alley, Christ Church, the Betsy Ross House, Arch Street Meeting House, the first post office in the United States, the Benjamin Franklin Museum, Carpenter's House, 2nd Bank of the United States, Old City Hall, and to the Liberty Bell. We did so much in a little over two hours! It would have taken me nearly that much time just to figure out how to get to each of these places. She shared so many interesting facts, little known trivia, and kept the kids engaged with questions and funny anecdotes. I highly recommend tours with this company! When Jennifer left us, she gave us recommendations and directions. We highly recommend it. Be sure to check them out http://www.freetoursbyfoot.com/philadelphia-tours/ and visit them on Facebook and Instagram.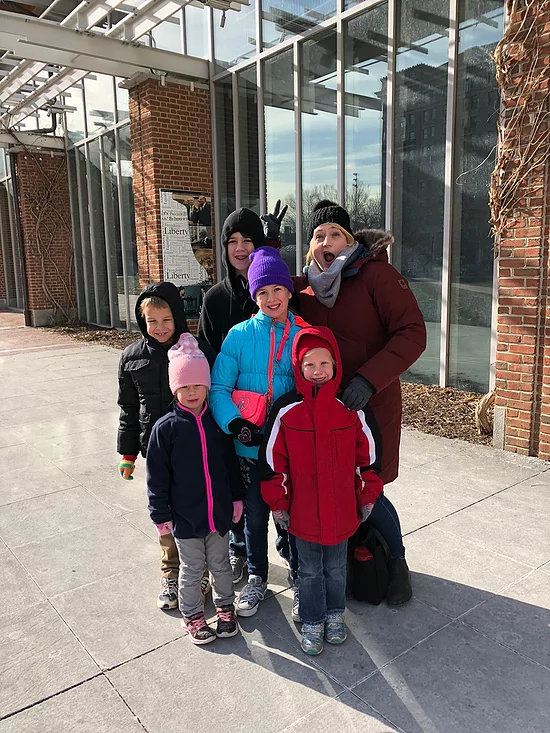 *I received a discount on the price of the private tour in exchange for this fair and unbiased review.
2. Find an authentic place to stay.
As I've discussed several times, it is very difficult to find a place that can accommodate our family of 7, plus our golden doodle. We looked into some dog friendly hotels in the area, but even after trying to book the biggest suites available, they still said they could not accommodate our family. Since our children are all so young, we do not feel comfortable with having them in separate hotel rooms from us. This is the reason we often stay in homes from Airbnb or HomeAway. We can book a large house or apartment, many of which are dog friendly, for less than the price of a suite at a hotel.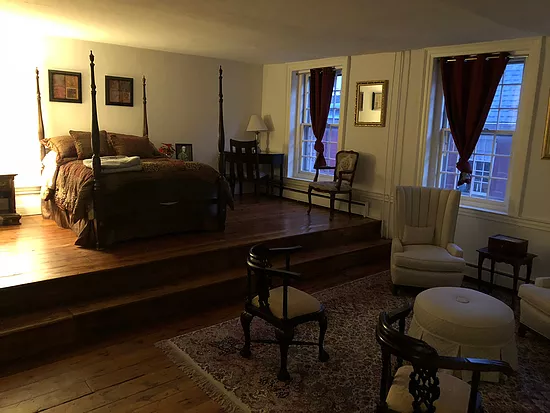 On this stay, we found a historic home on the oldest residential street in America, Elfreth's Alley. The home dates back to the late 1770's. We had a three story home, complete with a courtyard, dog friendly, and with an authentic feel that would be impossible to get at a hotel. And when you are staying in Philly, and you have a framed picture of Benjamin Franklin on your nightstand, you know you are in the right place.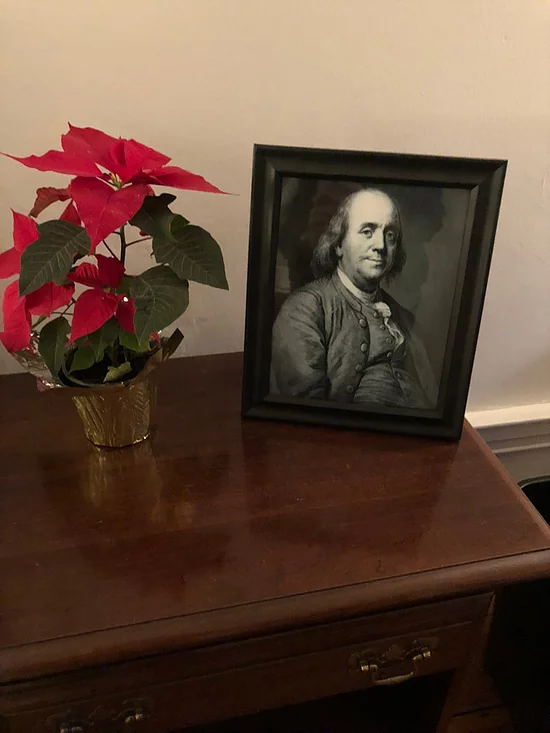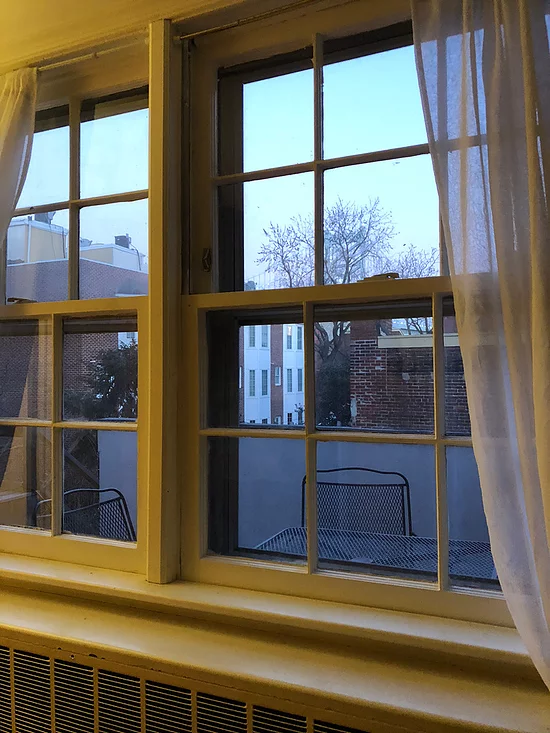 The link to the home that we stayed at is https://www.airbnb.com/rooms/19784012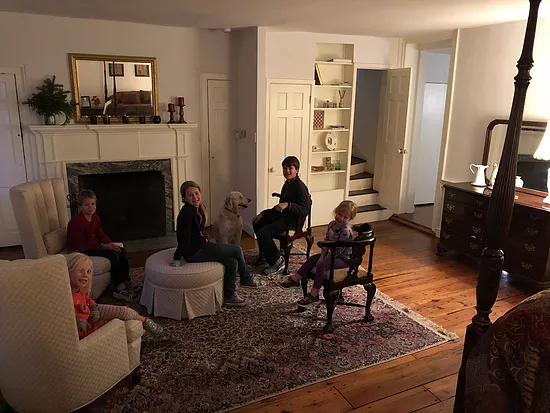 The host, Pat, was very easy to work with, and even helped us carry our suitcases up to the home. The home is one block from the Betsy Ross House, and in a beautiful,artsy, historic district. The home was clean, well appointed, and convenient. And unlike some other rentals, there was no washing sheets, starting the dishwasher, or anything. We just left with a regularly scheduled checkout time of noon. Such a wonderful find!
3. Find the free tourist sites.
When you have a large family, admission prices can add up quickly. On our whole day in Philadelphia, we did not pay admission for any of the historic sites that we visited. The Liberty Bell, Independence Hall, Independence Visitor's Center, Carpenter's House, Old City Hall, and the U.S. Mint, were all completely free. Each had friendly and informative park rangers or guides that were available to give information and answer questions.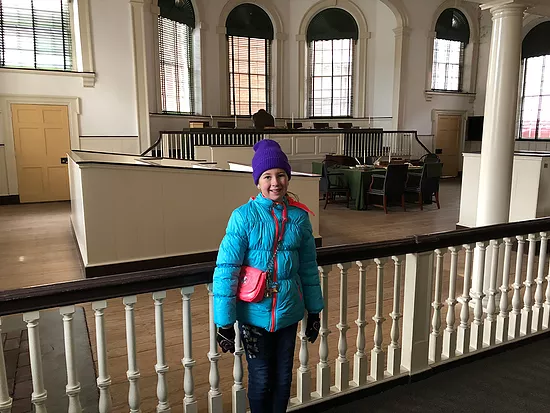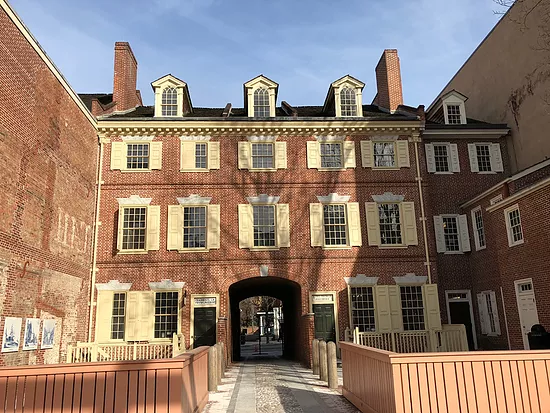 Many of these sites were part of the National Park System, so we were able to get several more stamps for our National Parks Passport Books. The children even received a Liberty Bell trading card for asking a ranger a question! This only worked at one site, but the kids were thrilled!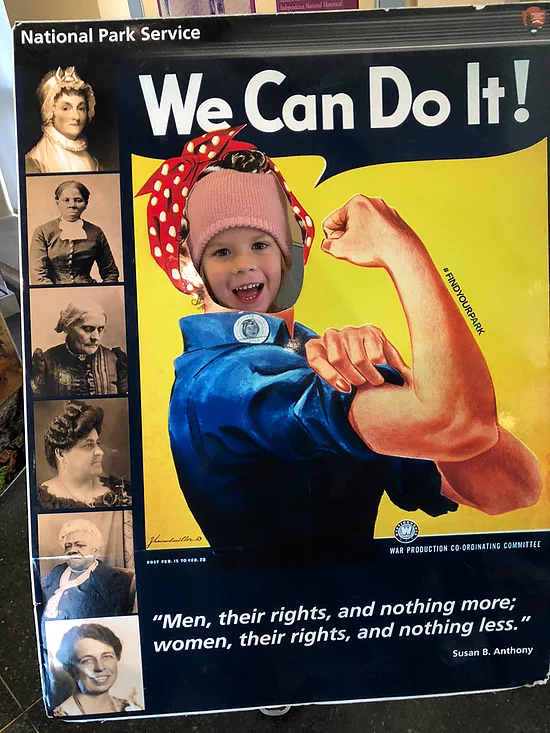 The United States Mint was one of the most interesting places that we visited during our time in Philadelphia, and all the kids loved it, from the 4 year old to the 12 year old. There are 45 minute self-guided tours available all day, and you get the chance to see coin money being produced on the factory floor! It was an amazing experience and we all learned so much about our currency system. And all completely free! Definitely take the opportunity to learn about this part of our government. It's one of the best kept secrets in Philadelphia and a wonderful stop for kids!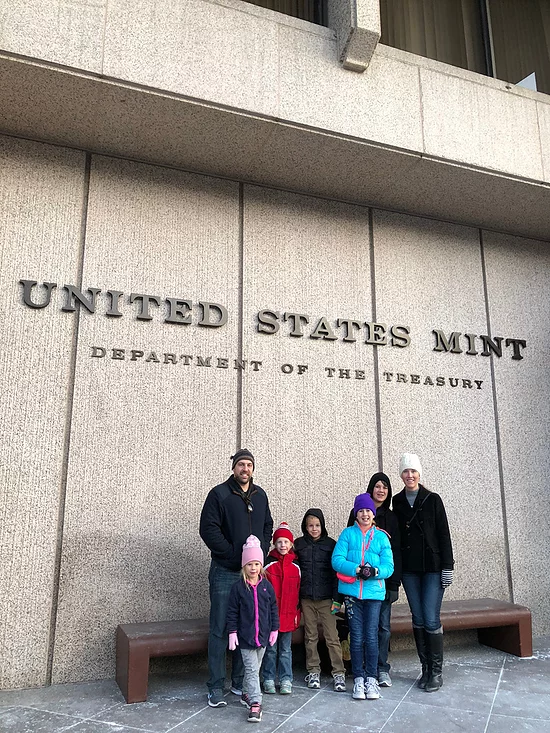 4. Visit in the off season.
As I mentioned earlier, when we started our tour, it was 15 degrees outside. And we are from Orlando. So, needless to say, it was a little uncomfortable at times. But the kids were troopers! Although there was a downside to visiting in this frigid weather, there were a lot of upsides.
Normally, in order to visit Independence Hall, you need a timed reservation. Right now, at the beginning of January, we could not get a reservation for May! There is also a first come, first served walk-up system for timed entry tickets, but that sounds like a nightmare. Also, our tour guide and the park rangers told us that in the summer, the line to get into the Liberty Bell, can wrap around the building, and be two hours or more of a wait time! What is this, Flights of Passage at Disney World?! 😉
Every site that we visited was just a walk-up. There was no wait at all. We really felt like we had the run of the city. Maybe because of the low volume of visitors, we also felt that so many people were very friendly and eager to help. We received free tote bags, trading cards, easily got stamps, and were treated very kindly at each stop. The weather can be iffy in January, but you sure can see a lot in a short amount of time!
5. Don't forget about Rocky and other local gems.
Our very first stop when we got to Philadelphia was the Rocky Steps at the Philadelphia Museum of Art. The Rocky series was one of the first movies I watched with my then boyfriend/now husband in high school. Those steps have been named the second most famous movie location in the world! Although none of our kids have ever seen a Rocky movie, they will someday, and even without the film knowledge, they loved climbing the steps and playing around the green/snow spaces in front of the museum.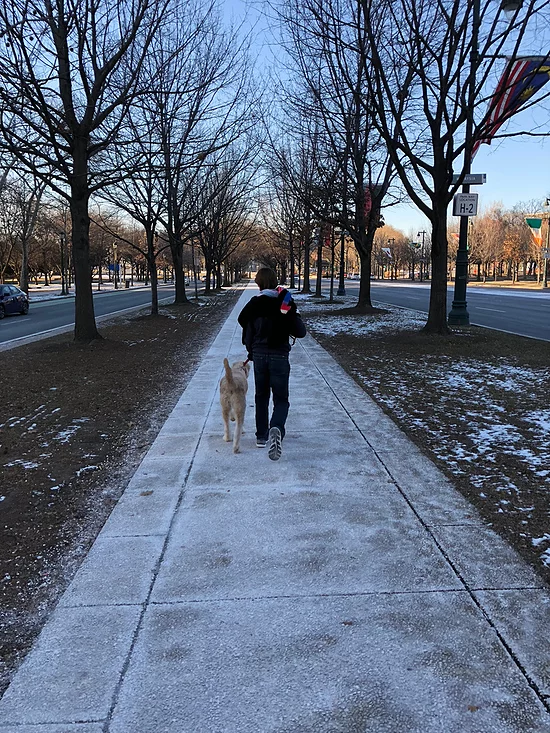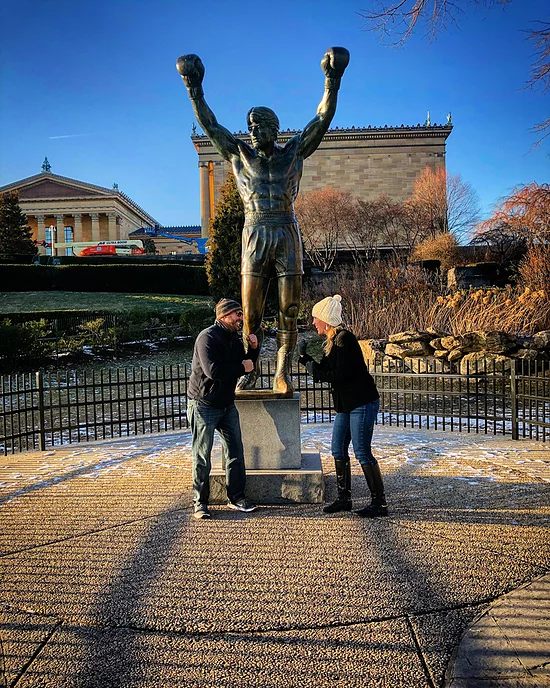 The home we were staying in was too far from the Rocky Steps and Statue to walk to, so we stopped there and parked on the street right when came into town. Again, it was a cold journey, but we took some great pictures and loved walking where Rocky walked!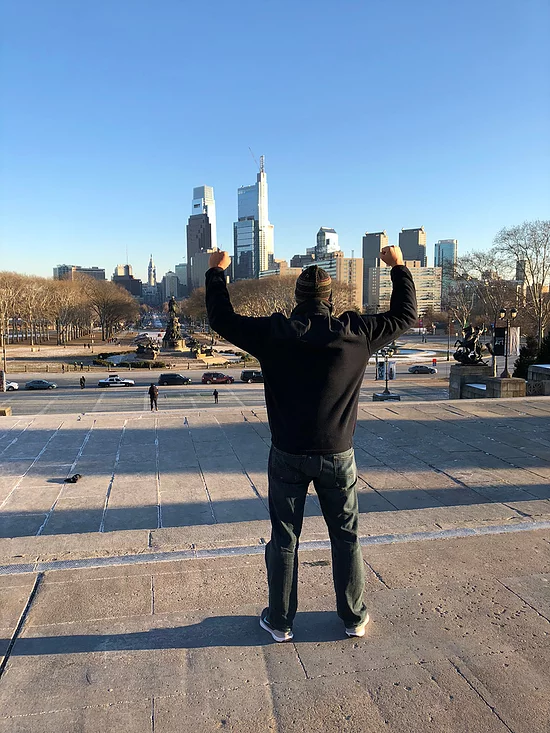 Thanks to www.visitphilly.com for the very useful information on many Philadelphia sites, including parking information, trivia, and helpful tips.
We also found a wonderful little diner, Old City Pizza, which we ate at for dinner two nights in a row. They have wonderful pizza, classic fried foods, and delicious salads. Best of all, when we walked in, the lovely older Greek woman who runs the place, smiled. When you walk in a restaurant with five children, that's not alway the welcome you receive. She greeted us, told us to sit right by the cash register where it was warmest, and brought the children croutons and crackers when she noticed they loved them. The food was delicious, very reasonable, and we felt very welcomed. We would make a point to return in the future!
Historical Philadelphia is a great place to visit for large families, children, homeschoolers, and dog lovers. The children asked questions, walked over 5 miles in less than 20 degree temperatures, and never complained. Thanks Philly! Be back soon.
You May Also Like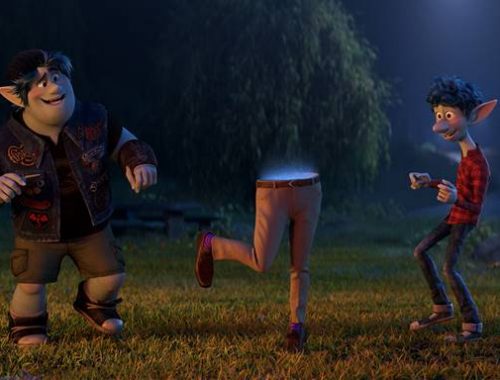 March 22, 2020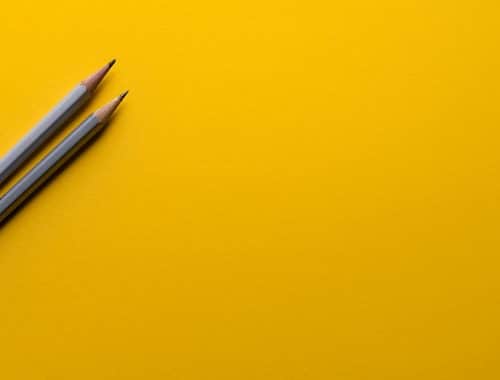 March 10, 2020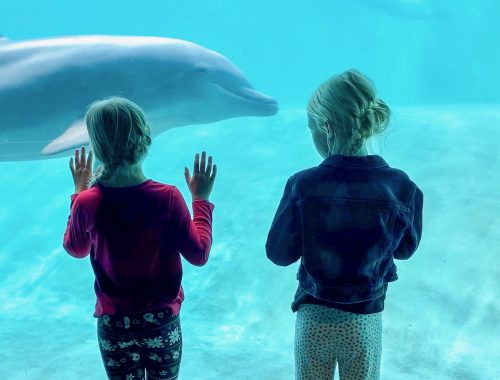 December 1, 2021