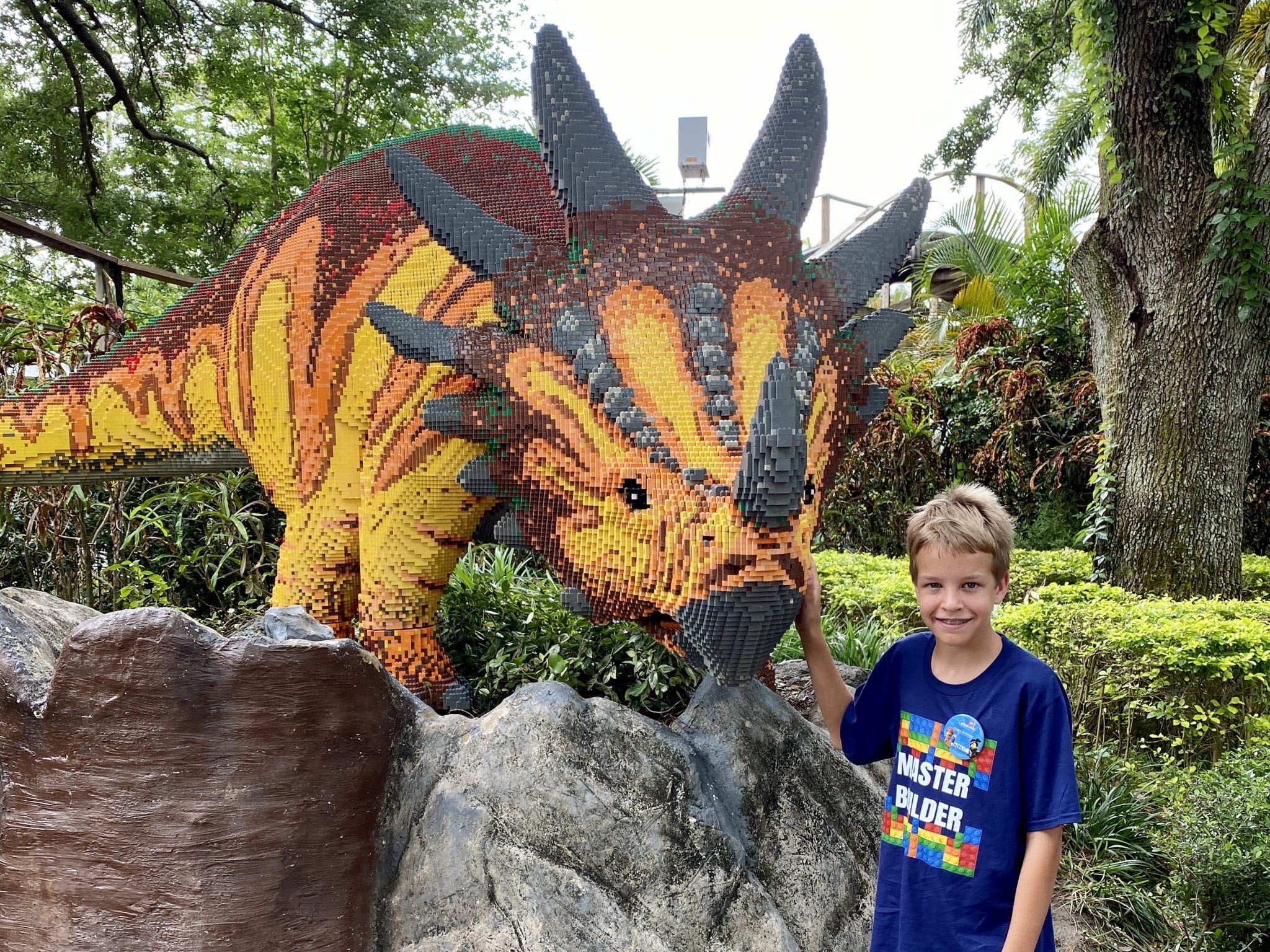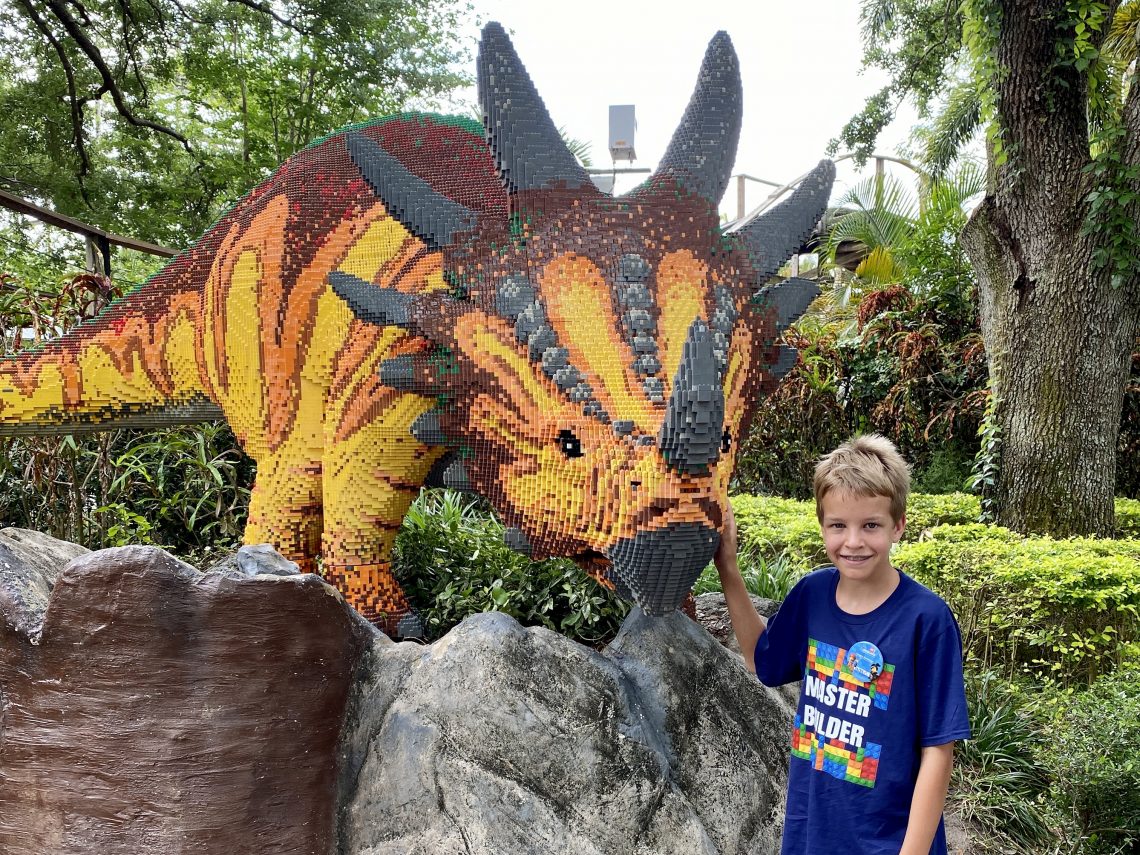 Coastersaurus and the Best Rides at Legoland Florida
April 28, 2021
Sharing is caring!
Have you ever heard of Coastersaurus? If not, you need a trip to Legoland Florida right away! This is one of our family's favorite rides and is just one of the many incredible rides at Legoland Florida. When you have Lego Movie World, The Great LEGO Race, Beetle Bounce, and so many more, you can find something for everyone at Legoland Florida!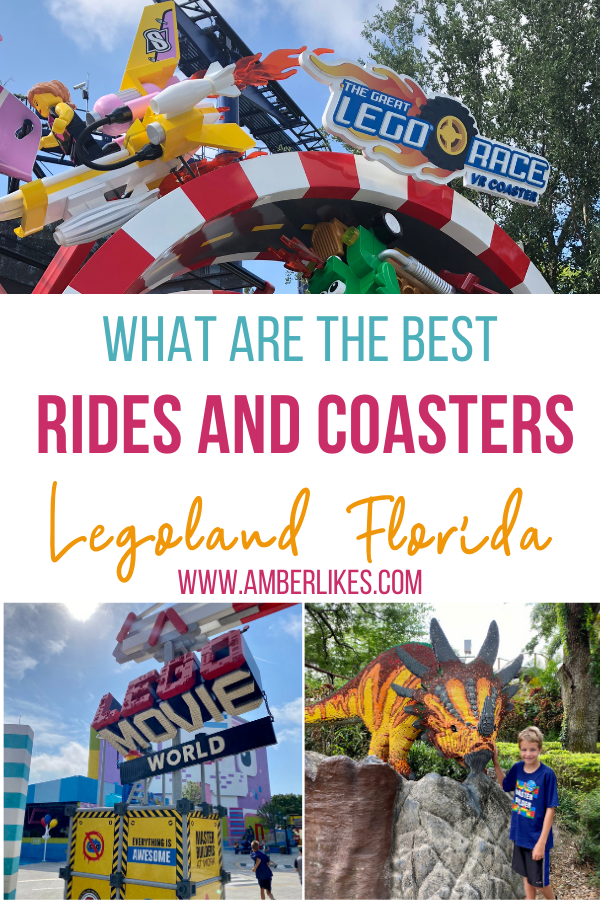 What is Coastersaurus?
Coastersaurus, at Legoland Florida, is a wooden roller coaster that will remind you of days of the past. It curves and dips in and around a prehistoric jungle of animated and life-sized LEGO brick dinosaurs.This is a must-do kid-friendly thrill while at Legoland. The minimum height requirement is 42 inches and handicapped guests must be able to transfer to the ride vehicle. Outside of the ride, there are comfy benches for non-riders to wait and there's a LEGO dinosaur that my kids love to take pictures with on every visit! Coastersaurus has such a fun dinosaur theme and always calls for photos!
What are other roller coasters at Legoland?
There are four roller coasters at Legoland Florida. In addition to Coastersaurus, there's Flying School, The Dragon, and The Great Lego Race. While none of these are the types of roller coasters that go upside down, they are thrilling! The Dragon is one of our favorites. It includes an indoor dark section as well as an outdoor section. The minimum height requirement is 40 inches for The Dragon. The Great Lego Race is really fun! At times, it had a virtual reality headset that was really unique! And at Flying School, you are suspended above the air and learn to soar through the clouds!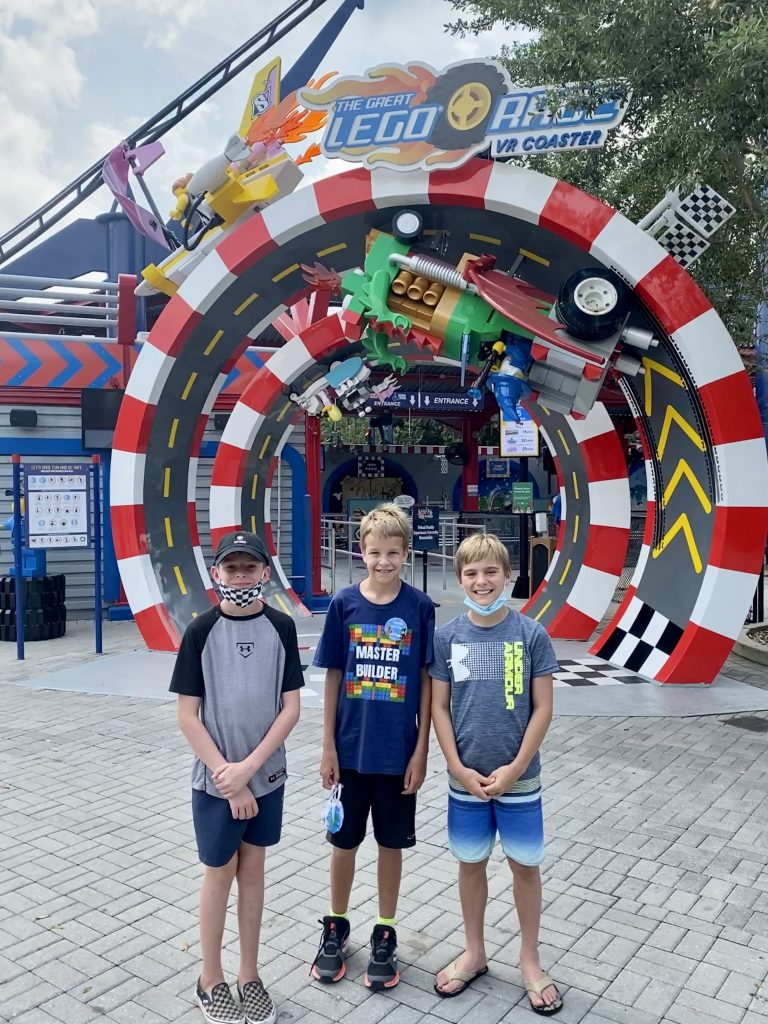 Is there anything for little kids to do at Legoland?
Oh yes! Duplo Valley is so fun for the little ones! At the Duplo Train, toddlers can board a train on their own or with their parents to explore countryside-themed scenery passing through farms, fishing holes and campgrounds. At the splash area, kids under age 6 can splash and cool off! You'll also find a Duplo Farm and Tot spot. It's so much fun to see little ones enjoy their very own area of fun!
Brickbeard's Watersports Stunt Show
To be honest, the three boys that were with me weren't so sure about taking time out of their day to see this show. But I insisted! And thank goodness I did! We all absolutely loved this show! It was absolutely incredible.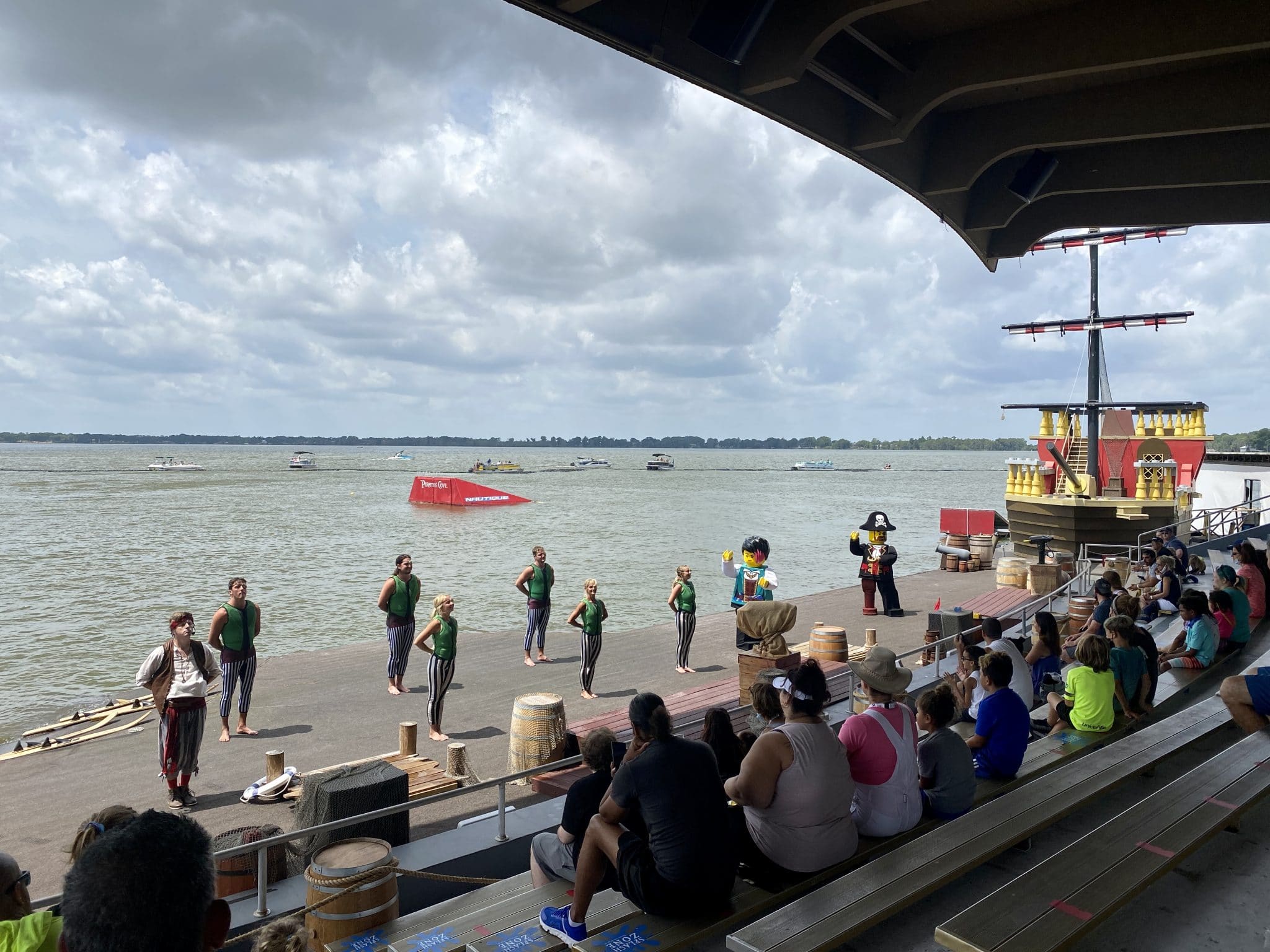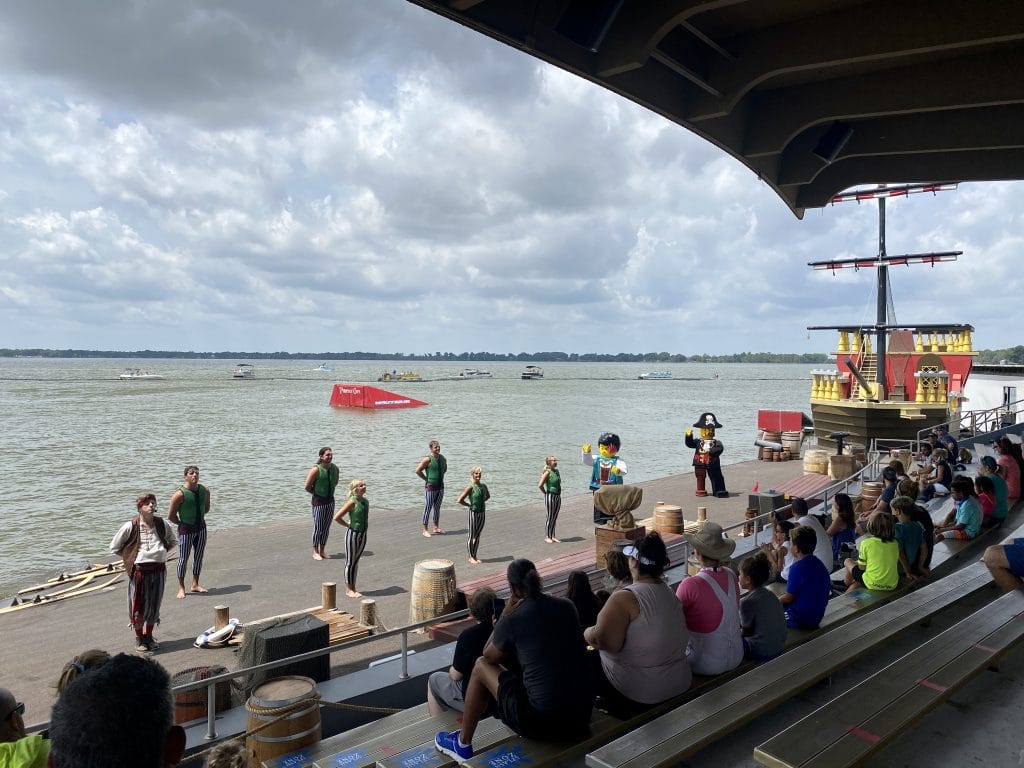 From the Legoland Florida website:
Ahoy! Watch Brickbeard's buccaneer recruits pass swashbuckling skill tests on the high seas at LEGOLAND® Florida Resort! Does it have pirates? Yes. Does it have more speed? Double yes. Does it have higher jumps? For sure, yes. Oh, and did we mention a totally-awesome-brand-new-super-cool flyboard (that's basically a skateboard that flies ABOVE the water)?! We DEFINITELY have that.
This epic water stunt show features a never-before-seen, new female LEGO® pirate character, new original music and gravity-defying water stunts including wakeboarding, barefoot-skiing, jump acts and an iconic ski pyramid. An all-new flyboard act takes this show to heroic heights above the legendary Lake Eloise.
Prepare for thrilling sky-high jumps and more speed than ever before with new stunts that include a gravity-defying fly board, wakeboarding, barefoot skiing, jump acts and the iconic ski pyramid. Here is all you need to know about these all-new-super-cool watersports:
Flyboard
This awesome flying board helps the bravest of pirate recruits FLY up to 72 ft in the air! (Whooaaa, how?) The board (that is more like a hoverboard) is connected by a long hose to a watercraft (like a jet ski) where water is forced, under pressure, up to the recruit's special boots with jet nozzles underneath! This makes flips in the air or perilous plunges into the seven seas something for the best of the crew to attempt!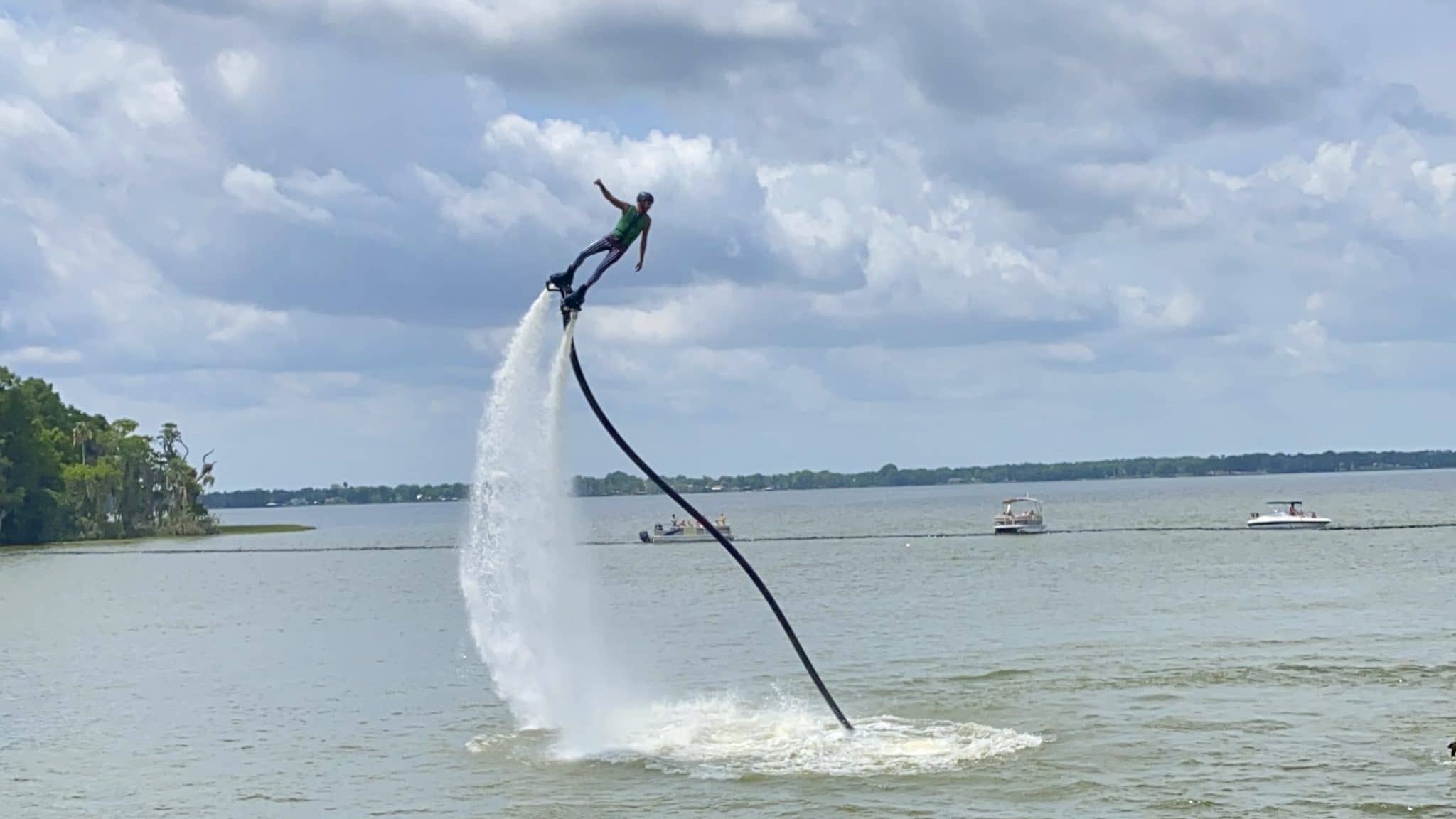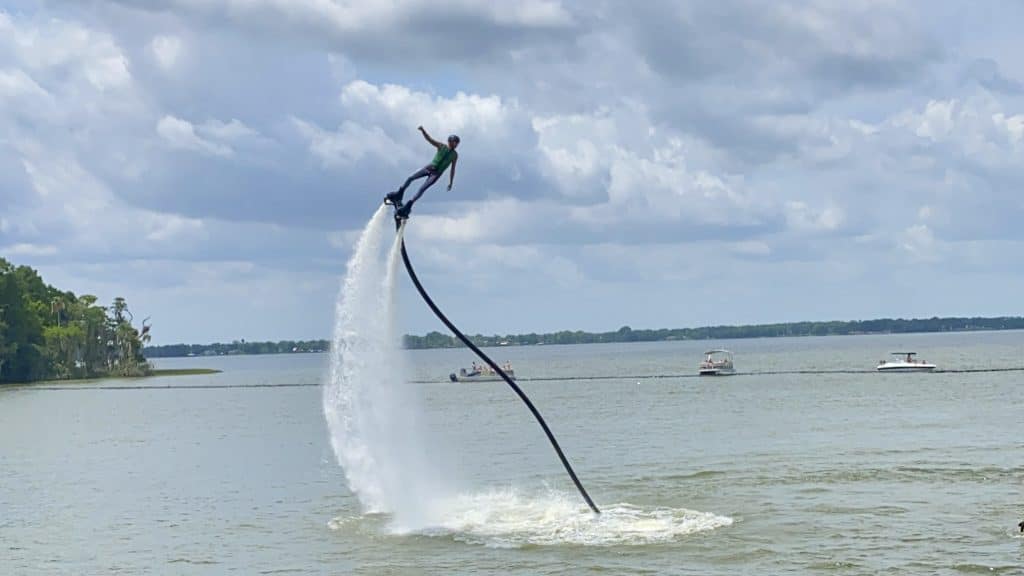 Wakeboard
This pirate skill combines skiing, snowboarding and surfing all in ONE! Add to that a kind of skateboard that gets towed behind a boat across its wake and you get some of the coolest, fastest aerial tricks this side of the plank.
Barefoot Skiing
Fun fact: Did you know that barefoot waterskiing originated here in Winter Haven, Florida and the first competition ever was held at the site of Brickbeard's Watersports Stunt Show in Cypress Gardens? This awesome watersport is skiing without a ski like the pirates used to do back in "their day". You guessed right, you use your feet as a ski and get behind a boat that will be traveling at higher speeds than normal water skiing: optimal pirate speed.
Character Experiences at Legoland Florida
The character experiences at Legoland vary depending on the time of year and events going on. During our recent visit, we had the chance to visit Emmett! And during the Lego Friends weekends, you can find these characters throughout the park. Even with social distancing, we could take pictures with the characters and wave to them anytime we saw them!
Legoland Water Park Details
We LOVE the Legoland Water Park! We include this during almost every visit to Legoland Florida. There are thrilling slides, a lazy river, and an awesome wave pool. We have been to a lot of theme parks and have seen a lot of amazing things. But something that Legoland Florida does really, really well, is knowing what their fans love. And their fans love to build! Whether you are waiting in line, floating down a lazy river, or testing Lego cars and boats, you can build with Legos! As a parent, you can feel so happy knowing that your kids are playing and learning nearly every second of the day they are visiting Legoland Florida. A Lego piece is never far away at any spot in the park, even in the water park!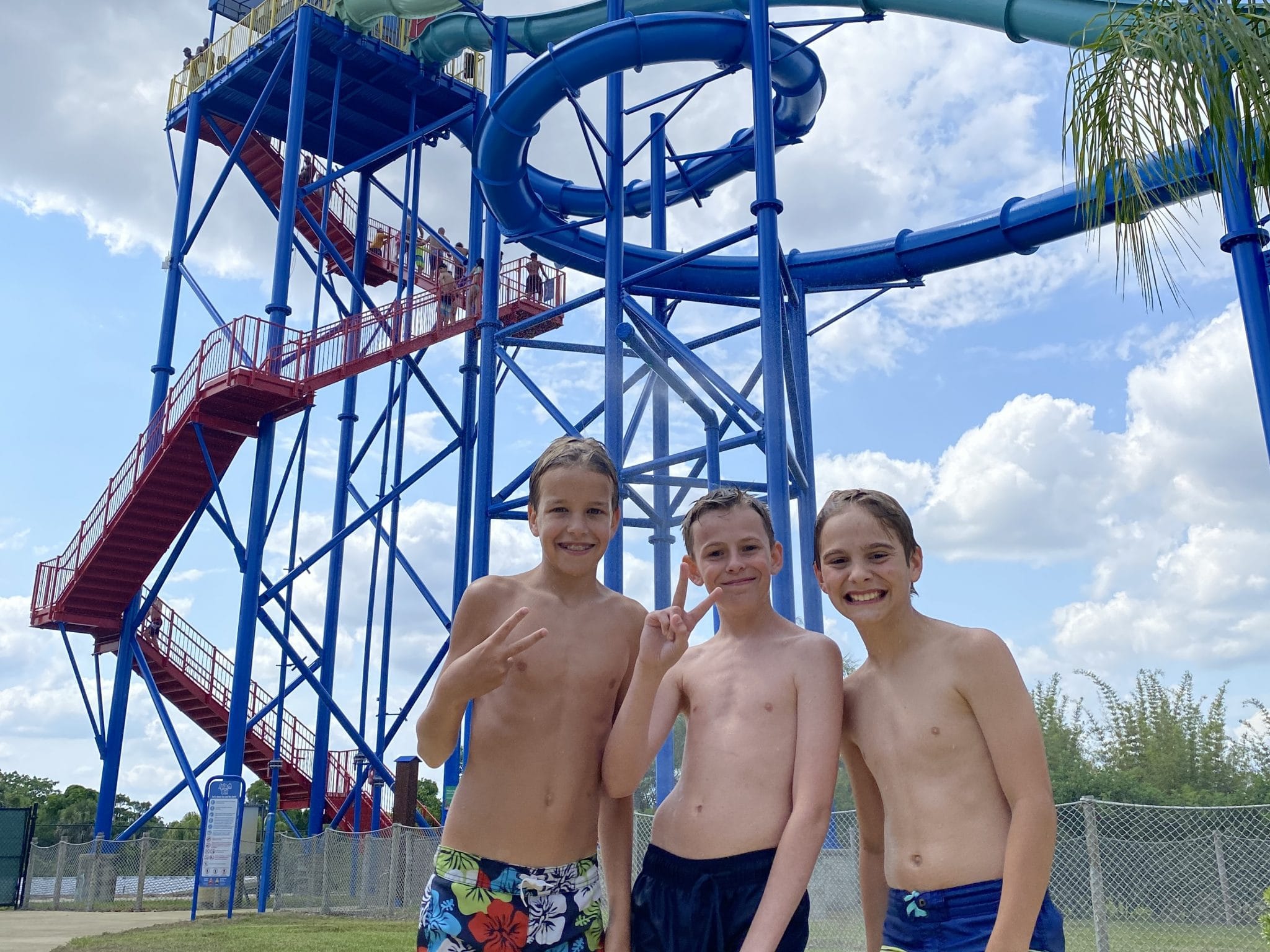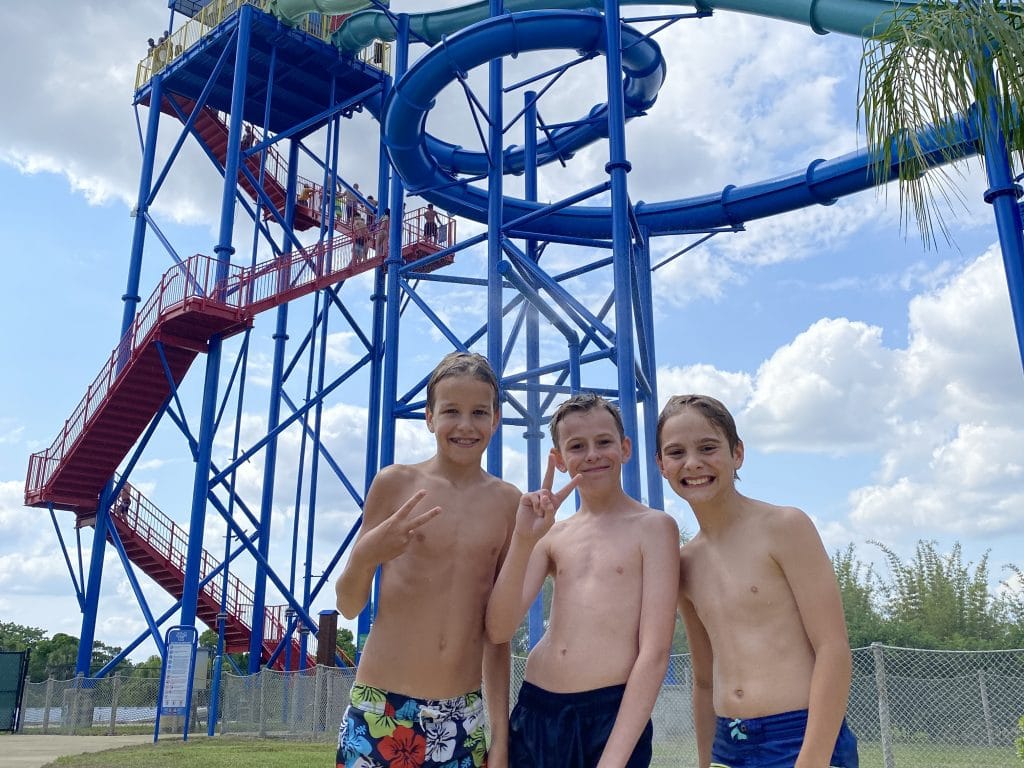 During my recent visit with 3 twelve year old boys, they went down the tallest water slides in the park about 40 times! They were just having the time of their lives! As a parent, it was such a win to watch these boys have so much fun together. There's also a huge interactive water feature that your kids will love. There are slides, places for water to be dumped, and more. Your kids could spend hours there!
Coastersaurus and more at Legoland Florida make it a Win!
Coastersaurus is so much fun! But in addition to this classic wooden roller coaster, you'll find so much more to love at Legoland Florida. Everything is awesome at this theme park that truly is built for kids!
You may also like:
Legoland Pirate Island Hotel Full Review
You May Also Like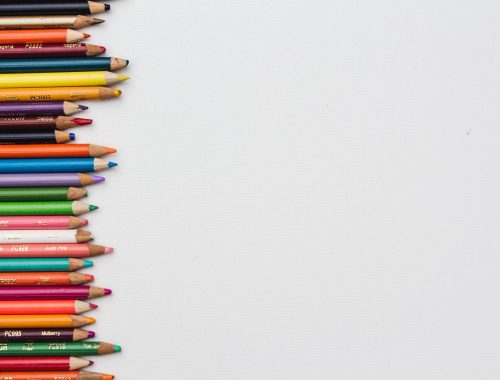 September 20, 2019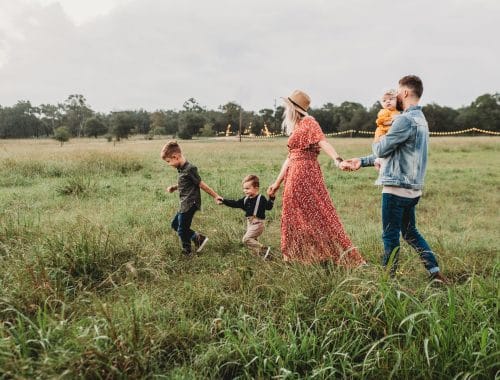 December 11, 2019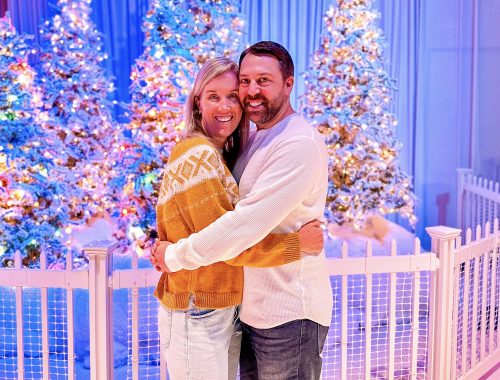 November 18, 2023