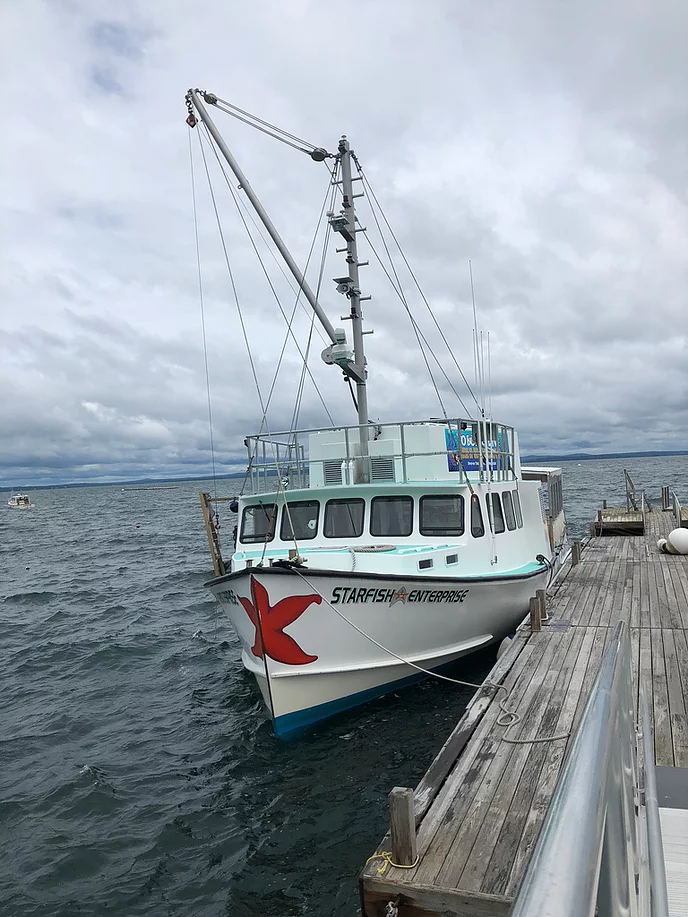 Diver Ed's Dive-In Theater: Unique Learning on the Water
June 26, 2018
Sharing is caring!
Have you had a sea cucumber in your mouth? I haven't, but Diver Ed has, and we witnessed it! This is just one of the hysterical things you can see aboard the Starfish Enterprise with Diver Ed in Bar Harbor, Maine. If you've been following along with our adventures, you know that we are in Maine for two weeks, seeing and doing so many amazing things! As a homeschooling family, I am always looking for ways to integrate learning into our travels and experiences, and Diver Ed's Dive-In Theater certainly met this requirement!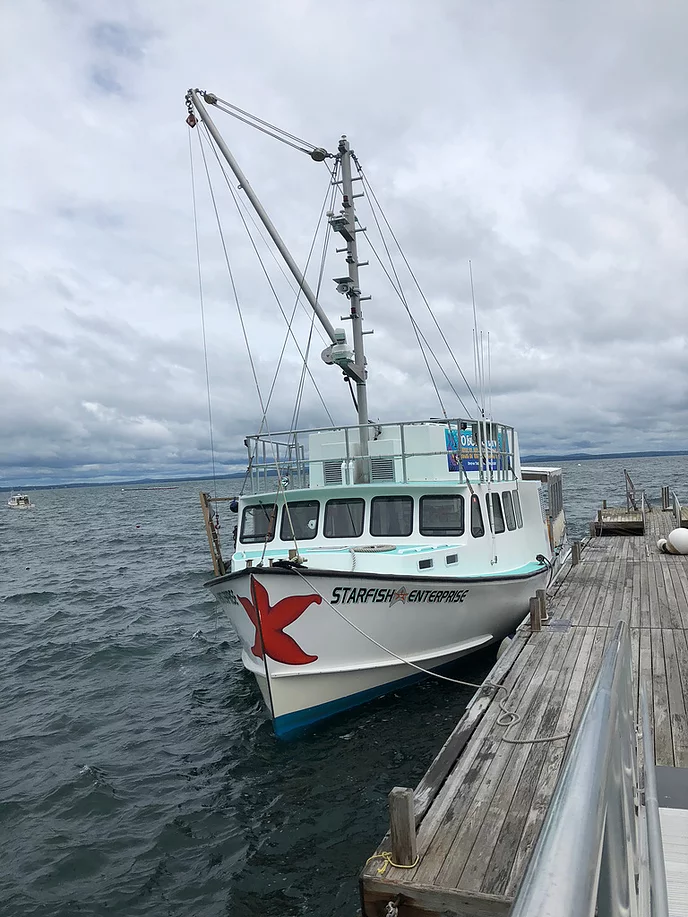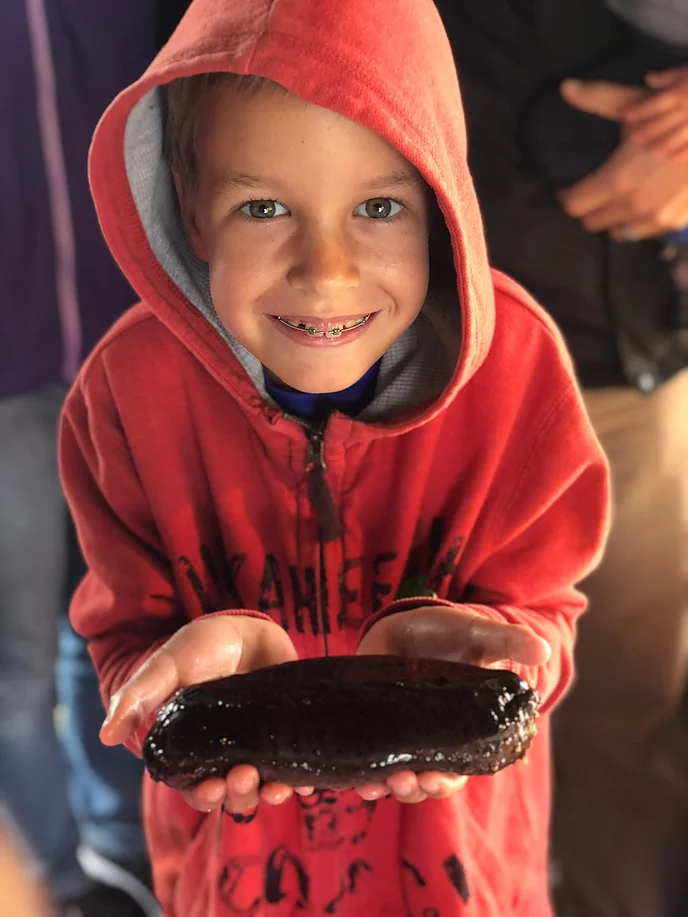 There is so much to do in Bar Harbor and Acadia National Park, it's actually difficult for us to decide to spend money on any experiences. With the miles and miles of hiking trails, nature centers, ranger stations, and scenic drives, you cannot even begin to do everything that is included in your $30 admission to the national park, even if you are here for two weeks! With this being said, our standard for what we will spend money on as a large family is very rigorous. Diver Ed's Dine-In Theater was worth it; and I do not say that lightly when we are near a national park.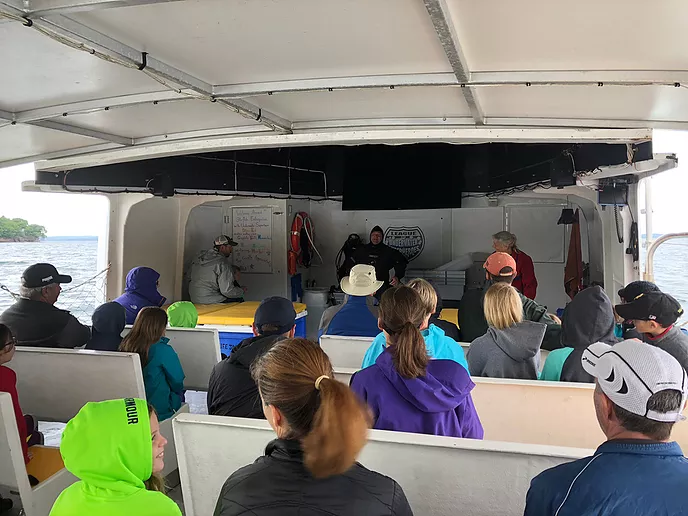 I love to be out on the water. On the day of our tour with Diver Ed, it was very cold and rainy. We were also running late and didn't anticipate the road work on our way into Bar Harbor. We received a call from Diver Ed to make sure we weren't lost or having trouble. When we parked at the College of the Atlantic, where the Starship Enterprise departs from, El Squid, the reservation specialist from Diver Ed took her time to stay on the phone with us, helping us turn by turn to make sure we didn't miss the boat. We arrived about two minutes before departure time! Take it from us; plan to arrive early, and then leave 15 minutes earlier than you think you should. We were so happy we arrived in time, and the crew on the boat were gracious and kind with our nearly late arrival time.
As I mentioned, it was quite a cold and blustery day on the sea. Thankfully, Diver Ed and Captain Evil (his co-pilot, wife and ironically named character given her kind and gentle demeanor), found a calm area of Frenchman's Bay to throw down anchor. Diver Ed got suited up, and was helped into the water by about 20 kids eager to help push him in! This is just one example of how Diver Ed and Captain Evil involved the children every step of the way. They kept order very well, which is absolutely necessary on a boat that contains half children, but did so in a way that involved the kids in even little things, like helping to inflate or deflate his suit, or put away his SCUBA gear. The crew of the Starfish Enterprise are experts with children.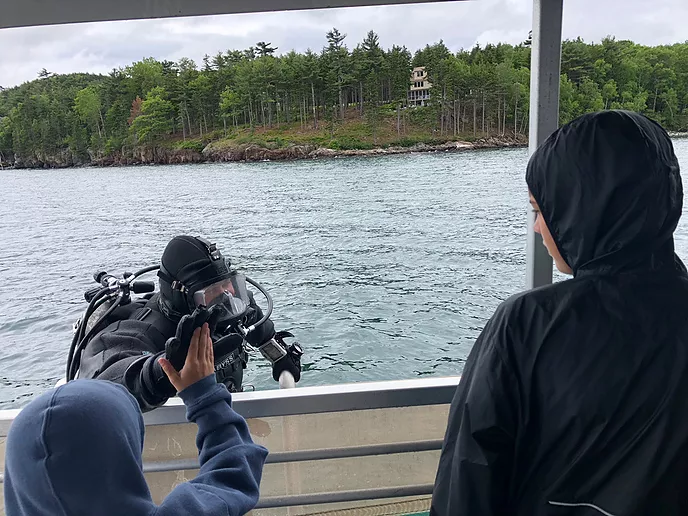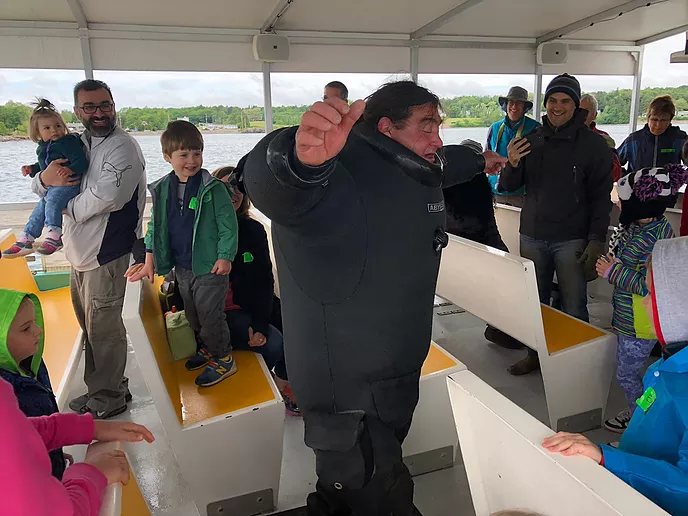 This brings us to the driving force behind the Diver Ed experience; Diver Ed himself. His personality is what makes this experience what it is; funny and educational. My children, and the two other adults I was with, laughed and laughed, all while learning fascinating and little known details about the creatures living at the bottom of the sea. The technology used on this boat was amazing as well, with a high definition camera used to show details on the sea floor that you could never see even while SCUBA diving. We were all enthralled by watching Diver Ed explore under the water, and couldn't wait to see the creatures he brought on board the ship.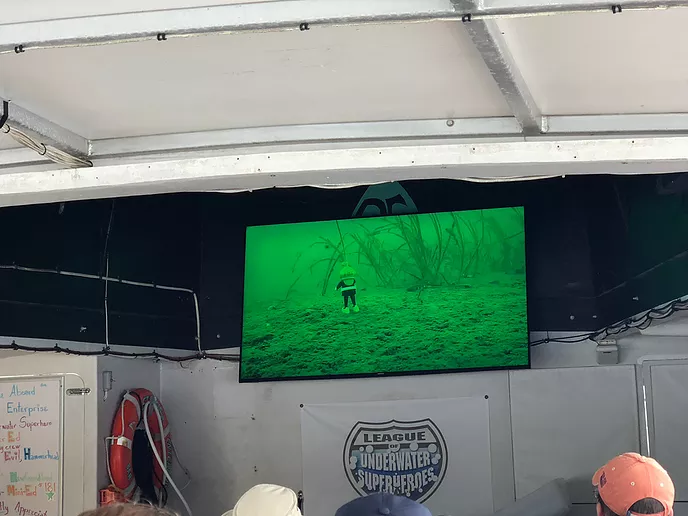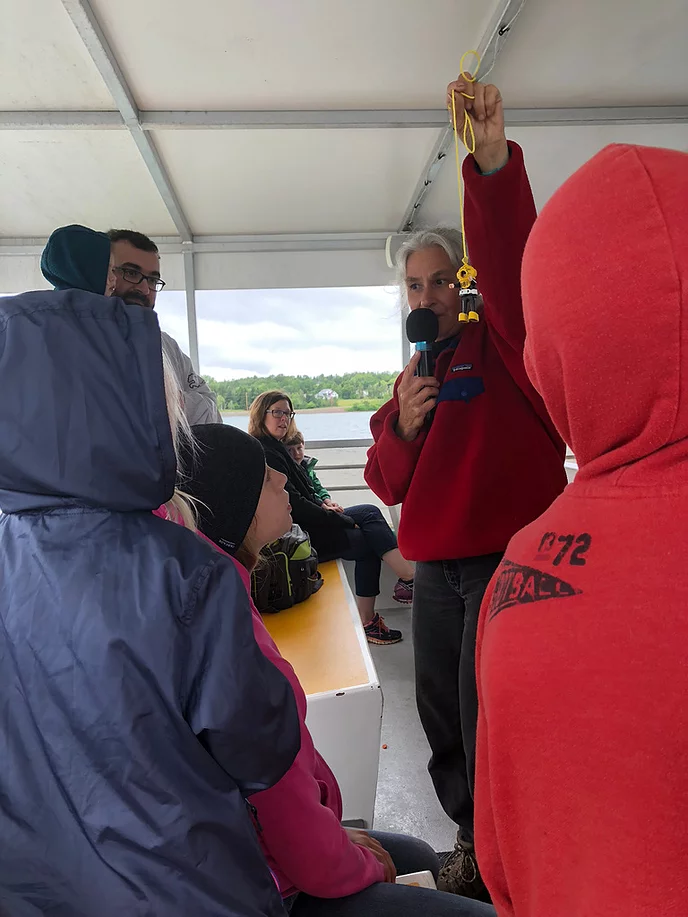 After Diver Ed takes Mini Ed, his tiny toy friend, down into the sea to show us around, he brings up a bag of sea creatures to touch and feel. The children all sit up front, and are involved incredibly closely in the show. Diver Ed squirts water at the kids, shows different parts of the animals, and even puts sea stars on children's heads! We learned so much and laughed so much! How could a parent ask for any more for their child on vacation?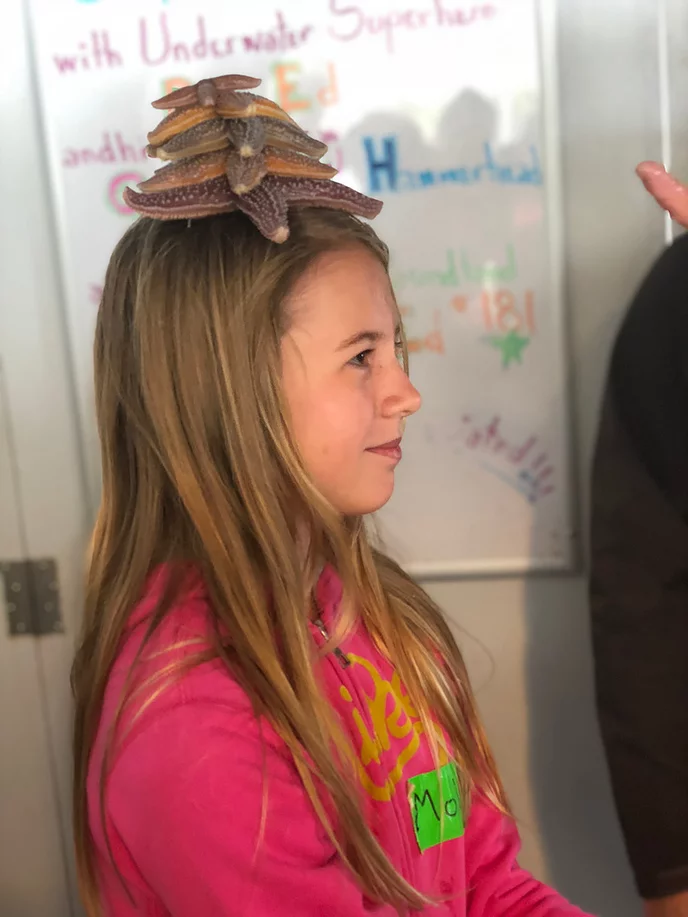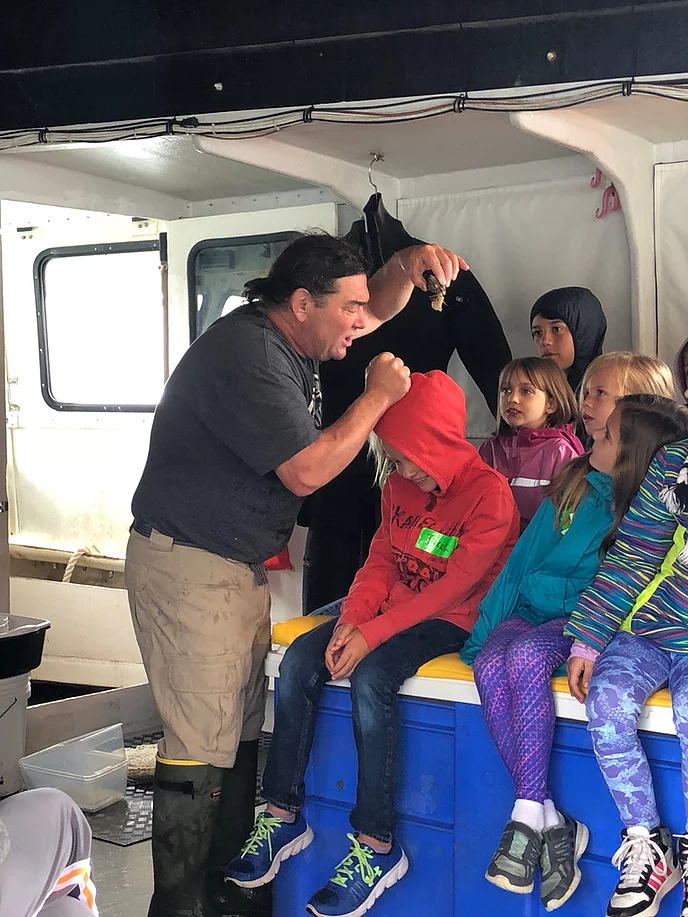 Did you know that lobsters are right handed or left handed? I didn't until I learned about it from Diver Ed! Did you know sea cucumbers roll up into a nearly indestructible ball and release a slimy substance to detract predators? I have lived fairly near the ocean for almost my whole life; I've visited many museums about marine life; and I still learned so much with Diver Ed and Captain Evil. They made learning about the ocean so entertaining! We have done and seen so absolutely amazing things here in Bar Harbor and Acadia, but this is an experience we will remember for years.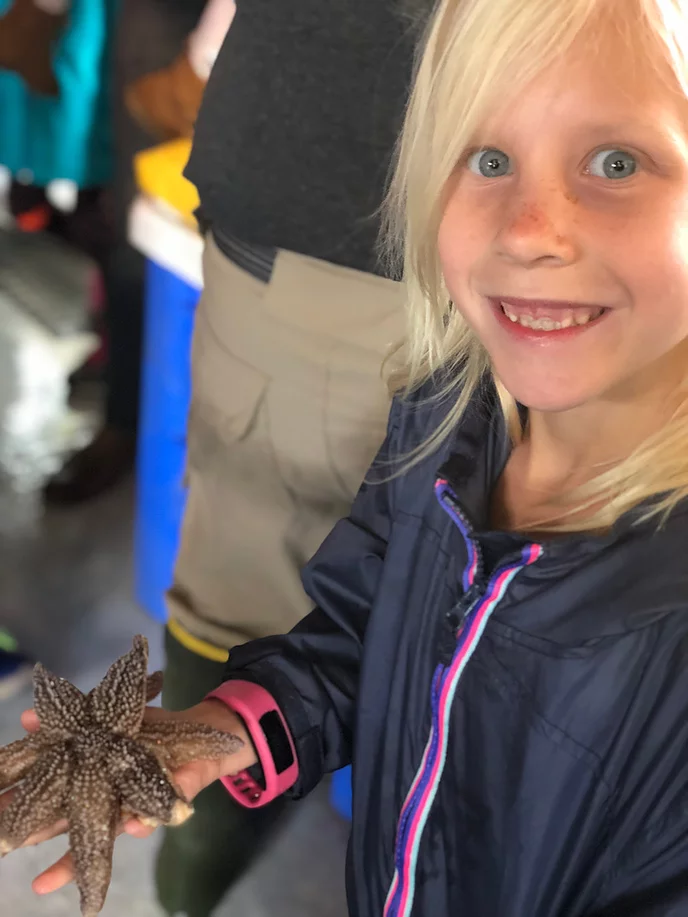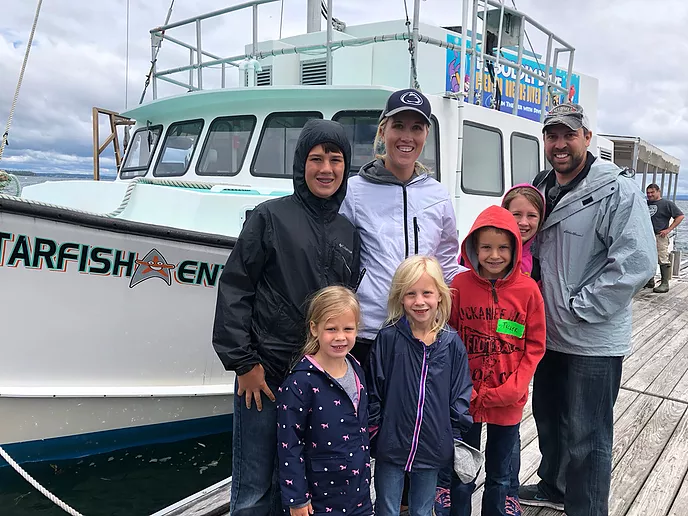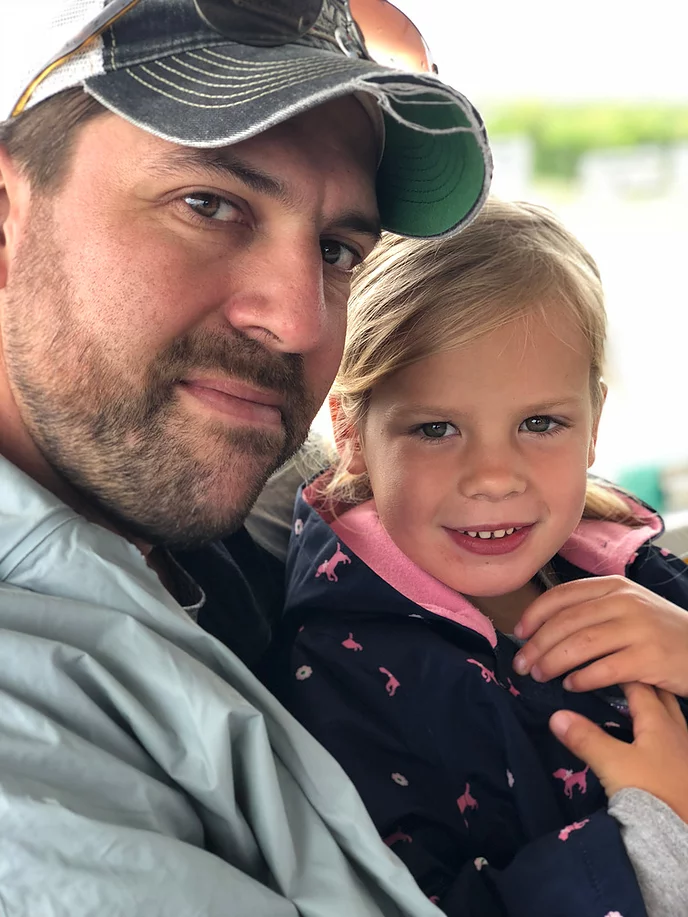 We even caught Diver Ed on an educational video later in the day in Acadia National Park! The kids were all so thrilled to see him, and learn about his perspective on how Frenchman's Bay has changed over the last twenty years or so. When you are in Bar Harbor, be sure to make reservations for Diver Ed's Dive-In Theater. This is a unique experience you do not want to miss!
*I was provided with discounted admission in exchange for my honest review.
You May Also Like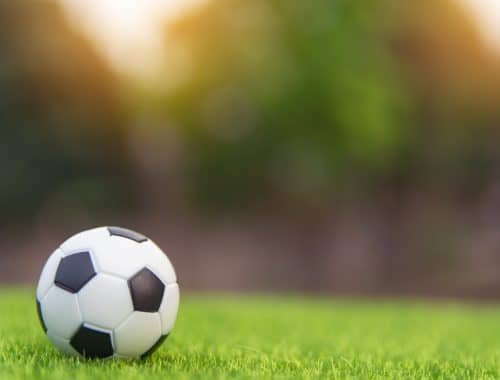 January 22, 2020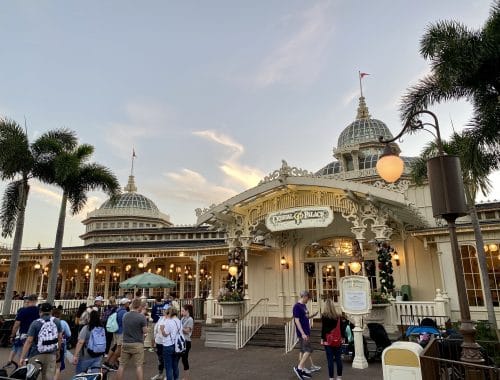 January 13, 2020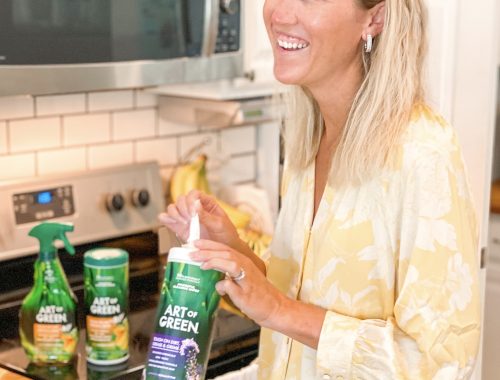 September 2, 2020