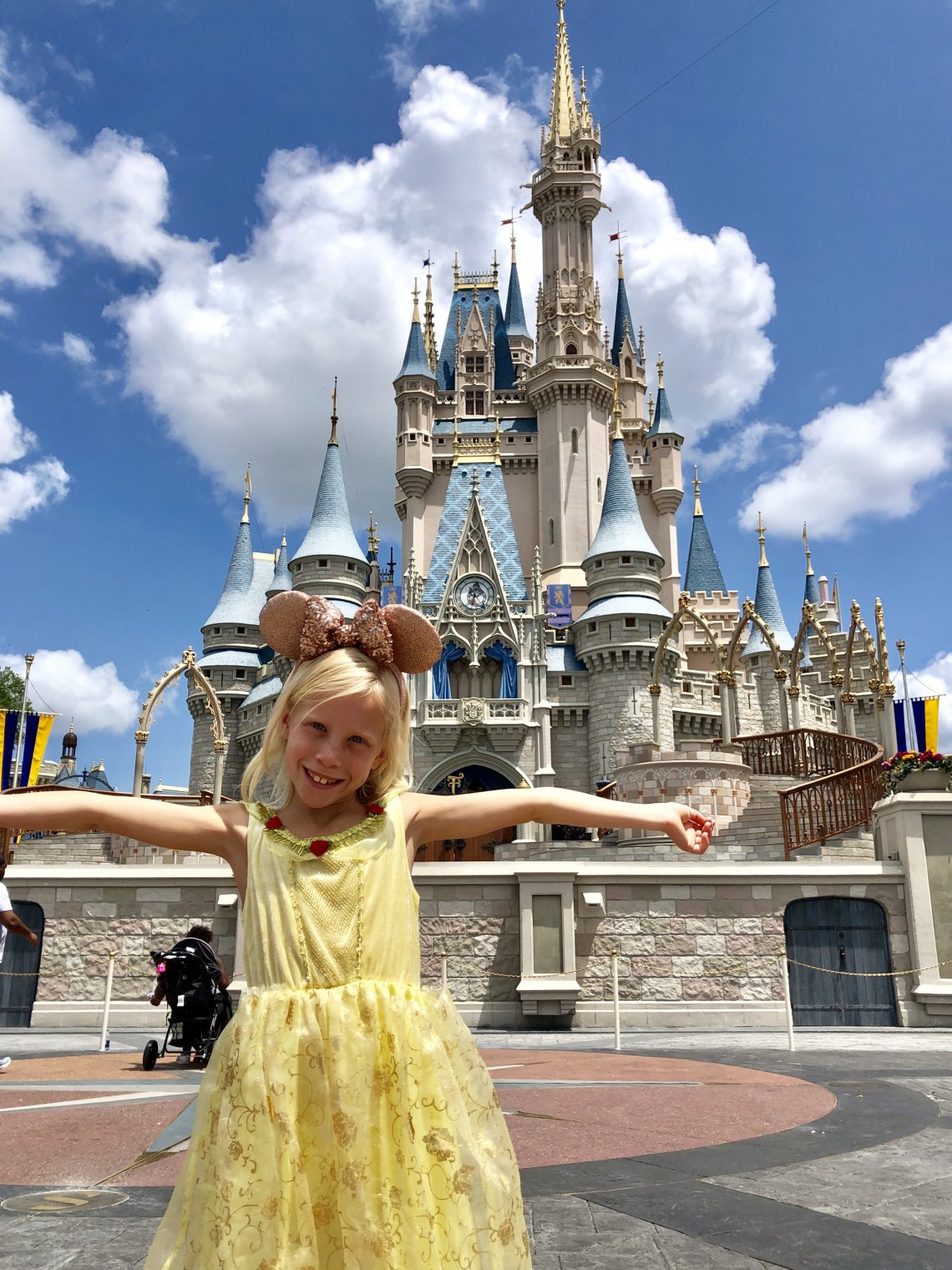 All of the Best Disney World Birthday Freebies
August 12, 2019
Sharing is caring!
Have you ever celebrated a Disney birthday? We've celebrated quite a few. Maybe about 6-7 a year! And when you've had your birthday at Walt Disney World enough, you get to know the best places to go and things to do! August is a big birthday month for our family so keep reading for all of the best Disney World birthday freebies at each of the four parks!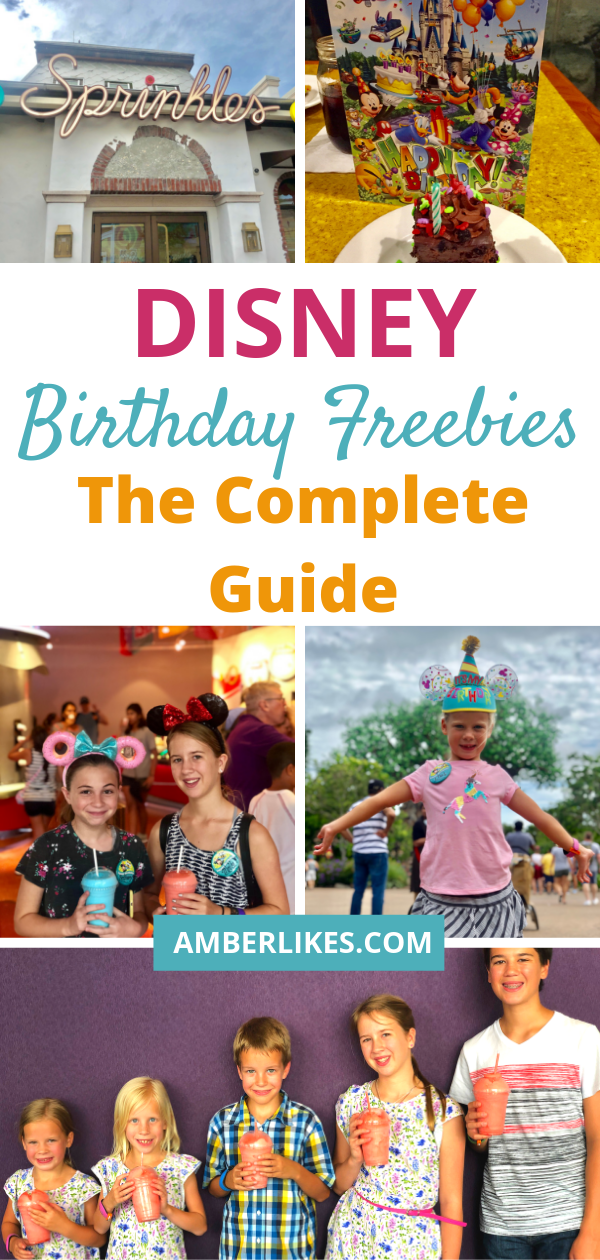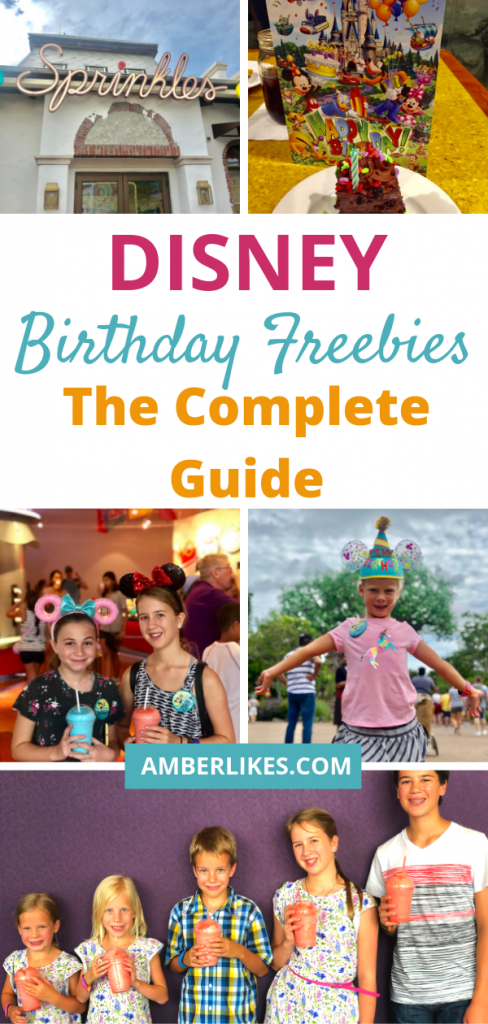 Wear the Birthday Button!
The very first thing you need to do when you arrive at any Disney Park is to get your birthday pin. These have been available for years and years. I have some from long ago! In the past ten years, the celebration pins have grown a great deal in popularity! There are pins for everything like, "I'm Celebrating" or "First Visit." But you want to be sure to get a personalized Happy Birthday pin! You can get these from Guest Services and they also available from many gift shops. There are even special carts to give out pins during busy times of the year.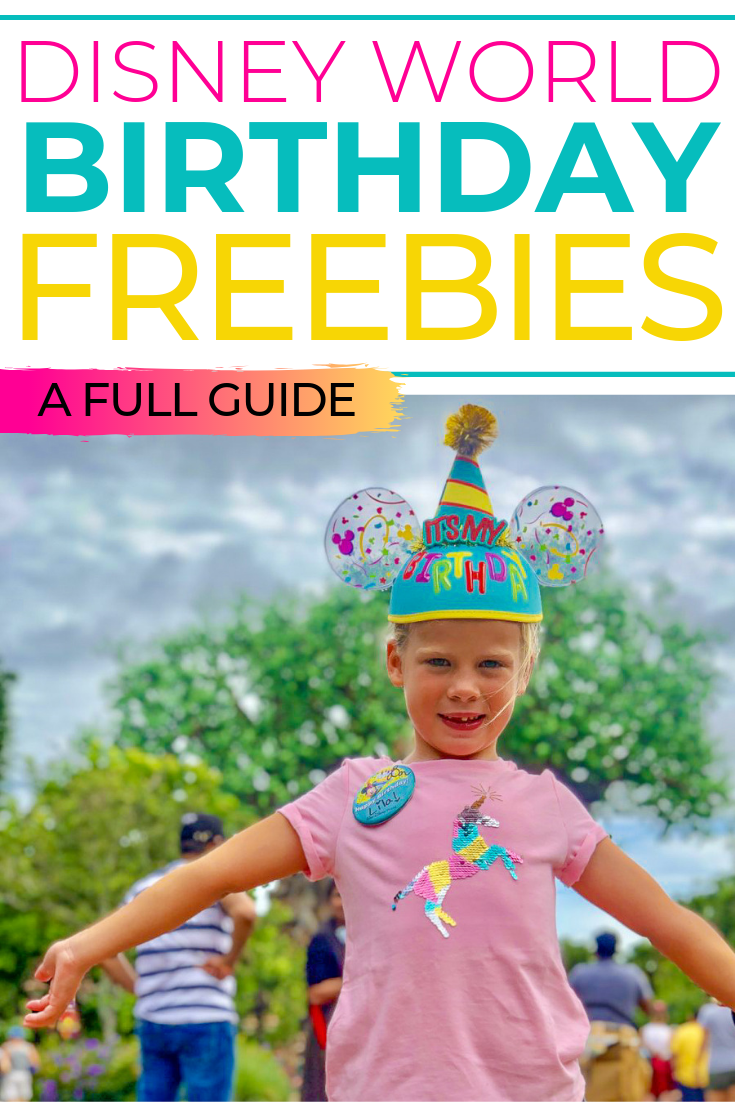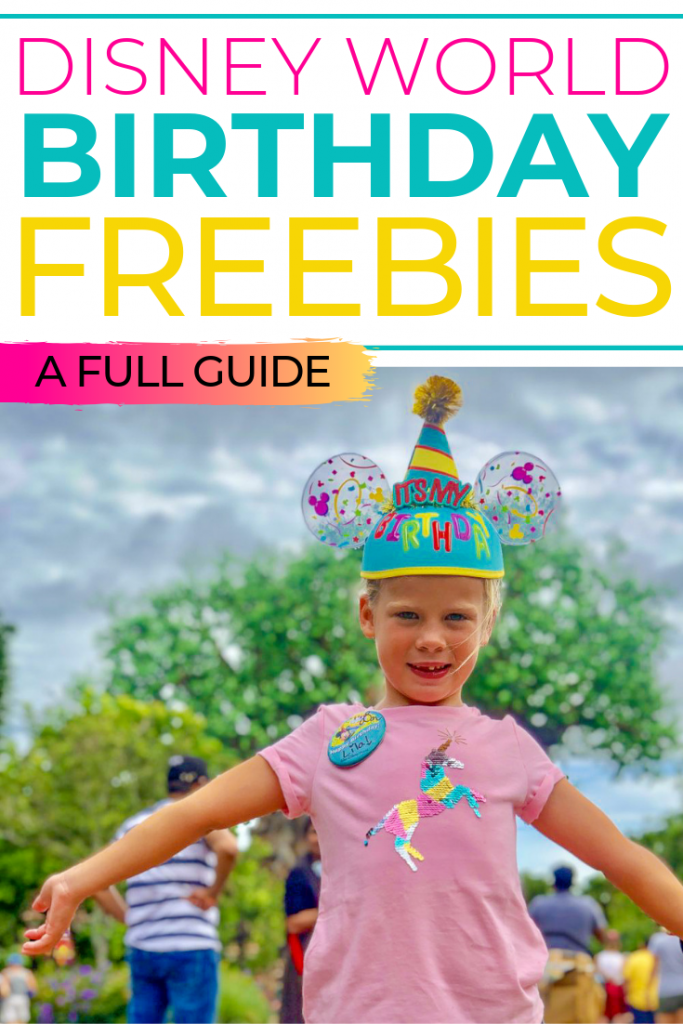 It also helps if you have a Mickey birthday hat or if your child is wearing a special costume. Basically, the more attention you can draw to the birthday person, the better. Don't be shy about letting everyone know it's your special day! And you don't have to celebrate on just your actual birthday. We usually plan a special Disney day at Walt Disney World as near to a birthday as possibly, and then just celebrate that as our Disney birthday.
Epcot's Club Cool Free Icee
If you're up on your Disney news, you know that Epcot's Club Cool will be closing on September 8, 2019. However, Club Cool may reopen in a new location and capacity at a later date. So it's hard to tell if this information will stay up to date. One of my favorite Disney World birthday freebies is a free Icee at Club Cool! You basically just go up to the Cast Member and ask nicely, while telling them it's your birthday. What a great birthday freebie! We've even had occasions where a very kind Cast Member gave all of our five kids free Icees instead of just one for the birthday child. If Club Cool reopens, hopefully this wonderful tradition continues!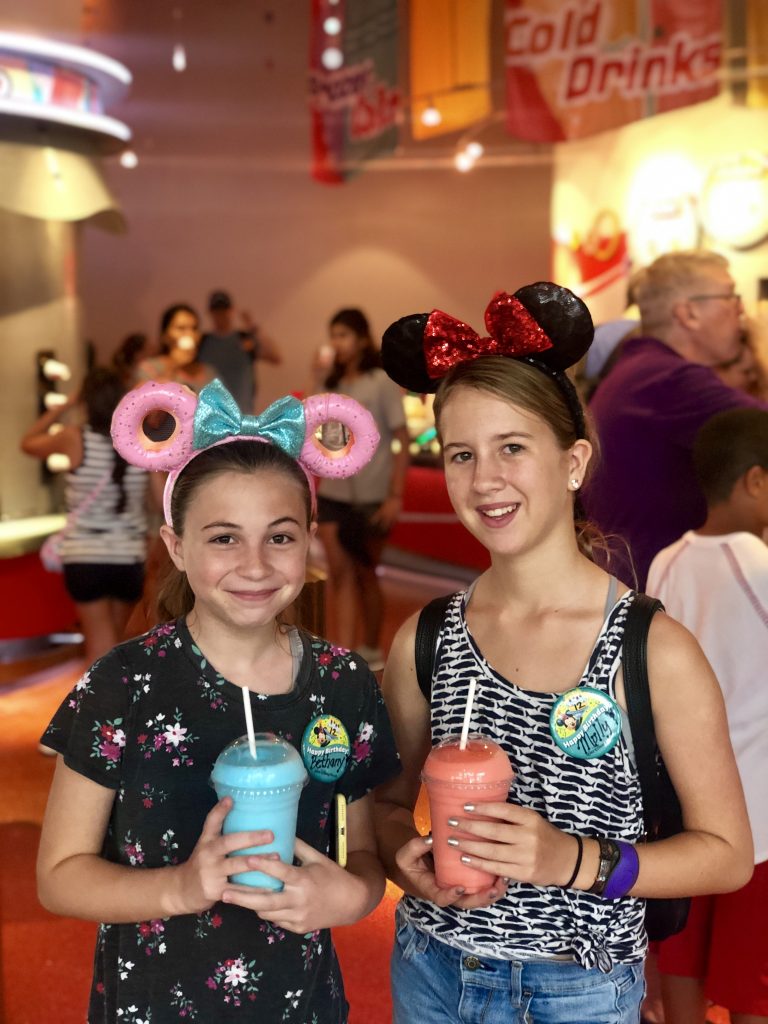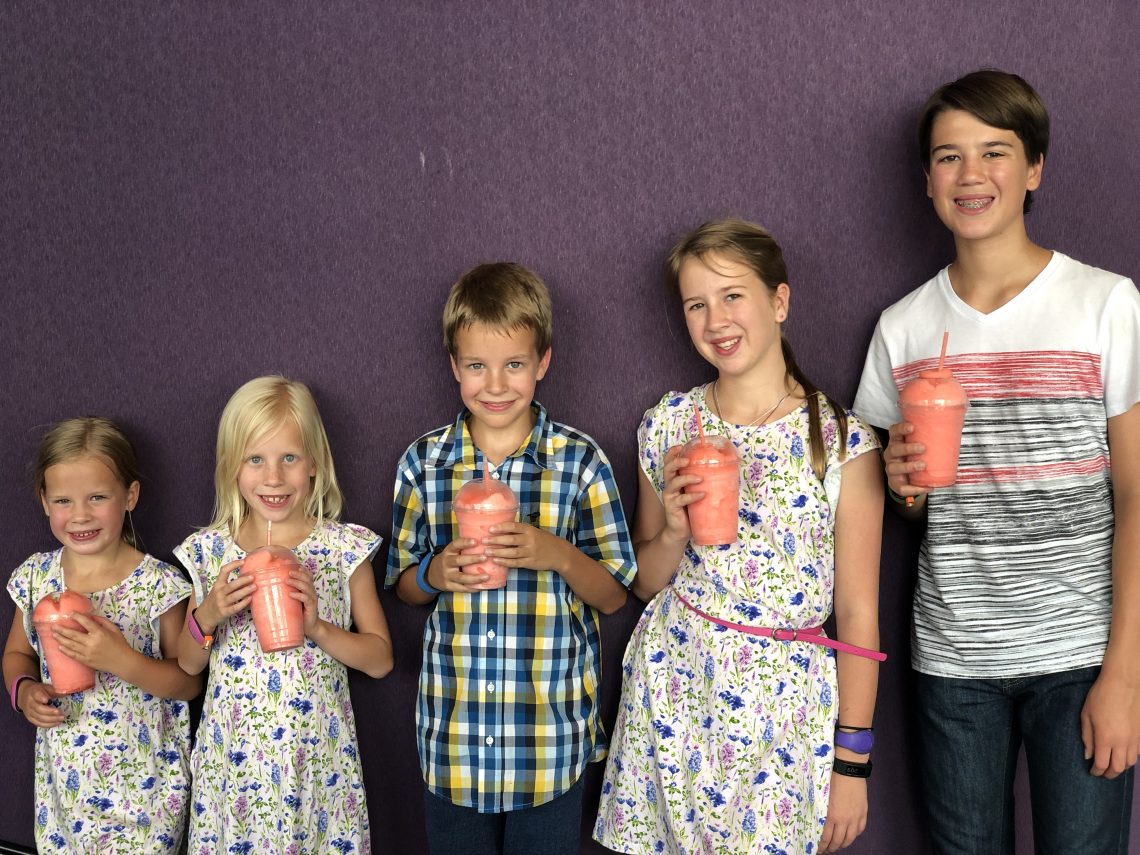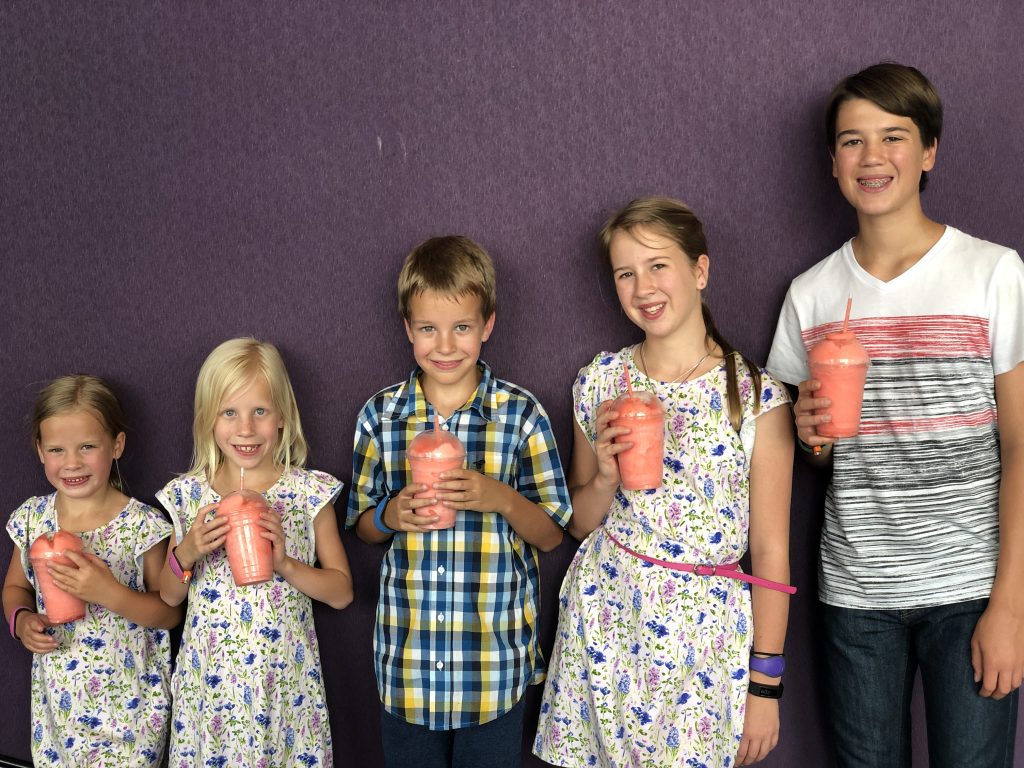 Starbucks at Epcot Free Birthday Drink
Similarly to Club Cool, the Starbucks location at Epcot's Future World is set to close on September 8, 2019. However, there will be a temporary location for Starbucks until a new permanent is established. One of my favorite Disney World birthday freebies is the liberally distributed free birthday drinks at Starbucks. If you are wearing a birthday button, you can pretty much guarantee that your drink will be free! What a great way to get some energy to finish that Disney day!
Free Dessert at Disney Restaurants
This one is not a guarantee, but is a likelihood. Recently, I took two young ladies with birthdays in the near future to the San Angel Inn at the Mexico Pavilion at Epcot. At the end of our meal, our waiter kindly offered both girls the chance to pick any dessert from the menu! It was such a nice gesture and really took us by surprise. These desserts were between $8-10 each! This Disney World birthday freebie is definitely not guaranteed. But it's a good possibility at many Disney dining locations!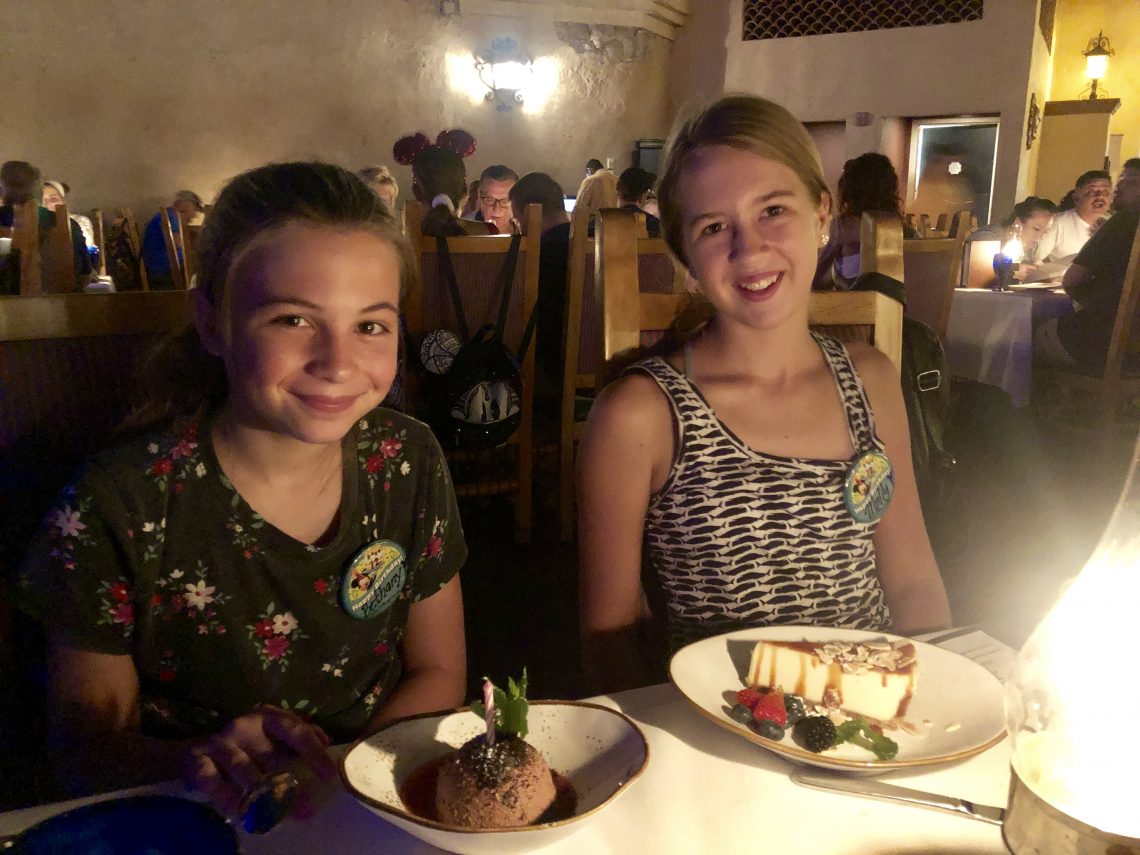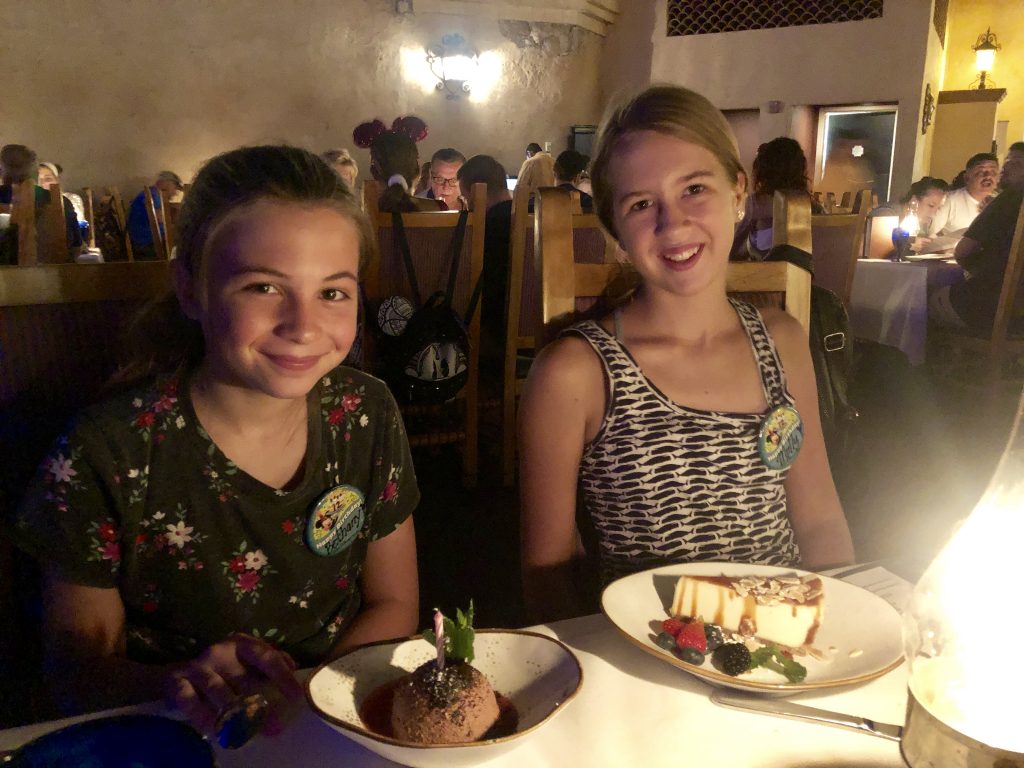 Free Sprinkles Birthday Cupcake
If you sign up for the Sprinkles Perks program, you can get a free cupcake on your birthday! Have you been to Sprinkles at Disney Springs? If you have, you know it's worth it to get one of these delectable treats for free. They are absolutely delicious, beautiful decorated, and always popular. It's quick and easy to sign up. And this birthday freebie will make your birthday even that much sweeter!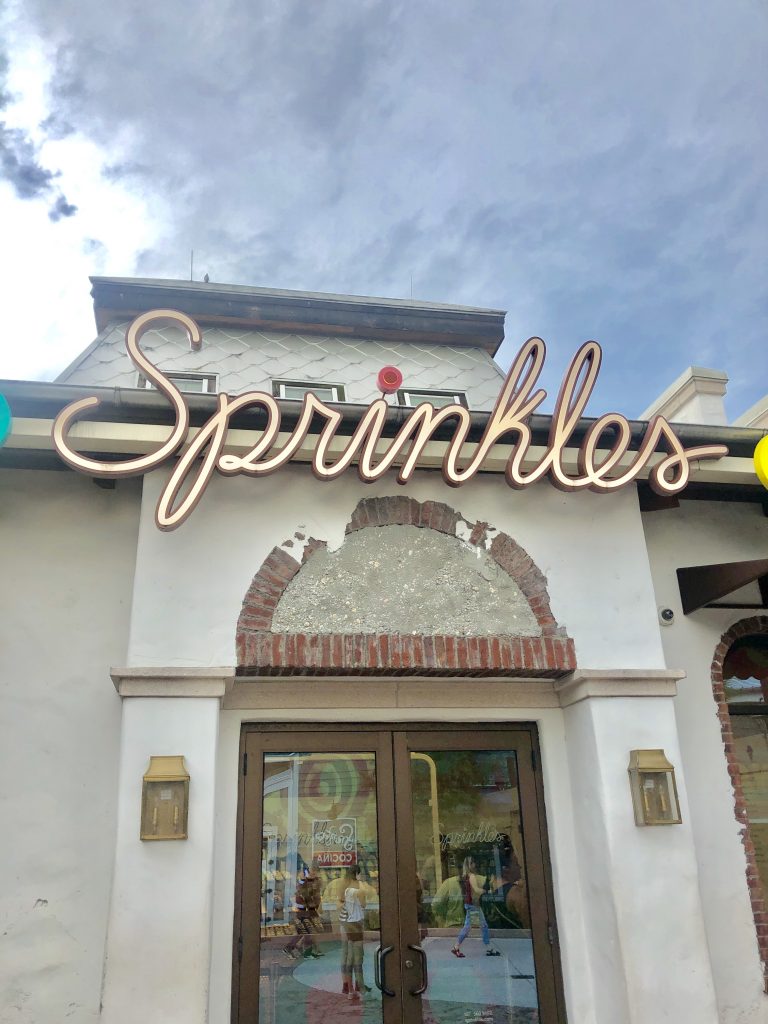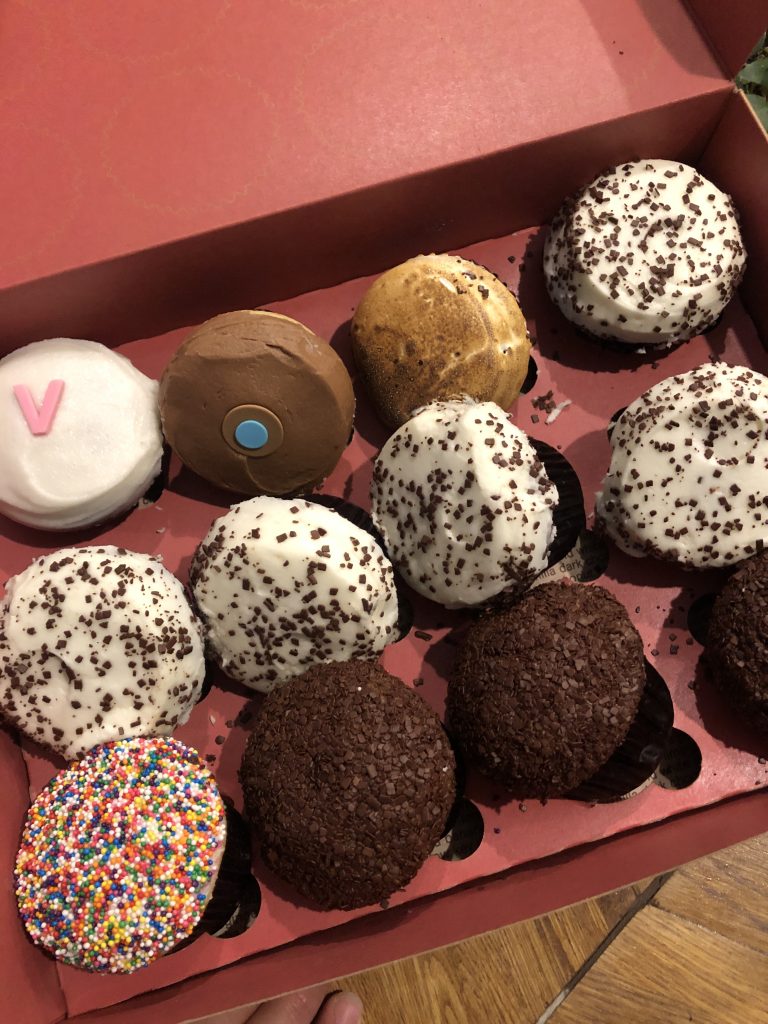 Special Birthday Songs
At many restaurants, you will get serenaded for your birthday, along with your free dessert! When we were at Fort Wilderness recently for Chip and Dale's Campfire Sing-a-long, everyone celebrating birthdays were invited to the front of the stage. Then the whole audience, as well as the Cowboy Emcee, sang Happy Birthday! It was such as sweet moment and a wonderful memory for our birthday girl.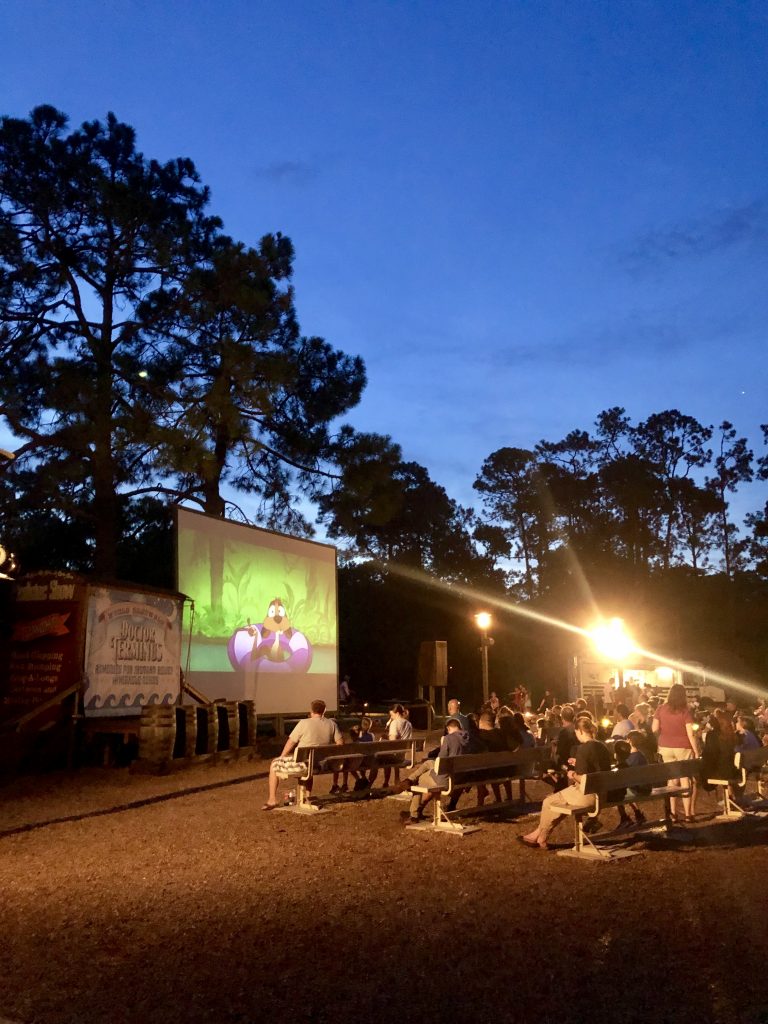 There are many places throughout Walt Disney World where you can get this birthday freebie. It's such a sweet gesture. And while it's not a physical item, it's very memorable!
Birthday Surprises Around Every Corner
The truth is, so many Disney World birthday freebies are hard to put into words or into guarantees. That's because with each visit, you never know what special surprise might be in store. We've been brought to the front of lines for a birthday. The birthday girl or boy has become part of the show for a birthday. We've received free popcorn and free Mickey bars for our birthday. Once, my son received a signed card from Mickey and friends at Epcot's Rotating Restaurant (otherwise known as Garden Grill restaurant). We've received free Fast Passes. It's different from one birthday to the next, but it's always special. When you are wearing a birthday celebration pin at Disney World, you never know what to expect. But that's the magic. Cast Members find ways to make magic happen, especially on birthdays.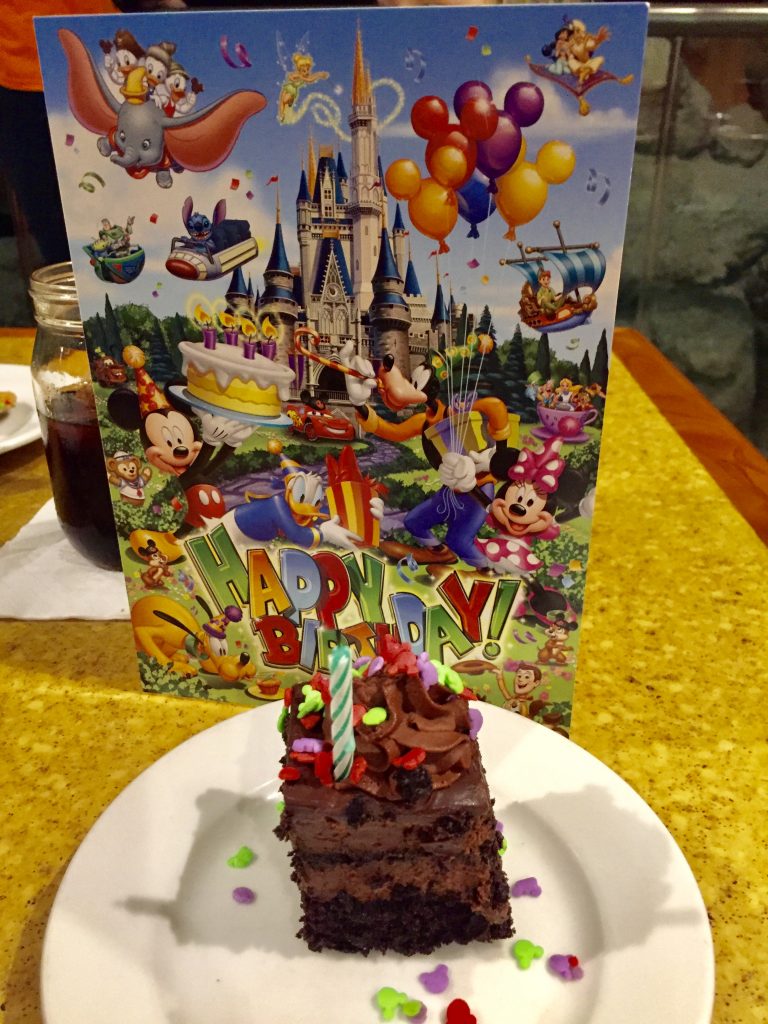 So what's the best Disney World birthday freebie of all? It's the unpredictability. And the promise of happiness. It's the magic, as always.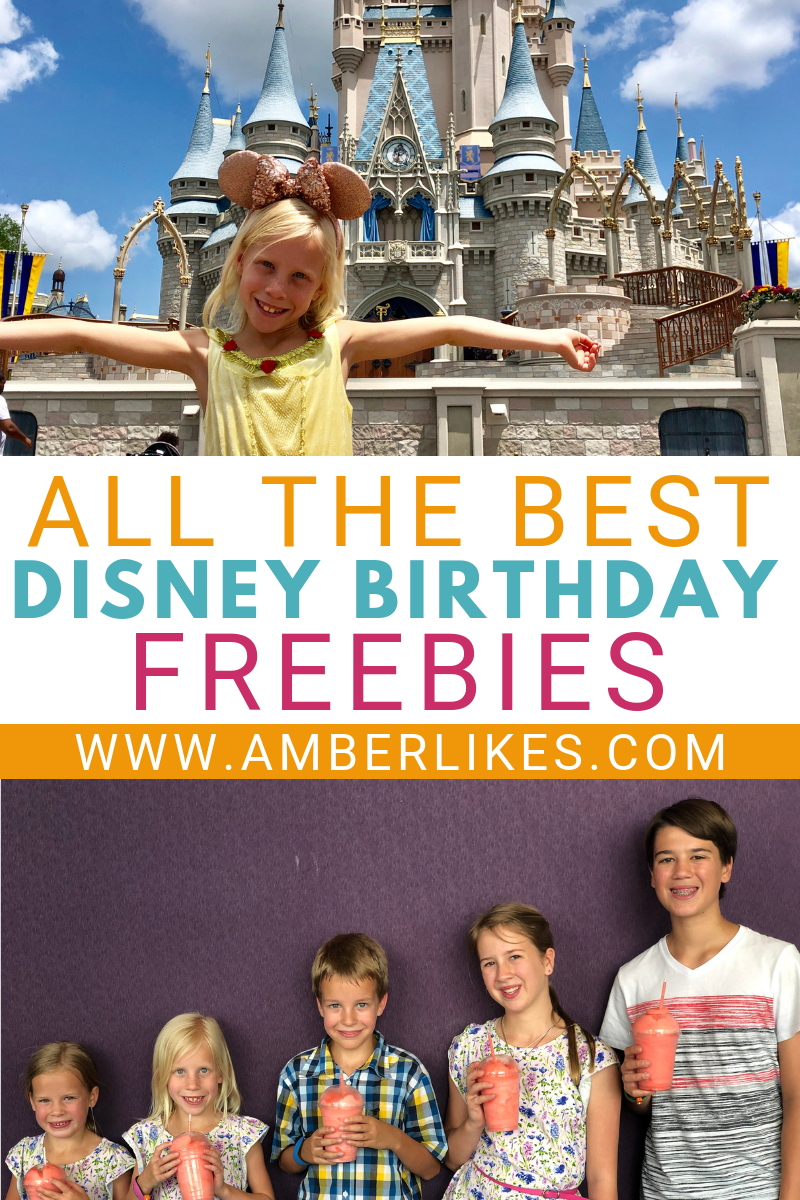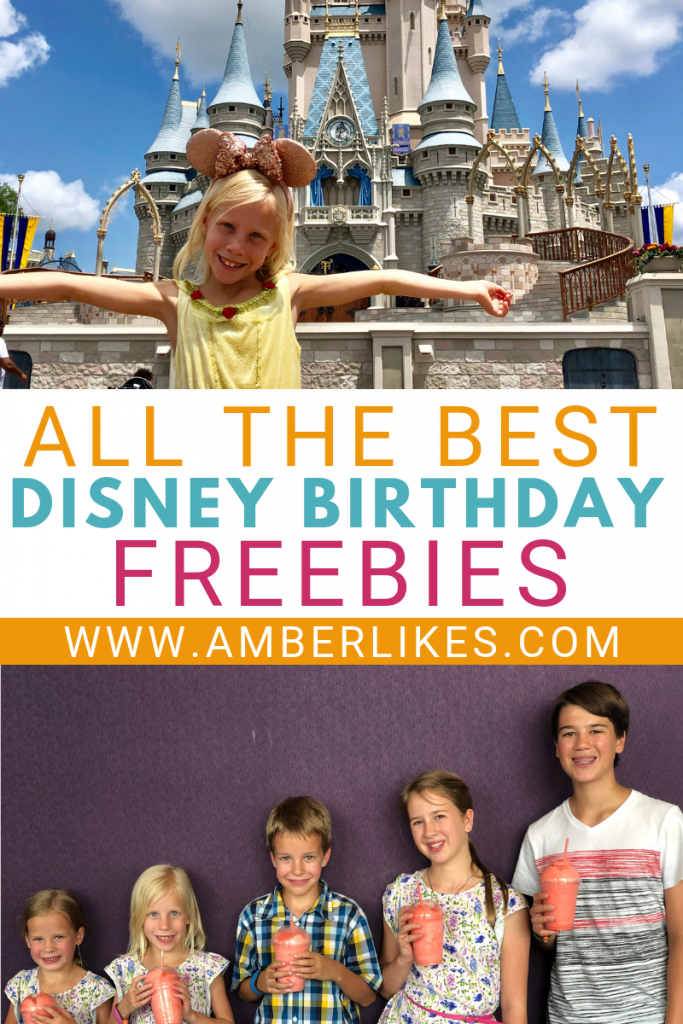 You May Also Like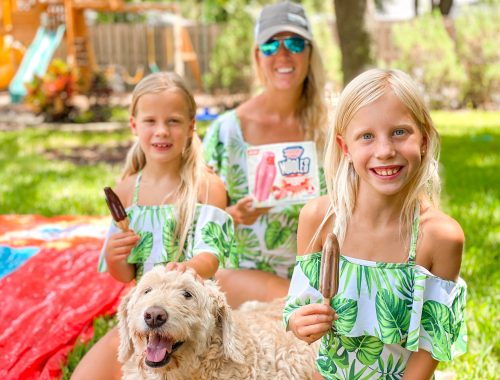 August 5, 2020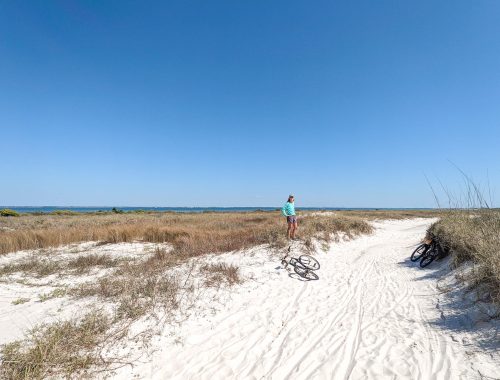 April 13, 2021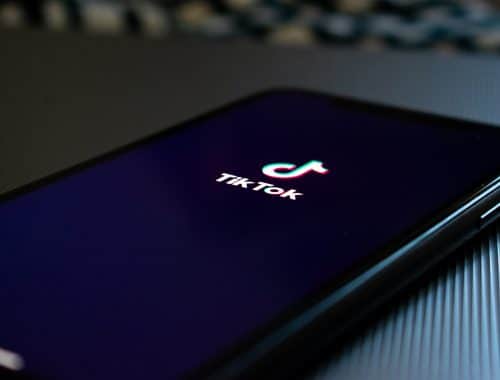 March 4, 2020