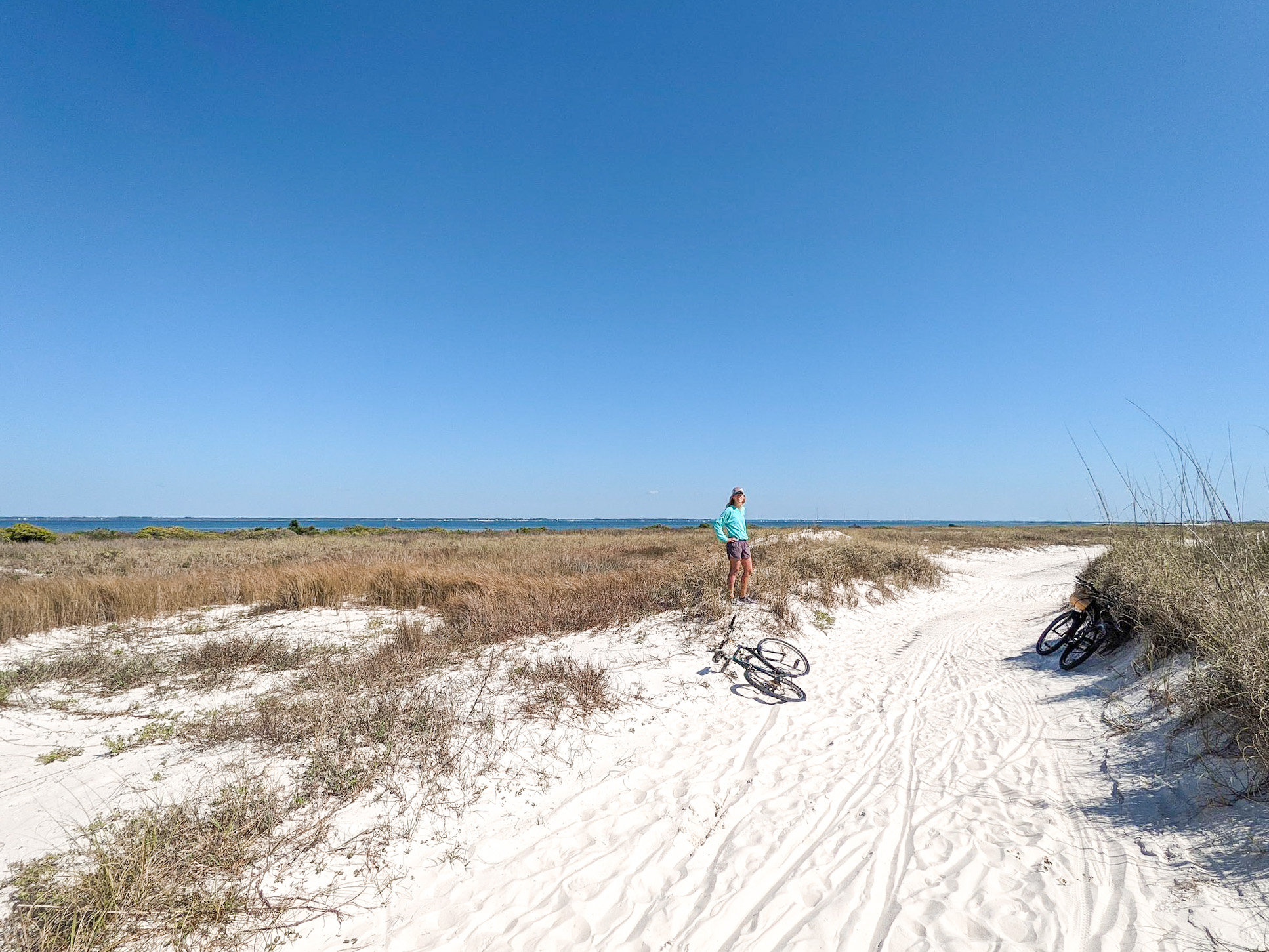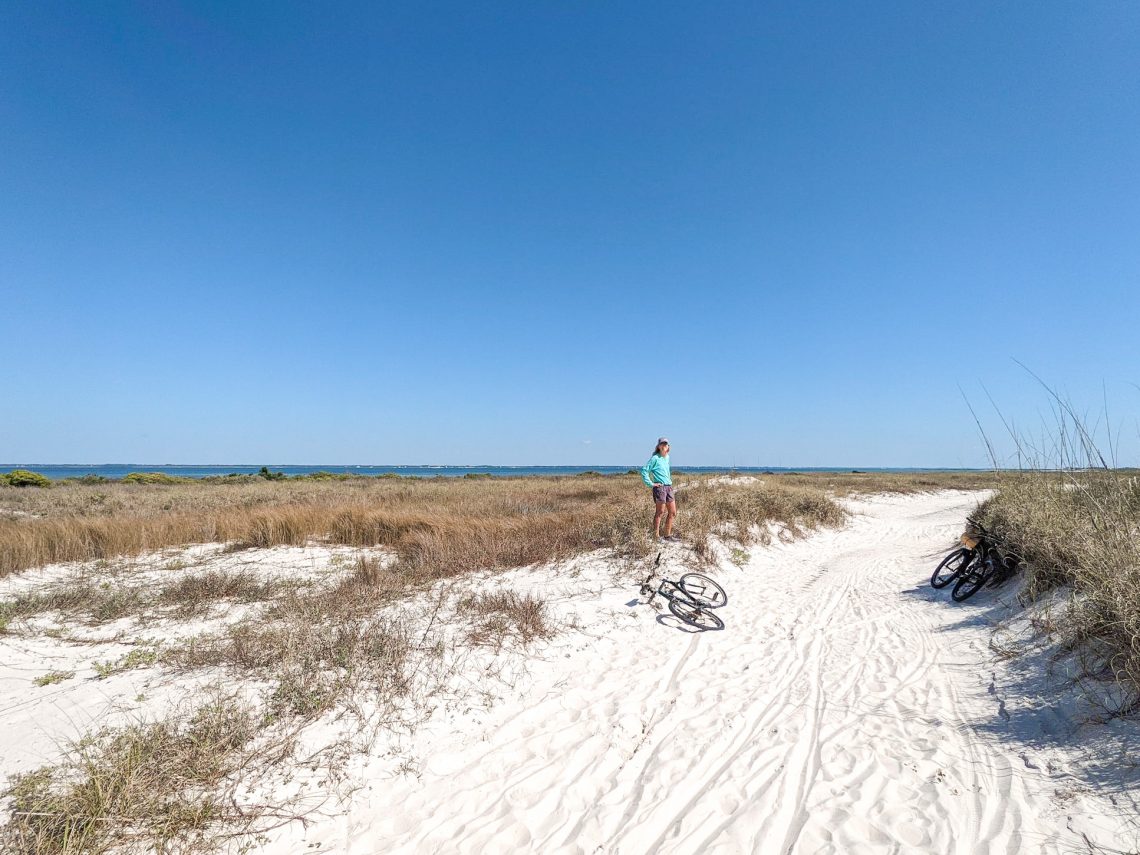 Dr. Julian Bruce State Park: Hidden Island Paradise
April 13, 2021
Sharing is caring!
We have visited St. George Island in the panhandle of Florida many times. In fact, it's one of our favorite Spring Break destinations. This is a hidden gem and is a perfect place for relaxation and beach fun. And it's also one of the most pet friendly beaches in Florida! So what about this State Park on St. George Island? The Dr. Julian Bruce State Park is a hidden island paradise. And while we haven't camped at this location, we have visited many times. And I'm so happy to tell you all about what you can find in this beautiful location! As a homeschooling family, we are always combining learning with fun and travel, and this Park has so many opportunities for that as well!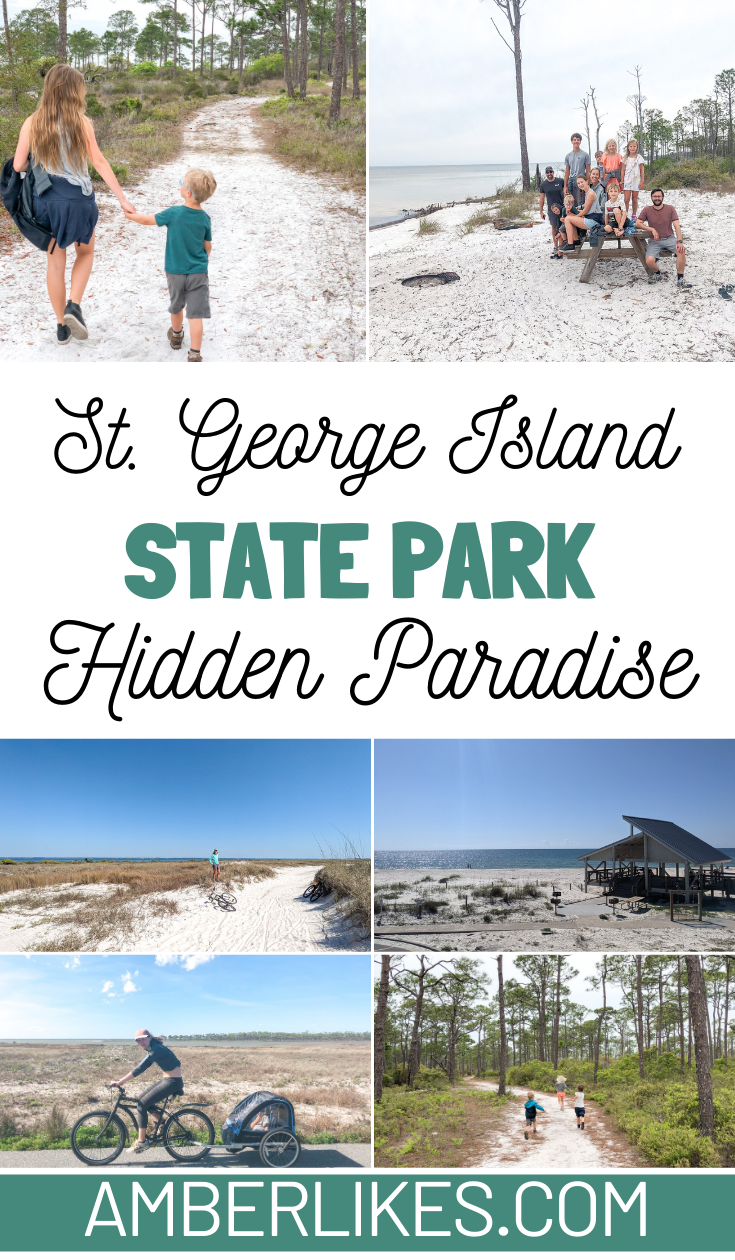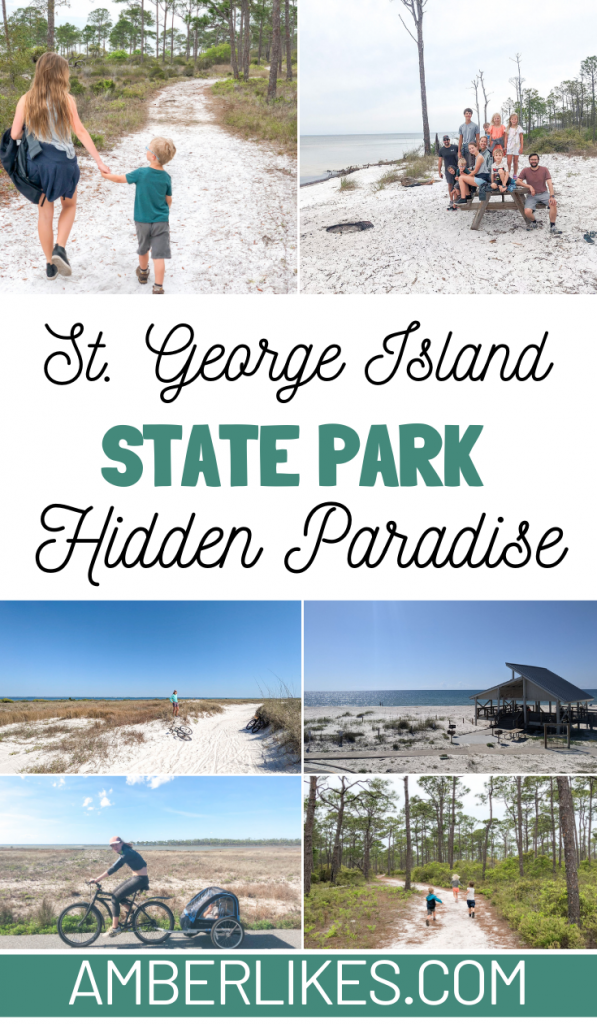 What's great for kids and families at this Park?
At Dr. Julian Bruce State Park, there is clearly great beachgoing, which is great for families! This park has some of the most beautiful and untouched beaches I've seen anywhere. There are nine miles of pristine Gulf beaches. There are lots of shells and plenty of space! It's really a laid back paradise. However, there are also lots of other activities that our whole family enjoys.
Biking Trails
There's also amazing biking available! In fact, biking through the park is one of our favorite activities to do at Dr. Julian Bruce State Park. The park has four miles of paved road along the main park drive and a five-mile stabilized road that leads to the east end of the island. And there are also three-and-a-half miles of nature trails for bike riding. There is a bicycle path outside of the park that leads to the center of the island.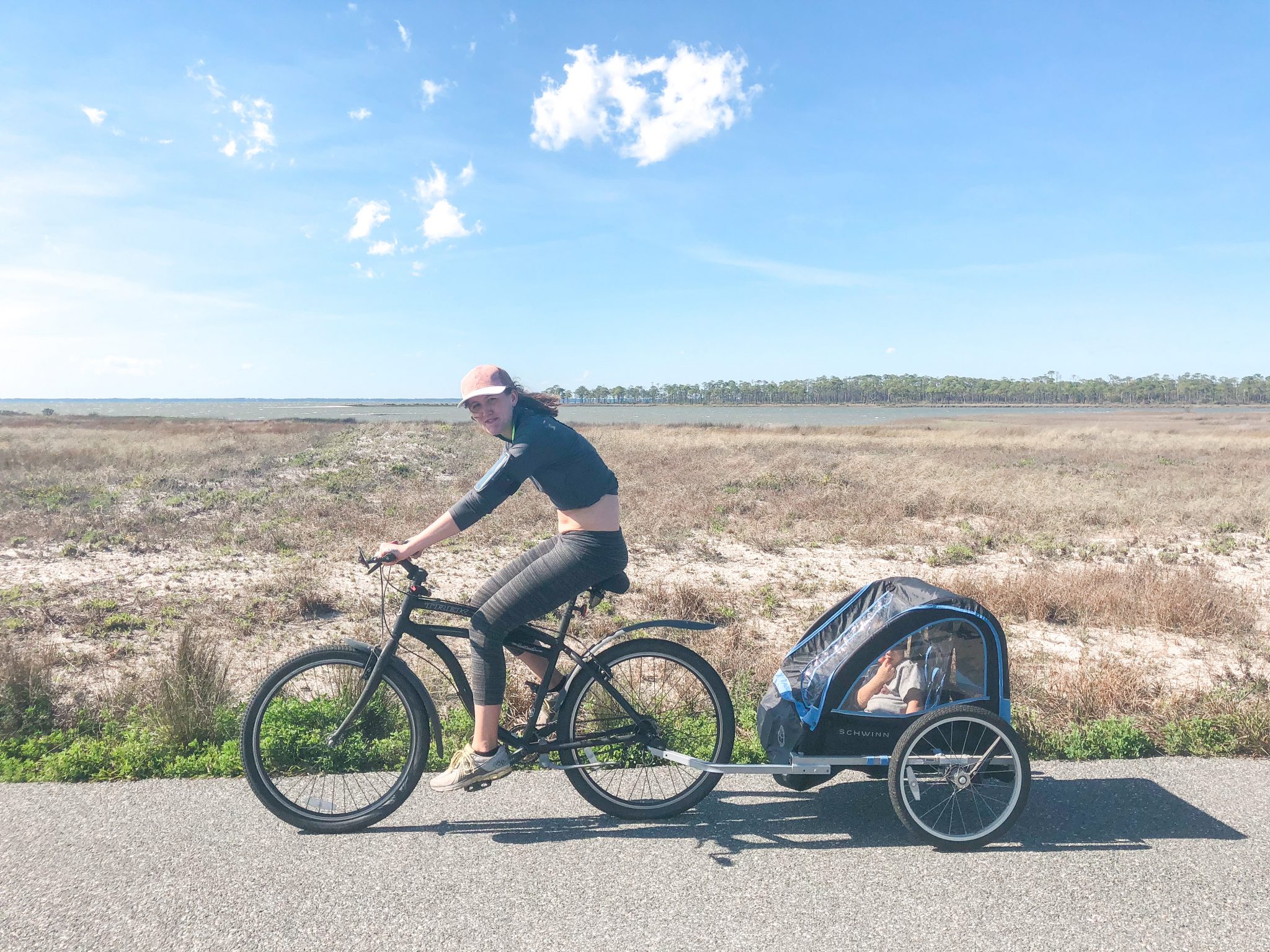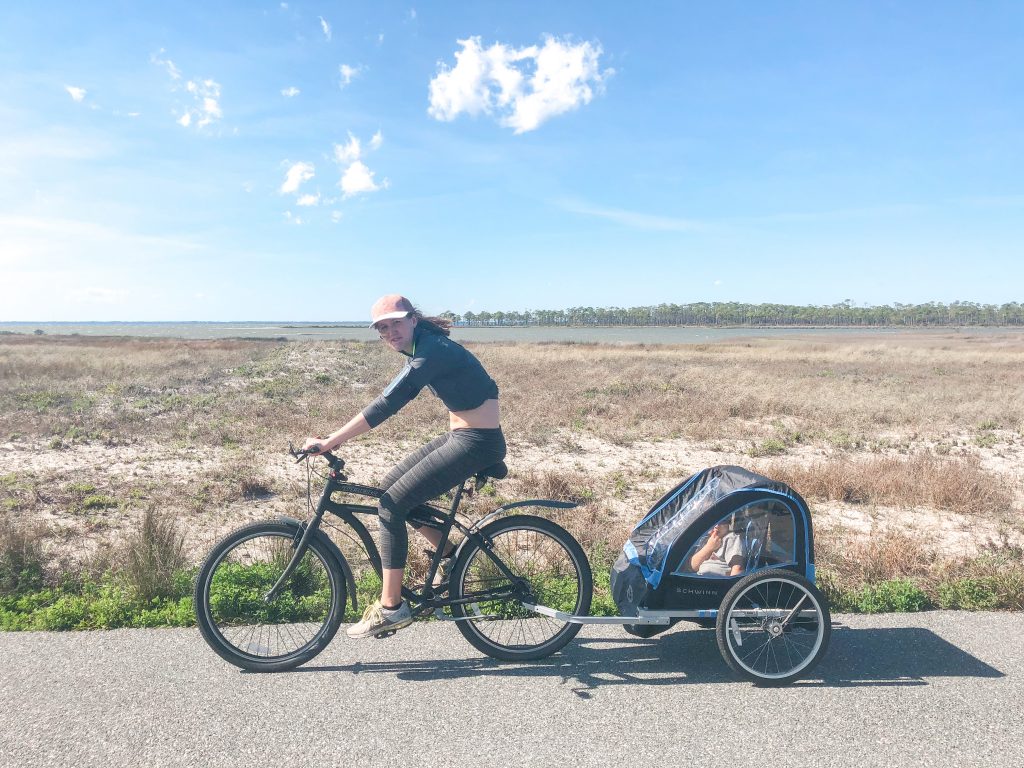 All of St. George Island is very bike friendly. We have biked with kids of all ages all across this island. And it's so convenient that the main road through this island leads directly to the State Park. You can't miss it!
Hiking
One of our favorite things to do as a family while traveling is hiking! And there's a wonderful trail at Dr. Julian Bruce State Park that's perfect for families.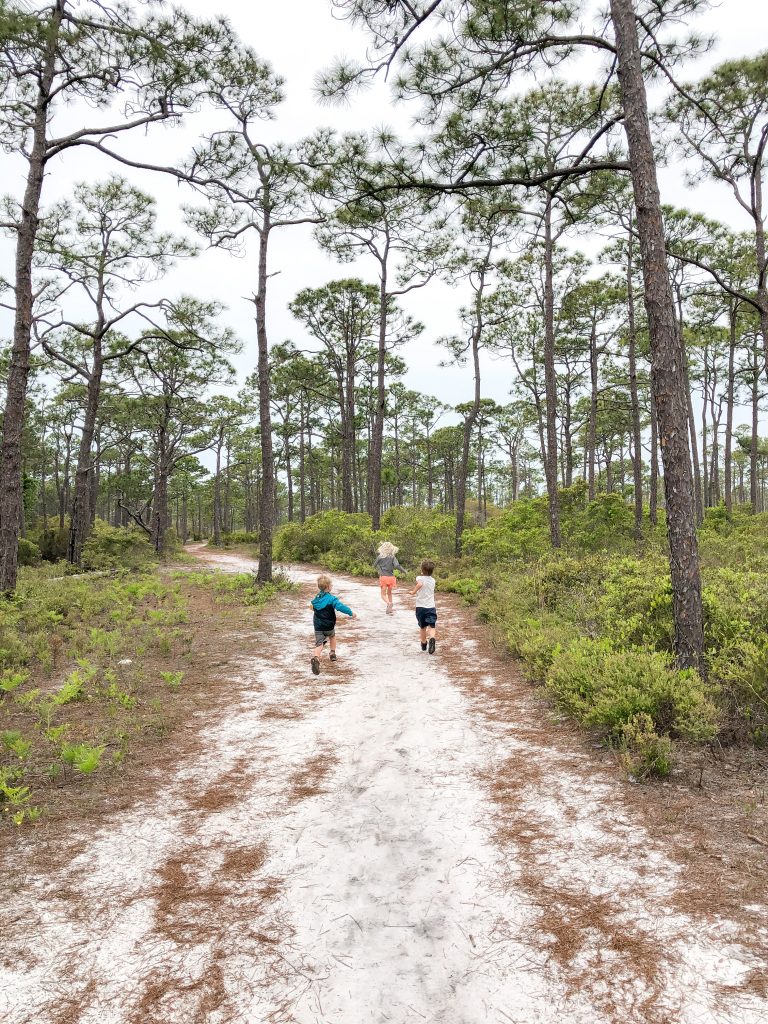 The 2.5-mile trail to Gap Point begins in the campground and meanders through the pine flatwood forest to the bay. And this hike to Gap Point also features a Fit Trail with 20 exercise and stretching stops! We had 4 adults and 8 children with us on our hike, and we all loved this experience! It really is a great workout! And kids can be rewarded with the playground at the campground when you get back from your hike. But that's only if they've saved up their energy after completing the Fit Trail!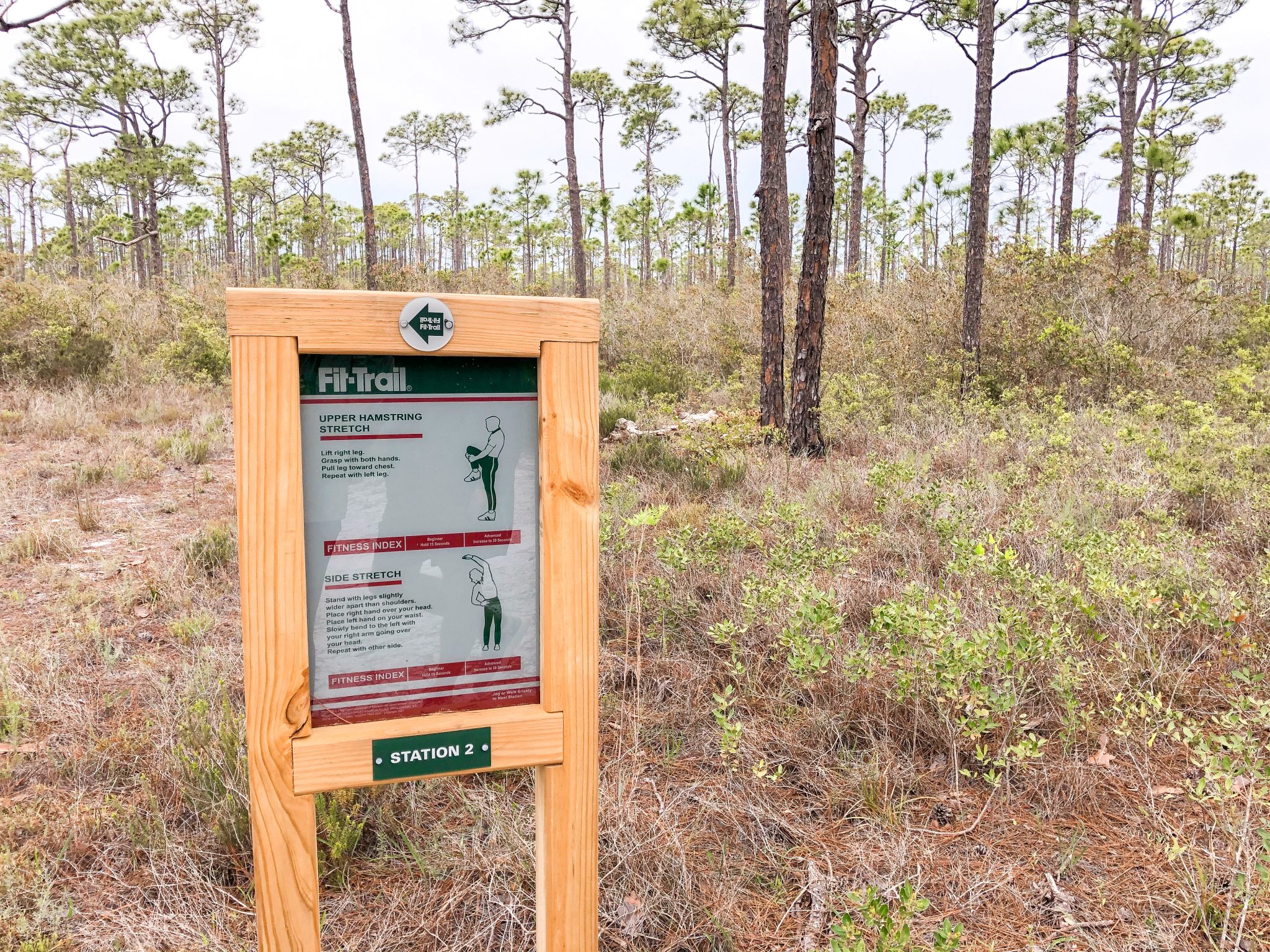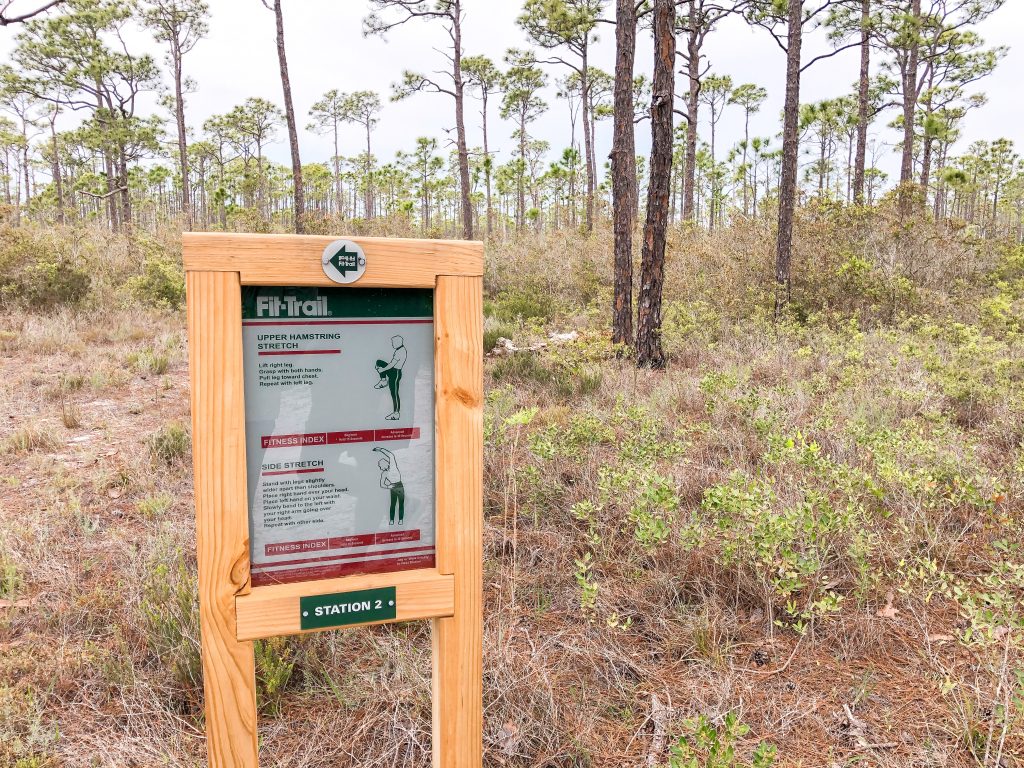 Additionally, the one-mile long East Slough Overlook Trail features boardwalks, resting benches and information on the resources. Trailhead kiosks contain fliers about the current trail conditions. During our most recent visit, the boardwalk trail was closed due to damage from Hurricane Michael. But we've enjoyed this trail in the past and look forward to it being repaired for full use in the future!
Paddling, Bird Watching, and More
The Bay is a beautiful and calm place to paddle or boat. And you can rent these items at the Ranger Station! The Dr. Julian Bruce State Park is also well known for bird watching. There are over 300 species of birds to find in the Park. Ask any Ranger for more information and details on what to watch for at this hidden paradise.
In addition, you can fish, star gaze, swim, picnic, and do some geocaching throughout the Park. This is a nature lovers dream and is a very different experience than some of the more crowded and popular beaches in the panhandle or in South Florida.
What are the details of Dr. Julian Bruce State Park?
This Florida State Park is located on the East End of St. George Island, near the small historic town of Apalachicola. The park is open from 8 a.m. until sundown, 365 days a year. From the helpful Florida State Park website:
St. George is a favorite destination for beachgoers, birdwatchers and anglers, offering spectacular Gulf of Mexico sunsets and the best stargazing in the Panhandle. This narrow State Park has two primary sides to explore. On the gulf side of the island, enjoy perfect blue waters and miles of sugary white sands, and perhaps catch sight of a pod of dolphins.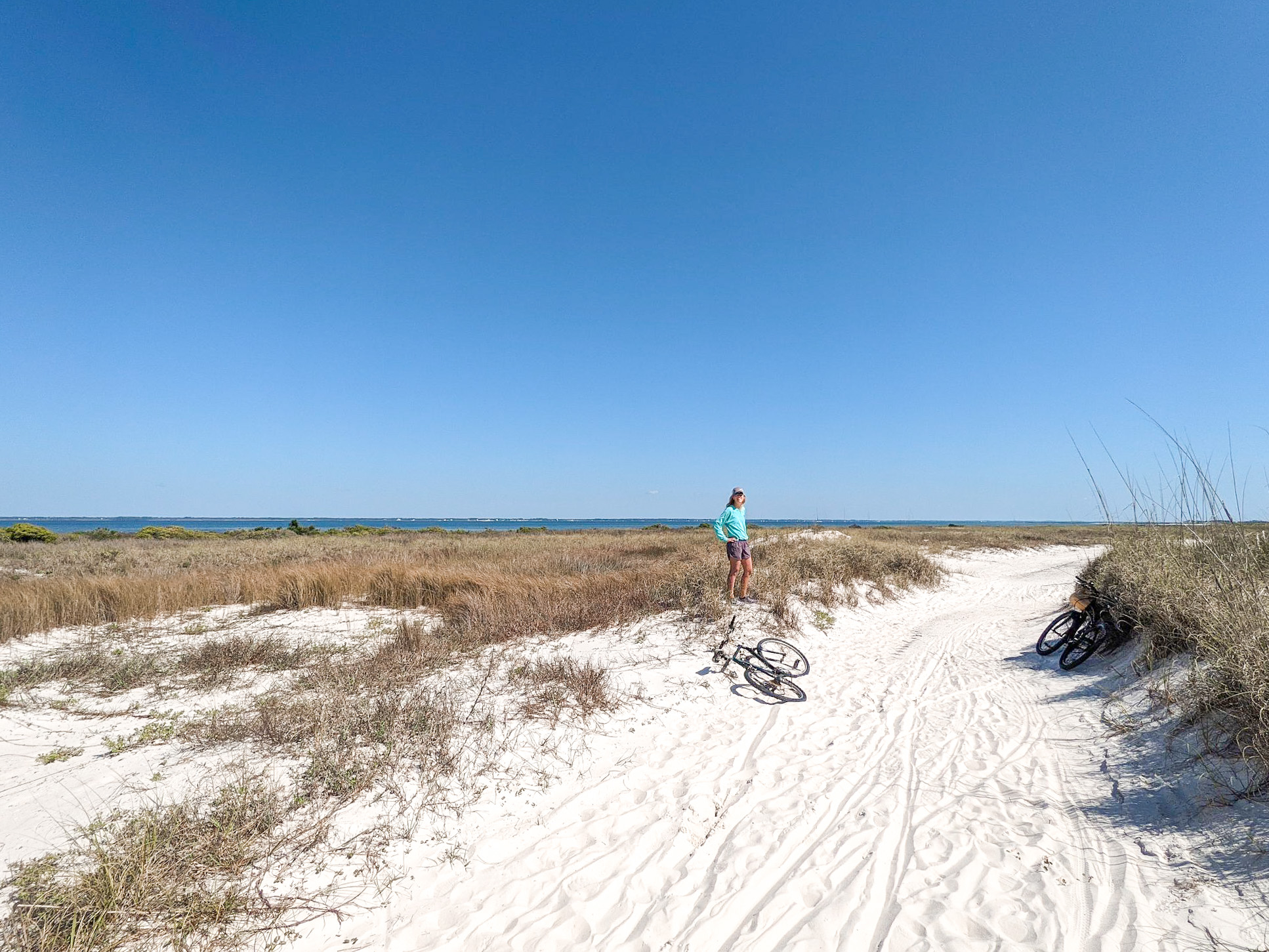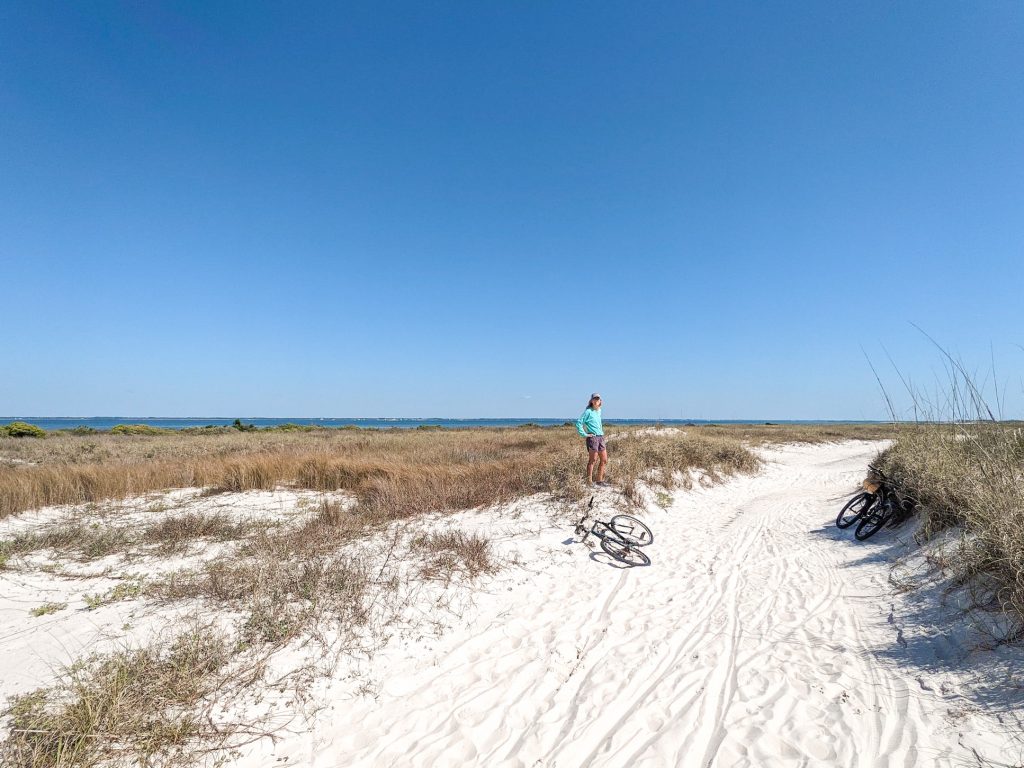 On the bay side, healthy marshes are home to wading birds and abundant saltwater fish. Nature trails thread through vast scrubs and pine forests, where red-cockaded woodpeckers and bald eagles linger in the canopy and brilliantly blue five-lined skinks dart through the undergrowth.
Fees and Reservations
Admission Fee
$6 per vehicle. Limit 2-8 people per vehicle.
$4 Single Occupant Vehicle.
$2 Pedestrians, bicyclists, extra passengers, passengers in vehicle with holder of Annual Individual Entrance Pass.
$6 per person, plus tax, East End access for Adults. Children 12 and under are free.
Boat Launch and Entrance Fees
$8 for one person with a boat.
$10 for 2 – 8 people with a boat.
Camping Fee
$24 per night, plus tax, plus a non-refundable $6.70 reservation fee. Includes water and electricity.
Florida residents who are 65 years of age or older or who hold a social security disability award certificate or a 100% disability award certificate from the federal government are permitted to receive a 50% discount on current base campsite fees. Proof of eligibility required.
Picnic Pavilion Rental Fees
There are two Picnic Pavilions which can be reserved, one at the Sugar Hill Beach Use Area and the other at the East Slough Beach Use Area. Pavilions are not rented on Memorial Day and July 4th holidays. No pets or alcohol are permitted in the pavilions or on the beach.
Camping at Dr. Julian Bruce State Park is extremely popular. And reservations should be made well in advance! We have always visited for the day, but the moderate temperates and beautiful facilities make it a great choice for primitive, tent, and RV campers.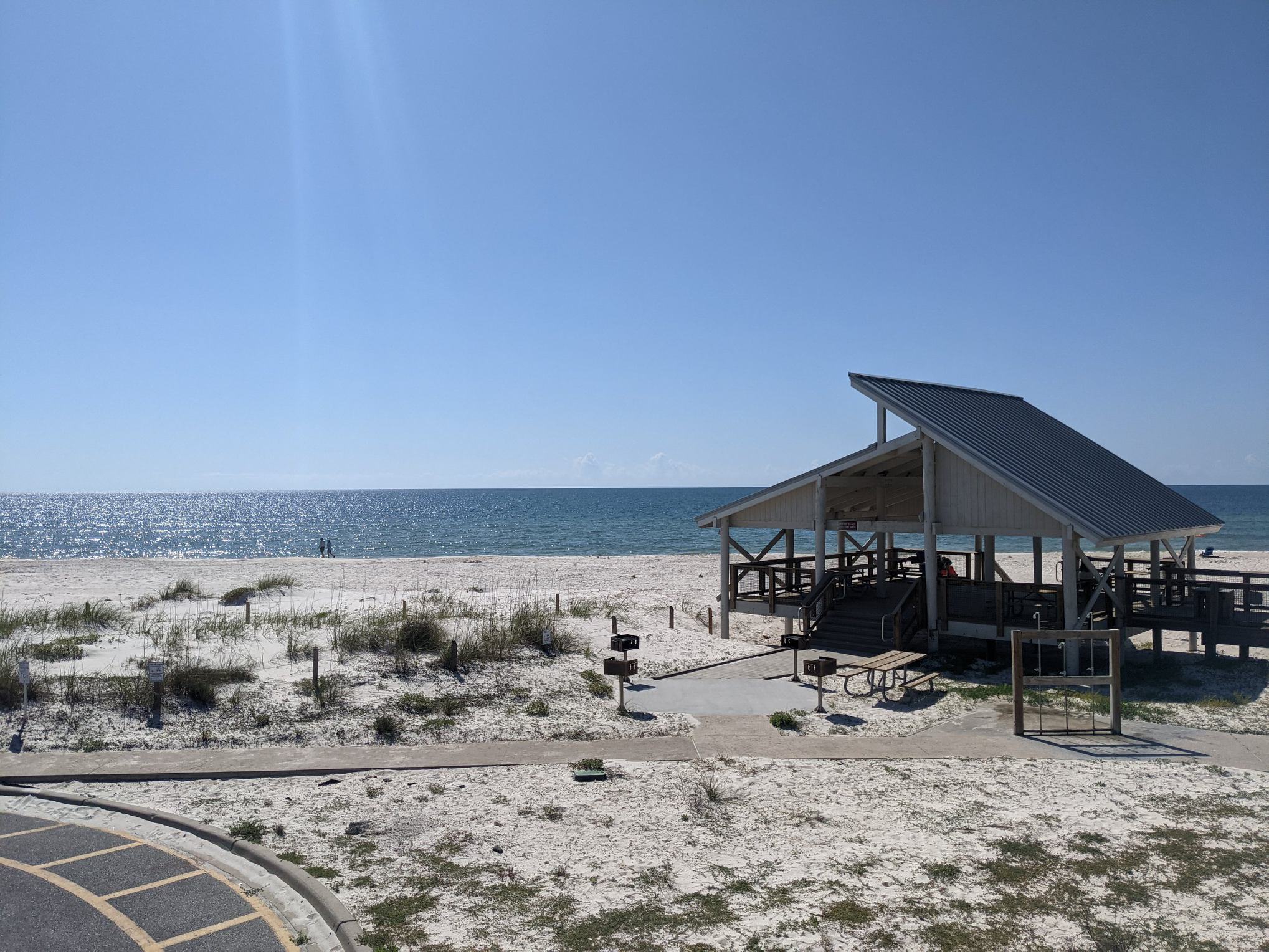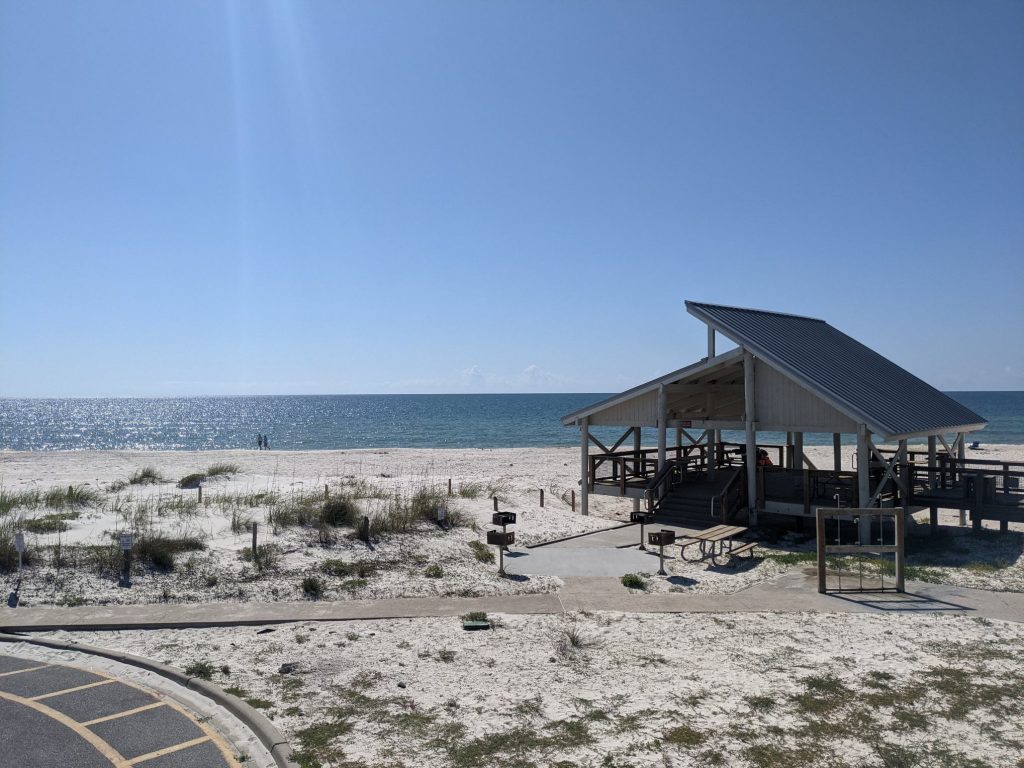 Why should you visit?
When you think of beaches in Florida, you probably don't think of untouched pristine spots of paradise. But that's what you will discover at this Park! I've lived in Central Florida nearly my whole life, but I had never seen beaches life this before. It's such a different vibe and experience to be a rural beach area. And the scenery is just breathtaking! There are so many activities to do as a family, but you really don't need much more than a beach chair and a good book. With dolphins playing in the water, cooler temperatures most of the year, and white sand dunes, you'll love every minute. This St. George Island piece of paradise is worth a visit!
You may also like:
Jekyll Island, Georgia Complete Guide
You May Also Like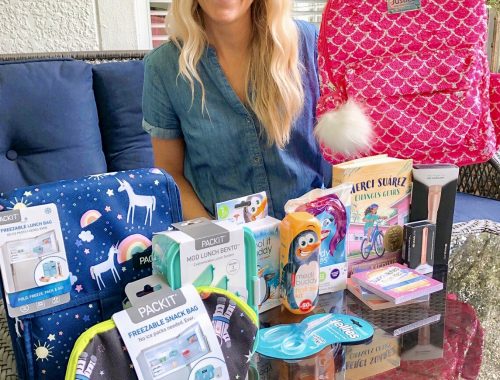 August 5, 2019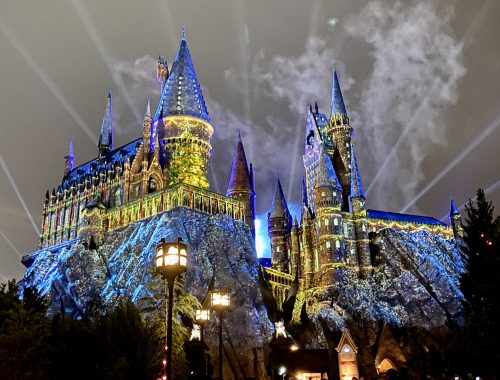 November 23, 2021