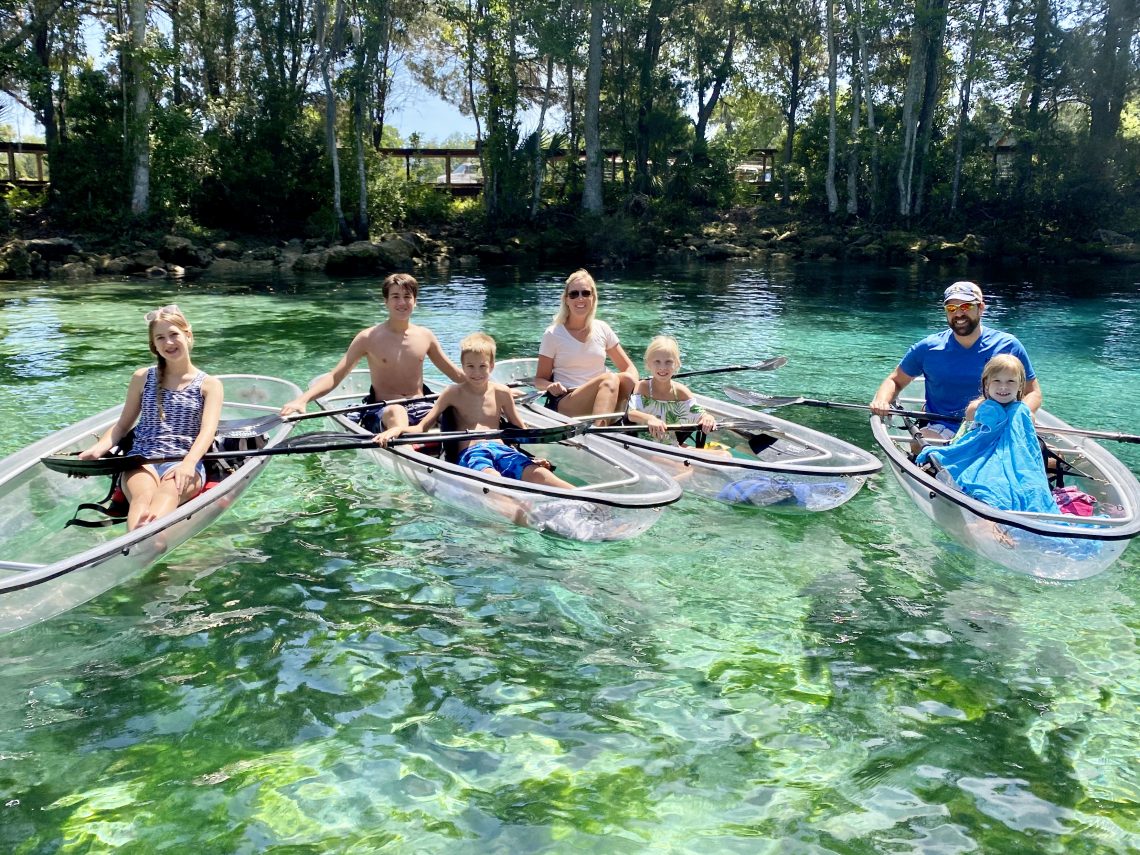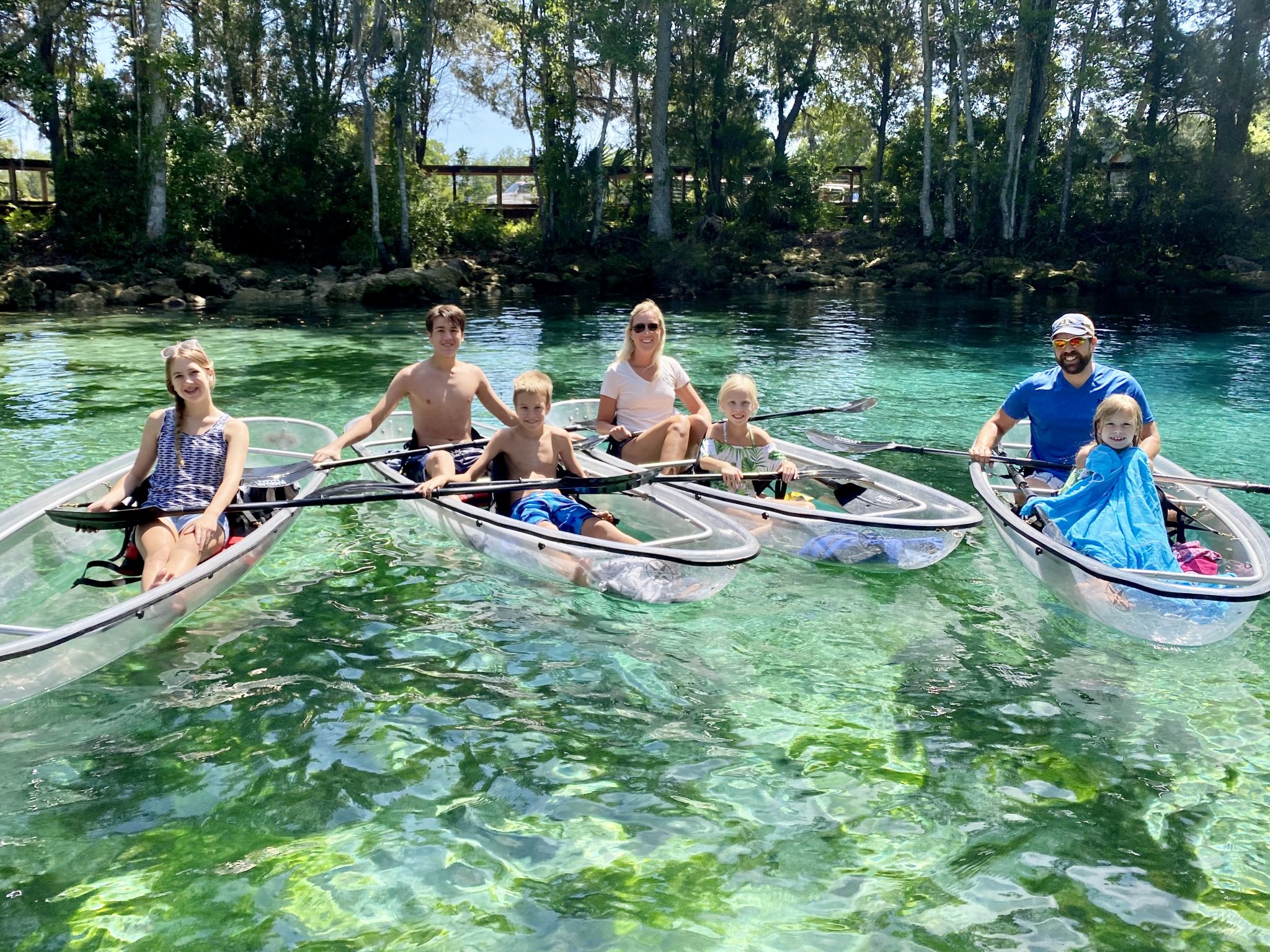 Three Sisters Springs Kayaking on Crystal River
May 12, 2020
Sharing is caring!
Our family loves to go kayaking. We've been on several kayaking adventures, and love exploring outdoors. We've had the chance to go on a clear kayaking trip with Get Up and Go Kayaking in the past, so we knew the quality of their tours. Since we couldn't wait to get outside and have a little adventure, we were so excited to head to Crystal River and check out Three Sisters Springs kayaking! Here's everything you need to know about Crystal River kayak tours with Get Up and Go Kayaking.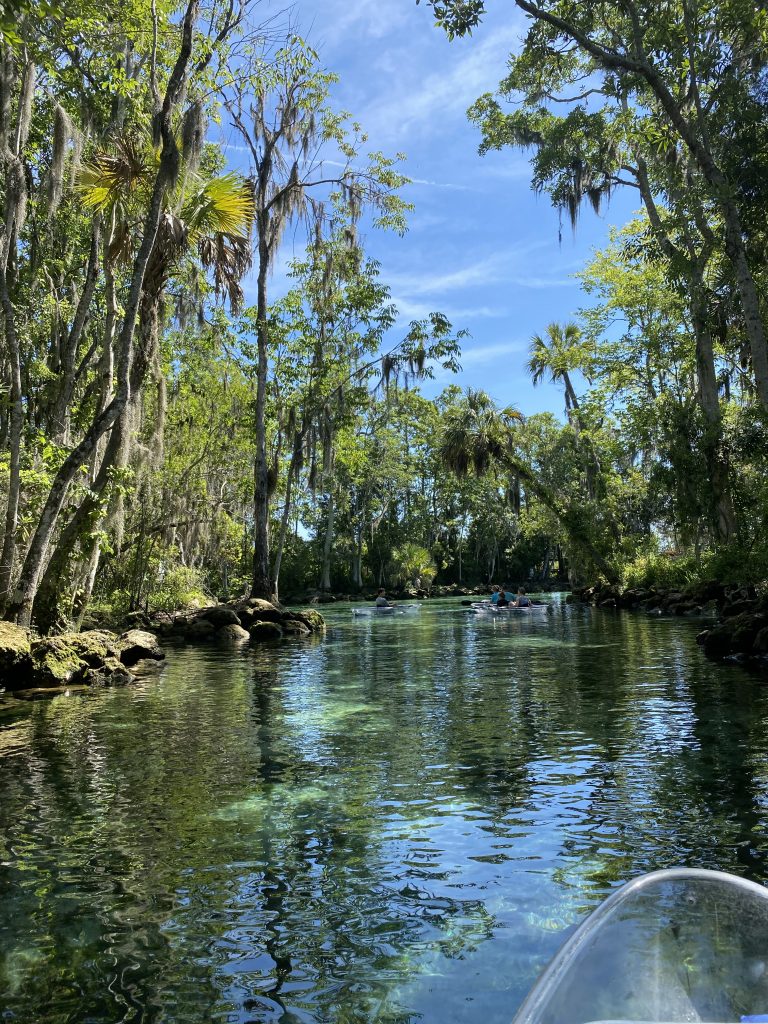 Where Do We Go On the Tour?
When you book a tour with Get Up and Go Kayaking, you'll receive a confirmation email that gives you all of the details like where to meet, what to bring, and more. In fact, you'll be totally prepared before you even leave your house! But if you're wondering what to expect, I'm giving you all the details. To go on this Crystal River kayak tour, you'll have convenient parking, and easy access to Crystal River.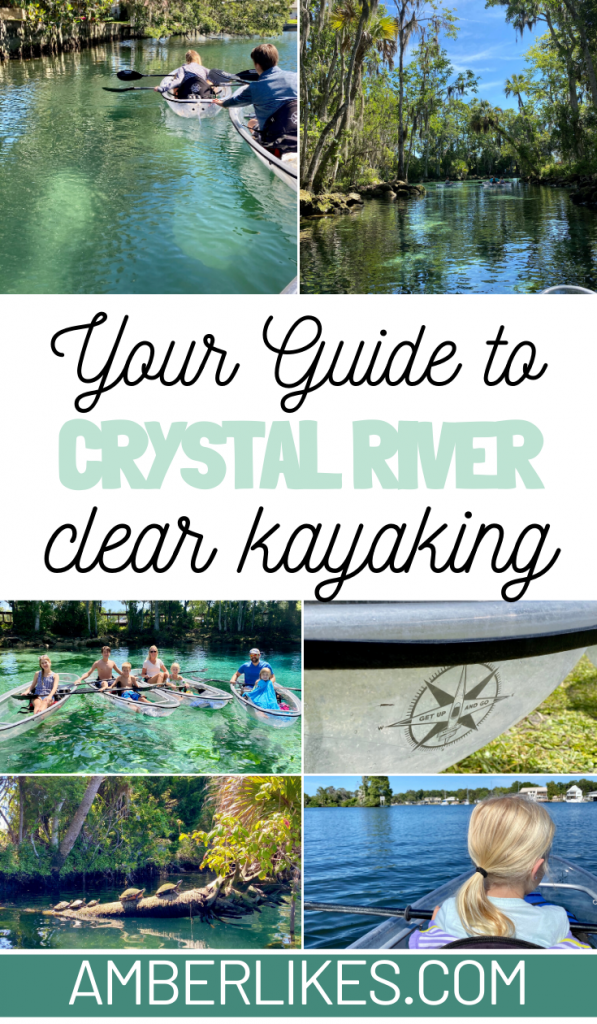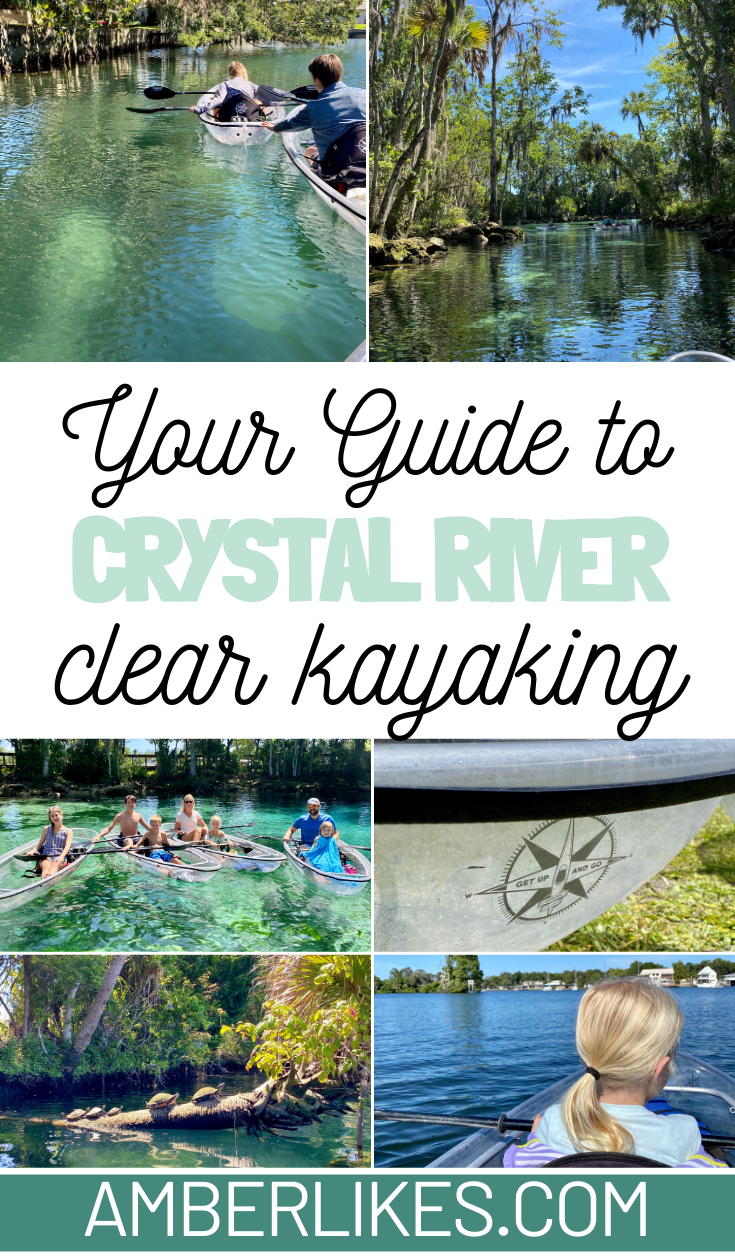 When you start on your Crystal River kayak tour, you'll meet your guide and get a quick introduction of what to expect. If you've never been kayaking before, you'll get a quick and easy lesson. And then you'll hit the water! You start out in a wide part of Crystal River and then paddle into a more residential area. After about a 30-45 minute paddle, you'll head into Three Sisters Springs. I've been to several different Florida springs, and this was among the most beautiful! When you're on a Three Sisters Springs kayaking tour with Get Up and Go Kayaking, you'll spend about 30 minutes in the springs. And then you'll head back to your starting point.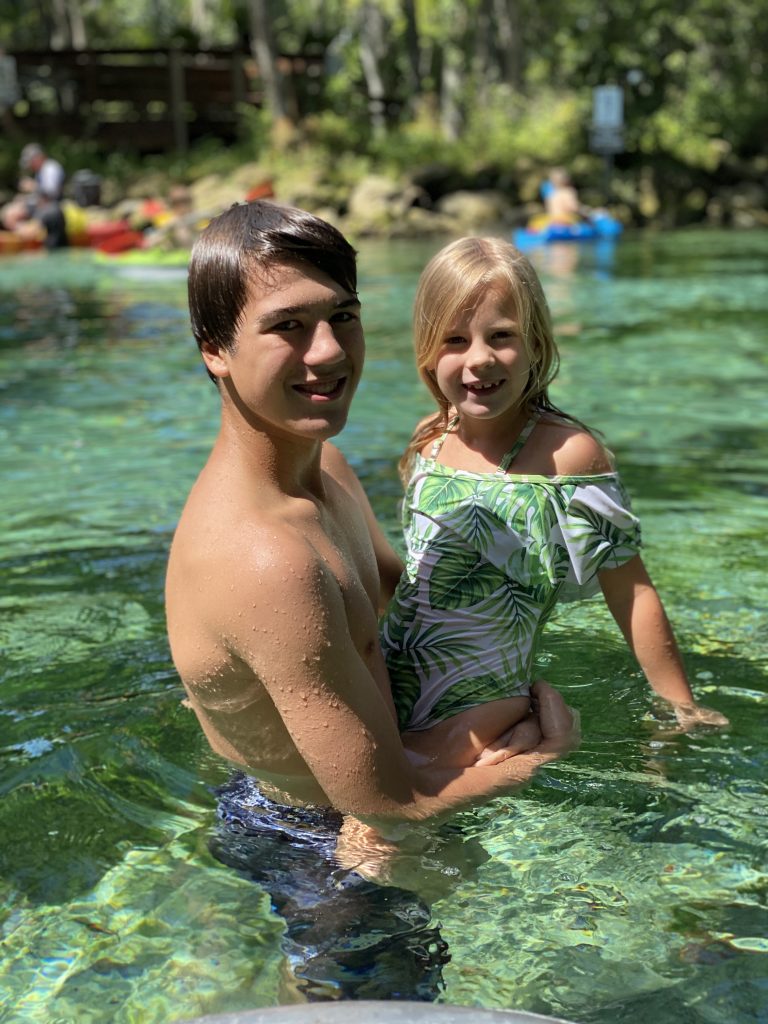 How Strenuous is the Three Sister Springs Kayaking Tour?
In order to answer this question, I'll tell you more about our family. As I've mentioned, we've been kayaking several times. Our kids are currently 6, 8, 11, 12, and 15. And they all did great kayaking! We had three tandem kayaks and one solo kayak. The 15 year old and the 12 year old took turns in the solo kayak. And my husband and I each had one of the little girls with us.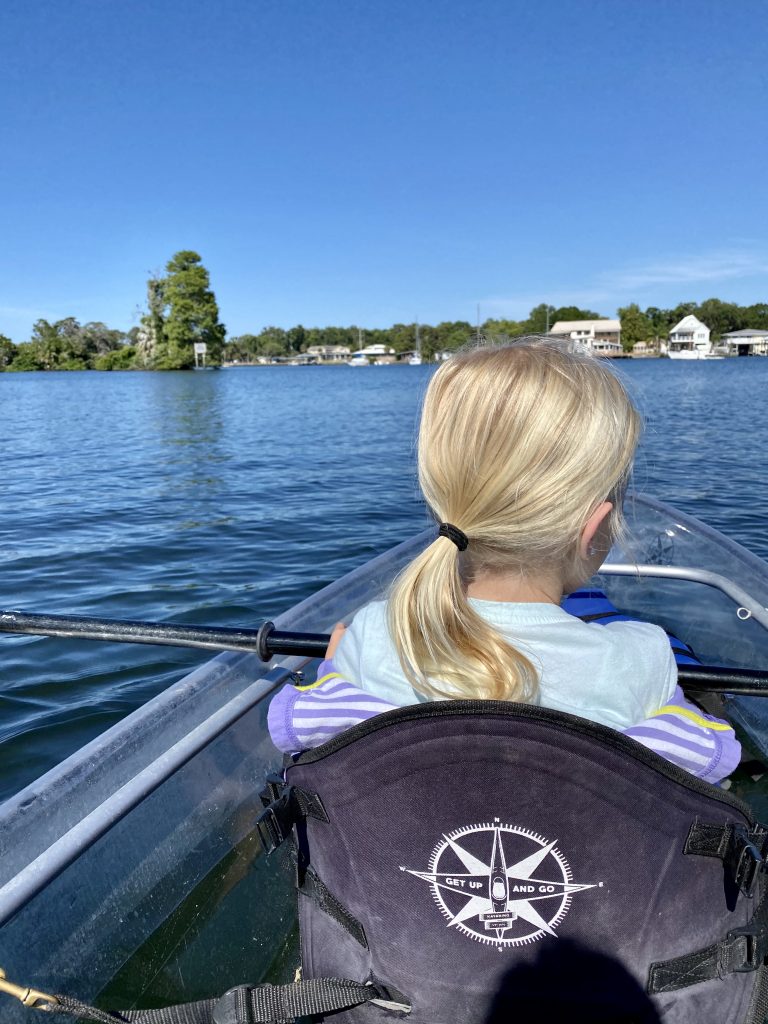 In my opinion, by the end of the trip, you'll feel like you've had a good upper body workout. But basically anyone who's in fairly good shape, should be able to complete this Three Sister Springs kayaking tour on Crystal River. The Get Up and Go Kayaking tours are very accommodating and will work with the group to make sure everyone is successful. Even if you're inexperienced at kayaking, you'll have a great time on this tour!
What Will We See on this Tour?
During our Three Sisters Springs kayaking tour, we saw so much wildlife! This area is very well known for manatees. The manatee season is primarily from November-March. However, we did see several manatees during our recent May tour. And with the advantage of the amazing clear kayaks from Get Up and Go Kayaking, you can see these beautiful creatures swim right underneath your kayak! The kids could not believe their eyes when we would see three manatees all around our kayaks.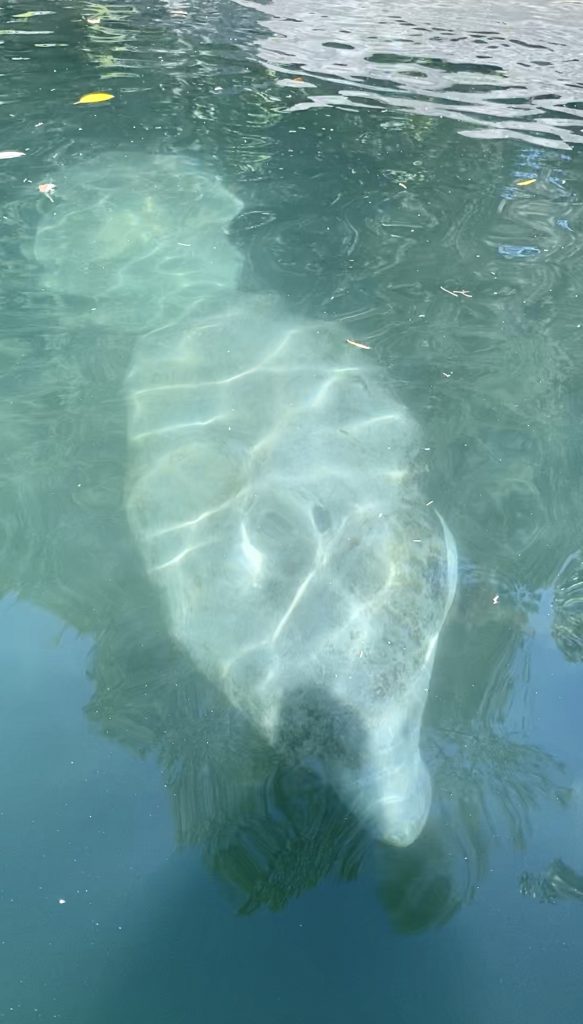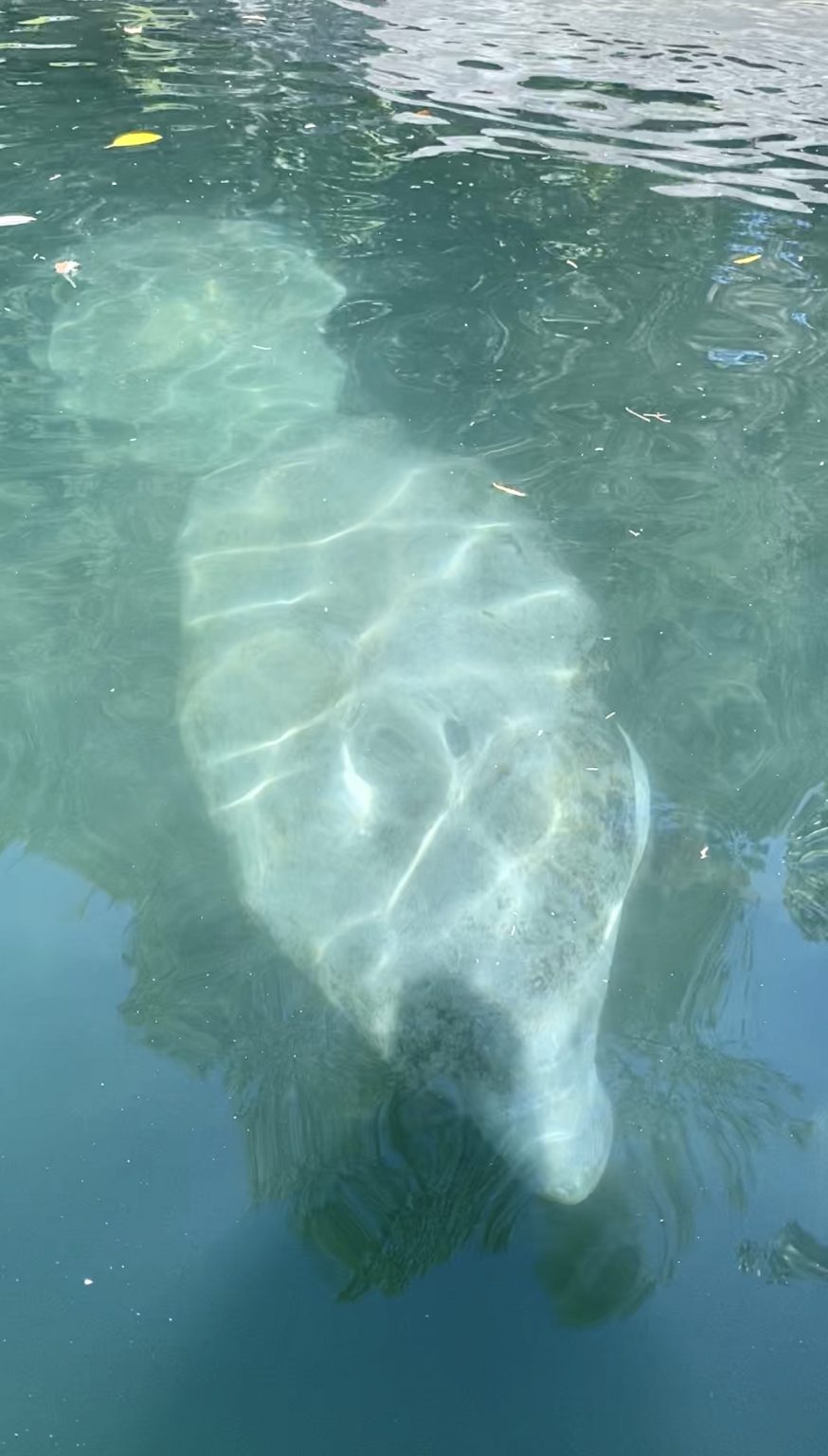 We also saw lots of birds, fish, and turtles. It was so much fun to watch for wildlife all around us. In order to see the most wildlife and sea life, I'd recommend going for a kayaking tour as early in the morning as possible. Our tour was at 10:30 am, and we saw a lot more wildlife on our way to Three Sister Springs than on our way back.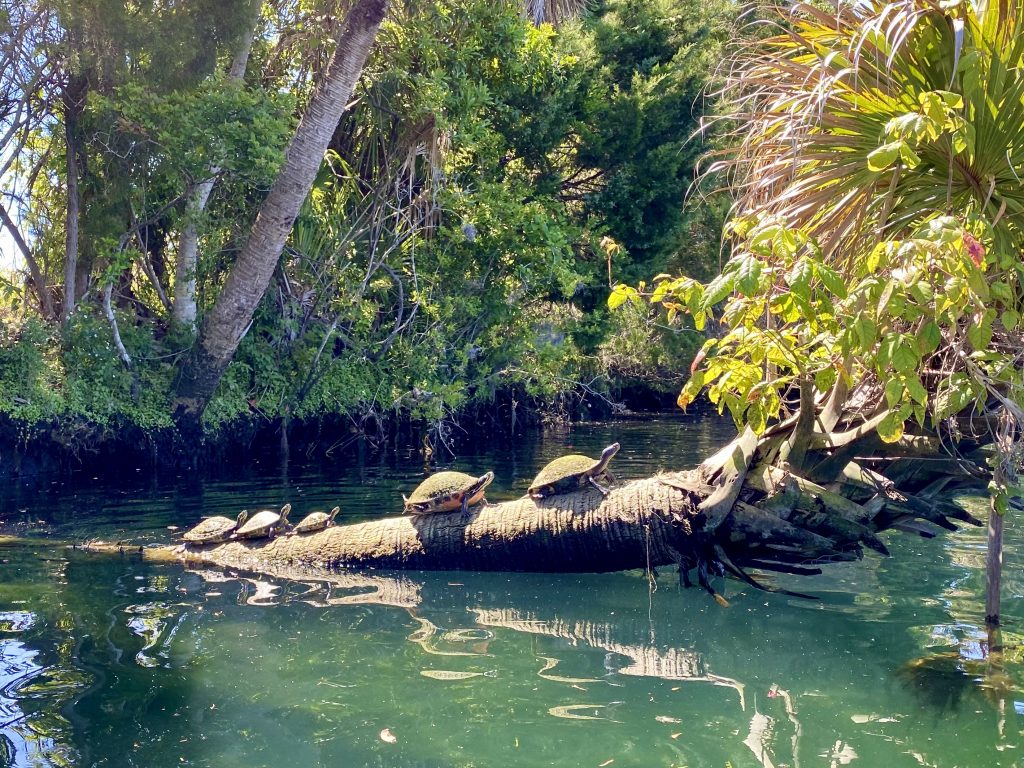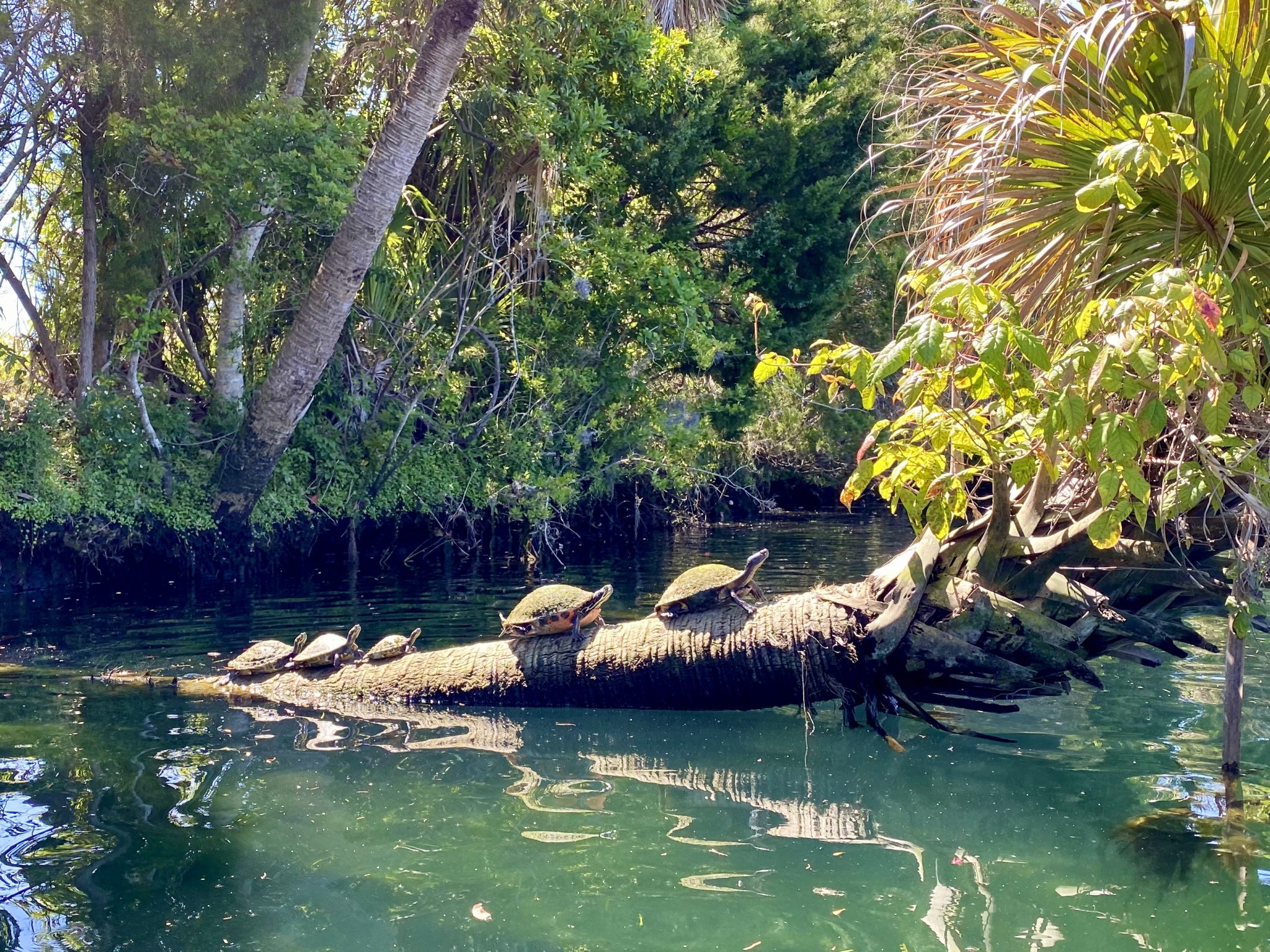 Three Sister Springs Kayaking Details You Need to Know
The Three Sisters Springs kayaking tour is only available from April 1 through November 14. During other times of the year, the Three Sisters Springs area is closed to boat traffic because it's a manatee sanctuary. During that time, you can only dock your boat and swim or wade into the Springs.
There are also two other kayaking tours available in Crystal River with Get Up and Go Kayaking. From November 15-March 31, you can take a Manatee Tour and see these beautiful creatures up close and personal In addition, there's a Crystal River Glow in the Dark tour with LED lights and clear kayaks. I can just imagine how beautiful this would be!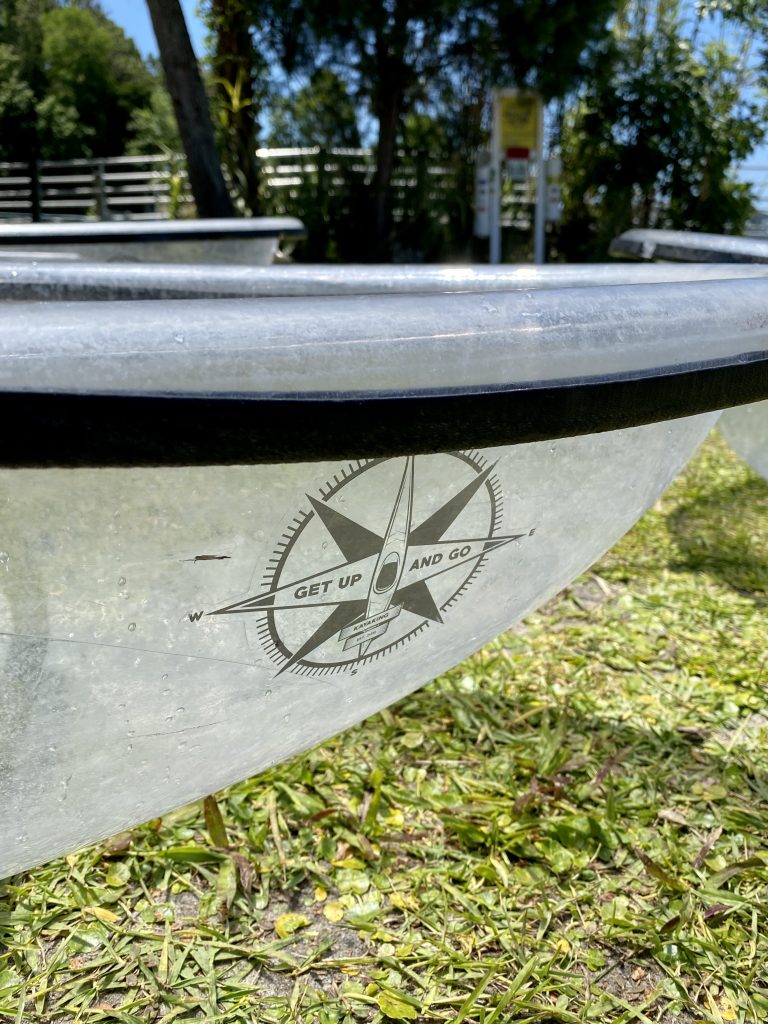 Be sure to head to the Get Up and Go Kayaking website for all of the details. You can book a tour online and they have several locations throughout Florida. Particularly during this time when we are all spending a lot more time at home, getting outside with a kayaking tour is the perfect choice.
*We were provided with a complimentary guided tour in exchange for my honest and unbiased review. All opinions are my own.
Posts you may also like:
Clear Kayaking in Rock Springs
You May Also Like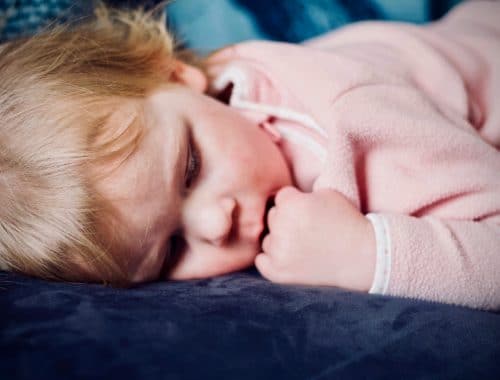 December 17, 2019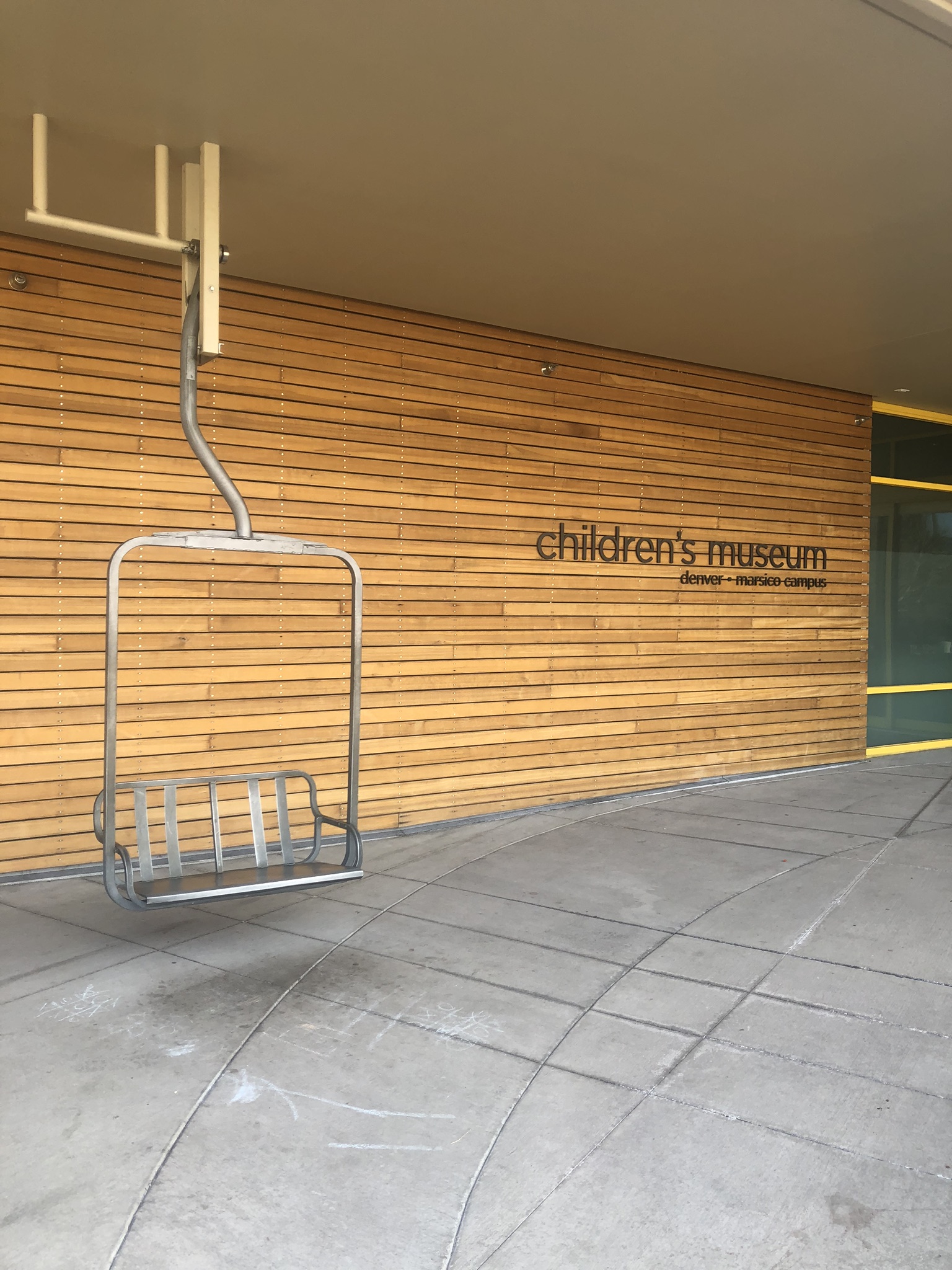 January 6, 2019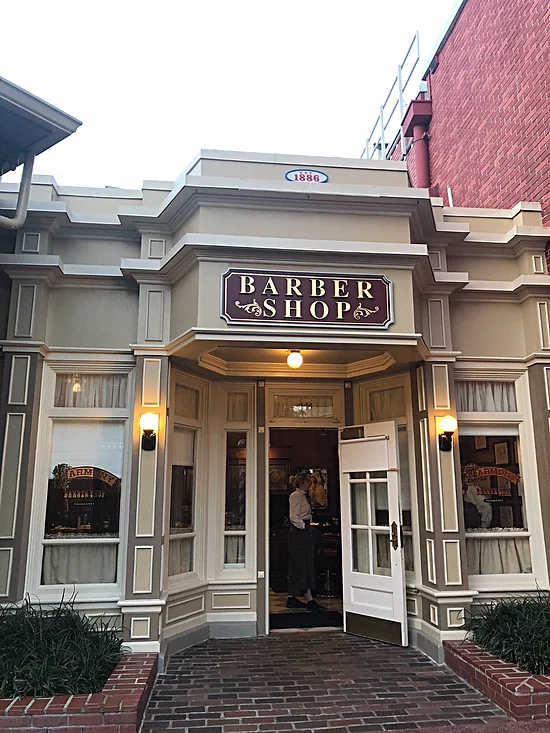 February 7, 2018