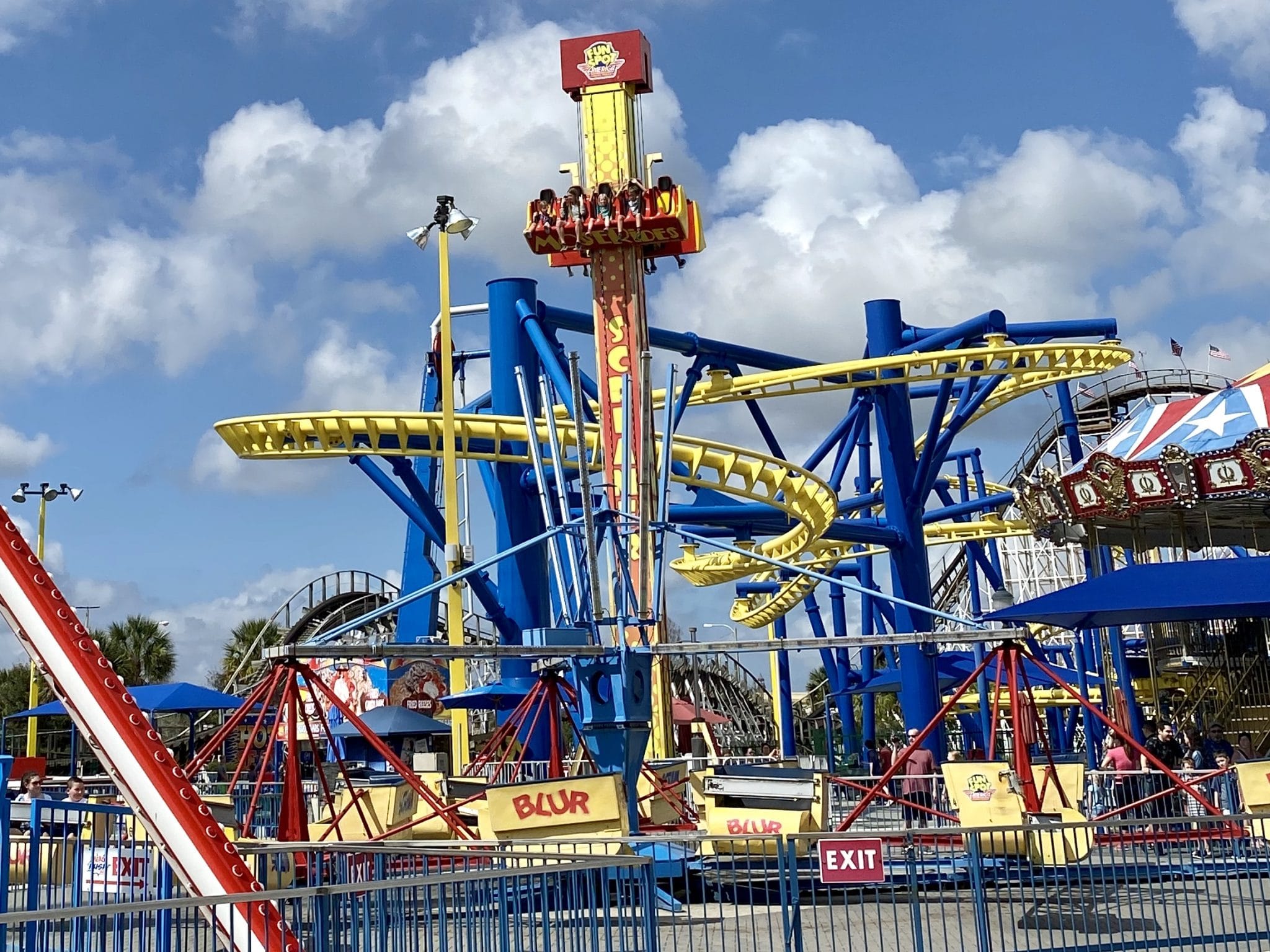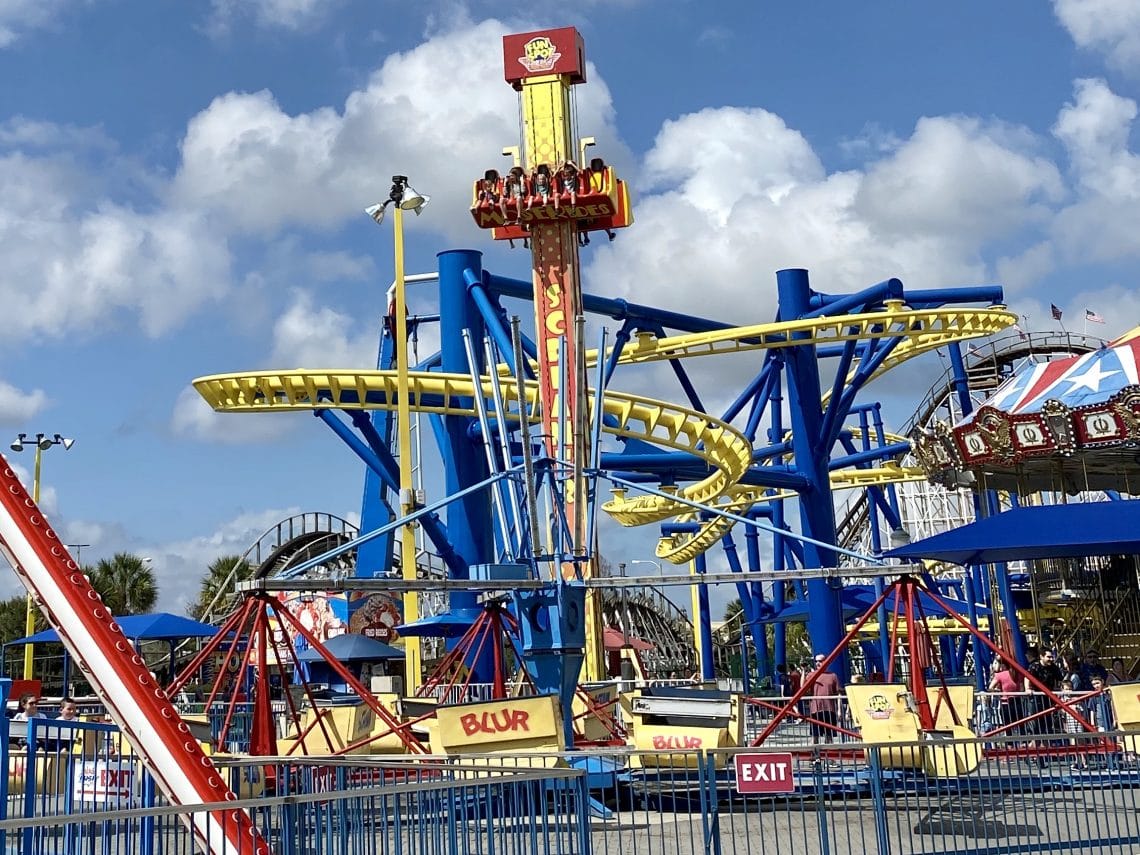 Fun Spot Orlando Complete Guide and Review
February 18, 2020
Sharing is caring!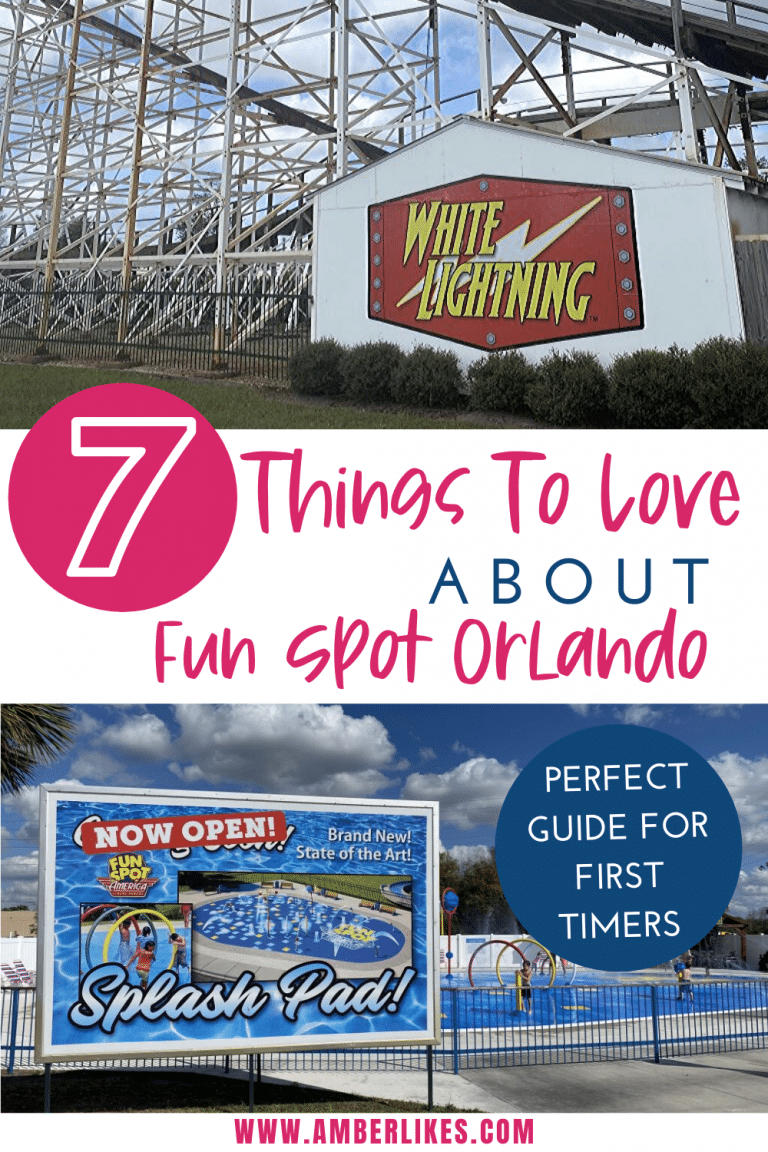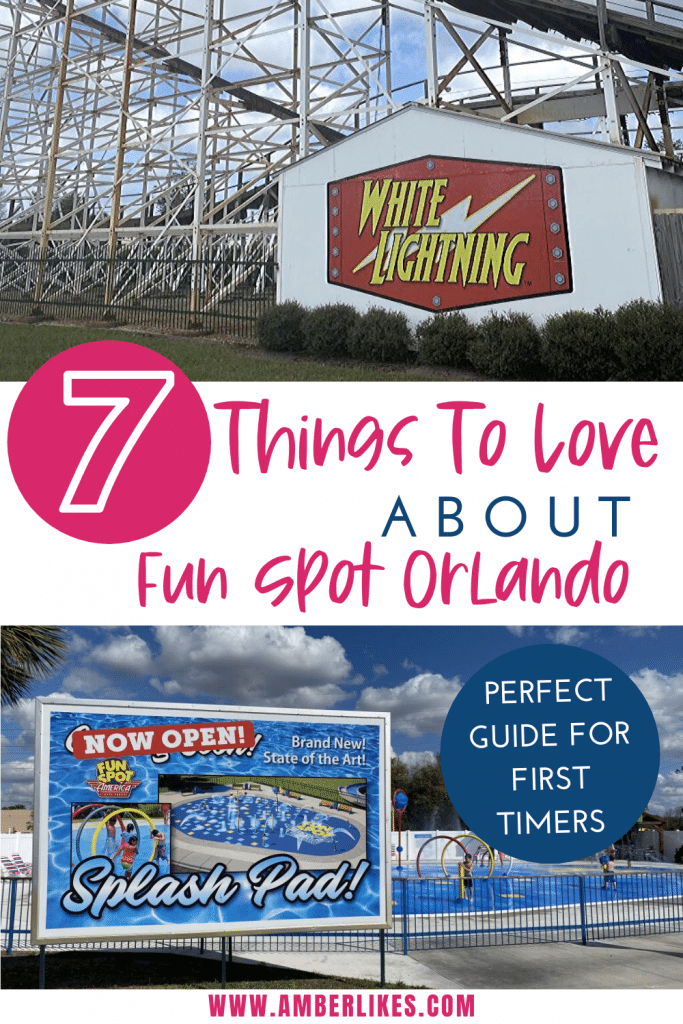 As I've shared many times, there are so many reasons to love Orlando. And today, we visited a new one! Fun Spot Orlando is in the heart of the city on International Drive. So what are the pros and cons of this amusement park? I'm giving you all of the details on what to expect at this family business.
What is Fun Spot?
Fun Spot America actually consists of three different parks. These are Fun Spot Orlando, Fun Spot Kissimmee, and Fun Spot Atlanta. The two parks in Central Florida are only separated by a short distance. We visited the Orlando location, which is located on International Drive, close to Universal Orlando. Between the two parks in Central Florida, Fun Spot Orlando is known to be a fan favorite. Since I've only visited this location, that's what I'll share!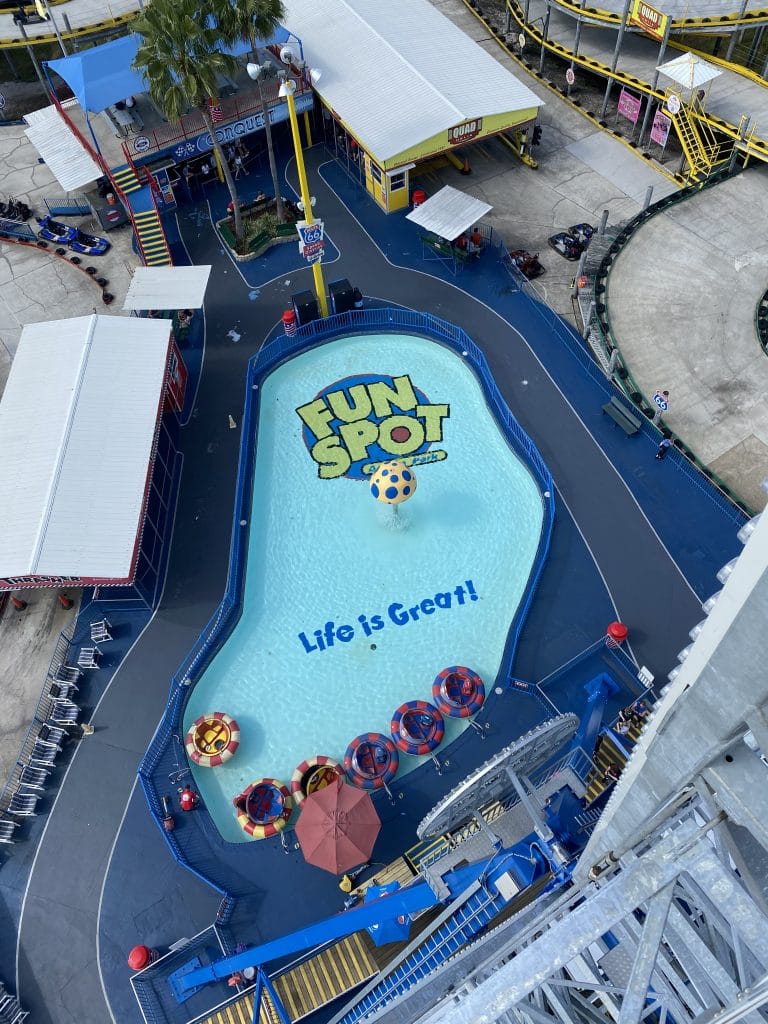 Fun Spot is a family run business. It's been operating is some form in Orlando since 1979. They strive to operate under the Golden Rule. Their mission is celebrating people, creating fun and making memories. After our day at Fun Spot, I can see that mission statement being in action. There are roller coasters, go karts, kiddie rides, fun houses, classic carnival rides, a splash park, thrill rides, a ferris wheel, carousel, bumper cars and even some alligators!
Why should you visit?
When you live in or visit Orlando, you have a lot of entertainment options. There's Disney World, Universal Orlando, SeaWorld, and Legoland. And then of course there's all the smaller attractions like Sea Life Aquarium and the many local parks. There's always something to do in this city!
So why should Fun Spot Orlando get your time and money? Did you grow up visiting carnivals or fairs? If so, you will love Fun Spot Orlando! This amusement park had the feel of a very clean, well run carnival, with the addition of some huge rides. I used to love the big Fun Slide at carnivals. And I also loved the Fun House! You can relive these childhood memories in a safe, clean environment at Fun Spot. I had so much fun doing these favorites with my own children!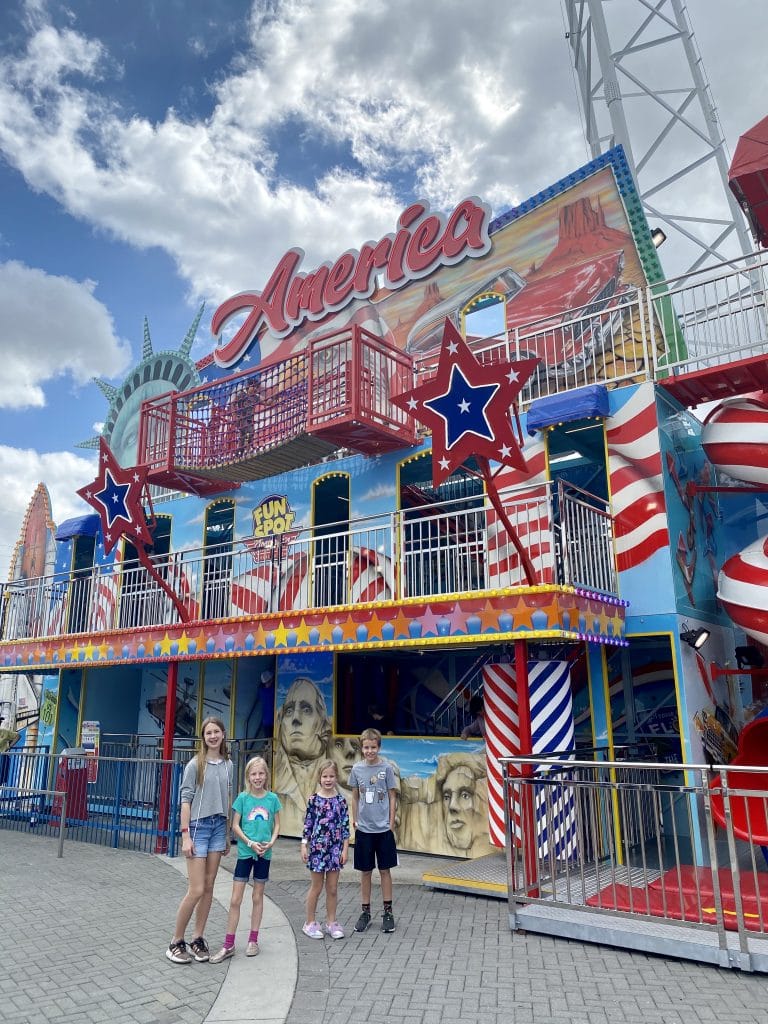 During our visit, I had children ranging from age 6 to age 14, and they all had a great time! There's a fun kiddie area with rides that very small children can enjoy. And there's also huge thrill rides that took my breath away! There's really something for everyone at Fun Spot.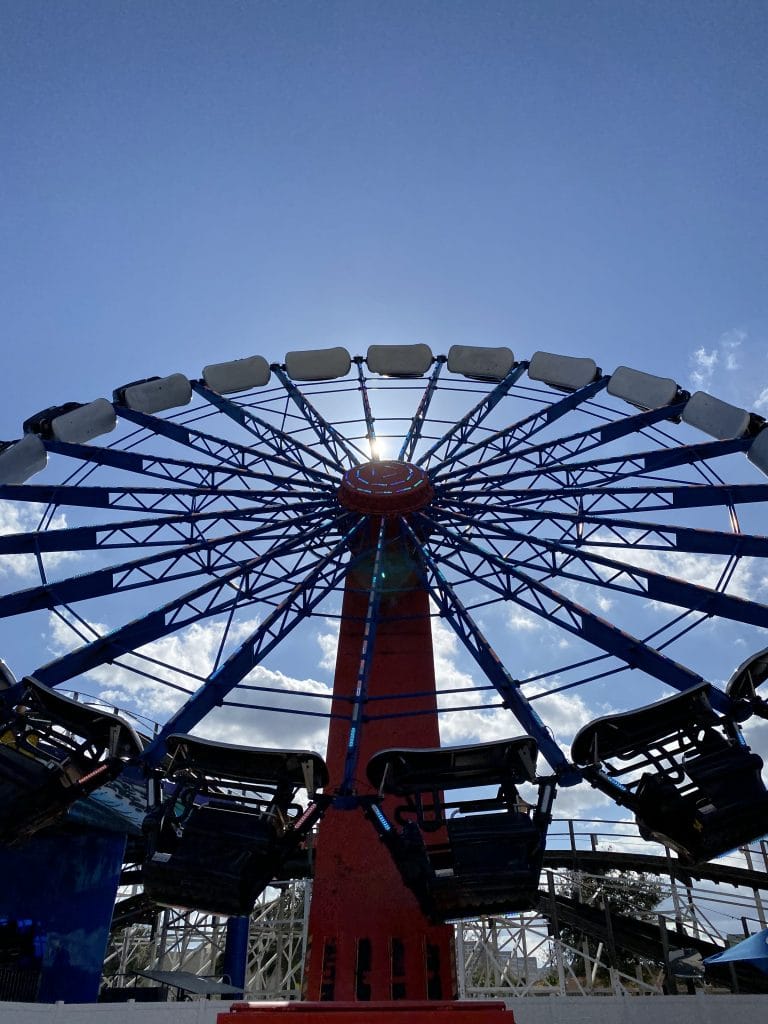 Go Karts at Fun Spot
To be honest, I don't love go karting. I drive enough in my real life, so it's not that much fun for me to do it as an attraction! However, my preteens and teenagers absolutely adored it. They went on the go karts for hours and hours. At Fun Spot Orlando, they have four different go kart tracks. Several are multi-level and have different levels. Although they aren't my favorite attraction, these are well run go karts!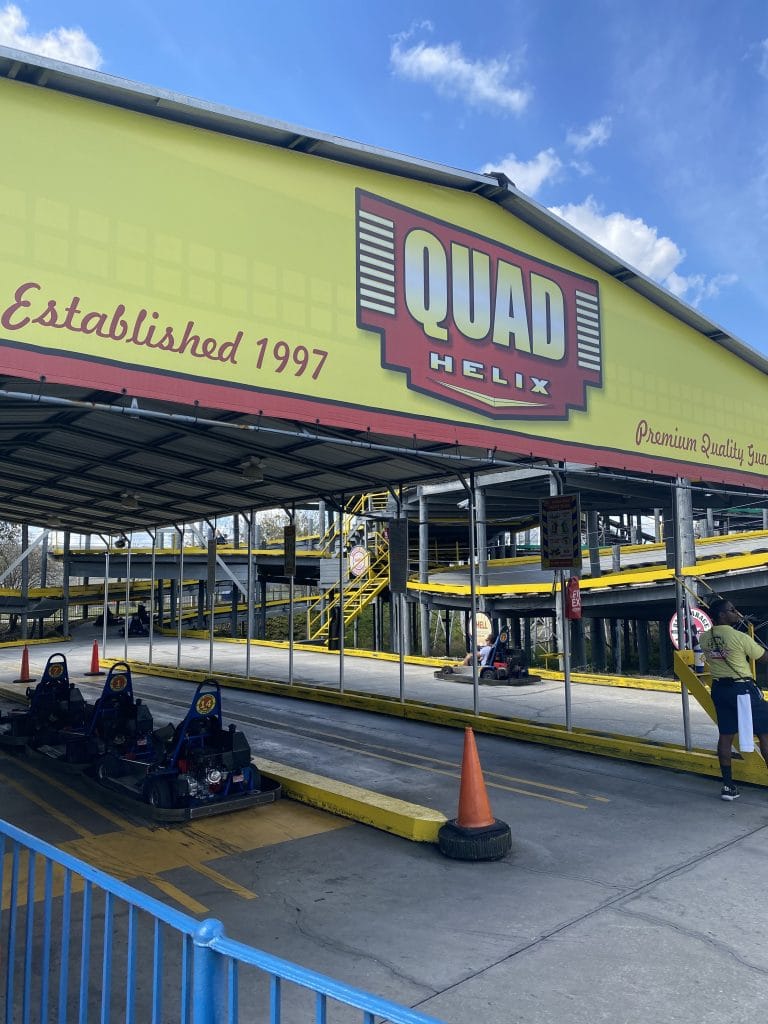 However, if you are coming to Fun Spot with children under 54 inches, be sure to be aware of the restrictions before you go. An adult is required to ride with a child under 54 inches. But unlike the policy at Disney World where a 14 year old or over can accompany a younger child on a ride where they need an adult, at Fun Spot, the chaperone has to be 18 or over. Since I was there with two children under 54 inches, this meant a lot of extra waiting time. Each of my younger children had to wait for each round in order to have me accompany them. You will want to bring an adult for each child under 54 inches who's interested in the go karts.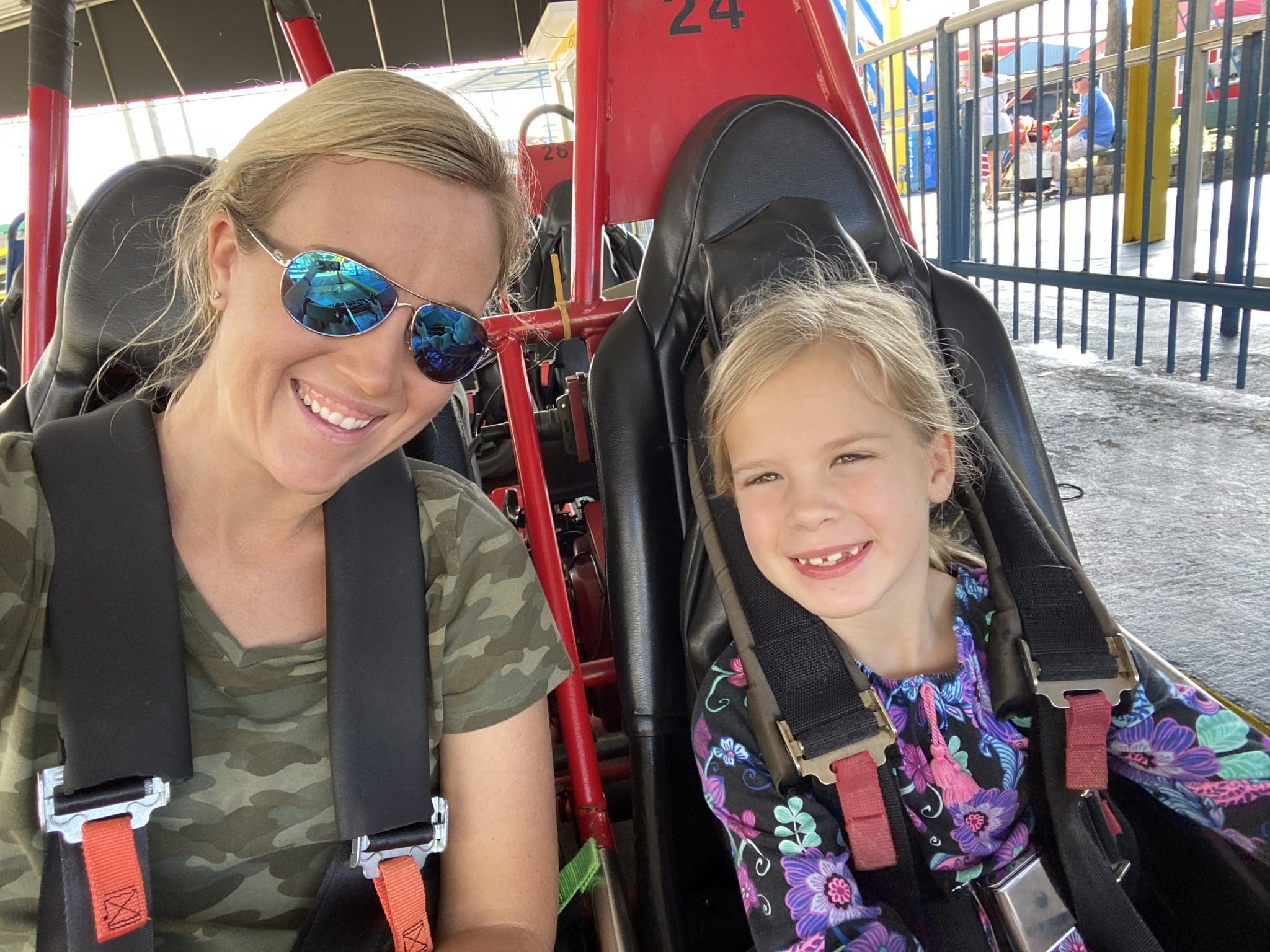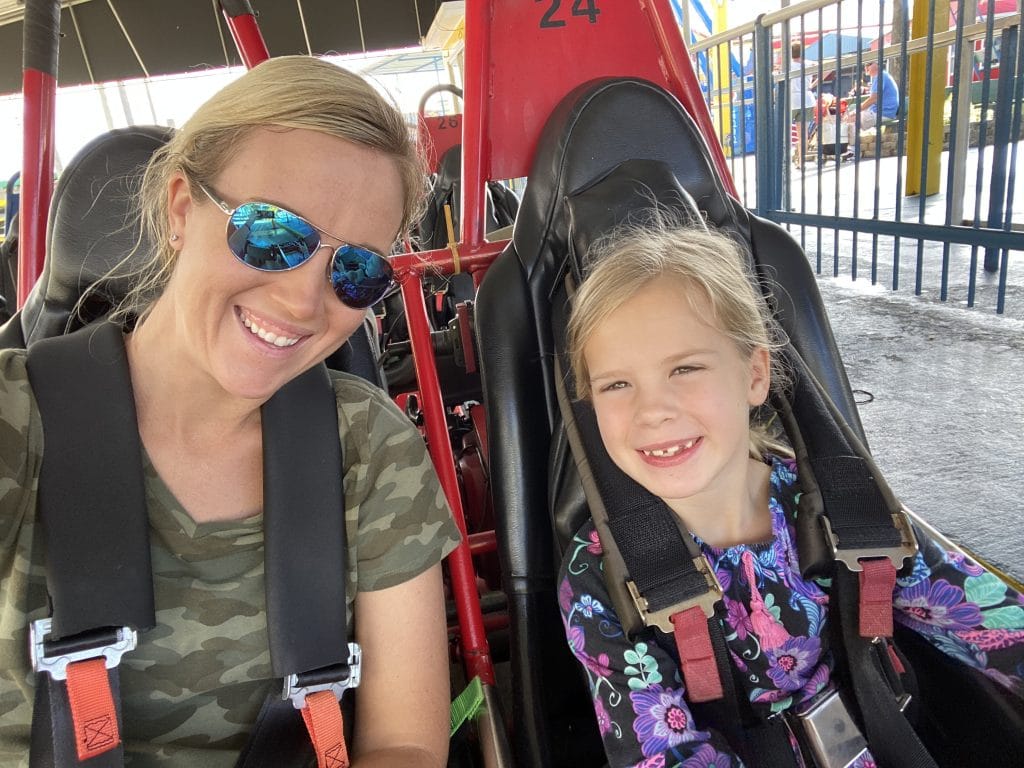 Also, you may want to consider bringing sunglasses to wear on the go karts. I wish they gave out safety goggles because the flying debris from the go karts got in several children's eyes repeatedly. I was wearing my sunglasses, so it wasn't an issue. But I wish each of my children had glasses as well!
What should you be aware of before you visit?
As I shared, the go kart policy was frustrating with small children. However, there were a few other things at Fun Spot to be aware of before you visit.
There is no outside food or drink allowed in the park. This is a large price increase for a large family. You are permitted to leave the park and eat and then come back, but with kids, this is unlikely.
There's no parent swap or rider switch (that I'm aware of). As I mentioned with the go karts, this meant a lot of additional waiting time for my younger kids.
Takes a while to load and unload the rides. The process of getting on and off the rides is not efficient, especially when you are used to visiting larger theme parks.
Lines can be long at peak times. However, we visited on President's Day and the lines were very short! I've heard from others that lines can be long, particularly for the go karts.
The price per ride is expensive. If you don't get the all included wrist band, one ride on a roller coaster costs $10. This is not worth it. If you're going to Fun Spot, plan to get the wristband.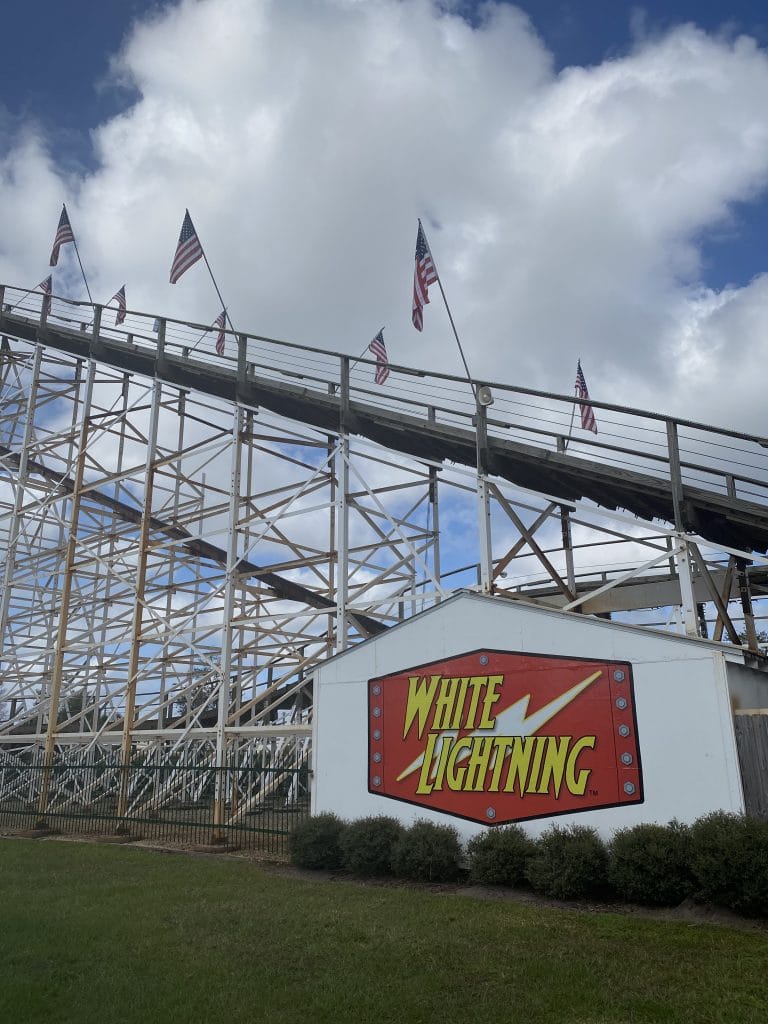 What is there to love about Fun Spot?
We had a wonderful day at Fun Spot! I almost hated to share the cons because we had such a lovely day. But it's good to know what to look out for at any location before you visit. However, there are lots of reasons to love this family run business!
The employees are wonderful! After each ride, the employees clap on your way out of the ride. They are also very polite and kind. One employee even held my drink while I went on a ride!
There is free admission. This is really great for parents who don't want or need to accompany their children on rides. For example, if you have teenagers that would like to visit Fun Spot, but you're not into the rides, you don't have to pay!
There's free parking. This is so awesome because they could easily charge for this. But they don't, and that's appreciated.
Low wait times. I know, I know. This was also in the cons list. However, we visited on a school and bank holiday, and had zero wait times for every ride. We were there for 6 hours and did every single ride multiple times.
The splash park is great for hot days! Even though it was February during our visit, we could have enjoyed this splash pad.
The rain check policy is amazing. When we purchased admission initially, we bought a Groupon. However, when we went to use our Groupon about two years ago, it rained like crazy within about 30 minutes of our arrival. Fun Spot has an amazing rain check policy where if it rains within 90 minutes of your arrival, you get a rain check to be able to come back at any time. NO EXPIRATION DATE!
There are thrill rides you can't find anywhere else in Orlando! There were several rides, like Enterprise and Head Rush, that I haven't seen anywhere else. My children and I experienced thrills for the first time at Fun Spot!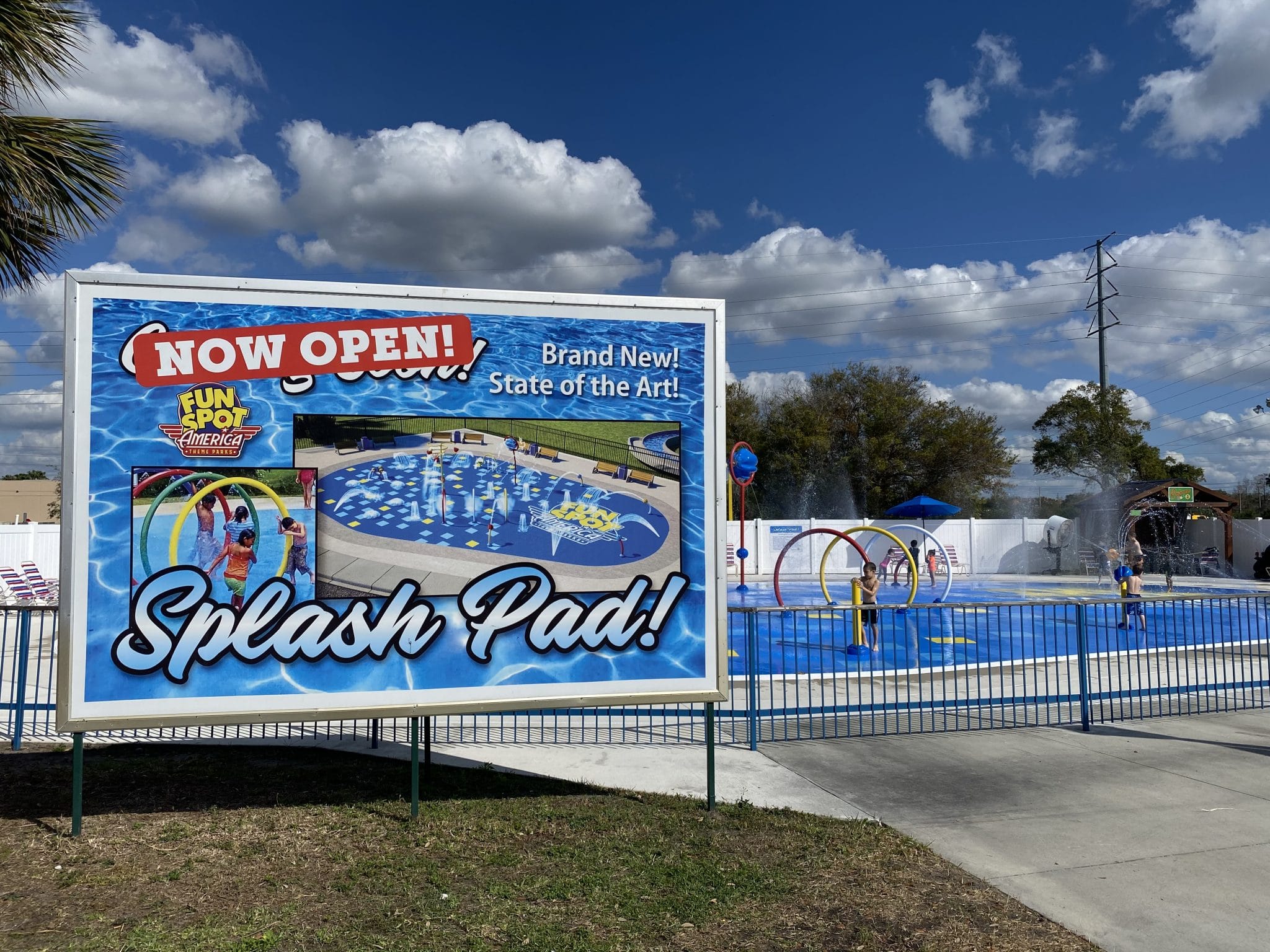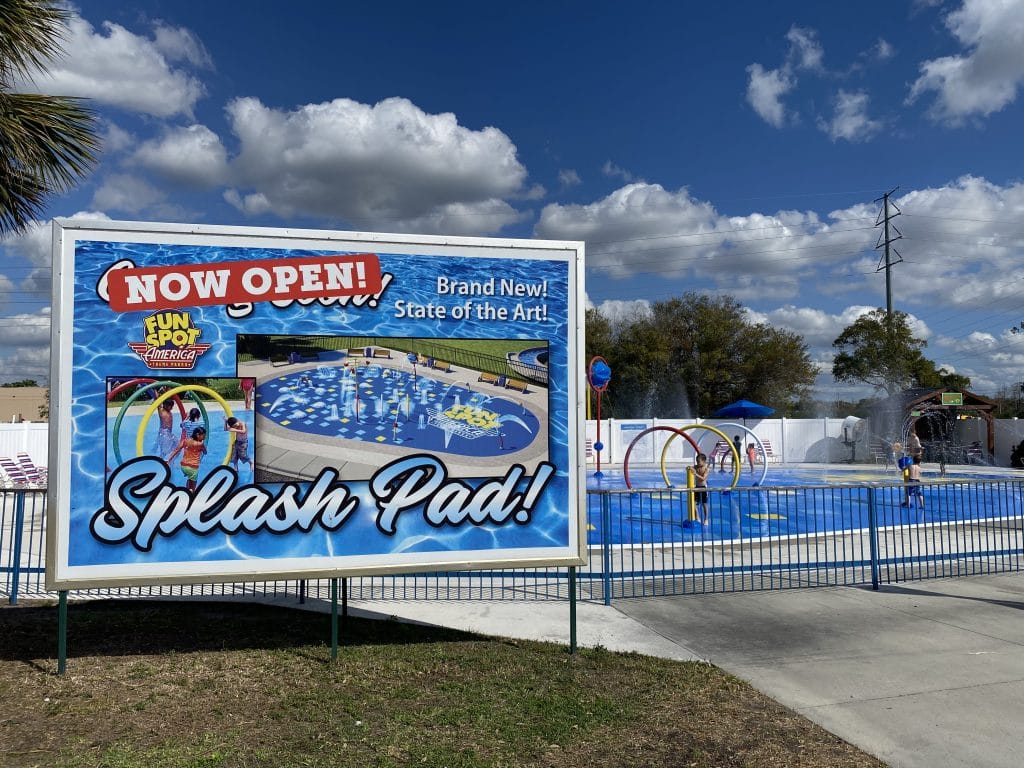 We had a wonderful day at Fun Spot Orlando! I rode some huge thrill rides, rollercoasters, and a fun slide. We went through a fun house over and over and laughed and screamed together. Riding go karts around and around, watching my teenagers laugh and race, was so much fun. Fun Spot Orlando is not the same as the major theme parks. But it's got a totally different charm. It's worth your time and money to relive your childhood memories of carnival and county fairs. Have fun!
You may also like:
Things to Do in Orlando with Kids that AREN'T Theme Parks
You May Also Like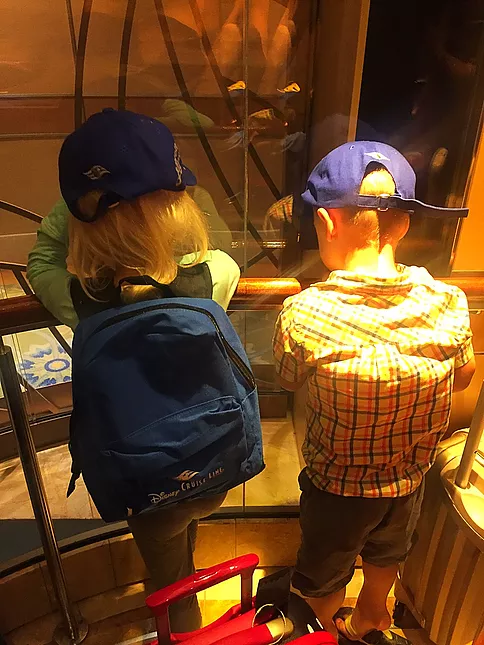 November 27, 2017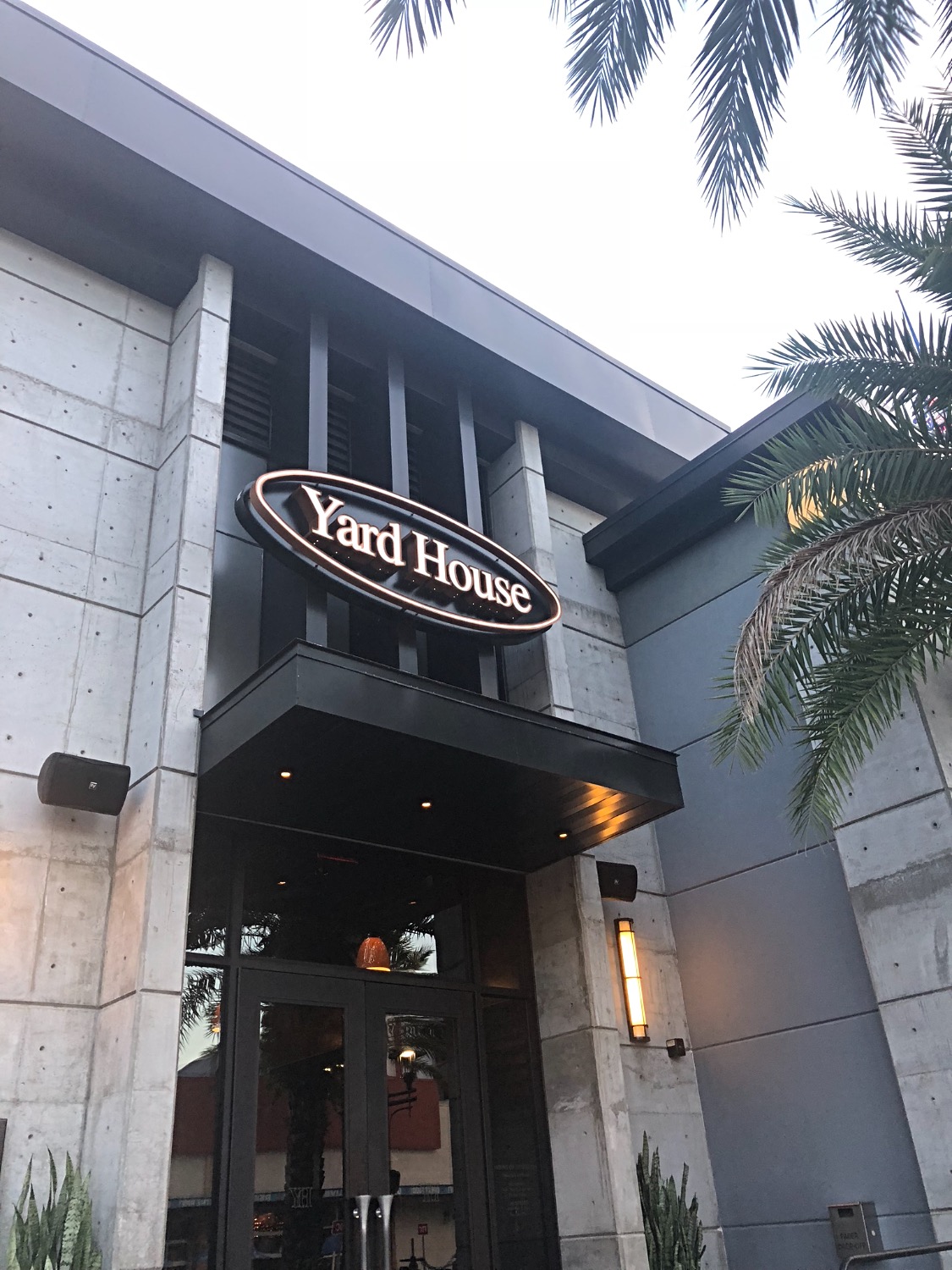 October 9, 2018